Elderflower Fritters - savoury or sweet?
Elder Flower-Head Fritters are a classic wild food recipe for these edible wild flowers. The combination of batter and a hint of elderflower is utterly delicious.
What's more, you can turn them savoury or sweet and here's my winning versions with an extra light batter recipe, plus suggestions for turning them into a starter, main accompaniment or dessert.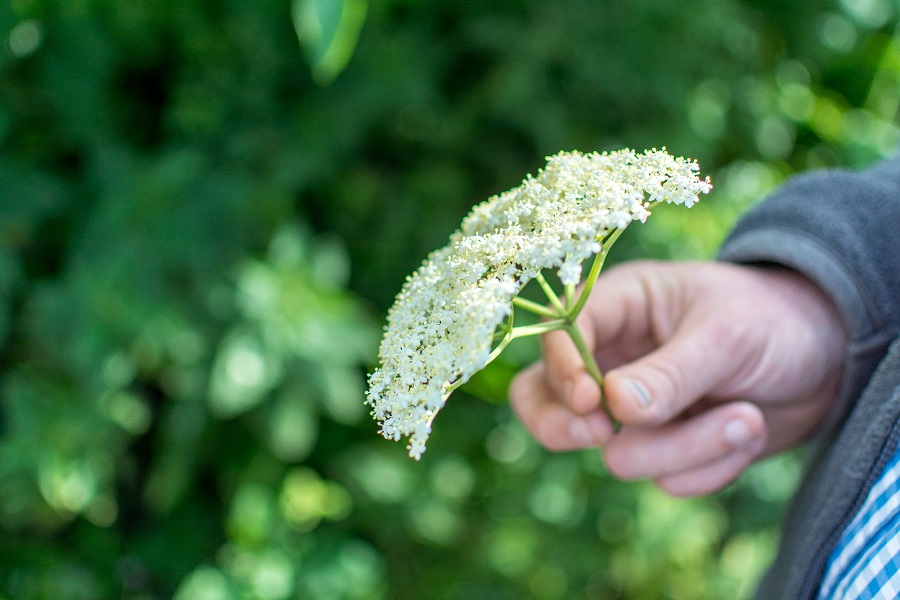 These are quick and easy and can be turned savoury or sweet. I love them dipped in soy sauce and lemon for a tangy, savoury snack. Hmmm, but they're equally nice served with ice cream or dusted with a light coating of icing sugar.
*TOP TIPS: For a light batter use half plain flour and half corn flour
Elderflower Fritter Recipe
Serves 4-6
Ingredients
200 ml ice-cold water
1 large egg, beaten
100 g sifted plain wheat or buckwheat flour (or half flour and half corn flour)*
2–3 ice cubes
Sunflower oil, for frying
16 elderflower heads flower heads, stalks intact
Cover a couple of large plates with kitchen paper (if you have). Pour the ice-cold water into a mixing bowl, mix in the egg, add the flour and roughly fold it in with a fork. Do not beat it – the batter should be lumpy. Add the ice cubes.
Heat at least 2.5 cm oil in a wok or a frying pan (I like to shallow fry rather than deep fry and use a small pan to do this). The oil is hot enough when a drop of batter bubbles and turns golden in 5–10 seconds.
Hold a flower head by the stalk, wipe it through the batter to coat it all over, allowing any excess batter to drip off. Keep hold of the stem while dropping the coated flower head into the oil. Using the stalk, turn it if necessary and cook until golden and crisp, then remove and place on the kitchen paper. Repeat with all the flower heads. To serve, either snip off the main stems or eat the flower heads and discard the stems as you eat them.
How to serve these elderflower fritters?
Savoury: As a starter or serve alongside risotto or fish with a blend of soy sauce and lemon (half and half)
Dessert: Dust with icing sugar and serve with a squeeze of lemon, or have with ice cream.
For more recipes and information about elderflowers search my summer blog and find;
When NOT to pick elderflowers
How to make Elderflower cordial and sorbet
Quick elderflower layered sponge
How to dry elderflowers
How to freeze elderflowers
Picking the last of the elderflowers
Elderflower and strawberry jam
Moreish Elderflower doughnut recipe
and more....