Elderberry Cordial Recipe
I'm amazed how different raw and cooked elderberries taste. As a forager I should know that cooking can transform wild, unpleasant flavours into something exquisite, though still I'm amazed!
Raw, elderberries are 'meh' and eating too many can cause a stomach upset. I actually will only eat a couple, as I've had adverse effects from eating even a few more.
Luckily, cooked elderberries create a divine liquor that's to be cherished for all it's flavour and health-giving properties. They're deep enough in flavour to have previously been used to enhance wine and even port, and once cooked, you'll know why. This also makes them far more tempting than raw ones too.
The goodness in elderberries...
Elderberry is a scientifically tested remedy for coughs and colds, and can help bronchitis and similar conditions. Abundant in vitamin A and C, they're ideal for preventing winter colds, and were used long before oranges and lemons hit our shores. They also contain valuable anti-viral properties, helping the body keep viruses at bay.
When to pick elderberries
The season is short for elderberries, once they start to appear, wait for them to turn a deep purple, almost black colour before picking. Here in the UK they are ready in September, across the world, be ready in early autumn.
Elderberry Cordial Recipe
This warming cordial is full of rich body, mingled with warming spices fit for an autumn or winter's day. The spices are definitely worth adding and really enhance this drink. Sip a thimble-full just as it is. Drizzle over sponge cake, over hot porridge or dilute for hot or cold, soft or alcoholic drinks. Close your eyes and enjoy...
Makes 500 ml
Ingredients
500 g elderberries (stalks removed)
10-15 cloves
2 cm piece of ginger root, chopped
1-2 cinnamon sticks
4 star anise
350 g dark sugar
This recipe is from my Wild and Sweet cookbook (page 181) alongside three other elderberry recipes, including the Elderberry and Vanilla Sponges (below) and 99 more foraged dessert ideas.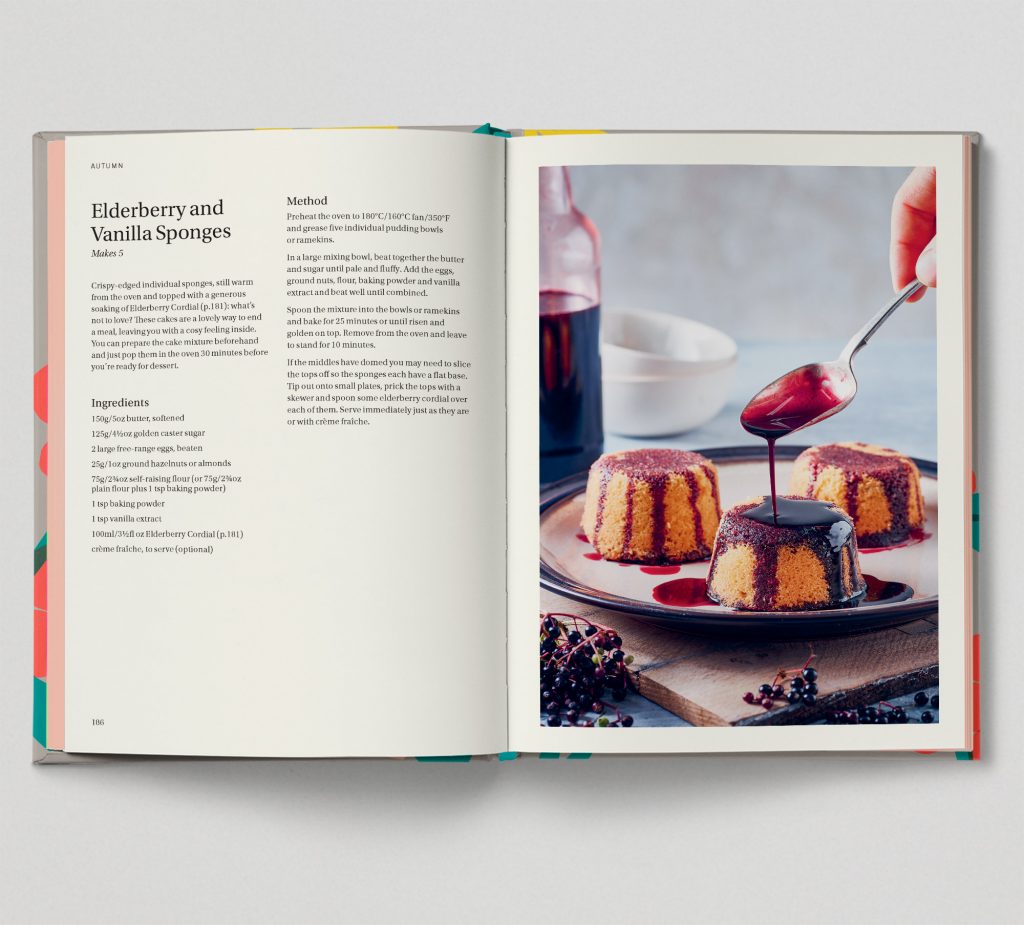 Place the berries in a medium saucepan and add enough water to just cover them. Crush the berries with the back of a wooden spoon, add the spices and bring to the boil, simmering with a lid on for 20 minutes. Pour the elderberry water through a sieve, mashing to ensure you extract all the juice.
Clean the pan and return the sieved elderberry water to the pan, adding the sugar. Place on a medium heat and stir while the sugar dissolves, simmer for 10 minutes before allowing to cool and storing in a sterilised bottle.
Want to find out more?
Elderberries is one of the fruits I teach on my autumn foraging courses. Elderberries come from the Elder tree, which produces flowers in late spring/early summer. I have a whole section of my blog dedicated to Elder - feel free to browse! And here's the link to my Wild and Sweet cookbook.