A Dozen (12) Wild Violet Recipes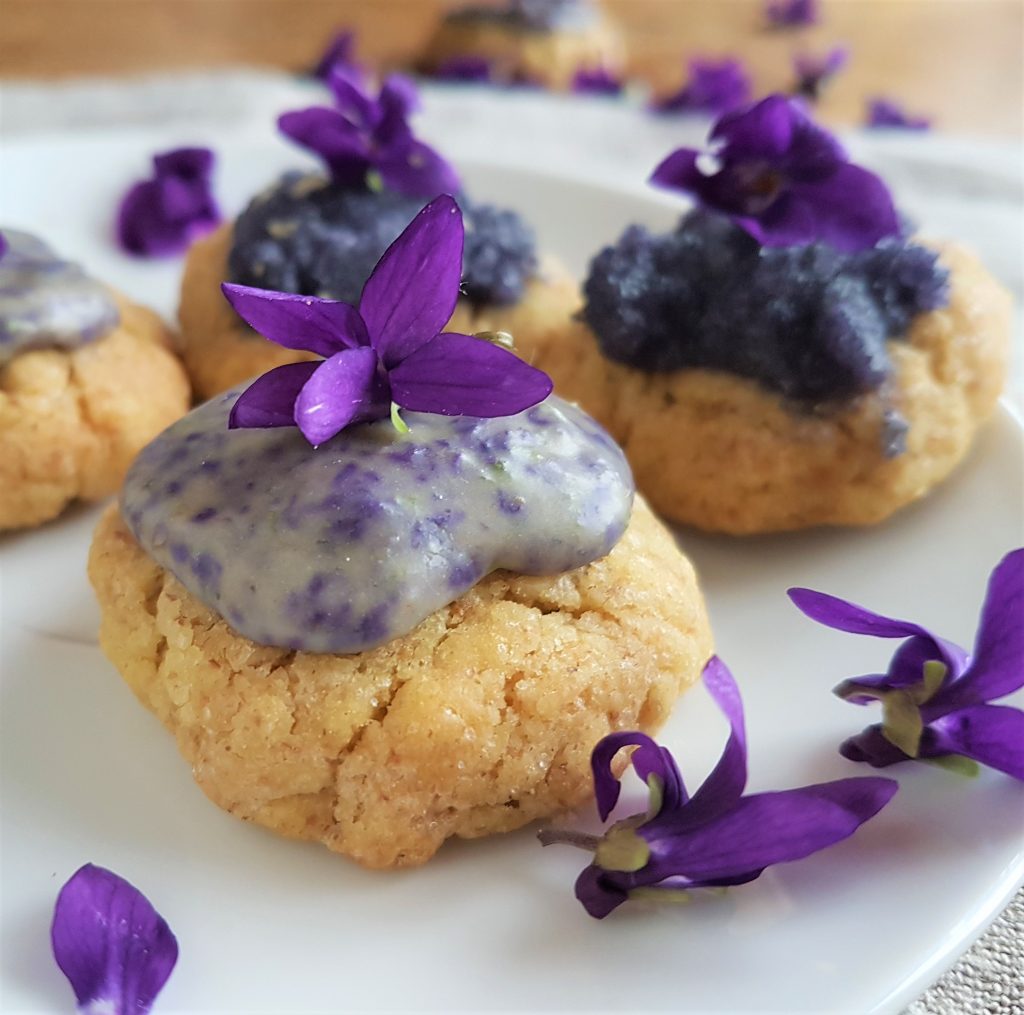 I've had such fun experimenting with edible violets! Their colour and aroma are a delight, if not a little elusive to pin down! So I thought I'd share my best Dozen Recipes for using Violets for sweet and savoury, complete with notes on colour and flavour.
Most of the recipes I share here use sweet violets, though some are suitable for other wild violets. Check my my Wild Food: Violets post to find out more.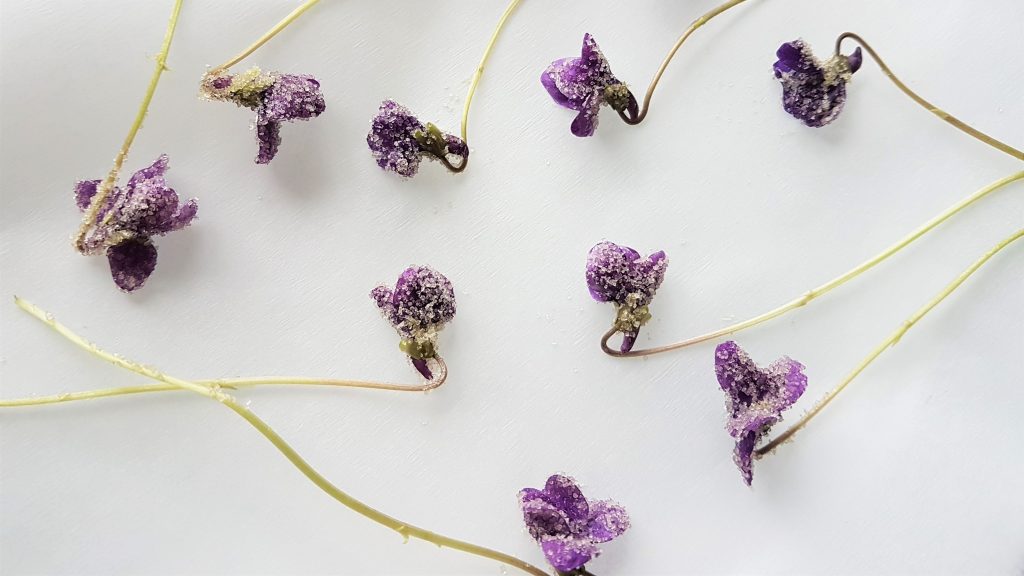 1. Crystallised Violet Flowers
Crystallising violets is a beautiful way to preserve and eat them and is traditionally used for decorating cakes and desserts. Find out how in my Crystallising Wild Edible Flowers post.
2. Sweet Violet Syrup Recipe
Violet syrup is a beautiful colour and a quick way to capture the flavour of sweet violets. Use in cocktails and dilute for drinks. Match with subtle flavours so not to overpower this delicate syrup. The final syrup will be lighter than the original violet infused water, but still stunning.
Ingredients
Fresh sweet violet flowers
Boiling water
Golden caster sugar
Clean the flowers and place in a heat proof bowl or mug. A deep vessel is best and one suitable for the quantity of flowers. Pour over enough freshly boiled water to cover the flowers. Cover and leave to steep for 24 hours. The next day, strain off the liquid, every last drop, and measure it. For every millilitre of liquid, add a gram of sugar, or if using cups, match the cup size so the amount of liquid and sugar is the same. Add the liquid and sugar into a suitable sized saucepan and stir while over a medium heat until the sugar dissolves. Store in a sterilised bottle, or freeze in an ice cube tray. Adding a squeeze of lemon will help preserve the syrup further and will add a lemony twist as well as turn the syrup pinkish.
3. Sweet Violet Sugar (quick)
This vibrant, purple sugar is made in an instant. It has a strong and rustic flavour and is perfect if you're in a rush and just love that colour! This sugar can be broken up and used for rolling homemade Violet shortbread biscuits in (recipe below) and in many of the recipes below, including creating a sugared rim for cocktail glasses or my Violet Viennese Whirls.
The longer you let the sugar dry, the finer you can grind it. After a couple of days you should be able to grind it into a powder.
Ingredients
5 generously heaped tbsp (1/2 cup) fresh sweet violet flowers (stalks removed)
50 g (1/4 cup) golden caster sugar
Simply blend the flowers and sugar together in a pestle and mortar or spice grinder until the flowers are completely broken up and all their colour is infused into the sugar. You can let the sugar dry out or use it immediately.
4. Sweet Violet Sugar (slow)
A beautifully perfumed sugar made from infusing the flowers in sugar for 5-7 days. This slow process extracts the scent of sweet violets perfectly and is my preferred method, if I have time. You can infuse into icing sugar or caster sugar. I used unrefined icing sugar, which has a pale colour (rather than white), but I can live that considering unrefined sugars retain more nutrients.
Ingredients
50 g + 1 tbsp (1/2 cup) unrefined icing sugar
4-5 generously heaped tbsp (1/2 cup) sweet violet flowers
Place the flowers in a suitably sized, clean and dry bowl and cover with the icing sugar. Stir to cover the flowers well and leave at room temperature, away from strong scents. The flowers will dry out and the sugar will start to smell of violets. After 5-7 days grind the flowers and sugar in a spice mill or pestle and mortar. Use for icing (see below) and or as a sugar dusting for cakes and desserts. Stores well for a few months.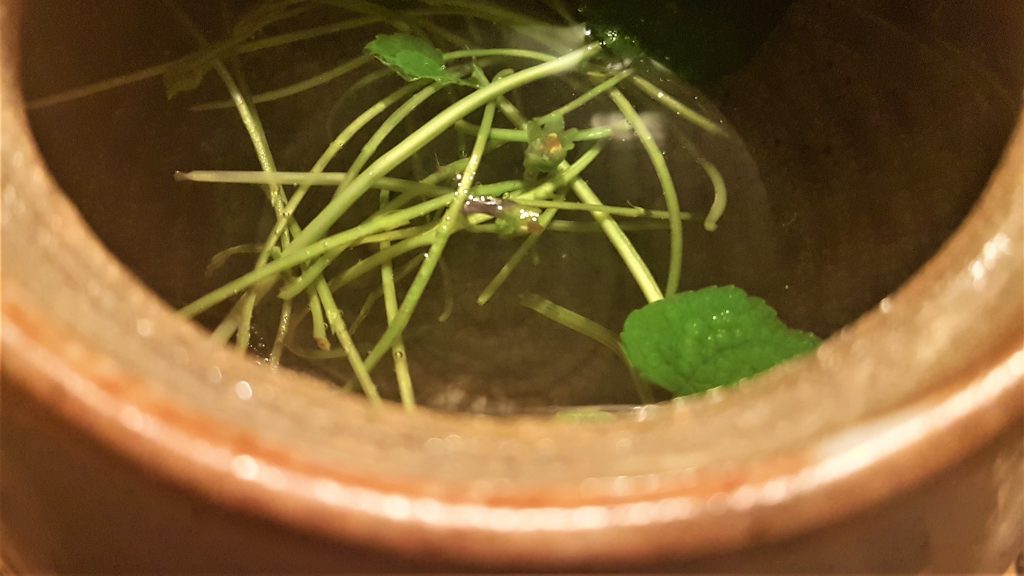 5. Sweet Violet Leaf Tea
Wild violet tea has been described as reminiscent of green tea. I used sweet violets (my favourite!) and found the tea to be rather earthy and violet flavoured and quite distinctive. Actually, I used the leftover stems from many of these recipes and a few leaves and loved this as a tea. You can use fresh or dried leaves.
6. Sweet Violet Vinegar and Pickled Flowers
There's something so satisfying about creating wild vinegars and pickling. It's so simple and easy to do. Fill a jar half with violet flowers and fill with white wine vinegar or rice vinegar. A clear and light flavoured vinegar is best to allow the flavour and colour to come through. Use a jar with a rubber or plastic coated lid, as vinegar corrodes metal. Leave the flowers to infuse for a couple of days and watch the flowers fade and the vinegar take on the colour. I used purple sweet violets and the colour went pinkish! As well as creating a floral flavoured vinegar, you will have pickled violet flowers to use in salads and to garnish meat, fish or savoury veggie and vegan dishes.. They're a fantastic shocking pink colour too! This colour is the effect of violet flavours and acid such as lemon or vinegar. The vinegar can be used to make a vinaigrette (see below).
7. Sweet Violet Vodka
Oh my, breathing in the scent of this sweet violet infused vodka is heavenly. Drink on its own or blend with a little carbonated water and sweet violet syrup for the full violet vodka cocktail experience.
Ingredients
250 ml vodka
Sweet violets (enough to fill half the bottle)
1 tsp unrefined sugar
Tip the (clean) violets into the vodka and leave for 2-3 days. The flowers will fade and the liquid will start to take on their colour, at this stage strain off the flowers and store the vodka in a dark cupboard. I found that after a week the vodka changed from violet coloured to a very pale tan colour, so drink fast (and sensibly) if colour is important to you. To get the most of the flavour, I drink this in a small shot glass on its own, perhaps with a quick rub of lemon on the rim and dunked in quick violet sugar.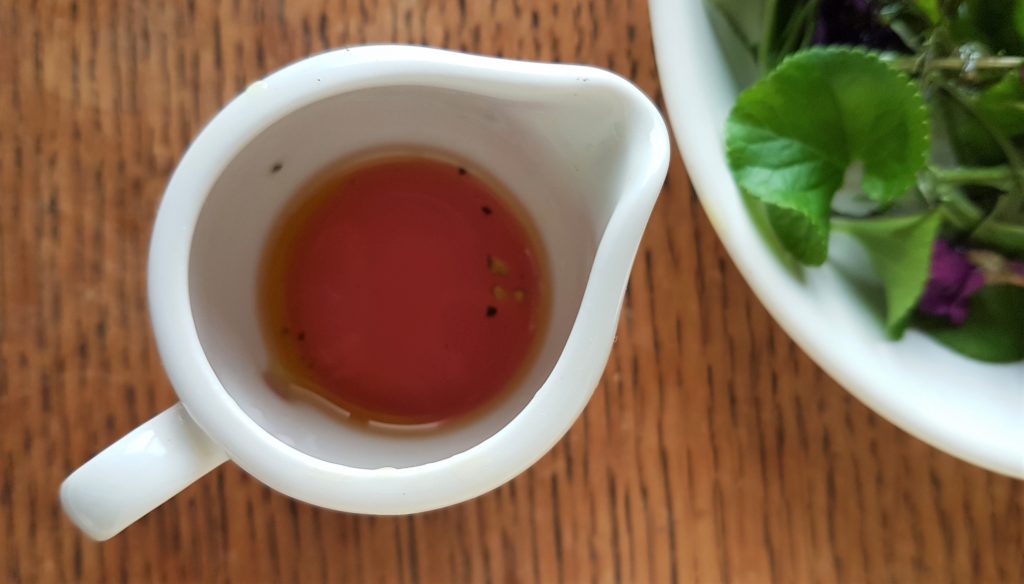 8. Sweet Violet Vinaigrette Recipe
A sweet and sour, floral salad dressing that is also a delightful pink colour!
Ingredients
2 tbsp sweet violet vinegar
3 tbsp virgin olive oil
1 tsp honey or violet syrup
Salt and pepper to taste
Combine well and drizzle over salad or multiply the amounts and store for up to 6 months.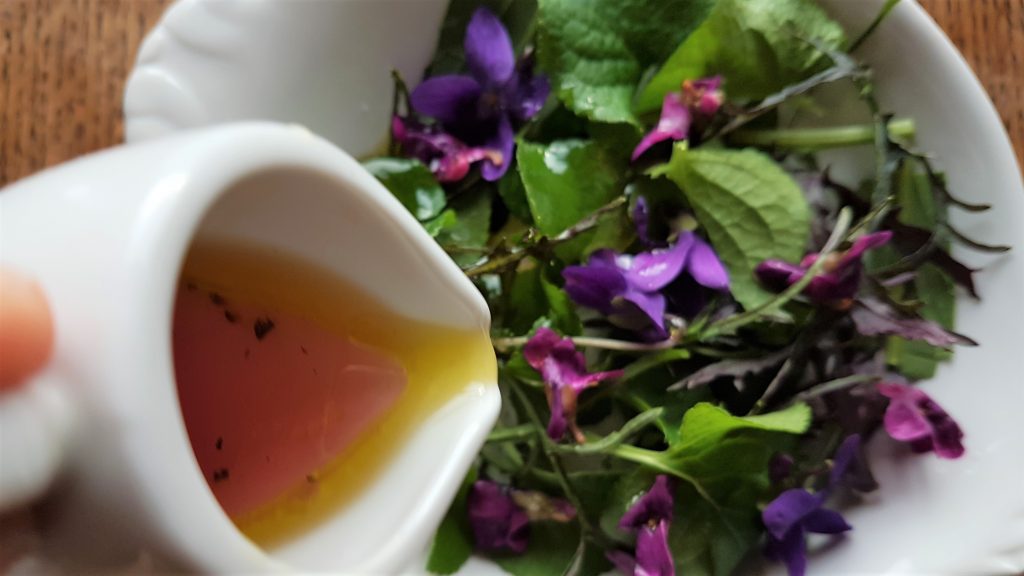 9. Violet flower and leaf salad
This may sound simple, but tossing violet leaves and flowers into a salad is a divine way to experience them. A wonderful splash of colour and the soft texture of violet leaves is an added delight. I don't recommend cooking the leaves though (unless in a soup or stew) as they turn to a soggy mush!
Ingredients
Mix the leaves and flowers together and dress with vinaigrette just before serving.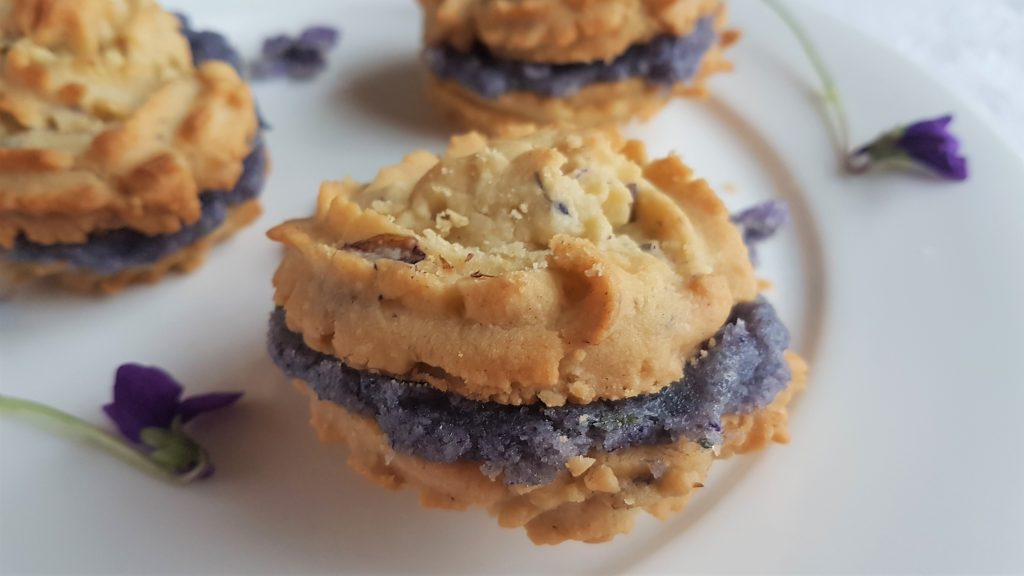 10. Violet Viennese Whirls
Buttery, melt-in-the-mouth biscuits, sandwiched together with a violet butter-cream. Find the full recipe and instructions here - Sweet Violet Viennese Whirls.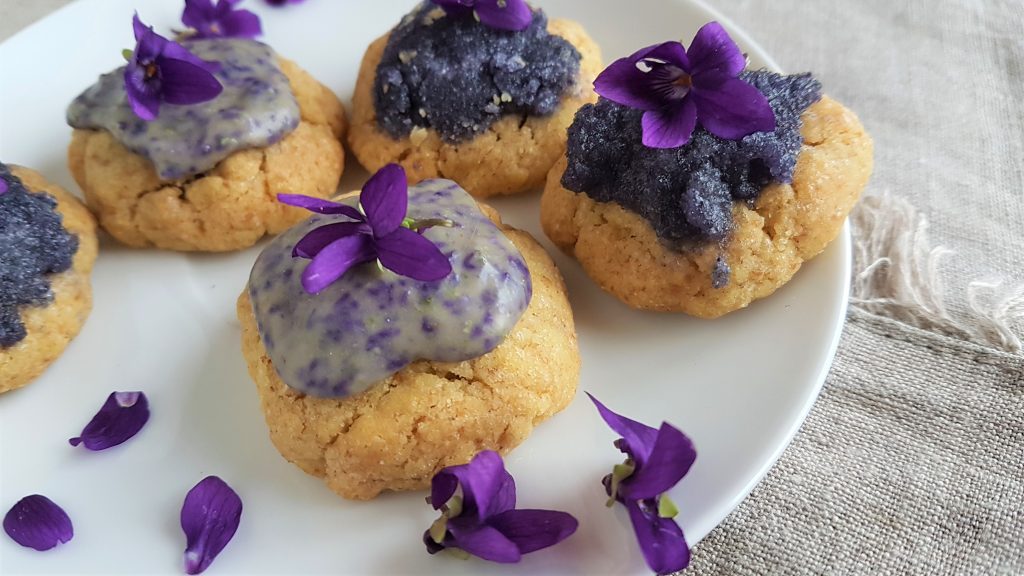 11. Iced Sweet Violet Biscuits (vegan)
Purple topped biscuits are a winner! These rustic cookies are turned into eye-catching treats with the addition of violet icing. You can't go wrong with these and the flavour is lovely too. I topped mine alternatively with quick and slow violet icing, but you know my favourite is the slow one, right?! In reality, you could use any biscuit recipe as the base, but these are my vegan ones.
Makes 15
Ingredients
125 g (1 cup) flour (I used 100 g white, 25 g wholemeal)
1/2 tsp baking powder
50 g (1/4 cup) golden caster sugar
50 ml (3 tbsp) oil (I used rapeseed)
1 tsp violet vodka (or water)
1 tbsp + 1 tsp water
For the icing
50 g + 1 tbsp (1/2 cup) powdered violet sugar
2 tsp water
(I used half of each sugars and iced them separately)
Preheat the oven to 350F, 180C/fan 160C and lightly oil a large baking tray. Sieve the flour and baking powder into a large bowl, mix in the sugar then add the wet ingredients and blend well. The mixture will be quite crumbly, but do your best to break off golf ball sizes, roll into balls and slightly flatten on the tray. Bake for 20 minutes and leave for 10 minutes before placing on a cooling rack to cool completely.
Meanwhile blend the powdered violet sugar in a small bowl with the water. Use two separate bowls if using both sugars. This makes quite a thick icing which is easy to spoon on and satisfying to bite into. Spoon on and leave to dry. Oh, and the (slow) violet sugar will look a little grey at first, but as the flowers rehydrate, the violet hues will start to shine through. Leave the icing to dry before storing and eating within a week.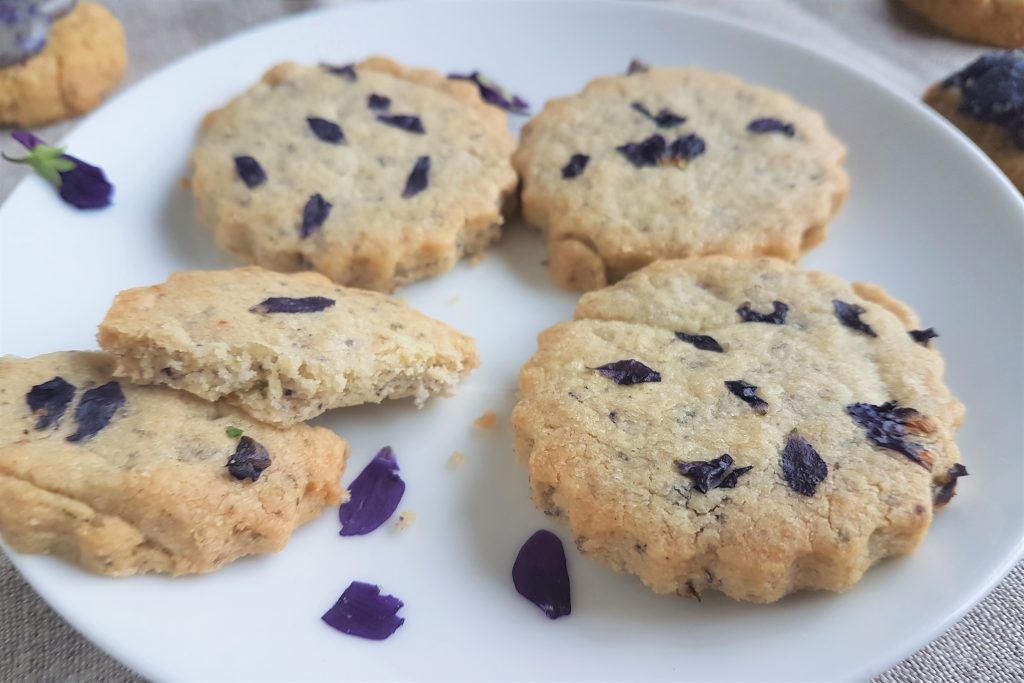 12. Petalled Violet Shortbreads (gluten-free)
These are a joy to make and pretty to look at. The violet flavour isn't half as strong is using it in icing (above), but I wanted to give you a range of violet-baking options. You could also roll these in the fresh violet sugar for an additional wow. I only thought of that after I'd made and eaten these. Again, you could use any shortbread recipe, but these are delicious. I adapted the recipe from Becky O Cole's flower biscuits.
Ingredients
90 g (1/2 cup, less 1 spoon) fresh violet sugar (quick)
115g butter (1 stick) soft butter
1 egg yolk
170 g (1 1/2 cup, less 1 tbsp) Dove's gluten free flour
1 tsp water
Violet petals to decorate
Fresh violet sugar to roll biscuits in (optional)
Cream together the butter and sugar until light and soft. Beat in the egg yolk, followed by the flour and water. Roll the dough between two sheets of baking paper until 1 cm thick. Cut out the biscuits and place the violet petals on each of the biscuits, cover with paper and roll again - they'll flatten another couple of millimetres. Refrigerate for 20 minutes. Meanwhile preheat the oven to 350ºF/180ºC/fan 160ºC and line a large baking tray. Gently peel the cooled cut biscuits off the paper and onto the lined tray. Bake for 12 minutes or until golden. Leave to cool for 10 minutes before removing for the tray. Roll in (quick) violet sugar if you wish. Place on a cooling rack before eating or storing.
Want to find out more?
Violets are one of the wild foods I may cover on a wild food foraging course or bespoke experience. You can also find out more about them in my blog; Wild Food: Violets.
Filed under:
SPRING
Tags:
eat spring, eat summer, edible flowers, edible leaves, gluten-free recipe, How to, infused vinegar, infused vodka, pink foods, purple foods, sweet recipes, vegan recipe, Viola odorata, violets, violette, wild food, wild salad