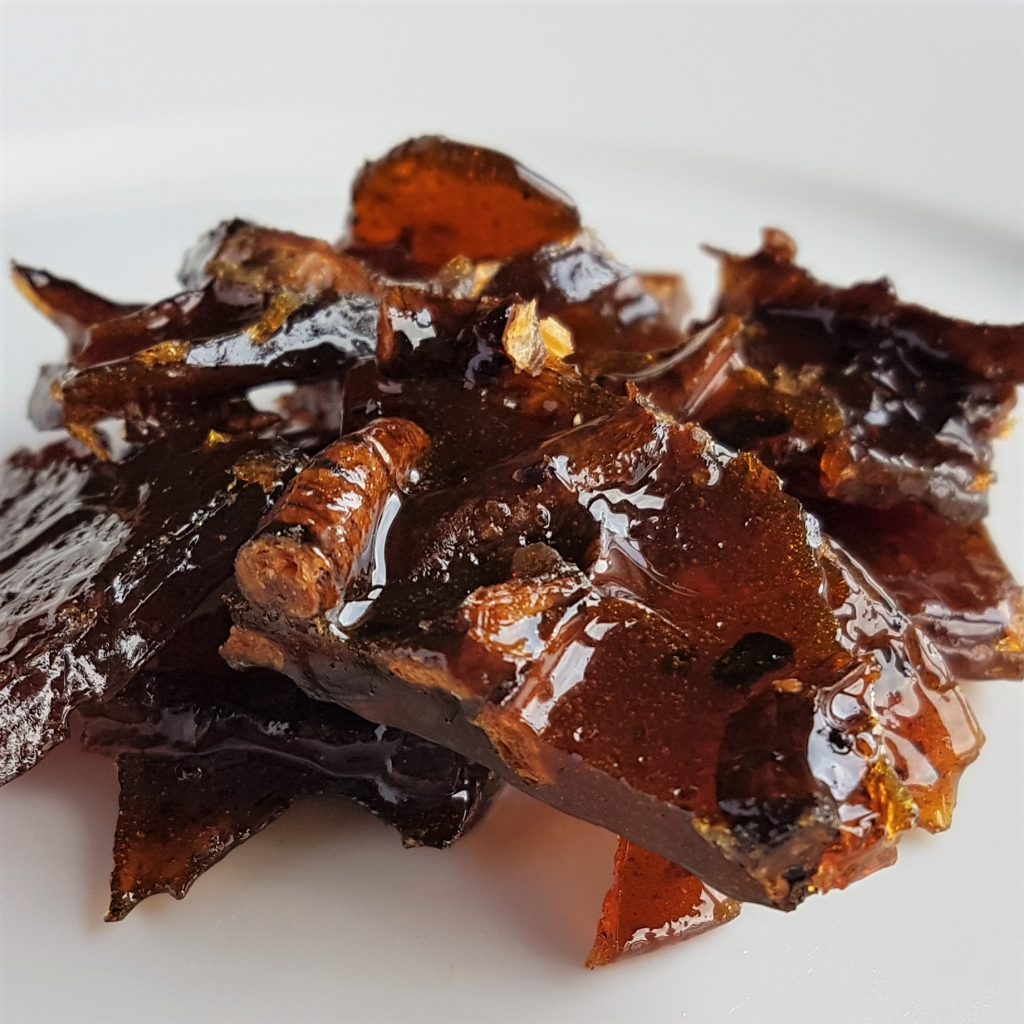 Sweet, crunchy and good for you. This dandelion root caramel brittle recipe is laced with the detoxifying roots of dandelions and flavoured with homemade dandelion coffee. You'll also need to look at my recipe for making good roasted dandelion coffee. Alternatively, you can buy dried dandelion roots and dandelion coffee at health food stores or online.
This recipe is perfect if you've been doing some weeding and have a few, young-ish dandelion roots to hand. It's good to allow the roots to dry out for a day or two first - this reduces the water content and condenses the flavour. Dandelion roots are best to dig up in Autumn and Winter when nutrients are concentrated in the roots.
Something sweet...
Like many good recipes, this one came from experimenting and using the leftover syrup from another dandelion recipe I was creating. Ooh, there's so much to share with you! Remember to use the #sweetwilds and @rachellambertwildfoodforaging if you try this recipe, tweak it or have a foraged dessert or sweet treat to celebrate, I'd love to hear from you!
Unrefined Sugars
It's a myth that caramel needs to be made with white sugar. This recipe uses unrefined caster sugar which retains some of the natural nutrients of cane sugar. I was brought up on sugar - the white stuff - and my taste for sweet just hasn't gone away. Rather than deny myself this pleasure I use unrefined sugars in my recipes. You may want to read my blog Sweet Wilds: A forager's confession.
This recipe is full of sugar!! Great for an energy boost but best to use sparingly. You can also crush the brittle in a pestle and mortar or with a rolling pin and sprinkle over cakes or desserts.
Dandelion Root Caramel Brittle Recipe
Crunchy, ever-so tasty dandelion sweets. The dandelion flavour is mild and good for you.
Ingredients
100 g dandelion roots, washed and dried for a day or two* (see notes below)
160 g unrefined sugar
1 dessertspoon dandelion coffee liquid cooled
1 tsp used dandelion coffee grains
Line a large baking tray with baking paper. Chop the dandelion roots into approximately 2 cm lengths. Over a high heat, use a wide, non-stick pan and evenly sprinkle in the sugar and chopped dandelion roots. Stir together the dandelion coffee grains and dandelion coffee and splash into the pan. Do not stir, just allow the sugar to dissolve. This will also cook the dandelion roots a little too. Leave the mixture bubbling for 5-10 minutes, until large bubbles start to form and the mixture turns a chestnut brown. Pour over the baking paper and leave to set for about half and hour. Break into chunks, or crush for desserts, I like to eat it as a sweet treat when I could do with an energy boost. Store somewhere dry and use within a month.
*Dried dandelion roots can also be used. Use just 60 g if they are completely dried.
Ever thought of using your weeds to made a tasty coffee-substitute?
The History of Dandelions
Like many common weeds, dandelions are often vastly under-estimated, under-used and misunderstood. Despite being cultivated in parts of Britain, France and North America for over 150 years (1), they are still often considered just a 'weed' that needs eradicating. Similarly, coffee-substitutes are easily linked to events like the Second World War, when people resorted to roasting grains, acorns, cleaver seeds and dandelions roots instead of or to bulk up rationed coffee. Though in the 1900s it was also sold as an inexpensive coffee.
Dandelion roots can be used to create a caffeine-free coffee substitute, but dandelion coffee is also a drink in its own right. Made from roasting and grinding the roots, it gives off a pleasant aroma and has a slightly bitter after-taste, reminiscent of coffee or dark chocolate. Here I share step-by-step how to make homemade dandelion coffee.
1. Identify Dandelion Roots
How well do you know your dandelion roots? This might sound obvious to you, though I often see dandelions being misidentified. To complicate things (but only slightly), there are around 250 different types of dandelion. Dandelion (Taraxacum officinale) has toothed leaves, a hollow, branch-less stem with a milky sap and yellow flowers. Thankfully, this is also the most common dandelion.
2. When and How to Dig Up Dandelion Roots
The tooth-shaped leaves of spring and summer mark where I needed to dig. The roots of dandelions are long and thin and can be up to 25 cm in depth, not that I'm measuring. It is easy to snap them near the top if you don't carefully dig around the root, and even then, I normally have a few that mostly remain in the ground. So take your time. The slightly older ones are said to be the best, 1 or 2 years of age are a good size and not too bitter. If you're digging on your own patch you might get to know your dandelions this intimately.
I find flower beds and vegetable patches the easiest to dig from, as the soil tends to be looser there. I've also made the mistake of accepting the offer of digging up a lot of dandelion roots from a friend's grass lawn. Yes, I did rid them of their dandelion roots, but I also left them with a lot of muddy holes. I wasn't invited back. In the UK you need permission from the landowner to dig up roots, though there's always people who'll happily let you do their weeding for you.
Autumn and Winter is the perfect time for digging up the roots. In the colder, darker months, the plant's energy is concentrated in the roots, making them sweeter and more nutritious. I like to time my digging with the waning moon too, when the pull towards the earth and those roots is strongest.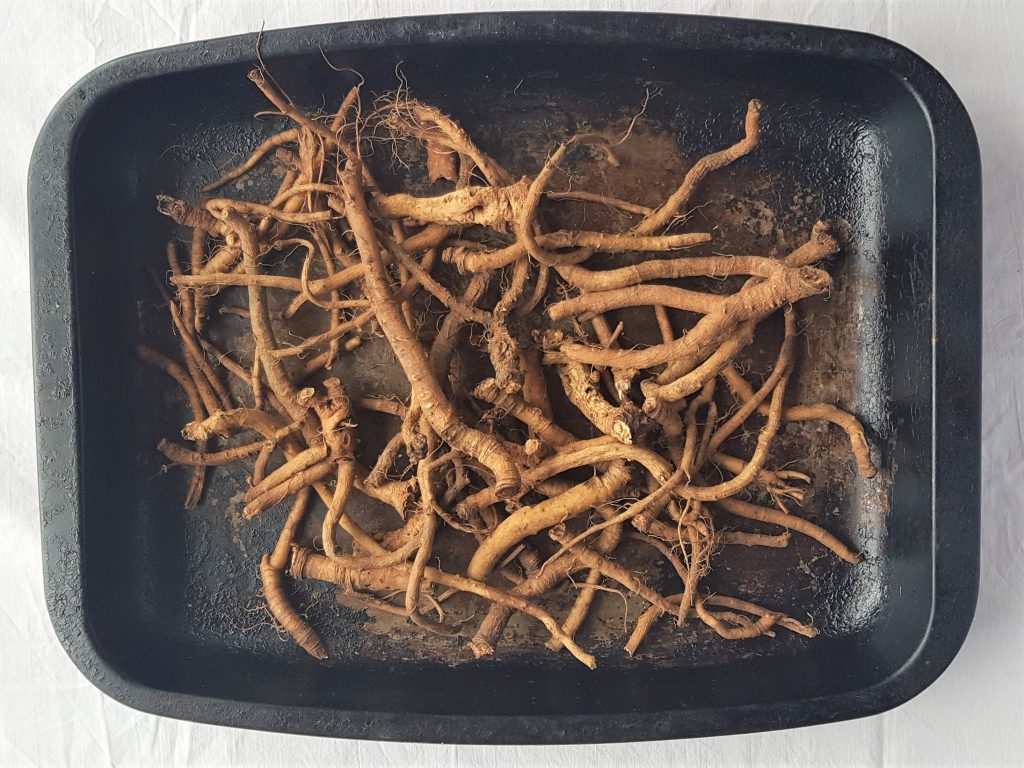 3. Preparing the Roots for Making Coffee
The roots need to washed well, then pat them dry and leave them in a warm place for 2-3 days to dry further. This will reduce the amount of time they need in the oven and concentrate the flavours. During this drying process the weight of the roots will halve. Next, finely chop the roots and preheat the oven to 180°C/fan 160°C and dry roast the roots for 30-40 minutes (turning halfway through). The roots are ready when they are dark brown. Leave to cool and store in a clean jar. Grind for drinks and other recipes as needed.

Roasted Dandelion Root Coffee Recipe
Makes 50 g (7-8 tbsp)
Ingredients
280 g freshly dug up dandelion roots (tops removed)
Dig up the roots, wash well and leave to dry in a well-ventilated area for 2-3 days (this will reduce their weight by about half). Chop small and place on a large baking tray. Preheat the oven to 180°C/fan 160°C and dry roast the roots for 30-40 minutes (turning halfway through). The roots are ready when they are dark brown. Leave to cool and store in a clean jar. Grind for drinks and other recipes as needed.
To make 1 mug of roasted dandelion coffee, grind 1 and 1/2 tbsp roots and place in a small pan with 350 ml water. Bring to a simmer and allow to gently bubble for 10 minutes. Strain and drink (or flavour with milk and sweetener and drink).
I teach about seasonal, edible weeds on my monthly foraging courses, with lots of tips for recipes, identification and hands on learning. Follow me on instagram or facebook to see regular posts and information, or sign up to the newsletter, oh and do tag me if you try any making this, I'd love to hear from you! @rachellambertwildfoodforaging
References and Credits
Irving, M. (2009) The Forager Handbook - A guide to the edible plants of Britain
Top photo by: Jamie Mills, the rest by Rachel Lambert (copyright).
Laver (Porphyra) was the first seaweed I foraged and cooked. I remember my photographer friend Wendy Pye coming to visit me on my first Cornish Winter (2007). We traipsed up to the north coast and picked luscious looking laver from the rocks. I cooked it for hours and we had it on toast for breakfast. Wendy was one of my many guests that I experimented on and who helped me realise I wasn't mad for liking seaweed! This was before the more recent revival of interest and use in seaweeds here in the UK.
Laver has been eaten in Britain for centuries and records of its use go back to the 1600s. Yet the traditional breakfast of laverbread almost disappeared completely in the UK, with the except of certain coastal areas of Wales. Luckily this fantastic food is still growing wild and been eaten and enjoyed. Funnily enough, the same seaweed is used to make around 1 billion nori sheets annually in Japan. See my Nori, Rye, Buckwheat and Oat Cracker recipe to find out more.
How to Cook Laver
Laverbread refers to laver seaweed cooked for hours so it reduces down to a black pulp. Also known as Black Gold and Welshman's Caviar, these names speak of how highly laver was prized as a food.
Instructions for cooking laver advise simmering for 2-12 hours and letting the water boil off. When I first cooked laver I didn't want the saucepan to boil dry (and burn) so I ended up with excess liquid. Not ideal, but great for using in stocks, stews and soups! Laver can also be cooked in a pressure cooker in less time or in a slow cooker overnight. Both these methods will save your saucepans from boiling dry!
I also share how to cook laver and a recipe for incorporating it into bread in my seaweed book which has 16 seaweeds in and more information about laver, including where it likes to grow and different species.
The Goodness in Laverbread
Laver seaweed contains high amounts of protein, B12, magnesium, iron and vitamin C. It also contains calcium, iodine, zinc, B1, B2, B3, B5, B6, B9 and good traces of many other vitamins and minerals. Laverbread is good for you!
If you're not able to harvest it yourself, you can buy laverbread either  freshly made in some Welsh delicatessens or in tins. The tinned stuff is just as good, often cooked in sea water, it has the perfect taste and texture. I've bought several tinned ones before and loved them!
How to Make Laver Cakes
This is a classic laver recipe which consists of bacon, bacon fat, laverbread and oatmeal. It was traditionally served at breakfast, but is rather nice as part of an evening meal too.
Ingredients
5 slices of streaky bacon
150 g laverbread
40 oatmeal (or oats powdered)
Fry the strips of bacon in their own fat, remove from the pan and finely chop. In a medium bowl combine the bacon, laverbread and enough  oatmeal to bind the mixture. Shape into 'cakes' or patties about 2 cm thick and fry in the bacon fat for about 2 minutes on either side. Eat on their own or as part of a meal.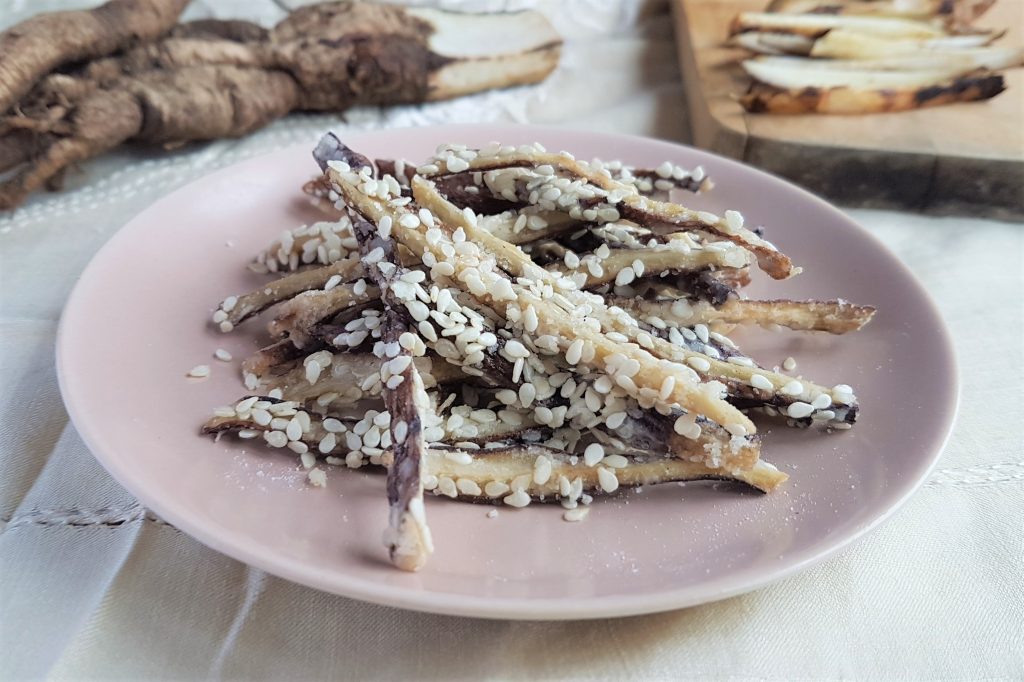 Here I am going to share with you recipes for three, quick savoury snacks using burdock roots (Artium lappa and Artium minus). They are simple, easy to follow and tasty.
About Burdock
Burdock roots are renown as a skin cleanser from acne to eczema when used externally. Hippocrates, the Greek physician know as the 'father of medicine' believed that food should be medicine. So these are recipe to eat rather than than place on the skin. Burdock roots are used extensively in Japanese cooking.
You can read and see more about these edible roots in my blog; Foraging for Burdock Roots.
Let food by thy medicine and medicine be thy food. Hippocrates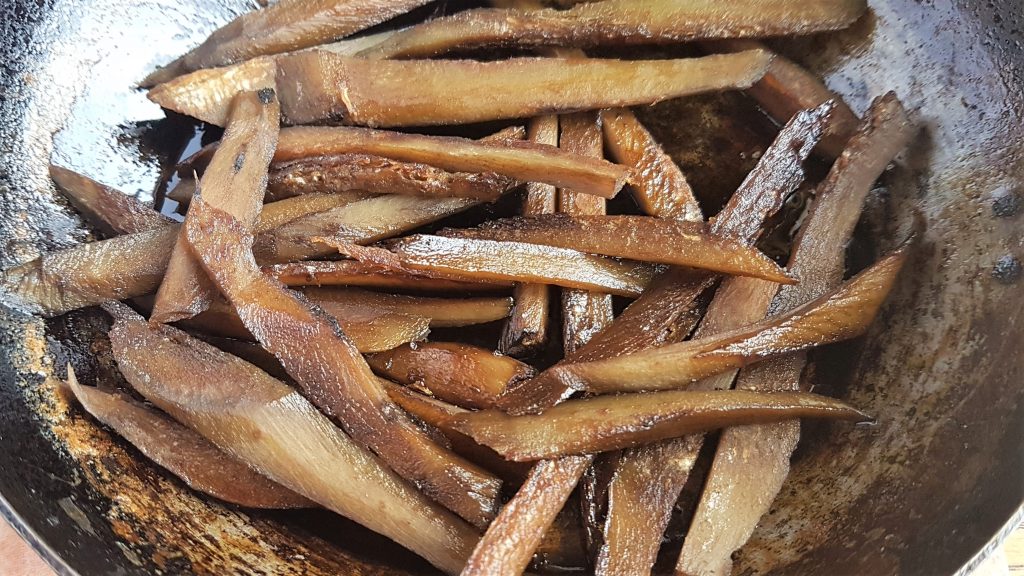 Burdock Roots in Soy Sauce Recipe
This was the first recipe I ever used for burdock roots and is from Roger Philip's book; Wild Food. Based on a Japanese vegetable dish, it is very straight-forward to make. If you like salty flavours, this recipe is for you! The result are soft strips of burdock, but still with a crunch and earthy burdock flavour.
Serves 1-2 (as a side dish)
Ingredients
60 g burdock roots
150 ml water
1-2 tsp soy sauce
Clean the burdock roots, if they are large they may need peeling a little. Slice into thin strips and place in a small pan. Add just enough water to cover the roots and a good splash of soy sauce. Simmer for 15-20 minutes and allow the liquid to evaporate and the soy sauce flavour to be absorbed in the roots. I like to eat these on their own alongside a tapas of other Japanese snacks, like the nori rice balls from my seaweed book or even as a side dish to beef stew and black mustard mashed potato from my wild food foraging book.
Deep-fried Burdock Root Chips Recipe
These are easy to cook and are lovely as a crispy, fried treat. If you like chips, you'll love these! The flavour reminds of really earthy potatoes, with a slight hint of something else.
Serves 2-4
Ingredients
250 g burdock roots
Oil for frying
Sea salt (to taste)
Prepare the roots in the same way as the previous recipe. Cover a plate or two with kitchen paper and place by your cooker. In a frying pan, heat the oil over a medium to high heat. To test whether the oil is hot enough, add a small piece of burdock root, when it floats to the surface and the oil is bubbling, it is ready! Use a slotted spoon to add the strips of burdock roots. Be careful, hot oil can burn! Allow the roots to fry for a few minutes until they are crispy and slightly browned on the outside. Use the slotted spoon to remove and place on the kitchen towel. Sprinkle with a little sea salt and serve. These are delicious with crispy fried gutweed seaweed, from my wild food foraging book.
Deep-fried Burdock Roots with Sesame Recipe
This recipe is, again, influenced by Japanese cooking. I love the added crunch and flavour of sesame and this recipe transports me from 'British chips to fancy Asian fried delights'. Recommended to serve alongside other sushi-style savoury treats (see above).
Serves 2 (as a side dish)
Ingredients
100 g burdock roots
Oil for frying
1 tbsp corn flour
1 tbsp sesame seeds
A little sea salt
Follow the recipe above for burdock chips. Before frying, prepare a small bowl of corn flour - you'll just need enough to dip each root and coat it. Plus another bowl of sesame seeds, about a similar amount and blend with a little salt. Dip the raw burdock strips into the corn flour before frying. Serve immediately by tossing into the sesame seed mix and enjoy.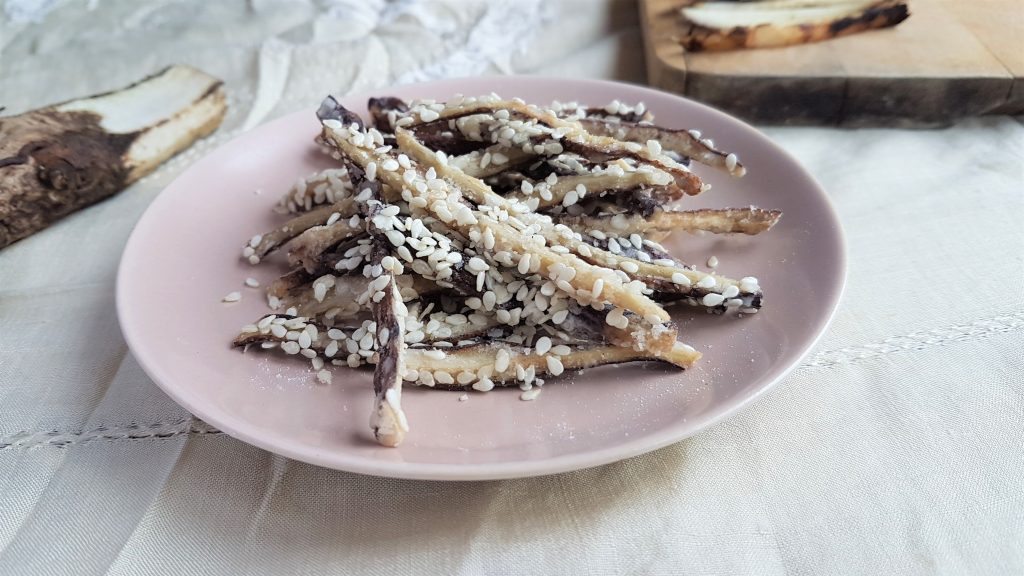 Want to find out more?
Feel free to browse my blog for more information, I also run monthly foraging courses with tasters, which is the ideal way to learn in a small group. Or perhaps you'd prefer a bespoke foraging experiences which will allow you to explore the wild foods that particularly interest you.
I also post regularly @rachellambertwildfoodforaging or sign up to the newsletter for regular updates about posts and events.
I've just returned home from a winter foraging course where we covered 10 wilds that you can pick here in Cornwall through winter. I love foraging in the cooler months and there's a great choice of wild pickings too. I've written about and sung the praises of winter foraging before in; Why Cornwall is excellent for foraging even in winter.
On the foraging course we shared the joys of being outside in nature, as well as some great tastes and a hot flask of Alexander Soup. I always make wild tasters for courses and soup felt fitting for December, as did using some of the abundant growing Alexanders (Smyrynium olusatrum).
All the soup was appreciatively devoured, though luckily I'd kept a portion at home to have for a late lunch. You can read and see lots more  - including recipes - about Alexanders in the Alexanders section of my blog.
Meanwhile, lets get to it. Here's this delicious recipe which is so easy to make, good for you and seasonal here in Cornwall.
Winter Alexanders Soup (vegan)
Serves 4, generously
Ingredients 
200g alexanders leaves (large stalks removed)
1 tbsp coconut oil
1 medium onion
150g pots, diced (scrubbed, though not peeled)
200g creamed coconut
1250ml boiling water
3 tsp powdered vegetable stock
salt and pepper
Finely chop the finer Alexander stems and put aside. In a medium saucepan, heat the oil over a medium heat, chop the onion and add to the sizzling oil, stir and cook until translucent. Lower the heat, add the potatoes and Alexander stems and sweat for 10 minutes. Meanwhile, measure out 1.25 litres of boiling water. Chop the cream coconut, discarding any blocks of coconut fat place in a large, heat-proof bowl, pour the boiling water over the coconut, and stir until dissolved. Pour into the saucepan, season with stock and salt and pepper. Chop the Alexander leaves and add to the pot, cook for 7-10 minutes, or until tender. Blend and serve, or pour into a hot flask and take to the beach for a hearty lunch.
I'm often asked what my favourite time to forage is, well spring is fantastic, though honestly, winter is becoming an increasingly wonderful time to forage. The quiet, the abundance of plants and the unexpected joys of finding food (not in the supermarket) this time of year.
On January 2nd myself and a small group of friends went foraging, our task; to simply enjoy the outdoors and gather a few ingredients for supper, which we'd then share together, and that's exactly what we did. A big thank you to Sara Pozzoli for joining us and filming us. Here's the menu;
Winter Foraging Menu
Spelt Bread with Alexander Seeds
Salsa Verde with Rock Samphire, Pepper Dulse and Three-Cornered Leek
~
Alexanders, Sea Spinach, Gorse Flower and Coconut Curry
Yoghurt Dressing with Three-Cornered Leek, Black Mustard and Wild Chervil
~
Chocolate and Haw Berry Jam Cheesecake
Yesterday I was crunching on frosty kelp, today the seaweeds are limp and wet again, having defrosted in the sun. It's a lot for seaweeds to cope with, or is it?
In reverence to seaweed, and in celebration of the 'proper' snow we had 2 weeks ago (the first time in 10 years here in west cornwall!), I thought I'd write about seaweeds, snow, frost and freezing temperatures.
Do they like it? Can they survive? And, if they can, what are their secrets?
Frost catches a moment in time, and literally, freezes it, the effect is beautiful, though what is the impact for the weeds?
Firstly, seaweeds exist across the world, in vastly varying temperatures and conditions, from 50 metre long kelps, to microscopic organisms to seaweeds that never emerge above the water's surface, to ones that are exposed to the sun, air and being dried out for more than 6 hours every day.
Each species of seaweed is suited to particular environments. Deep sea seaweeds (these are sub-tidal and never come above the sea's surface) are used to more constant temperatures, while inter-tidal ones (which get exposed twice a day at low tide) are built to sustain almost extreme changes in temperature.
'Most seaweeds would be killed if frozen. However high concentrations of tissues salts and organic solutes in the seaweed's cells lower the freezing points.'
Basically, seaweeds have in-built anti-freeze which protects them from freezing.
In reality, this means that Bladder wrack (top image) can cope with -40° C for months, Egg wrack (above) can go to -20° C and some of the laver species (below) can remain unscathed at temperatures as low as -70°C for 24 hours or so, as well as cope with rather high temperatures in the hot sun.
I feel hot and cold just thinking about it.
My awe of these millions of years old organisms increase with this knowledge. Furthermore, seaweeds also work together to protect each other - they live layered on top of each other, which means just the top layer freezes and the lower seaweeds are kept at a more tolerable temperature.
Similarly, emperor penguins, which survive some of the most harshest conditions on earth huddle together to keep warm. They congregate in groups, sometimes in thousands, and those on the outside of the huddle protect those on the inside, and between them they circulate so no penguin is continuously on the outside. Of course, like seaweeds, penguins body is suited to the environment, yet working together is essential for them to survive extreme temperatures.
Here's to the beauty of the snow, the amazing science of nature, and a thankful heart for having warm wellies to go and forage for those seaweeds in.
Images courtesy of; loriedarlin.tumblr.com, daily mail, Pam Collins and 500px.com