Oooh! I'm hooked on making stuffing at the moment. This version has a slightly perfumed, cumin-like addition from the wild carrot seeds. It also incorporates further seasonal wild greens available here in Cornwall in winter.
So if you're looking for a different twist on stuffing read on...
Wild carrot seeds is one of the wild foods I cover in my Wild Food Foraging in Cornwall and the Isles of Scilly book. They should be avoided if pregnant.
Sign up to access this post
Access this post and more for £5.95. Already a member? Sign in here.
RICH PICKINGS
MONTHLY BASKET
£5.95 per month
Get more! You'll get access to all the Taster Basket blogs, plus an additional 2 seasonal posts of my most treasured material AND be able to access the last 6 months of Rich Pickings offerings.
Unsubscribe at any time.
Over the centuries many different grains and plants have been used as an alternative or substitute for coffee. In the 2nd World War acorns and chicory were used. Roasted rye, brown rice and malted barley have also been used across the world.
These are Cleaver seeds, Goosegrass (Galium aparine), sticky grass or sticky willy - as we called it as children. Cleavers makes the best alternative to coffee I know.
Related to coffee, when roasted their flavour resembles coffee's taste and smell. Cleavers even contain some caffeine. Each plant can produce hundreds of seeds, anything from 300 to over a thousand. Giving you a bounty to forage if you have the patience. Oh, and a little perspective, by the time you've finished reading this page, you could have collected enough seeds to make a mug of cleaver coffee.
Where can you find cleavers?
Cleavers can be found in fields, crop fields and hedgerows. They prefer nutrient-rich soil, can survive dry conditions well and can grow from just above sea level up to 1,500 ft. A straggly, creeping plant that can grow more than 1 metre long. Each seed is covered in tiny hooks that attached themselves to, pretty much anything, except plastic.
When to harvest cleaver seeds?
The seeds start from summer; though these aren't the ones you want to harvest. Instead, wait until they turn from green to brown in late summer or autumn. You can keep an eye out for them throughout winter too.
What are the benefits of cleaver seeds?
Cleaver seeds are a mild laxative, stimulate the lymphatic system and are good for treating urinary irritations. A word of warning though, don't try and bite on dried cleaver seeds, they are very, very hard.
How to Make Cleaver Coffee
For committed coffee drinkers, this is the best wild substitute that you can find in the hedgerows. It may not impress expresso lovers though! However, it suits desserts faultlessly and can be used to make a coffee-flavoured drink with a mild caffeine hit.
Makes 90 g (9 tbsp)
Ingredients
100 g Cleaver seeds (picked off the stems)
Pick the dry, brown seeds and discard as much of the stems as possible. Preheat the oven to 180°C/fan 160°C, place the seeds on a baking tray and dry roast for 45 minutes to an hour. The more seeds you have, the longer the roasting will take. An aroma reminiscent of weak coffee will be released when they are ready, and they'll turn a little darker, though don't let them burn.
Remove the seeds from the oven, allow to cool a little before grinding, or store and grind on demand. You'll need a good, strong seed or coffee grinder to break those hard seeds into a ground powder. Stores well for up to a year.
Want to learn more and make some cleaver coffee?
Here's my Spiced Cleaver Coffee Chai recipe. If you prefer, omit the spices and just enjoy this as a mug of cleaver coffee! Or check out my alfresco version of making cleaver coffee.
Also, have you seen my dandelion coffee recipe? Dandelion roots and cleaver seeds are two wild edible plants I teach on my late summer, autumn and winter foraging courses. which you're welcome to join For my best recipes you may want to check out my foraging members options too.
I'm so pleased with this wild and wonderful recipe for serveral reasons -
It means I can have a wild, healthy breakfast everyday
It uses the waste from making blackberry cordial and blackberry coulis
It utilises blackberry seeds that are rich in omega 3 and 6
I love granola but it's often heavy with sugar - this one isn't!
It's also great as a topping for porridge
Blackberry Seeded Granola Recipe
Fruity, chewy and crunchy, this simple granola is made by using the discarded blackberry seeds and fibre from blackberry cordial or juice. Surprisingly flavourful, it's the perfect topping for hot porridge, with a little blackberry cordial, or enjoy on its own as a breakfast cereal.
Makes 600 g
Ingredients
Combine the honey and oil in a small saucepan and heat over a low heat until melted and combined. Put aside. Heat the oven to 170°C/fan 150°C and line a large baking tray with baking paper. When the honey/oil blend in cooled to hand temperature, pour into a large bowl and add the blackberry pulp and the oats. Stir well to combine then spoon onto the baking tray and spread out evenly. Press the mixture down a little and bake for 15 minutes.
Take out of the oven and stir, then return for a further 15 minutes before stirring again. The mixture will take a little longer than normal granola to bake as the blackberry pulp is moist, so keep checking and turning the mixture every five minutes for another 10 minutes or until golden and slightly crisp throughout. Take out of the oven and leave to cool, it will harden more as it cools. Store in a large jar and enjoy liberally, use within 3 months.
Technically this is fruit and seed fruit leather!
Although I'm a forager by trade, in my heart I'm still an artist that loves to be creative. For me, wild food is a natural material to play with, use well and not waste.
So when I make blackberry cordial or blackberry coulis and am left with a seedy, black pulp, this is what I ended up making from it, and eating!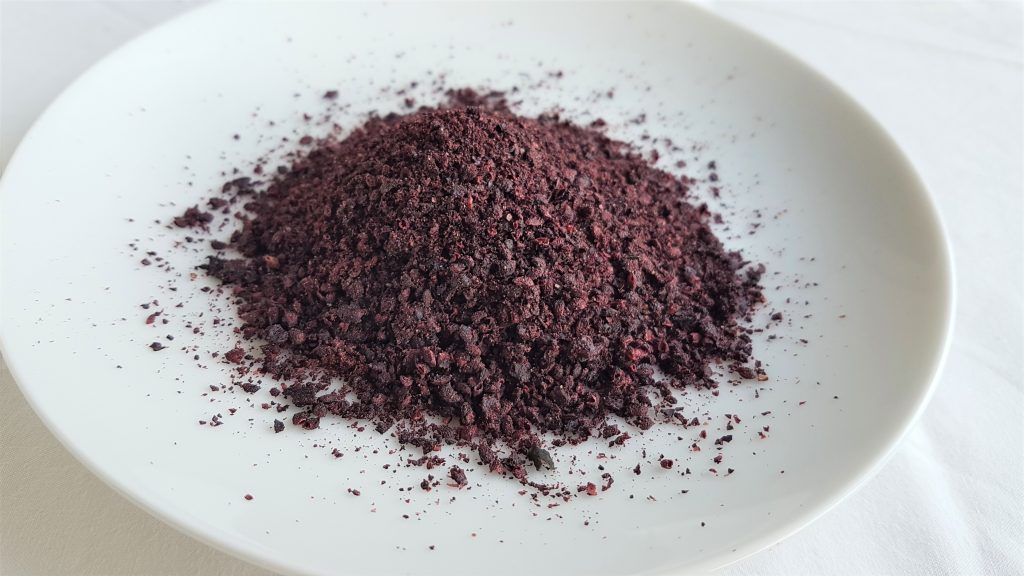 Why eat blackberry seeds?
Did you know that blackberry seeds have omega 3 and 6 in them? These little seeds that often get stuck between your teeth can also help the normal functioning of your body.
These essential oils help; stimulate hair and skin growth, maintain bone health, regulate metabolism and maintain your reproductive system. They also support the healthy functioning of your immune system, brain, eyes and nerves. Eating blackberry seeds are good for you!
How to Make and Store Blackberry Pulp
Blackberry pulp, rich with seeds in the natural waste product from making blackberry cordial, coulis or juice. Just simmer the fruits in their own juice and using a jelly bag (or fine weave nylon curtain netting) strain as much of the liquid out.
You can use this pulp immediately in recipes such Buckwheat, Blackberry and Dulse Crackers, or in my Blackberry Seeded Granola recipe. Alternatively, dehydrate it and use later - see ideas below.
How to dehydrate blackberry pulp and seeds
Spread the pulp out on baking paper or silicon sheet and dehydrate at the lowest temperature in the oven for 2-4 hours. You may need to peel the pulp off towards the end and turn it over to ensure the under-side dries out too.
Alternatively use a dehydrator and follow the instructions for making fruit leather. The result should be a dry, seedy leather that can keep for up to 12 months and be ground as needed and incorporated into recipes like Buckwheat, blackberry and dulse crackers or my Blackberry-seeded granola recipe. I then like to cut the blackberry seeded leather into strips and powder for recipes as needed.
Can you use this blackberry seeded fruit leather as a snack?
Of course you can! You can eat pieces as a fibrous, rich in seeds snack, or cut into pieces with scissors and use as a rustic, paleo, gluten-free, wheat-free cracker! I rather like it this way. I'd love to hear from you if you make this, er seedy, fruit leather/nutritious snack and ingredient. Wishing you good health. X
I'm so pleased with this recipe for wild crackers - they're so easy! Prepared in minutes and slow-baked to create a crisp texture that lasts well and is ideal for wild salsa verde, local cheese with wilds or how ever you like to top your crackers!
I used wild-harvested seeds from common weeds (see below) and my optional nettle powder for a green version. Using wild seeds are a great way of increasing your nutrition and using abundant plants growing locally.
I also have a seaweed version of these crackers, for a more umami flavour.
These nutritious crackers are boosted with ribwort plantain seeds (Plantago lanceolata) but you could use the seeds from any of the plaintain family. Yes, that's right, these seeds are edible and everywhere!
Where can you find plantain growing?
Plantain is not a fussy grower! It happily grows on wasteland, dry soil, in wet bogs, coastal areas, on mountains, in towns and gardens. It is one of the largest plant families found all over the world with around 200 species.
Is plantain the same as the banana type of plantain?
Although it shares the same name, these two plantains are unrelated. Here I am talking about plantago not bananas!
What are the most common plantains in the UK?
Greater plantain (Plantago major) and ribwort plantain (Plantago lanceolata) are the most common plantains in the UK - see images above. Greater plantain has the broad leaves and ribwort has the long ones.
Is plantain good for you?
Plantain has been used for thousands of years as a food and medicine. The leaves, flowers and seeds can all be used. Traditionally used for coughs and bronchitis, plaintains are rich in minerals and the seeds are full of fibre and protein too.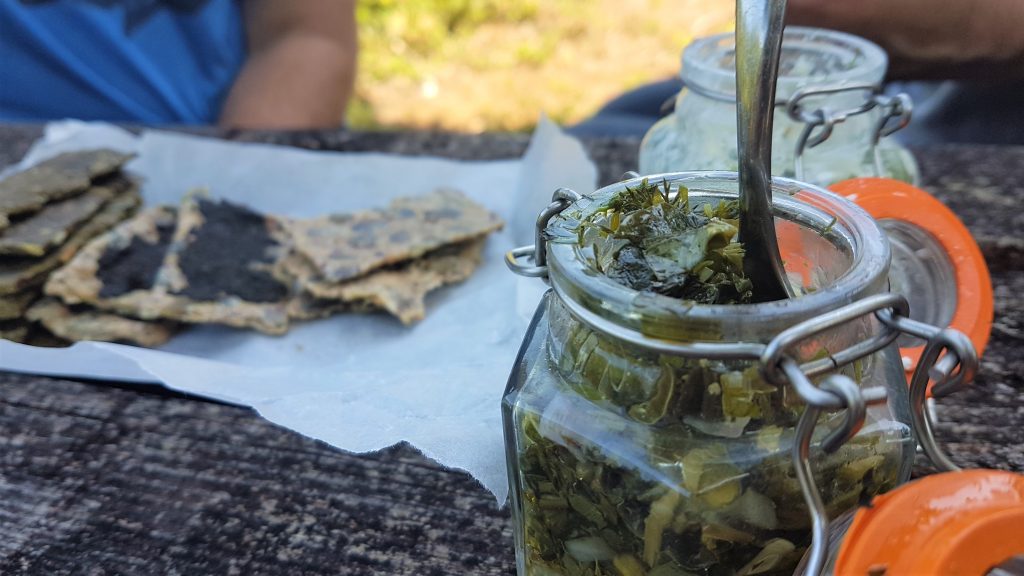 Plantain Seed Cracker Recipe
Easy, tasty and all-round great homemade crackers! These also happen to be vegan.
I used ribwort plantain seeds for this recipe, because they were nearby. However, greater plantain has longer seed heads, so do harvest these instead if you find them! You could also vary the mix and amounts of seeds according to what you have, this recipe is based on what I had to hand.
Preparing the plantain seeds
For this recipe I use green seeds in early summer. Later in the summer I could use the dried, smaller ones, these will weigh a lot lighter though. The seeds should be visible on the stems. Just rub the stems and seed heads and they should come off easily. If they don't it means they are still flowers and haven't gone to seed yet.
Makes 28 (approx)
Ingredients
135 g /1 cup pumpkin seeds
20 g /2 tbsp linseeds
20 g /1/2 cup green plantain seeds
1 tsp seaweed salt or sea salt
7 g /2 tbsp nettle powder (optional)
100 g plain flour
100 g wholemeal or spelt flour
50 ml vegetable oil
200 ml boiled hot water
Optional topping
1 tbsp water
1 tbsp soy sauce
1 tbsp nettle powder
In a large mixing bowl, combine the seeds, salt and flour, then add the oil and boiling water and stir well. It will resemble stiff, soggy porridge. If you like you can halve the mixture and add green nettle powder to one batch for a different, earthy flavour.
Preheat the oven to 140ºC /fan 120ºC and roll out the dough between two sheets of silicone or baking paper to the thickness of one seed. Cut into rectangles, about 5 cm x 2 cm and using a spatula, peel off and place on a clean baking sheet in two large baking trays.
Optional topping: I had a great idea to add a soy sauce and nettle powder coating to the plain crackers. They didn't turn out quite as I wanted (visually) but tasted delicious! So here it is, do adapt this to make it better - I'm sure you can!
Bake for 1 hr or a little more until light brown and crisp. Allow to cool and store in an airtight container.