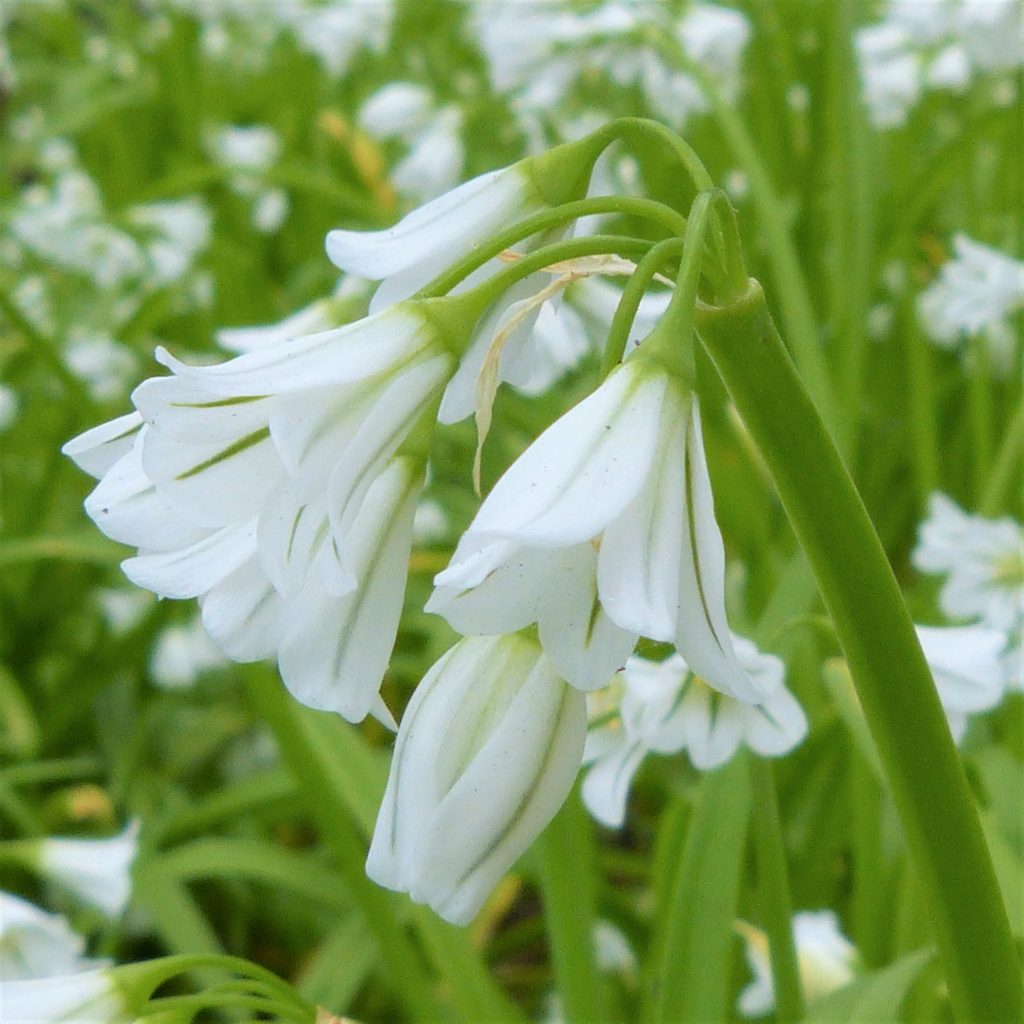 I don't mind what you call it. In Cornwall and the Isles of Scilly this plant is often called wild garlic. Those who call it this know what they mean. They know they're talking about the onion grass, the long, thin one that smells of garlic. In Australia and New Zealand it's known as onion weed.
This blog is all about three-cornered leek, or whatever name you call it by. I describe its unique qualities, where it grows and how it compares to using wild garlic/ramsons (Allium ursinum) in recipes.
Three cornered leek is also in my Wild Food Foraging book and I regularly teach it on my foraging courses, especially in spring.
Three-cornered leek (Allium triquetrium) goes by many local names, but only one latin one. All the local names refer to its garlicky smell; onion grass, onion weed, wild garlic, three-cornered garlic, three-cornered onion or three-cornered leek. A member of the allium family it originates from the Mediterranean, Madeira, Canary Islands and North Africa.
It was originally introduced to the UK in the 18th century and the rest is history.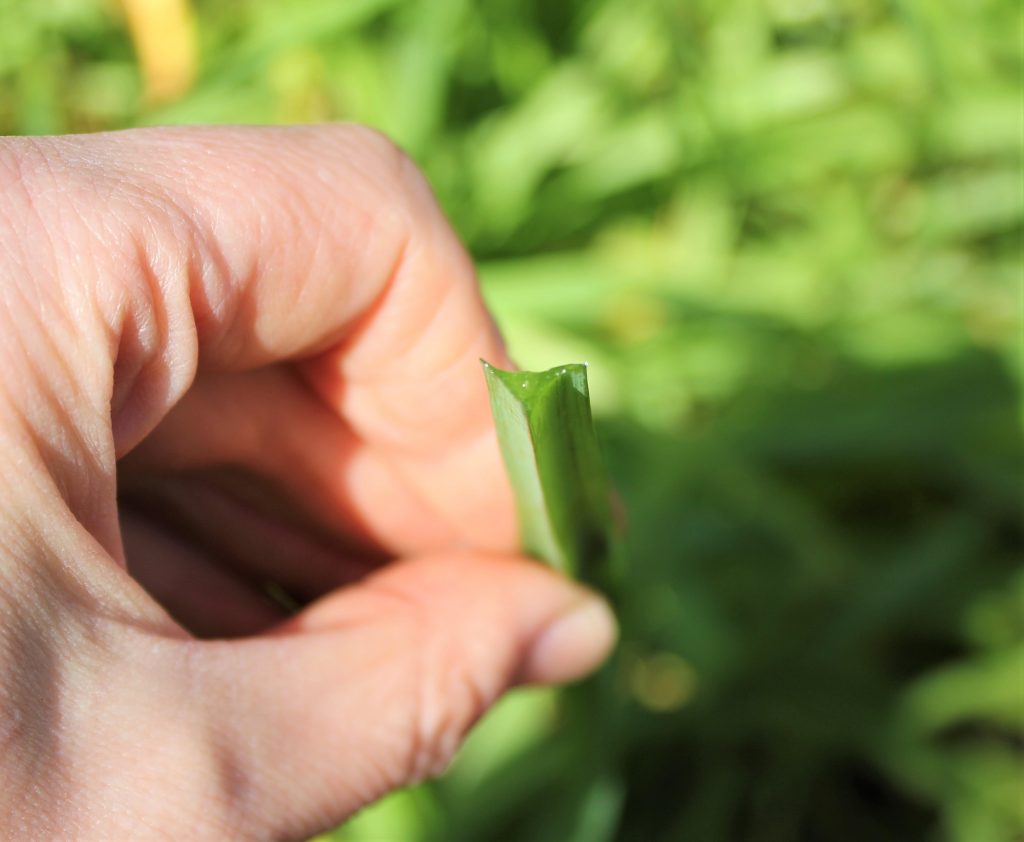 Why is it called three-cornered?
It has three-corners! A subtle triangle shape is visible when you horizontally cut a leaf and a clear triangular shape is visible on a cut flower stem. When not cut, a ridge is noticeable on the leaves, acting almost like a spine which makes the leaves more buoyant and upright.
Which parts can you eat?
You can eat all of this plant - the roots, flowers, flower buds, leaves and flower stems. Here in Cornwall I start eating it through winter when the leaves are greener and before the flowers start to show.
The Roots
The roots of three-cornered leek are similar to spring onions though a little more watery and sweeter. Like leeks, they take a bit of time to clean up and remove the mud.
Remember that in the UK you need permission to dig up roots. However, I've never been refused permission to dig up these roots. People are often very grateful for me to take this plant away as it spreads really easily.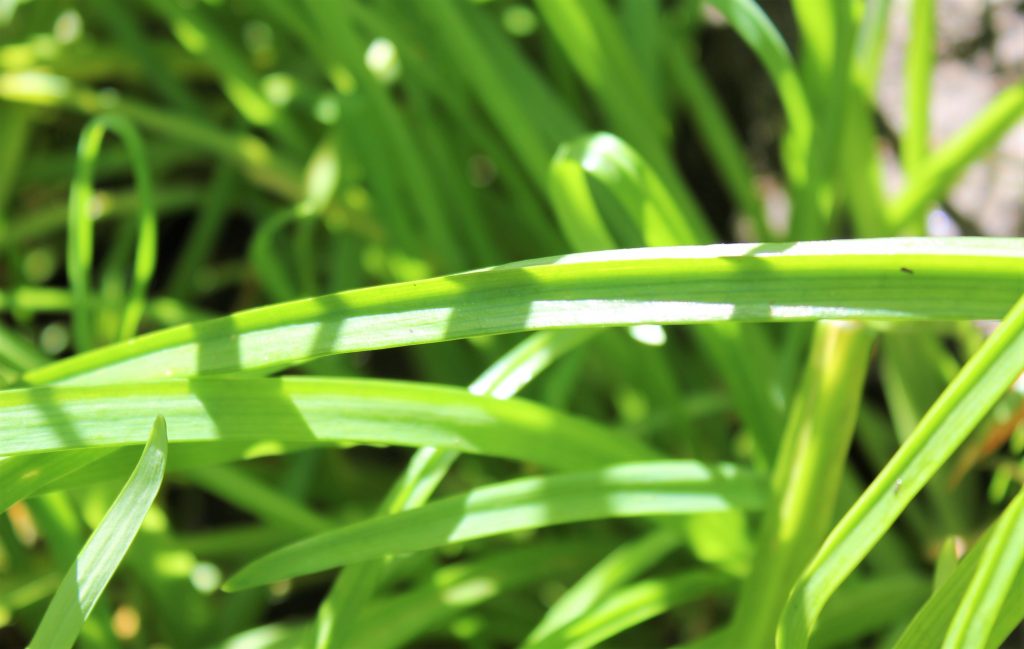 The Leaves
The leaves are the mildest part of the plant. Sometimes I cook them by sweating them down in a little oil or butter. They have a mild onion flavour this way.
The Flowers and Buds
The flowers and flower buds have a strong garlicky crunch. I love sprinkling them over salads and using them as an edible garnish. The buds are lovely pickled too. The flowers are white with a distinct green stripe on them.
Flower Stems
These are my favourite parts as they are the sweetest. I love chewing on them as I walk, they are one of my favourite spring walk snacks!
Three Cornered Leek v Wild Garlic
Wild garlic (Allium ursinum) is stronger, earthier garlic flavour. It has broad leaves and tends to grow in woodlands and near streams. It lends itself well to baking and cooking.
Three cornered leek (Allium triquetrium) is milder and sweeter in flavour. It likes to grow in warmer climates and thrives well in open spaces and hedgerows in Cornwall and the Isles of Scilly. It lends itself well to using raw, like spring onion.
Spring is exciting - a combination of warmth and light gets plants, animals and human-animals going. Sometimes, for me, too going. The term mad march hare feels too close to home for me, as I prance around the hedgerows picking wild greens as if there is no tomorrow, or as if spring won't last forever, which of course it won't. Lets face it, we've often being waiting a while for it to come too.
Many wild greens respond well to being plucked, for example when the tops of nettles are snipped off this stimulates more growth and leaf tops to grow. So below I've chosen 5 common wild foods that arrive every year, a plenty and are happy to be plucked, appreciated and eaten.
Here are my top 5 pick-ables (non-technical term :)) for this spring, I have loads of nuggets of information and recipes to share on each of them, though for now I'll keep it brief.
My Top Five Spring Wild Foods
1. Stinging Nettles Urtica dioica
Never under-estimate a common plant, believe me, nettles are a valuable food and we are lucky to have them. Their nutrition and versatility makes them easy to use (just avoid being stung) and they are (in my humble opinion and according to nutritional facts) better for you than spinach or cabbage.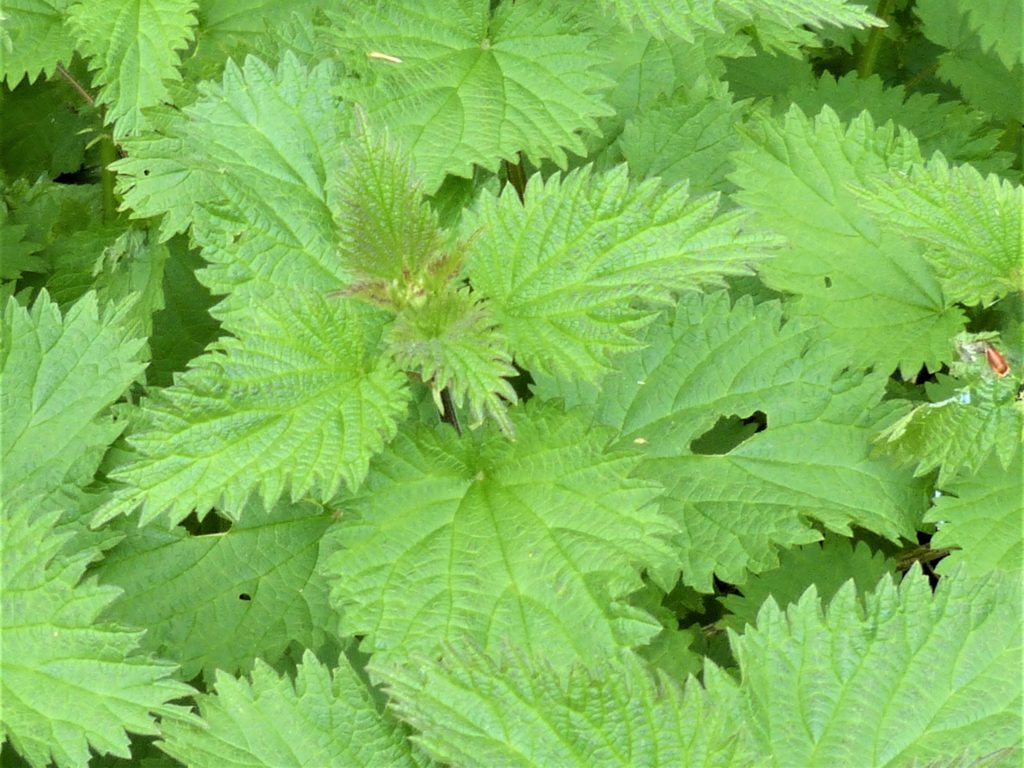 2. Wild Garlic Allium family
The wild onion, garlic and leek family is vast and too large to go into here, though their commonalities include a wonderful garlic taste (and smell), anti bacterial properties and support for the heart. The whole of the plant can be used and it can be used raw or cooked - raw is stronger. It is one of the key edibles of spring.
3. Cleavers/Goosegrass Galium aparine
Cleavers spread. They grow up to 1 metre long and can be collected without a bag (let them stick to you). The leaves are a wonderful spring cleanser and support the urinary and lymphatic system, though best cooked to avoid the not so pleasant hairy texture when raw and use in small amounts. I like to just pluck the tops and sweat them with nettles in butter or oil.
4. Alexanders Smyrnium olusatrum
Writing this from the south coast of Cornwall, Alexanders are definitely on my list. Abundant and often considered an invasive (land managers around Bristol have also practically pleaded with me to pick and eat them too). Nutritious and versatile, if you just know how to use them and pick them early on in spring.
5. Common Sorrel Rumex acetosa
Sorrel sap is tart and lemony and at its best in spring, and once you get your eye in, you'll start to see it everywhere. Delicious added to so many savoury and sweet dishes, though don't eat too much as it contains oxalic acid which isn't good to eat in large amounts. A little is fine though.
So there you have it, my five favourite wild greens, and yes greens are best in spring. Next spring, maybe I'll share a different five, as there's always more to share.
Spring has been creeping in, in some places slowly, and other places fast. The telling signs of birds carrying nesting material, lighter mornings and the fresh green plant life in the landscape all help us soften and brighten as Winter is left behind.
If you're reading this in the UK and wondering what I'm taking about - perhaps where you live Winter still feels like it has it's grip. Well, I'm writing from West Cornwall, and yes, our milder climate tends to be ahead of many areas, even just a little further north of here.
Two common, abundant and often cursed (both these plants are considered invasive weeds) edible Spring plants in Cornwall are Alexanders Smyrnium olusatrum and Three Cornered Leek Allium Triquetrium. Picking, eating and even digging these plants up*, are normally received with appreciation. On that note, and in the spirit of Spring abundance, I've created and offer this recipe to you.
Alexanders and Three Cornered Leek Frittata
Makes 8 slices (4 main courses or 8 snacks)
Ingredients 
400 g Cornish Potatoes
2 tablespoons Olive Oil
75 g Alexanders (leaves and young stems, chopped)
75 g Three Cornered Leek (leaves, stems and roots, if available, all finely chopped)
5 organic or free-range local eggs, beaten
Salt and pepper to taste
Peel, dice and cook the potatoes in plenty of water, for about 10 minutes or until just cooked. You'll be able to place a knife through the potatoes easily, though not so soft that the potatoes fall apart. Strain off the liquid and return to the pan on a low heat for a minute, just to evaporate off any remaining liquid.
Heat the oil in a saucepan  approximately 25 cm across in size, over a medium heat. When the oil is hot, add the potatoes, alexanders and salt and pepper and fry for about 8 minutes, turning to fry on each side, when needed. Some of the potatoes will be golden brown after this time.
Briefly mix in the eggs and three-cornered leek, ensuring that the mixture is evenly spread across the pan. Cook for a further 8 minutes, or until the eggs are almost set.
Place under the grill for 2-3 minutes to set and and turn the frittata golden. You can carefully slice and serve while warm, or when cold. Serve as part of a main meal with a luscious salad, or eat as a snack.
*Permission is needed from the land owner to dig up plants, otherwise you are breaking the law.
It's deep December and I'm standing outside. Actually, there's 8 of us standing outside and waiting for the one that's gone astray. Once we're all congregated, we begin. There's something innately quiet about walking in Winter, as if all around us is sleeping, and in some ways it is. We walk together through this slumbering landscape, initially unaware of the life around us.
What can you forage in winter?
From as early as November, my forager eyes start to spot edible greens that are normally associated with spring. Alexanders, Nettle Tops, Three-Cornered Leek (locally known as Wild Garlic), Wild Cress and Mustard, Pennywort, Wild chervil, Gorse flowers and even Daisy leaves and flowers for salads and cooked dishes.
Although the nutrition of plants can be significantly increased in Spring, goodness can still be enjoyed from these plants through the winter months. In Cornwall, where we may lack in terms of nuts and berries (there are only a few forests & woodlands here) it is more than made up with coastal plants and, due to the mild climate, a great choice of edible greens right through winter. While other areas of the UK are below frost or snow, there are milder areas of Cornwall that offer valuable forage-ables.
The benefits of foraging in winter
What's more, foraging feeds the soul not just in winter, though every time of year. According to the National Wildlife Federation's article; It's all in the dirt, the reason for this includes good bacteria in the soil that releases seretonin - the feel good hormone. This makes me feel even better about my muddy boots and dirty fingernails too!
In some ways, there's more to see in winter, without the distraction of hoards of people, beautiful, bright flowers, and sunsets to melt into. Instead, the offerings maybe more subtle - beige stems, low growing greens, and flowerless stems, though don't be tempted to dismiss these edible due to their humble winter personas.
Common Hogweed seed (Heracleum Spondylium), for example (below), may look like a dead seed-head, though within it lies delicious aromatic flavours for curries and many sweet dishes.
If you need it, use foraging as an excuse to get you outside, for that dose of daylight, fresh air and nature fix. Watching wintering birds, or rolling white horses of the waves, and returning with a handful of winter greens, it's hard for the soul not to be lifted, even if just a little. And if you're still not convinced and only yearning for the bright yellow sun of summer, then perhaps gorse is the only cure for you. Up on the moorlands of Cornwall, somewhere, you will always find the bright yellow flowers of gorse; an uplifting flower. According to Bach Flower Remedies gorse can offer you hope, when all hope is lost. I promise, summer will return.
Having watched spring slowly arrive over winter, in the last few weeks it has speeded up & fully arrived in all its glory. I love spring, perhaps because it's the season I was born, or maybe  because of those lovely bouncy baby lambs in the fields... Then there's the increase of day light & all the spring foraging to enjoy too. An abundance of smells, tastes, textures & goodness - all oozing with vitamins & minerals. Basically a multitude of reasons to have a spring in my step & that madness of energy that's associated with this time of year.
Teaching foraging is largely seasonal, mainly because people want to forage to certain times of year, rather than there being a lack of plants during the winter months. As my season starts of kick off, my days feel fuller - bookings, organising & planning. At the end of the day there's nothing fresher for me than to take a walk, get away from the computer & amble along, lazily picking as I go. It's relaxing, valuable time-out, all with a flavour of spring madness of the plants I have to choose from as I walk.
Ooooh, what catches my eye today? So much to choose from. Today I chose just a few spring greens for supper - nettles, cleavers, & tri-cornered leek for soup. Chickweed & yarrow for frittata. I could go on about the bounty to enjoy, though really I just want to sit & eat, then do it all again tomorrow! Wishing you wonderful spring foraging - this really is the time to go mad out there & forage to your hearts content.
Shopping down the supermarket aisle? Not for me, in spring all my greens come from the hedgerow.