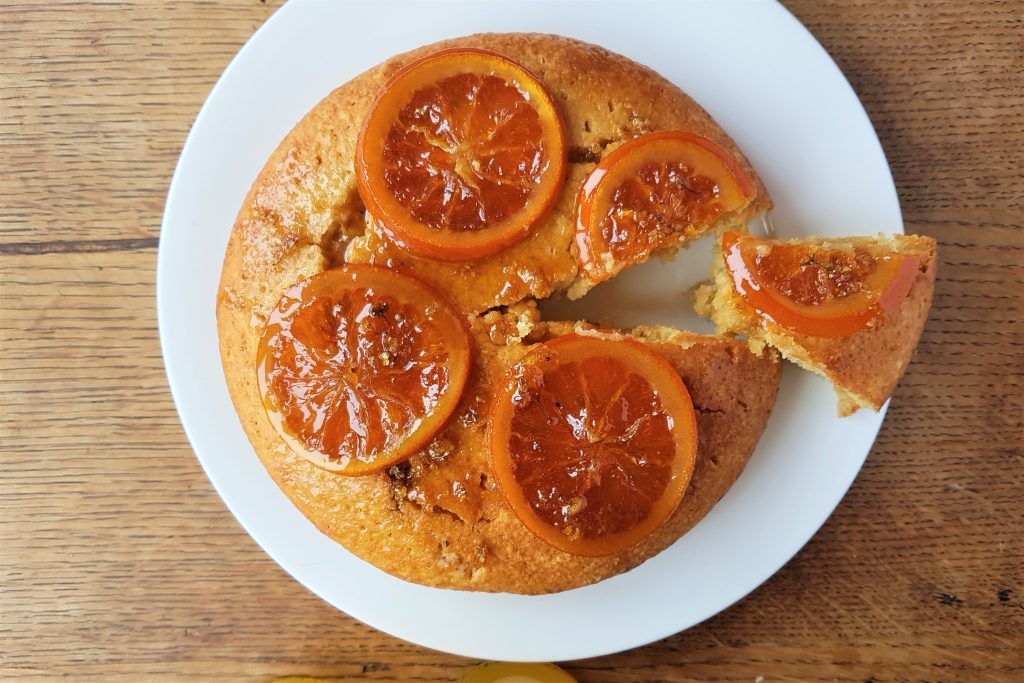 This glazed orange and elderflower cake uses a particularly orangey version on my elderflower cordial (use 1 lemon and 2 oranges instead of following the usual 3 lemons recipe).
Actually, that orangey elderflower cordial was the inspiration for this moist and luscious cake. The basic cake is based on an Italian recipe and is beautifully filling and simultaneously light. How does it do that?!
If you're looking for something different to do with your elderflower cordial and love cake, why not try this!
Glazed Orange and Elderflower Cake recipe
A wonderful zesty cake with a moist filling and sticky top. The elderflower flavour is subtle but present and gives a summery feel to this substantial sponge.
Serves 12 (slices)
Ingredients
335 g flour
1 tsp baking powder
100 g golden granulated sugar
170 g butter
185 ml elderflower cordial
2 free-range eggs
For the glaze
200 ml elderflower cordial (ideally with 1 lemon and 2 oranges, not the other way around)
100 g golden granulated sugar
1 orange
Preheat the oven to 350°F/180°C/fan 160°C and grease or line a 20 cm diameter cake with a little butter. Sieve the flour and baking powder into a large bowl. Mix in the sugar until blended. Cut the butter into cubes and using your fingertips, or a food processor, combine the mixture until it resembles fine breadcrumbs.
Whisk the eggs and pour into the breadcrumb mixture. Gradually pour the cordial in as well and stir just enough times to bind the mixture. Don't over stir and you may not need to use all the liquid either. Spoon into the cake tin and bake for around 40 minutes. The cake is done when golden and a skewer in the centre comes out clean, and the sponge is coming away from the edges of the tin.
While the cake is baking you can make the glaze.
Slice the orange through the side to create 0.5-1 cm slices. You'll just need 4 slices, but you could use more and cut into smaller pieces. Place in a small pan and cover with the cordial. Bring to the boil then lower to a simmer for 40 minutes - 1 hour. I cut a piece of baking paper and place on top of the water to help keep the moisture and heat in while the orange slices simmer. You could also place a lid partially on.
The slices are ready when the peel is translucent and soft. If the pan is drying up and the slices are still not ready, you may need to add a little more cordial, or 2 parts water to sugar if you've run out of cordial! Ideally there's some syrupy liquid left when the slices are ready, which can be poured over the cake.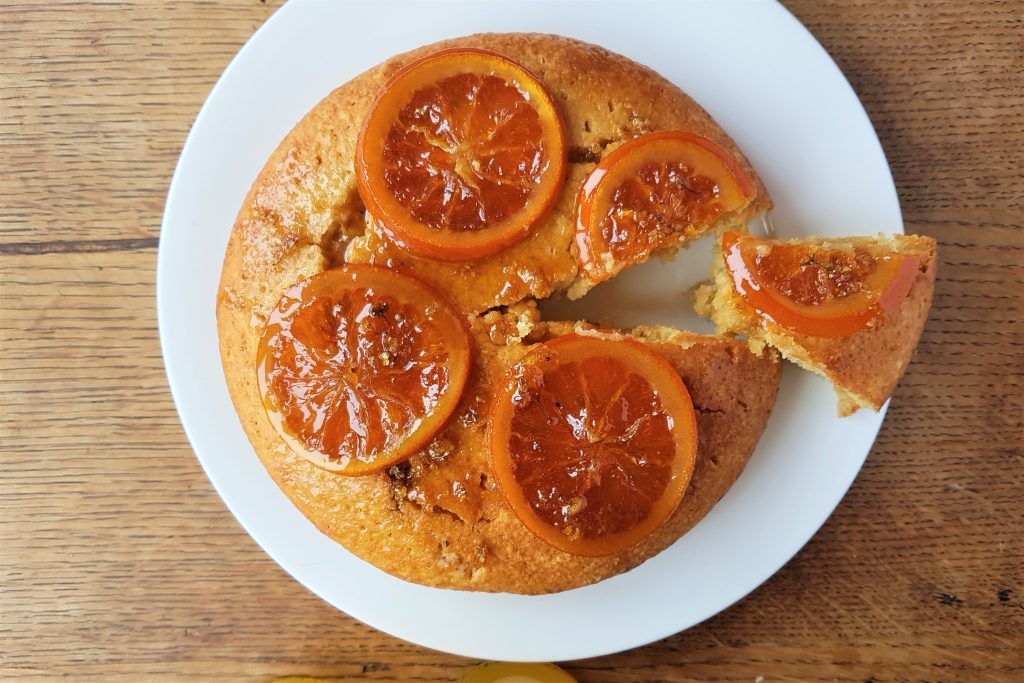 The slices in the image are a little under-done, so yours should be more translucent than this. Mine ended up chewier than I wished, but still pleasant.
When the cake is ready, take out of the oven, leave for 10 minutes then remove from the tin on to a cooling rack. Allow the cake to cool completely before heating up the syrup. Prick the top of the cake and pour it evenly over the sponge, followed by placing the orange slices decoratively on the sponge.
Enjoy on its own or with cream or crème fraiche.
It's Elderflower (Sambucus nigra) season, and the time for celebrations and desserts! I share more on Elderflowers, including how and when to pick the best Elderflowers and a recipe for Elderflower cordial and sorbet in my blog.
Elderflower cordial is a great way to capture the aroma of summer.  This recipe can be made using oranges or strawberries, or let me know if you use a different fruit and it works!
Orange and Elderflower Layered Sponge
I fall into nostalgic heaven with this sweet (though not overly), quick and easy mouthful of a dessert, complete with a beautiful hint of summery elderflower. I first made it for a friend's birthday, and it was the perfect solution to an impromptu gathering; something sweet and celebratory between a sea swim and raucous meal out. Of course you could make your own healthier sponge, though this is the quick version.
Ingredients
100ml double cream
160ml elderflower cordial
250g mascarpone cheese
25g unrefined icing sugar
24 sponge fingers
2 oranges or a handful of strawberries
1 tbsp unrefined icing sugar (optional)
Whip the cream into soft peaks and put aside. In a small pan, heat 100ml of cordial and quickly dip half the sponge fingers in the syrup then lay them on the bottom of a square serving dish, flat plate or clean chopping board.
In a medium bowl, blend the mascarpone, 2 tablespoons of cordial and the 25g of icing sugar, then fold in the whipped double cream. Spread a layer of the mascarpone and cream mixture across the soaked sponge fingers. Finely slice the fruits, removing any pips and pith you come across. Tip half the slices into the remaining cordial, and lift out, one by one, placing a layer across the cream mixture.
Quickly dip the rest of the sponge fingers and layer onto the orange slices, followed by the rest of the cream mixture. Lastly, dip the remaining orange slices and place on the top, drizzling any last drops of cordial over them and place in the fridge to chill for two hours. Remove from the fridge, dust with icing sugar, if using, cut into squares and serve immediately.
I like cake. I like to make cakes with different wild ingredients in them, it's started to become natural to me. I've made my Nettle and Honey Cake many times, and recently discovered it goes really well with gorse flower syrup, the recipe for both is here; Spring recipe - Nettle and Honey Cake with Gorse Flower Syrup.
I've also made this Pear and Hogweed Cake a few times, though I think this might be my favourite version. It's vegan and gluten-free, uses brown sugar and is almost melt in the mouth. If you'd prefer the full of everything - butter, eggs and wheat flour - you can view it here; Hogweed shoots in a cake!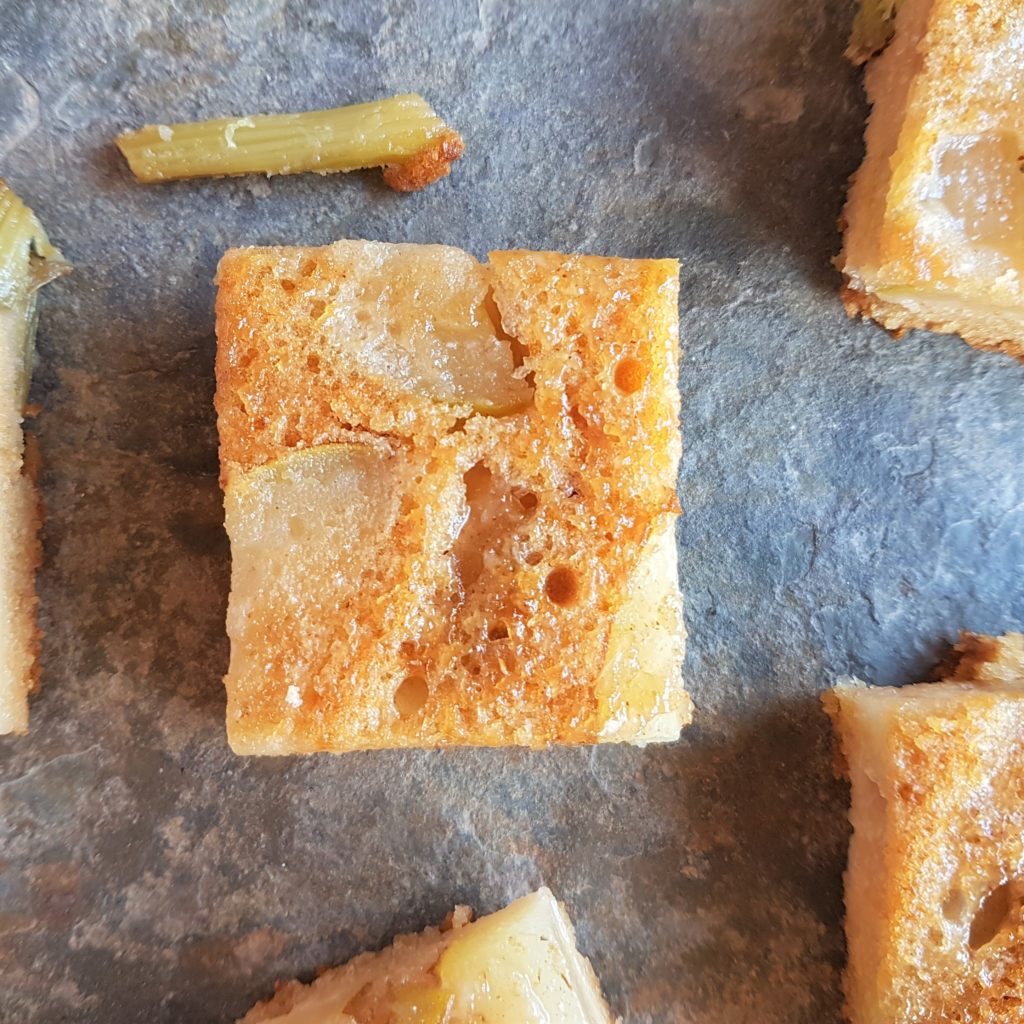 Pear and Hogweed Shoot Cake
Ingredients
75 ml sunflower oil
90 g unrefined sugar, plus 1 level tbsp
3 tbsp apple juice
4 tbsp aqua faba (chickpea water)
1 tsp dried hogweed seeds (optional)
30 g hogweed shoots (mainly shoots rather than leaves, finely chopped)
200-230 g pears
100 g gluten-free flour
1 tbsp baking powder
¼ tsp bicarbonate of soda
Preheat the oven to 200°C and grease a 20 cm diameter cake tin. In a large bowl, beat the oil, apple juice and sugar together. In a food processor add the aqua faba (water left over from a can of chickpeas) and whisk for 5 minutes or until it makes soft peaks (like egg whites).
If using, use a spice grinder to blend the dried hogweed seeds with the tablespoon of sugar and sprinkle the mixture over the base of the cake tin. Slice the pears to about ½-1 cm in thickness and layer these across the base of the cake tin. Next sprinkle on the hogweed shoots. Blend the dry ingredients together (flour, baking powder and bicarbonate of soda) and add into the oil and sugar mix. Pour and smooth the cake mixture roughly over the pears and shoots and bake for 25-30 minutes, or until a skewer comes out clean when pierced into the centre of the cake. When cooked, turn out onto a wire rack, with the bottom-side facing upwards and leave to cool. Slice and enjoy warm or cold. Keeps well for a few days in the fridge.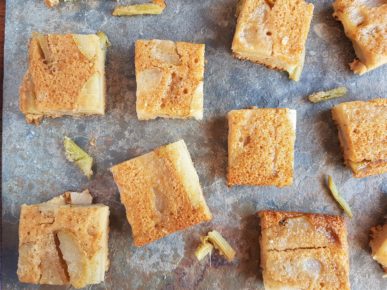 Hogweed shoots (Heracleum sphondylium) are part of the Umbellifer/Umbellifrae/Apiaceae/Carrot family and needs to be identified correctly. Read more about hogweed here; Common Hogweed. This cake was made for a wild food foraging course, where I always make wild tasters to suit different diets as much as possible.