I'm so pleased with this wild and wonderful recipe for serveral reasons -
It means I can have a wild, healthy breakfast everyday
It uses the waste from making blackberry cordial and blackberry coulis
It utilises blackberry seeds that are rich in omega 3 and 6
I love granola but it's often heavy with sugar - this one isn't!
It's also great as a topping for porridge
Blackberry Seeded Granola Recipe
Fruity, chewy and crunchy, this simple granola is made by using the discarded blackberry seeds and fibre from blackberry cordial or juice. Surprisingly flavourful, it's the perfect topping for hot porridge, with a little blackberry cordial, or enjoy on its own as a breakfast cereal.
Makes 600 g
Ingredients
Combine the honey and oil in a small saucepan and heat over a low heat until melted and combined. Put aside. Heat the oven to 170°C/fan 150°C and line a large baking tray with baking paper. When the honey/oil blend in cooled to hand temperature, pour into a large bowl and add the blackberry pulp and the oats. Stir well to combine then spoon onto the baking tray and spread out evenly. Press the mixture down a little and bake for 15 minutes.
Take out of the oven and stir, then return for a further 15 minutes before stirring again. The mixture will take a little longer than normal granola to bake as the blackberry pulp is moist, so keep checking and turning the mixture every five minutes for another 10 minutes or until golden and slightly crisp throughout. Take out of the oven and leave to cool, it will harden more as it cools. Store in a large jar and enjoy liberally, use within 3 months.
The wonderful tart flavour of Sea Buckthorn berries, also known as Sea berries (Hippophae, Hippophae rhamnoides) lend themselves perfectly to making a rich, creamy curd. Think lemon curd but with more richness and depth of flavour - you'll just have to try this one!
First, you'll need to extract the juice from the berries (I show you how below), then make the curd. This is delicious lathered onto toast, but I also love this baked in mini cup cakes.
How to juice sea buckthorn berries
The berries of sea buckthorn contain quite a large seed, so I choose to press them manually through a sieve or gently squeeze them through a jelly bag then discard the seeds and pulp. You could use a juicer if you wish.
You'll be left with a very tart juice that you can dilute for drinks or cocktails, or use in this delicious sea buckthorn curd. Every 150 grams of berries makes about 90 ml of juice.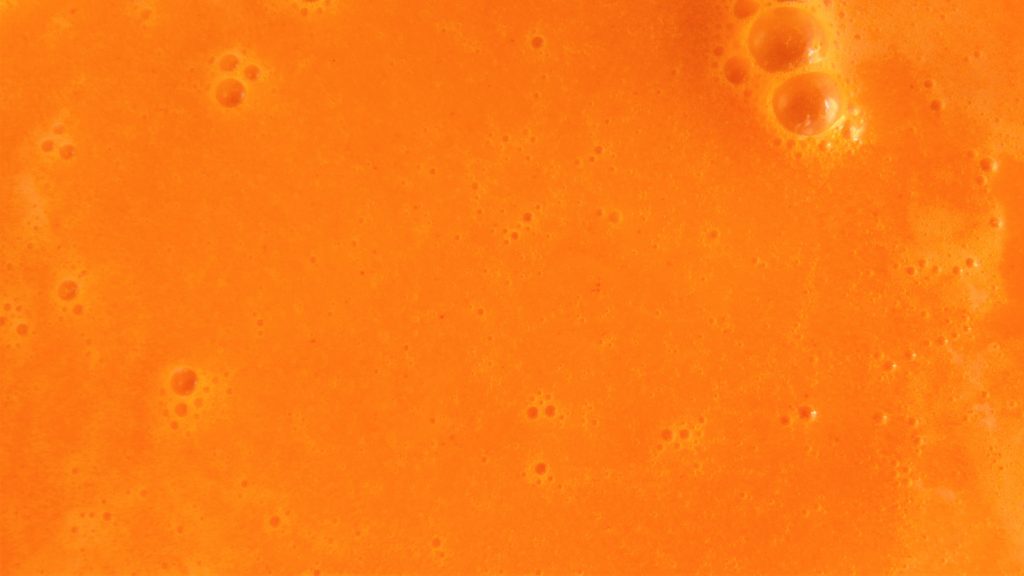 How to make sea buckthorn curd
Sea Buckthorn Curd Recipe
As a child, I remember the alchemy of making lemon curd and its decadent, irresistible texture. This rich, spreadable curd is just as indulgent, if not more so, with its intense flavour of sea buckthorn berries. Spread on toast or use in desserts such as cup cakes with sea buckthorn curd (see below).
Makes 450g jar
Ingredients
90 ml (6 tbsp) sea buckthorn juice
2 large eggs
1 egg yolk
125 g unrefined sugar
65 g butter, cut into 1 cm cubes
Put the juice, sugar and butter into a heatproof bowl and sit the bowl over a small pan of gently simmering water. Make sure the bowl is suspended over and not sitting in the water. Stir occasionally until all of the butter has melted.
In a separate bowl, lightly whisk the eggs and egg yolk and stir them into the butter and sugar mixture, continue to whisk until all the ingredients are well combined. Allow to cook for a further 10-15 minutes, stirring intermittently until the mixture is thick and creamy and coats the back of a spoon. Remove from the heat and leave to cool before spooning into sterilised jars and seal.
Keep in the fridge for up to a week, or tightly cover and freeze till needed, you'll be able to spoon it out straight from the freezer. This is perfect for the curd filled cup cakes below.
Cup Cakes with Sea Buckthorn Curd Filling
Light and fruity cup cakes that conjure up images of orange groves and fully sunned fruit. Just the thing to enjoy sitting outside while there's still some warmth in the sun.
Makes 12
Ingredients
115 g unsalted butter, room temperature
100 g unrefined sugar
2 medium free-range eggs
150 g self-raising flour (125g plain, 25g wholemeal)
½ tsp orange water
4 tbsp sea buckthorn curd
Preheat the oven to 180°C and line a 12-hole cupcake tin with paper cases. Cream the butter and sugar together until light and fluffy, then add the orange water, the eggs, little by little and 1 tablespoon flour. Whisk until thoroughly combined, before adding the remaining flour and beat together well.
Spoon half the mixture into the cases and add a teaspoon of curd on top of each, followed by the remaining mixture. Bake for 20 minutes, until risen, remove from the oven and leave to cool for a couple of minutes before transferring to a wire rack until cold.
The first frost is a significant marker in the colder months of the year. Whether you look forward to it or dread it, it has an important function for wild fruits, us and the rest of the natural world.
Previously I've written about how frost and snow effects seaweeds in; Can seaweeds survive the frost and snow?
Cornish Frost - Myth or Reality?
Here in West Cornwall and by the coast, I never know whether the first frost will arrive at all. Where the warm currents and breezes from the sea can help keep the temperature more ambient. Exposed to the prevailing Southwesterly winds that blow in from the Atlantic means that Cornwall is considered the mildest and warmest place in the UK.
Here we can sometimes sit on the beach on Christmas Day, and sometimes the frost, never, ever arrives. It is true that the closer to the ocean you get, the milder the winters and the cooler the summers are.
What does the frost do to wild fruits and is there an alternative?
The frost has the effect of both breaking the skins of the fruits and sweetening them. A welcomed impact for desserts, flavoured gin, jams, jellies and much more. Of course, living in the modern age means you don't have to wait for the first frost.
Why? Because we have freezers. It is true, popping the fruits in the freezer is not as romantic as getting up at dawn to collect glistening fruits breaking their frost virginity. Though it is more convenient.
Freezers also mean that you can attend to your fruits - whatever you want to create with them - when you have ample time to enjoy the process.
Frost is beneficial to both the texture and sweetness of wild autumnal fruits. I have plenty of recipes for wild berries in my autumn blog. I also run hands on, practical foraging courses in autumn and all year round.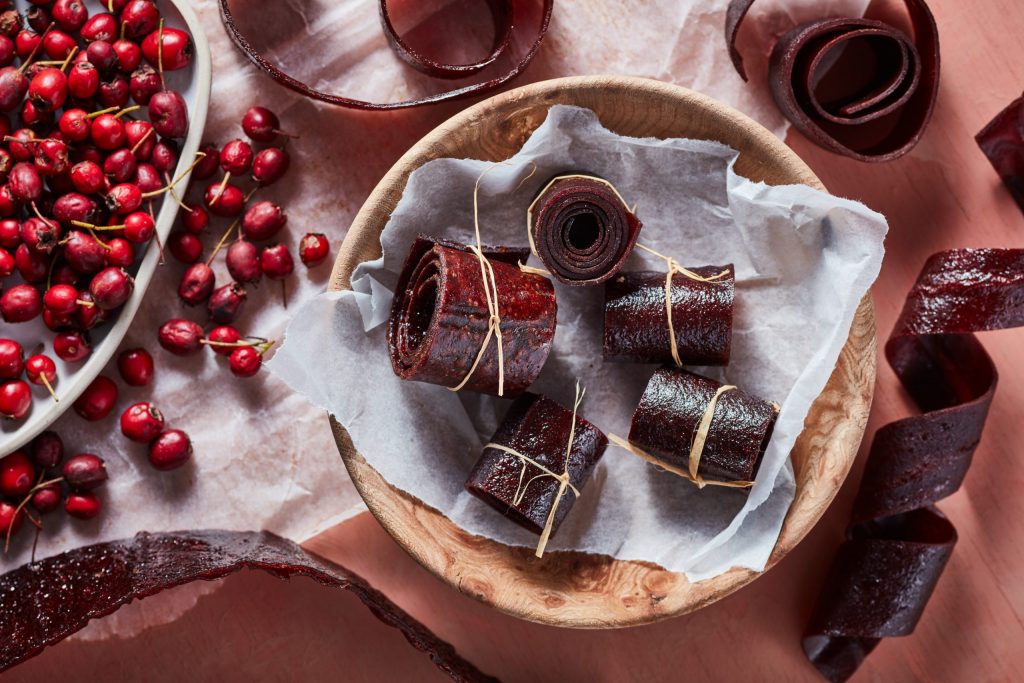 Perfect for sluggish, cold days, this fruit leather is a fabulous pick-me-up. This recipe is definitely worth the effort, you'll have about 8 strips of fruit leather and will just need a nibble as a lift, so they last for ages!
The fruit of the hawthorn tree (Crataegus monogyna or Crataegus laevigata), can be good for the heart, can get your 'chi' moving (your life force energy), be uplifting and tasty. Lets get down to the fruity business of haws.
It's November, and now is the perfect time to pick these fruits. They are a lovely dark red colour, and still a plenty, if you find the right tree. This recipe is suited for those who enjoy processes and have some patience. It's not quick, it takes some mashing, though is delicious and as we know, it is good for the heart...
Hawthorn Fruit Leather Recipe
Hawthorn fruit leather is a deliciously simple snack. It has a bit of a tang and a hint of natural sweetness to get you through sluggish afternoons or slow mornings. It's made from mashed haw berries, apple and honey. It's also great for packed lunches, a snack for walking, gifts and will keep for up to 6 months or a year even. Here it is....
Ingredients
450g haws
450g apples
350ml water
3 tbsp honey
The method:
Remove the stalks from the haws, and chop the apples into pieces, don't worry about removing the core, as it will all be sieved. Place the fruits and water in a medium and bring to the boil. Cover, and simmer for 15 minutes, or until the fruits are soft and strain through a sieve into a large, bowl. Allow the fruit pulp to cool, and using a wooden spoon, mash and push the fruit pulp through the sieve, then stir in the honey. The more you do this, the more pulp you'll be able to extract.
Once you've extracted all the pulp you can, if using a dehydrator, spread the contents over two Teflon sheets and dehydrate according to instructions. Otherwise, heat the oven to 140°C and line a 20cm by 40cm baking tray with baking paper including part the way up the sides. Pour the fruit pulp into the tray, spread evenly and bake for about 4– 5 hours, or the fruit is slightly tacky though doesn't stay stuck to your fingers and peels away easily from the paper.
If the fruit is drying unevenly, turn the tray around in the oven, or be prepared to slice off the edges, if over-cooked when done. Peel off the tray, cool and cut into pieces or strips and store in a sterilised jar or wrapped in greaseproof paper.
I share recipes (and tasters) regularly on my wild food foraging courses, or stay up to date through my facebook or instagram page.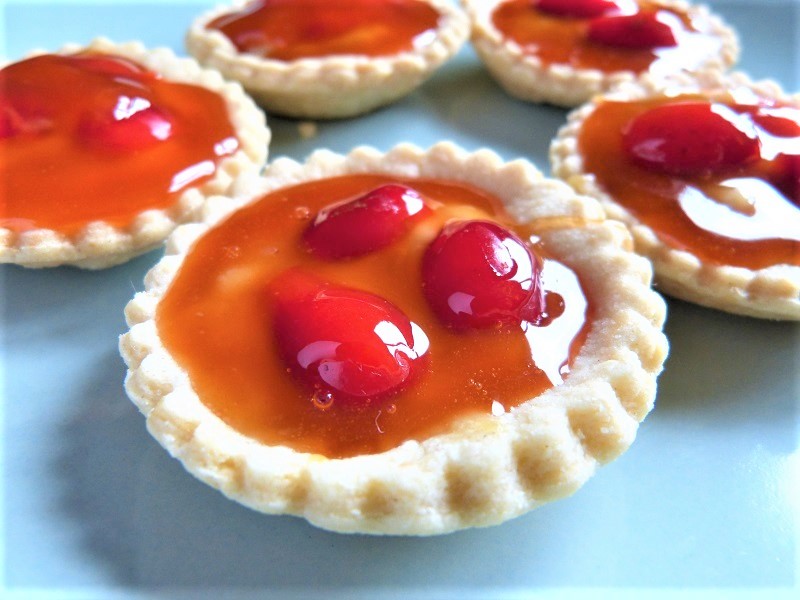 Sometimes I feel creative, sometimes crazy, with the ideas I come up with for using wild food. This one is a complete labour of love; a custard tart topped with rosehips and a rosehip syrup glaze. Devoured by 14 appreciative people on a hazy October afternoon.
Here's the recipe;
Rosehip Fruit and Custard Tart
 Ingredients
(for pastry base)
200g plain flour
100g cold butter, cubed
20g ground almonds
1 tsp baking powder
1 egg, beaten
1-4 tbsp cold water
a little egg white
For custard filling
320ml whole milk
80g unrefined caster sugar
5 free-range eggs yolks (freeze the egg
25g cornflour, mixed to a paste with a little cold water
For the topping and glaze
200ml rosehip syrup
2 tbsp cornflour
2 tbsp honey
100g rosehips, fresh out the freezer
In a large bowl, add the flour, ground almonds and baking powder, mix well and rub in the butter until it resembles breadcrumbs. Mix in the the beaten egg and 1-tablespoon at a time of cold water (just enough to bind the dough, no more). Alternatively you can blend the mixture in a food processor, adding the water at the end. Press the dough into a ball, wrap in clingfilm and chill in the fridge for at least 30 minutes. Preheat the oven to 200C and grease a 23cm diameter flan tin.

For the filling, in a medium saucepan bring the milk to the boil, whisking all the time. Remove from the heat and in a medium bowl, beat the sugar and egg yolks for 3-5 minutes, or until the mixture falls in thick ribbons from the whisk. Slowly whisk in the cornflour paste until well combined. Slowly pour in the hot milk, stirring in well, before returning the mixture back into the saucepan. Heat the mixture, whisking constantly, until boiling. Cook for a further minute, then pour the mixture into a bowl and set aside to cool for 10 minutes. Cover with clingfilm and chill in the fridge.
Roll the pastry out on a floured work surface to about ½ cm thick and line the flan tin. Brush the pastry with a little egg white to seal it and bake in the oven for 15 minutes or until the pastry is golden-brown and crisp. Let the pastry cool a little, then carefully transfer to a wire rack. At this stage the cooked pastry can be covered and stored for a few days before using.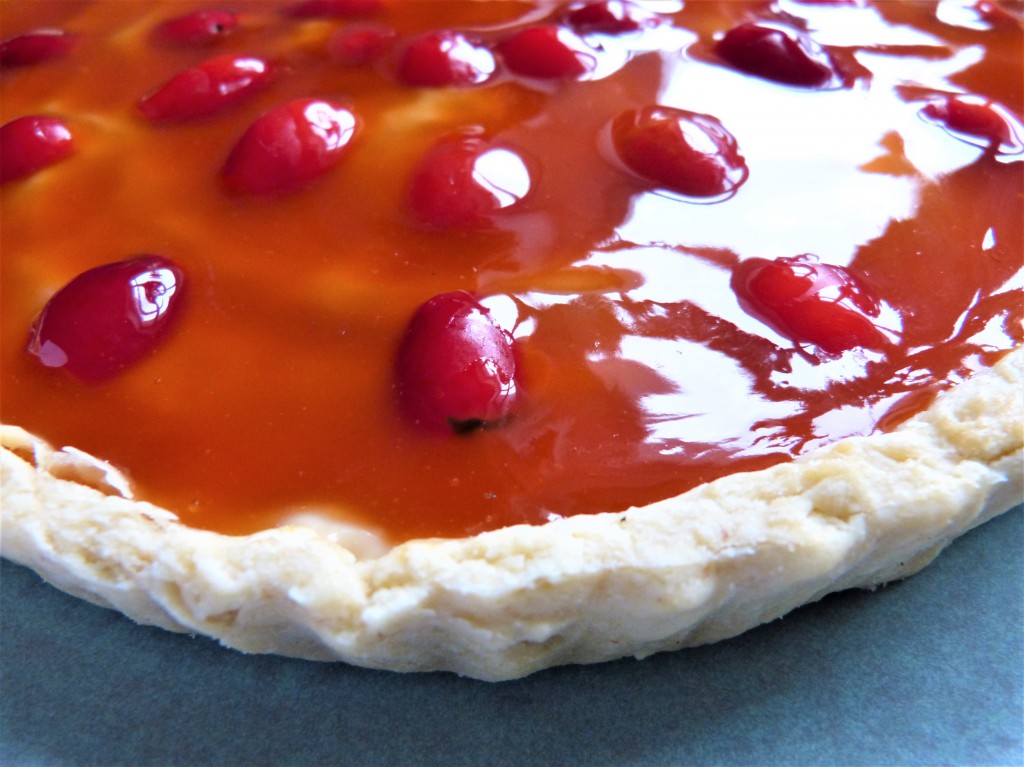 For the glaze, heat half the rosehip syrup in a saucepan until boiling then remove the pan from the heat. Dissolve the cornflour in the remaining syrup and quickly pour the mixture back into the saucepan, returning to the heat, stirring all the time, until the mixture has thickened. Next add the honey, bring back to the boil and remove the pan from the heat. Set aside to cool. When ready to assemble the tart, spoon in the custard filling, and with a sharp knife, carefully slice the ends off the rosehips, then slice them in half, lengthways and scoop out the ball of seeds with a teaspoon. Place the rosehips on top of the custard, cut-side down. Transfer the glaze to a pouring jug and drizzle over the glaze. Chill in the fridge until ready to serve.
Enjoying a combination of new sights & tastes & feeling reassured

by how many wild edibles we share with mainland Europe 
Back in Spring, I felt inspired to plan a trip to Europe, lured by stories of ice-cold mountain lakes, lots of outdoors people, armfuls of wild berries & mountains...
Over the last few years I've found myself completely content with being in Cornwall - I felt I had everything - sea, moors, great locals & the inspiring influx of newcomers & tourists. In my experience, like any love affair, there usually comes a time when I feel established enough in the relationship to step out into new things, knowing I can return home with fresh ideas & renewed vitality.
On this premise, I vaguely planned my trip, & on the cusp of September when I thought the berries might be at their best, got on the sleeper train to London & started my journey to Austria. Now, you may well be familiar with travelling abroad, for me, lets just say it's been a while. Starting from a small town called Mayhofren nestled in the alps of  south Austria, the delight of seeing & smelling a new environment was inspiring, naturally I wanted to be out there immersing myself in it all.
I find walking & foraging a great way to experience a place &  before I knew it I was walking along rivers, up & down valleys comforting myself with the pleasures of elderberries, bilberries & raspberries. Everything can taste differently in a new place - the air, earth & water contributing to a plant's unique flavour.
The raspberries were like none I'd tasted before - sweet, seedy & ripe. As an optimist, I often have a romantic idea about a place before I go & on the whole, Austria lived up to my image of it, however, armfuls of berries, hmm, I'm not sure about that! Foraging, can at times need concentration & focus, & even when I found bushes & bushes of bilberries in the alpine forests, I needed a keen eye to pick them out.
Locally, bilberry jam was delicious, I had traditional Austrian dumplings flavoured with juniper berries & a fellow walker had burger & chips with cranberry sauce - move over Heinz ketchup! The foraging highlight for me was these last two berries - juniper & cranberries. Although I've read that juniper berries grow in South England, I've never found them, ooh, & the sharp taste of raw cranberries was surprisingly pleasant as a walking snack.
So, rest assured, that learning about foraged foods in the UK can give you a broad starting point across Europe,  a unique way of appreciating new landscapes & a fun way of tasting your way round many countries, mountains & lakes!