These moreish, slightly red-tinged rosehip crackers are a winner. Made with dehydrated, wild rosehip flesh, they have a burst of vitamin C and a subtle tart tang to them.
How to make rosehip crackers
To make them I used my rosehip fruit leather (a great way to store and snack on the goodness of rosehips). Fruit leather can have a variety of textures, from sticky and sweet to brittle and more savoury like.
Admittedly, by accident I created a very dry (oops), leathery, fruit leather. Fortunately it is perfect for savoury recipes and a little reminiscent of sun-dried tomatoes. Made from Japanese rosehips (Rosa rugosa) which are similar to tomatoes for some people. Perfect for this!
The recipe
Sometimes I find a recipe which I absolutely love, like this one. I then adapt it and often create several wild varieties. My first wild variety of this was my Blackberry, Dulse and Buckwheat crackers.
You can find this step-by-step Blackberry-seeded cracker recipe and read about its story here.
Wild Rosehip and Buckwheat Crackers Recipe
Crisp crackers with the delightful flavours of tangy rosehip, roasted buckwheat, and textured oats. They're filling and a great base for lots of toppings.
Makes 25 rustic crackers
Ingredients
3 tbsp powder rosehip fruit leather
100 g oatmeal (powdered porridge oats)
200 g buckwheat flour
200 g roasted buckwheat grains
Large pinch of sea salt
2 tbsp oil (vegetable, olive oil or half and half of each)
200-230 ml water
Preparing the rosehip fruit leather
Fruit leather can last for months, I used a dry, brittle fruit leather, cut it into small pieces and ground in a strong pestle and mortar or you can use a seed/spice grinder.
In a large mixing bowl mix all the ingredients except the water. Add the water gradually until it makes a workable dough and set aside for half an hour to allow the moisture to be absorbed.
Roll the dough out between two pieces of grease-proof paper to the thickness of the buckwheat seeds. If the dough is a little sticky, you can add more oatmeal. At this stage you can decide whether to use a biscuit cutter or hand-cut the crackers to a desired shape. I find hand-cutting the dough to any shape easier.
Preheat the oven to 200°C/fan 180°C and place a clean baking sheet on a large baking tray or two. Place the cut dough shapes on the paper. Bake for 12-15 minutes or until golden and the moisture is evaporated. Turn them over halfway through to help them cook and dry out. Place on a cooling rack and when cool, store in an airtight container.
Delicious with cheese, wild spring leaves and seaweed sauerkraut from my seaweed book. Feel free to browse my other wild recipes, or I'd love to meet you on one of my foraging courses here in Cornwall.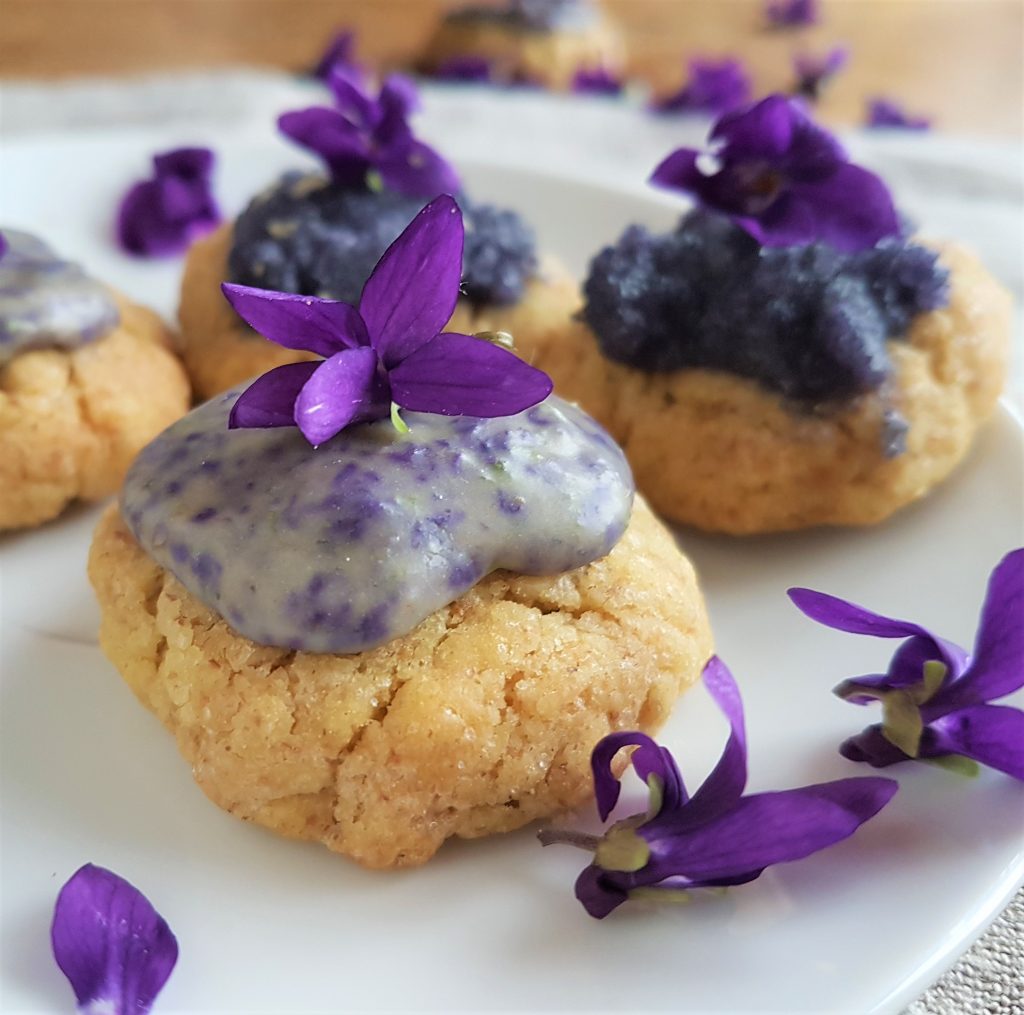 I've had such fun experimenting with edible violets! Their colour and aroma are a delight, if not a little elusive to pin down! So I thought I'd share my best Dozen Recipes for using Violets for sweet and savoury, complete with notes on colour and flavour.
Most of the recipes I share here use sweet violets, though some are suitable for other wild violets. Check my my Wild Food: Violets post to find out more.
Sign up to access this post
Access this post and more for £3.50. Already a member? Sign in here.
SEASONAL TASTER
MONTHLY BASKET
£3.50 per month
Every month you'll receive 1 seasonal wild food recipe from my edible plant of the month, plus links to additional seasonal posts AND be able to access the last 6 months of Taster basket offerings.
Unsubscribe at any time.

As a wild cook, sometimes I hit upon creating a new recipe that works first time, I mean, really works. This recipe was one of those. It uses Alexander seeds (Smyrnium olusatrum) which is one of my favourite wild spices. Meanwhile, here's my Alexander seed bread recipe, while we're at it!
Alexander seeds has an unusual bitter, peppery flavour which balance the wonderfully deep chocolate tone of these raw truffles perfectly. They can be made in an instant too.
I start teaching alexander seeds on my foraging courses from August through to Winter. I love individually wrapping them as tasters for course participants, ok, my wrapping isn't brilliant but the taste is pretty good! Alexanders are a member of the umbelliferae family and must be identified properly.
Recipe for Alexander Seed and Cacao Truffles
Makes 18
Ingredients
250 g dates (pitted)
3 tbsp desiccated coconut
3 tbsp cacao powder
1 dessertspoon ground alexander seeds*
Pinch of sea salt
1 tsp blackberry cordial (optional)
1 tsp coconut oil
Coating
2 tbsp desiccated coconut
2 tsp ground alexander seeds
Combine all the ingredients in a food processor or by-hand. I tend to do this by hand by roughly chopping the dates and firmly massaging with the rest of the ingredients until combined. You can also heat the chopped dates in the oil first and soften them that way. Break off pieces and roll into 18 balls.
Finely grind the coating in a seed or coffee grinder and roll the balls in the mixture. Keep in the fridge and use within a week – they won't go off, but the truffles will harden if you keep them much longer.
Nature isn't always subtle and for good reason. Colourful petals draw a bee towards a flower's nectar-filled centre, a bright white tail of a rabbit confuses its predator during a chase, a colourfully feathered bird attracts a mate.
Colour is one of the first things my eyes register when I'm given a drink or a plate of food, smell comes second. Scientific research confirms too, that we often eat with our eyes.
Not surprisingly, it was the outrageous pink followed by the familiar scent of elderflowers that my senses delighted in when making this cordial. My memory bank of colours, tastes and smells noted a while ago that rose was a flavour for me, mixed with pink elderflowers I was super excited!
I have plenty of elderflower recipes to share, and several delicious rose recipes too.
This is an easy cordial to make, with a stunning colour and aromatic scent of rose and elderflowers. Dilute for drinks, turn into elderflower champagne or use is desserts.
Pink Elderflower and Rose Cordial Recipe
I adapted this recipe to the amount of pink edlerflower (Gerda) heads I could reach and the number of rose petals that would come away easily in my hand. Double it, if you choose, freeze it, drink it, enjoy!
Makes 750 ml
Ingredients
10 elder flower heads (flowers forked off stems)
Handful of rose petals (fragrant ones)
200 g unrefined sugar
500 ml boiling water
1 unwaxed lemon
1 oz citric acid (if you're going to store the cordial for a while)
Ideally pick the flowers in full sun. Fork the flowers off the stalks or snip off the main stalks, putting flowers aside and discarding the rest. Place the elderflowers and rose petals (check to remove bugs) in a heatproof bowl or container, along with the sugar. Pour over the boiling water. Squeeze in the juice of one lemon and leave for 24 hours.
Strain the mixture through a sieve, or preferably a fine muslin cloth, and funnel into clean bottles, or dilute and serve immediately!
I run foraging courses throughout the year, helping you discover the colours and flavours of each season. You can view dates and content here on my foraging course calendar.
I also offer a monthly membership where I send you recipes each month as I go through my wild and seasonal year. Sign up is easy - view membership blogs here and see what you could access.
These are quite a rustic version of wild nettle pakoras and are very simple to make, you can use many different wild greens if you like. I had three cornered leek to hand, rather than wild garlic, or you could use a clove of cultivated garlic.
I've also learnt a few things while making these for the 'nth time. I can work with the spices I have (and don't have to stick to those listed), baking powder makes them a little like popcorn (yum!) and I can (almost) eat them as quick as I can make them!
Nettle Pakora Recipe
Makes 20-25
Ingredients
260 g chickpea flour (gram flour)
2 tsp sesame seeds
1 tsp tumeric
1 tsp red chilli powder
1 large pinch of asafoetida
1 large pinch of baking powder
1 tsp sea salt
2 tsp cumin seeds, ground
2 tsp coriander seeds, ground
1-2 green chillies
Handful three-cornered leek (or wild garlic)
100 g nettle tops
250 ml water
500-1000 ml vegetable oil
In a large mixing bowl, combine the chickpea flour, sesame seeds, tumeric, chilli powder, asafoetida, baking powder and salt.
Freshly grind the cumin and coriander seeds and add to the mix.
Finely chop and deseed the green chillies and add in, combining well.
Next, wash and chop the three cornered leek and stir in.
Wash and roughly chop the nettles; use wooden spoons to move them around and cut with scissors.
Gradually add two thirds of the water. Allow the mixture to rest. Check the consistency, you're wanting a wet batter, though not watery. Add the rest of the water if necessary.
Prepare a couple of large plates with absorbent paper kitchen towel on (I didn't have any so just placed them on a dry plate).
Heat the oil over a medium to high heat in a large pan or deep fat fryer - I used a wok and turned them to cook both sides.
Test to see if the oil if ready by dropping a small amount of batter into the oil. If the oil is hot enough the mixture will sink to the bottom then float straight to the top again.
Using 2 teaspoons, shape the mixture into firm balls, each about the size of a very heaped teaspoon.
Fry each pakora for 3-5 minutes, turning if needed or until golden brown, remove with a slotted spoon and place on the kitchen towel.
Serve with sorrel and yoghurt dip (in my book Wild Food Foraging...) or for a vegan alternative, try with Rock Samphire salsa verde.
You may want to check out my other stinging nettle recipes too, or join a spring foraging course.
These seaweed crispbreads are seasoned with two seaweeds and seaweed salt and are delicious! I mean, fat, salt and umami, what could go wrong? The basic recipe was given to me by my dear friend Paul, and I've incorporated seaweed into the mix to add a lovely depth of flavour and goodness. These also happen to be vegan. They are both crispy and slightly chewy in texture and will leave you wanting more.
Here I share the recipe, plus a little on the benefit of adding seaweeds to your meals.
Why add seaweeds?
Egg wrack (Ascophyllum nodosum) and Gutweed (Ulva intestinalis) seaweeds are both super good for you. They are abundant, easy to find and you don't need much to add a burst of flavour and nutrition to your baking. For example, egg wrack (also known as knotted wrack) contains both omega 3 and 6 and plenty of vitamin C. Gutweed (also known as sea greens) contains B12, a good amount of protein and calcium.
By just adding a teaspoon of each seaweed (dried and ground), you are really going to give your body and mineral boost. These are both seaweeds that I introduce in my seaweed book and on my seaweed foraging courses where I also share tips on how to dry, store and make seaweed powder and salt.
Seaweed and Pumpkin Seed Crisp Bread Recipe
These crackers are tasty, store well and you can alter the ingredients depending on the ingredients you have to hand.
Makes 28 (approx)
Ingredients
280 g mixed seeds (I used 250 g pumpkin seeds and 30 g linseeds)
1 heaped tsp ground egg wrack
1 heaped tsp ground gutweed
200 g wholemeal or spelt flour
50 ml vegetable oil, or half sunflower oil and half nut oil
200 ml boiled hot water
1 tbsp sea salt or seaweed salt
In a large mixing bowl, combine the seeds, seaweeds and flour, then add the oil and boiling water and stir well. It will resemble stiff, soggy porridge. Preheat the oven to 140ºC /fan 120ºC and roll out the dough between two sheets of silicone or baking paper to the thickness of one seed. Cut into rectangles, about 4 cm x 7 cm and using a spatula, peel off and place on a clean baking sheet in two large baking trays. Sprinkle with salt to taste, or grated cheese and bake for 1 hr or a little more until the brown and crisp. Allow to cool and store in an airtight container.
You may also want to browse my seaweed blog for other information and recipes, I also post regularly about what I'm foraging and upcoming courses on instagram and my facebook page. Do remember to tag me if you try this recipe!
Nori doesn't just come in sealed packets, shipped across the world in the form of nori sheets. Nori (Porphyra) can also be picked fresh in Winter on Cornish coasts and from European waters. No plastic, no air miles, just fresh nori goodness.
Freshly picked nori needs to be dried to create the same taste as nori sheets. I share how to dry, flake and store seaweeds, as well as guidance on when, where and how to pick seaweeds sustainably in my award-winning seaweed book.
Here I share a recipe which uses flaked nori seaweed, combined with rye, oatmeal and roasted buckwheat to create a rustic cracker. These were shared on a seaweed foraging course with seaweed butter/oil or cheese. They were very moreish - everything always tastes better eaten outdoors on the beach!
Nori, Rye, Oatmeal and Roasted Buckwheat Cracker Recipe
These are easy to make, they store well and are full of natural goodness!
Makes 40
Ingredients
200 g white rye flour
100 g oatmeal (or ground porridge oats)
200 g roasted buckwheat grains
1 tbsp dried, ground nori
Large pinch of sea salt
2 tbsp oil (vegetable, olive oil or half and half of each)
200-230 ml water
Method
Place all the dry ingredients in a large mixing bowl and combined. Add the oil and gradually add the water until it makes a workable dough and set aside for half an hour to allow the moisture to be absorbed. Decide whether you want rustic, oval shaped crackers (1) or crackers shaped with biscuit cutters (2). Preheat the oven to 200°C/fan 180°C.
1. Break off walnut sized blobs and roll them out between two pieces of grease-proof paper to the thickness of the buckwheat seeds. If the dough is a little sticky, you can add more oatmeal. Roll in one direction to get tongue shaped crackers or keep turning them around to create rustic round crackers. You may need to change the baking paper if it gets too soggy.
2. Roll the dough out between two pieces of greaseproof paper and use a biscuit cutter to create the crackers. When pressing down the cutter into the dough, take this opportunity to press the dough more firmly together. My dough was quite crumbly, so doing this really helped!
Place the crackers on a large sheet of dry baking paper on an oven tray and bake for 15 minutes. Turn them half-way through with a fish slice or similar (they will be fragile) until all the water has evaporated and they have turned a little brown. Allow to cool on a cooling rack and store in an airtight container.
Made for Valentine's Day, some hearts break easily, some stay whole, still delicious! If you try this recipe, I'd love to hear from you, tag me on instagram @rachellambertwildfoodforaging or ping me a message.
Everytime I run a Seaweed Foraging Course I make tasters. Sometimes I stick to old favourites like seaweed hummus, or 3 Seaweed Soup though often I tweak things or experiment - I like to keep things fresh and new.
Frequently I make seaweed bread and dips; it's easy, accessible and bread is a brilliant carrier for all sorts of toppings on the beach. In my Seaweed book I have a perfect hummus recipe, and a Crab and Alaria Seaweed salad (image below).
I don't often get to teach this seaweed, so doing so, and eating it is a real treat. Alaria esculenta is also known as Dabberlocks, Tangle or sometimes Atlantic Wakame, and is one of the seaweeds that is delicious raw. This makes it perfect for marinades and salads. I love crab, though veganism is becoming more and more popular, so I decided to tweak the recipe and make it vegan, so everyone on my most recent seaweed course could enjoy it.
Alaria Esculenta doesn't grow everywhere, though we do have it off the Cornish coast, and it is most similar to Wakame - a Japanese seaweed used in salads and soups. I share more about this on my courses (there's just too much to say here!).
Here's the recipe;
Carrot, Ginger and Alaria Seaweed Salad
This is really easy to make though ideally you need to marinade the seaweed overnight. You can use fresh or dried seaweed and you could use ginger juice (juice yourself) rather than pickled ginger (available in Asian food stores).
Ingredients
15cm dried alaria esculenta seaweed or 25cm fresh (this should be the oldest part, with the stipe/stem and 2/3 of the seaweed left behind for it to rejuvenate)
50g pickled ginger, finely chopped
2 tbsp sesame oil
1 tbsp rice wine vinegar
1 tbsp extra virgin olive oil
1 tsp soy sauce
300g carrots
Finely chop the seaweed and place in a medium sized bowl. Add the ginger followed by the rest of the ingredients, except the carrots. Stir thoroughly to coat, cover and leave overnight. In the morning grate the carrots and add to the marinade. Mix well and empty the contents into a container with a well-sealed lid and take to the beach, or serve in a salad bowl.
Goes really well with seaweed hummus, seaweed bread, added into stir fries, with noodles, with fried rice, and well, lots of things!
To find out more about identifying and harvesting seaweeds sustainably do check out the seaweed foraging courses or if you want to save money, my seaweed book with recipes, identification, nutrition and lots of tips is just £6.95.