Our culture is predominantly one of fear mongering - the newspapers & media are full of it, keeping many in business as we seem to thrive on the flight-fight instinct of protect & defend. Funny really, as so many of our predators are extinct, our fears could justifiably be considerably reduced.
More recently the fear of environmental destruction, of population over-crowding & food supplies running out are some of the underlying themes of the future. Now, I'm not generally one to take a negative slant on things, on the contrary, I believe in possibilities & the positive creativity of human kind, and yes, that naturally extends to my views of foraging.
Some year's ago I did a talk & slideshow on Foraging & Sustainability for Transition Truro. My angle was to look at foraging in a broader context & to address some of the fears that I was hearing from participants, namely the Fear of Not Enough. This fear came in many guises; people wanting to protect 'their patch' of favourite foraging spots, of beautiful Cornwall & concluding that this meant that foraging should not be encouraged, and kept to a responsible few. These fears crossed over into fear of others (those who could, would or do trash the landscape), of blaming & separation from others.
"Worrying about scarcity is our culture's version of post-traumatic stress. It happens when we've been through too much, and rather than coming together to heal (which requires vulnerability) we're angry and scared and at each other's throats." Brene Brown
Although I understand these fears (really, I'm personally very familiar with fear & its impact), I choose to put my attention elsewhere. I too care deeply about the natural world, though I also believe in awareness & education as tools to help people build on & alter their interactions with the environment. This, of course can be a vulnerable place, a place of exploring, trusting & stepping into the unknown. Getting outside is good for you, me & us & foraging is a great way to engage with & learn about the environment. Denying people this activity is not, in my view a constructive answer, denying some though not others this privilege would only create more separation & potential conflict. Don't we already have enough of these problems?
Despite the increase in the popularity of foraging, foraging remains a small impact activity in terms of environmental degradation, plants are still thriving, many benefiting from regular 'pruning' from foraging, while other invasive plants would be hard to eradicate.
I find myself reassured by other fellow foragers & conservationists that share my views. I was forwarded a great article recently which sums up a lot of my own sentiments. Conservation and Wild Food Foraging, is in my view a balanced article tackling this sensitive and sometimes misunderstood topic. Written by Justin Whitehouse, the Lead Ranger of the Lizard Peninsula, Cornwall- thank you Justin.
To counter this culture of fear, I believe we need to start trusting each other & working together to find solutions, furthermore, to quote Brene Brown again, the opposite of not enough isn't abundance, it is simple 'enough'. We have enough, if we use our resources widely there is enough. In terms of foraging these can mean;
Forage only what you can use, leave the rest (think tasters rather than harvesting)
Only pick where there is an abundance & never more than one third
Consider offering to 'weed' for food areas such as parks or neighbour's gardens
Cultivate wild areas - leaving edible weeds to grow in your own garden or public areas
There is enough; nettles, brambles, wild garlic, japanese knotweed all flourish in the UK, are all edible & are easily identifiable. There could also be more, if we made some changes to how our land (anything from our own back yards to waste land & cultivated fields) is managed.
Just imagine... if everybody foraged how these benefits could increase, really there is no limit to what could be imagined;
Communal expeditions to pick together
Action to cultivate more wild areas
Understanding & reducing pesticides to help cultivate more wilds
Reducing weeds & invasives in certain areas
More wildlife friendly gardens & areas, not just for food, but for birds, bees, etc
The future is ours to create & I hope that together, through sharing, learning & at times getting it wrong, as well as right, we can create an environment where people as well as other wildlife can reap the simple & natural rewards of foraging.
Elderflower cordial is the ultimate summer drink, scent and medicine. As I sit here in my kitchen I'm enjoying their light, dreamy scent wafting across the room, of the ones I picked this morning.
Summer foraging for elderflowers is almost as popular as blackberries in autumn, or wild garlic in spring, and all for good reason. Elderflower cordial is the perfect way to capture and preserve the scent of summer. Foraging for edible wild plants is so rewarding too! Make your own homemade cordial to enjoy with friends and family.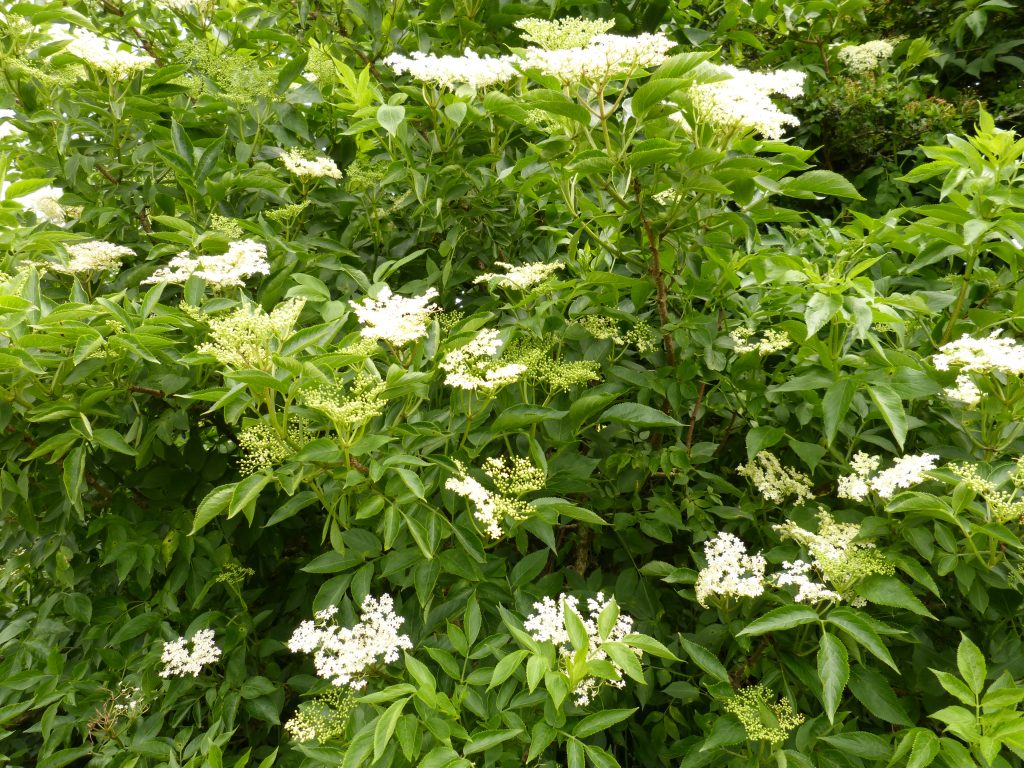 Where to find elderflowers
The elder tree is often considered a weed, it often grows on wasteland, in hedgerows and at the edge of woods. It loves the sun but can cope with shade, I often see them alongside roads and backing onto railway lines, which is often very frustrating because I'm rushing by!
When do elder flowers bloom?
Elderflowers start appearing in late spring and early summer. Here in the UK that means May to July, though this is dependant on how warm it is and whether spring started early or late. Sometimes July is still great for picking, and other years they have started to turn and are not worth picking.
Elderflowers can also be frozen. A few years ago my aunt froze a whole carrier bag of elderflowers for me. Once defrosted, they obviously don't look as good as when they are fresh, but you can still use them for making cordial or dry them for making elderflower herbal tea.
I also like to freeze some of my elderflower cordial in an ice cube tray, then I have ready to use portions!
How and why to dry elderflowers
Elderflowers can be used for herbal tea. You can dry them in the sun, in a dehydrator or at the lowest temperature in the oven and keep them for the winter months as medicine for colds, flu, coughs or bronchial issues.
How to make and use elderflower cordial
See below - a summary on this video and the full recipe at the end of the blog.
Use in cocktails, sorbet, ice cream, sweet bread, as a doughnut dip, elderflower champagne or dilute for hot and cold drinks. You can also freeze the cordial in an ice cube tray or bag and pop in soda water or defrost and dilute from frozen.
Why is elder flower cordial so good?
Many of us have a soft spot for sweet, and the combination of light and heady, citrus and sweet seems to be the ultimate combination!
Is elder flower cordial good for you?
Elderflowers have anti viral properties and can help treat colds and flu and quicken recovery. They can also be used to sooth sore throats, coughs and bronchial infections. Elder flowers are delicious and a medicinal plant.
Before I begin, a word of warning. Elder (Sambucus nigra) has umbel-like clusters of flowers, similar to that of the Apiaceae (Umbelliferae) family. To avoid fatal mistakes with deadly plants within this family, you must be 100% sure that you are picking the correct plant. This blog is focusing on the recipe, not on the identification, always check with an expert, so you can continue to enjoy foraging for food!
Also, a word for the plant... If you pick all the flowers there will be no elderberries later in the year - which would be very sad, for us and the birds. Bare this in mind & never pick more than 25% of flowers of a single plant.
ELDERFLOWER CORDIAL RECIPE
This recipe needs some pre-planning - a bucket or heat-proof bowl, clean screw-top bottles, lemon squeezer, a funnel and a seive/muslin cloth is needed. You can alter the measurements depending on how many elderflower heads you pick
Ingredients
25 elder flower heads (flowers left on stalks)
3 unwaxed lemons (or 2 lemons and 1 orange)
400 g unrefined sugar
1.2 litres boiling water
2-3oz citric acid (if you're going to store the cordial for a while)
Ideally pick the flowers in full sun. Fork the flowers off the stalks or snip off the main stalks, putting flowers aside and discarding the rest. Place sugar in a pan and pour boiling water over, stirring until dissolved. Place the elderflowers (check to remove bugs) in a clean bucket and pour hot sugar mixture over it. Cut the lemons in half and squeeze the juice into the bucket, then grate the lemon zest and add this too. Stir, cover, and leave for 24-48 hours, stirring occasionally. Strain the mixture through a sieve, or preferably a fine muslin cloth, and funnel into clean bottles, or dilute and serve immediately!
For Elder Flower Sorbet
Follow all the instructions above, omitting the citric acid and dilute with two-thirds water and beat in one whipped egg white. Use an ice cream maker or get ready for these next steps... Freeze the cordial in a sturdy tupperware (plastic container with a lid) for 2-4 hours. Remove & mash up with a fork or in a food blender. Repeat at least once more. Serve on its own or with a variety of other desserts, particularly good with sponge cakes.
A long held discussion or even conflict within the world of wild foods is that of comfrey & whether its healthy or potentially harmful to humans. I'm sure this discussion will continue for, well, a while, meanwhile I thought I'd add my contribution. I've also included my latest recipe, alongside some reasons (including scientific ones) of why I like this plant.
Comfrey leaves - Symphytum officinale -  has been used for thousands of years as a food & medicine, some of its common names include 'knitbone' because of its internal & external application for broken bones. Indeed, it has been held in high-esteem by herbalists for its healing properties, in particular reducing inflammations by aiding cell regrowth & repair (1).
Just on a side line, if you research into comfrey as a plant food (a liquid green fertilizer) you will find lots of positive reports of its nutritious benefits of 'greatly enhancing the fertility of your soil'. I am aware that people are not plants - although an interesting topic based on our intake of so many nutrients from the plant world that are then laid down as vitamin & minerals in our bodies which create our bones, repair our cells - I digress!
Meanwhile, more recently, comfrey has been approached with more caution & in some incidences considered a potential poison that should not be used as a food, or indeed a medicine at all. Only last month, when speaking to a reputatable & quite open-minded scientist about wild food, he quoted to me the risk of eating comfrey in the context of the dangers of wild food foraging. Now, while I want to promote safe foraging ( some plants are most definitely poisons, for example, while others need to be processed), I also want to promote a balanced approach to plants as foods & accurately represent the benefits.
As a non-scientist, I've chosen to refer to research done & leave you to come to your own conclusions... In particular, everybody's body is different & reactions, can & indeed have, occurred. In particular, the main research that is often cited is from 1978 when rats were fed comfrey leaves (8-33% of their diet) for a durational period, which resulted in liver tumours developing in all cases (96% turned out to be benign by the way) (2). However, as pointed out by Health Practitioner, Dorena Rode (through her extensive & thorough research on comfrey - well worth a read), further scientific research has been carried out where no such results were found (3). I also usually add the obvious; that we are not rats & I challenge anyone (not literally) to even try & eat comfrey as a third of your diet for half a year!
So, am I promoting comfrey as a food, or am I not?
Well, over the past 5 years I have certainly used comfrey as an ingredient in wild food events & dinners (with no known negative side-effects). Excellent in curries, we were particularly pleased with our Sea Beet, Comfrey & Black Mustard Thoran - a South Indian style dish using coconut that Sara created on one of our inspired walks through the Cornish countryside.
Personally, I also remember over 15 years ago sitting in a wood with my boyfriend, it was morning time & he was cooking up comfrey fritters (quite a traditional & classic recipe quoted for this food) & frying wild mushrooms for people to taste - delicious! However, I have also remained cautious around using this plant too often.
Now, coming back to the present day. This morning I've been looking at those comfrey leaves I picked yesterday morning; a glorious summer wander with comfrey looking too good to be passed by. The combination of sunshine, the outdoors & wild food just gets my creativity going sometimes & I want to play! The heat also doesn't inspire a laboured curry for me & one of things I enjoy about comfrey is the cucumber-like flavour & freshness.
Armed with a little research, a healthy appetite & travelling past my local shop for a few ingredients - I set to. Before I tell you my recipe, I want to share with you a few tips that I decided to take on board regarding eating comfrey;
Here are 4 reasons why I continue to eat comfrey - occasionally: 
1. Apparently the older leaves are meant to be less potent in the Pyrrolizidine Alkaloids (4) that are thought to be harmful in comfrey - so I focused on picking these older leaves
2. I like life & have no desire to push the boundaries of nature, so am adhering to not eating comfrey too regularly or in large amounts (for my own comfort & peace of mind)
3. That comfrey is also RICH in many beneficial nutrients for us humans (great!) including; Calcium , Magnesium, Vitamin C, Vitamin B12, Beta Carotene, Phosphorus, Potassium, Vitamin E, Vitamin A, Iron,  Sulfur , Copper & Zinc (4)
4. I've never felt any ill-effects from eating comfrey & I enjoy eating wild foods.
Back to my recipe. Based on my love of that cucumber-like flavour of comfrey, plus reading that protein deficiency & lack of sulphure containing amino acids may contribute to the ill-effects of comfrey (3), I created this;
Comfrey & Yoghurt Dip
1 handful of comfrey leaves (older ones)
200g of natural yoghurt (the proper full fat stuff)
1 heaped tablespoon of good honey
1 squeeze of lemon juice
1 shake of liquid amino acids (google it!)
Put all the above in a food blender & whizz together. The result is a sweet, cucumber-like dip (think tzatziki) that I thought was delicious! Perfect for a summer spread of salads, dips & fruits. Let me know what you think..
REFERENCES 
(1) Comfrey 2011 University of Maryland Medical Center (UMMC)
(2) Hirono, I., H. Mori, and M. Haga, Carcinogenic activity of Symphytum officinale. Journal of the National Cancer Institute, 1978. 61(3): p. 865-9.
(3) Comfrey Central - A Clearinghouse for Symphytum Information www.comfrey-central.com
(4) Comfrey is Poisonous? Dherbs Article
Enjoying a combination of new sights & tastes & feeling reassured

by how many wild edibles we share with mainland Europe 
Back in Spring, I felt inspired to plan a trip to Europe, lured by stories of ice-cold mountain lakes, lots of outdoors people, armfuls of wild berries & mountains...
Over the last few years I've found myself completely content with being in Cornwall - I felt I had everything - sea, moors, great locals & the inspiring influx of newcomers & tourists. In my experience, like any love affair, there usually comes a time when I feel established enough in the relationship to step out into new things, knowing I can return home with fresh ideas & renewed vitality.
On this premise, I vaguely planned my trip, & on the cusp of September when I thought the berries might be at their best, got on the sleeper train to London & started my journey to Austria. Now, you may well be familiar with travelling abroad, for me, lets just say it's been a while. Starting from a small town called Mayhofren nestled in the alps of  south Austria, the delight of seeing & smelling a new environment was inspiring, naturally I wanted to be out there immersing myself in it all.
I find walking & foraging a great way to experience a place &  before I knew it I was walking along rivers, up & down valleys comforting myself with the pleasures of elderberries, bilberries & raspberries. Everything can taste differently in a new place - the air, earth & water contributing to a plant's unique flavour.
The raspberries were like none I'd tasted before - sweet, seedy & ripe. As an optimist, I often have a romantic idea about a place before I go & on the whole, Austria lived up to my image of it, however, armfuls of berries, hmm, I'm not sure about that! Foraging, can at times need concentration & focus, & even when I found bushes & bushes of bilberries in the alpine forests, I needed a keen eye to pick them out.
Locally, bilberry jam was delicious, I had traditional Austrian dumplings flavoured with juniper berries & a fellow walker had burger & chips with cranberry sauce - move over Heinz ketchup! The foraging highlight for me was these last two berries - juniper & cranberries. Although I've read that juniper berries grow in South England, I've never found them, ooh, & the sharp taste of raw cranberries was surprisingly pleasant as a walking snack.
So, rest assured, that learning about foraged foods in the UK can give you a broad starting point across Europe,  a unique way of appreciating new landscapes & a fun way of tasting your way round many countries, mountains & lakes!
Unique Island Foraging
Really, like nowhere else.
Sudi Pigott, food journalist and author compared Gourmet Foraging and Dining on Scilly to an experience at Noma - Rene Redzepi's  Copenhagen restaurant, which, at least twice has won best restaurant in the world awards (S. Pellegrino 50). Noma specialises in using foraged and seasonal produce and has a world renown reputation.
According to Sudi, we were on a level with Noma (Daily Express, 2011).
Travelling to the Isles of Scilly always feels magical to me. I couldn't get much closer really (well not much) and still live on the mainland. The Scillonian ferry is 10 minutes walk away from my house, and standing in the right place I could watch the boat leave and return daily, in season.
Foraging can appeal to such a wide reach of people, from foodies to wildlife enthusiasts, and Scilly really is the perfect environment for it. A series of islands, low population numbers and a priority for wildlife including birds, plants and sea life, plus a distinct lack of cars and motor vehicles is ideal for foraging to flourish in the clean air and land. Indeed, foraging has happened a-plenty in Scilly in the past, piles of empty limpet shells on (the now uninhabited island of Samson) pays testament to that.
(The Foragers: Hell Bay Gourmet Foraging and Dining Break, Isles of Scilly)
And what about now? Like elsewhere in the UK, foraging has largely been forgotten, and the Coop (the largest food shop on Scilly) is perhaps an over-used substitute for the wild stuff. Local foods are still used though, when available. Though I can't help casting my eye across all those beautiful fresh ingredients, forgotten in the hedgerow, fields and coastline.
When I first approach Hell Bay with the idea of doing gourmet foraging events, I wanted the best. The best chef, environment and eating experience that would allow the wild ingredients to really be appreciated for what they are - special.  Special, abundant and worth rediscovering.
Our group of enthusiast guests, felt similarly (I hoped), and joined me for 3 days, 3 islands, 3 walks and 3, 5 course gourmet dinners - including the ingredients we'd foraged during the day. Travelling from various areas of the UK, foraging became our common ground, oh, and discussions about the hotel's enviable art collection.
We may not have looked like foragers, though looks aren't everything, and in a way, foraging was just the medium we used -  the chosen lense to appreciate the islands and the natural abundance they had to offer. Indeed, both people's adventurous spirits, and the wild plants themselves came up trumps, my favourite being when we focused on the seashore...
Foraging for seaweeds is tide dependent and on the islands it is also dependent on the times of the boats. On our final day of foraging we got the boat to St Martins island.  A sensitive juggling; this wasn't the first time we'd got dropped at the opposite end of the island to expected and planned for! A low tide is perfect for seaweed foraging, though not for mooring boats - oh well, we got to the island, were wellied up, well some of us, while others dared it with bare feet or trainers.  Thankfully the coastline of St Martins came up with the goods.
It amazes me that pottering around just one collection of rocks enabled us to forage for a wide range of seaweeds to accompany our dinner.
I had a 'shopping list' of 7 seaweeds, which we snipped off with scissors and took, happily back to the hotel kitchen. Idyll memories of aisles of sandy beaches, rock pools, paddling expeditions and a little clambering, looking under kelp forests and getting faces up close to the splish, sploshing water around us. Those who chose to, watched from a distance, enjoying the sun while the wellied ones paddled out to find the freshest finds. We laid out are proud findings on the rocks (who ever took photos - I'd love a copy!) before revising their names and bundling them into our baskets before heading off to lunch.
The evening's menu was always greeted with satisfying ooohs and aaahs - all the excitment you would expect from a special dinner party. I love that part - although we forage together, I like to keep the evening's menu a surprise. It's like revealing a new painting - we've worked creatively behind the scenes - myself helping design the menu and advise processes, then leaving the chefs to use their talents and skills to create 5 bespoke courses with a range of colours, textures and visual arrangements. Like art, food comes down to personal taste, though the variety and skill seemded to be enough to please everyone...
However.
Some dishes were a hit, while others had a mixed response that might be expected from more experimental cuisine. Personally, Sea Spaghetti (Spaghetti-like seaweed) with Grilled Turbot and pangretta with sea lettuce, followed by Rice Pudding with crystalised Alexander stems were hits with me. Though some disagreed! Other's loved the hogweed seed biscuits that accompanied Cornish cheeses - for me, I was completely satisfied already and had no room for anymore. All created within the style and quality you expect at Hell Bay.
Unique Scilly foraging it is.
I could list all the dishes of each evening, though just as a taster, here's the menu we enjoyed on our second evening after foraging on the Island of Tresco and an afternoon free to enjoy the Tresco Abbey Gardens.
Sorrel & Wall Oxalis Soup
Fennel Tempura Fillet of Hake, dressed White Crab Meat, steamed Rock Samphire,
Pan roasted fillet of Venison, Nettle Gnoochi, Frosted Orache, Three-cornered Leek puree, Chocolate & Yarrow Jus.
Gorse Flower Creme Brulee with Blackberry Leaf Sorbet
Cornish Cheeses with Hogweed & Alexander Seeded Biscuits
I offer bespoke foraging experiences on the Isles of Scilly, my availability is limited, and especially limited in high-season when the chefs are exceptionally busy. Luckily, foraging is best in early spring and autumn - do bear this inmind if you'd like to experience the wild side of these beautiful islands.