As the saying goes; 'when gorse is not in flower then kissing has gone out of fashion.' Luckily there are two types of gorse (Ulex gallii and Ulex europeaus) here in the UK (and in many places across the world) and they hybridise too. Between them, all seasons are covered with gorse flowers, because kissing never goes out of fashion!
As I write this in late summer, the gorse and heather flowers are starting to flash their colours across the moors and on cliffs near the coast. Hmm, those wonderful yellow and purple hues together make me smile.
I used to call these Gorse Martyr Cookies because these cookies wanted to look less than they are; homemade biscuits fit for a martyr not a foodie. I also wanted to keep this fab recipe to myself!
Although these are wholemeal oat cookies, they are also deceptively sweet with their rustic-looking icing. They are a favourite of mine, so I'm quite happy that they are disguised as overly humble biscuits. Made using dried gorse flowers they can be crafted any time of year.
Gorse and Oat Cookie Recipe
Makes 12
Ingredients
15–20 g dried gorse flowers
75 g butter
25 g soft brown sugar
2 tbsp Gorse Flower Syrup (page ..)
75 g rolled oats
75 g wholemeal flour
For the icing
25 g unrefined caster or icing sugar
2 tbsp dried gorse flowers
1 tbsp water or Gorse Flower Syrup
Preheat the oven to 180°C and grease a large baking tin. Place the gorse flowers in a small saucepan along with the butter, brown sugar and gorse syrup. Heat, stirring occasionally, over a low heat and once the butter has melted, take off the heat and leave to infuse.
In a large bowl, mix the oats and wholemeal flour. Stir in the butter and gorse mixture and combine well. Roll into 12 small balls and flatten into cookies on the baking tray. Bake for around 12 minutes, or until golden brown and slightly crispy at the edges. Allow to cool before removing from the tray.
For the icing, finely blend the flowers and sugar in a seed grinder or equivalent; the result should be a powder with tiny flecks of yellow. Mix in the water, or syrup if you have it. The consistency will be quite watery but leave to set for a few minutes before pouring it over the cooled cookies. The moisture will soak into the biscuit. Leave to dry, then enjoy as wholesome sweet snacks.
I teach gorse throughout the year on many of my foraging courses, I also have plenty more recipes for gorse flowers here on the gorse section of my blog.
When I first used Hogweed seeds, this light, spongy textured biscuit was the carrier I chose for their unique flavour.
Perfectly balanced with flours and spice, it's a simple, reassuring lightly spiced treat and a good place to start if your unfamiliar with hogweed's flavour.
Hogweed is a member of the umbellifer, apiaceae, also known as carrot family. There are wonderful edibles and poisonous plants in this family and correct identification is essential. 
As part of my Sweet Wilds collection (desserts and sweet treats made from foraged and home-grown ingredients), here I introduce three ways you can turn Ground Elder into something sugar-coated. It has a tangy, refreshing flavour which is quite delightful!
Ground Elder (Aegopodium podagraria ) also goes by the names; herb gerard, bishop's weed, goutweed, gout wort, snow in the mountain, English or wild master wort.
Why use Ground Elder?
Ground Elder contains good amounts of vitamin C and various other medicinal benefits including being used to treat rheumatism and arthritis.
Its names goutweed, gout wort (wort means plant of worth) and bishop's weed come from using this plant to treat gout which is the result of eating too much rich foods. Rich foods was the food of bishops and monks as far back as the middle ages.
1. Fresh Ground Elder leaf icing
Blend the leaves to a fine, herby pulp, mix with icing sugar the lemon juice to a smooth paste and drizzle over cakes or biscuits. Mixture makes enough to ice one cake.
Ingredients
2 tbsp fresh ground elder leaves
50 g unrefined icing sugar
1 tsp lemon juice
2. Ground Elder stem sugar
This recipe is made from candying the Ground elder stems then blending them with sugar. Finely chop the stems and place in a dry frying pan over a medium to high heat. Allow to heat up then add the sugar and watch sizzle for a few minutes as the sugar and moisture is absorbed. Stir to check the process and take off the heat when the plant starts to become dry and the bottom of the pan white with the dried sugar.
Scrape off the sugar and allow to cool. Weigh the candied stem sugar and ad the same amount of sugar to a spice blender and blend to a powder with the candied stems. Use in Ground elder shortbreads.
Ingredients
50 g ground elder stems
25 g golden granulated sugar
Extra sugar (to be measured)
3. Dried Ground Elder sugar
Dry the leaves. I just leave them out in a warm room, but you could use a dehydrator or place in a warm (but turned off) oven. Blend to a powder and mix well with the icing sugar. Use to dust over Ground Elder shortbreads.
Ingredients
1 tbsp dried ground elder leaves, powdered
1 tbsp unrefined icing sugar
Do you have Ground Elder (Aegopodium podagraria ), also called herb gerard, bishop's weed, goutweed or gout wort, growing in your garden? Have you tried everything to get rid of it? Why not eat it! At least then you could appreciate it for all its herby goodness.
The traditional and simple way is to use it instead of parsley as a salad garnish or in cooking. Though if, like me, you have a sweet tooth, you may want to try making these. It's a straight forward recipe, quick, cheap and they last well, once made.
Ground Elder Shortbread Recipe
An unusual recipe that uses the stems and leaves of ground elder to give an edge of green and a little pungent twist to these simple biscuits. They keep well once made too.
Makes about 40
Ingredients
250 g plain flour
25 g golden granulated sugar
35 g ground elder stem sugar
1/2 tbsp cornflour
160 ml light olive oil or sunflower oil
For the sugar dusting
1 dessertspoon unrefined icing sugar
1 dessertspoon dried ground elder leaves
In a large bowl stir together the flour, sugars and cornflour. Blend in the oil and massage to form a moist dough. Place in the bowl, cover tightly (I like to use a wax wrap over the bowl rather than clingfilm) and place in the fridge for at least 30 minutes. At this stage you can leave it for a couple of days until you're ready to bake.
Preheat the oven to 180C/fan 160C/gas mark 4 and line a couple of large baking trays with baking paper. Lightly flour a clean surface and roll out the dough to out 3 mm thickness. Use a 6 cm biscuit cutter and, using a flat knife, move the cut biscuits onto the baking paper. Re-roll and cut the dough until you've used it all (or all you can).
Bake for around 15 minutes, or until golden. Leave for 5 minutes in the tray before moving to a cooling rack. Leave to cool before dusting with the icing sugar.
To make the icing sugar: Dry the leaves in a warm place, a switched off but still warm oven or a dehydrator. Use a spice, nut or coffee grinder to blitz them into a fine powder and stir well into the icing sugar.
It is Spring and the gorgeous white blossoms of Blackthorn have appeared. These early Spring flowers are a welcomed sight and appear before the leaves.
As the saying goes; you can eat anything once! Here I explore the edibility of blackthorn flowers (Prunus spinosa), their flavour and potential benefits, plus a step-by-step recipe.
I was once asked what this flower was by a woman who'd been eating them and enjoying their almond flavour. My reply: They are blackthorn flowers, and that flavour will be the cyanide.
Knowing the plant family, and recognising this as a relative to the plum tree is not enough to assert its edibility. Nor is the fact that the berries (sloes) can be used as food and to flavour drinks later in the year. In fact, the seeds, leaves and bark of sloes and black cherries also contain a compound that can be converted by the human body into cyanide when digested.
Blackthorn flowers have been used as an edible, sugar-coated cake decoration and I've been known to nibble one on a walk. My wild foodie colleague Mark Williams uses them to flavour his Sloe Gin, creating a a double-layered sloe gin cocktail.
Degrees of toxicity
There are many plants and foods we eat regularly that potentially contain toxins. For example; rice (arsenic), potatoes (solanine) and sorrel (oxalic acid).
What matters here is the amount. You'd need to eat more that 25 apple cores (with the seeds) in one sitting to be of risk of cyanide poisoning, apparently. And some say as many as 5000 seeds to be fatal. You know the saying; an apple a day keeps the doctor away. Keeping things in moderation is good.
Why eat blackthorn flowers?
Because of the cyanide content, blackthorn flowers have a lovely almondy scent which intensifies when infused. This can be used in small amounts as a flavouring. Below is a recipe for blackthorn flower syrup that I would only consider using as a wild alternative to shop-bought almond essence. Yes, literally no more than a teaspoon as flavouring (see recipe below). The flowers have been used as a laxative and the fruits are nutrient-rich food, including vitamin C and magnesium
It is not advised to eat blackthorn fruits (sloes) or flowers if pregnant or if living with a specific health condition. Always consult a medical herbalist or healthcare adviser first.
Blackthorn Flower Syrup Recipe
This recipe creates an intense almond-scented syrup, with a bitter after-taste. I quite like the combination of sweet and bitter. It is to be used as a concentrate, you could make a diluted version instead, if you prefer.
Ingredients
30 g blackthorn flowers
120 ml (8 tbsp) boiling water
100 g unrefined caster sugar
Place the flowers in a mug or heat-proof bowl. Pour the boiling water over and leave to steep for at least 2-4 hours. Strain through a tea strainer and place the liquid in a small saucepan with the sugar. Stir over a low heat until the sugar is dissolved (do not boil) and store in a sterilised bottle or jar. Use sparingly to flavour desserts or drinks.
According to my Danish friend, this is what green should taste like!
The colour and flavour of this tart is heavenly! Fresh sorrel leaves add a wonderful lemony tang to desserts and savoury dishes. I used Common Sorrel (Rumex acetosa) for this recipe, but you could use cultivated sorrel or a different wild variety that grows abundantly in your area.
Here I share the recipe. Common sorrel is also one of the plants I cover in my book; Wild Food Foraging in Cornwall and the Isles of Scilly and on Spring Foraging Courses.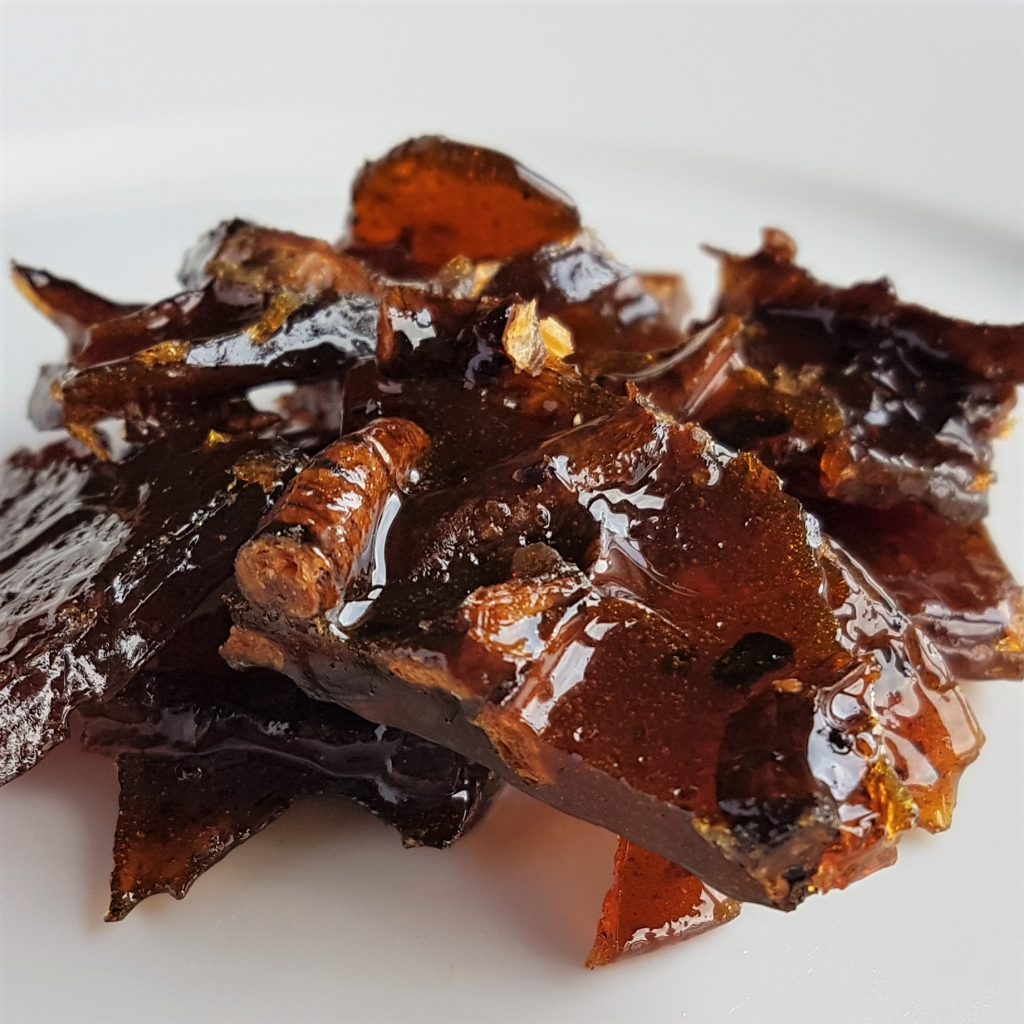 Sweet, crunchy and good for you. This dandelion root caramel brittle recipe is laced with the detoxifying roots of dandelions and flavoured with homemade dandelion coffee. You'll also need to look at my recipe for making good roasted dandelion coffee. Alternatively, you can buy dried dandelion roots and dandelion coffee at health food stores or online.
This recipe is perfect if you've been doing some weeding and have a few, young-ish dandelion roots to hand. It's good to allow the roots to dry out for a day or two first - this reduces the water content and condenses the flavour. Dandelion roots are best to dig up in Autumn and Winter when nutrients are concentrated in the roots.
Something sweet...
Like many good recipes, this one came from experimenting and using the leftover syrup from another dandelion recipe I was creating. Ooh, there's so much to share with you! Remember to use the #sweetwilds and @rachellambertwildfoodforaging if you try this recipe, tweak it or have a foraged dessert or sweet treat to celebrate, I'd love to hear from you!
Unrefined Sugars
It's a myth that caramel needs to be made with white sugar. This recipe uses unrefined caster sugar which retains some of the natural nutrients of cane sugar. I was brought up on sugar - the white stuff - and my taste for sweet just hasn't gone away. Rather than deny myself this pleasure I use unrefined sugars in my recipes. You may want to read my blog Sweet Wilds: A forager's confession.
This recipe is full of sugar!! Great for an energy boost but best to use sparingly. You can also crush the brittle in a pestle and mortar or with a rolling pin and sprinkle over cakes or desserts.
Dandelion Root Caramel Brittle Recipe
Crunchy, ever-so tasty dandelion sweets. The dandelion flavour is mild and good for you.
Ingredients
100 g dandelion roots, washed and dried for a day or two* (see notes below)
160 g unrefined sugar
1 dessertspoon dandelion coffee liquid cooled
1 tsp used dandelion coffee grains
Line a large baking tray with baking paper. Chop the dandelion roots into approximately 2 cm lengths. Over a high heat, use a wide, non-stick pan and evenly sprinkle in the sugar and chopped dandelion roots. Stir together the dandelion coffee grains and dandelion coffee and splash into the pan. Do not stir, just allow the sugar to dissolve. This will also cook the dandelion roots a little too. Leave the mixture bubbling for 5-10 minutes, until large bubbles start to form and the mixture turns a chestnut brown. Pour over the baking paper and leave to set for about half and hour. Break into chunks, or crush for desserts, I like to eat it as a sweet treat when I could do with an energy boost. Store somewhere dry and use within a month.
*Dried dandelion roots can also be used. Use just 60 g if they are completely dried.
I have a confession: a sweet and wild one. I can't help myself, there's something about the combination of foraging and sweetness that is irresistible to me. Give me any wild food and I automatically look at how I can make it into a dessert or sweet treat. Call it a specialism, a strength, or obsession if you will. But this is an area of foraging that I love getting my teeth into.
The benefits of pleasure
I'm a great believer in the health benefits of pleasure; eating food that we enjoy can help relax the organs and get those beneficial digestive juices going. Foraging in itself can be satisfying and rewarding. Combined with creating a tasty meal or sweet treat can release positive neurochemicals around the body that boost the immune system, calm the nervous system and help counter stress.
We are built for a healthy amount of pleasure and our bodies respond positively to it.
A word on sugar
My childhood was punctuated with home cooking, sugar and wild adventures. Home-made cordials, cakes and treats were a daily affair, thus my 'natural' sweet tooth was shaped. Since then, white sugar has had a lot of bad press, yet unrefined, from light to dark brown, retain a lot more of their natural nutrients. These are the natural sweeteners I now choose to create with, often reducing the sugar content and upping the minerals along the way,
Seasonal desserts
Each season I peruse the abundant weeds and forgotten plants growing locally and start experimenting. Infusing, simmering, drying, sieving, straining, blending. I get to know each of these wild foods and how to bring out the best of their flavour for desserts. I love the alchemy of the whole process and how I can create endless results from one plant. This is true, seasonal eating, albeit combined with a few kitchen ingredients and loving attention.
The perfect wild pudding
There are infinite possibilities of foraged ingredients in desserts. From jams and jellies, ice creams and sorbets, tarts and cheesecakes, cordials and syrups, cakes and biscuits, chocolates, sweets and fruit leathers, to cocktails and boozy desserts. I love creating around easily-foraged plants for both city and country dwellers and many of the plants i favour are available across Europe, North America and Australasia.
Sharing the sweet wilds
Some desserts are worth keeping to oneself, yet most of us know the pleasure of sharing good food with others. That's why I've started the #sweetwilds and now have a blog section dedicated to Sweet Wilds too. I won't be sharing everything at once - that would be too indulgent, wouldn't it! However I will be sharing over the coming months and years, including my lessons from disasters and sublime successes. Remember that I share tasters on all my foraging courses too.
All photos are by Rachel Lambert and are of real, wild desserts and sweet treats she has created, cooked, eaten and shared (mostly).