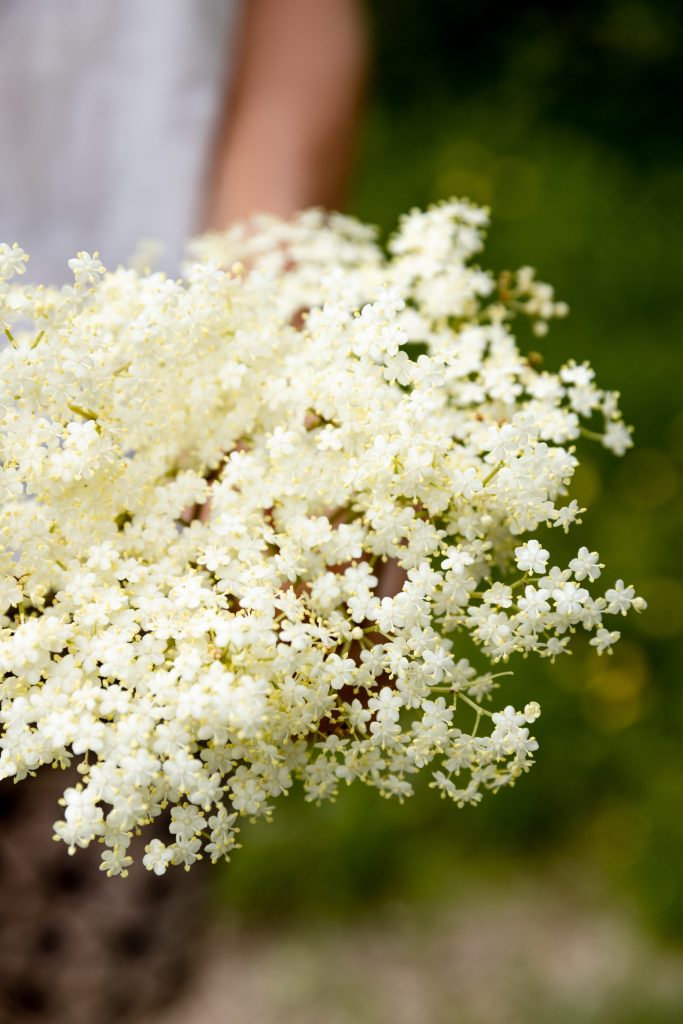 The light flavour of pears matches the summer scent of elderflowers perfectly in this delicious elderflower and pear jam! I've made it in jam sandwiches for participants on my summer foraging courses and bespoke forays. I also love it in my double elderflower doughnuts.
So let me get straight to the point and share this recipe with you.
Oh, though don't forget I have a whole Elder section on my blog with lots of recipes for elderflowers and elderberries!
Elderflower and Pear Jam recipe
If you already have elderflower cordial, you can make this jam anytime of year. It goes perfectly with cheese and crackers. Though to be honest, I solely made it as a filling for my elderflower doughnuts. There I feel it has found its perfect home, or hole.
HOT TIP: Remember to pick your elderflowers on a warm, dry day and remember elder is a tree and not a plant. Why not come on a wild food foraging course and learn more about how to identify and use wild foods
Makes one 350-430 g jar
Ingredients
300 g peeled pears, stalk and pips removed
90 ml (6 tbsp) elderflower cordial
225 g golden granulated sugar
Chop and blend the pears with the elderflower cordial then place the blended, syrupy fruits in a small saucepan with the sugar. Simmer and stir to dissolve the sugar. Using a jam thermometer turn the heat up to medium/high until the jam reaches 105°C or thickens to jam consistency. Be careful not to burn the bottom. Pour into a large sterilised jar and allow to cool before sealing.
Delicious in Elderflower doughnuts or on toast.
Wild mint is wonderfully fresh and lingers on my nasal hairs and taste buds! I love it! Mint is also a natural digestive and can help settle upset stomachs and treat colds. Here I share 4 different wild mints - from water mint to apple mint - where to find them and how to identify them.
By the way, have you seen my Mint and Coconut Fridge Cake recipe? It's a delicious and unusual way to enjoy wild mints.
Sign up to access this post
Access this post and more for £3.50. Already a member? Sign in here.
SEASONAL TASTER
MONTHLY BASKET
£3.50 per month
Every month you'll receive 1 seasonal wild food recipe from my edible plant of the month, plus links to additional seasonal posts AND be able to access the last 6 months of Taster basket offerings.
Unsubscribe at any time.

Sticky, fruity and floral, this jam pairs pineapple weed flowers with pineapple fruit to make a highly addictive mixture!
The flavour of pineapple pervades every spoonful, but I swear that it is more from the weed than the fruit. I use tinned pineapple for this recipe and it works brilliantly, though you can use fresh if you have some to hand.
Gorgeous blended with yoghurt or use as a sweet layer in these unique Pineapple Weed Flapjacks, which also happen to be vegan.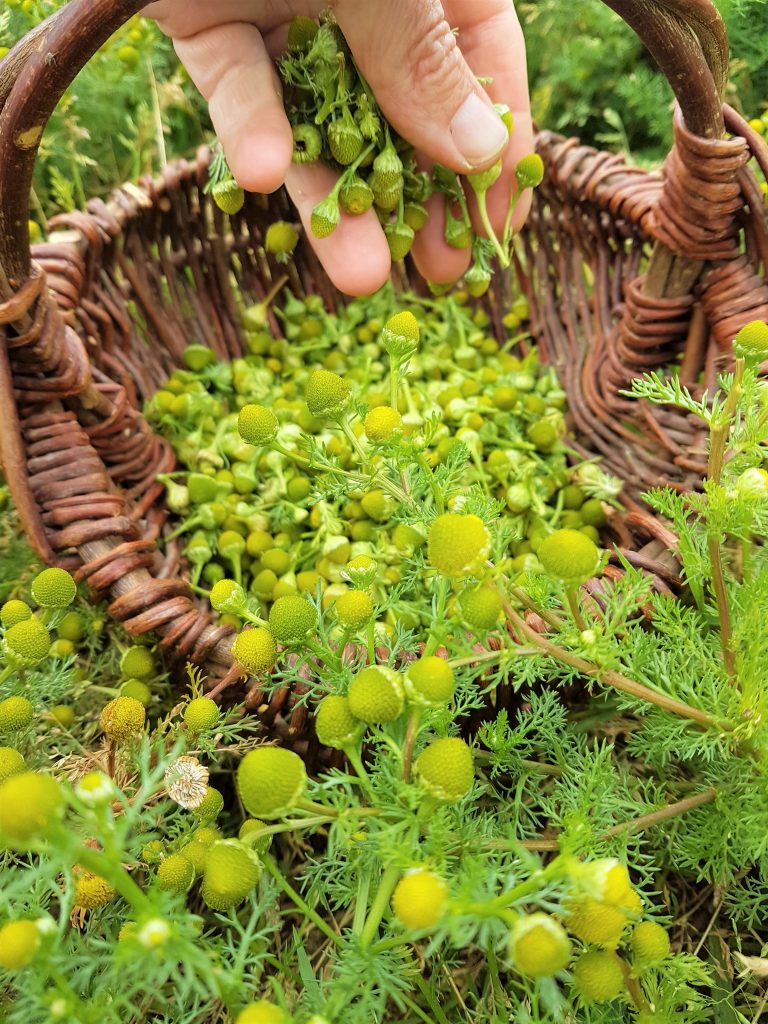 Picking Pineapple Weed Flowers
Check out my blog on Pineapple Weed to find out where to find this aromatic plant, its benefits and how to identify it.
I suggest using scissors to cut the flowering tops - it'll will save you time and mean you can leave the stalks on the plant.
Pineapple Weed and Pineapple Jam
Perhaps an obvious combination, though equally unusual and utterly divine!
Makes 400 g
Ingredients
175 ml pineapple juice
150 g fresh or tinned pineapple
160 g/ 2 cups pineapple weed flower heads (no stalks)
250 g golden granulated sugar
Cut the pineapple into slices then chunks and combine with the pineapple juice. Blend to break up the chunks but I like to keep a little texture rather than a smooth puree. Place in a medium saucepan along with the pineapple weed flower heads and the sugar. Stir and bring to a simmer over a medium heat and leave to simmer for about 15 minutes, stirring occasionally.
The jam is ready when all the liquid is absorbed and the mixture falls heavily off a spoon in blobs. Leave to cool and store in a jar or covered bowl in the fridge. Bring to room temperature before using - it will make it easier to spread.
How to use this jammy creation
I simply love this swirled through yoghurt with a dash of extra pineapple weed syrup. It's a really treat for breakfast or as an easy dessert.
It's also gorgeous in this flapjack recipe with a divinely fruity centre.
Want to know more?
Pineapple weed is one of the edible plants I teach on my foraging courses during summer. If you like this recipe, feel free to browse my wild food blog for more, or why not check out membership options and receive my best wild recipes every month!
Years ago I created a sugar-free, vegan flapjack recipe with dates and fresh ginger. I loved those flapjacks, though these have possibly overtaken them as my favourites; a crumbly oat topping, chewy pineapple weed centre and moist base. My friend H had four of them as dessert! Just sweet enough, they also make a great breakfast treat with yoghurt.
If you'd like to find out more about pineapple weed, where to find it and how to identify it, check out my blog - Pineapple weed, the amazingly fruit weed!
Pineapple weed flapjack recipe
This recipe is easy to make and is a great alternative to buttery, sugary flapjacks. The flavour is fruity and aromatic and the texture crumbly and soft or chewy. First need to make the pineapple weed and pineapple jam. They also freeze well.
Makes 9
Ingredients
Combine the oats and oil in a large bowl and stir until the oats are thoroughly coated in the oil. In a small saucepan combine the syrup or tea and boiling water and heat till steaming then immediately stir into the oat mixture. Cover and leave to cool. Grease a 20 cm by 20 cm baking tin and preheat the oven to 150°C/130°C fan/Gas 2.
Separate two-thirds of the oat mixture and stir in a tablespoon of the jam before evenly pressing into the baking tin. Once the base layer is firmly in place, evenly drop teaspoons of the pineapple weed jam on top, like polka dots. Careful spread the dots of jam as much as possible to create a jammy layer and cover with the remaining oat mix. Press the oats into place and bake for 40 minutes or until slightly golden.
Leave to cool, then place in the fridge to firm up before cutting. Use a fish slice or similar to remove from the tin; they'll be crumbly with a moist centre. but don't be tempted to remove them!
I love eating these on their own or breaking them up and combining with yoghurt as a snack or breakfast treat.
Want to find out more?
Pineapple weed is one of the edible weeds I teach through summer. My foraging courses cover around 8 wild foods and herbs, and I also offer private forays where you can decide what you want included in your foray!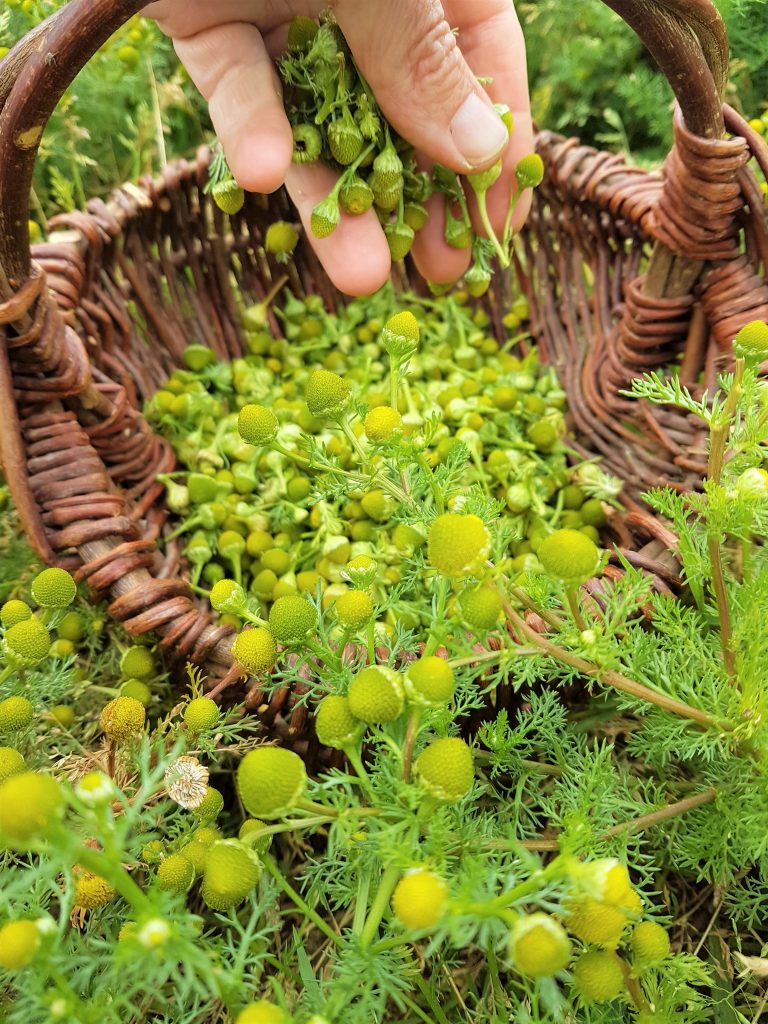 If I say 'pineapple', what do you smell? If I say 'mango, passsion fruit or citrus', what do you smell?! The power of suggestion is a clever influence when it comes to smell and taste, but honestly, pineapple weed (Matricaria discoidea) really does smell of all of these!
It's what stands it apart from the other members of the DAISY FAMILY Asteraceae (Compositae), including mayweeds and chamomiles. Yet there are a few other pointers which will help you avoid mistakes too.
Where does pineapple weed grow?
Pineapple weeds loves to grow where people, vehicles and animals tread. In some places it is nicknamed the 'street weed.' As if it is trying to make our journeys sweeter smelling. I regularly find pineapple weed growing through cracks in the pavement, on driveways, paths and disturbed areas of fields, like tractor tracks.
Pineapple weed is a prolific edible weed which is happy to grow in dry, disturbed ground which is often compact and hostile for many other plants. It is native to and grows across the US and has been well-established in the UK and Europe since 1871. It is found in New Zealand and Russia and it is also native to East Asia.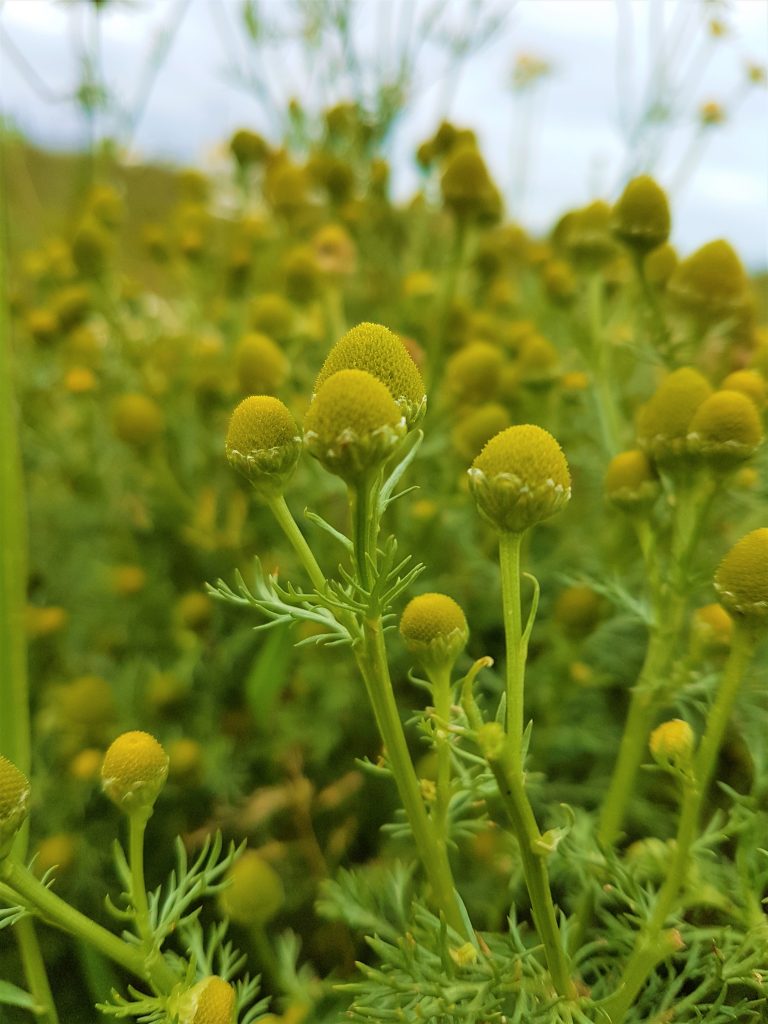 Pineapple weed verses Chamomile
Confusingly, pineapple weed is also known as wild chamomile or false chamomile because it is a good substitute both medicinally and flavour-wise if chamomile is not available. However it is not the same as the 'true' chamomile (Chamaemelum nobile) which is used in herbal tea or as an essential oil to calm and relax children and adults, nor its cousin scented mayweed (Matricaria recutita) which is used similarly. Pineapple weed has the same uses as scented mayweed except it isn't anti-flammatory.
Pineapple weed does not have white petals and it smells of pineapple! In comparison, chamomile is strongly aromatic, but not fruity in scent and other mayweeds have either no scent or a mild scent. Unless it's stinking chamomile (Anthemis cotula) which has a sickly smell!
How to identify Pineapple weed
Pineapple weed grows up to 30 cm tall, is yellowy-green, has no petals and a domed, conical shaped head. The head shape is thought to be the inspiration for the name 'pineapple weed', that and its fruity smell! It flowers through summer, from June to August. The common scentless mayweed is normally taller and grows up to 60 cm tall.
Confused?!
It's really easy when you know how, this video should help you.
What is pineapple weed good for?
Pineapple can be used as an ingredient for teas and food (I share recipe ideas below) and it also has medicinal qualities. It can be used for insomnia (similar to chamomile), has been used externally on insect bites and irritated skin and it also has analgesic properties and can numb pain!
Some people are allergic to pineapple weed and other members of the daisy family and this plant should not be consumed in large amounts.
How to harvest and dry pineapple weed
Pineapple weed loves to grow in dry areas so it is easy to dry for tea and recipes. I find it useful to use scissors to cut off the flowering yellow heads, leaving as much of the green foliage behind as possible.
You can dry pineapple weed in a warm, sunny room, a warm spot outside or in a dehydrator.
8 recipe ideas for using pineapple weed
Pineapple weed has a wonderful fruity flavour and can be used raw in salads, infused for teas, syrup, salad dressings or made into a jam for gorgeous snacks and desserts.
Here are 4 quick and easy ideas for using pineapple weed;
Pineapple weed in salads - use the flower heads and leaves in salads to add a fruity bite
Pineapple weed syrup - just use the flower heads to make the best syrup. Cover the flowerheads with water, simmer for 5 minutes and strain. Measure the water and combine every millilitre with a gram of sugar, or every cup of liquid to one cup of sugar. Combine the liquid and sugar and heat slowly while stirring until the sugar dissolves. Dilute for drinks, cocktails or salad dressing
Pineapple weed salad dressing - mix half pineapple weed syrup with olive oil, vinegar and a little wholegrain mustard. Combine well and drizzle over salads or cold meats.
Pineapple weed tea - simply pour boiling water over dried or fresh pineapple weed flowers and leave to infuse for 5 minutes. My friend Lisen in Sweden combines it with thyme as a herbal tea blend.
My favourite pineapple weed recipes
Pineapple weed has huge potential as an ingredient. It is both fruity like pineapple and aromatic like chamomile. I also discovered it combines really well with oats and yoghurt.
You can use any of the combinations below, but my favourite recipe is first making a pineapple weed jam and making it into a fruity, crumbly vegan flapjack with a chewy pineapple weed centre!
Granola and yoghurt topped with pineapple weed syrup
Pineapple weed flapjack topped with yoghurt (blend pineapple flowers into a flapjack mix)
Pineapple and pineapple weed jam, granola and yoghurt
Want to know more?
Pineapple weed is one of the edible plants I teach on my foraging courses during summer and I can also cover it in private forays where you can choose what, where and when you forage! Or browse my wild food blog for more recipe and foraging ideas.
Can you guess why I'm sipping yarrow herbal tea (Achillea millefolium)?
This is a plant (flowers and leaves) that I've picked for years to make herbal tea. I normally have some hanging up in my kitchen drying for exactly this kind of moment.
I have a cold.
A snotty, head, sore throaty kind-of cold. I don't feel my best and having my hands around a hot cup of yarrow tea is helpful. It's not just the heat, but the properties of the herb itself that could help me. As can extra sleep, good food, a hot water bottle and lots of TLC (that's 'tender loving care' if you're reading this from abroad).
Named after the Greek hero Achilles, yarrow has been used since, well possibly forever, though written texts show that it was used in the 1500s. It's properties are numerous, and with my current head-cold I don't have the energy or brain-power to go into all of its medicinal abilities. I talk a little more about in in my yarrow creme brulee recipe post (yes medicine can also be dessert!).
Today, I'm sipping yarrow tea to help my cold and throat. Yarrow basically dilates the pores and blood vessels, making one perspire and release body toxins. It can calm coughing and has antiseptic qualities for tackling viruses and infections. It's best to harvest when in flower.
I'll be filling my mug a few times as I write this blog. Pouring hot water over the leaves and flowers and letting it stew. Steep, is the technical word, let my herbs steep.
A jar of dried yarrow leaves and flowers that I'll be using during autumn and winter. Yarrow is one of the plants I cover sometimes on foraging courses and on my forage, sing and taste courses. Always consult a medical herbalist if you are using herbs for medicinal reasons.
Why not follow me on instagram or facebook and keep up to date with my foraging experiments and recipes.
Nothing beats homemade pizza, it's quick and easy to make and just requires a little planning.
Let's face it - pizza is all about the toppings, so here I share some ideas to turn your pizza wild to enjoy the foraged flavours of summer!
Wild Summer Pizza Recipe
Serves 2
Ingredients
185 ml / 3/4 cup luke warm water
1 tsp quick rise yeast
2 cups/300 g flour (I like to use 275 g plain and 25 g wholemeal)
1 tsp olive oil
Large pinch sea salt
160 g /1/2 cup tomato puree or tomato pasta sauce
Possible toppings
Method:
Blend the warm water and yeast together and leave for 10 minutes until it begins to froth. In a large mixing bowl, add the flour, oil and salt. Pour in the frothy water and mix together. The mixture should be dry enough to knead and not too sticky. Add a little (little!!) extra flour if needed.
An overnight rise or instant dough bake?
Knead for 10 minutes, cover and leave to rise. If you're in a rush you can just leave for 30 minutes then continue with the steps below. I like to create a kind-of cheat's sourdough, so leave it to rise overnight or for up to 12 hours. I then knock it back (literally punch it a couple of times), leave it to rise for a further hour then continue as below. You could also cover and refrigerate the dough for up to 3 days at this point too - just let it reach room-temperature (about 2 hours) before the next stage.
Preheat the oven to 450°F/240°C/fan 220°C/Gas mark 9 and place two baking trays or pizza stones in the oven.
Lightly flour a clean, dry surface, split the dough in two halves. Stretch or roll each half to about 20-25 cm round and place each on a piece of baking parchment paper.
Add your toppings - keep this minimal as the pizza dough is thin. Here I use rock samphire fronds as a herb, scatter with nasturtium capers and generously sprinkle with seaweed salt.
Carefully slide the parchment onto the hot baking tray or stone and bake for 10 minutes or until golden brown around the edges. Leave for 10 minutes before cutting. Serve hot or leave to cool and keep in the fridge, using within 3 days.
Nature isn't always subtle and for good reason. Colourful petals draw a bee towards a flower's nectar-filled centre, a bright white tail of a rabbit confuses its predator during a chase, a colourfully feathered bird attracts a mate.
Colour is one of the first things my eyes register when I'm given a drink or a plate of food, smell comes second. Scientific research confirms too, that we often eat with our eyes.
Not surprisingly, it was the outrageous pink followed by the familiar scent of elderflowers that my senses delighted in when making this cordial. My memory bank of colours, tastes and smells noted a while ago that rose was a flavour for me, mixed with pink elderflowers I was super excited!
I have plenty of elderflower recipes to share, and several delicious rose recipes too.
This is an easy cordial to make, with a stunning colour and aromatic scent of rose and elderflowers. Dilute for drinks, turn into elderflower champagne or use is desserts.
Pink Elderflower and Rose Cordial Recipe
I adapted this recipe to the amount of pink edlerflower (Gerda) heads I could reach and the number of rose petals that would come away easily in my hand. Double it, if you choose, freeze it, drink it, enjoy!
Makes 750 ml
Ingredients
10 elder flower heads (flowers forked off stems)
Handful of rose petals (fragrant ones)
200 g unrefined sugar
500 ml boiling water
1 unwaxed lemon
1 oz citric acid (if you're going to store the cordial for a while)
Ideally pick the flowers in full sun. Fork the flowers off the stalks or snip off the main stalks, putting flowers aside and discarding the rest. Place the elderflowers and rose petals (check to remove bugs) in a heatproof bowl or container, along with the sugar. Pour over the boiling water. Squeeze in the juice of one lemon and leave for 24 hours.
Strain the mixture through a sieve, or preferably a fine muslin cloth, and funnel into clean bottles, or dilute and serve immediately!
I run foraging courses throughout the year, helping you discover the colours and flavours of each season. You can view dates and content here on my foraging course calendar.
I also offer a monthly membership where I send you recipes each month as I go through my wild and seasonal year. Sign up is easy - view membership blogs here and see what you could access.
I used to walk round my Granny's garden and smell the roses, my sisters and I used to snap off her runner beans and eat them raw too. Luckily for Granny, I didn't know that roses were edible then, though I still love to stop to smell them, whether in a park, someone's garden or a hedgerow.
Roses make my heart sing, they truly do. From the scent through to the texture of the petals, they are an edible heaven to me. Eat them fresh OR this recipe is ridiculously easy and super good. It was given to me by my colleague Emma Gunn and you can't go wrong with it. Unless you don't like roses.
In this post I share the recipe, explain when to pick roses (and why) which is the best rose to eat (and my favourite) and how to use this delicious rose preserve.
When to pick rose petals?
Roses are a joy to see in flower, and the petals are ready to pick when they come away easily when touched - I share tips on picking here in; Roses are Red, Pink, White and Edible. There's no need to pick the whole flower head; keeping it intact will ensure the rosehip fruit will grow later in the year. Rose hips are wonderful to use for autumn desserts and treats.
Which rose petals are the best to eat?
All roses are edible, but not all are fragrant. You also want to make sure they haven't been sprayed. That's why I love the wild ones and my favourite wild roses are rosa rugosa*, also known as Japanese rose. They have a wonderful fragrance and fantastic colour!
Where can you find rosa rugosa roses?
Japanese roses are originally grown in Japan, China, Korea and Siberia and were brought over to Europe over 100 years ago. They first arrived in the UK in 1796 and in Japan are called hamanasu.
They're also known as beach roses (which gives you a clue) as they tolerate salt water and can help stabilise sand dunes.
You can find them in coastal areas across Europe, eastern Asia and North America. Many gardens also have this beautiful plant.
They spread easily and are considered an invasive. Picking and cooking the rosehips in the autumn will help reduce the spread of the seeds.
Fresh Rose Preserve Recipe
A super easy recipe that preserves the fresh flavour of roses in a beautiful sweet and lemony base. Will keep for up to 3 months in the fridge. Use blended into yoghurt, drizzled over or sandwiched between sponge cakes. Serve alongside chocolate cake.
I'm also open to other ways of enjoying this, so I'd love to hear how you enjoyed yours! Just use the comments box below.
Makes 110 g (enough to sandwich a classic 20 cm sponge cake together)
Ingredients
30 g (2 cups) fresh rosa rugosa petals*
85 g unrefined caster sugar
1 tbsp lemon juice
Blend the ingredients together and store in a sterilised jar. Will keep in the fridge for up to 3 months.
Fresh Rose Preserve Recipe
A super easy recipe that preserves the fresh flavour of roses in a beautiful sweet and lemony base. Will keep for up to 3 months in the fridge. Use blended into yoghurt, drizzled over or sandwiched between sponge cakes. Serve alongside chocolate cake.
I'm also open to other ways of enjoying this, so I'd love to hear how you enjoyed yours! Just use the comments box below.
Makes 110 g (enough to sandwich a classic 20 cm sponge cake together)
Ingredients
30 g (2 cups) fresh rosa rugosa petals*
85 g unrefined caster sugar
1 tbsp lemon juice
Blend the ingredients together and store in a sterilised jar. Will keep in the fridge for up to 3 months.
Wow, they're pink! Pink elderflowers with beautiful dark purple, almost black foliage and the flowers smell like elderflowers - what a find! But are they edible?
Black beauty, Black lace, Sambucus nigra, f. porphyrophylla 'Gerda' are an ornamental subspecies of Elder. Their flowers smell lemony and they're a stunner to look at! They are often bought and planted for these exact features. I've only found these in planted gardens and in urban areas.
Why plant Black beauty?
As well as having flowers that can be used for elderflower cordial and other delicious recipes (see below). Sambucus 'Black Beauty' is known for attracting bees, beneficial insects, birds, butterflies​/​moths and other pollinators. It is a caterpillar food plant, has nectar/pollen rich flowers, provides shelter and habitat, has seeds for birds and makes a good wildlife hedge.
Can you eat all types and colours of elderflower?
In general, it is not advised to eat elderflowers or elderberries raw. Some people get a stomach upset and there is a mild toxicity. That is why traditionally, elderflowers are infused not eaten and elderberries are cooked (to make syrup, wine or pontack sauce).
Elderflowers are native to North America and most of Europe, they can also be found in some areas of Australia and New Zealand. The main species is known as Elder, Black elder, European black elder, elderberry.
There is other species such as Mexican elder (Sambucus mexicana) also known as blue elder. The flowers of the blue elder can be used in the same way as all the elderflower species, but the berries should be cooked for at 30 minutes to make edible.
How can I use pink elder flowers?
Pink elderflowers can be used instead of white elderflowers for cordial, syrup, wine and champagne. The cordial can also be used in a variety of desserts and sweet treats such as elderflower jam, elderflower doughnuts, elderflower quick, creamy, sponge.
But... the colour is so good it is worth thinking about pink foods! I'll be posting a recipe for this very soon.
Have you signed up to my newsletter to make sure you get updates about new blogs - it's free! Or exclusive membership makes sure you have new wild food recipes every month in your inbox!
It's arrived - 4,000 copies of the first ever, dedicated FREE foraging zine - yes no price unless you choose to donate. An excited Miles Irving (aka Forager Ltd) and multiple members of the Association of Foragers (including myself) are rightly proud and relieved.
Due to be published in June, July and August 2020 (and possibly longer if funding can be sought - do consider donating), it literally is a collaboration between some of the best foraging guides in the UK.
Eat Wild is a practical, creative offering during the COVID-19 pandemic, introducing seasonal wild food as part of the solution in these testing times. I could say more, but you can literally read it, download it, share it and donate to the cause yourself.
Just click on this image or go direct to the website; www.eatwild.org.uk
What is this zine about?
A monthly publication that celebrates the A,B,C of foraging for each month (starting with June). It aims to do just as it says; help its readers and viewers Eat Wild! Full of relevant information including photos, recipes and guidance on where to forage.
Share this free magazine!
Yes, we're encouraging you to share this for free - download it, share on social media, print it and distribute it. We, the Association of Foragers want this information to be shared, enjoyed and used.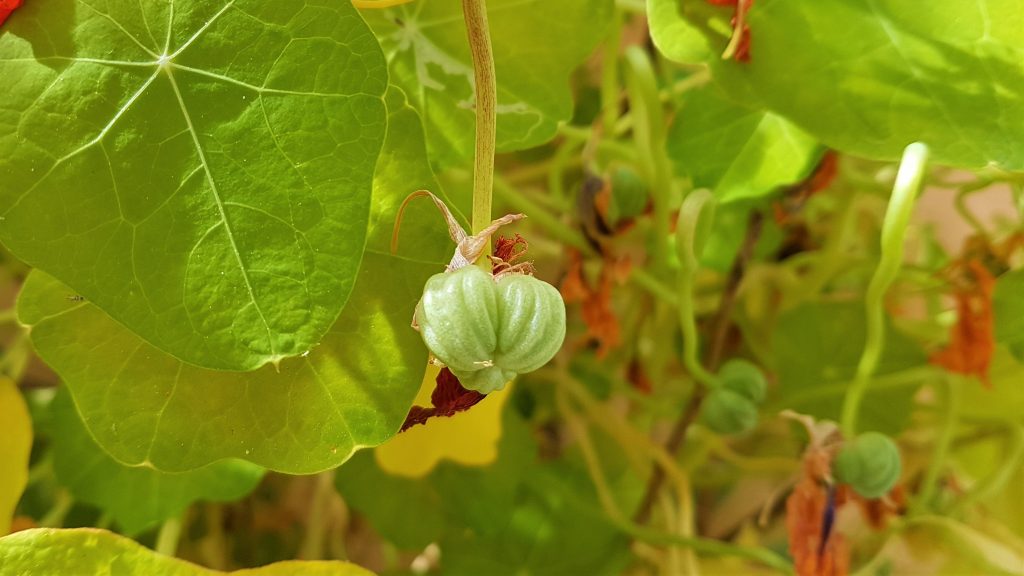 Pickled nasturtium (Tropaeolum) seeds can make an excellent replacement for capers (which come from a different plant). This recipe is simple, quick and effective as they taste just as good as capers! Here I pick them from my wild town garden where they arrived as weeds and I've been loving their colour and flavour ever since.
Nasturiums are such a giving plant; they grow easily in the sun, partial shade or complete shade (though they may get stressed in a very hot summer in full sun). They are also easy to cultivate and grow best in dry soil. They are trailing, climbing plants, which with the right opportunity will climb upwards or fill large patches of ground.
Are nasturtiums really a wild food?
Native to South America, but were brought to Europe in the 1500s and have since naturalised in many areas. I know them both as a cultivated, garden plant and a profuse, common weed.
There are over 80 species of nasturtiums, some annual, some perennial. Luckily, nasturtiums produce a lot of seeds which mean they keep coming back (even if they are annuals) AND there can still be enough seeds to produce these capers.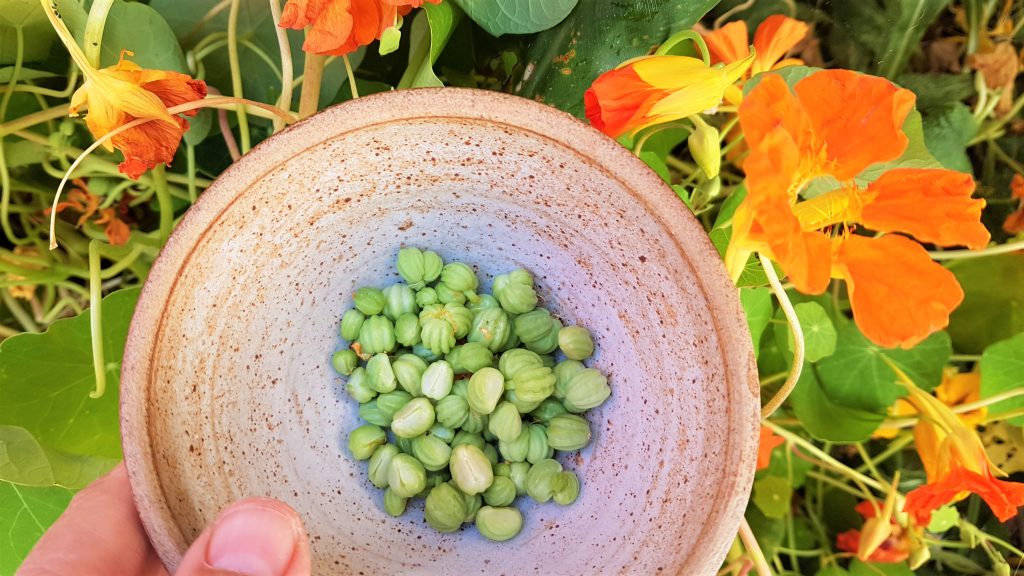 Which part of nasturtiums are edible?
All parts of nasturtiums (pronounced na-stir-tchums) are edible. Their name literally means nose twister or nose tweaker, because of their peppery kick. The flowers are sweet and the leaves, flowers and seeds all have that spicy flavour. I love adding the flowers into salads, the leaves into pesto and pickling the seeds to make these fake capers - though they taste just as good!
I love their beautiful, colour flowers to look at, smell and eat! They can start to flower in spring and early summer.
Are nasturtiums good for you to eat?
Nasturtiums contain a good amount of vitamin C and high amounts of lutein derived from carotenoids, which may be beneficial for eye health (1). Eating a varied diet full of greens, orange, yellow and a range of colours is generally considered good for your health too (2).
Nasturtium Capers (Pickled seeds) Recipe
Makes 1 jar
Ingredients
300 g/1 cup nasturtium seeds
80 ml/1/3 cup vinegar*
80 ml/1/3 cup water
Large pinch of sea salt
Large pinch sugar
2 tsp chopped herbs (of your choice) - optional
Wash the seeds and place in a pickling jar. In a small saucepan heat up the vinegar, water, salt and sugar to boiling. Pour over the seeds. Add the herbs if using and stir in to submerge. Screw on the lid and leave for 2 weeks before using.
How to pickled nasturtium seeds compare to capers?
Capers are from the caper bush (Capparis spinosa or Capparis inermis) from the Mediterranean and parts of Asia. they also have both wild and cultivated cousins. Of course pickled nasturtium seeds are different, but they're a pretty good replacement! Call these fake capers if you wish, or just pickled nasturtium seeds.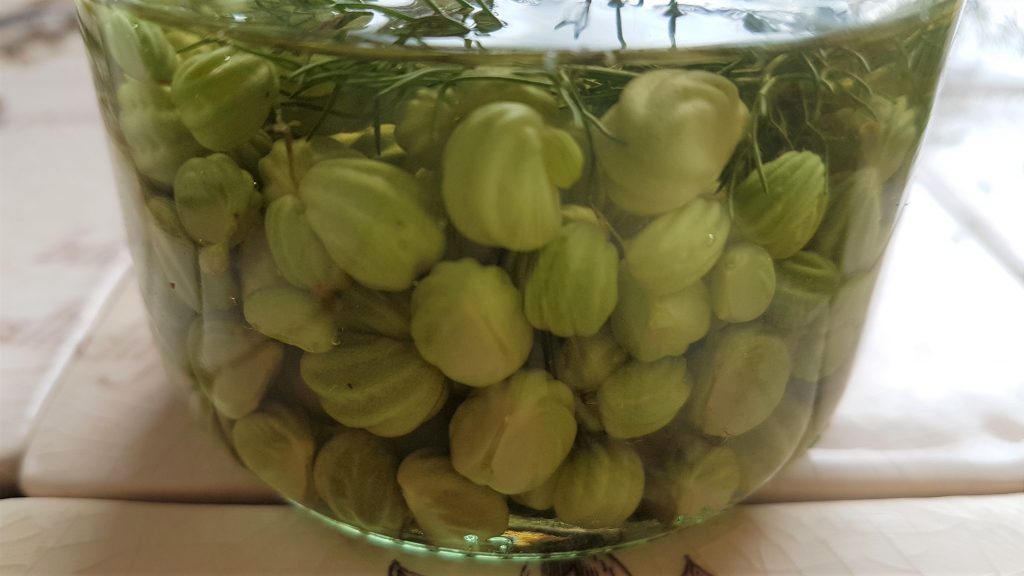 References
The taste of summer (elderflowers) and their medicinal, anti-viral qualities can be enjoyed in many desserts, drinks and snacks. Here I share my Elderflower and Strawberry Jam recipe, which is delicious on toast and a divine filling for my moreish Elderflower Doughnuts.
This is an easy recipe for making strawberry jam from fresh strawberries. I also share how to make jam set, how to use this jam and why strawberries and elderflowers are good for you.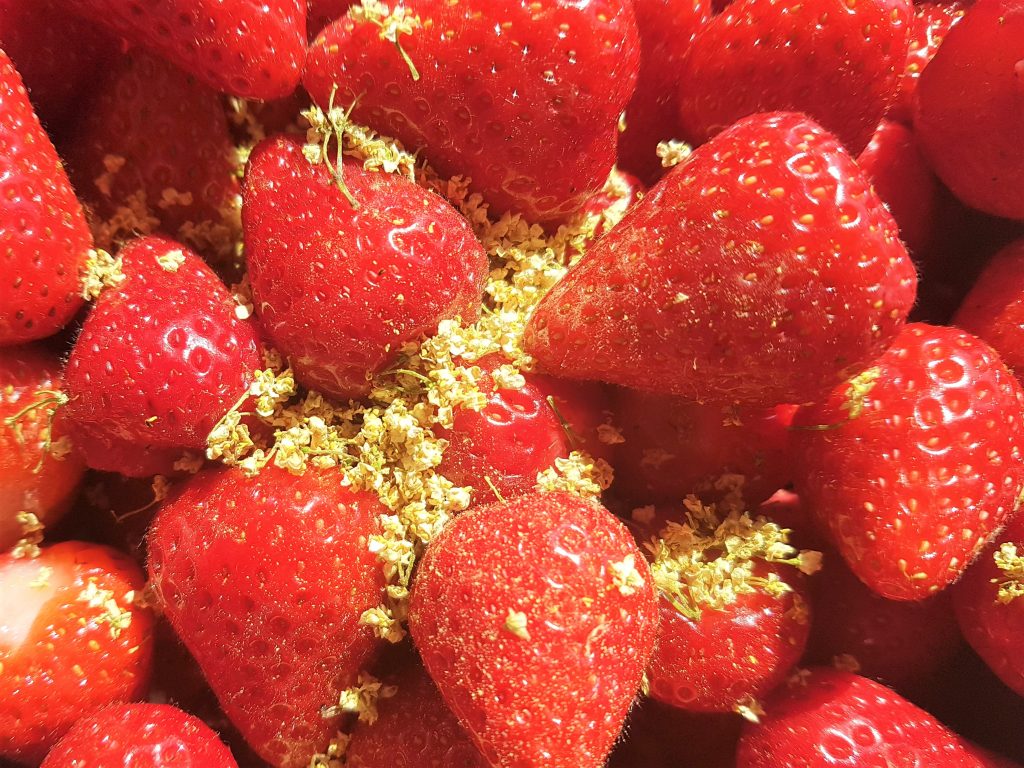 Fresh, healthy strawberries
Strawberries are an excellent source of vitamin C and K and also contain a good amount of fibre, folic acid, manganese and potassium. It's healthy to include a variety of fruit and vegetables in your diet.
Seasonal, local strawberries are the best and, luckily, they often ripen at a similar time to elderflowers, making them perfect companions.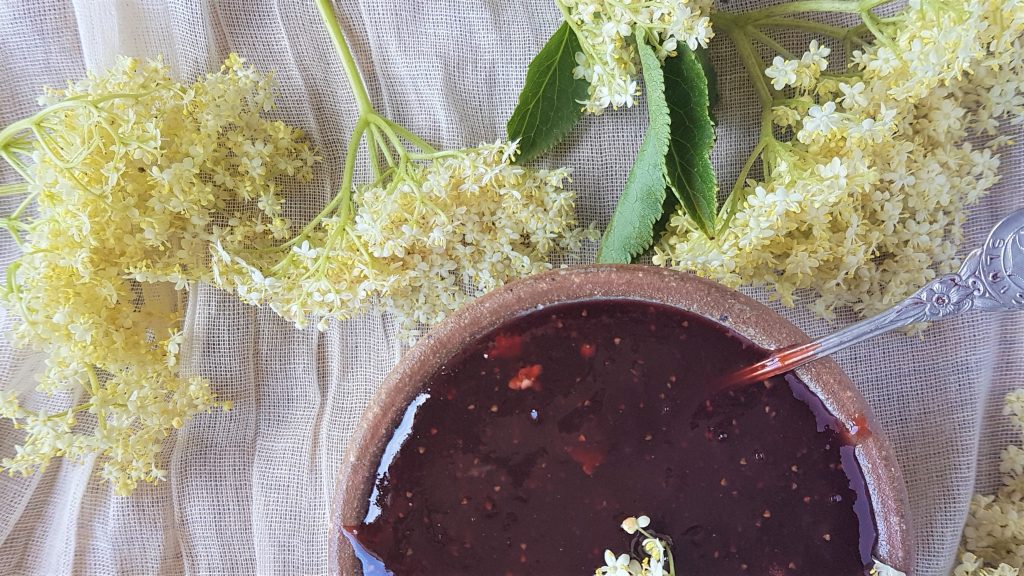 Elderflowers
Elderflowers are my seasonal wild food of the month! A wonderful anti-viral with a gorgeous scent, they can help treat colds, flu, coughs and bronchial infections.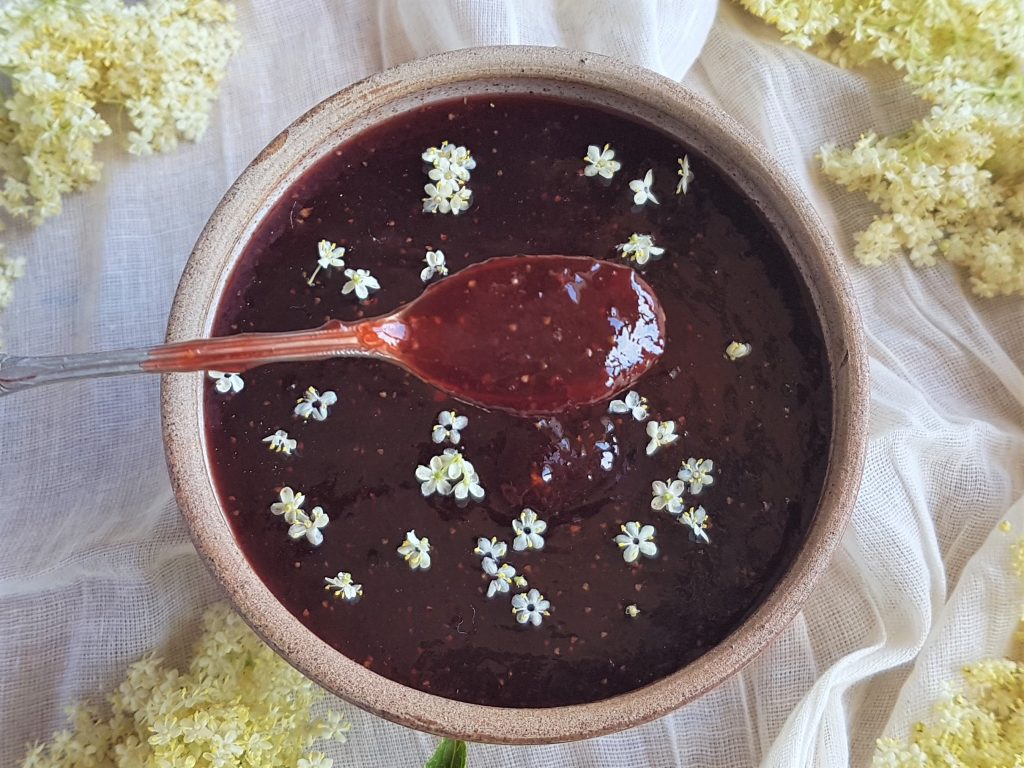 My Elderflower and Strawberry Jam Recipe
I'm often inspired by the seasons, the wild foods surrounding me - their taste, smell and texture and fellow cooks that I admire. Darina Allen is one such cook, her traditional family recipes are some of my 'go-to' ones, and this recipe was inspired by her Mummy's Strawberry Jam recipe.
I've added a wild twist, of course.
Makes 1.3 kg jam (approx)
Ingredients
1 kg fresh strawberries
800 g golden granulated sugar
5-8 elderflower heads (flowers forked off and stems discarded)
50 ml elderflower cordial (or lemon juice)
Take off the green tops of the strawberries and rinse if needed, you then need to make sure they're are really dry. You can gently pat them dry with a tea towel. Once dry, place in a stainless steel saucepan - it will be easier if you use one that's bigger than the one I used above!
Sprinkle in the elderflowers (removed from the stems) and the elderflower cordial or lemon juice, next you'll be adding the sugar. According to Darina Allen, the best way to make jam from fresh strawberries is to heat the sugar first. This isn't essential but might make a better jam!
To heat the sugar, place it in a stainless steel bowl in a preheated oven to 180/160C fan/350F/Gas 4. Heat for 15 minutes then pour evening over the strawberries and elderflowers. Alternatively, pour over the sugar cold. Cover and leave for 12-24 hours. Overnight should be suffice, but I left mine for 24 hours and all the strawberry juices had really started to come out - yum!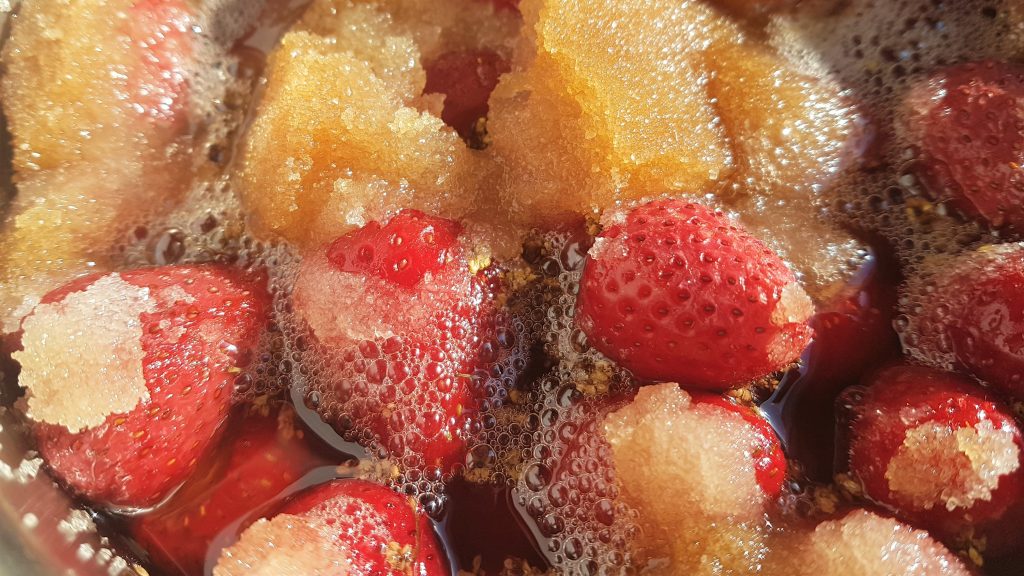 It may sound like a lot of sugar, but this will help preserve the strawberries and at least it is unrefined rather than white caster sugar!
The combination of fruit, sugar, heat and lemon juice will ensure that your jam sets. The citrus juice in the elderflower cordial is also enough to set the jam - and it's my preference to use the cordial.
Next bring the pan to the boil, stirring to help dissolve the sugar. Mash the fruits with a potato masher, or a blender stick. I used a blender stick as I wanted a smooth jam I could use in elderflower doughnuts, but you might want a more rustic one for sandwiching together cakes, mixing in rice pudding, spreading on scones or smothering over toast.
Leave the jam to boil for about half an hour. You can use a jam thermometer if you prefer or test the jam by taking a teaspoon of the jam and placing on a cold saucepan. Move the jam around, if it starts to wrinkle at the edges as it cools, then it is ready.
Decant into sterilised jars and leave to cool.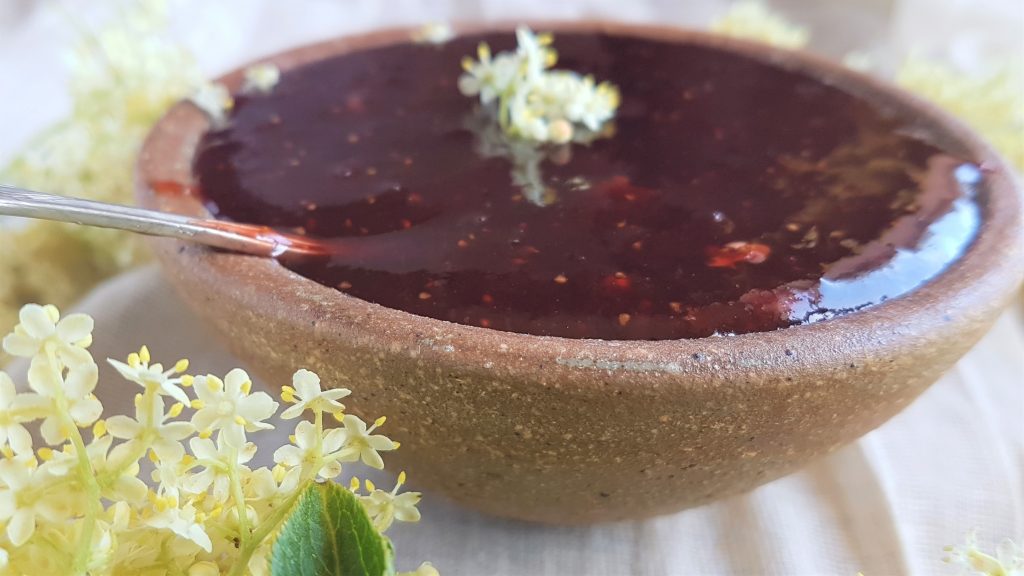 Elderflowers are one of the plants I cover on some my summer foraging courses. I teach foraging throughout the year - helping you connect to the abundance of health-giving foods available on your doorstep.
Elder Flower-Head Fritters are a classic wild food recipe for these edible wild flowers. The combination of batter and a hint of elderflower is utterly delicious.
What's more, you can turn them savoury or sweet and here's my winning versions with an extra light batter recipe, plus suggestions for turning them into a starter, main accompaniment or dessert.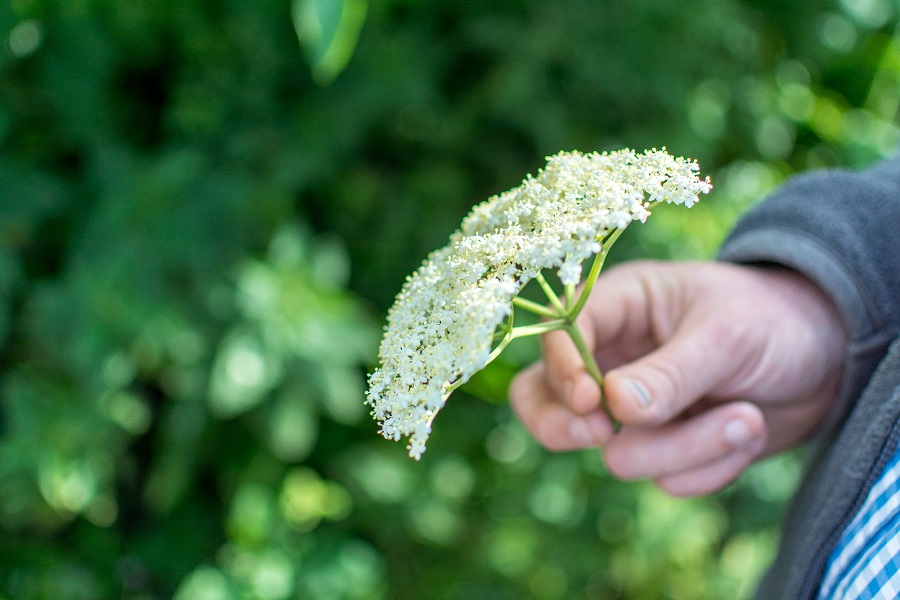 These are quick and easy and can be turned savoury or sweet. I love them dipped in soy sauce and lemon for a tangy, savoury snack. Hmmm, but they're equally nice served with ice cream or dusted with a light coating of icing sugar.
*TOP TIPS: For a light batter use half plain flour and half corn flour
Elderflower Fritter Recipe
Serves 4-6
Ingredients
200 ml ice-cold water
1 large egg, beaten
100 g sifted plain wheat or buckwheat flour (or half flour and half corn flour)*
2–3 ice cubes
Sunflower oil, for frying
16 elderflower heads flower heads, stalks intact
Cover a couple of large plates with kitchen paper (if you have). Pour the ice-cold water into a mixing bowl, mix in the egg, add the flour and roughly fold it in with a fork. Do not beat it – the batter should be lumpy. Add the ice cubes.
Heat at least 2.5 cm oil in a wok or a frying pan (I like to shallow fry rather than deep fry and use a small pan to do this). The oil is hot enough when a drop of batter bubbles and turns golden in 5–10 seconds.
Hold a flower head by the stalk, wipe it through the batter to coat it all over, allowing any excess batter to drip off. Keep hold of the stem while dropping the coated flower head into the oil. Using the stalk, turn it if necessary and cook until golden and crisp, then remove and place on the kitchen paper. Repeat with all the flower heads. To serve, either snip off the main stems or eat the flower heads and discard the stems as you eat them.
How to serve these elderflower fritters?
Savoury: As a starter or serve alongside risotto or fish with a blend of soy sauce and lemon (half and half)
Dessert: Dust with icing sugar and serve with a squeeze of lemon, or have with ice cream.
For more recipes and information about elderflowers search my summer blog and find;
When NOT to pick elderflowers
How to make Elderflower cordial and sorbet
Quick elderflower layered sponge
How to dry elderflowers
How to freeze elderflowers
Picking the last of the elderflowers
Elderflower and strawberry jam
Moreish Elderflower doughnut recipe
and more....
For me, Summer is about outdoor adventures, picnics, barbecues, fayres, festivals and the beach. Elderflowers are the perfect accompaniment, unless it's a festival or fayre - then it's doughnuts!
Here I share my ultimate elderflower doughnut recipe - they're gorgeous!
Yes, doughnuts are fayre food for me, when I'm tired and hungry from dancing it's the smell of doughnuts that I sniff the air for. Created following a mini disaster – my Cornish town's annual fayre and no doughnut van in sight – they are a delightful summery twist on the hot sugary ones I yearned for. Complete with a gorgeous soft, jam centre and sweet elderflower coating, these are melt-in-the-mouth with a double dose of elderflower to keep spirits high.
For this recipe you'll need to first make elderflower cordial - here's my simple elderflower coridal recipe, plus lots of information about where to find elderflowers, when to pick them, what the benefits of elderflowers are. You can also find tips on when to avoid elderflowers.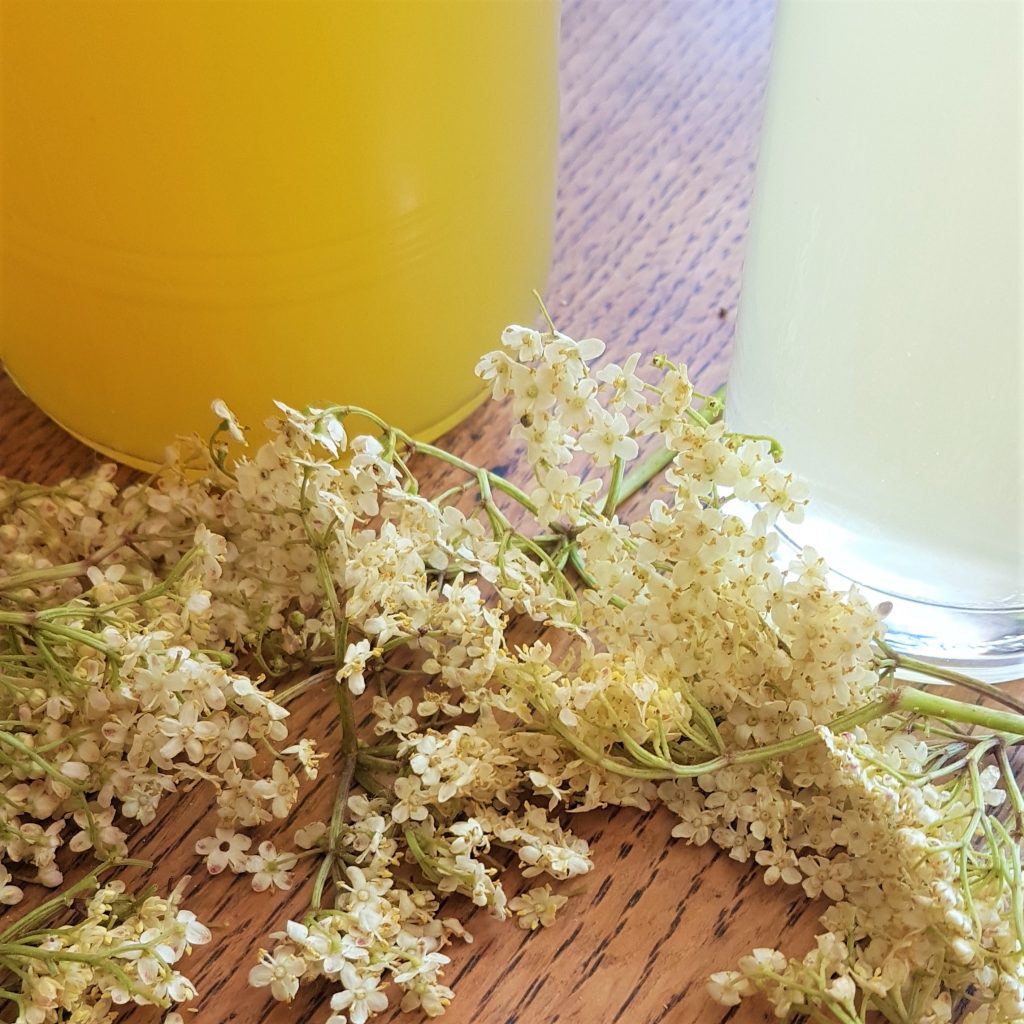 Elderflower Doughnut Recipe
Makes 12
Ingredients
1 tbsp dried yeast
1 tbsp unrefined caster sugar
135 ml milk                                                   
50 g butter
1 free-range egg, beaten
275 g plain flour (replacing 25 g with wholemeal flour if you wish)
200-300 ml vegetable oil, for frying
Iced coating
Warm the milk in a small pan, take 2 tablespoons of the warm milk and mix with the yeast and a pinch of sugar and leave until it gets frothy. Meanwhile, cube the butter and gently plop into the milk, mixing until the butter dissolves. In a large bowl, sieve the flour and add the rest of the sugar, make a well in the middle and add the frothy yeast, buttery milk and the egg. Mix then knead and stretch for 5 minutes, cover and leave in a warm place for an hour or until doubled in size.
Dust a large baking tray with flour and knead the dough for 5 minutes, break the dough into 12 pieces, rolling each piece into a ball and place on the baking tray. Cover and leave to rise for half an hour or until doubled in size. Prepare a couple of dinner plates with kitchen paper and heat the oil in a deep pan to 190°C or until a small piece of dough dropped in the oil sizzles and floats to the surface. Using a slotted spoon, drop 2-4 dough balls into the oil and fry until golden brown, turn over and brown on the other side. Remove and place on the kitchen paper, repeat with the remaining dough balls. Using a filling nozzle, flavour injector or a teaspoon, make a small slot in the side of each doughnut and fill with jam. To finish off, in a small bowl mix the icing sugar with the elderflower cordial and dunk the top of each doughnut in the icing. Eat warm or cold.
My memories of Summer are, inevitably, interlaced with foraging.
Plants and food, namely wild food, has long been an integral part of my life. One that I choose not to live without.
Earlier on in Summer I wrote about keeping things simple and shared easy ways  I turn picnics and barbeques into events with a wild twist, from seaweed breads to seaweed salads, wild salsa verde to elderflower cordial. Summer, after all is meant to have a holiday feel, so labouring over lavish meals doesn't make sense for me - that's for Autumn and Winter!
My most popular foraging plant in Summer
Without a doubt, the wild food that most features in my Summer is Rock Samphire (Crithmum maritimum). Lining cliff walks, evenings on the beach, and wild swimming spots, I find it so easy to gather. Back home I can make a Rock Samphire Salsa Verde from it within minutes, then back on the beach to share it with friends or family. And it always, always goes down a treat, such a punchy, lemony, herby flavour, hence its nickname Sea Fennel. What more does a Summer forager need?!
Where to find Rock Samphire
If you're living in North Scotland, I'm sorry. If your on the east coast, you'll have less opportunities to forage this compared to us Cornish and those on the west-side. I'll leave it there.
In August I took 4 days out to walk the North coast path in Cornwall with a friend - 25 miles of up and down, lots of giggling and achy limbs. I slept well on my return. While my walking companion took photos of us and the fantastic views, I found myself defaulting to pictures of beautiful edibles. Rock Samphire on the cliffs, too far out of reach to clamber for, the drop below being too large to risk.
As Shakespeare wrote; 'Half-way down, Hangs one that gathers samphire; dreadful trade!'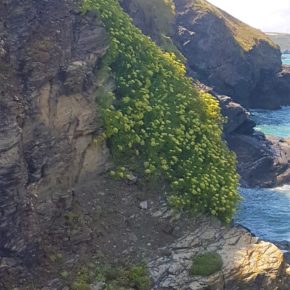 My ideal Summer
Rather than risk my life, the words and phrases I associate with summer are; balmy air, sand between my toes, people everywhere, stopping to pluck, pick or gather, soft grass, undulating ground, dozing on the cliffs, rock samphire salsa verde, sunsets, lemony scents, rushing out, got to be out, sea swims, lake swims, wild camping. Barbequed fish, crab sandwiches. Minty desserts, drying herbs for teas, looking out to sea. Laughing, beach fires, chilly post-swim skin, happily tired. Happy dog, heather, rosebay willowherb flowers, purple hues, short nights and long days, intense, will it ever end!?
Ideally my Summer is full enough to allow me to fall, glide or merge into Autumn. I can relate to Alys Fowler's words on suiting autumn better - woolly jumpers and all. Soon I'll be ready to have evenings in, cook feasts, do more nature writing, contemplate, meditate and lazily read. Though not quite yet....
How was your Summer? What were your best memories?
I run foraging courses throughout the year, and in-between my own adventures with friends and family. I love to share my passion for wild foods, my knowledge and the journey along the way - I will never know it all!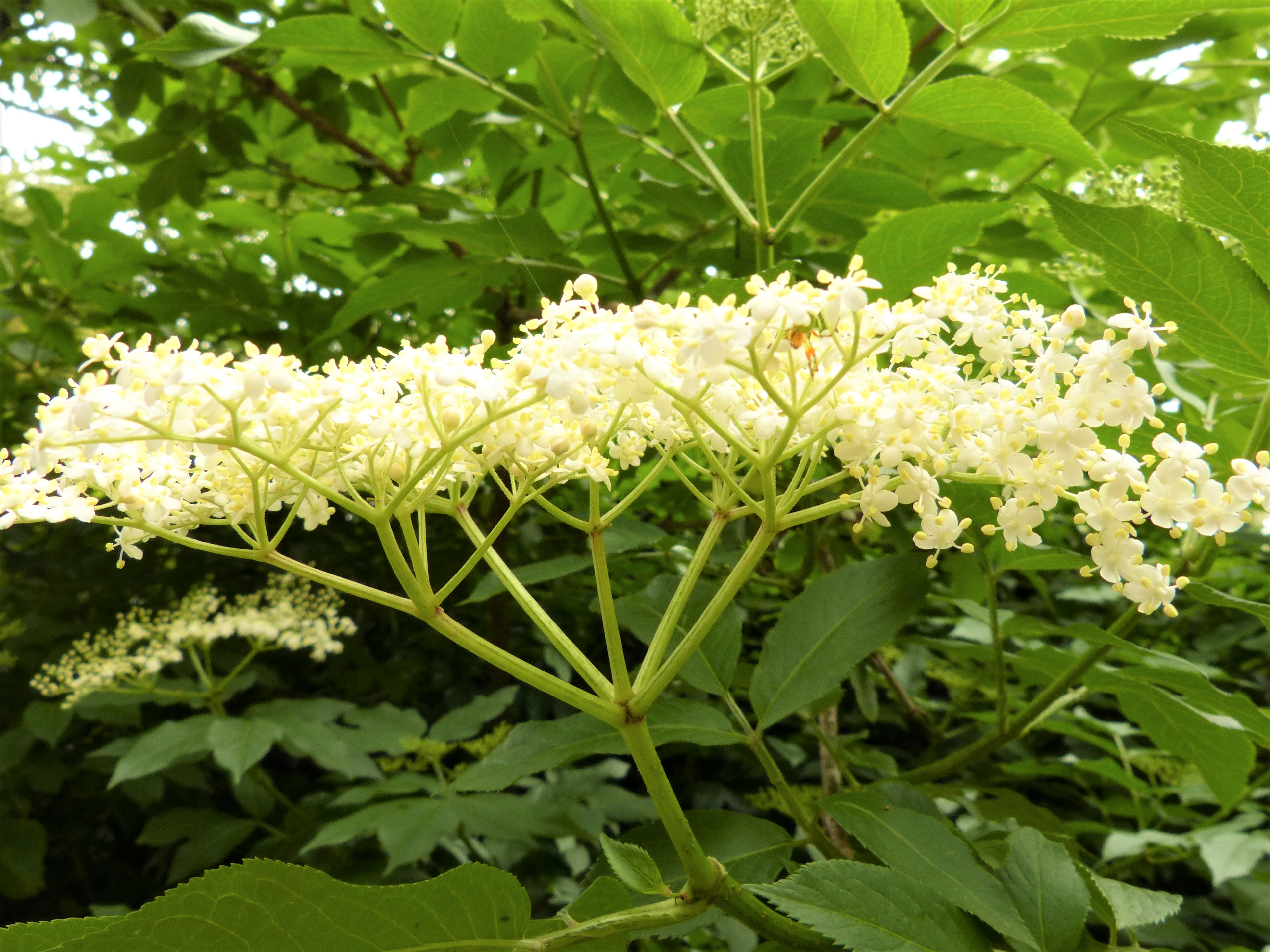 Pretty aren't they!
And a lovely scent (as long as they haven't passed their prime, in which case they'll smell like cat pee).
Though this blog isn't about the pretty things, it is about how to know when to pick elder flowers, and when to leave them. These are some of the tricks that foragers follow to ensure they get a good crop of elder flowers and also ensure that the plant is cared for, for its own welfare and sustainability. This way people, birds, animals other plant-life can all benefit from the magical Elder tree.
Here are just 3 points to help you get the best Elder flowers, oh, and a 4th point for luck.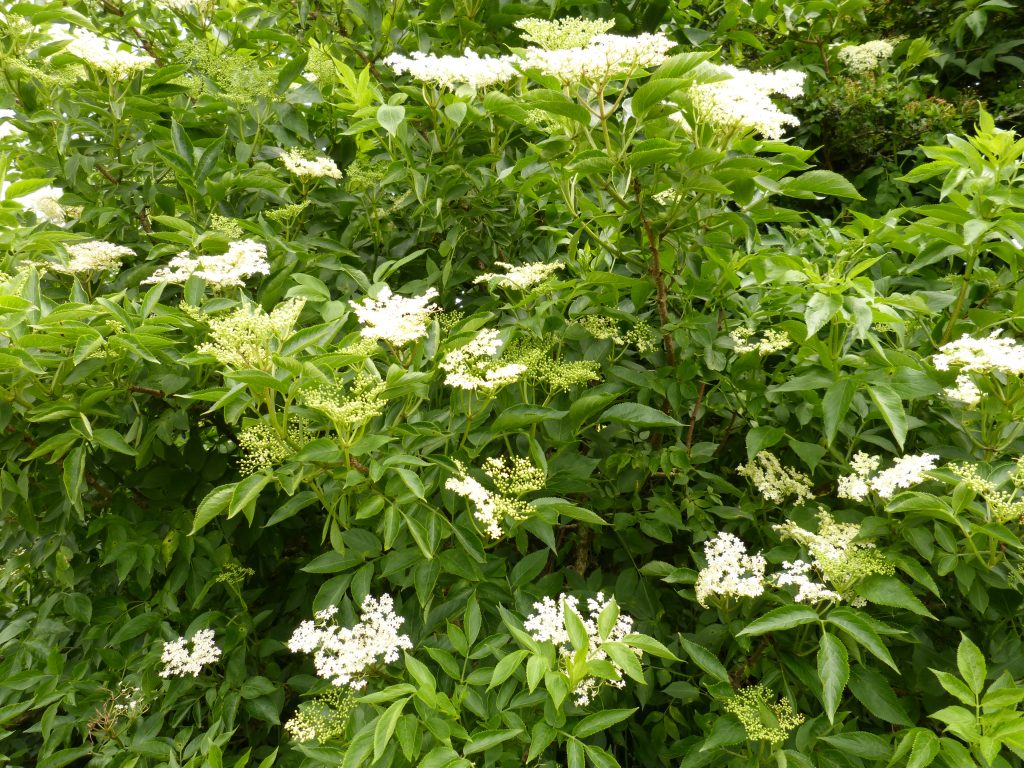 When to Pick Elder Flowers
I'm sorry, I can't give you an exact date, though I can teach you what to look for and the skills that foragers use in harvesting. A general time is May and June.
1. Smell
If they smell of cat pee, be disciplined and walk away. Yes - it is essential to walk away! It's time to leave the flowers (they'll come again next year, and won't be of any use to you at this stage), not as flowers anyway. Instead, walk away and allow the Elder (Sambucus nigra) to go to seed and produce the elderberries. Ah, wonderful life-giving elderberries,, here's some notes on how to take care of Elders and my elderberry and apple jelly recipe, more to come under my autumnal blog section.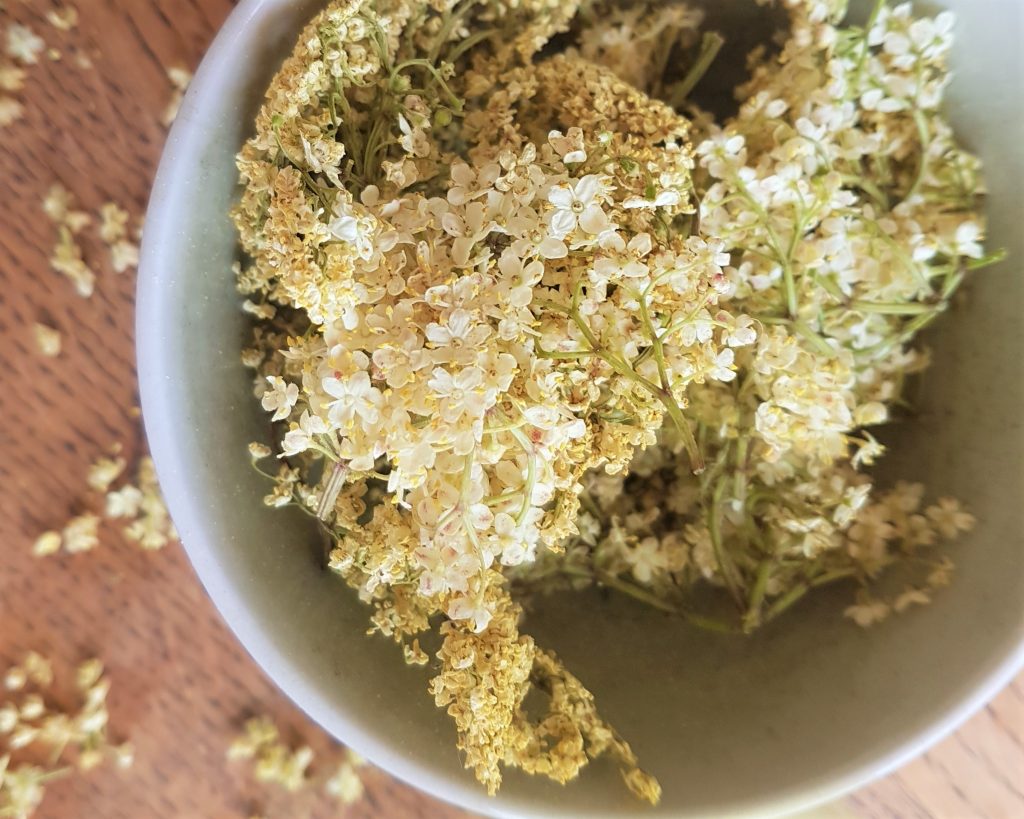 2. Colour
Back to the flowers of the Elder Tree, these are at their best when they are full of scented, pale yellow dust. Elder flower pollen. This is the only time to pick them. You might brush against an Elder bush and unsettle the pollen (a small cloud of visible yellow pollen hits the air), or smell a flower head and end up with pollen on your nose. These are all tips on how to tell if they are ready, and if there's no pollen that brushes off, or hardly any, it is best to walk away empty handed. Discipline is a virtue.
3. Shape
If the flowers are only unopened buds - you're in luck! The elder hasn't flowered yet, and all you need to do is wait a little while, a few days, until they do. This is much better than finding them when they are passed their best. On that note, the flower heads will open at different times, so if you find heads that are mostly unopened, leave them, and if you find heads that are mostly shrivelled and dried, leave them too. This will leave you with just the best flowers to pick - perfect!
4. Sun
Of course you know this, you know to pick when the weather is dry, the sun is out and the scent of the elder flowers will be at their prime. Isn't common sense a wonderful thing, as is the bright, burning, life-giving sun.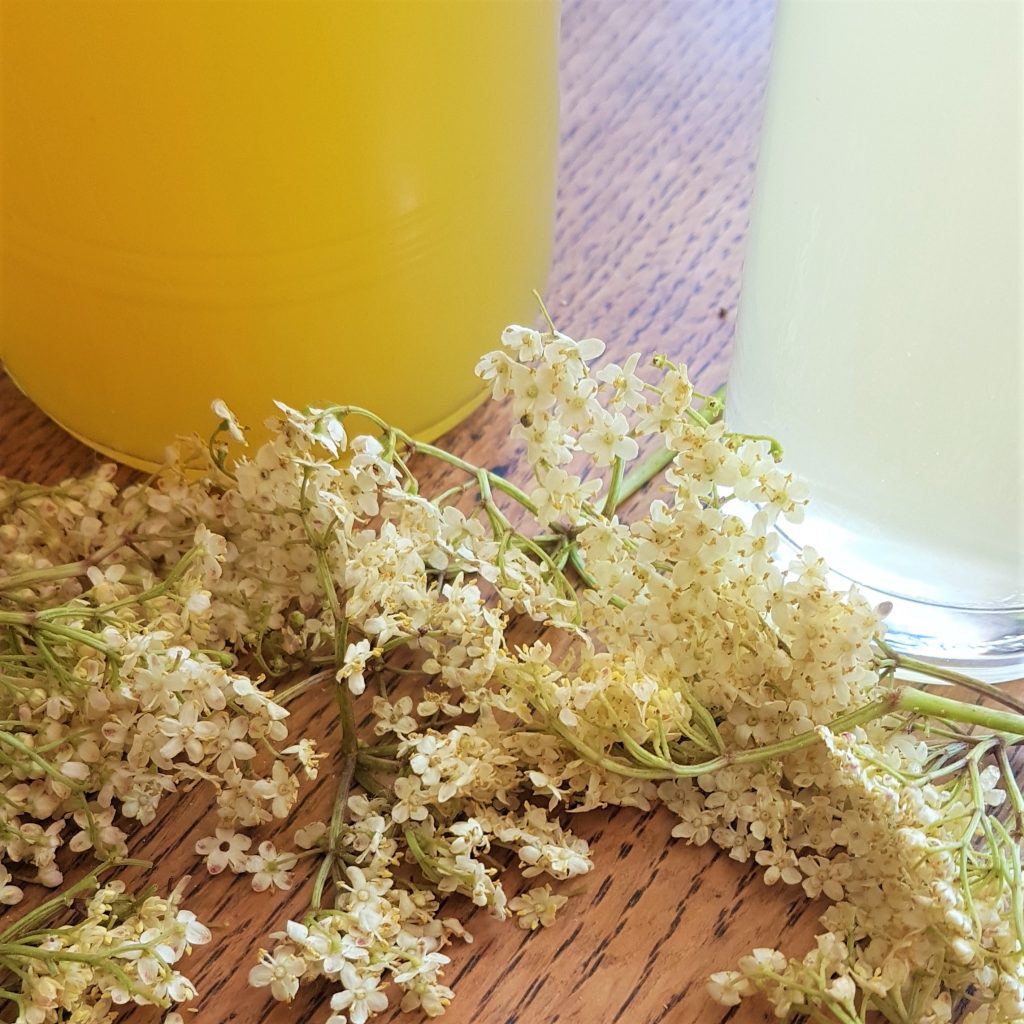 The edibility of elderflowers
Now you know when and how to pick your perfect elder flower heads for making cordial it would be easy to assume that elderflowers are edible, right? Wrong. It is best not to eat elderflowers raw, as the plant has a mild toxicity, which is why it is best to cook them or make cordial from them. Some people get an upset stomach from eating elderflowers or elder berries (elder flowers and elder berries come from the same plant).
Elderflower Cordial
Elder flower cordial recipes vary, a lot. Of course there are many ways to make something and it's great to have the choice of recipes, depending on how much time and elder flowers you have collected. I have two recipes here; a Classic Elder flower Cordial and Elderflower Sorbet recipe and here is an Elder flower Cordial with an Orange Twist.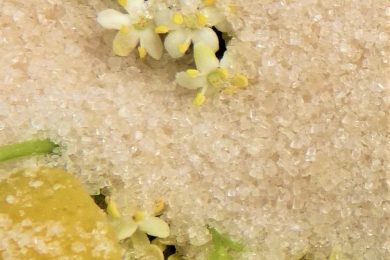 There will be other blogs on Elder flowers in the future, essentials to know about this plant so that you are using your time and the plant well. Happy foraging, and do look out for wild food foraging courses, if you'd like to know more.
Elderflower cordial is the ultimate summer drink, scent and medicine. As I sit here in my kitchen I'm enjoying their light, dreamy scent wafting across the room, of the ones I picked this morning.
Summer foraging for elderflowers is almost as popular as blackberries in autumn, or wild garlic in spring, and all for good reason. Elderflower cordial is the perfect way to capture and preserve the scent of summer. Foraging for edible wild plants is so rewarding too! Make your own homemade cordial to enjoy with friends and family.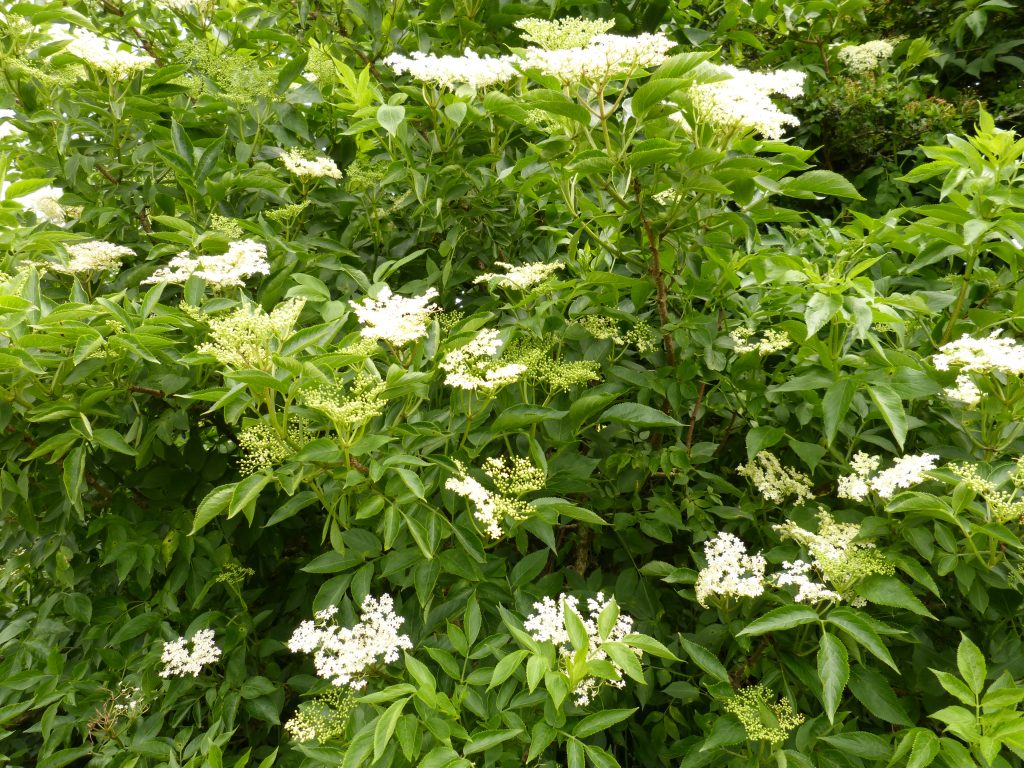 Where to find elderflowers
The elder tree is often considered a weed, it often grows on wasteland, in hedgerows and at the edge of woods. It loves the sun but can cope with shade, I often see them alongside roads and backing onto railway lines, which is often very frustrating because I'm rushing by!
When do elder flowers bloom?
Elderflowers start appearing in late spring and early summer. Here in the UK that means May to July, though this is dependant on how warm it is and whether spring started early or late. Sometimes July is still great for picking, and other years they have started to turn and are not worth picking.
Elderflowers can also be frozen. A few years ago my aunt froze a whole carrier bag of elderflowers for me. Once defrosted, they obviously don't look as good as when they are fresh, but you can still use them for making cordial or dry them for making elderflower herbal tea.
I also like to freeze some of my elderflower cordial in an ice cube tray, then I have ready to use portions!
How and why to dry elderflowers
Elderflowers can be used for herbal tea. You can dry them in the sun, in a dehydrator or at the lowest temperature in the oven and keep them for the winter months as medicine for colds, flu, coughs or bronchial issues.
How to make and use elderflower cordial
See below - a summary on this video and the full recipe at the end of the blog.
Use in cocktails, sorbet, ice cream, sweet bread, as a doughnut dip, elderflower champagne or dilute for hot and cold drinks. You can also freeze the cordial in an ice cube tray or bag and pop in soda water or defrost and dilute from frozen.
Why is elder flower cordial so good?
Many of us have a soft spot for sweet, and the combination of light and heady, citrus and sweet seems to be the ultimate combination!
Is elder flower cordial good for you?
Elderflowers have anti viral properties and can help treat colds and flu and quicken recovery. They can also be used to sooth sore throats, coughs and bronchial infections. Elder flowers are delicious and a medicinal plant.
How to identify elderflowers and the elder tree
Elder (Sambucus nigra) has umbel-like clusters of flowers, similar to that of the Apiaceae (Umbelliferae) family. To avoid fatal mistakes with deadly plants within this family, you must be 100% sure that you are picking the correct plant. This blog is focusing on the recipe, not on the identification, always check with an expert, so you can continue to enjoy foraging for food!
I run foraging courses throughout the year and bespoke foraging experiences where you learn how forage safely and how to identify trees like Elder correctly.
How to sustainably pick elderflowers
If you pick all the flowers there will be no elderberries later in the year - which would be very sad, for us and the birds. Bare this in mind and never pick more than 25% of flowers of a single plant or tree.
ELDERFLOWER CORDIAL RECIPE
This recipe needs some pre-planning - a bucket or heat-proof bowl, clean screw-top bottles, lemon squeezer, a funnel and a seive/muslin cloth is needed. You can alter the measurements depending on how many elderflower heads you pick
Ingredients
25 elder flower heads (flowers left on stalks)
3 unwaxed lemons (or 2 lemons and 1 orange)
400 g unrefined sugar
1.2 litres boiling water
2-3oz citric acid (if you're going to store the cordial for a while)
Ideally pick the flowers in full sun. Fork the flowers off the stalks or snip off the main stalks, putting flowers aside and discarding the rest. Place sugar in a pan and pour boiling water over, stirring until dissolved. Place the elderflowers (check to remove bugs) in a clean bucket and pour hot sugar mixture over it. Cut the lemons in half and squeeze the juice into the bucket, then grate the lemon zest and add this too. Stir, cover, and leave for 24-48 hours, stirring occasionally. Strain the mixture through a sieve, or preferably a fine muslin cloth, and funnel into clean bottles, or dilute and serve immediately!
For Elder Flower Sorbet
Follow all the instructions above, omitting the citric acid and dilute with two-thirds water and beat in one whipped egg white. Use an ice cream maker or get ready for these next steps... Freeze the cordial in a sturdy, lidded Tupperware or tin for 2-4 hours. Remove and mash up with a fork or in a food blender. Repeat at least once more. Serve on its own or with a variety of other desserts, particularly good with sponge cakes.