Here I'm going to share with you how to preserve the goodness of nettles by making a nettle powder, but first, lets talk about why this is a good thing to do!
All stinging nettles are edible and good for you, just pick away from sources of pollution like pesticides and car fumes. They are best to pick in spring, so as summer comes closer it is good to think about how to preserve nettles so you can enjoy their goodness through the summer months. Remember not to pick them if they're flowering and head to shady spots where they will flower later.
Are nettles a superfood?
Superfoods tend to be plant-based, are highly nutritious foods that often also contain antioxidants, believed to protect the body from toxins and diseases such as cancer. Nettles contain iron, magnesium, potassium, phosphorous, and calcium, vitamin A, C, K and Bs. They also contain antioxidants and can have as much as 25% protein compared to 30% protein in spinach, but nettle powder could have as much as 33% protein (1).
Harvest your own superfood and make your own protein powder!
Pick the nutritious tops of stinging nettles - use thick gloves and scissors - and dry to make your own nutritious protein powder, for free!
Making nettles powder is a convenient way to process and store nettles for energy balls, smoothies or nettle tea. I've also discovered that powdered and blended with the same amount of unrefined sugar makes a great dip for freshly made doughnuts, you could use my Elderflower doughnut recipe as a base for this.
Nettles are high in iron, making them a particularly good herb for women. They are also low in fat, have been used to help treat arthritis and there is some evidence that they may reduce the symptoms of hayfever.
This powder is 100% natural, isn't refined and uses a whole, real food which happens to be nutritious with a good amount of protein in. What isn't to like?!
How to make nettle powder
Makes 25 g (6 tbsp)
Ingredients
125 g fresh nettle tops
There are several ways to dry nettles. First, wash and dry them as much as possible, either in a salad spinner or between tea towels. If you're baking anyway, the easiest way is to place the nettles on a large baking tray and, once you've finished using the oven, turn it off, place the tray on the bottom shelf and leave for a couple of hours or longer. Depending how efficient your oven is at retaining heat, this could be enough to dry out the nettles. Alternatively, place the nettles on a baking tray and place in the oven at the lowest temperature until dried.
If you've plenty of time and space, you could lay the nettles out in a large baking tray, or even on clean tea towels or cooling racks. Leave in a warm space and leave to air-dry for 48 hours, or until dry. Do turn them intermittently to check and separate any clumps of wet nettles.
The nettles need to be dry enough that they crumble easily when touched or rubbed. They can still sting a little, so use gloves to transfer them to a pestle and mortar or electric grinder to make the powder.
Once they are powdered they won't be able to sting you! Store in a sterilised jar, or even in a small, open pot until ready to use.
How to use Nettle powder
I love using this powder in and as a coating for my nettle energy balls. You can also blend them half and half with sugar, icing sugar and blitz to a make a nettle sugar. Use the nettle sugar to dust over cakes, roll energy balls in it or coat freshly made doughnuts in it!
To make nettle sugar
Combine 2 tbsp nettle powder with sugar and powder.
Nettle Energy Ball Recipe
This is my ultimate recipe for using nettle powder and nettle sugar, here's the recipe - Nettle Energy Ball recipe.
I have lots more recipes for nettles on my Stinging Nettle blog and cover nettles on my foraging courses (mostly spring and autumn ones).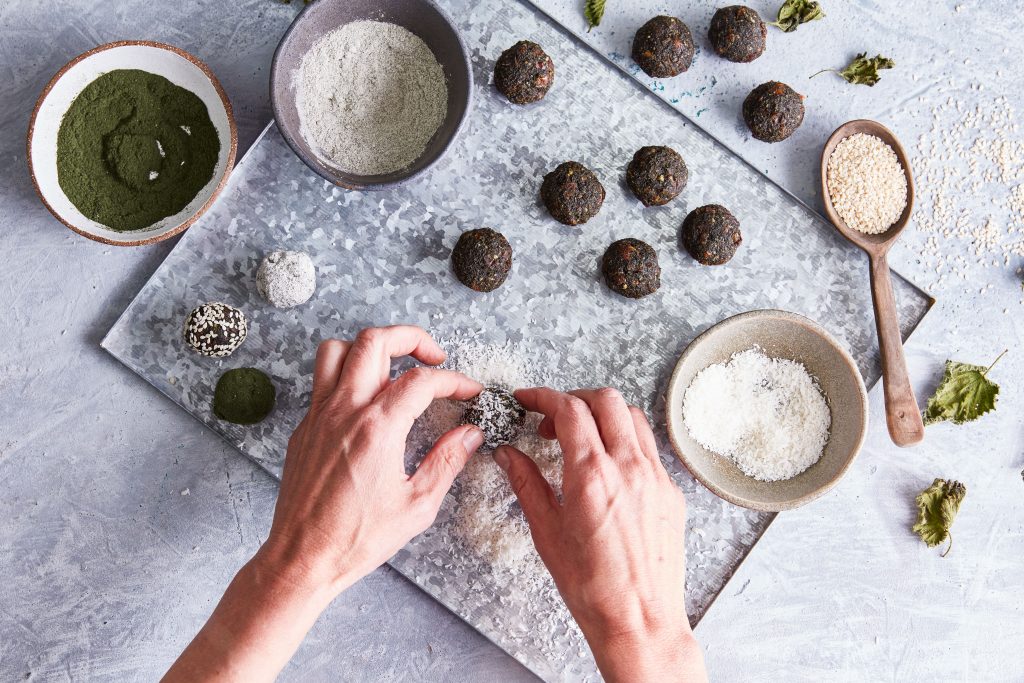 I love making these, they're so easy and utterly scrumptious. Unfortunately my dog discovered he liked them too (when left alone in the kitchen with them). So now I have to make, then hide them, and the dog is now sleeping the whole lot off!
I love these so much I've created two versions for you. There are thousands of ways to create nettle energy balls, so hopefully this give you some idea of combinations for you to try for yourself.
Lemon and Nettle Energy Balls Recipe
These zingy balls are easy to make and rather addictive! Once you've made your nettle powder, they can be made any time of year.
Makes 12–15
Ingredients
250 g (1 cup) pitted dates
3 tbsp lemon juice
60 g (⅓ cup, plus 1 tbsp) cashews
2 tbsp Nettle Powder
Toppings (optional)
3 tbsp sesame seeds, desiccated coconut or nettle powder
Combine the ingredients in a food processor. If making by hand, finely chop the dates, place in a small bowl cover with the lemon juice and leave for 5 minutes. Meanwhile, finely grind the cashew nuts in a seed grinder, a strong plastic bag with a rolling pin or patiently in a pestle and mortar. Add to the date mixture, along with the powdered nettles, and massage thoroughly with a spoon or your fingertips until the mixture is smooth and can be rolled into (somewhat sticky). Shape the mixture into 5 cm balls. Pour each topping into a shallow bowl and roll the balls until coated. Store in the fridge and use within a week; best eaten at room temperature.
Sweet and Nutty Nettle Energy Balls
These are sweetened with nettle syrup and the powdered nettle sugar coating gives them a delicious, almost seaweed-like flavour.
Makes 12–15
Ingredients
Follow the method above, using just half the nettle powder and leaving enough time for the syrup to be absorbed before rolling into smooth balls. For the coating, combine the icing sugar and rest of the nettle powder and roll the balls in the powder. Store in an airtight container in the fridge, along with any excess coating and use within a week.
These are quite a rustic version of wild nettle pakoras and are very simple to make, you can use many different wild greens if you like. I had three cornered leek to hand, rather than wild garlic, or you could use a clove of cultivated garlic.
I've also learnt a few things while making these for the 'nth time. I can work with the spices I have (and don't have to stick to those listed), baking powder makes them a little like popcorn (yum!) and I can (almost) eat them as quick as I can make them!
Nettle Pakora Recipe
Makes 20-25
Ingredients
260 g chickpea flour (gram flour)
2 tsp sesame seeds
1 tsp tumeric
1 tsp red chilli powder
1 large pinch of asafoetida
1 large pinch of baking powder
1 tsp sea salt
2 tsp cumin seeds, ground
2 tsp coriander seeds, ground
1-2 green chillies
Handful three-cornered leek (or wild garlic)
100 g nettle tops
250 ml water
500-1000 ml vegetable oil
In a large mixing bowl, combine the chickpea flour, sesame seeds, tumeric, chilli powder, asafoetida, baking powder and salt.
Freshly grind the cumin and coriander seeds and add to the mix.
Finely chop and deseed the green chillies and add in, combining well.
Next, wash and chop the three cornered leek and stir in.
Wash and roughly chop the nettles; use wooden spoons to move them around and cut with scissors.
Gradually add two thirds of the water. Allow the mixture to rest. Check the consistency, you're wanting a wet batter, though not watery. Add the rest of the water if necessary.
Prepare a couple of large plates with absorbent paper kitchen towel on (I didn't have any so just placed them on a dry plate).
Heat the oil over a medium to high heat in a large pan or deep fat fryer - I used a wok and turned them to cook both sides.
Test to see if the oil if ready by dropping a small amount of batter into the oil. If the oil is hot enough the mixture will sink to the bottom then float straight to the top again.
Using 2 teaspoons, shape the mixture into firm balls, each about the size of a very heaped teaspoon.
Fry each pakora for 3-5 minutes, turning if needed or until golden brown, remove with a slotted spoon and place on the kitchen towel.
Serve with sorrel and yoghurt dip (in my book Wild Food Foraging...) or for a vegan alternative, try with Rock Samphire salsa verde.
You may want to check out my other stinging nettle recipes too, or join a spring foraging course.
I've never really got on with making alcohol. As much as I like processes (I tend to think that people are either predominantly process or goal orientated), whether it is wine or beer, I seem to lack the knack of transforming weeds into a fermented intoxicating liquor. Perhaps I am just not dedicated enough to making and drinking alcohol.
Give me the task of making a wild dessert, or creating a sweet cocktail and I'm all over it, with pleasing results. Ah, I suppose I can't be great at everything.
Where I fail, thank goodness others succeed at making wild drinkable goodies. I've benefited from a few too, I remember about 20 years ago, my boyfriend at the time making the first batch of nettle beer I experienced and loving the result. Actually, I was lucky to get even a sip as he fell head over heals for this spring tonic. Light, refreshing and mildly alcoholic, it disappeared in a matter of days...
Making Nettle beer is easier, quicker and less technical than making making other beer and wines, and having had some success myself, I wanted to share the delights of brewing these greens so you too can enjoy this spring drink.
Nettle beer has been made for hundreds of years and is traditionally drunk in spring when the nettles are at their best. Have a go yourself;
Nettle Beer Recipe
Light, refreshing and mildly alcoholic, don't expect this spring tonic to hang around for long. You will need a few days patience while it ferments though, just a few days...
Ingredients
3 litres water
400 g nettle tops
12 g cream of tartar
350 g unrefined sugar
juice of 2 lemons
1 tsp yeast
Pour the water into a large pan and bring to the boil, add the nettle tops, lower the heat and simmer for 15 minutes. Strain off the liquid into a large bowl, or saucepan and discard the cooked nettles. Stir in the sugar, lemon juice and cream of tartar and leave to cool. When the liquid is luke warm, add the yeast, cover with a muslin cloth or similar and leave to ferment for 5 days.
Siphon the beer into sterilised flip top bottles and drink soon, or keep in a dark, cool place. Nettle beer has a reputation of exploding (as it keeps on fermenting), so flip top bottles will at least save you from shattering glass. Otherwise, just drink soon.
I recently went out for a meal at a restaurant and they had wild nettle cordial on the drinks menu. Ooh, as a forager with a soft spot for 'sweet' I just had to try it. I must say, I was disappointed. I even asked for an extra dash of cordial so I could taste it better, though even then, all I could taste was sweet.
Perhaps because I'm used to making my own, non-commercial wild nettle cordial - fresh and homemade always tastes superior, I feel. Personally, if I make something from wild ingredients I want to benefit from a mixture of the nutrients, the flavour and the whole experience of picking to creating with it.
I find nettles rewarding to cook with because they are in such abundance and their flavour is pleasant though not overly strong. My wild nettle syrup is dark green, it is nettley (not a real word, though you get the idea) and good for you. Here (video above) I'm about to dilute it as a refreshing prelude to a nettle based lunch of nettle soup and nettle pakoras.
Oh, I do like the common stinging nettle - it is the perfect spring wild food! Here I tell you a little about why I love nettles in a short video, and here I expand on some of the reasons nettles are worth falling in love with.
Back to the recipe.
Rich Nettle Syrup
Dark and rich, I've watched nettle syrup disappear surprisingly quickly as a diluted drink at events. This version includes fennel, which lifts the syrup out of the darkness a little and is delicious in Nettle Baklava or Sweet and Nutty Nettle Energy Balls (more on those another time). Nettles also goes well with lemon or root ginger (simmer the ginger with the nettles, or add the lemon at the end of cooking).
Makes approx. 750 ml
Ingredients
800 ml water
3 tbsp fennel seeds, freshly ground or crushed (optional).
200 g nettle tops
800 g soft brown or demerara sugar
1–2 tbsp lemon juice (if not using immediately)
Put the water, fennel seeds and nettle tops in a medium saucepan, bring to the boil and simmer for 40 minutes. Take off the heat and strain through a fine sieve or muslin cloth, using a wooden spoon to help squeeze all the liquid out.
Measure the liquid, and for every millilitre add one gram of sugar (e.g. 500g of sugar for 500ml of liquid). Place the nettle liquid and sugar back in the saucepan, bring almost to the boil (the liquid should be steaming), reduce the heat and leave on the heat for half an hour, stirring occasionally. Do not allow it to boil. If using the syrup immediately, siphon off the amount you need. For the rest, add one tablespoon of lemon juice for every 200 ml of liquid, allow to cool and store in sterilised bottles.
Five years ago I wrote a blog about my Nettle and Honey Cake - it went down a treat. Named as; 'probably the best cake I've ever had' by one enthusiastic forager, I was super pleased the result.
Every so often I like to repeat recipes so I can enjoy the flavours again and see if they need tweaking. Over the last few years I've also found that nettles combines well with ginger and with lemon and, although this cake contains neither, its texture is reminiscent of a lovely moist ginger cake.
Last week, however, I made a new discovery; nettle cake (urtica dioica) and gorse (ulex gallii, ulex europaeus) flower syrup! It's a wild and divine combination which I just had to share with you.
A Spring Dessert: Nettle and Honey Cake with Gorse Flower Syrup
An almost toffee flavoured, moist, not too sweet cake, with a sweet hit of moorland gorse flavours drizzled over it. Somehow, this whole combination reminds me of green tea, perhaps it is the lovingly received health benefits of these local, wild ingredients, or just the natural flavours of green nettles and infused gorse.
Ingredients
50-75 g nettle tops
250 g clear honey
100 g dark muscovado sugar
225 g butter
3 large eggs beaten
300 g white flour
4 tsp baking powder
For the syrup
50 g fresh gorse flowers
225 g unrefined sugar
300 ml water
Place the gorse flowers in a medium saucepan with the water and sugar and bring to the boil. Immediately take off the heat, cover with a lid and leave overnight (or for as many hours as you can). The next day bring the liquid to the boil again and simmer for 10 minutes. Strain through a fine sieve or muslin cloth and store in sterilised bottles in the fridge or freeze in ice cube containers and defrost as needed. Will last a month or so if not frozen.
Line a 20 cm square or round cake tin and pre-heat the oven to 150°C. Steam the nettles for 5 minutes and put aside to cool. Place the honey, sugar and butter in a small saucepan over a low heat and stir until melted and combined. Once the nettles are cooled, blend with the eggs to make a smooth, green pulp. Sieve the flour and baking powder into a large bowl and gradually beat in the melted sugar and butter mix. It will resemble a lovely toffee colour.
Pour in the pureed nettles and blended eggs and beat together.
It makes a wonderful green, raw cake mixture colour! Pour into the cake tin and bake for an hour, or until a skewer inserted into the centre comes out clean, or the cake springs back when touched. Allow to cool for a few minutes before removing from the tin onto a cooling rack, and cool completely before slicing. Serve with gorse flower syrup.
Read more about Stinging Nettles for food, and I've many blogs about Gorse Flowers including recipes too.
I've been teaching foraging for a while now (over 10 years), and I've just come across some old film footage of me introducing stinging nettles (Urtica dioica). Oooh, we were all younger then, weren't we!
Nettles remains one of my favourite wild greens, especially in spring, and as I write this (in April), I'm enjoying nettles most days, in soup, cake, pakoras, tea or doughnuts - yes doughnuts, more on that later!
For ideas of how else to use nettles, do have a look at my Stinging Nettle blog, in particular you want to read this one; A Dozen Ways to Eat Nettles, or come along on a wild food foraging course where I share all this and more.
As you can imagine, I've learnt a fair amount over the years, and love to share what I know. There is plenty to say and learn about the humble nettle, from recipe ideas to health benefits, to worldwide uses.
Stinging Nettles (Urtica dioica) are one of my favourite spring greens, and this was a recipe I shared with Graham Pullen of St Ives Screen Printing at Tom's Yard. Graham is keen on making art affordable and accessible, and has incorporated the recipe into one of his hand-printed individual cards (featured above). I love both Graham's botanical drawing of the humble nettle, and his interpretation into print.
The last time I made this recipe was for my friend's birthday last spring. We had a 'bring a contribution' curry dinner and the range of curries, samosas and spiced breads was great. These nettle pakoras fitted in perfectly. The only down-side was my dog sneakily finishing off the cooking oil. Trust me, you don't want to know the end of that part of the story.
The fourth time I made them was when I ran a nettle day at Bramble Cottage. It was great having a 6 month old, budding forager with us, gurgling, watching and smelling the various stages of the process. Perhaps that's where this nursery rhythm tune came from, finding a soothing way to give a little extra information about the humble stinging nettles.
You can watch the process and hear the song in this video; 'Making Nettle Pakoras' below. The reason for the song lyrics is explained in my blog When NOT to eat Stinging Nettles, yet the song is self-explanatory really, so just watch and listen...
The recipe?
Do get in touch with Graham, and he can show you, sell you or tell you where to get a great range of foraging recipe cards, including this one with the full recipe. For more ideas, why not browse my Stinging nettles blog. Nettles are regularly included in my wild food foraging courses too.
Follow the #singingforager to find out more.
It is spring, the time for going nettling!
I wait and wait for this moment in spring. Last week I passed a huge patch of stinging nettles (urtica dioica), looking all lovely and ready to pick. It's hard to explain, but when they're really ready their presence changes, they become more vibrant looking and start to wink at me.
Now I can call my neighbour, don strong gardening gloves and we can go nettle picking. Blackberry picking is so... autumn, this is spring, the time for nettles! All the nutritional benefits of nettling I discuss on my spring foraging courses and I have so much more to share on nettles, including recipes and when not to pick them. You can browse this information here on my Stinging nettles blog.
Just like blackberrying, picking nettles would have been a seasonal affair, gathering nutritious greens that even children would have devoured. Many people have heard of nettle soup, but  have you actually tried it? It doesn't taste of spinach, it tastes of nettles which is even better. Go find your gardening gloves...
When I was researching for my first book; Wild Food Foraging in Cornwall and the Isles of Scilly I came across an old recipe Cornish recipe for Nettle soup. It included sausages and was boiled for an hour. An hour! No, not I, in these modern times I thought I could make a much tastier, fresher one, and I did. The recipe is in my foraging book.
Happy nettling!
I'm writing this  blog in summer - not a time to eat stinging nettles (urtica dioica), despite the Dorset Nettle Eating Competition held every July (read the important information on When Not to Eat Nettles to find out why not).  However, nettles have many other virtues beyond food.
I am in love with nettles (still), and am a self-proclaimed advocate of this valuable and humble plant. Why? Because it has so many uses. I have written before, many times, about nettles, including A Dozen Ways to Cook Nettles, my famous Honey and Nettle Cake, and if you want to go back to the beginning of my journey; I'm in Love with Nettles.
Though this blog is about something else.
It's about using nettles as fibre for clothing. Years ago, when I did a course in Native Skills with the company Native Awareness I learnt to make string out of nettle fibres. That year I had many long train journeys, and using the time to prepare and weave the long fibres of the nettle stems into a large ball of nettle string felt like a comforting, meditative and satisfying use of my time. You see, nettle fibres are extremely strong and spending time working with a plant helps to get to know their qualities even better.
It was many years before this though, that I took a trip to London to see an exhibition that celebrated nettles. There, I saw my first Nettle Shawl - a beautifully soft, lacy looking shawl made from the stinging nettles of the Himalayas, by the people of Nepal.
(Nepalese tribal women wearing shawls woven from nettle fibres)
This versatile plant can produce strong nettle fibres and fine, linen-like fibres, which preceded the use of silk in Poland in the 17th century. Nettle fabric was also used to make army uniforms in the 2nd World War. In Scotland it was known as Scots cloth up until the 1800s.
For me, plants are interesting, useful and to be valued. When I read about, touch, eat, see or interact with a plant in some way, it is an opportunity to appreciate it. From the first time I touched the fabric of a nettle shawl, to making a ball of nettle string to discovering the beautiful clothing made from nettles, I find myself in awe of this humble plant. I'm in love with nettles and will continue teaching about them, using them and celebrating them.
References
www.wildfibres.co.uk
More blogs, including recipes, facts and tips about nettles here; Stinging Nettle Blog
You may know, that I rate Stinging Nettles (Urtica dioica) highly. I believe they are one of our most nutritious greens in the UK alongside the goosefoot family which includes Fat Hen (Chenopodium album), Good King Henry (Chenopodium bonus-henricus) and Oraches (Atriplex patula and Atriplex prostrata).
Stinging Nettles are common and easy to identify, so what's not to like?!
I have other blogs that include recipes using nettles, and further nettle recipes in my wild food foraging book so here I wanted to focus on something different - when not to pick and eat them. They are not like shell-fish (only eat when there's an 'r' in the month), though there are some general guidelines that will help you pick and eat the best, edible nettles.
Here's just 4 times it is good not to pick nettles for food.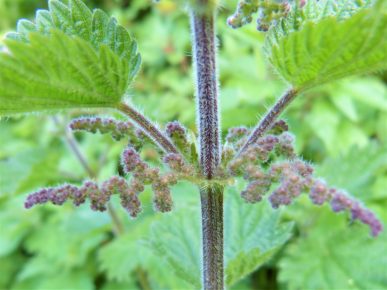 1. Don't pick Stinging Nettles when in Flower
The flowers on Stinging Nettles are like catkins; little tendrils of flowers dropping down from the stems, they tend to be green or yellowy-green in colour, so not always obvious to spot. This signifies a change in this nutritious plant, a change that is of benefit to butterflies and moths, though not to humans. At this stage it is best to quote John Wright (from his Hedgerow book) as he says it so well and thoroughly;
'At the first sign of flowers you must stop picking. The plant will now start producing cystoliths - microscopic rods of calium carbonate - which can be absorbed by the body where they will mechanically interfere with kidney function.'
Well said John. So we' ve been told.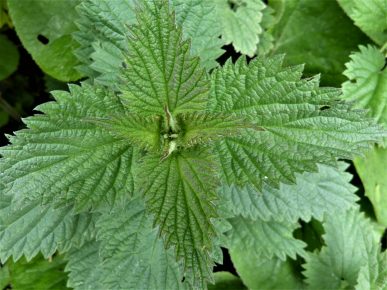 2. Avoid polluted sites
This should be common sense. Nettle have long roots to draw up nutriton and normally thrive in healthy and nitrogen rich soil, though do a little research and be sure you're picking from areas as free from pollutants as possible. Of course pollutatants can also be air-borne, so picking away from busy roadsides is recommended too.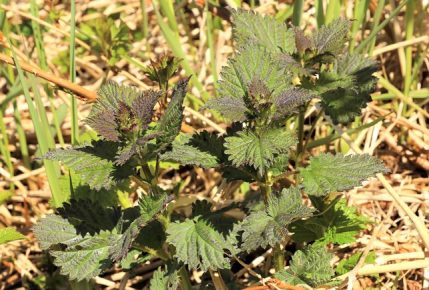 3. Avoid when leave are tinged with purple
Sometimes the leaves of stinging nettles are tinged purple. This need not be a problem, nor a reason to avoid that particular patch, though it tends to signify that the plant is tired or stressed in some way, which can make the leaves a little bitter. Something to consider.
4. When you don't have gloves or have lots of exposed skin
We've all done it, or know someone who's been badly stung by nettles. Many of us are also tempted to pick delicious looking nettle leaves, even though our gloves are miles away in a forgotten cupboard. Thick sleeves can be used as a substitute for gloves (wearing over your hands), though know that nettles also have a habit of finding bare skin and innocently brushing themselves against you. A nettle sting doesn't have to be problem; the sting brings blood to the skin's surface, thus stimulating blood flow. Though too many stings are sometimes too much to bare. Consider waiting; the nettles continue strong, and return every year.
I'd love to show and teach you more about Stinging Nettles, including recipe ideas, find out more on my Wild Food Foraging Courses.
Nettles are amazing - nutritious, versatile and abundant.
Never under-estimate the humble stinging nettle (urtica dioica) it's one of the best wild greens we have (nettles  contain iron, vitamin c, protein and so, so much more). Really we should and could be celebrating, and using this wonderful plant a lot more.
Thank you nettles, and here's some ideas for appreciating nettles with your taste buds and nutritionally craving bodies.
*Cooking stinging nettles removes their sting.
Nettle Soup (recipe in my foraging book), Nettle Pakoras 
Nettle Omlette, Nettle and Potato Curry.
I like all these recipes; soup is delicious, the bhajis tasty and surprising, the omlette simple and the curry, a perfect accompaniment to an indian style meal.
Nettle pesto (from my foraging book), Nettle lasagne
Nettle Beer (just a 3 day process!) and cooking nettles for either beer or syrup.
Making Nettle Pasta, Rachel Lambert's Nettle and Honey Cake (delicious!!)
Just cooked as a side vegetable, and last but not least, fresh nettle tea (just pop a nettle top or 3 in the teapot and leave to brew).
Happy cooking and topping yourself up with wild nutrition from this fantastic plant.
I share lots more tips and recipes for nettles on my;
Photos: By Rachel Lambert, except Beer and cooking nettles by Dan Thomas.
Spring is exciting - a combination of warmth and light gets plants, animals and human-animals going. Sometimes, for me, too going. The term mad march hare feels too close to home for me, as I prance around the hedgerows picking wild greens as if there is no tomorrow, or as if spring won't last forever, which of course it won't. Lets face it, we've often being waiting a while for it to come too.
Many wild greens respond well to being plucked, for example when the tops of nettles are snipped off this stimulates more growth and leaf tops to grow. So below I've chosen 5 common wild foods that arrive every year, a plenty and are happy to be plucked, appreciated and eaten.
Here are my top 5 pick-ables (non-technical term :)) for this spring, I have loads of nuggets of information and recipes to share on each of them, though for now I'll keep it brief.
My Top Five Spring Wild Foods
1. Stinging Nettles Urtica dioica
Never under-estimate a common plant, believe me, nettles are a valuable food and we are lucky to have them. Their nutrition and versatility makes them easy to use (just avoid being stung) and they are (in my humble opinion and according to nutritional facts) better for you than spinach or cabbage.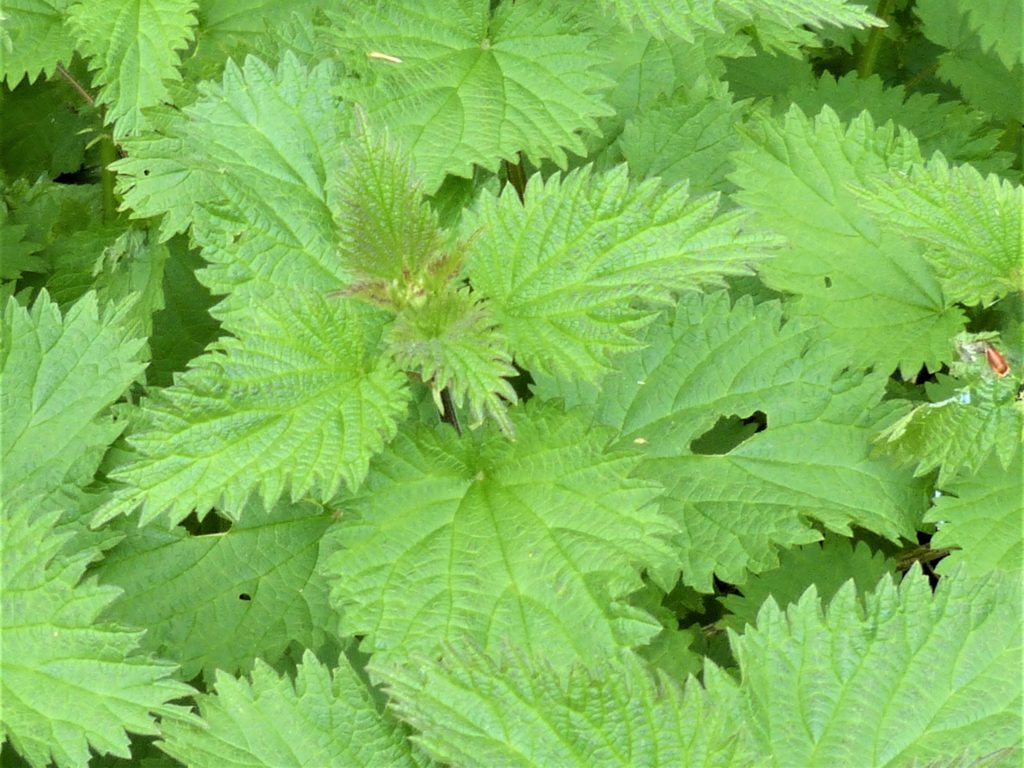 2. Wild Garlic Allium family
The wild onion, garlic and leek family is vast and too large to go into here, though their commonalities include a wonderful garlic taste (and smell), anti bacterial properties and support for the heart. The whole of the plant can be used and it can be used raw or cooked - raw is stronger. It is one of the key edibles of spring.
3. Cleavers/Goosegrass Galium aparine
Cleavers spread. They grow up to 1 metre long and can be collected without a bag (let them stick to you). The leaves are a wonderful spring cleanser and support the urinary and lymphatic system, though best cooked to avoid the not so pleasant hairy texture when raw and use in small amounts. I like to just pluck the tops and sweat them with nettles in butter or oil.
4. Alexanders Smyrnium olusatrum
Writing this from the south coast of Cornwall, Alexanders are definitely on my list. Abundant and often considered an invasive (land managers around Bristol have also practically pleaded with me to pick and eat them too). Nutritious and versatile, if you just know how to use them and pick them early on in spring.
5. Common Sorrel Rumex acetosa
Sorrel sap is tart and lemony and at its best in spring, and once you get your eye in, you'll start to see it everywhere. Delicious added to so many savoury and sweet dishes, though don't eat too much as it contains oxalic acid which isn't good to eat in large amounts. A little is fine though.
So there you have it, my five favourite wild greens, and yes greens are best in spring. Next spring, maybe I'll share a different five, as there's always more to share.
Sea Spinach soup is a simple, delicious soup which celebrates this wonderful wild green. Creamy, filling and even dairy-free, perfect for a fresh, early spring al fresco lunch, or an autumnal or winter trip out along the coast, with a flask of tasty hot soup.
Spring is here and it is undeniably the time for greens*; the green leaves and shoots of wild edibles start to edge higher towards the light and their taste begins to improve. I love seeing plants growing in the wild - green is gentle medicine for my eyes - and that's why I like to pick only the plants that are growing abundantly - leaving a lot behind in nature.
*If you're reading this in autumn or winter, the leaves of Sea Spinach , are also good to pick through autumn and winter too.
I don't always plan my foraging, actually, I rarely do, instead, it becomes a spontaneous response to my surroundings. This was one such morning; I'd arranged to meet a friend at 8am so we could enjoy a morning walk - the weather was expected to be good and we both wanted to start our day outside, in sunny nature.
It was crisp and sunny, and wrapped up in big coats we walked through a small woodland, birds singing, light streaming through and nature felt alive. We felt alive - fresh to the day and with nothing much to say.
We reached the coast, and Sea Spinach (Beta vulgaris), also known as Sea Beet, was almost glistening in the light. Ooh, those shiney leaves looked good enough to eat! We ambled along the coast and pick a few leaves here and there, looking for the best one, the shiniest ones, the healthiest, freshest ones, the further we walked, the more patches of leaves we found. Taking just what we needed, we continued on our sun-rich morning walk.
My mind wandered to cooking...
Hours later I was back in my kitchen, flicking through Darina Allen's book, looking for an inspiring spring greens recipe, and found a wonderful and traditional Sea Spinach soup; utilising this tasty wild in a full-fat, creamy base. Yum! I love Darina's writing and her traditional, fool-hardy recipes, I used her Irish Beef Stew recipe in my first book with wild, Black Mustard mash.
Thanks Darina.
Though as much as I love, and trust her recipes, sometimes I want a break from milk and cream. This was one such day, so I set about adapting her recipe to use coconut milk instead. I love tweaking recipes.
The result was delicious; I enjoyed it on the beach with a group of foragers (we all had seconds), then supped the hot left-overs as a starter with friends that evening. A beautiful, fresh green colour and perfect if you are waiting for the stinging nettles to arrive, though you are a little too early.
Sea Spinach and Coconut Soup (my version)
Ingredients
1 tbsp coconut oil
1 medium onion
150g pots, diced (scrubbed, though not peeled)
200g creamed coconut
1300ml boiling water
2 tsp powdered vegetable stock
salt and pepper
300g sea spinach (stalks removed)
handful of three-cornered leek (optional)
In a medium saucepan, heat the oil over a medium heat, chop the onion and add to the sizzling oil, stir and cook until translucent. Lower the heat, add the potatoes, and sweat for 10 minutes. Meanwhile, roughly chop the cream coconut and place in a large, heat-proof bowl, pour the boiling water over the coconut, and stir until dissolved. Strain and add the liquid to the potatoes and onion. Season with stock and salt and pepper. Chop the sea spinach and three-cornered leek and cook for 3-5 minutes, or until the spinach is cooked. Blend and serve, or pour into a hot flask and take to the beach for a hearty lunch.
Nettles, in a cake?! I know what you're thinking - what a bizarre combination, and to be honest, even the kids were adamant they weren't going to try it; "Yuk" - was apparently their response on their way to meet me. However, at a glorious Spring foraging walk, the whole big, green(ish) cake was devoured, and yes, the children were practically in it before it was cut, and ate every last smidgen.
"That's possibly the best cake I've ever eaten" commented one participant - well even I was bowled over by that! So I thought it was time I shared the recipe with you.
I was brought up around baking - friday was baking day in our household, with cakes and snacks being made by mum for the coming week. Three hungry daughters, all with a sweet tooth - we were familiar with kneeling on chairs to stir large bowls of cake mixture, placing dollops in paper cases. Carefully ensuring a fair amount missed the cases for us to clean up with light fingers and sticky mouths.
As an adult, my love of cake making, and the alchemy of cooking has remained with me. I can't boast my mother's finely honed skills, though I can slowly line a cake tin, and since my teens have experimented with a broad range of cake recipes, from the classic sponge to sweetening with malt barley to adding wild twists.
Nettles, you may know, are a personal favourite of mine, and I'm always looking for new ways to incorporate them into both savoury and sweet dishes. Why miss out on their fabulous nutrition just because you favour cake over soup? No need I say, here's the recipe. Based on a Devonshire honey cake, it's rich, sweet in a wholesome way, and utterly, enjoyably cakey;
Nettle Cake
Ingredients
300g self-raising flour
250g clear honey
100g dark muscovado sugar
225g butter
3 large eggs beaten
2 (gloved) handfuls of raw nettles
Weigh out the ingredients, next preheat the oven at 150°C, gas mark 2. Line a 20cm diameter cake tin with grease proof paper.
Lining a Cake Tin
Grease the sides and base of the tin with a little butter. Cut around the circle of the tin, with a couple of centimetres extra. Cut into the circle, just as far as the size of the tin base. Place inside, folding the paper up where the cuts are so they are rising up the tin sides. Do similar with measuring the cake sides, cutting into the edges again, and holding onto the base. You may need to add a little butter to the cut edges so the paper sticks to each other and holds the shape of the tin.
Using gloves, place nettles in a vegetable steamer (or saucepan with minimum water in) and steam or simmer for 5 minutes. Remove excess liquid (through a sieve or squeezing with a wooden spoon) and blend with a food blender, once blended, squeeze a little extra liquid out, though not too much that you remove all the flavour!
Next, break the butter into pieces & put in a pan with the sugar & honey. On a low heat, stir until melted, transfer contents into a mixing bowl,adding the nettle pulp & put aside to cool for 15-20 minutes.
Beat the eggs and add into the butter/sugar/nettle mixture, then stir in the flour. Pour into the cake tin & bake for about 1 hour 10-20 minutes.
Or until the cake is golden brown, springs back when pressed & a skewer pushed into the middle comes out clean. Remove & leave to cool a little before slicing. Delightful while still warm. Or until the cake is golden brown, springs back when pressed & a skewer pushed into the middle comes out clean. Remove & leave to cool a little before slicing. Delightful while still warm.
I've since updated this recipe, you can see my most recent version here; Spring dessert: Nettle and Honey Cake with Gorse Flower Syrup
This blog is about how to remember and appreciate the mundane (and why we're running 'Nettle Days').
In life and relationships it is all too easy to take for granted those that are close to us, to over-look our loved one's qualities that we once fell in love with. Too easy to forget that they are amazing, loveable, admirable, desirable, shifting our focus instead onto their negative qualities & the things we'd like to change.
Why nettles are worth falling in love with
I feel it is the same with Nettles (Urtica dioica). We've got so used to seeing them - almost everyone knows what a nettle looks and feels like - that all we have left to say to them is rude and dismissing. Our modern culture tells us that foreign super foods are bigger and better, though Nettles are just as good and free! It's time we rekindled our love for this plant.
Because nettles have always been there for us. A true native, growing and thriving through our British seasons, arriving, without fail, each spring - vibrant, potent and bursting with nutrition.
Nettle stings
Oooh, but nettles sting I hear you cry and they are always growing in the wrong place and are a real pain to get rid of.
Well, those so-called negative qualities also have a flip side. Nettles sting to protect themselves - yes, they're that valuable that they developed a protective mechanism. Their sting even contains the same compound as a bee sting - formic acid. The sting of the nettle has also been used to help relieve severe rheumatic pains and to help improve blood circulation (Culperer Herbal). As spring arrives the sting is even more virulent (I can still feel my fingers pulsating from my yesterday's foraging!).
The benefits of nettles
The ability of the humble stinging nettle to grow in abundance was of great use to our ancestors and is great for us too. Those long roots that are so difficult to dig up enable nettles to draw up the rich nutrition deep in the soil. Exuding with vitamin B2, C, E, K, iron, protein, magnesium, calcium, beta-carotene as well as other minerals. They've been used to treat anemia, rheumatism, arthritis and kidney disorders to name a few. All this makes nettles a fantastic food, hair tonic and herbal tea.
The thick, hardy stems contain strong fibres that have been used to make string & rope as well as practical & beautiful clothing. My favourite are delicate nettle shawls, see www.wildweaves.co.uk.
So to conclude, why would we want to get rid of this old love, for a new more exciting one? Why not re-ignite or even start your love for nettles; cherish their qualities, put on your best (nettle) clothes, eat (nettle soup), drink (nettle beer) & be merry! Nettles are our own, native super food. Available in abundance, on our doorstep, in hedgerows, fields & amongst the plants we so lovingly cultivate. Life is too short to chase the greener grass elsewhere, especially when the grass here is so rich with nettles!
Finally, are they tasty? Are they ever! Use like spinach, they're great in lasagne, curry, soup, risotto, in falafel, gnoochi & make a great base for pesto (blanch the leaves first).
Wishing you a wonderful love affair... X