Japanese Knotweed (Fallopia japonica) is considered a very invasive weed in many parts of the world, including across Europe.
Here I share tips on how to turn this invasive plant into a tasty food, including information on how to do this safely and legally. I share the when, how, what and why of cooking and eating this plant. In the UK you can be fined for encouraging the spread of this plant, but not fined for eating it! Just follow these guidelines first.
Ooh, plus a simple Japanese compote recipe to get you started.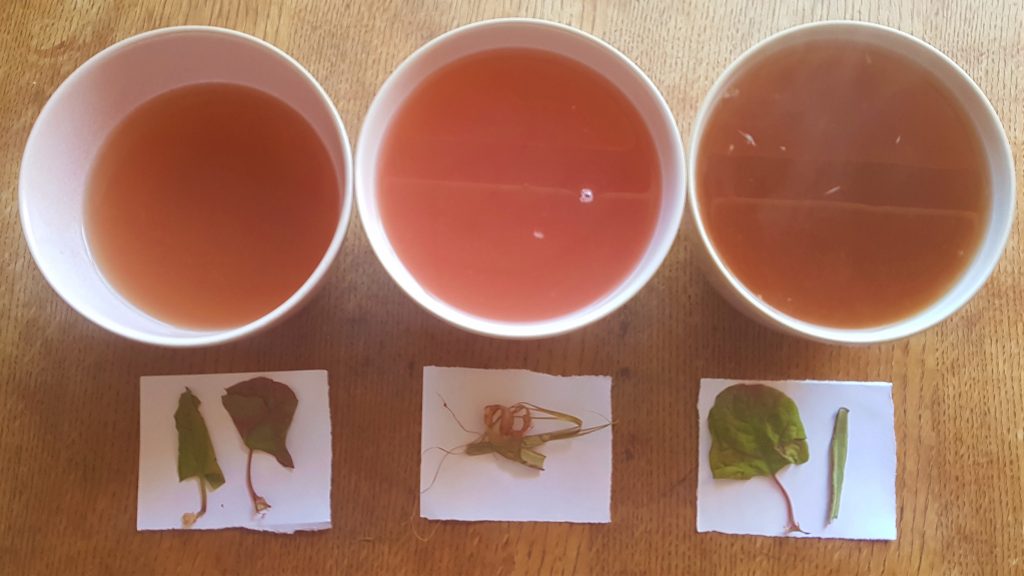 When to harvest
Japanese Knotweed is ready to harvest in Spring. It can grow fast, up to 30 cm a day, so if the tips are too small just return a day or two later.
It is important that you know the plant hasn't been sprayed or treated. Here in the UK, treated sites are often sign-posted to protect people and animals, but this is not always the case. If you are not sure, then don't pick the plant.
How to harvest Japanese knotweed
It is paramount that you don't spread this plant at any stage of processing it. I normally cut the stems and put them straight into a deep, solid bag. A basket isn't appropriate for this plant, as bits may fall out and it can regenerate from a single, tiny piece.
It is best harvested when it is 1-2 ft in height, see notes below on preparing the plant as a food.
Heath benefits of Japanese knotweed
Japanese knotweed is a member of the Buckwheat family and is also known as Donkey rhubarb. Some of its other names include; Fleece Flower, Monkeyweed, Himalayan Fleece Vine, Tiger Stick, Sally Rhubarb, Mexican Bamboo, and Huzhang.
It has a sour flavour, similar to rhubarb, which also tells us it is full of vitamin C. As well as being high in vitamin C, it contains good amounts of vitamin A and may help regulate blood sugar.
How to prepare Japanese knotweed
You'll need 2 containers when you prepare this plant. One for eating, one for disposing of. The leafy tops can be bitter, so are best removed and the very base can be too fibrous. Remember to contain every part of the plant so it can't reproduce. I simmer up the bits I don't use, let them cool, then bin them.
You don't need to peel all of the outer fibre off, just the main bits. Or don't peel at all, and push the cooked stems through a sieve, discarding the fibre afterwards.
So, to summarise, discard the tops, leaves and bottoms, plus fibre (before or after cooking).
How to cook Japanese knotweed
Recipes to follow, I promise! Meanwhile, here's are my recommendations for using Japanese knotweed instead of rhubarb compote in recipes.
300 g Japanese knotweed, trimmed and peeled
60 ml (4 tbsp) water
50 g soft brown sugar
Chop the knotweed up into small chunks and place in a small to medium saucepan with the water. Place over a medium heat and simmer for 5-10 minutes with the lid on. Stir if necessary. You'll now have a pulp to sweeten, start with about 50 g of soft brown sugar and stir in until dissolved. Stir into yoghurt or have with hot porridge or alongside a moist fruit cake.
Japanese knotweed recipes
For a few other ideas, such as Japanese knotweed fool, Japanese knotweed muffins and Japanese knotweed crumble, you might want to my this post; Eating Japanese knotweed.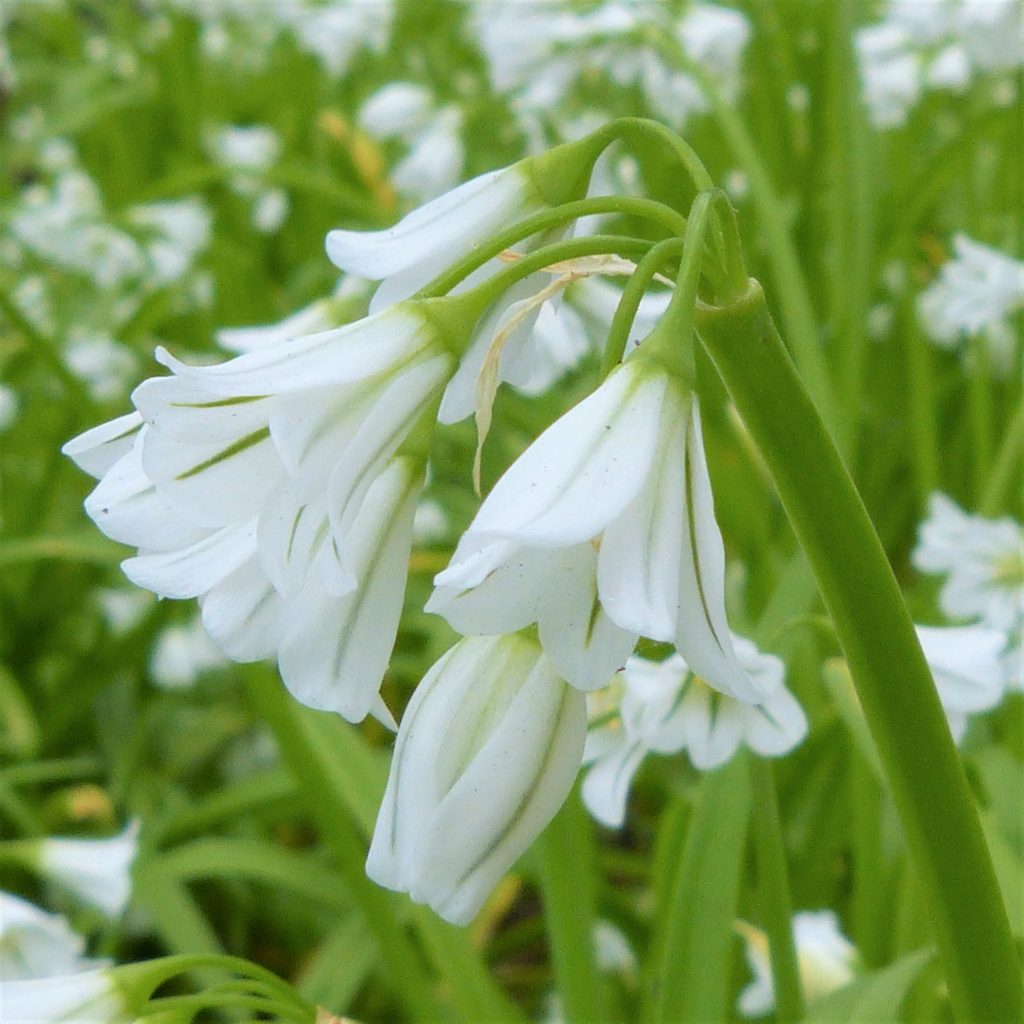 I don't mind what you call it. In Cornwall and the Isles of Scilly this plant is often called wild garlic. Those who call it this know what they mean. They know they're talking about the onion grass, the long, thin one that smells of garlic. In Australia and New Zealand it's known as onion weed.
This blog is all about three-cornered leek, or whatever name you call it by. I describe its unique qualities, where it grows and how it compares to using wild garlic/ramsons (Allium ursinum) in recipes.
Three cornered leek is also in my Wild Food Foraging book and I regularly teach it on my foraging courses, especially in spring.
Three-cornered leek (Allium triquetrium) goes by many local names, but only one latin one. All the local names refer to its garlicky smell; onion grass, onion weed, wild garlic, three-cornered garlic, three-cornered onion or three-cornered leek. A member of the allium family it originates from the Mediterranean, Madeira, Canary Islands and North Africa.
It was originally introduced to the UK in the 18th century and the rest is history.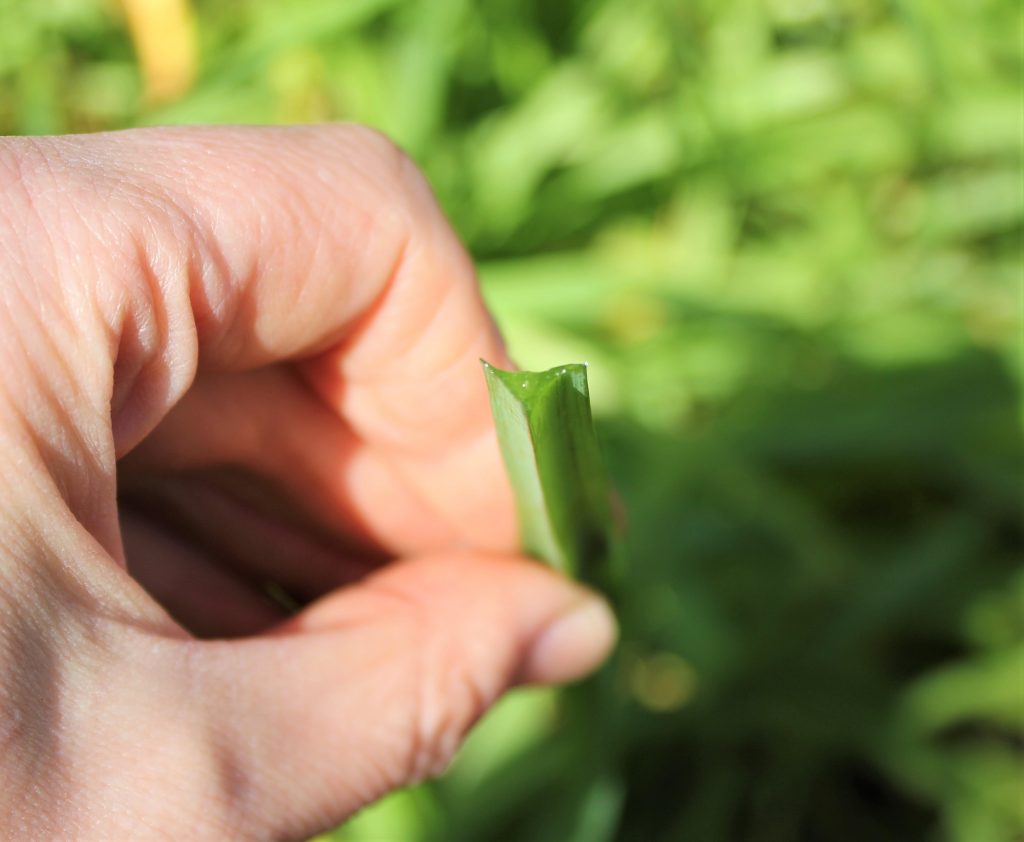 Why is it called three-cornered?
It has three-corners! A subtle triangle shape is visible when you horizontally cut a leaf and a clear triangular shape is visible on a cut flower stem. When not cut, a ridge is noticeable on the leaves, acting almost like a spine which makes the leaves more buoyant and upright.
Which parts can you eat?
You can eat all of this plant - the roots, flowers, flower buds, leaves and flower stems. Here in Cornwall I start eating it through winter when the leaves are greener and before the flowers start to show.
The Roots
The roots of three-cornered leek are similar to spring onions though a little more watery and sweeter. Like leeks, they take a bit of time to clean up and remove the mud.
Remember that in the UK you need permission to dig up roots. However, I've never been refused permission to dig up these roots. People are often very grateful for me to take this plant away as it spreads really easily.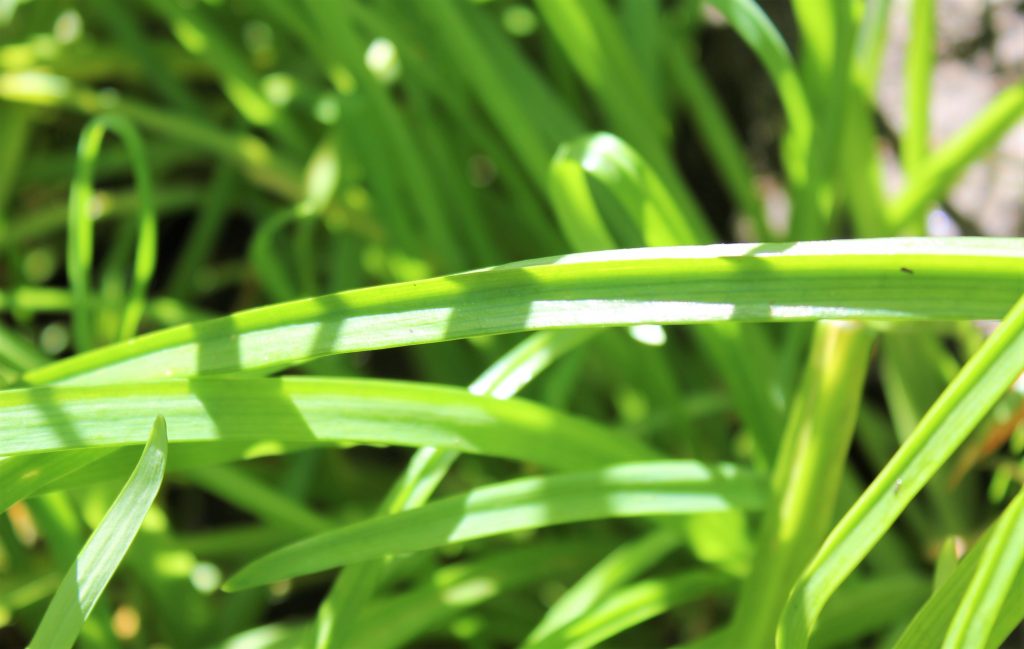 The Leaves
The leaves are the mildest part of the plant. Sometimes I cook them by sweating them down in a little oil or butter. They have a mild onion flavour this way.
The Flowers and Buds
The flowers and flower buds have a strong garlicky crunch. I love sprinkling them over salads and using them as an edible garnish. The buds are lovely pickled too. The flowers are white with a distinct green stripe on them.
Flower Stems
These are my favourite parts as they are the sweetest. I love chewing on them as I walk, they are one of my favourite spring walk snacks!
Three Cornered Leek v Wild Garlic
Wild garlic (Allium ursinum) is stronger, earthier garlic flavour. It has broad leaves and tends to grow in woodlands and near streams. It lends itself well to baking and cooking.
Three cornered leek (Allium triquetrium) is milder and sweeter in flavour. It likes to grow in warmer climates and thrives well in open spaces and hedgerows in Cornwall and the Isles of Scilly. It lends itself well to using raw, like spring onion.
Dandelions (Taraxacum officinale) are a common weed that are often overlooked or taken for granted. Yet they are so good for us!
Here I share 5 health benefits of eating (or drinking) dandelions. Plus tips on where to find them, as well as common mistakes with identifying dandelions and 4 simple ways to incorporate dandelions into your diet.
How important are dandelions?
By the way, dandelions have been cultivated in areas of Europe and North America for over 150 years. That's how valuable and important they are!
5 Reasons to Eat (or Drink) Dandelions
Ask anyone about eating a dandelion (Taraxacum officinale), and they might quote the dandelion's diuretic properties. It's French name being 'pissenlit' or 'wet the bed'. Though few people know that dandelions are a very mild diuretic, and diuretics tend to flush potassium out of the body. Though dandelions also contain potassium, thus replacing what is flushed out - that's good!
The dandelion's latin name refers to its many health benefits, the Greek word taxaros meaning disorder and akos meaning remedy (2). Dandelions contain a wide range of vitamins and minerals, including vitamin A, some Bs, C, D and K.
The 'dent de lion' (Lion's tooth) also contain significant amounts of calcium, magnesium, iron and folate.
Dandelions can have a mild detoxing action as bitters benefit the liver.
Dandelions can stimulate digestion and improve gut bacteria (through the presence of inulin).
Where to find Dandelions
Isn't it just the way; when you want to find dandelions, there just don't seem to be any, anywhere. So here are some tips. In general, they like to grow on various grassy areas, parks and wild mountainous ranges, but below is some more specific information.
In the UK there are two most common types of dandelions and about 250 types in all, though some are quite rare and others quite distinct from each other. The two most common are;
Ruderalia (121 species) type of dandelions grow well on grassy areas, meadows, waysides and waste places. Erythrosperma (30 species) are more slender and thrive in warm, dry and sunny spots such as chalk grassland, heaths and dunes.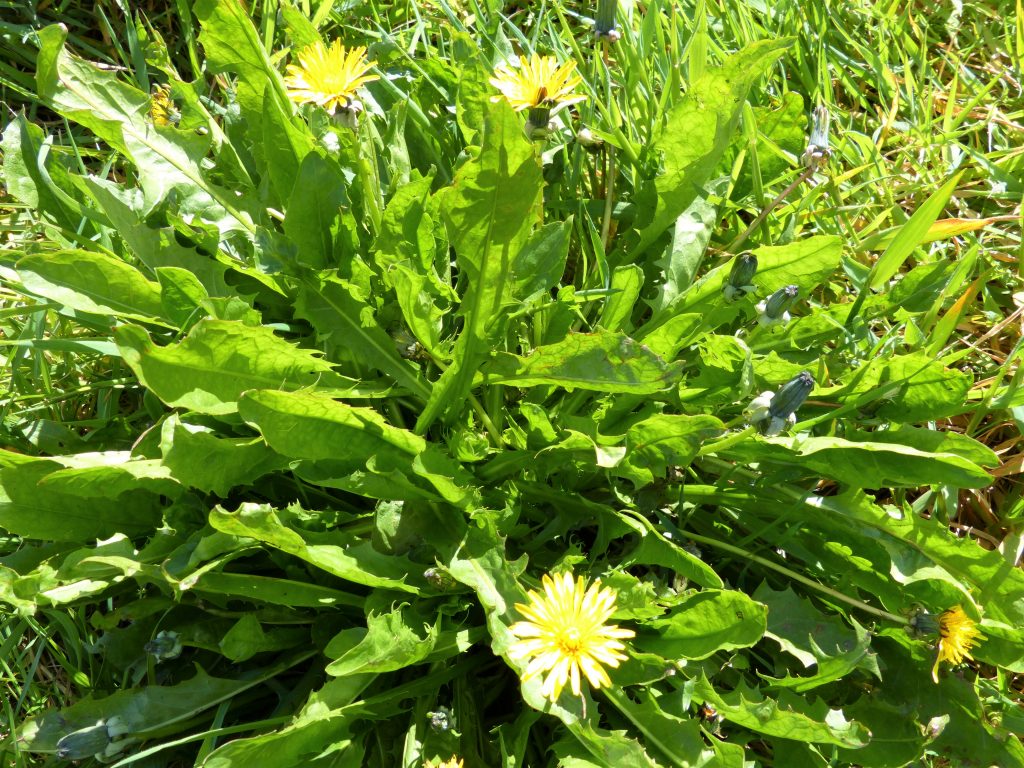 How to correctly identify dandelions
As you can see from the images above, the shape of dandelion leaves can vary depending on the variety. However, they all have a toothed edge AND a hollow stem that created a milky sap when snapped. The stems are not branched, nor solid. That is how to make sure you've found dandelions and not one of its common cousins.
4 simple ways to incorporate dandelions into your diet
Dandelions are bitter, so if you're cooking them it is good to cook them separately in a little water for 2-3 minutes, then drain them and add them into whatever you're cooking. Start with small amounts - think a teaspoon rather than 50 g.
Chop finely and sprinkle as a garnish. Again, think small amounts.
Pour boiling water on a couple of chopped leaves and leave to infuse for 5 minutes and drink as a tea (sweeten if needed).
Add leaves into salad and mix with other leaves and serve with a honey or mustard dressing.