These are quite a rustic version of wild nettle pakoras and are very simple to make, you can use many different wild greens if you like. I had three cornered leek to hand, rather than wild garlic, or you could use a clove of cultivated garlic.
I've also learnt a few things while making these for the 'nth time. I can work with the spices I have (and don't have to stick to those listed), baking powder makes them a little like popcorn (yum!) and I can (almost) eat them as quick as I can make them!
Nettle Pakora Recipe
Makes 20-25
Ingredients
260 g chickpea flour (gram flour)
2 tsp sesame seeds
1 tsp tumeric
1 tsp red chilli powder
1 large pinch of asafoetida
1 large pinch of baking powder
1 tsp sea salt
2 tsp cumin seeds, ground
2 tsp coriander seeds, ground
1-2 green chillies
Handful three-cornered leek (or wild garlic)
100 g nettle tops
250 ml water
500-1000 ml vegetable oil
In a large mixing bowl, combine the chickpea flour, sesame seeds, tumeric, chilli powder, asafoetida, baking powder and salt.
Freshly grind the cumin and coriander seeds and add to the mix.
Finely chop and deseed the green chillies and add in, combining well.
Next, wash and chop the three cornered leek and stir in.
Wash and roughly chop the nettles; use wooden spoons to move them around and cut with scissors.
Gradually add two thirds of the water. Allow the mixture to rest. Check the consistency, you're wanting a wet batter, though not watery. Add the rest of the water if necessary.
Prepare a couple of large plates with absorbent paper kitchen towel on (I didn't have any so just placed them on a dry plate).
Heat the oil over a medium to high heat in a large pan or deep fat fryer - I used a wok and turned them to cook both sides.
Test to see if the oil if ready by dropping a small amount of batter into the oil. If the oil is hot enough the mixture will sink to the bottom then float straight to the top again.
Using 2 teaspoons, shape the mixture into firm balls, each about the size of a very heaped teaspoon.
Fry each pakora for 3-5 minutes, turning if needed or until golden brown, remove with a slotted spoon and place on the kitchen towel.
Serve with sorrel and yoghurt dip (in my book Wild Food Foraging...) or for a vegan alternative, try with Rock Samphire salsa verde.
You may want to check out my other stinging nettle recipes too, or join a spring foraging course.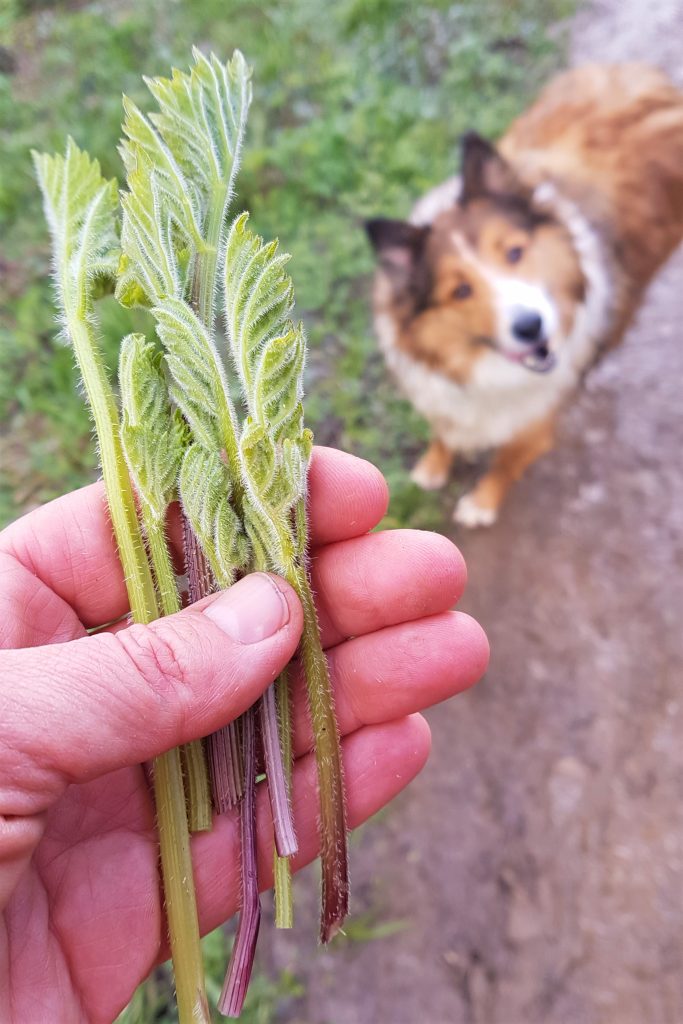 I've written about hogweed shoots many times; celebrating and bringing this weed into the limelight. I'm rather fond of it as an ingredient and have used it in dahl, cake and farinata.
As I write this post during the COVID-19 pandemic I am unable to teach face-to-face, so I thought I'd share more practical pointers on how to identify this plant and important things to remember when picking it.
Here I share an ID video, a bullet-point list of things to remember when picking this plant and a simple recipe to get your started. Plus a taste test for you to do! Which is a great way to get to know this plant and compare our cultivated foods to those our ancestors ate.
How to identify common hogweed
This is the commonest umbelliefer in the hedgerow
Feel of the leaf is furry and gets coarser towards summer
The white hairs on the stem are very prominent and can be seen from a bit of a distance!
Although a member of the carrot family, the leaves of common hogweed aren't feathery, they're quite large with an undulating edge which goes in and out towards the stem.
The leaf edge is serrated (toothed)
The stem can be purple or pale green.
It is common across Europe and grows in grassland, hedgerows, wasteland and cultivated land.
Is it that simple?
Kind of, yes. This is the difficulty of teaching from a distance, if we were in the field together it would be so much easier. So here are some extra tips to keep you safe.
Safely foraging hogweed shoots
If you're not sure, don't pick it
Send me a quick photo just to check!
Make sure it isn't giant hogweed. The leaves of giant hogweed are 1 metre, yes 1 metre long. Common hogweed have leaves half the length of this, at most.
EXTRA NOTE: Never eat this plant raw, and avoid getting the sap on your skin, especially if really sunny. The sap, when it reacts with sunlight can cause blisters which are both uncomfortable and can scar.
FINAL NOTE: I suggest eating this plant in small amounts, I put myself off it by eating too much in one sitting a few years ago! It has an unusual flavour and is best used in small quantities.
Taste Test
Now for a quick way to cook these shoots and a fun taste test to do. Common hogweed shoots are one of the many plants known as poorman's asparagus.
Its flavour is very different, but it is an interesting comparison to do! Cook both asparagus and hogweed shoots in separate pans for a few minutes, strain, season and taste. I'd love to know what you think. Remember that your taste buds are getting used to new flavours so it's worth trying it (in small amounts) a few times over the next few weeks.
It is possible to taste, drink in and immerse yourself in Spring in so many ways. This morning I was standing under my friend's flowering cherry tree, enjoying the floppy bunches of blossoms and their subtle scent.
This afternoon I'm making a Cherry blossom syrup and I'm sharing the recipe with you. Cherry trees typically flower for no more than 2 weeks, making it a special window to enjoy in Spring.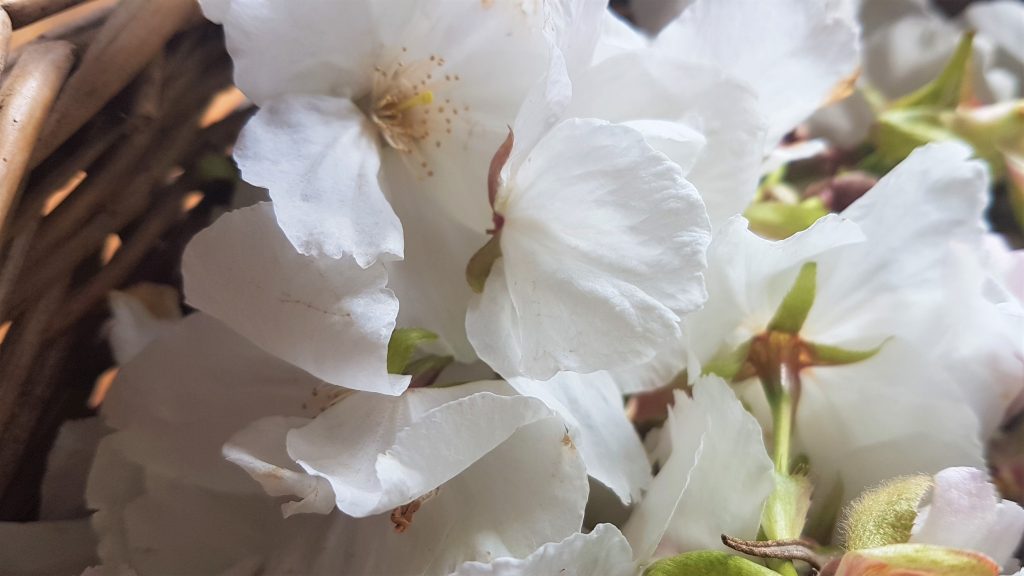 Cherry blossoms have been used in Japanese cuisine for hundreds, if not thousands of years. The Japanese make a special occasion of appreciating the season of cherry blossoms with their Hanami festivals. Hanami translates as 'viewing flowers'.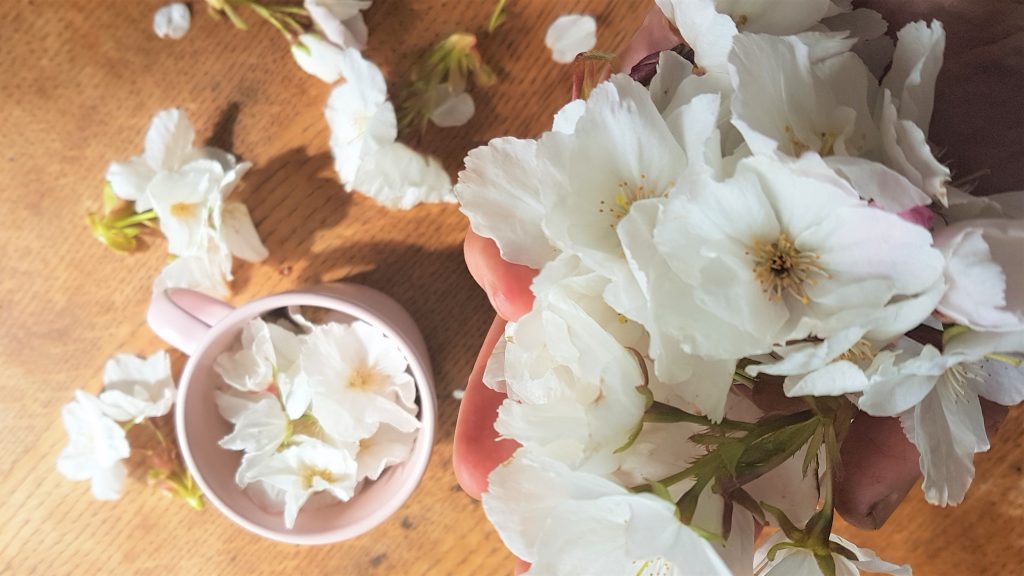 Cherry blossoms are known as sakura in Japan, here I make a simple blossom syrup for drizzling over desserts. Earlier in the season I made a blackthorn flower syrup, and I was interested in finding out how differently they tasted from one another.
Both cherry and sloes (the fruits of the blackthorn) are members of the Prunus family. Here's the recipe.
Cherry Blossom Syrup Recipe
Ingredients
30 g (1.5 compressed cups full) cherry blossoms
60 ml (4 tbsp) boiling water - enough to cover the blossoms
40 g soft brown sugar
Place the blossoms in a mug or heatproof bowl. Cover with boiling water and cover for 2-4 hours. Immediately the water hits the blossoms their almond scent is released. It smells sweeter than the blackthorn blossoms. Lets see!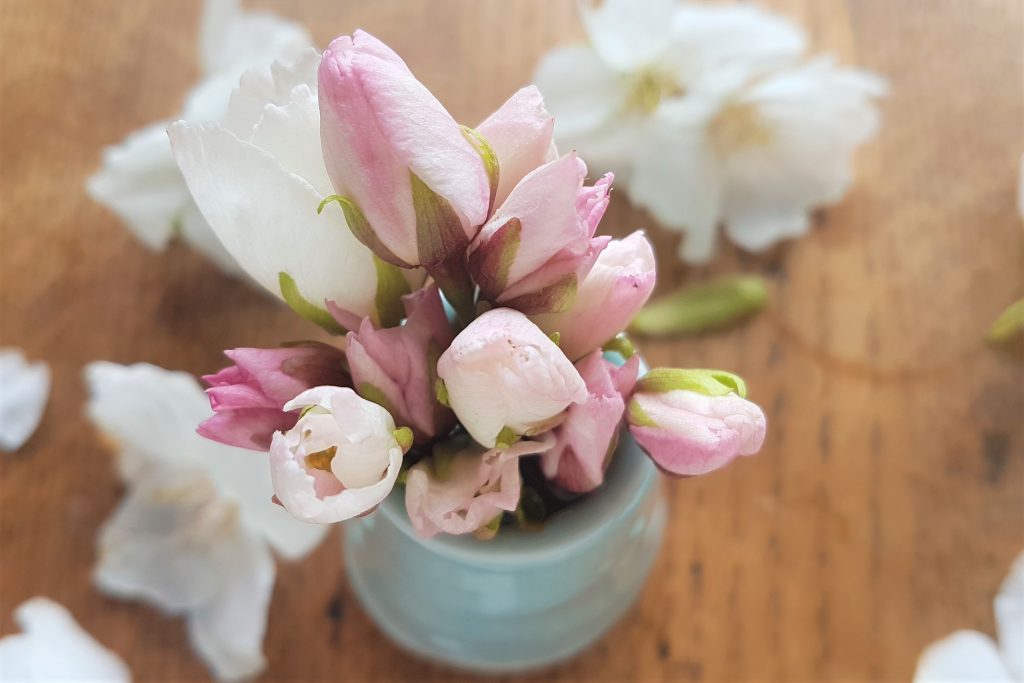 Strain the liquid off the blossoms and place in a small pan with the sugar. Heat over a low heat and stir to dissolve the syrup then store in a sterilised bottle of jar or use immediately in the recipe below.
How does cherry blossom and blackthorn blossom compare in syrups?
Cherry blossoms offers a subtler flavour to blackthorn flowers, with less of a bitter aftertaste. This is also a good reason not to soak the blossoms too long - 4 hours is plenty.
Rice Pancakes with Cherry Blossom Syrup Recipe
The cherry blossom syrup compliments these Japanese-style pancakes perfectly. A simple rice pancake recipe which picks up the sweet, almond flavour of the syrup. These are light and make a delicate dessert.
Serves 4-6
Ingredients
120 ml yoghurt
350 ml water
140 g rice flour
1 tsp cherry blossom syrup, plus extra for drizzling over the pancakes.
Oil for frying
Whisk together the yoghurt and water, then stir in the rice flour and teaspoon of syrup. Combine well and set aside for a couple of hours or more. I use a small frying pan for this recipe, but you could use a full-sized frying pan and make larger pancakes.
Over a medium heat, add a teaspoon of oil until hot. Add a ladle of batter, just enough to make a thin pancake. Swirl the batter around the pan to make an even layer filling the pan. Cook for 2 minutes, flip and cook the other side for 2 minutes. Repeat with the rest of the batter. Serve warm, drizzled with Cherry blossom syrup.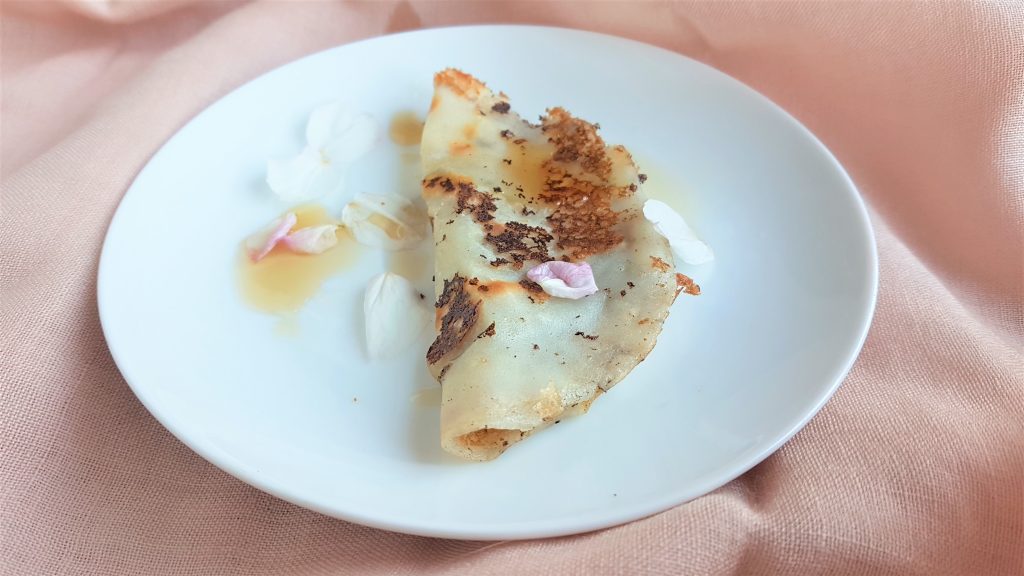 Simple and delicious (wild) onion-flavoured water biscuits. Serve with cheese or just plain on their own. I made these for a group of school children who loved them (phew!). They ate them plain and with wild herb butter on.
This recipe uses three-cornered leek (Allium triquetrium), but you could use any of the wild garlic family. Just follow these simple tips to make sure the biscuits work.
Water Biscuits with Three-Cornered Leek
For these to work you need wilted or slightly dried out three-cornered leek or wild garlic. To do this, pick a couple of days ahead and leave out to dry. You'll need to use the garlic/onion/leek leaves, not the bulb for this recipe. If you're using fresh leaves (and really cant wait) then crush and squeeze the plant to remove some of the fresh sap.
Makes 60-70
Recipe
400 g plain flour
1 tsp baking powder
100 g butter, cubed and cold
Small handful of three-cornered leek, wilted (leave to dry out for a couple of days)
Large pinch sea salt
120 ml (8 tbsp) water
Preheat the oven to 180C/fan 160C/Gas 4. Grease 2 large baking trays. Finely chop the three-cornered leek (or wild garlic leaves). Blend the flour, baking powder, butter, three-cornered leek and salt into bread crumbs with your fingers, or in a food processor.
Gradually add the water to to make a soft dough, not sticky, not dry. Roll out onto a dry surface until as thin as possible, mine made a square of 50 cm x 50 cm, I cut the edges to make straight sides then re-rolled the leftovers and cut these too. Cut into squares or rectangles about 4-5 cm long/wide, sprinkle with water then slice off the surface and place on the baking tray.
Bake for about 15 minutes, till very slightly golden. Remove onto a cooling rack and leave them to harden a little longer. Store in an airtight container for up to 2 weeks. These are rather yummy on their own, or with wild herb butter, or I enjoyed with a Cornish brie!
This is so easy and a great way to use wild herbs and smother baked potatoes, toast, fish or anything you wish with foraged goodness. The butter can either be used within one week or frozen and sliced as needed.
When to make herb butters
Spring is often when an abundance of herbs appear and are at their best. In summer most flower and seed late-summer to autumn. You may find a new bounty in Autumn but bear the flurry of spring greens in mind!
Ingredients
60 g butter, room temperature
1 tbsp wild herbs
Herbs you could use:
sorrel
wild chervil
wild garlic
mints
scurvy grass
wild mustard
hairy bittercress
fennel
yarrow leaves
Method: Wash and dry the herb you are going to use, this minimises the water which doesn't blend brilliantly with fat! I pat mine dry on a tea towel. Finely chop and blend thoroughly with the butter. Use immediately, or if you're going to keep or freeze it, I wrap mine in greaseproof paper and roll into a sausage-shape. Once in a sausage-shape, it it is easy to slice from fresh or frozen and watch melt over hot food.
All the herbs mentioned are taught on my foraging courses, especially in Spring but perhaps not all on the same course! You can also keep up to date with what I'm foraging, making or cooking at @rachellambertwildfoodforaging
This melt-in-the-mouth ice cream really captures the coconut-scent that fills the air around wild gorse bushes on a warm, sunny day. That's why this recipe is so good! Oooh, I can almost taste it as I write this.
I've experimented a lot with gorse (Ulex galli and Ulex europeaus) over the years and here I share with you my best recipe yet. Here I also share my top tips on how to bring out that gorse-scent in foods and drinks - which is not as easy as it sounds!
Plus, a few ideas for using any left-over flowers, including how to make gorse sugar and what to use it with.
Gorse is one of my favourite flowers to use as it is so abundant and in many areas is considered an invasive. And that bright yellow colour is great too!
The Best Gorse Flower Ice Cream Recipe
A pale-yellow, creamy gorse flower ice cream that will have you dreaming of yellow-dotted landscapes...
TOP TIPS:
To best capture the scent of gorse pick the flowers on a sunny, dry day. Then use the flowers immediately.
Over the years I've discovered that fat and alcohol are the best carriers for gorse, otherwise you'll be left with a subtle, moorland scent. Don't get me wrong - I love subtle moorland aromas, but here we're aiming to capture that divine coconuty elixir. Infusing gorse flowers in cream and full-fat milk is perfect for this!
Serves 4
Ingredients
150 ml full-fat milk
200 ml double cream
2 medium egg yolks
120 g unrefined caster sugar
100 g fresh gorse flowers
Place the flowers, milk and cream in a medium saucepan over a low to medium heat and bring just to the boil. Turn off the heat, cover and leave to steep for at least 10 minutes. You can also leave the flowers in over-night, and just re-heat a little to liquefy the cream enough to be able to strain.
Beat the egg yolks and sugar in a bowl, then using a jelly bag or fine sieve, strain in the steeped cream mixture, making sure you extract as much of the infused cream as possible. Stir until the sugar has dissolved.
Leave to cool before placing in an ice cream maker or in a lidded container in the freezer. If you have an ice cream maker, follow the manufacturer's instructions. If not, check every 2 hours and mash until the texture is creamy and frozen.
What to Do with Left-Over Gorse Flowers
I often pick a few too many gorse flowers (better too many than too few). Of course the leftover fresh petals can simply be sprinkled over salads, savoury dishes such as coconut curries or desserts, like this ice cream.
But you could also dry them.
How to Dry Gorse Flowers
I normally just scatter the flowers over a clean, dry surface top or tea towel and allow them to dry naturally in a warm room. Make sure there is enough space around the flowers for them to dry fully. You could also use a dehydrator or airing-cupboard or the very lowest heat in the oven.
What to Do with Dried Flowers
I normally have a small bag of dried gorse flowers at home. They hold onto the flavour well and can be used to make a powdered gorse sugar or gorse syrup. Somehow dried flowers make a better gorse syrup - as the flavour of dried flowers is more intense. I have a gorse syrup recipe in my little foraging book which I use to drizzle over gorse flower rice pudding (also in my book).
Powdered Gorse Flower Sugar
Powdered gorse sugar is easy to make and can be used as a flavoured icing sugar to dust over cakes, or blended with a little water to make a rustic icing. Use about 25 g of unrefined sugar to 2 tablespoons of dried gorse flowers and powder in a spice/nut/coffee grinder. The sugar will keep well for 6 months.
Like this? What's next...
I run monthly foraging courses in Cornwall, where I teach people about abundant edible plants and how to use them. I can also offer tailor-made foraging experiences - there really is nothing like hands-on learning! Feel free to also browse my blog or the members page for more information.
According to my Danish friend, this is what green tastes like!
The colour and flavour of this tart is heavenly! Fresh sorrel leaves add a wonderful lemony tang to desserts and savoury dishes. I used Common Sorrel (Rumex acetosa) for this recipe, but you could use cultivated sorrel or a different wild variety that grows abundantly in your area.
Here I share the recipe. Common sorrel is also one of the plants I cover in my book; Wild Food Foraging in Cornwall and the Isles of Scilly and on Spring Foraging Courses.
Wild Sorrel Tart recipe
I remember squatting in a field in West Cornwall and plucking fresh sorrel leaves from amongst the grass. Stuffing them in my pockets, I scurried away to trial another mouth-watering sweet sorrel tart. Here's my winning version. Rich and tangy, it is perfect served on its own.
Serves 12
Ingredients
75 g salted butter
100 g plain flour
50 g wholemeal flour
1 tbsp dark brown sugar
1–2 tbsp water
A little egg white
For the filling
1 whole egg
4 egg yolks
105 g unrefined granulated sugar
200 g sorrel leaves and stems
150 ml double cream
To make the pastry, cube the butter, sieve in the flour and sugar and rub between your fingertips until the mixture is well combined and resembles breadcrumbs. Add one tablespoon water and bind the pastry together, adding a tiny bit more water if needed. Wrap the dough in cling film, or in reusable wax wrap and refrigerate for 30 minutes.
Preheat the oven to 190°C and grease a 23cm flan tin. Roll out the pastry and place in the flan tin, cutting off any overhanging pastry. Prick all over with a fork, place a piece of baking paper on top, fill with baking beans or equivalent and bake for 25 minutes. Remove the paper and beans, brush lightly with enough egg white to seal any holes and gaps and bake for another 5 minutes, or until golden brown. Remove from the oven and reduce the oven temperature to 170°C.
Meanwhile, wash the sorrel leaves and stems and either put them through a juicer, or blend until smooth, then gently squeeze through a jelly bag. There should be about 150ml of juice. If you have less, squeeze the pulp some more to see if you can make up the amount. Next, in a large bowl, whisk together the egg, egg yolks and sugar. Spoon in the cream, followed by the juice, until there is a uniform pale green colour.
Pour or ladle into the pastry base and, very carefully and slowly, place in the oven. Bake for 25–30 minutes, or until the filling is set in the middle. Allow to cool before slicing and serving.
Hogweed shoots are normally used as a type of so-called poorman's asparagus, cooked on their own, or used in dhal. I also enjoy them in lightly spiced Thai stir fries and recently discovered the joys of eating them in farinata - a lovely subtle addition. I've been foraging hogweed shoots (Heracleum sphondylium) for years, I find them superior to asparagus and a delightful way to broaden my experience of spring. I've written a very thorough blog before on their identification and use as a 'superior asparagus'.
At some point, most of the wild foods I eat are incorporated into some kind of dessert. Call it an inevitable result of having a sweet tooth. Partly I'm just intrigued, though sometimes it feels inspired!
I had an idea of a Pear and Hogweed Cake and had to give it a go, to see whether my idea would stand up to the taste test of reality. Hogweed shoots have an unusual aromatic taste, quite subtle when cooked and I just wondered...
Recently I even tried to make a vegan, gluten-free version of this cake and it came out trumps. So here's the full of everything (butter, eggs and wheat version), and I'll share the other one soon. The recipe below has been tweaked to include a hogweed seed sugar as well. A teaspoon of the seeds are ground with the sugar to make a lovely aromatic topping. Once baked it makes the top slightly crisp too.
Pear and Hogweed Shoot Cake
A beautifully moist cake with an intriguing filling. Perhaps you won't notice the unusual perfume of the hogweed shoots – some do, some don't.
Ingredients
100 g butter
90 g unrefined sugar, plus 1 level tbsp
2 large eggs
1 tbsp baking powder
¼ tsp bicarbonate of soda
100 g whole-wheat flour
30 g hogweed shoots (mainly shoots rather than leaves)
5-6 tbsp apple juice
1 tsp dried hogweed seeds (optional)
200-230 g pears
Preheat the oven to 200°C and grease a 20 cm diameter cake tin. Beat the butter and sugar together until pale, almost white. Add the eggs, one at a time and beat in well before sieving in the baking powder, bicarbonate of soda and whole-wheat flour.
Chop the hogweed shoots into 2 cm lengths and simmer in 3 tablespoons of apple juice for 2 minutes and put aside. If using, use a spice grinder to blend the dried hogweed seeds with the tablespoon of sugar and sprinkle the mixture over the base of the cake tin. Slice the pears to about ½-1 cm in thickness and layer these across the base of the cake tin. Next sprinkle on the semi cooked hogweed shoots. Measure out the remaining juice that the shoots simmered in and add this, one-tablespoon at a time, to the cake mixture, making it up to 3 tablespoons with extra juice. Pour and smooth the cake mixture roughly over the pears and shoots and bake for 25-30 minutes, or until a skewer comes out clean when pierced into the centre of the cake. When cooked, turn out onto a wire rack, with the bottom-side facing upwards and leave to cool. Serve alone, with crème fraiche or clotted cream.
Spring is full of wild ingredients that are perfect for adding into, oh so many different recipes. Farinata - a savoury bake made out of chickpea flour - is a great carrier for these spring wilds. Like an omelette, though egg-less, baked in the oven and extremely tasty, it happens to be vegan and gluten-free too and is easy to add shoots, leaves and flowers, and even seaweed to. Here's my spring version, feel free to add different wilds. I've made a version with hogweed shoots and rosemary too, which was equally delicious.
Wild Spring Farinata Recipe
Makes 7-8 farinatas
Ingredients
300 g chickpea flour
1 litre water
1 heaped tsp sea salt
1 tsp ground seaweed (I used bladderwrack/popweed, Fucus vesiculosus)
Light olive oil or vegetable oil
Large handful three-cornered leek/wild garlic, chopped
Small handful common sorrel leaves and stems, chopped
In a large bowl mix the chickpea flour, water, salt and seaweed. Whisk well to combine. Leave to sit for at least an hour, ideally overnight, it will also keep well in the fridge for up to 4 days. Preheat the oven to 220°C. Using a heavy-bottom, oven proof pan, generously add oil and heat over a medium to high heat, till almost smoking.
Spoon in a couple of ladles full of the mixture, coating the pan with a thin layer, about 0.5-1 cm thick. Sprinkle over some three-cornered leek, allow to cook for 5 mintues, sprinkle on the sorrel and place in the oven for 10 minutes. Remove from the oven and slice off with a fish slice or similar. Re-oil the pan and repeat with another couple of ladles full and follow until you have enough to eat! Best eaten fresh. Like I mentioned, the mixture keeps well in the fridge well for a few days in the fridge, so you don't have to finish it all in one go.
Works well as a snack (shared it on the beach with a foraging group), I also shared it with a friend, served with a potato salad and well-dressed green salad for supper. I run monthly foraging courses which always include homemade, wild tasters. I'm also available for private forays, looking at the weeds on your land, in your area or just for a holiday delight.