Common hogweed shoots, also known as cow parsnip (Heracleum sphondylium ) add an aromatic twist to this Indian dahl recipe. Think of this common weed as the exotic, wild vegetable and you'll be close to what hogweed offers us. A good dahl is simple to create and is a great carrier for mild spices and the shoots offer a subtle flavour, neither overpowering nor underwhelming.
As I'm making this during the COVID-19 pandemic, I'm using spices and ingredients that I have at home. Feel free to increase or replace spices with ones that you have to hand. There really are a multitude of ways to make a good dahl.
I lalso ove the lemon (or lime) addition in this recipe, it compliments the hogweed shoots perfectly. I hope it's a good introduction to this plant for you. It only uses a little hogweed and I don't advise increasing the amount!
Hogweed shoots
To find out more about Common hogweed shoots and how to identify them, check out my blogs on; foraging for hogweed shoots in spring, hogweed shoots in a cake, exploring other names for hogweed and a simple recipe, plus hogweed shoots in a spring farinata.
The Recipe: Dahl with Hogweed Shoots
Serves 3-4
Ingredients
1 cup red lentils 150g
3 cups water 600ml
2 ripe tomatoes
1 tbsp sunflower oil
1 onion
2 cloves of garlic, or equivalent in wild garlic
½ tsp cumin seeds
½ tsp fenugreek seeds
½ tsp mustard seeds
1 tsp tumeric
1 bay leaf
juice of 1 lime or 1/3-1/2 lemon
salt & pepper to taste
4-6 small common hogweed shoots
Place lentils in a sieve and rinse well in cold water. Pour cleaned lentils into a medium sauce pan and add 3 cups of water. Bring lentils & water the boil, reduce heat, cover and simmer for 10 minutes or until the lentils are soft. While the lentils are cooking bring a separate small pot of water to a boil and score the peel of the tomatoes with a sharp knife in the shape of an "X". Place the tomatoes in the boiling water and blanch for one minute. Remove the tomatoes to a bowl to cool, once cool, peel the tomatoes and cut out and discard the tough stem end. Chop the tomatoes and slice the hogweed shoots into 2 inch lengths and put both aside.
Slice onions and garlic and heat the oil over medium heat. Add the chopped onions, cooking till translucent, about 3 minutes, add garlic and cook for 1 minute. Add the cumin, fenugreek and mustard seeds, cook and stir for another 2-3 minutes, then add bay leaf and turmeric. Add this mixture to the lentils and cook for a couple of minutes. Add salt and pepper, lime juice, hogweed shoots and tomatoes and cook for a further 10 minutes or until hogweed shoots are soft. Adjust salt if necessary.
For a really wild Indian thali, why not serve with some of my other wild food recipes. Such as; rice flavoured with ground magnolia, nettle pakoras and dulse dukkah stuffed chapatis from my Seaweed foraging book. Just a thought!
Sign up to access this post
Access this post and more for £3.50. Already a member? Sign in here.
SEASONAL TASTER
MONTHLY BASKET
£3.50 per month
Every month you'll receive 1 seasonal wild food recipe from my edible plant of the month, plus links to additional seasonal posts AND be able to access the last 6 months of Taster basket offerings.
Unsubscribe at any time.

Simple and delicious (wild) onion-flavoured water biscuits. Serve with cheese or just plain on their own. I made these for a group of school children who loved them (phew!). They ate them plain and with wild herb butter on.
This recipe uses three-cornered leek (Allium triquetrium), but you could use any of the wild garlic family. Just follow these simple tips to make sure the biscuits work.
Water Biscuits with Three-Cornered Leek
For these to work you need wilted or slightly dried out three-cornered leek or wild garlic. To do this, pick a couple of days ahead and leave out to dry. You'll need to use the garlic/onion/leek leaves, not the bulb for this recipe. If you're using fresh leaves (and really cant wait) then crush and squeeze the plant to remove some of the fresh sap.
Makes 60-70
Recipe
400 g plain flour
1 tsp baking powder
100 g butter, cubed and cold
Small handful of three-cornered leek, wilted (leave to dry out for a couple of days)
Large pinch sea salt
120 ml (8 tbsp) water
Preheat the oven to 180C/fan 160C/Gas 4. Grease 2 large baking trays. Finely chop the three-cornered leek (or wild garlic leaves). Blend the flour, baking powder, butter, three-cornered leek and salt into bread crumbs with your fingers, or in a food processor.
Gradually add the water to to make a soft dough, not sticky, not dry. Roll out onto a dry surface until as thin as possible, mine made a square of 50 cm x 50 cm, I cut the edges to make straight sides then re-rolled the leftovers and cut these too. Cut into squares or rectangles about 4-5 cm long/wide, sprinkle with water then slice off the surface and place on the baking tray.
Bake for about 15 minutes, till very slightly golden. Remove onto a cooling rack and leave them to harden a little longer. Store in an airtight container for up to 2 weeks. These are rather yummy on their own, or with wild herb butter, or I enjoyed with a Cornish brie!
This is so easy and a great way to use wild herbs and smother baked potatoes, toast, fish or anything you wish with foraged goodness. The butter can either be used within one week or frozen and sliced as needed.
When to make herb butters
Spring is often when an abundance of herbs appear and are at their best. In summer most flower and seed late-summer to autumn. You may find a new bounty in Autumn but bear the flurry of spring greens in mind!
Ingredients
60 g butter, room temperature
1 tbsp wild herbs
Herbs you could use:
sorrel
wild chervil
wild garlic
mints
scurvy grass
wild mustard
hairy bittercress
fennel
yarrow leaves
Method: Wash and dry the herb you are going to use, this minimises the water which doesn't blend brilliantly with fat! I pat mine dry on a tea towel. Finely chop and blend thoroughly with the butter. Use immediately, or if you're going to keep or freeze it, I wrap mine in greaseproof paper and roll into a sausage-shape. Once in a sausage-shape, it it is easy to slice from fresh or frozen and watch melt over hot food.
All the herbs mentioned are taught on my foraging courses, especially in Spring but perhaps not all on the same course! You can also keep up to date with what I'm foraging, making or cooking at @rachellambertwildfoodforaging
I've never really got on with making alcohol. As much as I like processes (I tend to think that people are either predominantly process or goal orientated), whether it is wine or beer, I seem to lack the knack of transforming weeds into a fermented intoxicating liquor. Perhaps I am just not dedicated enough to making and drinking alcohol.
Give me the task of making a wild dessert, or creating a sweet cocktail and I'm all over it, with pleasing results. Ah, I suppose I can't be great at everything.
Where I fail, thank goodness others succeed at making wild drinkable goodies. I've benefited from a few too, I remember about 20 years ago, my boyfriend at the time making the first batch of nettle beer I experienced and loving the result. Actually, I was lucky to get even a sip as he fell head over heals for this spring tonic. Light, refreshing and mildly alcoholic, it disappeared in a matter of days...
Making Nettle beer is easier, quicker and less technical than making making other beer and wines, and having had some success myself, I wanted to share the delights of brewing these greens so you too can enjoy this spring drink.
Nettle beer has been made for hundreds of years and is traditionally drunk in spring when the nettles are at their best. Have a go yourself;
Nettle Beer Recipe
Light, refreshing and mildly alcoholic, don't expect this spring tonic to hang around for long. You will need a few days patience while it ferments though, just a few days...
Ingredients
3 litres water
400 g nettle tops
12 g cream of tartar
350 g unrefined sugar
juice of 2 lemons
1 tsp yeast
Pour the water into a large pan and bring to the boil, add the nettle tops, lower the heat and simmer for 15 minutes. Strain off the liquid into a large bowl, or saucepan and discard the cooked nettles. Stir in the sugar, lemon juice and cream of tartar and leave to cool. When the liquid is luke warm, add the yeast, cover with a muslin cloth or similar and leave to ferment for 5 days.
Siphon the beer into sterilised flip top bottles and drink soon, or keep in a dark, cool place. Nettle beer has a reputation of exploding (as it keeps on fermenting), so flip top bottles will at least save you from shattering glass. Otherwise, just drink soon.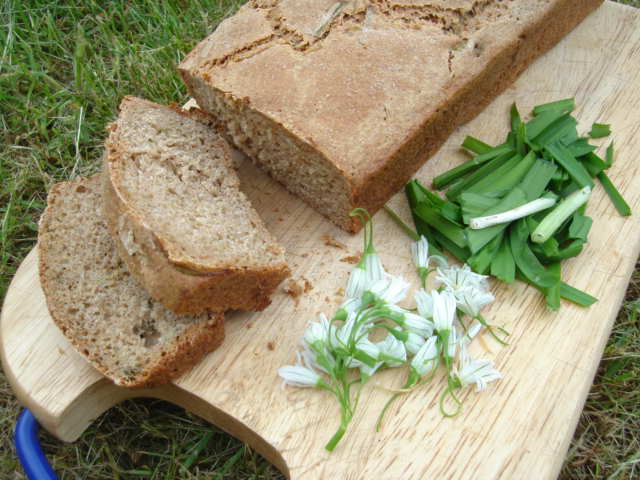 Here in West Cornwall, Three-cornered leek (Allium triquetrium) is considered an invasive; an unwanted weed that is hard to get rid of.
My solution: Eat it!
Three-cornered leek is mild, sweet, onion-y flavour and is one of the plants I call spring medicine. Here I offer a simple recipe and tips to make sure your bread works really well. 
I often think that if a plant is in abundance, consider it a gift. Here's a simple recipe which uses a handful of this wonderful, edible weed. You could also use wild garlic, aka ramsons (Allium ursinum) or any of the allium family that you have growing nearby. You can use the leaves, stems, flowers, seed-pods and roots.
Find out more about three-cornered leek here.
TOP TIP: Three cornered leek is quite a watery plant in the height of spring, so it is good to mash it under a rolling pin, or mash it as you knead to ensure you don't have pockets of moisture in your bread mix. You may need a little less water because of this too.
Three-Cornered Leek Bread
You can use the stems, leaves, bulbs and flowers for this recipe to create a mild, onion flavoured bread. Remember you need permission to dig up the roots.
Ingredients
200 g fresh three-cornered leek
500 g wholemeal flour
Pinch of sea salt
1 tsp quick yeast
1 dessert spoon honey
400 ml warm water
1 tbsp olive oil
Wash the three-cornered leek thoroughly, removing any limp outer leaves, and, if using, the outer layer of the bulbs and roughly chop everything into 3 cm pieces. Preheat the oven to 200°C. Put the flour, salt and yeast in a large mixing bowl and stir. Add the three-cornered leek and stir in. Dissolve the honey in the warm water and slowly add to the flour mix. Stir in, adding the oil. Knead for 10 minutes, then shape, and place in a greased 1 kg loaf tin.
Cover with a clean cloth and leave in a warm place for 20 minutes, or until doubled in size. Bake in the oven for 40-45 minutes or until hollow sounding when tapped.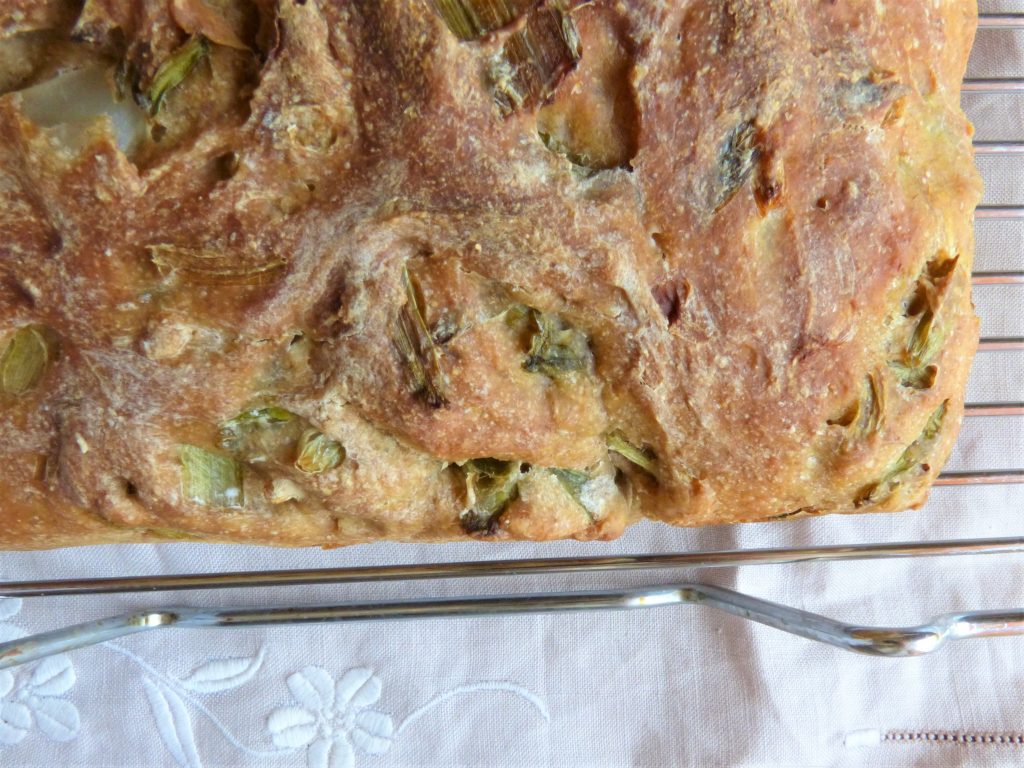 Here are some other posts for three cornered leek. Enjoy.
Spring is exciting - a combination of warmth and light gets plants, animals and human-animals going. Sometimes, for me, too going. The term mad march hare feels too close to home for me, as I prance around the hedgerows picking wild greens as if there is no tomorrow, or as if spring won't last forever, which of course it won't. Lets face it, we've often being waiting a while for it to come too.
Many wild greens respond well to being plucked, for example when the tops of nettles are snipped off this stimulates more growth and leaf tops to grow. So below I've chosen 5 common wild foods that arrive every year, a plenty and are happy to be plucked, appreciated and eaten.
Here are my top 5 pick-ables (non-technical term :)) for this spring, I have loads of nuggets of information and recipes to share on each of them, though for now I'll keep it brief.
My Top Five Spring Wild Foods
1. Stinging Nettles Urtica dioica
Never under-estimate a common plant, believe me, nettles are a valuable food and we are lucky to have them. Their nutrition and versatility makes them easy to use (just avoid being stung) and they are (in my humble opinion and according to nutritional facts) better for you than spinach or cabbage.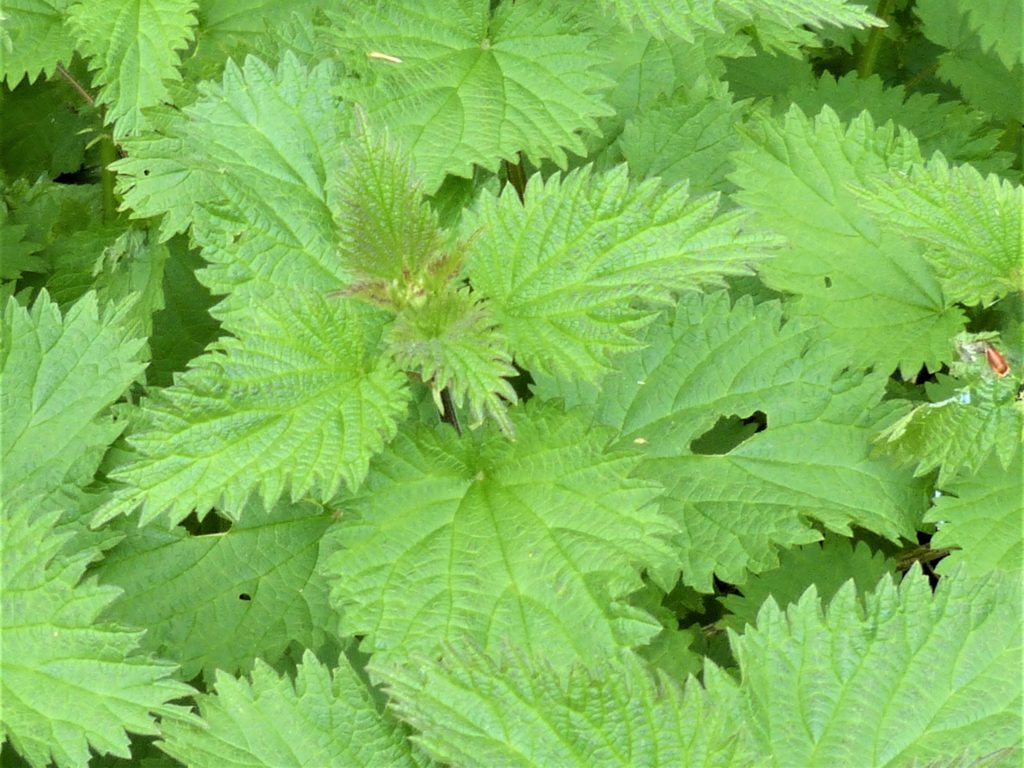 2. Wild Garlic Allium family
The wild onion, garlic and leek family is vast and too large to go into here, though their commonalities include a wonderful garlic taste (and smell), anti bacterial properties and support for the heart. The whole of the plant can be used and it can be used raw or cooked - raw is stronger. It is one of the key edibles of spring.
3. Cleavers/Goosegrass Galium aparine
Cleavers spread. They grow up to 1 metre long and can be collected without a bag (let them stick to you). The leaves are a wonderful spring cleanser and support the urinary and lymphatic system, though best cooked to avoid the not so pleasant hairy texture when raw and use in small amounts. I like to just pluck the tops and sweat them with nettles in butter or oil.
4. Alexanders Smyrnium olusatrum
Writing this from the south coast of Cornwall, Alexanders are definitely on my list. Abundant and often considered an invasive (land managers around Bristol have also practically pleaded with me to pick and eat them too). Nutritious and versatile, if you just know how to use them and pick them early on in spring.
5. Common Sorrel Rumex acetosa
Sorrel sap is tart and lemony and at its best in spring, and once you get your eye in, you'll start to see it everywhere. Delicious added to so many savoury and sweet dishes, though don't eat too much as it contains oxalic acid which isn't good to eat in large amounts. A little is fine though.
So there you have it, my five favourite wild greens, and yes greens are best in spring. Next spring, maybe I'll share a different five, as there's always more to share.