Waitrose Food Magazine - March 2020
Can you see those bright iridescent tips of the Bushy Rainbow Wrack seaweed below?
Maybe you've seen this seaweed in a rock pool in Cornwall and couldn't believe your eyes?! This photo was taken by a friend of mine who was stunned by this shining seaweed. So far, I haven't had a camera with me (rare, I know, in today's world) when I've found myself staring, in a mini state of ecstasy, into a rock pool at this seaweed.
Seaweeds are awesome, I never tire or bore of them. They confuse me (they are both simple and complex), amaze me, feed me and allow me to breathe (quite literally as seaweeds produce oxygen). Aah, seaweeds.
Why does the Bushy Rainbow Wrack shine?
One of my seaweed tutors told me that seaweeds are all about sex. I know what she means; seaweeds are hell-bent on reproduction and survival, sometimes having multiple ways of reproducing themselves. Another of their survival tactics is making sure they get enough light in order to photosynthesis.
That's the practical reason that the Bushy Rainbow Wrack seaweed has iridescent tips; to control light. Seaweeds have a lot to contend with, and previously I've written about how and why seaweeds can survive the snow and frost. Their environment is constantly changing in terms of temperature, light, speed and water. Think about it for a moment - a hot sunny day, those seaweeds could be almost cooking in rock pools, and hours later they are submerged in sea water with reduced access to light and dealing with anything from calm, lapping waves to gale force storms. Adaption is the name of the game in order for seaweeds to thrive
It seems that the Bushy Rainbow Wrack seaweed's ability to attract and dispel light helps protect it when underwater or when over-exposed to light. With it's crystal structure it reflects sunlight to give the appearance of glowing, and will actually increase or decrease it's seeming glow depending on how much light there is. Wow. There is so much about seaweeds we still don't know.
So, perhaps you're wondering whether the Bushy Rainbow Wrack is edible?
A reasonable question to ask a forager. The answer is yes, and, there are nutritional and health benefits too, but not  necessarily for humans. If you want a tasty, nutritious seaweed I would teach you other ones first.
I offer thorough courses in seaweed foraging throughout the year which are constantly being updated as my knowledge grows and is integrated into my foraging practice. You are welcome to join a seaweed foraging course and come and explore the wonderful, edible world of seaweeds, to walk, look, nibble and learn with me.
Bushy Rainbow Wrack Cystoseira tamariscifolia 
References:
news.algaeworld.com
Science Advances, April 2018
livingscience.com
Thank you also to Barry and Sue Petitt for the extra photos.
I have a little secret, although I don the appearance of a forager, at heart, I'm an artist, an optimistic awed by the natural world kind-of-one. As an artist, seaweed does it for me. I can spend hours looking in a rock pool at the beautiful colours and textures, how the water moves the weeds and the play of light on the water.
As an artist playing at being a forager (albeit teaching foraging for 12 years and writing books about it), being able to harvest and eat these works of art is an added bonus. Last week was the first good spring tide of the year, which was a wonderful opportunity to hand pick a few seaweeds for personal use. Dulse (Palmaria palmata) is one of my favourite snacks when I'm working at home, it's nutritious, salty and tasty. There's lots I could tell you about it, and indeed I do in my seaweed book, and on my seaweed courses.
How and why to dry seaweeds
Traditionally, seaweeds are dried to preserve them. I like to taste dulse fresh on the beach, though if I'm picking more than a few fronds I dry them at home. There are many ways to dry seaweeds, which I discuss on my courses and in my book, though my preferred way is; naturally. Energy is a big topic these days. This is a great way to reduce and be efficient with our energy consumption in order to respect and take care of our one and precious earth by using the natural energy of the sun.
So, I dry dulse over clothes racks and on tea towels in my sunny, warm kitchen. It only takes a day (or two if it's cooler).
This morning, as I descended into my kitchen and opened the curtains I entered another artist's heaven.
I loved how the light played on this beautiful red seaweed as it was drying on tea towels. Every stage of seaweeds I love. The carefully harvesting of them (just enough and only half of each dulse plant), rinsing and patting them dry, laying them out on tea towels and hanging them on clothes racks. Watching them shrink and dry, checking there's no damp clumps. Then storing them in clean jars for snacks or to incorporate into potato dishes, quiche, dukka, and chapatis, recipes which you can see in my seaweed book. I also have a blog for a more-ish Dulse Soda Bread (gluten-free) which comes with several recommendations, whether or not you're gluten-free.
Tips for drying seaweeds at home
If you can, dry them naturally in a warm room or airing cupboard
First rinse and pat dry the seaweeds, removing as much liquid as you can. You can also use a salad spinner for this
For small seaweeds, lay them out over tea towels with enough space around them to let them breathe
For larger seaweeds hang over clothes racks
Check the seaweeds regularly to make sure no wet clumps are forming
Once dried, store in clean jars, open bowls or containers
I've always loved the taste of Carrageen seaweed, I find it so comforting and soothing, which is just what you need when you're feeling under the weather - a nourishing, easily digestible, tasty food or drink. Maybe it's the 14% Irish in me (see note below), or maybe it's just that carrageen is delicious and good for you.
Coughs and colds can be an inevitable part of the winter (or any time of year in fact), and it is a time to be gentle with yourself (as gentle as the cooked texture of carrageen even) and get a kick-ass remedy that helps you slip through the day more easily.
This has definitely helped me in those times of need.
It has stopped my tickling cough, and incessant cough, you know the type I mean?
Oh by the way, Irish Moss (Chondrus crispus or Mastocarpus stellatus) is another name for Carrageen and the tradition of using this seaweed in Ireland continues to this day, including for coughs, colds and sore throats. This syrup recipe isn't actually a syrup, you can sweeten it of course, though its thick, syrupy texture comes from the natural thickener created by cooking carrageen.
All you need to make this is a few simple ingredients and choose your preferred flavourings. For example, you could use;
Though I like this kick-ass version with;
Carrageen
Tumeric
Black pepper corns
Root ginger
Honey
You could look up the benefits of some of these ingredients and make your own choice (or just look in your cupboard and see what you have to hand). Carrageen is one of the seaweeds I cover on my seaweed foraging courses and give you lots of info of how to identify it, seasons to pick and all the nutritional benefits.
I also talk through the process of drying seaweeds and include additional recipes for carrageen in my seaweeed foraging book and offer a fab Carrageen panna cotta recipe in my first book; Wild Food Foraging in Cornwall and the Isles of Scilly. All information that is available to you if you'd like to access it.
Back to the recipe...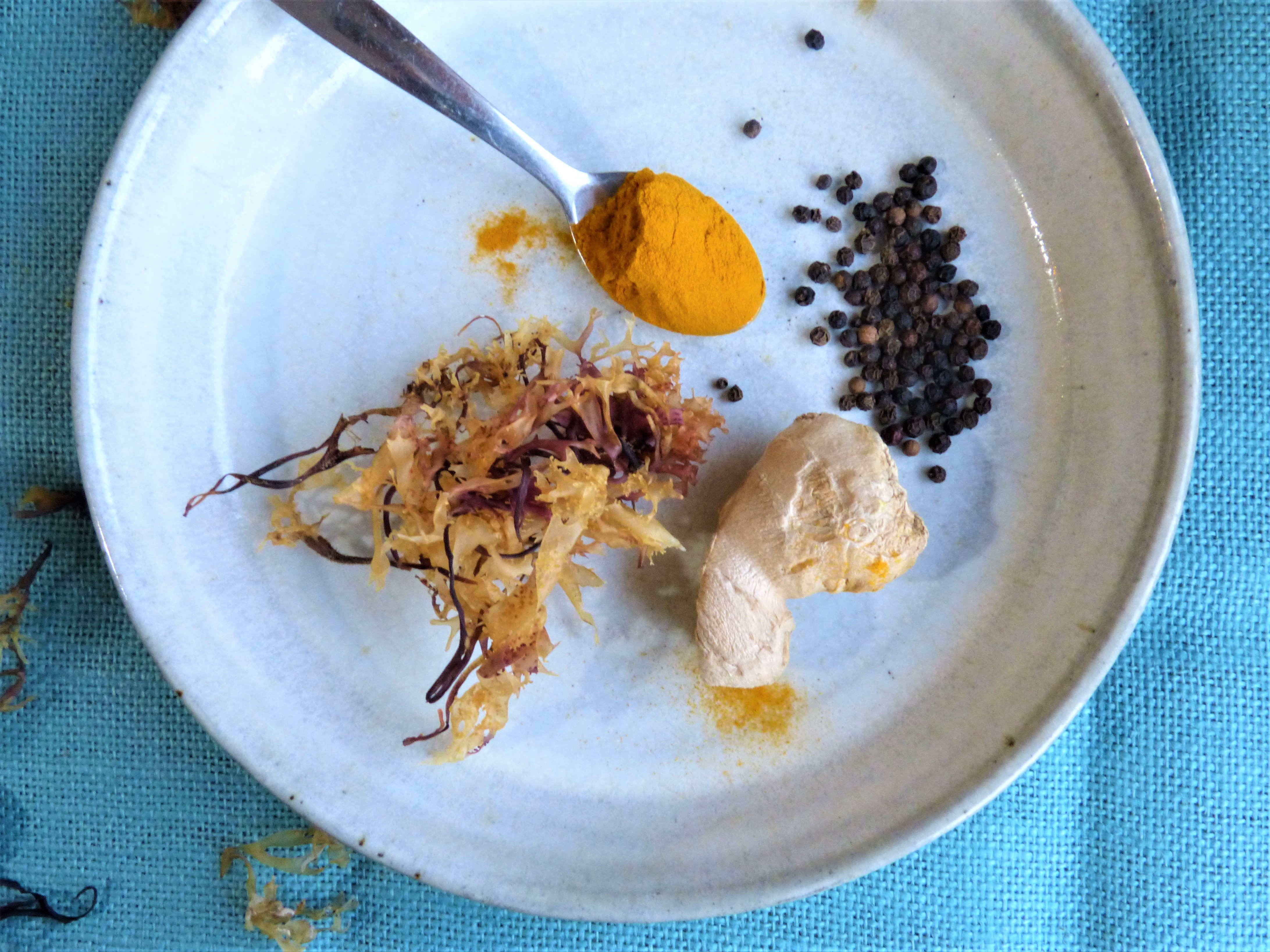 Here it is, simple, nourishing and very soothing for a cough, cold or a sore throat.
Carrageen Cough and Cold Syrup
This recipe makes enough for about 4-8 cups worth (depending on the size of your mug or cup). It will keep for up to a week and you can heat a mug at a time to sip through the day. I have 1-2 mugs a day, depending on how severe my cough is and how much relief my body is craving.
Ingredients
1200 ml water
50 g dried carrageen (Mastocarpus stellatus or Chondrus crispus)
2 tsp tumeric powder
2.5 cm chunk of root ginger (chopped)
2 tsp black peppercorns
Honey to taste.
Place the carrageen seaweed in a suitably sized saucepan and leave to soak for 15 minutes. Add the other ingredients, except the honey, bring to the boil before lowering the heat and simmering for 15 minutes. The seaweed will break down into smaller pieces and the result for a be a thick, syrup like liquid. Sieve and put the syrup aside to cool. Heat as and when needed, adding honey to taste, keeping the remainder in the fridge for up to a week, covered.
Somethings are worth closing your eyes to drink; think of the sea, get cosy and sip slowly. This is in part because this drink wins in taste, though not for looks. Close your eyes, enjoy, get better and drink.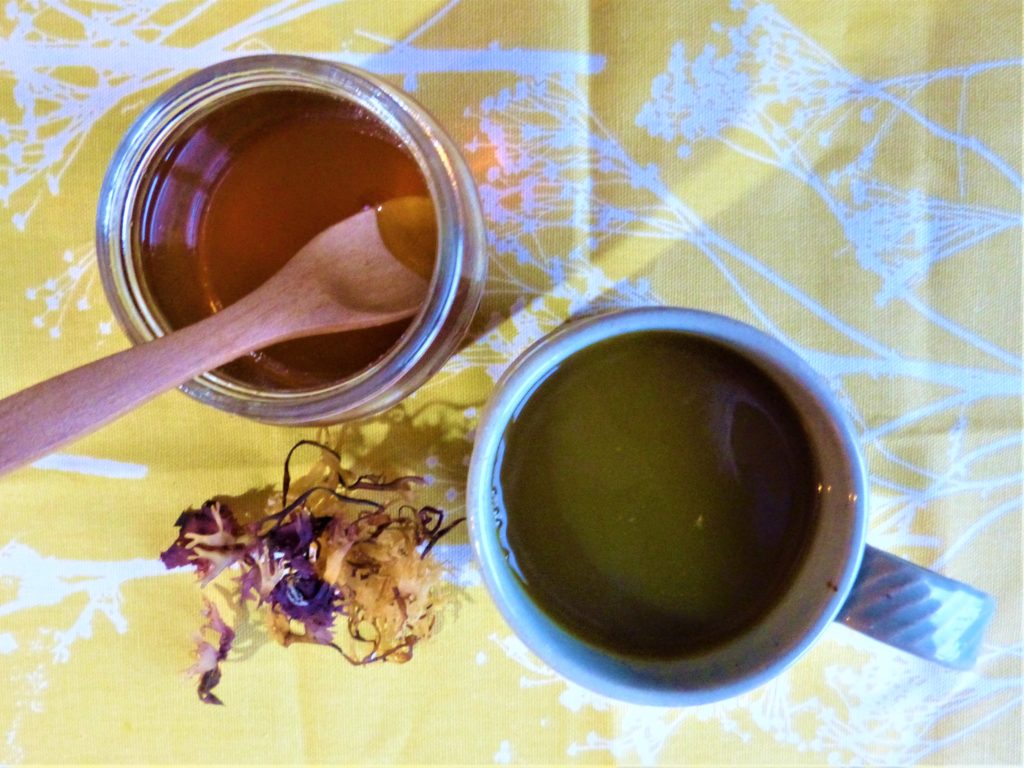 (Mug of carrageen cough and could flavour, sweetened with honey)
Carrageen, Carrageenan, Irish Moss, Chondrus Crispus, Mastocarpus stellatus
"One way to get the most out of life is to look upon it as an adventure."
William Feather
Life's an adventure isn't it?!
And adventures can come in all shapes and sizes, from trying a new food to exploring a new place, to starting a family, a new relationship or a new career... Some like their adventures small, some big. Most of us are somewhere in the middle, I think.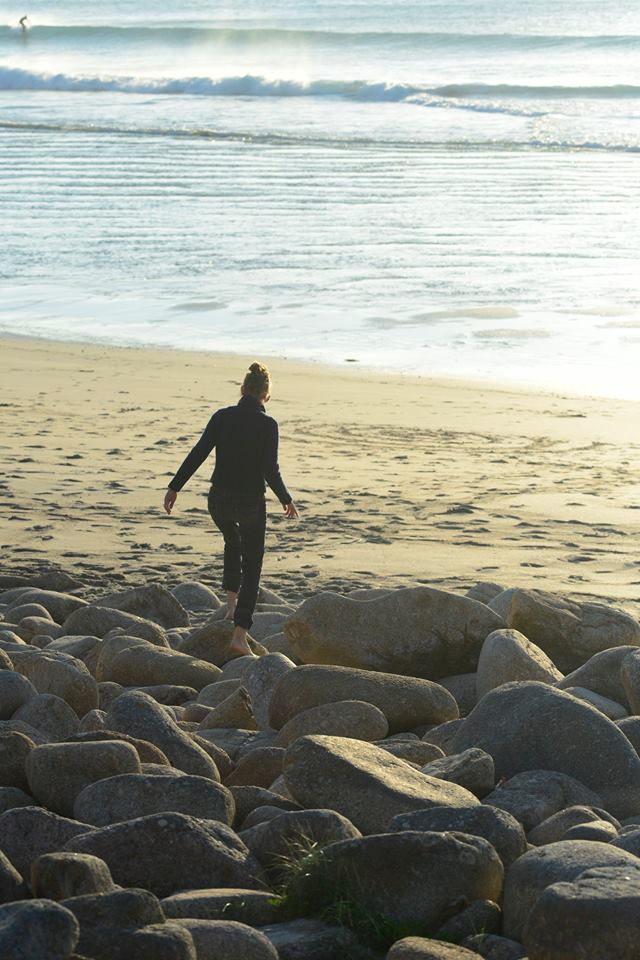 For me, I've always loved to go to the edge, the edge of the cliff, the edge of the dance move, the edge of the water, the edge of what is comfortable and safe. As a very physical child some of those explorations ended in pain (the edge of the wall was not a happy ending), though most actually gave me a sense of exhilaration, or excitement and a dream of something more.
As I've grown older my aspirations have shifted from wanting to be a stunt woman (true), to learning how to take healthy risks, how to look after myself (and others) and how to weigh up whether I have the skills, strength and courage to go for something. Sometimes I do not, and admitting this also feels brave sometimes.
Learning about seaweeds has been an adventure for me, opening me to a whole new world to explore and one that gives me a smile of satisfaction at the end of the day. I also found the further I explored, and the more edges I went to, the jewels that I found were richer, more colourful and rewarding.
"…adventures don't come calling like unexpected cousins calling from out of town. You have to go looking for them."
Source unknown
I've played it safe till now, leading courses where seaweeds are accessible and easy to get to. You see, I want everyone to be able to learn about seaweeds. However, I also want to share some of these adventures and to really take you to the edges where you can experience a whole other level of seaweeding, and one I rarely get to share with others.
Seaweeds like Alaria Esculenta (Dabberlocks) and Sugar Kelp (Saccharina latissima), which like to be in deeper water and have more space. These feel like a special find, and the wonder of reaching these places akin to discovering a hidden beach and having it all to yourself.
If you have the desire to adventure further, to join me across the rocks, to the edge, this is what you may find, and so much more that neither you nor I can put words to, yet, or perhaps ever. Maybe it will come from an inner smile, and a sense of exhileration and satisfaction at the end of your day.
"The tragedy of life is not that it ends so soon, but that we wait so long to begin it."
W. M. Lewis
Rachel Lambert leads seaweed foraging courses, please read the details for every course (or ask) to find out how challenging the venue is, I am also available for private forays, where I tailor an adventurous seaweeding experience just for you (tide and weather allowing) - for those who feel steady on their feet and want to climb, slide and step further out to explore the world of seaweeds. Courses are always timed with the tide and are only run when the conditions are safe, no unnecessary or ridiculous risks are taken, and safety and learning about the seaweeds and the sea is always paramount.
I'm standing on a rock at low tide, layers of organic matter below my feet, formed over billions of years. Beyond me is the great ocean herself, perhaps where we all came from and marking a time before our migration, along with (now) terrestrial plants, onto land.
Around me swells the seawater, not so different from the water contained in each of my body's cells. Somehow my sense of time, body and what I am made of is changing; I feel both young and old, connected and in wonder at my ancestry of rock, sea water and seaweeds.
Yes seaweeds, also so much older than this human form of yours and mine.  Red seaweeds (that's another discussion of what constitutes a red seaweed, which I'm happy to have, another time) are thought to be the oldest of them all. Somewhere between 1.6 and 2 billion years old. Their structure, reproduction and variety are fascinating, though what interests me the most is their flavour.
And on the topic of seaweed flavour, I have an unanswered question.
Actually I have many, and a sketchbook of seaweed notes still to decipher. Though for now, I have one, little question:
How come the Red Seaweeds have the most Interesting, Multi-layered and Tantalizing Flavour?
(Baked Oysters, Pepper Dulse Seaweed and Lemon Butter - from my Seaweed Foraging Book)
I could speculate that the answer is because of red seaweed's structure, their both basic and complex form, and a form that comes with age. Though when I asked some of the UK's best seaweed experts (people who have taught me and whom I deeply respect) they just shrugged their shoulders and answered 'I don't know'.
Despite their age and importance there is still so much we don't know about seaweeds, and that in some ways, is part of their wonder. An unknown, underwater world that, here in the British Isles, reveals itself just twice a day to us.
I love standing by the water's edge, on the boundary of this unknown world, there is still so much to learn and already so much to share.
On the theme of red seaweeds (there are also hundreds of species of green and brown ones to enjoy), their complex flavour means they are both compatible with a wide range of foods from quiche to lemony dressings, and also bring out 'umami', a flavour which heightens all other flavours. Simple things like bread, rice and potatoes become something inspired with a little bit of seaweed added.
Taste, colour, flavour and texture all make up the components of food that is an enjoyable part of our human experience, and that's without mentioning the vast nutritional benefits of seaweeds. Of course, the amounts you use and the combinations you create all constitute how enjoyable seaweeds are, and those details are important.
Here's more information on seaweed foraging courses and here's a link to the calendar dates for seaweed foraging courses to puruse, or book. Each beach has a different range of seaweeds and each season offers something different too.
I'm often asked;  what seaweed can you eat? What about this stuff (pointing to the piles of spewed up seaweed on the beach that's been turfed up by the powerful, stormy Winter waves). Hmm, no wonder people are put off eating seaweed.
Not all seaweed is good to eat. Perhaps you've heard me say this many a time; pick seaweed that is fresh, cutting it fresh ensures you know how fresh and old it is. The old, decomposing seaweed is good for compost, though not for eating. There is one exception though: After a storm.
Although it is easy to tell decomposing to freshly cut. Personally, I'm still not intimate enough with seaweed to know if seaweed is just freshly broken off by the storm, or has been 2 or 3 days floating at sea. I go by eye, feel and stay on the safe side. In other words, I prefer to harvest seaweed that is attached.
I have many favourite seaweeds (or my favourites keep changing), and one of these is Sugar Kelp (Saccharina latissima), and yes, it is a combination of sweet and salty. I've spent many hours at the lowest tides searching for this seaweed, though mostly, it has alluded me. I know it is there in abundance - plenty times have I seen it washed up on the shore, though often it grows just a little deeper than a low, low tide, and I'm not a diver, not even a snorkeler anymore. Though to my my surprise, it was a storm that brought Sugar Kelp closer and fresher to me.
Can you eat seaweeds that have been washed up after a storm?
Seaweed needs to be attached, through a 'holdfast' (seaweed's equivalent to a root) in order to live. This could be attached to another seaweed, rocks, stones or shells/shellfish. In this case, the storm had thrown up young Sugar Kelp, attached to small stones, so still living - hurray!
Never had foraging Sugar Kelp felt so easy, and the freshness still guaranteed. Walking along the beach, at a medium low tide, I was able to harvest this seaweed and dry it at home for soups and desserts. Below are Apple and Sugar Kelp Turnovers from my Seaweed book . This seaweed has particularly good amounts of magnesium and calcium, and used to be chewed dried by children as salty 'sweeties'.