Wohoo!! Elderflowers are one of the wonderful and wild flavours of summer. Over the years of foraging them I've created a lot of new recipes with them. Here I share ten of my elderflower recipes with you, just follow the links for step-by-step instructions.
The basis of soooo many elderflower delights. There is a reason why elderflower cordial is popular; it's divine, light, summery and full of anti-viral, health-giving properties too!
This pink elderflower cordial is fun with the scent of elderflowers and rose. It's made using pink elderflowers - did you know you could use these as well?!
Elderflower recipes don't have to be sweet. These elderflower fritters can be sprinkled with icing sugar or served with soy sauce and lemon for a savoury twist.
Made with sun-ripened strawberries, this homemade elderflower and strawberry jam is luxurious!
Pear is the perfect level of sweetness and flavour to help show off elderflower cordial in this pear and elderflower jam. I love it in the centre of my elderflower doughnuts too!
These elderflower doughnuts are such a treat! Freshly made, filled with elderflower and pear jam (above) and dipped in an elderflower glaze - definitely worth celebrating.
A moist and dense cake glazed with orange slices simmered in elderflower cordial. This elderflower and glazed orange cake is a wonderful addition to summer desserts.
I'm really proud of these Swedish style elderflower jam tarts. Filled with my favourite pear and elderflower jam. They're better than any jam tart I had as a child!
Made using sponge fingers, this a quick, creamy, elderflower fruity, layered sponge. Perfect for impromptu gatherings.
Another creamy dessert, this elderflower and sea salt ice cream was inspired by sea swims followed by supping elderflower cordial.
A little sweet, a little wholesome, this elderflower and apricot bread is sweetened with elderflower cordial and sticky, black dates.
12. Elderflower tea!
Let's never forget tea! Elderflower tea is good for colds and flu as it's anti-viral. Just use a teaspoon of dried flowers per person, leave to brew for 10 minutes then strain. You can use fresh flowers, just fork them off the stems first and discard the stems.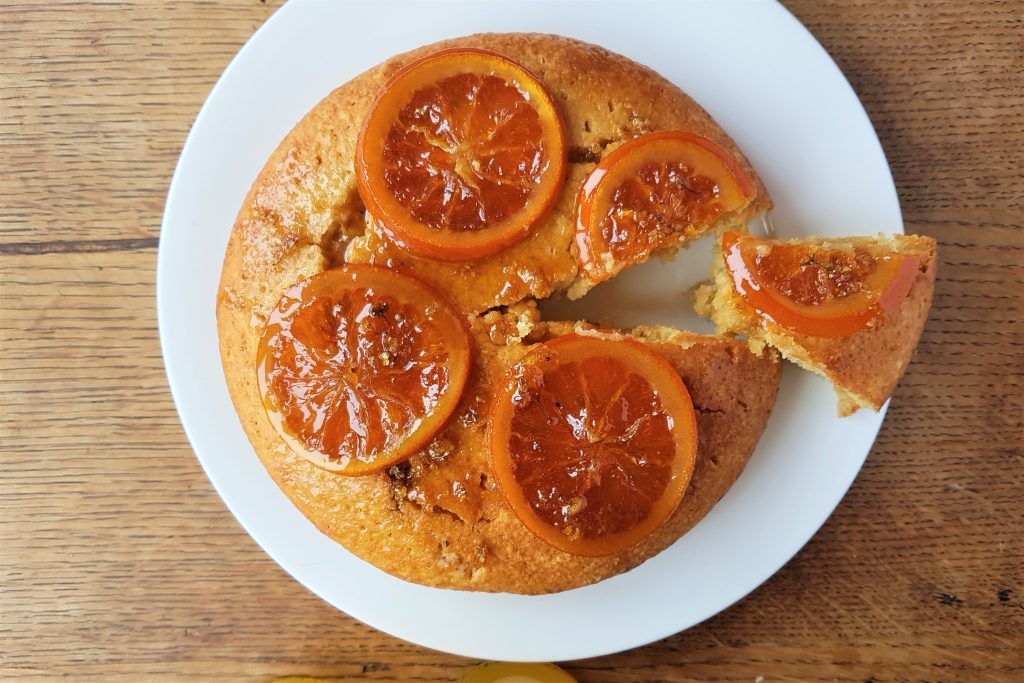 This glazed orange and elderflower cake uses a particularly orangey version on my elderflower cordial (use 1 lemon and 2 oranges instead of following the usual 3 lemons recipe).
Actually, that orangey elderflower cordial was the inspiration for this moist and luscious cake. The basic cake is based on an Italian recipe and is beautifully filling and simultaneously light. How does it do that?!
If you're looking for something different to do with your elderflower cordial and love cake, why not try this!
Glazed Orange and Elderflower Cake recipe
A wonderful zesty cake with a moist filling and sticky top. The elderflower flavour is subtle but present and gives a summery feel to this substantial sponge.
Serves 12 (slices)
Ingredients
335 g flour
1 tsp baking powder
100 g golden granulated sugar
170 g butter
185 ml elderflower cordial
2 free-range eggs
For the glaze
200 ml elderflower cordial (ideally with 1 lemon and 2 oranges, not the other way around)
100 g golden granulated sugar
1 orange
Preheat the oven to 350°F/180°C/fan 160°C and grease or line a 20 cm diameter cake with a little butter. Sieve the flour and baking powder into a large bowl. Mix in the sugar until blended. Cut the butter into cubes and using your fingertips, or a food processor, combine the mixture until it resembles fine breadcrumbs.
Whisk the eggs and pour into the breadcrumb mixture. Gradually pour the cordial in as well and stir just enough times to bind the mixture. Don't over stir and you may not need to use all the liquid either. Spoon into the cake tin and bake for around 40 minutes. The cake is done when golden and a skewer in the centre comes out clean, and the sponge is coming away from the edges of the tin.
While the cake is baking you can make the glaze.
Slice the orange through the side to create 0.5-1 cm slices. You'll just need 4 slices, but you could use more and cut into smaller pieces. Place in a small pan and cover with the cordial. Bring to the boil then lower to a simmer for 40 minutes - 1 hour. I cut a piece of baking paper and place on top of the water to help keep the moisture and heat in while the orange slices simmer. You could also place a lid partially on.
The slices are ready when the peel is translucent and soft. If the pan is drying up and the slices are still not ready, you may need to add a little more cordial, or 2 parts water to sugar if you've run out of cordial! Ideally there's some syrupy liquid left when the slices are ready, which can be poured over the cake.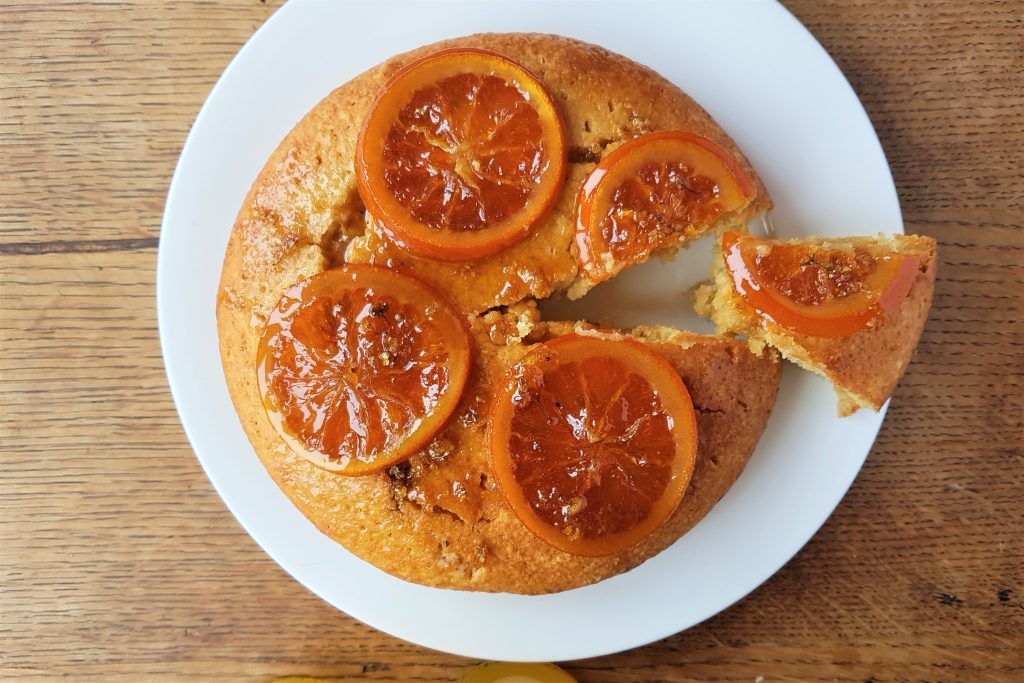 The slices in the image are a little under-done, so yours should be more translucent than this. Mine ended up chewier than I wished, but still pleasant.
When the cake is ready, take out of the oven, leave for 10 minutes then remove from the tin on to a cooling rack. Allow the cake to cool completely before heating up the syrup. Prick the top of the cake and pour it evenly over the sponge, followed by placing the orange slices decoratively on the sponge.
Enjoy on its own or with cream or crème fraiche.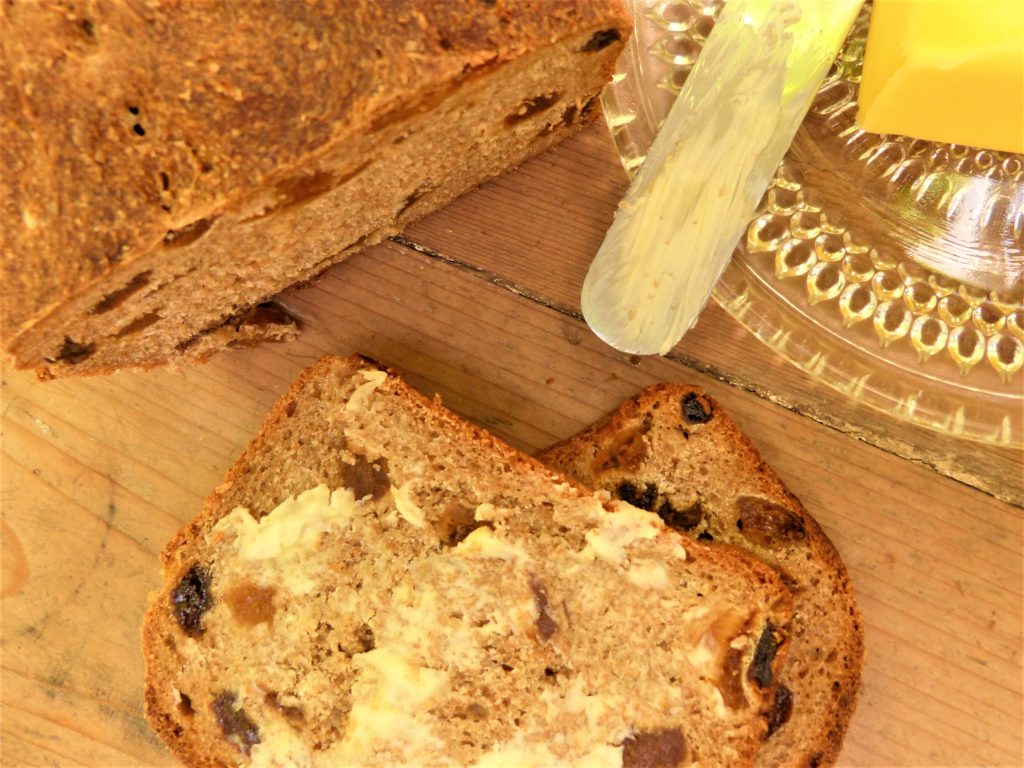 Got too much elderflower cordial and don't know what to do with it all? Sick of drinking elderflower cordial and making it into cocktails? This recipe for Apricot and Elderflower sweet bread was created out of just one of those moments.
Not wanting to make it too sweet I used a wholemeal brown flour and the result is reminiscent of malt loaf, or some say walnut and date bread, but a little more wholesome and wild!
I've shared this bread (made it into sandwiches with my pear and elderflower jam) for wild food foraging course participants and bespoke foraging experiences and it has gone down a treat. So here's the recipe.
Elderflower and Apricot Sweet Bread recipe
I love the tangy, depth of black, un-sulphured apricots and this recipe transforms them into dark, sticky treats in this fruit bread. Great served with butter and an unusual way to enjoy elderflower cordial.
Makes one loaf
Ingredients
500 g wholemeal flour
125 g un-sulphured apricots, chopped
1 tsp quick yeast
½ teaspoon of salt
300 ml warm water
100 ml elderflower cordial
1 tbsp olive oil Pre-heat the oven to 400°F/200°C/fan 180°C. Add the flour, salt and quick yeast into a large mixing bowl and stir. Add in the apricots and raisins, and slowly add the warm water and elderflower cordial to the flour mix, adding the oil in too. Knead for 10 minutes or until smooth and elastic, cover with a clean cloth and leave for an hour, or until the dough has almost doubled in size.
Once the dough has risen, grease a baking tray or loaf tin; punch the dough back so it flattens and place in an oiled bread tin or tray. Allow to rise again until almost twice the size, before baking in the oven for 35 to 40 minutes or until dark brown on top, and hollow sounding when tapped. Tip out onto a cooling rack and allow to cool.
It was salty lips and a refreshing, post swim sup of elderflower cordial that moved me to create this. Even as I write, in my mind's eye I can still see the coastal horizon and taste the combination of sweet elderflower and salt. The ice cream is rather good too, and perfect if you crave the sea but live inland.
Since writing this, I also discovered a lovely gin and elderflower ice cream that I enjoyed courtesy of Bruichladdich distillery. It was divine! I may not have managed to recreate that one, but this recipe is equally enjoyable, even without the alcohol!
Elderflower and Sea Salt Ice Cream recipe
Serves 6
Ingredients
2 free-range egg yolks
185 ml elderflower cordial
35 g (2 tbsp) unrefined sugar
500 ml lightly whipped cream (approx. 425 ml double cream, before whipped)
½ - ¾ tsp rock salt, lightly crushed
In a medium to large bowl whisk the egg yolks until light and fluffy. In a small heavy bottomed saucepan add the cordial (less the 2 teaspoons) and the sugar and stir over a medium heat until the sugar has dissolved. Bring to a rolling boil and using a sugar thermometer allow to reach 110°C or until a metal spoon dipped in the syrup forms thin threads from the last drops. Slowly pour the syrup into the eggs and whisk constantly, add the rest of the cordial and continue to whisk until the mixture thickens and resembles a mousse.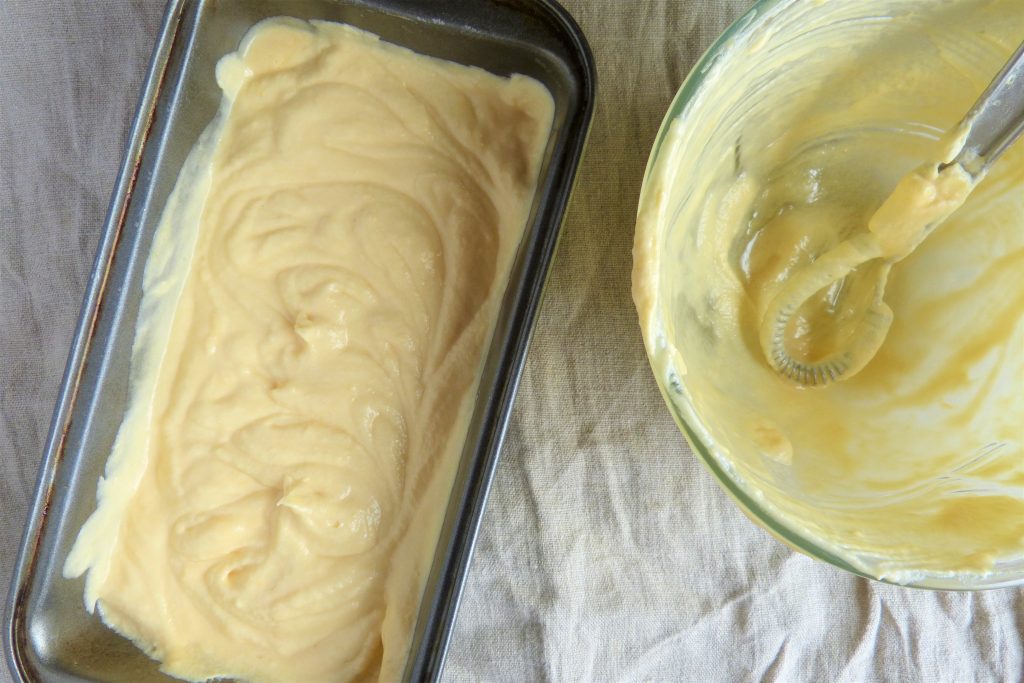 Spoon into a one litre Tupperware or tin, cover and freeze for one hour. If you haven't already, roughly crush the salt in a pestle and mortar – you want small pieces of rock salt, but not dust. After an hour take the semi-frozen ice cream out of the freezer, thoroughly stir in the salt and freeze until ready to use. Remove from the freezer 10 minutes before serving, lovely with summer fruits.
This wild elderflower recipe was a joy to discover! If you haven't tried an elderflower jam, I highly recommend it! These jam tarts were inspired by Hallongrottor - Swedish jam tarts and I based this recipe on one by Vintagekitchennotes.
Traditionally these deep tarts are filled with raspberry jam - afterall, wild raspberries are abundant in Sweden! Though here in Britain I'm surrounded by flowering elder trees, so creating this recipe felt appropriate!
A couple of years ago I started experimenting with flavouring jam with elderflowers. I've created a delicious local strawberry and elderflower jam, and this year a pear and elderflower jam. Pears aren't a dominant flavour like strawberries, so they match perfectly with elderflower.
Elderflower is full of health benefits and is a wonderful flavour of summer, this recipe uses elderflower cordial too.
Elderflower Jam Tart (Scandi-style) recipe
Making jam tarts was a childhood treat when I was growing up. Often made on a rainy day, when we didn't know what to do and using whatever jam we could get our hands on! In comparison, these are special and thoughtful - filled with wild, homemade elderflower jam, a thick, crumbly pastry and topped with slices of almonds. I love them!
Makes 10 tarts
Ingredients
125 g butter, room temperature
35 g (3 heaped tbsp) golden granulated sugar
100 g plain flour
1/2 tsp baking powder
40 g corn flour
10 dessertspoons elderflower and pear jam
Small handful of whole almonds (or less of flaked almonds)
In a large bowl beat the butter and sugar together, either by hand or in a food processor. Sieve in the flour and baking powder and combine. Add in the corn flour to create a soft dough. Don't over mix, just enough to combine everything.
Preheat the oven to 350ºF/180ºC/fan 160ºC. Grease ten holes in a muffin tin with a little butter. Break off walnut-sized pieces of dough and press into each greased hole.
Fill each hole with the jam. Slice the almonds and sprinkle on top. Bake for 20 minutes or until golden (mine took a little longer. Leave to cool and firm up in the tin before removing. Enjoy with a glass of elderflower cordial indoors on a rainy day, or outdoors in the sun!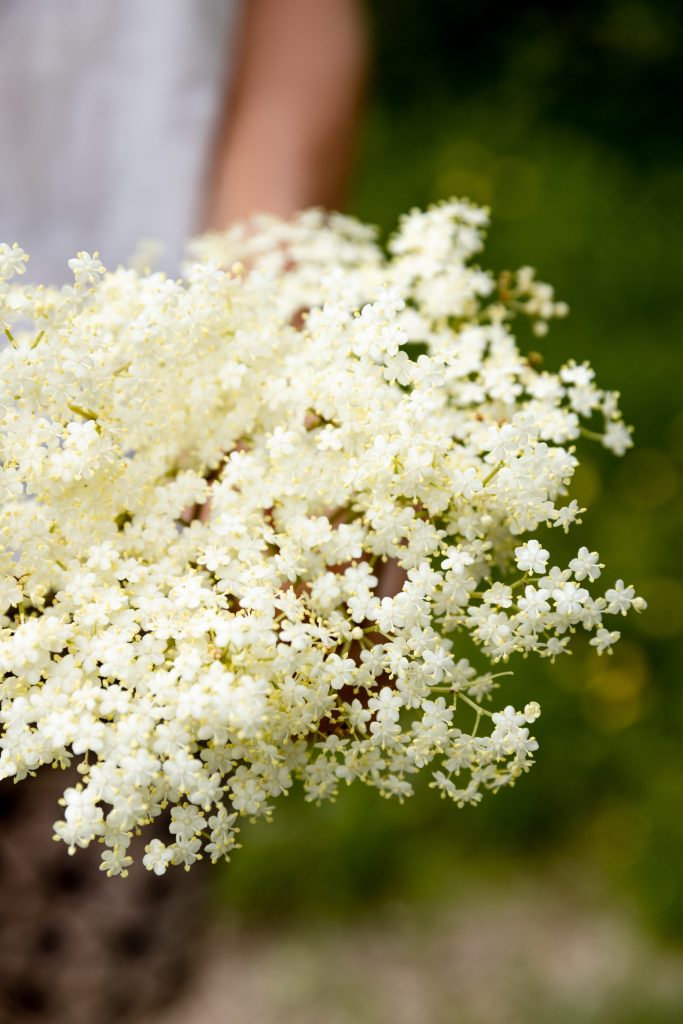 The light flavour of pears matches the summer scent of elderflowers perfectly in this delicious elderflower and pear jam! I've made it in jam sandwiches for participants on my summer foraging courses and bespoke forays. I also love it in my double elderflower doughnuts.
So let me get straight to the point and share this recipe with you.
Oh, though don't forget I have a whole Elder section on my blog with lots of recipes for elderflowers and elderberries!
Elderflower and Pear Jam recipe
If you already have elderflower cordial, you can make this jam anytime of year. It goes perfectly with cheese and crackers. Though to be honest, I solely made it as a filling for my elderflower doughnuts. There I feel it has found its perfect home, or hole.
HOT TIP: Remember to pick your elderflowers on a warm, dry day and remember elder is a tree and not a plant. Why not come on a wild food foraging course and learn more about how to identify and use wild foods
Makes one 350-430 g jar
Ingredients
300 g peeled pears, stalk and pips removed
90 ml (6 tbsp) elderflower cordial
225 g golden granulated sugar
Chop and blend the pears with the elderflower cordial then place the blended, syrupy fruits in a small saucepan with the sugar. Simmer and stir to dissolve the sugar. Using a jam thermometer turn the heat up to medium/high until the jam reaches 105°C or thickens to jam consistency. Be careful not to burn the bottom. Pour into a large sterilised jar and allow to cool before sealing.
Delicious in Elderflower doughnuts or on toast.
'Oh my god' – is the standard response to the first mouthful of these. Everyone knows that chocolate tastes good, but the additional richness of elderberry in these light, fluffy and hot desserts makes these utterly irresistible.
They're also happen to be gluten-free, wheat-free, dairy-free and free from refined sugars, not too sweet and very, very yummy!
I'd love to hear from you if you make these... do get in touch or keep in touch via instagram, facebook or pinterest.
Elderberries make a rich, flavourful cordial which is used to create these mouth-watering dessserts.
Elderberry and Chocolate Soufflé Recipe
This is a simple and stunning recipe and tastes so good! Light, fluffy and hot desserts with the addition of rich, elderberry cordial make these utterly irresistible.
Serves 4
Ingredients
50 g dark chocolate (minimum 70% cocoa solids)
2 tbsp corn flour
150 ml elderberry cordial
2 medium eggs, separated
1 medium egg white
Preheat the oven to 190°C/fan 170°C. In a small saucepan add the chocolate (broken into small pieces), corn flour and elderberry cordial, and heat on a low heat until the chocolate has melted. Increase the heat a little and stir until the mixture thickens before putting aside to cool slightly.
Meanwhile, in a spotlessly clean bowl, whisk the egg whites until they form soft peaks, then mix the egg yolks into the elderberry and chocolate sauce. Spoon one third of the egg whites into the sauce and combine, before softly folding in the rest. Pour into 4 ramekins or heatproof expresso mugs and bake for 12 minutes or until the souffles have risen sufficiently. Don't be tempted to open the oven while they're baking as this will cause them to sink.
Serve immediately, straight from the oven so you can enjoy their fluffy, risen texture and while every mouthful is still warm. Enjoy!
I'm amazed how different raw and cooked elderberries taste. As a forager I should know that cooking can transform wild, unpleasant flavours into something exquisite, though still I'm amazed!
Raw, elderberries are 'meh' and eating too many can cause a stomach upset. I actually will only eat a couple, as I've had adverse effects from eating even a few more.
Luckily, cooked elderberries create a divine liquor that's to be cherished for all it's flavour and health-giving properties. They're deep enough in flavour to have previously been used to enhance wine and even port, and once cooked, you'll know why. This also makes them far more tempting than raw ones too.
The goodness in elderberries...
Elderberry is a scientifically tested remedy for coughs and colds, and can help bronchitis and similar conditions. Abundant in vitamin A and C, they're ideal for preventing winter colds, and were used long before oranges and lemons hit our shores. They also contain valuable anti-viral properties, helping the body keep viruses at bay.
When to pick elderberries
The season is short for elderberries, once they start to appear, wait for them to turn a deep purple, almost black colour before picking. Here in the UK they are ready in September, across the world, be ready in early autumn.
Elderberry Cordial Recipe
This warming cordial is full of rich body, mingled with warming spices fit for an autumn or winter's day. The spices are definitely worth adding and really enhance this drink. Sip a thimble-full just as it is. Drizzle over sponge cake, over hot porridge or dilute for hot or cold, soft or alcoholic drinks. Close your eyes and enjoy...
Makes 500 ml
Ingredients
500 g elderberries (stalks removed)
10-15 cloves
2 cm piece of ginger root, chopped
1-2 cinnamon sticks
4 star anise
350 g dark sugar
Place the berries in a medium saucepan and add enough water to just cover them. Crush the berries with the back of a wooden spoon, add the spices and bring to the boil, simmering with a lid on for 20 minutes. Pour the elderberry water through a sieve, mashing to ensure you extract all the juice.
Clean the pan and return the sieved elderberry water to the pan, adding the sugar. Place on a medium heat and stir while the sugar dissolves, simmer for 10 minutes before allowing to cool and storing in a sterilised bottle.
Want to find out more?
Elderberries is one of the fruits I teach on my autumn foraging courses. Elderberries come from the Elder tree, which produces flowers in late spring/early summer. I have a whole section of my blog dedicated to Elder - feel free to browse!
Nature isn't always subtle and for good reason. Colourful petals draw a bee towards a flower's nectar-filled centre, a bright white tail of a rabbit confuses its predator during a chase, a colourfully feathered bird attracts a mate.
Colour is one of the first things my eyes register when I'm given a drink or a plate of food, smell comes second. Scientific research confirms too, that we often eat with our eyes.
Not surprisingly, it was the outrageous pink followed by the familiar scent of elderflowers that my senses delighted in when making this cordial. My memory bank of colours, tastes and smells noted a while ago that rose was a flavour for me, mixed with pink elderflowers I was super excited!
I have plenty of elderflower recipes to share, and several delicious rose recipes too.
This is an easy cordial to make, with a stunning colour and aromatic scent of rose and elderflowers. Dilute for drinks, turn into elderflower champagne or use is desserts.
Pink Elderflower and Rose Cordial Recipe
I adapted this recipe to the amount of pink edlerflower (Gerda) heads I could reach and the number of rose petals that would come away easily in my hand. Double it, if you choose, freeze it, drink it, enjoy!
Makes 750 ml
Ingredients
10 elder flower heads (flowers forked off stems)
Handful of rose petals (fragrant ones)
200 g unrefined sugar
500 ml boiling water
1 unwaxed lemon
1 oz citric acid (if you're going to store the cordial for a while)
Ideally pick the flowers in full sun. Fork the flowers off the stalks or snip off the main stalks, putting flowers aside and discarding the rest. Place the elderflowers and rose petals (check to remove bugs) in a heatproof bowl or container, along with the sugar. Pour over the boiling water. Squeeze in the juice of one lemon and leave for 24 hours.
Strain the mixture through a sieve, or preferably a fine muslin cloth, and funnel into clean bottles, or dilute and serve immediately!
I run foraging courses throughout the year, helping you discover the colours and flavours of each season. You can view dates and content here on my foraging course calendar.
I also offer a monthly membership where I send you recipes each month as I go through my wild and seasonal year. Sign up is easy - view membership blogs here and see what you could access.
It's Elderflower (Sambucus nigra) season, and the time for celebrations and desserts! I share more on Elderflowers, including how and when to pick the best Elderflowers and a recipe for Elderflower cordial and sorbet in my blog.
Elderflower cordial is a great way to capture the aroma of summer.  This recipe can be made using oranges or strawberries, or let me know if you use a different fruit and it works!
Orange and Elderflower Layered Sponge
I fall into nostalgic heaven with this sweet (though not overly), quick and easy mouthful of a dessert, complete with a beautiful hint of summery elderflower. I first made it for a friend's birthday, and it was the perfect solution to an impromptu gathering; something sweet and celebratory between a sea swim and raucous meal out. Of course you could make your own healthier sponge, though this is the quick version.
Ingredients
100ml double cream
160ml elderflower cordial
250g mascarpone cheese
25g unrefined icing sugar
24 sponge fingers
2 oranges or a handful of strawberries
1 tbsp unrefined icing sugar (optional)
Whip the cream into soft peaks and put aside. In a small pan, heat 100ml of cordial and quickly dip half the sponge fingers in the syrup then lay them on the bottom of a square serving dish, flat plate or clean chopping board.
In a medium bowl, blend the mascarpone, 2 tablespoons of cordial and the 25g of icing sugar, then fold in the whipped double cream. Spread a layer of the mascarpone and cream mixture across the soaked sponge fingers. Finely slice the fruits, removing any pips and pith you come across. Tip half the slices into the remaining cordial, and lift out, one by one, placing a layer across the cream mixture.
Quickly dip the rest of the sponge fingers and layer onto the orange slices, followed by the rest of the cream mixture. Lastly, dip the remaining orange slices and place on the top, drizzling any last drops of cordial over them and place in the fridge to chill for two hours. Remove from the fridge, dust with icing sugar, if using, cut into squares and serve immediately.
Here I discuss my love of Elder and how we can take care of this richly providing plant.
As September arrives and passes, I love to see the decadent fruit of the Elder tree (Sambucus nigra); heavily laden fruits, dropping off her flexible branches. I considerate it a non-alcoholic equivalent to red wine, such is its depth and richness. As I imagine drinking in this liquor it feels as if I'm doming a thick, warm coat that will protect against all weathers and ills. Ah, such is the medicine of the Elder in autumn.
One wild plant in increasing trend seems to be the Elder, made famous by the cultivated and bottled, Elder flower cordial, it can become a must have by the avid forager. I have always said that foraging is a skill to be shared and enjoyed, not policed, though I do believe that with the increasing interest in foraging comes responsibilities. Shared responsibilities for the plants that we pick.
It reminds me of the company Forager, who have been supplying wild foods to chefs and restaurants for 15 years (depending when you read this), and stand by their premise that sustainable foraging is at the forefront of their business. Actually, if they weren't sustainable in their approach, their business would have folded years ago.
Here in Cornwall the presence of the Elder is rather sparse, I often get asked where to find it, and just tell people to keep looking - it isn't as abundant as other areas of the UK. For this reason we, foragers, need to take extra care. I have a few spots for elderberries, and never use all of them each year, nor do I take all the berries I can find. Actually, I gain a certain satisfaction from picking so little that my foraging goes un-noticed. Ah, the simple pleasures of life.
In my Environmental Policy for my business I outline only ever picking 10-30% of a plant, and only when it is abundant. Actually, when it comes to seeds and berries, I would suggest 10%, and I'm sure you can imagine why. If you pick too many Elder flowers earlier in the year, there will be little or no Elder berries, and if you pick too many Elder berries you are inhibiting the future life cycle of the Elder.
Recently, when attempting to gather a few, last Elder berries at the end of the season, I felt saddened by what I saw. Many of the bushes I have previously visited were not completely, but quite thoroughly stripped of berries. These first berries were near footpaths. As I ventured off piste, so to speak, I found more abundance - of course - on Elders that were harder for humans to reach.
We share our natural world with humans, animals, birds and minerals, it is a fine balance, a glorious balance, and one we can take some care and responsibility for. So, with that in mind, once I'd foraged my berries and plucked the majority of them off the stems for cordials and rich treats, I took the remaining berries (each containing a seed) back to the wood. I took them to areas where Elders like to grow, where Elders grow nearby and I dispersed the seeds.
Now, I'm no gardener, and maybe none of those seeds will take, though somehow I trust the ruthlessness of nature and the alchemy of the weather and the soil to make that decision. However, for those of your who are gardeners, please feel free to plant Elders, cultivate, propagate and tend them. Lets take care of the Elders.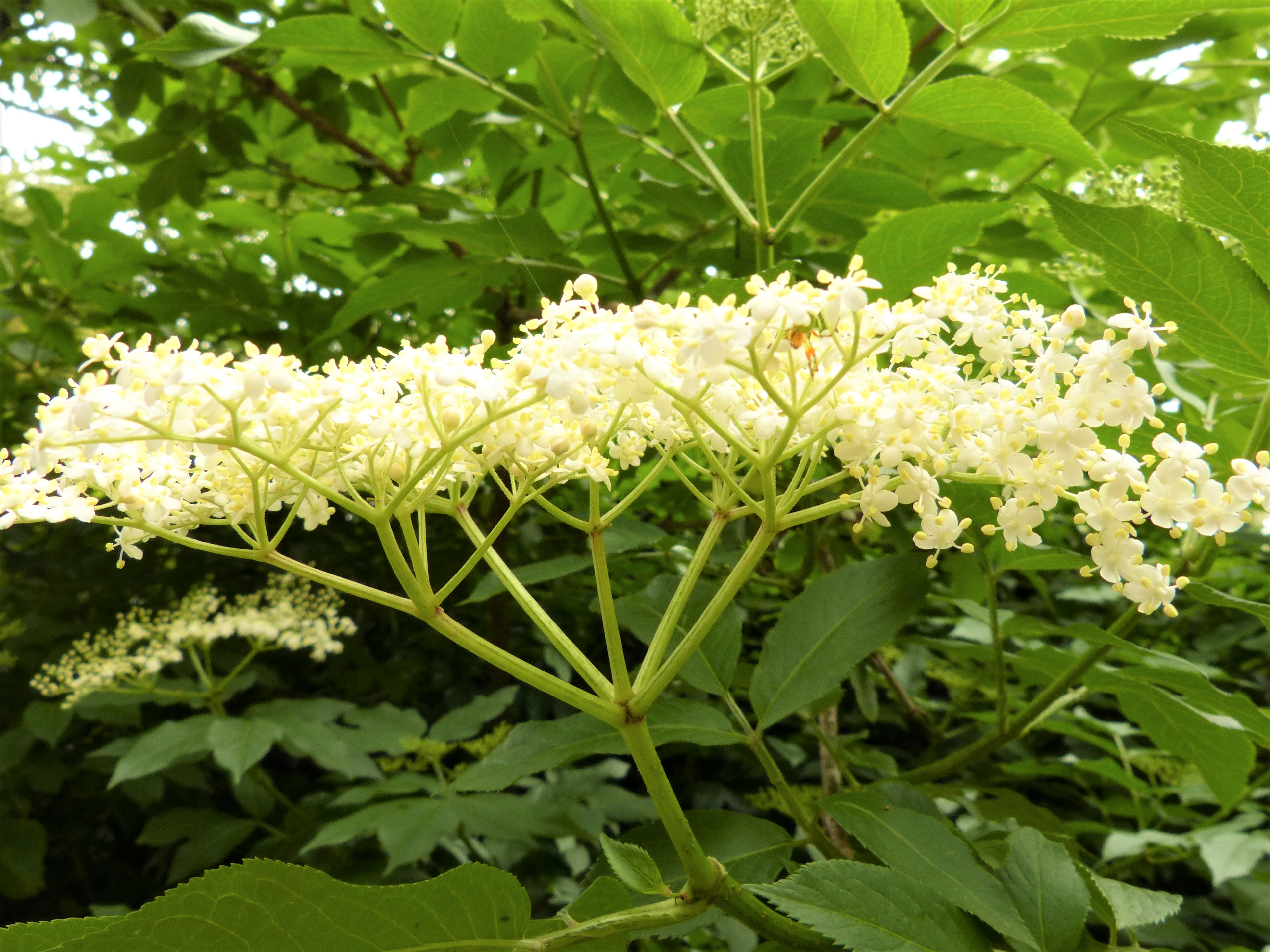 Pretty aren't they!
And a lovely scent (as long as they haven't passed their prime, in which case they'll smell like cat pee).
Though this blog isn't about the pretty things, it is about how to know when to pick elder flowers, and when to leave them. These are some of the tricks that foragers follow to ensure they get a good crop of elder flowers and also ensure that the plant is cared for, for its own welfare and sustainability. This way people, birds, animals other plant-life can all benefit from the magical Elder tree.
Here are just 3 points to help you get the best Elder flowers, oh, and a 4th point for luck.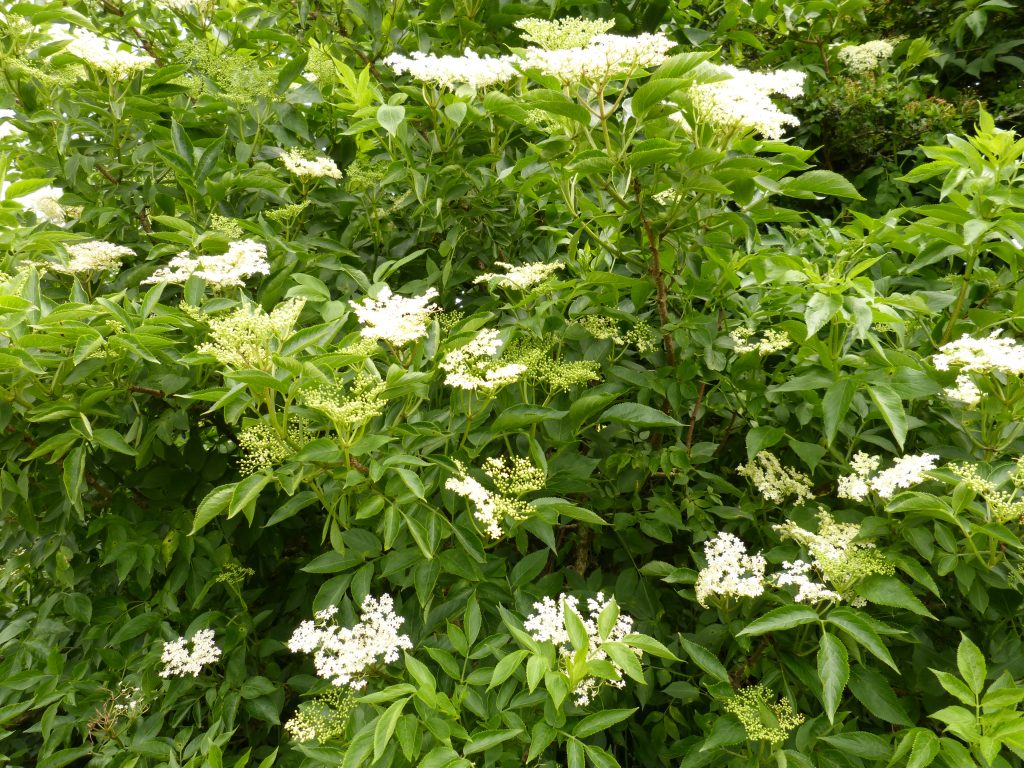 When to Pick Elder Flowers
I'm sorry, I can't give you an exact date, though I can teach you what to look for and the skills that foragers use in harvesting. A general time is May and June.
1. Smell
If they smell of cat pee, be disciplined and walk away. Yes - it is essential to walk away! It's time to leave the flowers (they'll come again next year, and won't be of any use to you at this stage), not as flowers anyway. Instead, walk away and allow the Elder (Sambucus nigra) to go to seed and produce the elderberries. Ah, wonderful life-giving elderberries,, here's some notes on how to take care of Elders and my elderberry and apple jelly recipe, more to come under my autumnal blog section.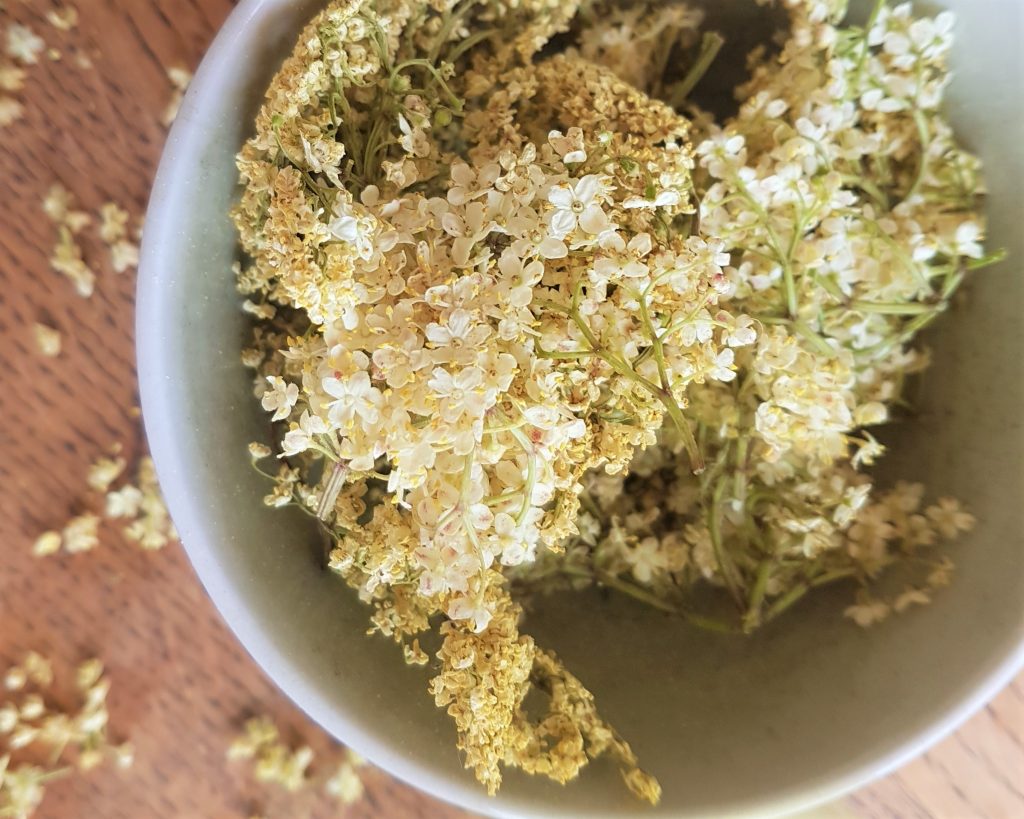 2. Colour
Back to the flowers of the Elder Tree, these are at their best when they are full of scented, pale yellow dust. Elder flower pollen. This is the only time to pick them. You might brush against an Elder bush and unsettle the pollen (a small cloud of visible yellow pollen hits the air), or smell a flower head and end up with pollen on your nose. These are all tips on how to tell if they are ready, and if there's no pollen that brushes off, or hardly any, it is best to walk away empty handed. Discipline is a virtue.
3. Shape
If the flowers are only unopened buds - you're in luck! The elder hasn't flowered yet, and all you need to do is wait a little while, a few days, until they do. This is much better than finding them when they are passed their best. On that note, the flower heads will open at different times, so if you find heads that are mostly unopened, leave them, and if you find heads that are mostly shrivelled and dried, leave them too. This will leave you with just the best flowers to pick - perfect!
4. Sun
Of course you know this, you know to pick when the weather is dry, the sun is out and the scent of the elder flowers will be at their prime. Isn't common sense a wonderful thing, as is the bright, burning, life-giving sun.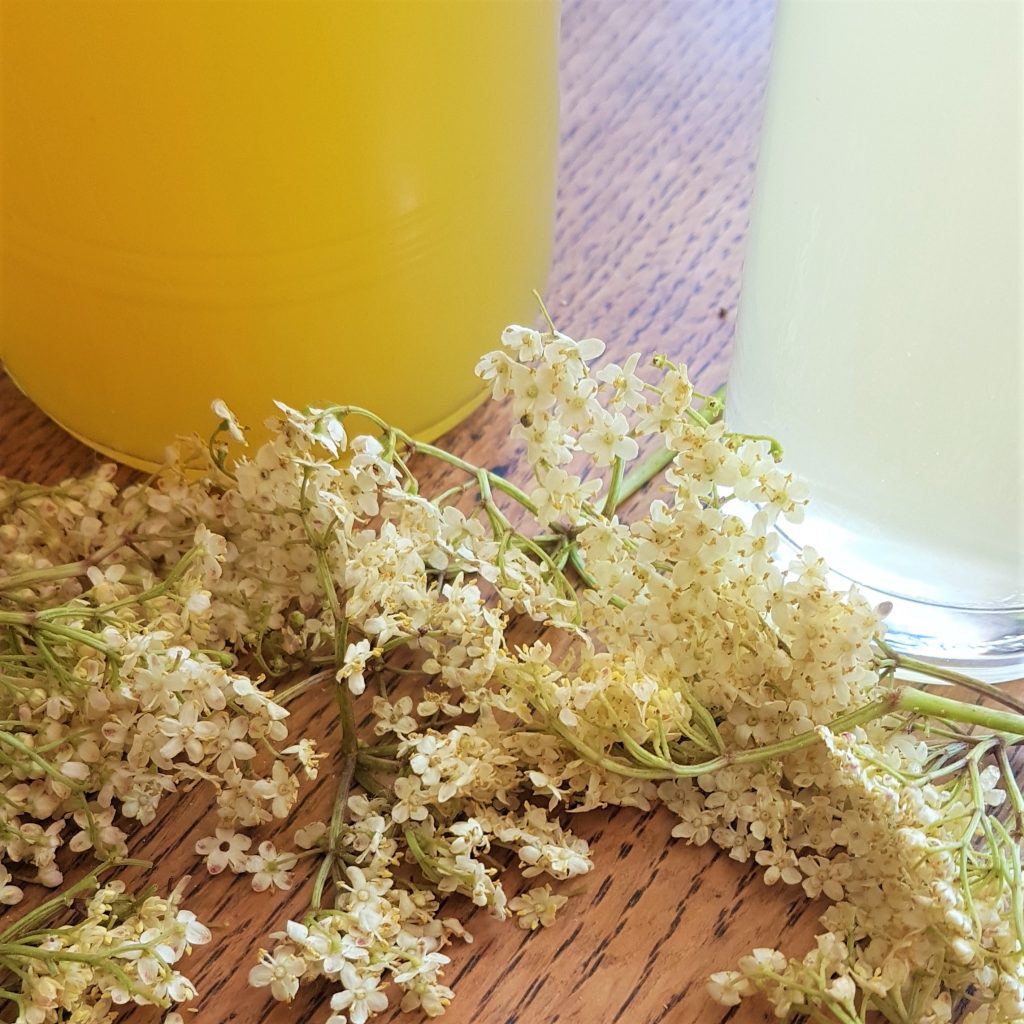 The edibility of elderflowers
Now you know when and how to pick your perfect elder flower heads for making cordial it would be easy to assume that elderflowers are edible, right? Wrong. It is best not to eat elderflowers raw, as the plant has a mild toxicity, which is why it is best to cook them or make cordial from them. Some people get an upset stomach from eating elderflowers or elder berries (elder flowers and elder berries come from the same plant).
Elderflower Cordial
Elder flower cordial recipes vary, a lot. Of course there are many ways to make something and it's great to have the choice of recipes, depending on how much time and elder flowers you have collected. I have two recipes here; a Classic Elder flower Cordial and Elderflower Sorbet recipe and here is an Elder flower Cordial with an Orange Twist.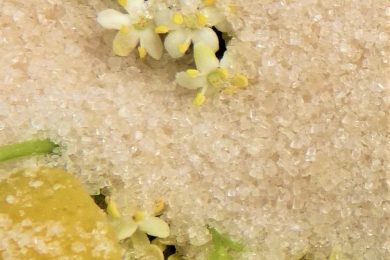 There will be other blogs on Elder flowers in the future, essentials to know about this plant so that you are using your time and the plant well. Happy foraging, and do look out for wild food foraging courses, if you'd like to know more.
Elderflower cordial is the ultimate summer drink, scent and medicine. As I sit here in my kitchen I'm enjoying their light, dreamy scent wafting across the room, of the ones I picked this morning.
Summer foraging for elderflowers is almost as popular as blackberries in autumn, or wild garlic in spring, and all for good reason. Elderflower cordial is the perfect way to capture and preserve the scent of summer. Foraging for edible wild plants is so rewarding too! Make your own homemade cordial to enjoy with friends and family.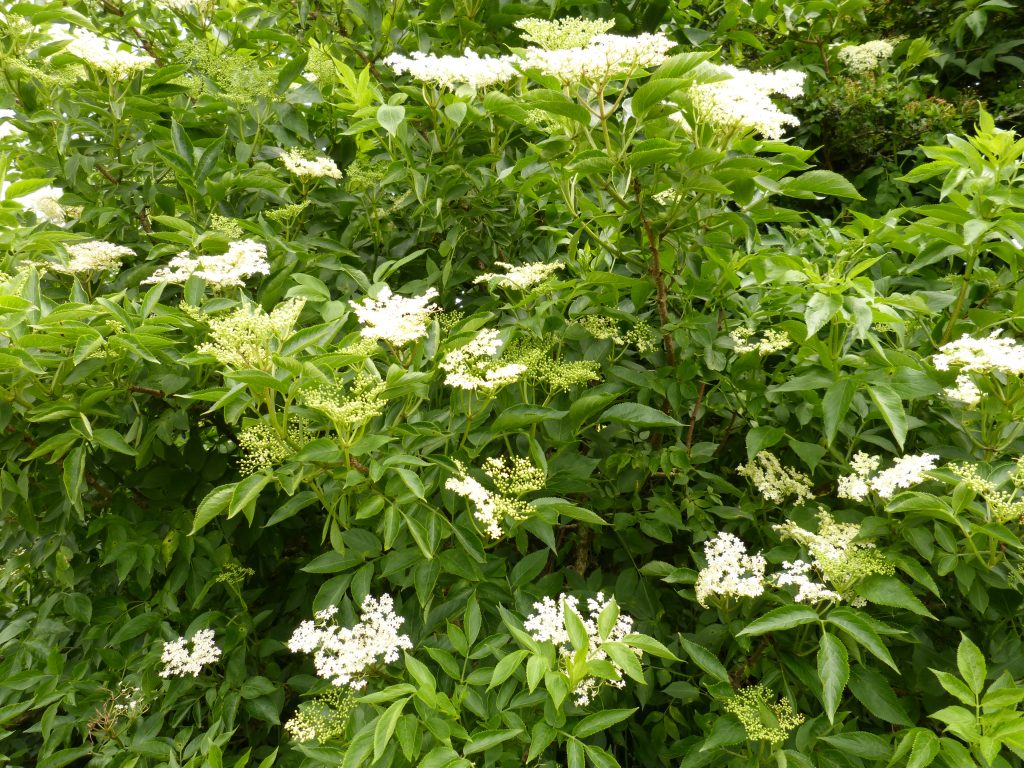 Where to find elderflowers
The elder tree is often considered a weed, it often grows on wasteland, in hedgerows and at the edge of woods. It loves the sun but can cope with shade, I often see them alongside roads and backing onto railway lines, which is often very frustrating because I'm rushing by!
When do elder flowers bloom?
Elderflowers start appearing in late spring and early summer. Here in the UK that means May to July, though this is dependant on how warm it is and whether spring started early or late. Sometimes July is still great for picking, and other years they have started to turn and are not worth picking.
Elderflowers can also be frozen. A few years ago my aunt froze a whole carrier bag of elderflowers for me. Once defrosted, they obviously don't look as good as when they are fresh, but you can still use them for making cordial or dry them for making elderflower herbal tea.
I also like to freeze some of my elderflower cordial in an ice cube tray, then I have ready to use portions!
How and why to dry elderflowers
Elderflowers can be used for herbal tea. You can dry them in the sun, in a dehydrator or at the lowest temperature in the oven and keep them for the winter months as medicine for colds, flu, coughs or bronchial issues.
How to make and use elderflower cordial
See below - a summary on this video and the full recipe at the end of the blog.
Use in cocktails, sorbet, ice cream, sweet bread, as a doughnut dip, elderflower champagne or dilute for hot and cold drinks. You can also freeze the cordial in an ice cube tray or bag and pop in soda water or defrost and dilute from frozen.
Why is elder flower cordial so good?
Many of us have a soft spot for sweet, and the combination of light and heady, citrus and sweet seems to be the ultimate combination!
Is elder flower cordial good for you?
Elderflowers have anti viral properties and can help treat colds and flu and quicken recovery. They can also be used to sooth sore throats, coughs and bronchial infections. Elder flowers are delicious and a medicinal plant.
How to identify elderflowers and the elder tree
Elder (Sambucus nigra) has umbel-like clusters of flowers, similar to that of the Apiaceae (Umbelliferae) family. To avoid fatal mistakes with deadly plants within this family, you must be 100% sure that you are picking the correct plant. This blog is focusing on the recipe, not on the identification, always check with an expert, so you can continue to enjoy foraging for food!
I run foraging courses throughout the year and bespoke foraging experiences where you learn how forage safely and how to identify trees like Elder correctly.
How to sustainably pick elderflowers
If you pick all the flowers there will be no elderberries later in the year - which would be very sad, for us and the birds. Bare this in mind and never pick more than 25% of flowers of a single plant or tree.
ELDERFLOWER CORDIAL RECIPE
This recipe needs some pre-planning - a bucket or heat-proof bowl, clean screw-top bottles, lemon squeezer, a funnel and a seive/muslin cloth is needed. You can alter the measurements depending on how many elderflower heads you pick
Ingredients
25 elder flower heads (flowers left on stalks)
3 unwaxed lemons (or 2 lemons and 1 orange)
400 g unrefined sugar
1.2 litres boiling water
2-3oz citric acid (if you're going to store the cordial for a while)
Ideally pick the flowers in full sun. Fork the flowers off the stalks or snip off the main stalks, putting flowers aside and discarding the rest. Place sugar in a pan and pour boiling water over, stirring until dissolved. Place the elderflowers (check to remove bugs) in a clean bucket and pour hot sugar mixture over it. Cut the lemons in half and squeeze the juice into the bucket, then grate the lemon zest and add this too. Stir, cover, and leave for 24-48 hours, stirring occasionally. Strain the mixture through a sieve, or preferably a fine muslin cloth, and funnel into clean bottles, or dilute and serve immediately!
For Elder Flower Sorbet
Follow all the instructions above, omitting the citric acid and dilute with two-thirds water and beat in one whipped egg white. Use an ice cream maker or get ready for these next steps... Freeze the cordial in a sturdy, lidded Tupperware or tin for 2-4 hours. Remove and mash up with a fork or in a food blender. Repeat at least once more. Serve on its own or with a variety of other desserts, particularly good with sponge cakes.
Not much time left and many are just out of reach! Remember to take a ladder foraging with you or a good friend with climbing skills...
Last Resort - I've had to resort to just picking one or two heads this time of year, and drying them for elderflower tea. You may have more luck! Though drying Elder flowers for tea is great medicine for the winter months, read below to find out more.
Elderflower syrups and dishes are potent medicine - they can help counter hayfever, fight colds, boost your immune and send you to a delightful floaty place with those sweet aromas...
Choose from fresh or dried elderflower tea (just add hot water), elderflower fritters, or cordial for sorbets and ice creams, mix with summer fruits or into cocktails. Here's a simple recipe for cordial and a tempting image of local fruits cooked with elderflowers - delicious!
(photo: Elder flowers and Yarrow)
Elderflower Cordial
This is classic recipe with a bit of a twist, I like to change things sometimes, so here I use a mixture of orange and lemons, and add a little honey too. If you want a more traditional recipe, here it is; Elder Flower Cordial and Elder Flower Sorbet Recipe.
This cordial is a wonderful refreshing summer drink, and elder flowers are also a great remedy for colds. You'll need some pre-planning - a 1 litre container, clean screw-top bottles, a funnel and a seive/muslin cloth is needed, or improvise with what you have. Adjust the amount according to the number of flowers you have picked.
Ingredients
450g unrefined caster sugar
1.5 litres boiling water
20 elderflower heads (flowers left on stalks)
2 unwaxed lemons
1 orange
4 tbsp honey
2-3oz citric acid (if you're going to store the cordial for a whole
Ideally pick the flowers in full sun. Place sugar in a pan and pour boiling water over, stirring until dissolved. Place the elderflowers (check to remove bugs) in a clean bucket and pour hot sugar mixture over it. Grate the lemon and orange zest, then cut the fruits into slices, squeeze, and plop into the container (it could be a saucepan, or a large heat-proof bowl). Stir, in the honey until dissolved, cover, and leave for 24-48 hours, stirring occasionally. Strain the mixture through a sieve, or preferably a fine muslin cloth, and funnel into clean bottles, or dilute and serve immediately!
(Photo: Elderflowers cooked in a summer fruits pudding)