Ahhh, blackberries (rubus fruticosus), our native super fruit, so full of flavour, fibre, vitamin C and K. Pretty much everyone knows blackberries, actually it is blackberries that makes many people a forager, yes, if you've picked and eaten wild blackberries you are a forager!
I love to pick and munch these wonderful fruits as I walk; staining my hands and getting the vitamin C hit that my body is often craving this time of year. Traditionally I would make a large, annual blackberry and apple crumble; feasting on the fruits of a foray with friends and filling up on autumn's bounty.
This year they've come early, I'm scattering them on my morning muesli and dreaming of hot buttered toast lathered with freshly made blackberry jam...
There are many ways to make a good blackberry jam. Myself, I like to include the pips and the substance of the fruits, and not strain all that fibre and texture out. It is a jam I'm longing for, not a jelly. This is my favourite jam recipe, tweaked over the years, and enjoyed every autumn through to winter. Here's an image of my lovely thick jam, made with whole blackberries for a great texture and feeling of sustenance.
(Blackberry jam using the whole blackberry fruit)
Here's my recipe, actually, I call it a 'Blackberry Preserve' as it preserves the blackberries whole. This recipes makes 3-4 jars, so hopefully enough to see you through winter. I use soft brown sugar to add extra depth, blackberries also contain natural pectin, making them perfect for jam making (no need to use jam sugar nor add apples). Obviously, do adjust the amounts depending on how many blackberries you pick, and remember to leave some for others and the wildlife.
Blackberry Preserve Recipe
Ingredients
1 kg blackberries
1 kg soft brown sugar
2 tablespoons lemon juice
In a large pan, combine the blackberries and lemon juice and over a medium heat, simmer for 10 minutes and mash the blackberries slightly with a wooden spoon to break up. Add the sugar, stirring regularly and bring to a rolling boil. Once boiling, do not stir and cook for 20 minutes, or using a jam thermometer, until the mixture has reached 105°C. Pour or spoon the jam into sterilised jars. Once opened, keep in the refrigerator. Makes about 1.6 kg of jam (approximately 3- 4 jam jars).
(The empty pan after cooking blackberries in it)
I am so excited because I just found a bag of blackberries at the back of my freezer. I thought I'd used them all, though no! I haven't. These will be perfect for making a yummy dessert, and it is party food time of year, isn't it?!
I could say a lot about blackberries (Rubus fruticosus), indeed there's a lot to say about this fantastic fruit. I love them; their abundance, the varying flavour and their versatility in recipes.
One hundred grams (100g) gives you 35% of your recommended daily amount of vitamin C too.
From sauces to go with meats, pop them into crepes, to ice creams, crumbles and the classic coulis. Ah the coulis - a thick sauce made from pureed and strained fruits. It is perfect for those seed-rich blackberries.
A coulis it is. Last year I made this dessert for a New Year's Eve party with friends. It went down a treat. Lets face it, sweet, vitamin C and good company are daily cravings in winter, for me anyway. Here's a wonderfully rich, nutritious and sweet treat for you to share.
Did you know that blackberries also contain a little calcium?
There's a lot more I could tell you about blackberries on my Foraging Courses.
Here's the recipe. I served the coulis with a simple baked cheesecake, which I also share here. If you love blackberries like I do, here's my Best Blackberry Jam recipe, and even some reflective words and facts about Dear Miss Blackberry.
Baked Cheesecake with Blackberry Coulis
I had baked cheesecake on my mind for a few days and was invited to a dinner party to celebrate New Year's Eve with some friends. Always wanting to bring something if I can, my suggestion of a cheesecake was welcomed and I set to. Wilds make things a little exciting and different for me, so I decided to make a vitamin c rich coulis to accompany it. There was no ricotta in my local supermarket, and quark seemed to replace it really nicely, giving it a good texture.
Ingredients
250g blackberries
1 tbsp brown sugar
1 dessert spoon water
125g digestive biscuits
35g butter
(plus fibre from the blackberry fruits)
250g mascarpone
250g quark
2 large eggs
100g unrefined sugar
1 tsp vanilla extract
To make the couli, add the fruits and water into a small pan, mash the fruits a little and simmer for 5 minutes. Using a fine sieve, strain the liquid into a bowl, making sure you get every last bit and then return the liquid to the pan with the brown sugar. Put the sieved fruits aside. Bring to a simmer for a second time and stir until thicken (a few minutes), then take off the heat to cool down.
Grease a 20cm baking tin. Crush the biscuits in a tough plastic bag with a rolling pin, or in a blender. Melt the butter in a small pan, and stir in crushed biscuits and blackberry fibre and mix well. Press the mixture evenly into the baking tray and place in the fridge for 1 hour. 20 minutes before ready, preheat the oven to 180°C.
In a large bowl, whisk together the cheese, quark, sugar, eggs and vanilla extract. Pour over the base and bake for 1 hour or until it is set in the middle and comes away from the sides slightly. Allow to cool and serve in slices with blackberry couli drizzled over.
I have a foraging dog. He's called Paddy McGinity (a name I inherited rather than gifted to him), and yes, he can climb rocks and cliffs as agile as a goat.
Most of the time my dog is with me on forays, while I forage and teach up to 100 different species of wilds in the UK. Often, he's doing his own thing (chasing rabbits and exploring), though sometimes he hangs around and is inquisitive.
I've watched him 'watch and learn' to forage blackberries, rosehips, acorns and he's good at apple scrumping. Seaweeds aren't so popular with him, expect Kelp stems and fish, crab and rabbit are favourites, naturally.
Actually, many are surprised how many fruits and vegetables he'll eat - celery and cabbage leaves being the exception, though cabbage stems are a hit! I've watched him sneakily remove broccoli from my friend's bag, gobbled tomatoes from crates, and forage raspberries straight off a friend's allotment (sorry Liz). To me it makes sense; a natural diet of fruit, vegetables, meat and fish. Unfortunately he's not that selective, and easily succumbs to bread, sugar and fat (not dis-similar to us!).
He's eaten many other wilds over the years too, mostly be default when he's foraged (I'd say stolen) food from my kitchen. Nettle and Lemon energy balls he devoured very quickly, as were the second batch (very frustrating), Hogweed Seed Biscuits were a hit too, Alexander Seeded Bread is gulped easily and Elderflower ice cream has been ogled at, but so far I have been able to keep it away from him.
Such a sweet dog.
Of course, though he's also an instinctual animal, a wild beast, an opportunist and a forager. Not dis-similar to us, though he is more closely connected to his wild roots. We have lots to learn from animals, and unfortunately they have lots to learn from us!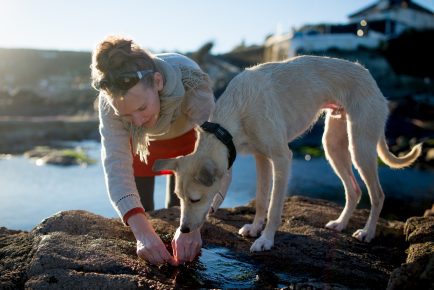 Miss Blackberry, are you winking at me?
Flashing your juicy smile my way.
How can I resist your deep colouring and shiny curves dotting the prickly hedgerows.
And how can I decipher your sweetness from your sour sisters and under-ripe brothers?
It's hard to know isn't it. Hard to know which fruit is going to be sweet, which one sour. Here in the UK there was over 200 varieties of bramble, who knows, maybe they've hybridised and there is more types now, though I expect that we have lost a few, and we now have less variables of blackberries. Of course I'm not talking about the large, cultivated shop-bought ones, I'm talking about the wild ones.
Back to sweetness of the bramble fruits, this depends on 3 things; the weather, the soil and the variety. Weather we definitely can't influence, not immediately anyhow, the soil, well you can, so reach for your shovel and be prepared to wait. Though variety, well this requires memory and/or foresight.
This autumn, when you're out picking your blackberries and you come across a fantastic tasty crop. Remember. Yes, remember where they are and check this exact spot next year. If you're feeling daring you could also cut off a branch and plant it in your garden or somewhere else perhaps - though be warned they grow thick and fast.
Blackberries are our own, native super fruit, easily over-looked because they are common, though don't forget where the sweet, juicy ones are, and next autumn go foraging for your remembered crop.
I run foraging courses through the year, and share plenty of knowledge about blackberries and many more plants on my late summer and autumn courses. #mindfulwildforager
Full of irresistible flavour, in a British pudding kind-of-way, with no awards for appearances. A cobbler is a baked dish made with fruit and batter, it's stodgy, filling and easy to make. Just as satisfying as bread pudding, using blackberries as a flavouring makes it a classic for September. Oh, September has ended? Well, your frozen blackberries could also end up in this dish, just defrost them first.
The history of the cobbler
This type of pudding was actually promoted by the Ministry of Food in the 2nd world war. It was a way of ensuring that the British people were satiated, able to enjoy puddings that used little butter (which was rationed) and eating wild fruits (which were aplenty). Since the war, many wild foods grew out of fashion, as affluence slowly returned to the country and  foraged ingredients were associated with poverty. Money was gained and wild foods were lost.
Several decades later the interest and value of wild food has been revived, mostly not for austerity reasons but for acknowledging the nutrition, flavour and benefits in eating local food that grows wild on our doorsteps.
Blackberry Cobbler Recipe
A traditional autumn recipe that I've tweaked to include wholemeal flour and brown sugar. How fashions change from encouraging people to eat stodge, to eating unrefined foods. Basically, natural foods are good for us and this is low in food miles too.
Ingredients
55 g melted butter, plus more for greasing pan
90 g brown sugar plus 2 tbsp
90 g white flour
35 g wholemeal flour
250 ml whole milk
240 g blackberries
Whipped cream, pouring cream or ice cream, for serving (optional)
Method
Preheat the oven to 180°C. Grease a 23cm x 33cm baking dish with butter. In a medium bowl, whisk the sugar with the flour and milk. Whisk in the melted butter.  Pour the batter into the baking dish and sprinkle the blackberries evenly over the top of the batter. Bake for 1 hour, or until golden brown and bubbly. 10 minutes before the end of the cooking time, sprinkle the remaining 2 tablespoons of sugar over the top. Serve hot with cream or ice cream or just have it on its own.
You might think you know everything about blackberries, though I share a blackberry muffin recipe in my wild food foraging book, and here's my best blackberry jam recipe, an awesome blackberry coulis recipe and I share much about foraging on my courses and on my instagram feed. Happy blackberrying.