Gathering rosehips to make your own rosehip syrup is a great way to provide a vitamin C rich drink for you and your family. You can also use dried, bought, or frozen rosehips for this recipe.
This recipe is based on a traditional rosehip drink, and was inspired by the method shared in Roger Philip's Wild Food book.
When to pick rosehips?
Rosehips are usually picked after the first frost, when their skins are softened and the flesh sweetened. They tend to be ready from September to November when the fruits have turned from orange to red. Once the colour is ripe you can also pick and freeze the fruits.
Which rosehips are edible?
All rosehips (the fruits of the rose) are edible, but not all are tasty. I find the best rosehips to make syrup from are Dog Rose, also known as Wild Rose (Rosa canina).
Why are rosehips good for you?
Rosehips have high amounts of vitamin C - about 4x as much as blackcurrants and 20x as much as oranges - and they are local, seasonal food! Rosehips also contain good amounts of vitamin E, A and K.
Can animals eat rosehips?
My dog forages for rosehips as food, but the tiny hairs inside the fruit aren't good for human or animal digestive systems. That's why rosehip syrup is normally strained to separate the hairs and the hair coated seeds.
Rosehip Syrup Recipe
A subtly flavoured syrup which is brilliant for staving off colds. Dilute as a drink, drizzle over pancakes, apple crumble or ice cream or use in cocktails.
This recipe for rosehip syrup avoids boiling the fruits so as not to loose too much vitamin C. In fact, you'll only loose about 15% vitamin C and most of that is lost between mashing the fruits and plunging them into boiling water. So speed is a vitamin asset.
Makes 750 ml
Ingredients
300 g rosehips, stalks removed
1 litre water
300 g golden caster sugar
Using a small to medium saucepan, bring 500ml of water to the boil. Briefly mash the fruits and immediately plunge into the boiling water. Bring the water back to the boil, turn off the heat and leave the fruits to infuse for 15 minutes. Put both the rosehips and liquid into a jelly bag and allow the juice to drip through into a bowl. Using the same saucepan, bring the remaining 500ml of water to the boil, add the rosehip pulp, turn off the heat, cover and allow to infuse for a further 10 minutes. Strain through the jelly bag and allow all the liquid to drip through.
Wash out the saucepan and fill with the strained rosehip water. Bring to the boil and simmer for 20 minutes, or until the liquid has reduced by one third. Stir in the sugar, allow to dissolve, then simmer for 5 minutes before pouring into hot, sterilised bottles.
If you like this recipe, you may want to see my other rosehip recipes and notes. Rosehips are also one of the fruits I teach on my foraging courses between late summer and winter.
I used to walk round my Granny's garden and smell the roses, my sisters and I used to snap off her runner beans and eat them raw too. Luckily for Granny, I didn't know that roses were edible then, though I still love to stop to smell them, whether in a park, someone's garden or a hedgerow.
Roses make my heart sing, they truly do. From the scent through to the texture of the petals, they are an edible heaven to me. Eat them fresh OR this recipe is ridiculously easy and super good. It was given to me by my colleague Emma Gunn and you can't go wrong with it. Unless you don't like roses.
In this post I share the recipe, explain when to pick roses (and why) which is the best rose to eat (and my favourite) and how to use this delicious rose preserve.
When to pick rose petals?
Roses are a joy to see in flower, and the petals are ready to pick when they come away easily when touched - I share tips on picking here in; Roses are Red, Pink, White and Edible. There's no need to pick the whole flower head; keeping it intact will ensure the rosehip fruit will grow later in the year. Rose hips are wonderful to use for autumn desserts and treats.
Which rose petals are the best to eat?
All roses are edible, but not all are fragrant. You also want to make sure they haven't been sprayed. That's why I love the wild ones and my favourite wild roses are rosa rugosa*, also known as Japanese rose. They have a wonderful fragrance and fantastic colour!
Where can you find rosa rugosa roses?
Japanese roses are originally grown in Japan, China, Korea and Siberia and were brought over to Europe over 100 years ago. They first arrived in the UK in 1796 and in Japan are called hamanasu.
They're also known as beach roses (which gives you a clue) as they tolerate salt water and can help stabilise sand dunes.
You can find them in coastal areas across Europe, eastern Asia and North America. Many gardens also have this beautiful plant.
They spread easily and are considered an invasive. Picking and cooking the rosehips in the autumn will help reduce the spread of the seeds.
Fresh Rose Preserve Recipe
A super easy recipe that preserves the fresh flavour of roses in a beautiful sweet and lemony base. Will keep for up to 3 months in the fridge. Use blended into yoghurt, drizzled over or sandwiched between sponge cakes. Serve alongside chocolate cake.
I'm also open to other ways of enjoying this, so I'd love to hear how you enjoyed yours! Just use the comments box below.
Makes 110 g (enough to sandwich a classic 20 cm sponge cake together)
Ingredients
30 g (2 cups) fresh rosa rugosa petals*
85 g unrefined caster sugar
1 tbsp lemon juice
Blend the ingredients together and store in a sterilised jar. Will keep in the fridge for up to 3 months.
Fresh Rose Preserve Recipe
A super easy recipe that preserves the fresh flavour of roses in a beautiful sweet and lemony base. Will keep for up to 3 months in the fridge. Use blended into yoghurt, drizzled over or sandwiched between sponge cakes. Serve alongside chocolate cake.
I'm also open to other ways of enjoying this, so I'd love to hear how you enjoyed yours! Just use the comments box below.
Makes 110 g (enough to sandwich a classic 20 cm sponge cake together)
Ingredients
30 g (2 cups) fresh rosa rugosa petals*
85 g unrefined caster sugar
1 tbsp lemon juice
Blend the ingredients together and store in a sterilised jar. Will keep in the fridge for up to 3 months.
I love to stop and smell the roses, I love to eat them, cook and garnish with them too. See my wild rose water recipe and rose petal preserve recipe.
Which Roses are Edible?
All rose petals are edible and both wild and cultivated roses can be used, though please see my tips for picking below. The most common wild roses in the UK are Dog Rose (Rosa Canina), Field Rose (Rosa Arvenis) and the Japanese Rose (Rosa Rugosa). Each rose has a different scent, so it's well worth smelling before you start picking, and finding your favourite rose types.
Cultivated roses with a good scent can also be used, but make sure they haven't been sprayed first. Some rose petals may have a bitter aftertase too. Petals can be used to decorate cakes, in cold soups, salads, meat dishes or desserts. Here's a few tips before you pick them though;
How to sustainably pick rose petals for using in recipes
If you're picking cultivated roses, check: have they been sprayed?
You can dry rose petals (then rehydrate them), or use them fresh
Are the petals ready to be pluck (do they come away easily)?
Petals that are ready to pick may have already fallen, or come away easily when touched (see below)
Only pick the petals, never the whole flower-head (so the fruits can ripen later in the year)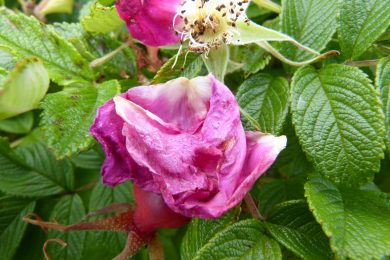 In early summer and summer I may include roses in my foraging courses, and in the autumn I include the fruits of roses; the rosehips.
Here's my Rosehip Tart recipe, and also my Rosehip Fruit leather recipe, both are delicious and full of vitamin C. Finally, I also share my Wild Rosehip Chocolates recipe (great for valentines!).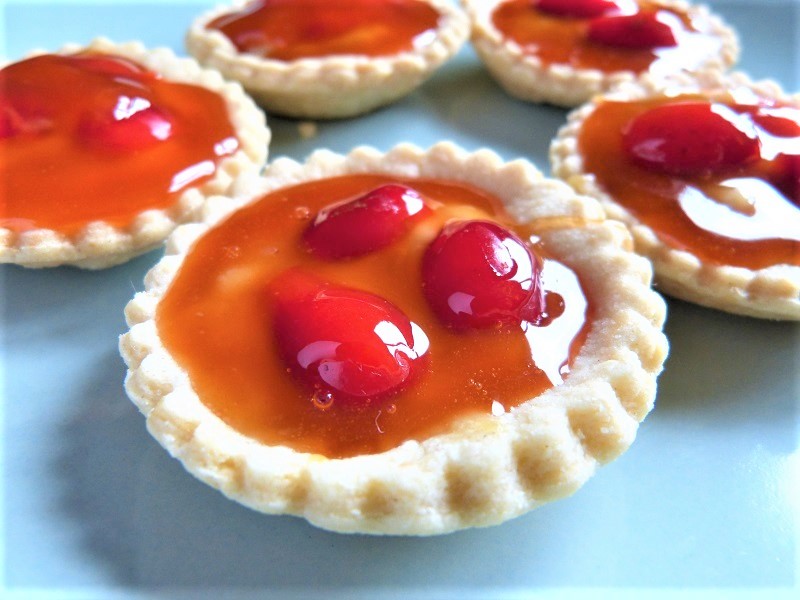 Sometimes I feel creative, sometimes crazy, with the ideas I come up with for using wild food. This one is a complete labour of love; a custard tart topped with rosehips and a rosehip syrup glaze. Devoured by 14 appreciative people on a hazy October afternoon.
Here's the recipe;
Rosehip Fruit and Custard Tart
 Ingredients
(for pastry base)
200g plain flour
100g cold butter, cubed
20g ground almonds
1 tsp baking powder
1 egg, beaten
1-4 tbsp cold water
a little egg white
For custard filling
320ml whole milk
80g unrefined caster sugar
5 free-range eggs yolks (freeze the egg
25g cornflour, mixed to a paste with a little cold water
For the topping and glaze
200ml rosehip syrup
2 tbsp cornflour
2 tbsp honey
100g rosehips, fresh out the freezer
In a large bowl, add the flour, ground almonds and baking powder, mix well and rub in the butter until it resembles breadcrumbs. Mix in the the beaten egg and 1-tablespoon at a time of cold water (just enough to bind the dough, no more). Alternatively you can blend the mixture in a food processor, adding the water at the end. Press the dough into a ball, wrap in clingfilm and chill in the fridge for at least 30 minutes. Preheat the oven to 200C and grease a 23cm diameter flan tin.

For the filling, in a medium saucepan bring the milk to the boil, whisking all the time. Remove from the heat and in a medium bowl, beat the sugar and egg yolks for 3-5 minutes, or until the mixture falls in thick ribbons from the whisk. Slowly whisk in the cornflour paste until well combined. Slowly pour in the hot milk, stirring in well, before returning the mixture back into the saucepan. Heat the mixture, whisking constantly, until boiling. Cook for a further minute, then pour the mixture into a bowl and set aside to cool for 10 minutes. Cover with clingfilm and chill in the fridge.
Roll the pastry out on a floured work surface to about ½ cm thick and line the flan tin. Brush the pastry with a little egg white to seal it and bake in the oven for 15 minutes or until the pastry is golden-brown and crisp. Let the pastry cool a little, then carefully transfer to a wire rack. At this stage the cooked pastry can be covered and stored for a few days before using.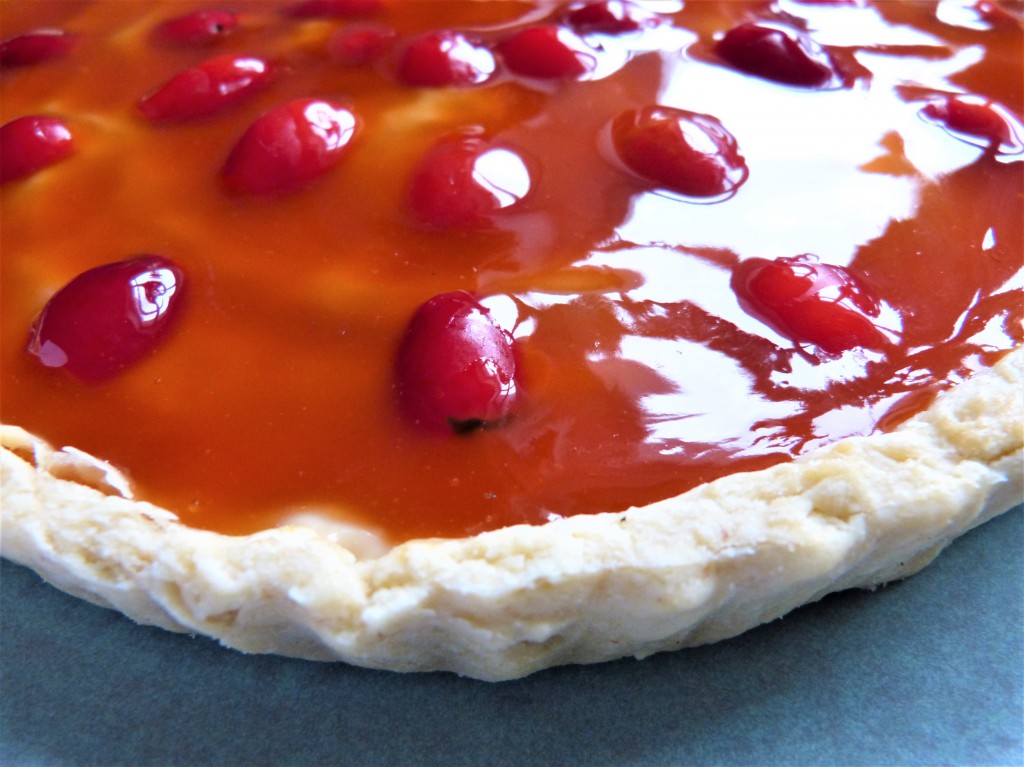 For the glaze, heat half the rosehip syrup in a saucepan until boiling then remove the pan from the heat. Dissolve the cornflour in the remaining syrup and quickly pour the mixture back into the saucepan, returning to the heat, stirring all the time, until the mixture has thickened. Next add the honey, bring back to the boil and remove the pan from the heat. Set aside to cool. When ready to assemble the tart, spoon in the custard filling, and with a sharp knife, carefully slice the ends off the rosehips, then slice them in half, lengthways and scoop out the ball of seeds with a teaspoon. Place the rosehips on top of the custard, cut-side down. Transfer the glaze to a pouring jug and drizzle over the glaze. Chill in the fridge until ready to serve.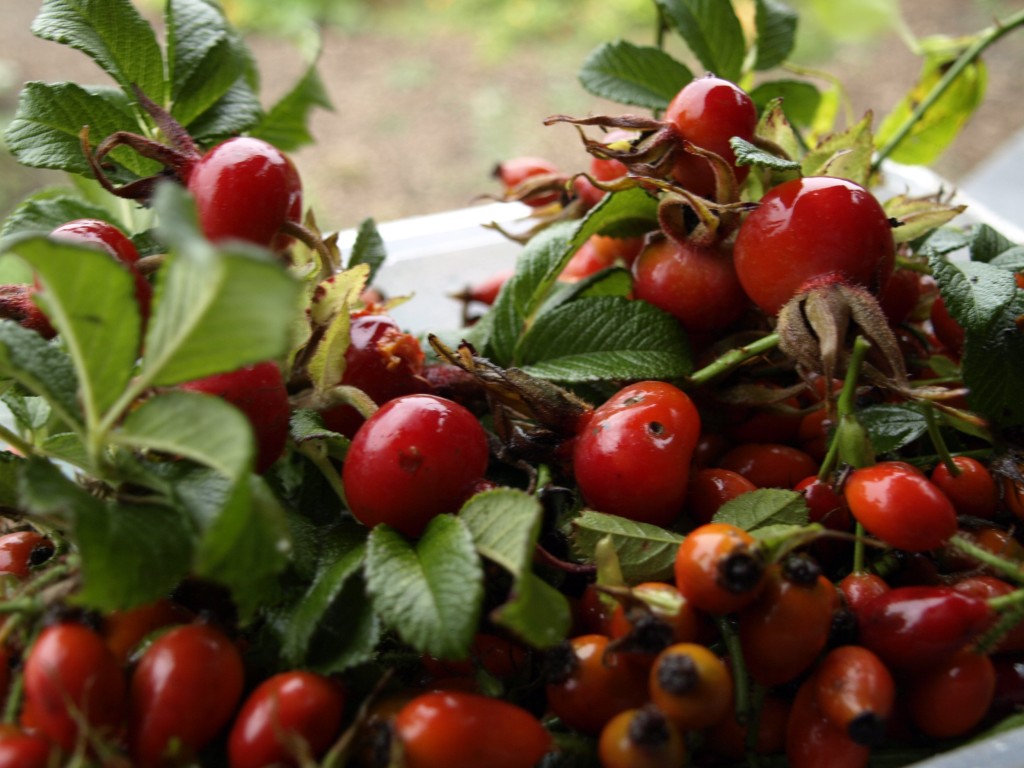 Rosehips are traditionally used for making rosehip syrup, but there's so much more you can do with them.
I recently led a group of families on a foraging walk and provided sweet biscuits with rosehip fruit in them. Fleshy, tart bites of red fruit nestled within a biscuit base. They went down really well!
Preserving rosehip fruit
Here I share how to store rosehip flesh by making a rosehip fruit leather. This is a labour of love - a process to be enjoyed, with a fruity goal in mind. The result is a delicious and versatile sheet of pure fruit which can be stored for months and used as a snack or to flavour; tarts, chocolate and ice cream to savoury rosehip crackers.
Which rosehips to use for making rosehip fruit leather
Using Japanese Rose (Rosa rugosa) hips will enable you to reap more fruit for your work, they're a larger hip than our native rosehips making them easier to handle.
Where to find Rosa rugosa rosehips
These plants have naturalised in many places, originally many were planted on sand dunes and shingle beaches to help stabilise the ground. Hence one of their names - beach rose. You can also find them on waste ground, or in cultivated gardens. Several times I've befriended someone who has them growing in their garden. I gather their hips in exchange for a proportion of what I make. It's always gratefully received.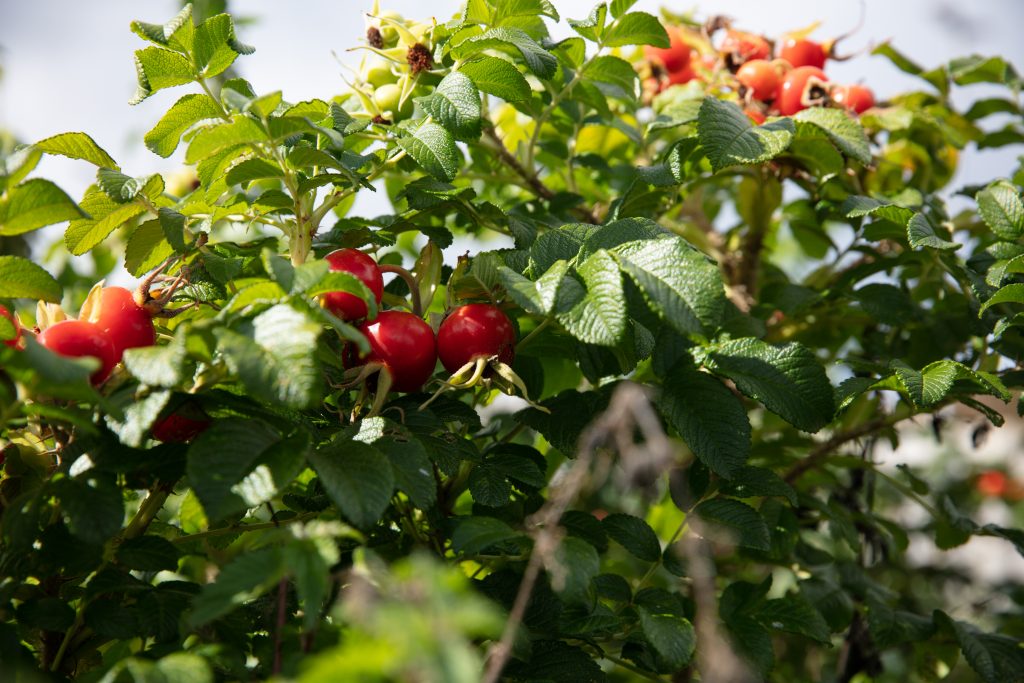 When to gather rosehips
Start looking out for hips from late summer & through autumn. You could of course wait for after the first frost, at the risk of the birds getting them first. Living in Cornwall, with a milder climate & being impatient to utilise these fruits, I normally pick them as soon as possible & freeze them to 'fake' the first frost. I'm looking for the dark red fruits, not too orange in colour. Freezing them also means you can store them until you're ready to embark on processing them.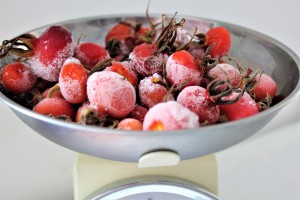 How to make rosehip fruit leather
Defrost or pick the fruits after first frost. Start processing them as quickly as possible so not to loose valuable vitamin C. Carefully and patiently remove the flesh from around the outside of the fruit, careful not to dislodge the tight ball of hairy seeds. You want to avoid these seeds as they can irritate the digestive tract.
This is a messy and fiddly job, so take your time, you'll be left with a pile of fleshy rosehip pulp, and a pile of hairy seeds. Discard the latter. You may want to chop the pulp a little, to ensure that you don't have too bigger pieces of flesh or fruit skin.
If you're using a de-hydrator, follow the instructions for making fruit leather, and spread the fruit pulp onto the teflon sheet before drying the fruit for several hours. If using an oven, line a dish or baking tray with oven-proof clingfilm, and spread the pulp on, about 2mm thick. Put the oven on the lowest heat and leave for up to 12 hours.
The consistency of the fruit leather can be altered according to taste - slightly moist and chewy or dry and almost brittle. The latter will keep longer. When needed, rehydrate the fruit and blend or cut and grind into flakes/powder.
What is the flavour of rosehips?
What I love about working with wild fruit is the flavour is so unique. These particular fruits - Rosa rugosa are not as sweet nor tart as Rosa canina (Dog rose). Instead, they have been compared to processing fruit this way is that there is no need to add sugar. Instead, you can get to taste a mixture of natural sweetness & tarty-ness of this amazing super fruit.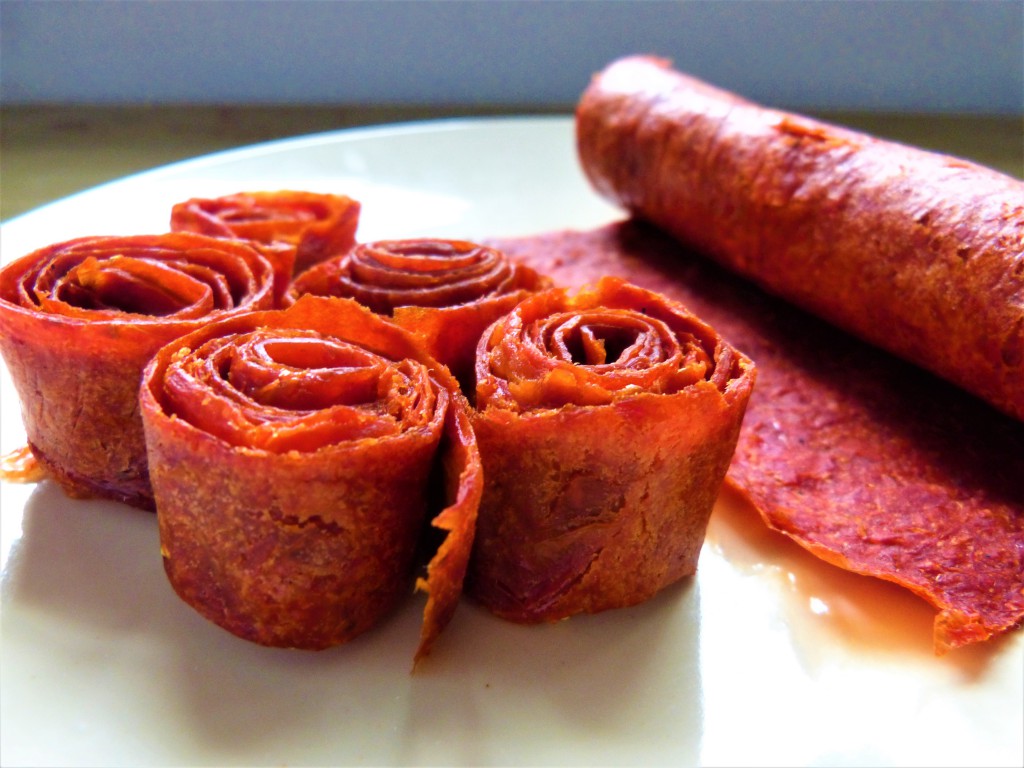 How to use rosehip fruit leather

Once you've made your fruit leather, either keep it whole or cut it into strips and store in a dry place. It will keep well for over one year.
You can chew on the rosehip fruit leather as a snack, powder it and use it in Rosehip and Buckwheat Crackers. Alternatively, break it into small pieces and rehydrate in a small amount of warm water to use in desserts.