The Umbelliferae (Apiaceae) family, also known as the Carrot family is a large family of plants, all with the similarity of umbels - think structure of an umbrella with a handle, spokes and canopy. There are some fantastic edibles within this family and also some deadly poisonous plants. A little foraging knowledge can be dangerous and this family needs to understood well and the plants respected.
Here are 8 wild foods within the umbellifer category (there are 18 edibles in total in this family). It goes without saying that this information is not enough to identify and use these wild foods. Though it is an introduction to them, with links to more information about the main plants I teach.
Introducing 8 umbellifers in flower
Wild Fennel (Foeniculum vulgare)
An aniseedy scented plant and a wonderful flavouring (unless you don't like fennel). It's a coastal plant in my foraging book where I share a fennel sorbet and fennel flower fritter recipe.
Rock Samphire (Crithmum maritimum)
A coastal plant that in the past was highly rated as a vegetable and for it's nutritional qualities. I've written about rock samphire as my favourite summer plant, shared a delicious salsa verde recipe for it, and recipe for pickled rock samphire. It is also in my foraging book.
Alexanders (Smyrnium olusatrum)
An invasive plant that I'm passionate about. I have a whole blog section dedicated to Alexanders and it's also in my foraging book.
Wild Carrot (Daucus carota)
A coastal that has spread inland. You need permission to dig up the (small and fibrous) roots. The seeds are edible but shouldn't be digested if you're pregnant. This plant is in my Foraging book where I share a Carrot Seed and Honey Cookie recipe. Extra info: I have used the summer flowers in a similar way to elderflowers and infused them for syrup - they have an unusual, subtle and carroty flavour!
Hogweed/Cow-weed (Heracleum sphondylium)
Also known as Common Hogweed (in comparison to Giant hogweed) is a common sight across the UK and Europe. I've previously shared recipes for it; Hogweed shoots in a cake, plus a vegan version of Pear and Hogweed Shoot Cake. I sing the praises for it as an alternative and superior asparagus. and even used the seeds to flavour meringue in an Apple Curd and meringue Pie recipe.
If you want a thorough introduction to the shoots, take a look at my hogweed shoots in spring blog and I also have a dahl and hogweed shoots recipe too.
Cow Parsley/Wild Chervil (Anthriscus sylvestris)
Often the first spring flower to appear. A very common hedgerow plant, the leaves can be eaten but should be avoided once the plant is in flower. However, before the flowers appear the leaves and stems can be eaten. I like the leaves in salads and the stalks simmered and added to sauces.
Pignut (Conopodium majus)
A delicate flowering plant, renown for the nuts (roots) that are tricky and (a little) rewarding to dig up as food. Not a nut at all, but a nutty flavour and texture of a fresh hazelnut.
Wild Celery (Apium graveolens)
I've rarely seen this in Cornwall, I photographed this one in Norfolk where I was excited to find it! A stringy plant, personally I prefer to use Alexanders (its predecessor).
Nothing beats homemade pizza, it's quick and easy to make and just requires a little planning.
Let's face it - pizza is all about the toppings, so here I share some ideas to turn your pizza wild to enjoy the foraged flavours of summer!
Wild Summer Pizza Recipe
Serves 2
Ingredients
185 ml / 3/4 cup luke warm water
1 tsp quick rise yeast
2 cups/300 g flour (I like to use 275 g plain and 25 g wholemeal)
1 tsp olive oil
Large pinch sea salt
160 g /1/2 cup tomato puree or tomato pasta sauce
Possible toppings
Method:
Blend the warm water and yeast together and leave for 10 minutes until it begins to froth. In a large mixing bowl, add the flour, oil and salt. Pour in the frothy water and mix together. The mixture should be dry enough to knead and not too sticky. Add a little (little!!) extra flour if needed.
An overnight rise or instant dough bake?
Knead for 10 minutes, cover and leave to rise. If you're in a rush you can just leave for 30 minutes then continue with the steps below. I like to create a kind-of cheat's sourdough, so leave it to rise overnight or for up to 12 hours. I then knock it back (literally punch it a couple of times), leave it to rise for a further hour then continue as below. You could also cover and refrigerate the dough for up to 3 days at this point too - just let it reach room-temperature (about 2 hours) before the next stage.
Preheat the oven to 450°F/240°C/fan 220°C/Gas mark 9 and place two baking trays or pizza stones in the oven.
Lightly flour a clean, dry surface, split the dough in two halves. Stretch or roll each half to about 20-25 cm round and place each on a piece of baking parchment paper.
Add your toppings - keep this minimal as the pizza dough is thin. Here I use rock samphire fronds as a herb, scatter with nasturtium capers and generously sprinkle with seaweed salt.
Carefully slide the parchment onto the hot baking tray or stone and bake for 10 minutes or until golden brown around the edges. Leave for 10 minutes before cutting. Serve hot or leave to cool and keep in the fridge, using within 3 days.
My memories of Summer are, inevitably, interlaced with foraging.
Plants and food, namely wild food, has long been an integral part of my life. One that I choose not to live without.
Earlier on in Summer I wrote about keeping things simple and shared easy ways  I turn picnics and barbeques into events with a wild twist, from seaweed breads to seaweed salads, wild salsa verde to elderflower cordial. Summer, after all is meant to have a holiday feel, so labouring over lavish meals doesn't make sense for me - that's for Autumn and Winter!
My most popular foraging plant in Summer
Without a doubt, the wild food that most features in my Summer is Rock Samphire (Crithmum maritimum). Lining cliff walks, evenings on the beach, and wild swimming spots, I find it so easy to gather. Back home I can make a Rock Samphire Salsa Verde from it within minutes, then back on the beach to share it with friends or family. And it always, always goes down a treat, such a punchy, lemony, herby flavour, hence its nickname Sea Fennel. What more does a Summer forager need?!
Where to find Rock Samphire
If you're living in North Scotland, I'm sorry. If your on the east coast, you'll have less opportunities to forage this compared to us Cornish and those on the west-side. I'll leave it there.
In August I took 4 days out to walk the North coast path in Cornwall with a friend - 25 miles of up and down, lots of giggling and achy limbs. I slept well on my return. While my walking companion took photos of us and the fantastic views, I found myself defaulting to pictures of beautiful edibles. Rock Samphire on the cliffs, too far out of reach to clamber for, the drop below being too large to risk.
As Shakespeare wrote; 'Half-way down, Hangs one that gathers samphire; dreadful trade!'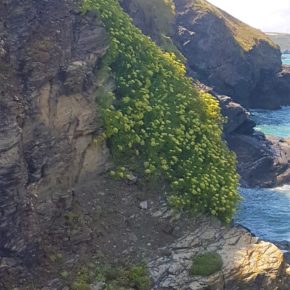 My ideal Summer
Rather than risk my life, the words and phrases I associate with summer are; balmy air, sand between my toes, people everywhere, stopping to pluck, pick or gather, soft grass, undulating ground, dozing on the cliffs, rock samphire salsa verde, sunsets, lemony scents, rushing out, got to be out, sea swims, lake swims, wild camping. Barbequed fish, crab sandwiches. Minty desserts, drying herbs for teas, looking out to sea. Laughing, beach fires, chilly post-swim skin, happily tired. Happy dog, heather, rosebay willowherb flowers, purple hues, short nights and long days, intense, will it ever end!?
Ideally my Summer is full enough to allow me to fall, glide or merge into Autumn. I can relate to Alys Fowler's words on suiting autumn better - woolly jumpers and all. Soon I'll be ready to have evenings in, cook feasts, do more nature writing, contemplate, meditate and lazily read. Though not quite yet....
How was your Summer? What were your best memories?
I run foraging courses throughout the year, and in-between my own adventures with friends and family. I love to share my passion for wild foods, my knowledge and the journey along the way - I will never know it all!
Song, verse, sound and rhyme have been used by humans for thousands of years to communicate, respond and express. Sound is an integral part of our daily landscape. It has been used functionally (to explain things) as well as for fun and as an essential part of celebrations across the world. Rachel Lambert is a foraging teacher who has sung all her life. She sings on her own on the moor, with friends, with family, to mourn and to celebrate life. Since childhood she has learnt songs and made up songs, feeling happy to hit the right or wrong note and just enjoy singing!
Why wild singing
There is much scientific evidence to suggest that singing is good for the brain, heart, gets creative juices running, sends feel good endorphins round the body and can help counter anxiety and loneliness. Coupled with the great outdoors, which can legitimately claim similar health and well-being benefits, wild singing is a pretty good boost for the body and soul.
The benefits of using song to learn about plants
Singing about plants and nature is also part of our historical tapestry. When Rachel Lambert (Wild Walks South West) has researched past uses of plants she's often come across poems and songs. Songs tell of plant uses, claims of curing ills, bringing love and of old traditions. Rachel has taken this idea and created new songs to tell of plant qualities she often shares with participants on her foraging courses. Songs can be a great way to remember things, as well as just enjoying the moment.
If you'd like to see snippets of other songs, or read more about this experience, you may want to view my other Wild Singing blogs. I run The Singing Forager Experience for anyone who'd like to listen to, hum along or join in. Dates for these are here; The Singing Forager Experience and details of how to book is here.
Follow the #singingforager to find out or hear more.
I love, love, love Rock Samphire (Crithmum martimum) though it has taken me a while to get used to it. When I first tried it, having plucked it off the rocks on the south coast of Cornwall I just thought it tasted 'unusual'. Fifteen years later I understand and appreciate it's complex flavour more and I know when and how to harvest and use it.
Pickled rock samphire is a traditional way of preserving this vitamin C rich plant. You can alter the spices you add, so please use the recipe below as a guideline only. This wild Rock Samphire pickle recipe means you can eat this plant throughout the year - pickles are brilliant in that way. Enjoy it with cheese, cold meat or fish boards, or with freshly cooked fish.
The Recipe
A simple way to preserve and enjoy this coastal wild food and it will only take you 10 minutes to make!
Makes 500 ml
Ingredients
100 g rock samphire
1/2 lemon, sliced and cut into wedges
2-3 cloves of garlic
1 1/2 tsp coriander seeds
1 tsp black pepper seeds
Pinch of salt
225 ml white wine vinegar
225 ml water
Wash the rock samphire and snip off any fibrous ends. In a medium saucepan place all the ingredients and slowly heat until steaming. Simmer for a couple of minutes then pour into the jar, seal and leave to cool. Once cold, store in a refrigerator for a couple of weeks and store for up to 6 months.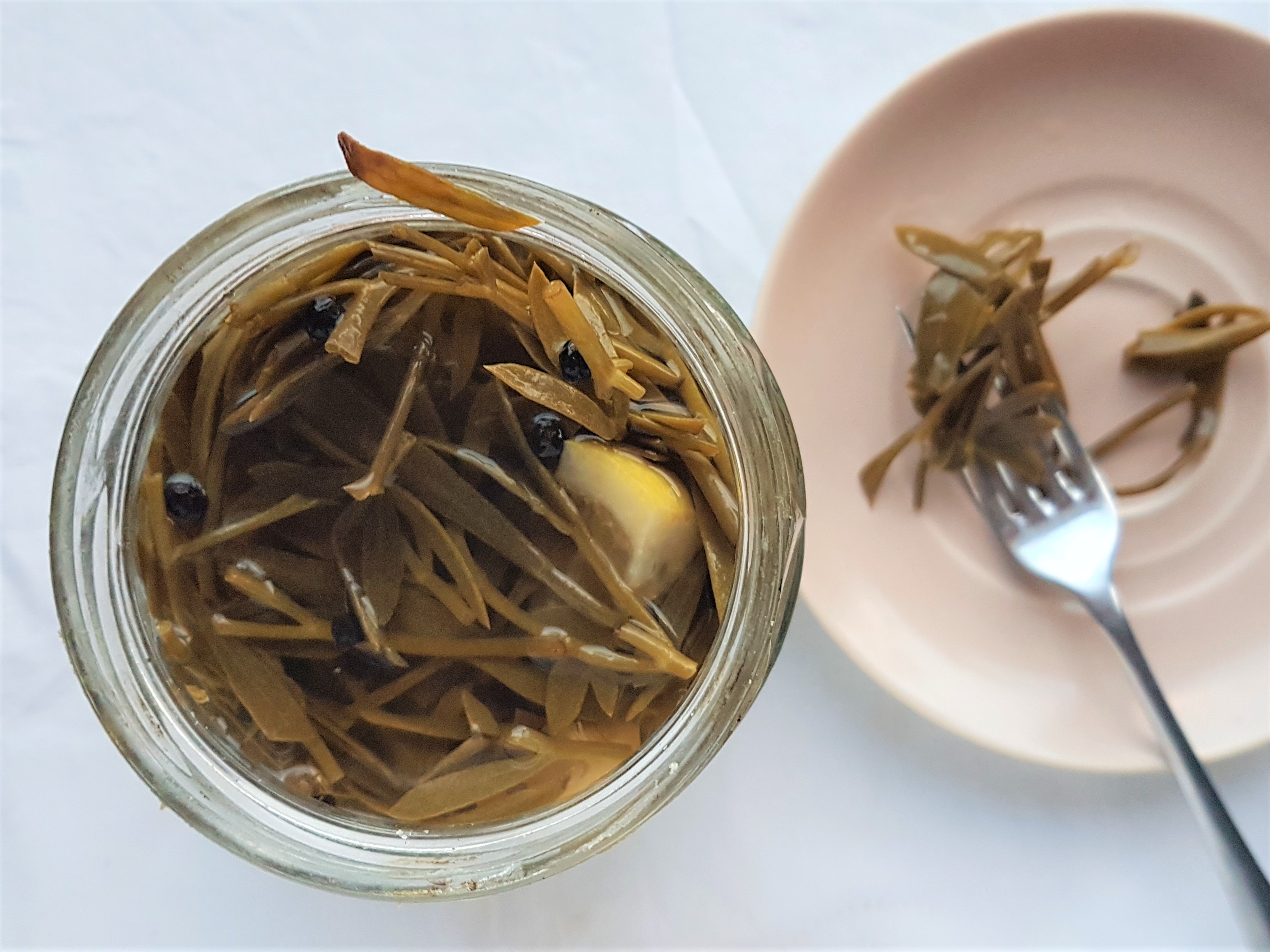 Other Rock Samphire Recipes
Take a look at my Rock Samphire Salsa Verde recipe, or I cook it simply in my Wild Food Foraging book. If you'd like to keep up to date with what I'm foraging, cooking and teaching, why not join one of my foraging courses, or follow me on facebook or instagram.
It's a fresh winter morning and I am sitting watching the sky lighten and the day begin. I am just sitting, doing nothing, while the day is offering nothing less than a performance. Blue sky starts to peek through, charcoal grey clouds move slowly in front of me, then disintegrate. White gulls glide elegantly past, squawking, and I just sit here. I feel alive and in awe of these gifts being freely given to me.
How to Freely Receive
Receiving gifts is an active participation, a choice and as I breathe in these gifts from nature, I feel exceptionally grateful and alive. Just walking out into nature is a constant reminder to me of the abundance of life, the vitality in the earth, if I just choose to receive.
Here in winter I'm surrounded by nutritious greens of alexanders, tentative nettle tops, fluttering and healthy looking violet leaves. I see how rock samphire shoots push through, despite the increasing coldness, how sea spinach faithfully remains throughout the year. I taste the mild oniony flavor of three cornered leek, and receive the nutritious gifts from all these wild greens.
Countering the Buy, Buy, Buy of Consumerism: Simplify
As the year turns towards Christmas and the media urges towards buying, consuming and wanting, I want to simplify, to focus on giving and receiving. To share walks with strangers, friends, family, animals and nature herself. To enjoy the simple things of life; make good memories, love better, share good food, have a laugh, feel touched by things that matter.
Foraging as Giving and Receiving
I receive so much from nature, and I hope I give back in my appreciation and through passing on a some simple guidelines of foraging ethically. Foraging in small amounts, taking just what we need, no more, no less. Guidelines I highlight in my environmental policy too.
I hope I also give through sharing my foraging skills and experience, through offering an opportunity to understand and value nature even more. Together, finding ways to reduce our impact and celebrate what we already have.
Many farmers, land owners, garden owners even, are grateful too, to have so-called 'weeds' (or wild food) removed. Just ask them first.
The Gift of Foraging
If you'd like to give the gift of foraging to another, to yourself or to your family, I offer a range of gift vouchers. The gift of foraging is yours forever, if you choose to receive it. Timeless, never ending and can be shared with friends, family and strangers, freely – as often as you want.
Back in the warmth of the summer, I had a glorious few hours with singer Kelsey Michael. We'd been getting excited about words and tunes and at last had found a moment to share a walk and sing together outside.
This quick video is of us singing, what Kelsey now calls; The Foraging Song. The tune is from the Cornish Can Dilly song. Here we share the Rock Samphire verse which we created together to help you remember a little bit about it's qualities!
If  you've  joined one of my foraging courses before, you'll probably be familiar with this snippet of information;
'Samphire growing on the rocks
Always there where the sea is not'
The song is in its early stages, open to having information added over time, about the same plant or additional ones (we currently have a Sea Spinach verse as well). I also share a popular recipe for Rock Samphire here; Rock Samphire Salsa Verde.
This is one of the elements we will be offering on our Wild Singing Walks - sharing anecdotes about plants, and potentially creating songs together with participants.
(The Rock Samphire edible plant we sing about, and Kelsey Michael on a stormy, winter's day)
Kelsey and I share a love of the land, sea and being present to the elements. Over the years we've danced together (for work and play), sea swum as well as eaten and celebrated lots together. I've even been a singing student of hers, which gave me the confidence to work on and sing a song solo in front of a small group.
Kelsey is a fantastic singing facilitator and a professional singer songwriter in her own right, having performed Internationally as well as locally. Our new venture together, offering Wild Singing Walks (including wild tasters and a solo al fresco performance by Kelsey), is guaranteed to be a unique and inspired experience - watch this space!
Follow the #singingforager to find out or hear more.
'You just have to try that green stuff' (participant on a foraging course)
Luscious wild greens; Rock Samphire (Crithmum maritimum) makes the perfect base for a Salsa Verde (green sauce) and it tastes so great that hardly anything else needs to be added.
Over the years my version of this Rock Samphire Salsa Verde has got simpler, depending on what other ingredients I have to hand, who I'm cooking for and my confidence of allowing this wonderful flavour to dominate, rather than plumping it up with other herbs. Gone is the parsley, the mint, the fennel (this plant is also, confusingly, sometimes known as Sea Fennel), it  is even good without lemon added.
Late spring or early summer is perfect for picking Rock Samphire, you can also get away with it in late summer if you only pick the young fronds and avoid the flowing stems. This is wonderful beach food and goes perfectly on fresh bread, or served with fish, or even mixed in with pasta or rice. It lasts well, and lifts many dishes. Here's my version with a few options too.

(Cooked Rock Samphire ready for the chop)
(The ingredients ready to mix, here I use shallots instead of spring onions)
ROCK SAMPHIRE SALSA VERDE
Ingredients
85 g Rock Samphire
3-4 Spring Onions
1 dessert spoon Capers
1 tsp vinegar
1-2 tbsp Olive oil
1 tbsp Lemon (optional)
Salt and Pepper (to taste)
2 Anchovies (optional)
Wash the samphire and cook in a small amount of water for 2-3 minutes in a lidded saucepan. The water doesn't need to cover the samphire, as it will reduce and cook in its own steam. Remove from the pan and allow to cool. Meanwhile finely slice the spring onions and chop the capers. When the samphire is cool enough to handle, finely chop it and mix in a bowl along with the onions, capers, vinegar, oil and salt and pepper. Add the lemon if using, and finely chop the anchovies and mix in thoroughly. That's it! Taste and adjust if needed.
Foraging courses are run throughout the year and most are on or include the coastal path and coastal plants such as; Rock Samphire. I also mention it here as part of my walking the South West Coast Path.