I love roses, and of course they are also one of the many symbols of love. Here in the UK we have several wild varieties and the cultivated ones are, almost, infinite.
After a hot, sunny day, I particularly love to be overcome by the scent of roses; the evening aroma of rose and other wild flowers lingers evocatively in the air as the sun goes down. Pure summer heaven, I think.
I could lie in bed reminiscing about their scent, trying to conjure up these smell memories, or I could find other ways to capture and literally bottle the heavenly rose....
Making your own rose water is a wonderful way to enjoy the roses again and again. Each rose is different, not only in scent but in colour, so the range of pink tones can vary hugely too. A more technical and intense process would be distilling the rose, though here I share an easy process you can do at home.
My favourite rose to use is Rosa Rugosa, or Japanese Rose, it is abundant in coastal areas, so is perfect where I live. However I recommend experimenting with different roses and, literally, stopping to smell the roses, following your nose until you find your perfect one.
Before I share how to make wild rose water, a note on picking rose petals. This is essential to look after the roses life-cycle and to ensure that the plant can produce rosehips (fruits) later in the year for animals, birds and humans:
Never take more than 1/3
Do not take the whole rose head (take just the petals)
Take the petals that come away easily in your hand (do not rip or pull them off), these will have the most mature scent
You can also pick the petals that have freshly fallen, or even dried (they will still have the scent)
How to Make Wild Rose Water
Rose water is a satisfying and simple way to bottle the flavour and colour of roses. This recipe makes a strong rose water, add more water if you want a weaker version. Each rose will have a slightly different scent and colour, I take great pleasure in bottling and seeing different versions in clear glass bottles next to each other.
Ingredients
Fresh rose petals
Boiling water
Roughly chop the petals and place in a measuring jug, packing the petals down as tightly as possible. Pour over just enough boiling water to cover the petals. The petals will float to the top so be sure to stir them back in. Cover the jug and set aside for 48 hours, you can leave for just 24 hours, though the extra day will extract extra flavour. Strain the liquid through muslin into sterilised bottles, making sure you squeeze out every last drop of the water and store in the fridge in sterilised bottles, or freeze in ice-cube trays. Use within 3 months.
Read here about edible roses, which ones to use and how to harvest them; Roses are Red, White, Pink and Edible.
I offer wild food foraging courses where I teach about different seasonal plants; flowers, leaves, fruits, shoots, roots and seeds and share many more tips and recipes.
Elderflower cordial is the ultimate summer drink, scent and medicine. As I sit here in my kitchen I'm enjoying their light, dreamy scent wafting across the room, of the ones I picked this morning.
Summer foraging for elderflowers is almost as popular as blackberries in autumn, or wild garlic in spring, and all for good reason. Elderflower cordial is the perfect way to capture and preserve the scent of summer. Foraging for edible wild plants is so rewarding too! Make your own homemade cordial to enjoy with friends and family.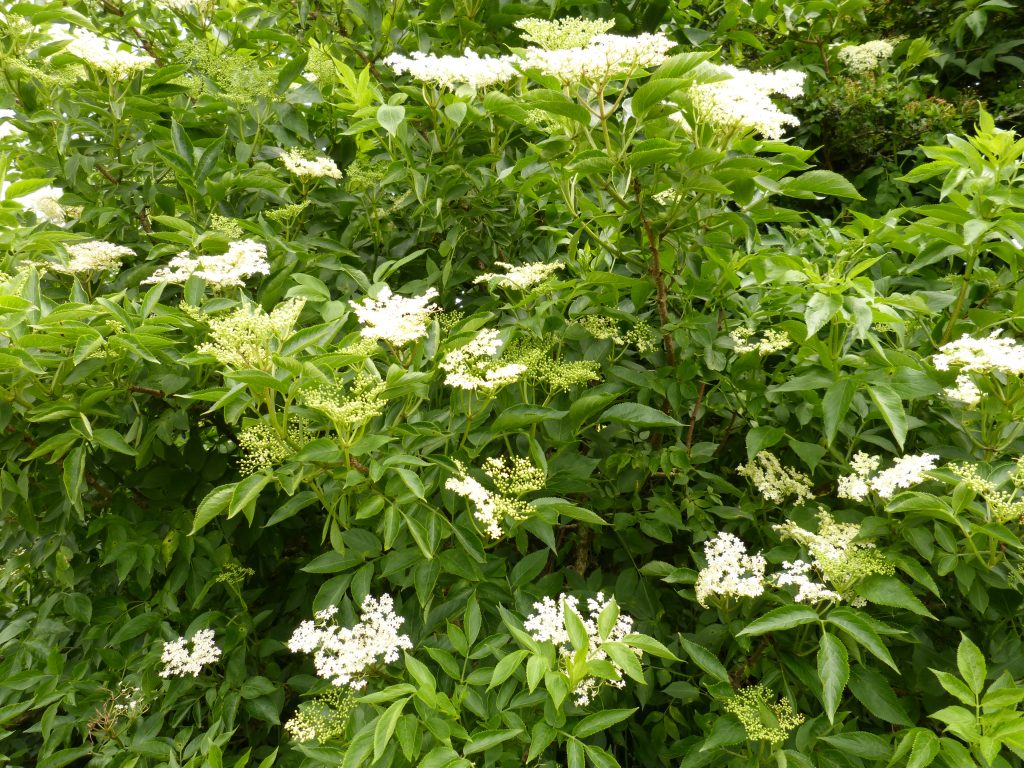 Where to find elderflowers
The elder tree is often considered a weed, it often grows on wasteland, in hedgerows and at the edge of woods. It loves the sun but can cope with shade, I often see them alongside roads and backing onto railway lines, which is often very frustrating because I'm rushing by!
When do elder flowers bloom?
Elderflowers start appearing in late spring and early summer. Here in the UK that means May to July, though this is dependant on how warm it is and whether spring started early or late. Sometimes July is still great for picking, and other years they have started to turn and are not worth picking.
Elderflowers can also be frozen. A few years ago my aunt froze a whole carrier bag of elderflowers for me. Once defrosted, they obviously don't look as good as when they are fresh, but you can still use them for making cordial or dry them for making elderflower herbal tea.
I also like to freeze some of my elderflower cordial in an ice cube tray, then I have ready to use portions!
How and why to dry elderflowers
Elderflowers can be used for herbal tea. You can dry them in the sun, in a dehydrator or at the lowest temperature in the oven and keep them for the winter months as medicine for colds, flu, coughs or bronchial issues.
How to make and use elderflower cordial
See below - a summary on this video and the full recipe at the end of the blog.
Use in cocktails, sorbet, ice cream, sweet bread, as a doughnut dip, elderflower champagne or dilute for hot and cold drinks. You can also freeze the cordial in an ice cube tray or bag and pop in soda water or defrost and dilute from frozen.
Why is elder flower cordial so good?
Many of us have a soft spot for sweet, and the combination of light and heady, citrus and sweet seems to be the ultimate combination!
Is elder flower cordial good for you?
Elderflowers have anti viral properties and can help treat colds and flu and quicken recovery. They can also be used to sooth sore throats, coughs and bronchial infections. Elder flowers are delicious and a medicinal plant.
How to identify elderflowers and the elder tree
Elder (Sambucus nigra) has umbel-like clusters of flowers, similar to that of the Apiaceae (Umbelliferae) family. To avoid fatal mistakes with deadly plants within this family, you must be 100% sure that you are picking the correct plant. This blog is focusing on the recipe, not on the identification, always check with an expert, so you can continue to enjoy foraging for food!
I run foraging courses throughout the year and bespoke foraging experiences where you learn how forage safely and how to identify trees like Elder correctly.
How to sustainably pick elderflowers
If you pick all the flowers there will be no elderberries later in the year - which would be very sad, for us and the birds. Bare this in mind and never pick more than 25% of flowers of a single plant or tree.
ELDERFLOWER CORDIAL RECIPE
This recipe needs some pre-planning - a bucket or heat-proof bowl, clean screw-top bottles, lemon squeezer, a funnel and a seive/muslin cloth is needed. You can alter the measurements depending on how many elderflower heads you pick
Ingredients
25 elder flower heads (flowers left on stalks)
3 unwaxed lemons (or 2 lemons and 1 orange)
400 g unrefined sugar
1.2 litres boiling water
2-3oz citric acid (if you're going to store the cordial for a while)
Ideally pick the flowers in full sun. Fork the flowers off the stalks or snip off the main stalks, putting flowers aside and discarding the rest. Place sugar in a pan and pour boiling water over, stirring until dissolved. Place the elderflowers (check to remove bugs) in a clean bucket and pour hot sugar mixture over it. Cut the lemons in half and squeeze the juice into the bucket, then grate the lemon zest and add this too. Stir, cover, and leave for 24-48 hours, stirring occasionally. Strain the mixture through a sieve, or preferably a fine muslin cloth, and funnel into clean bottles, or dilute and serve immediately!
For Elder Flower Sorbet
Follow all the instructions above, omitting the citric acid and dilute with two-thirds water and beat in one whipped egg white. Use an ice cream maker or get ready for these next steps... Freeze the cordial in a sturdy, lidded Tupperware or tin for 2-4 hours. Remove and mash up with a fork or in a food blender. Repeat at least once more. Serve on its own or with a variety of other desserts, particularly good with sponge cakes.
A long held discussion or even conflict within the world of wild foods is that of comfrey & whether its healthy or potentially harmful to humans. I'm sure this discussion will continue for, well, a while, meanwhile I thought I'd add my contribution. I've also included my latest recipe, alongside some reasons (including scientific ones) of why I like this plant.
Comfrey leaves - Symphytum officinale -  has been used for thousands of years as a food & medicine, some of its common names include 'knitbone' because of its internal & external application for broken bones. Indeed, it has been held in high-esteem by herbalists for its healing properties, in particular reducing inflammations by aiding cell regrowth & repair (1).
Just on a side line, if you research into comfrey as a plant food (a liquid green fertilizer) you will find lots of positive reports of its nutritious benefits of 'greatly enhancing the fertility of your soil'. I am aware that people are not plants - although an interesting topic based on our intake of so many nutrients from the plant world that are then laid down as vitamin & minerals in our bodies which create our bones, repair our cells - I digress!
Meanwhile, more recently, comfrey has been approached with more caution & in some incidences considered a potential poison that should not be used as a food, or indeed a medicine at all. Only last month, when speaking to a reputatable & quite open-minded scientist about wild food, he quoted to me the risk of eating comfrey in the context of the dangers of wild food foraging. Now, while I want to promote safe foraging ( some plants are most definitely poisons, for example, while others need to be processed), I also want to promote a balanced approach to plants as foods & accurately represent the benefits.
As a non-scientist, I've chosen to refer to research done & leave you to come to your own conclusions... In particular, everybody's body is different & reactions, can & indeed have, occurred. In particular, the main research that is often cited is from 1978 when rats were fed comfrey leaves (8-33% of their diet) for a durational period, which resulted in liver tumours developing in all cases (96% turned out to be benign by the way) (2). However, as pointed out by Health Practitioner, Dorena Rode (through her extensive & thorough research on comfrey - well worth a read), further scientific research has been carried out where no such results were found (3). I also usually add the obvious; that we are not rats & I challenge anyone (not literally) to even try & eat comfrey as a third of your diet for half a year!
So, am I promoting comfrey as a food, or am I not?
Well, over the past 5 years I have certainly used comfrey as an ingredient in wild food events & dinners (with no known negative side-effects). Excellent in curries, we were particularly pleased with our Sea Beet, Comfrey & Black Mustard Thoran - a South Indian style dish using coconut that Sara created on one of our inspired walks through the Cornish countryside.
Personally, I also remember over 15 years ago sitting in a wood with my boyfriend, it was morning time & he was cooking up comfrey fritters (quite a traditional & classic recipe quoted for this food) & frying wild mushrooms for people to taste - delicious! However, I have also remained cautious around using this plant too often.
Now, coming back to the present day. This morning I've been looking at those comfrey leaves I picked yesterday morning; a glorious summer wander with comfrey looking too good to be passed by. The combination of sunshine, the outdoors & wild food just gets my creativity going sometimes & I want to play! The heat also doesn't inspire a laboured curry for me & one of things I enjoy about comfrey is the cucumber-like flavour & freshness.
Armed with a little research, a healthy appetite & travelling past my local shop for a few ingredients - I set to. Before I tell you my recipe, I want to share with you a few tips that I decided to take on board regarding eating comfrey;
Here are 4 reasons why I continue to eat comfrey - occasionally: 
1. Apparently the older leaves are meant to be less potent in the Pyrrolizidine Alkaloids (4) that are thought to be harmful in comfrey - so I focused on picking these older leaves
2. I like life & have no desire to push the boundaries of nature, so am adhering to not eating comfrey too regularly or in large amounts (for my own comfort & peace of mind)
3. That comfrey is also RICH in many beneficial nutrients for us humans (great!) including; Calcium , Magnesium, Vitamin C, Vitamin B12, Beta Carotene, Phosphorus, Potassium, Vitamin E, Vitamin A, Iron,  Sulfur , Copper & Zinc (4)
4. I've never felt any ill-effects from eating comfrey & I enjoy eating wild foods.
Back to my recipe. Based on my love of that cucumber-like flavour of comfrey, plus reading that protein deficiency & lack of sulphure containing amino acids may contribute to the ill-effects of comfrey (3), I created this;
Comfrey & Yoghurt Dip
1 handful of comfrey leaves (older ones)
200g of natural yoghurt (the proper full fat stuff)
1 heaped tablespoon of good honey
1 squeeze of lemon juice
1 shake of liquid amino acids (google it!)
Put all the above in a food blender & whizz together. The result is a sweet, cucumber-like dip (think tzatziki) that I thought was delicious! Perfect for a summer spread of salads, dips & fruits. Let me know what you think..
REFERENCES 
(1) Comfrey 2011 University of Maryland Medical Center (UMMC)
(2) Hirono, I., H. Mori, and M. Haga, Carcinogenic activity of Symphytum officinale. Journal of the National Cancer Institute, 1978. 61(3): p. 865-9.
(3) Comfrey Central - A Clearinghouse for Symphytum Information www.comfrey-central.com
(4) Comfrey is Poisonous? Dherbs Article
Researching regional names of plants is a fascinating and usually an amusing pastime. Common Hogweed  (Heracleum sphondylium) is one of those plants, and as it's now in season (april to june) I thought I'd dedicate a whole blog article to it.
Inspired also by local names such as Pig Flop (an image of a pig collapsing after pleasantly over-indulging on this plants passes through my mind!), Cow Weed (what's its known as on the Scilly Isles), Cow Parsnip, Cow Belly and even Humperscrump, according to Forager and Author John Lewis-Stempel. It's also known as a type of poorman's asparagus, although I think it's superior.
To me, this plant has always been known simply and humbly as hogweed, and I'm going to share with you some facts about identification, names, tastes and recipe ideas.
Starting with identification, common hogweed can be found across the UK, it really is common and usually considered a pain. Its habitat can be varied and includes fields, open woodland, hedgerows and roadsides. Often people are sceptical when I introduce it as a potential food and for two understandable reasons.
Firstly,
For some it has the association of being poisonous, mainly because if the sap gets on your skin and is combined with sunlight, for example when strimming the plant on a hot summer's day in t-shirt and shorts, one can come up in horrible blisters that can scar. Not an experience I've shared, though I've heard enough stories to know it to be an unpleasant encounter.
Secondly,
There is the issue of correct identification. Hogweed (Heracleum sphondylium) is in the Apiaceae (Carrot) family and shares a similar flower structure with edibles such as carrot (funnily enough), parsley, fennel, chervil as well as the deadly poisonous plants; hemlock and hemlock water dropwort. Needless to say, mistakes can be lethal and enough to put many people off. However, there are distinguishing characteristics that can be learnt. Reading a few words and seeing a few images is not generally suffice for this, though it is a good start, so here it goes!
Flower head of Common Hogweed
Hogweed generally grows up to 2 metres tall (related & non-edible Giant hogweed grows up to 5 metres). Hogweed has hollow, ridged stems that are hairy, almost furry, that can give a white-ish tinge to the stems. The leaves are soft/furry with undulating lobes (see images) and stems can sometimes be purple, though normally green (NOT purple spots like hemlock). Like anything, take your time to get to know the plant (it will always return the following year if you're still unsure) check with experts & you will be duly rewarded.
Leaves of Common Hogweed (slightly undulating and definitely furry)
So with so many obstacles to over-come before even picking it, why bother at all? Well, of course its the taste. Like many wild edibles, it has, at times, been called poor man's asparagus - as its the young shoots you're looking for in spring. I like to think that this is sly way to protect a valuable plant which has an unusual taste that could easily be at home on many gourmet's plates. The history of so-called poor man's food includes beliefs such as inferiority of taste, too common (abundant) or inadequate in flavour (unlikely these days in comparison with bland, long shelf-life shop bought veg). As a modern day forager its a great plant - abundance is perfect (making it very hard to over-pick) and the unusual flavour is one of the exciting aspects of wild food. It is also rich in vitamin C and carbohydrate.
How to enjoy it at its best? Well John Wright (from River Cottage) covers the young shoots in beer batter. For me, I simply steam those young shoots, drizzle in butter or hollandaise sauce and serve as an accompaniment to fish or meat dishes. I've also chopped them up and added them as a flavouring for dhal (combines well with wild carrot seed ).
Finally, you'll all be asking what the flavour is. Well, the true answer is inside of you - we all experience tastes differently - though I describe it as perfumed, aromatic, sometimes a hint of bitterness & rich.
Hogweed Shoots with Hollandaise Sauce Recipe
To serve 2 persons
6 young hogweed shoots (Poor man's asparagus)
Boil the vinegar with peppercorns & reduce by half. Strain and put aside. Boil a large pan of water, then reduce to a simmer. Using a large balloon whisk, beat together the yolks and 2 tsp of the reduced wine vinegar in a heatproof bowl that fits snugly over the pan. Beat vigorously until the mixture forms a foam, but make sure that it doesn't get too hot. To prevent the sauce from overheating, take it on & off the heat while you whisk, scraping around the sides with a plastic spatula until you achieve a golden, airy foam.
Meanwhile put the poor man's asaragus shoots on to steam (4-5 minutes). Whisk in a tablespoon of the warmed butter, a little at a time, then return the bowl over a gentle heat to cook a little more. Remove from the heat again and whisk in another tablespoon of butter. Repeat until all the butter is incorporated and you have a texture as thick as mayonnaise. Finally, whisk in lemon juice, salt & pepper to taste plus a little warm water from the pan if the mixture is too thick. Drizzle over the hogweed shoots & serve as a starter or alongside meat or fish.
(Hollandaise Sauce image, thanks to - ourkitchen.fisherpaykel.com)
Last month a few hardy foragers (actually it was a lovely bright, wintery day) joined me at Cape Cornwall for a wild food walk with tasters. At a welcomed break we sat down with a large flask of 'Wild Spiced Cleaver Coffee'.
The drink went down well - sweet, hot and naturally containing some caffeine, everyone was pleasantly surprised! There are many variations in making this coffee substitute, this is one alfresco style on the beach!
Here's my indoor version of how to make cleaver coffee.
Everyone has there own traditions for Christmas Day. For me, I'm satisfied  if I'm in good company, have a dip in the sea & there's a healthy amount of indulgence.
Down here in Cornwall I've plenty of people to share these common themes with; least of all bracing the elements & stripping off on the beach for that ceremonial plunge - nothing like it for feeling alive & building up an appetite! So on the morn of the 25th, Sennen beach (just a mile from Lands End) was pretty packed with rosy faces & cold toes as we raced towards those rolling waves to start the day splashing about, all with good company, of course.
The rest of the essentials for the day already prepared, there was little left to do except dry off, drink hot tea & eat. As a lover of good food, I enjoy the simplicity of a good roast with lots of colourful veg to accompany it. I could tell you a good story of a wild meal, but in all honesty, for this day I'm on holiday, want to think as little as possible about food & just allow it to happen.
However, I had put my creativity together in the form of gifts & brought out some wild ingredients to invent new chocolate recipes. For weeks I'd been thinking about combinations that would excite & please. Who in my family likes richness, who needs to watch there blood sugar levels & who prefers a savoury twist. Of course, its impossible to please everyone, though the fun for me is in the creating & the making.
I created 8 recipes in all, some wild, some not, some rich & dark (I'm a Green & Black's fan myself) & some with raw cacao & agave syrup (far richer in minerals & with less of a caffeine hit - though still chocolate!). Cinnamon, fruit, Cornish sea salt, nuts & vanilla all featured & for the wild ones; laced with sloe vodka of course, & a white chocolate with dried blackberries in (good for children if you want to reduce the risk of too much hyperactivity).
The verdict? Well the large box of chocolates is being taken to family tomorrow & I'll see which ones disappear first & let you know! Its a time a year for many things & for me, there's definitely a place for good, indulgent chocolate, especially handmade. Wishing you all a joyous festive season & here's a couple of recipes to be going on with.  x
White Chocolate with dehydrated wild blackberries - goes like raisins, though with more seeds/texture!
Last year's sloes had been soaking in vodka for 12 months, de-stone & chop them, add a couple of tablespoons of the sloe vodka & stir into the melted chocolate. And one image of the final box of chocs! Most of them I've tasted, of course, so I'm quite confident about the results!
Autumn is full of potential pleasures, warming foods, sweet dishes and a bounty of autumnal fruits to enjoy. Personally, I take particular interest in creating desserts with wild ingredients, so when Sara from Cotna Barton suggested we made a wild apple meringue pie on our Forage, Cook and Dine event last month, I jumped at the chance to include another wild ingredient in there.
If you've been on a wild food walk with me or another forager, you may well of tasted this amazingly strong flavoured seed; Common Hogweed (Heracleum sphondylium). Common as muck (as the expression goes!), it is often mistaken for being poisonous because if the sap gets on your skin and reacts with sunlight you can come up in horrible blisters that can scar. However, several parts of the plant can be used as a food, & these seeds are excellent as a flavouring. Correct identification is essential of this plant though, especially as it is related to several poisonous species such as Hemlock.
So what's the taste? Well, taste is a very personal experience, though some of the descriptions I've heard is; orange peel, aromatic, soapy, turkish delight, spicey...
Some people like it, some people don't. Unfortunately, Sara, our cook for this event is not a fan of the flavour, so including it in this recipe took a little persuading. Luckily, I was convinced it would work, so into the ingredients list it went. One of the secrets with this seed is to grind it - it really helps to release the flavour and breakdown the papery texture of the seed pod.
Well, before I go onto sharing the recipe, let me tell you that the dessert was a success, 9 hungry foragers, cooks and diners polished the whole dish off, and Sara's plate was clean too - she liked it! It just goes to show that some wild ingredients are really worth persevering with, until you find the right combination of how to use them.
Wild Apple Curd and Hogweed Seed Meringue Pie
Ingredients
For the Curd
500 g cooking apples
finely grated zest of 1 lemon
100 ml lemon juice
500 g unrefined caster sugar
4-5 large eggs
150 g shortcrust pastry baked in a flan case (prepared before hand)
For the Meringue
4 egg whites
200 g unrefined caster sugar
handful of hogweed seeds
Chop the apples into a pan with 100 ml water and the lemon zest. Cook gently until soft and fluffy, then rub through a sieve. Put the butter, sugar and apple puree into a heatproof bowl over a pan of simmering water. As soon as the butter is melted and the mixture is hot and glossy, pour in the eggs and whisk with a balloon whisk.
If the mixture splits, take the pan off the heat and whisk vigorously until smooth, before returning to the heat. Stir the mixture over a gentle heat until thick and creamy, scraping down the sides of the bowl every few minutes. This should take about 10 mins. Pour immediately into the pastry base.
For the meringue, use a food blender to blend the sugar and seeds until the majority of the seeds break down and an aromatic smell is released. Discard the seeds which stay whole. Put aside. Whisk the egg whites in a large bowl until they form soft peaks, then add the sugar a spoonful at a time. Pile onto the tart and bake at gas mark 4 for approximately 20 mins, until the meringue is crisp and slightly coloured.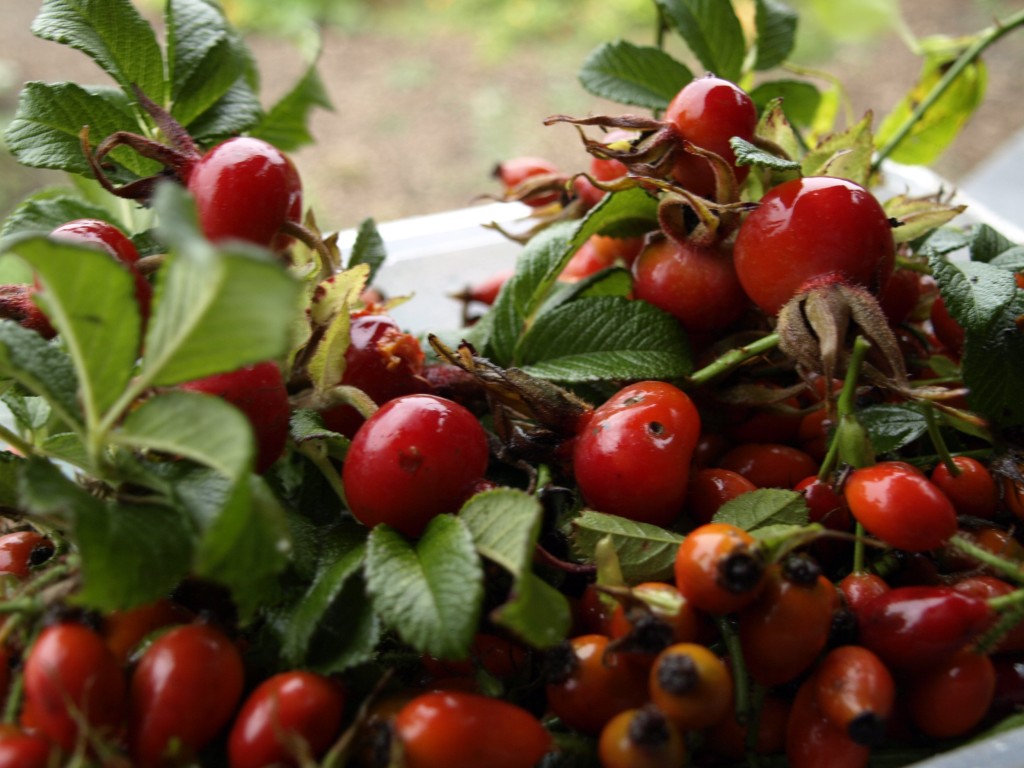 Rosehips are traditionally used for making rosehip syrup, but there's so much more you can do with them.
I recently led a group of families on a foraging walk and provided sweet biscuits with rosehip fruit in them. Fleshy, tart bites of red fruit nestled within a biscuit base. They went down really well!
Preserving rosehip fruit
Here I share how to store rosehip flesh by making a rosehip fruit leather. This is a labour of love - a process to be enjoyed, with a fruity goal in mind. The result is a delicious and versatile sheet of pure fruit which can be stored for months and used as a snack or to flavour; tarts, chocolate and ice cream to savoury rosehip crackers.
Which rosehips to use for making rosehip fruit leather
Using Japanese Rose (Rosa rugosa) hips will enable you to reap more fruit for your work, they're a larger hip than our native rosehips making them easier to handle.
Where to find Rosa rugosa rosehips
These plants have naturalised in many places, originally many were planted on sand dunes and shingle beaches to help stabilise the ground. Hence one of their names - beach rose. You can also find them on waste ground, or in cultivated gardens. Several times I've befriended someone who has them growing in their garden. I gather their hips in exchange for a proportion of what I make. It's always gratefully received.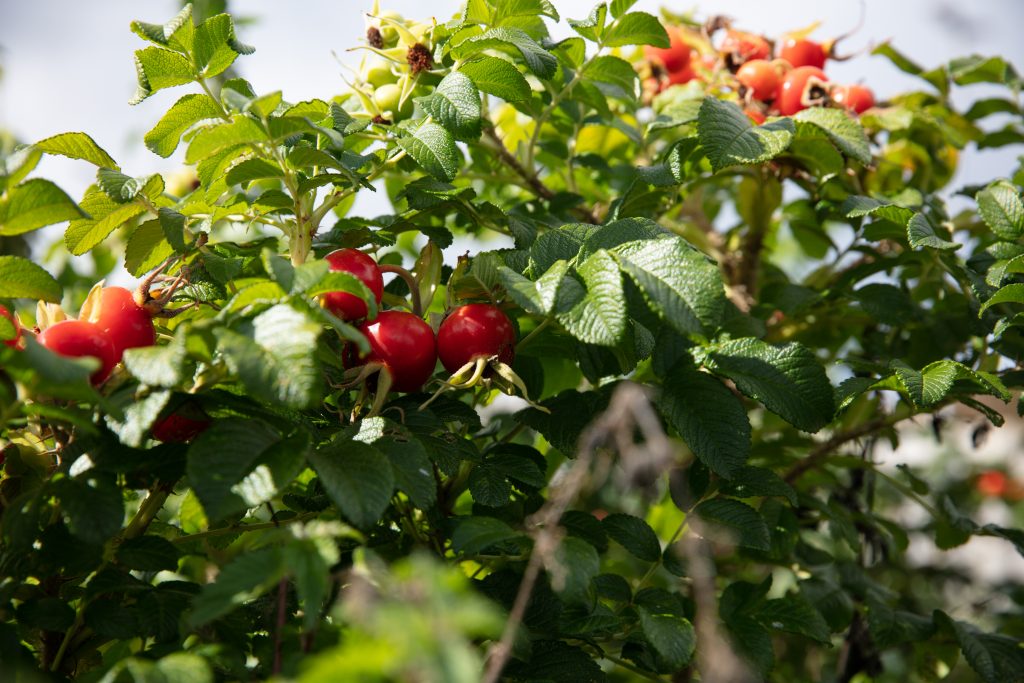 When to gather rosehips
Start looking out for hips from late summer & through autumn. You could of course wait for after the first frost, at the risk of the birds getting them first. Living in Cornwall, with a milder climate & being impatient to utilise these fruits, I normally pick them as soon as possible & freeze them to 'fake' the first frost. I'm looking for the dark red fruits, not too orange in colour. Freezing them also means you can store them until you're ready to embark on processing them.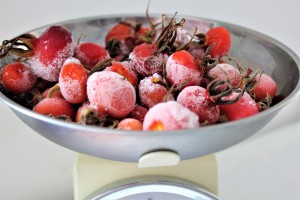 How to make rosehip fruit leather
Defrost or pick the fruits after first frost. Start processing them as quickly as possible so not to loose valuable vitamin C. Carefully and patiently remove the flesh from around the outside of the fruit, careful not to dislodge the tight ball of hairy seeds. You want to avoid these seeds as they can irritate the digestive tract.
This is a messy and fiddly job, so take your time, you'll be left with a pile of fleshy rosehip pulp, and a pile of hairy seeds. Discard the latter. You may want to chop the pulp a little, to ensure that you don't have too bigger pieces of flesh or fruit skin.
If you're using a de-hydrator, follow the instructions for making fruit leather, and spread the fruit pulp onto the teflon sheet before drying the fruit for several hours. If using an oven, line a dish or baking tray with oven-proof clingfilm, and spread the pulp on, about 2mm thick. Put the oven on the lowest heat and leave for up to 12 hours.
The consistency of the fruit leather can be altered according to taste - slightly moist and chewy or dry and almost brittle. The latter will keep longer. When needed, rehydrate the fruit and blend or cut and grind into flakes/powder.
What is the flavour of rosehips?
What I love about working with wild fruit is the flavour is so unique. These particular fruits - Rosa rugosa are not as sweet nor tart as Rosa canina (Dog rose). Instead, they have been compared to processing fruit this way is that there is no need to add sugar. Instead, you can get to taste a mixture of natural sweetness & tarty-ness of this amazing super fruit.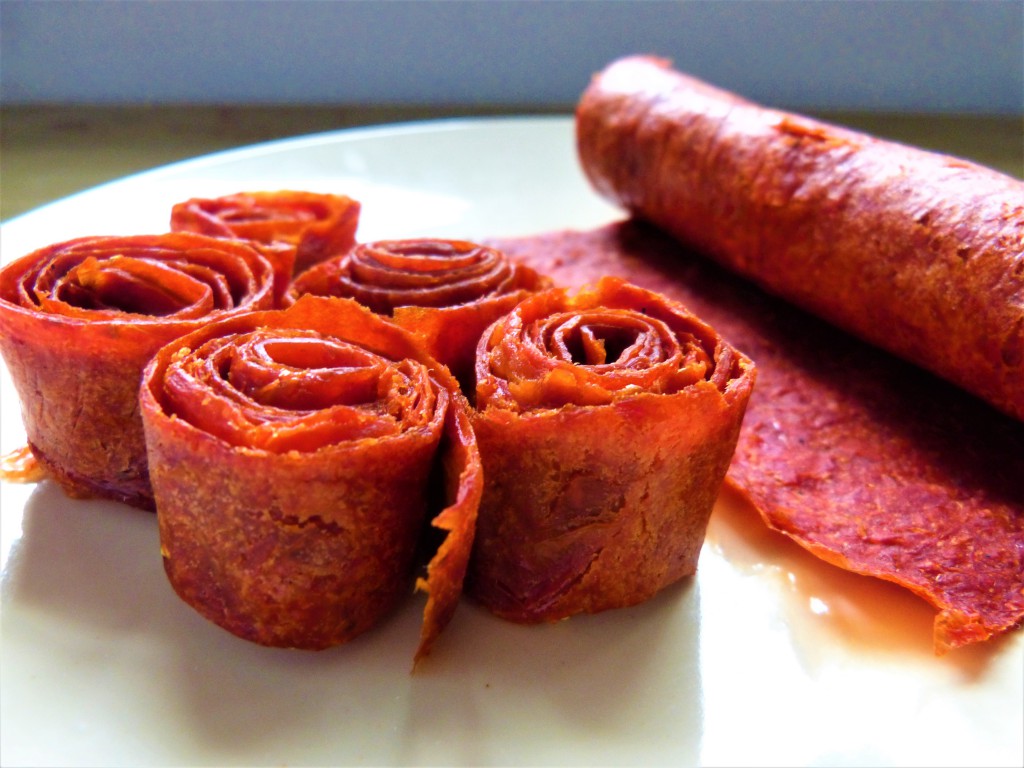 How to use rosehip fruit leather

Once you've made your fruit leather, either keep it whole or cut it into strips and store in a dry place. It will keep well for over one year.
You can chew on the rosehip fruit leather as a snack, powder it and use it in Rosehip and Buckwheat Crackers. Alternatively, break it into small pieces and rehydrate in a small amount of warm water to use in desserts.
Not much time left and many are just out of reach! Remember to take a ladder foraging with you or a good friend with climbing skills...
Last Resort - I've had to resort to just picking one or two heads this time of year, and drying them for elderflower tea. You may have more luck! Though drying Elder flowers for tea is great medicine for the winter months, read below to find out more.
Elderflower syrups and dishes are potent medicine - they can help counter hayfever, fight colds, boost your immune and send you to a delightful floaty place with those sweet aromas...
Choose from fresh or dried elderflower tea (just add hot water), elderflower fritters, or cordial for sorbets and ice creams, mix with summer fruits or into cocktails. Here's a simple recipe for cordial and a tempting image of local fruits cooked with elderflowers - delicious!
(photo: Elder flowers and Yarrow)
Elderflower Cordial
This is classic recipe with a bit of a twist, I like to change things sometimes, so here I use a mixture of orange and lemons, and add a little honey too. If you want a more traditional recipe, here it is; Elder Flower Cordial and Elder Flower Sorbet Recipe.
This cordial is a wonderful refreshing summer drink, and elder flowers are also a great remedy for colds. You'll need some pre-planning - a 1 litre container, clean screw-top bottles, a funnel and a seive/muslin cloth is needed, or improvise with what you have. Adjust the amount according to the number of flowers you have picked.
Ingredients
450g unrefined caster sugar
1.5 litres boiling water
20 elderflower heads (flowers left on stalks)
2 unwaxed lemons
1 orange
4 tbsp honey
2-3oz citric acid (if you're going to store the cordial for a whole
Ideally pick the flowers in full sun. Place sugar in a pan and pour boiling water over, stirring until dissolved. Place the elderflowers (check to remove bugs) in a clean bucket and pour hot sugar mixture over it. Grate the lemon and orange zest, then cut the fruits into slices, squeeze, and plop into the container (it could be a saucepan, or a large heat-proof bowl). Stir, in the honey until dissolved, cover, and leave for 24-48 hours, stirring occasionally. Strain the mixture through a sieve, or preferably a fine muslin cloth, and funnel into clean bottles, or dilute and serve immediately!
(Photo: Elderflowers cooked in a summer fruits pudding)
Having watched spring slowly arrive over winter, in the last few weeks it has speeded up & fully arrived in all its glory. I love spring, perhaps because it's the season I was born, or maybe  because of those lovely bouncy baby lambs in the fields... Then there's the increase of day light & all the spring foraging to enjoy too. An abundance of smells, tastes, textures & goodness - all oozing with vitamins & minerals. Basically a multitude of reasons to have a spring in my step & that madness of energy that's associated with this time of year.
Teaching foraging is largely seasonal, mainly because people want to forage to certain times of year, rather than there being a lack of plants during the winter months. As my season starts of kick off, my days feel fuller - bookings, organising & planning. At the end of the day there's nothing fresher for me than to take a walk, get away from the computer & amble along, lazily picking as I go. It's relaxing, valuable time-out, all with a flavour of spring madness of the plants I have to choose from as I walk.
Ooooh, what catches my eye today? So much to choose from. Today I chose just a few spring greens for supper - nettles, cleavers, & tri-cornered leek for soup. Chickweed & yarrow for frittata. I could go on about the bounty to enjoy, though really I just want to sit & eat, then do it all again tomorrow! Wishing you wonderful spring foraging - this really is the time to go mad out there & forage to your hearts content.
Shopping down the supermarket aisle? Not for me, in spring all my greens come from the hedgerow.
This blog is about how to remember and appreciate the mundane (and why we're running 'Nettle Days').
In life and relationships it is all too easy to take for granted those that are close to us, to over-look our loved one's qualities that we once fell in love with. Too easy to forget that they are amazing, loveable, admirable, desirable, shifting our focus instead onto their negative qualities & the things we'd like to change.
Why nettles are worth falling in love with
I feel it is the same with Nettles (Urtica dioica). We've got so used to seeing them - almost everyone knows what a nettle looks and feels like - that all we have left to say to them is rude and dismissing. Our modern culture tells us that foreign super foods are bigger and better, though Nettles are just as good and free! It's time we rekindled our love for this plant.
Because nettles have always been there for us. A true native, growing and thriving through our British seasons, arriving, without fail, each spring - vibrant, potent and bursting with nutrition.
Nettle stings
Oooh, but nettles sting I hear you cry and they are always growing in the wrong place and are a real pain to get rid of.
Well, those so-called negative qualities also have a flip side. Nettles sting to protect themselves - yes, they're that valuable that they developed a protective mechanism. Their sting even contains the same compound as a bee sting - formic acid. The sting of the nettle has also been used to help relieve severe rheumatic pains and to help improve blood circulation (Culperer Herbal). As spring arrives the sting is even more virulent (I can still feel my fingers pulsating from my yesterday's foraging!).
The benefits of nettles
The ability of the humble stinging nettle to grow in abundance was of great use to our ancestors and is great for us too. Those long roots that are so difficult to dig up enable nettles to draw up the rich nutrition deep in the soil. Exuding with vitamin B2, C, E, K, iron, protein, magnesium, calcium, beta-carotene as well as other minerals. They've been used to treat anemia, rheumatism, arthritis and kidney disorders to name a few. All this makes nettles a fantastic food, hair tonic and herbal tea.
The thick, hardy stems contain strong fibres that have been used to make string & rope as well as practical & beautiful clothing. My favourite are delicate nettle shawls, see www.wildweaves.co.uk.
So to conclude, why would we want to get rid of this old love, for a new more exciting one? Why not re-ignite or even start your love for nettles; cherish their qualities, put on your best (nettle) clothes, eat (nettle soup), drink (nettle beer) & be merry! Nettles are our own, native super food. Available in abundance, on our doorstep, in hedgerows, fields & amongst the plants we so lovingly cultivate. Life is too short to chase the greener grass elsewhere, especially when the grass here is so rich with nettles!
Finally, are they tasty? Are they ever! Use like spinach, they're great in lasagne, curry, soup, risotto, in falafel, gnoochi & make a great base for pesto (blanch the leaves first).
Wishing you a wonderful love affair... X
Once you know Common Sorrel (rumex acetosa) it's perfectly normal to start seeing it pop up all over the place; in hedgerows, lawns, fields, grass verges. It really is so common, that you'll be amazed you never spotted it before!
Of course, each plant has its own characteristics, making it unique and easily identifiable, though to me it is as if each plant also develops its own character too. Or perhaps I just start to see each plant as a character. In the early days of foraging I would regularly take walking breaks to help clear my head and gain perspective again - life becomes a lot simpler I find, if I go for a walk. I would mindlessly begin spotting plants as if they were landmarks or a way to orientate myself in the landscape, whether I knew the walk well, or it was completely new to me. Somehow being able recognise plants along the way helped me feel comfortable and at home.
It was a bleak, non-descript kind of February day that I comforted myself by the fresh greenery around me, and feeling particularly inspired, or who knows, maybe the plant spoke to me, these words started to flow. Perhaps it reflects those early days of identifying and getting to know the plants, anyway, I wrote this poem in honour of Common Sorrel.
I met a friend today,
A familiar face in the hedgerow.
Smooth skin, tall and straight,
A tailored jacket and spear shaped hat.
He promised me tangy company, tarty surprises
And melt in the mouth experiences.
Though his delicate demeanour hid a sharp taste, addictive and tantalising.
Oozing witht As, Cs and Iron strength.
I plucked him from his familiar home,
Twirling him between my fingertips.
I watched his tails flutter in the wind, till his jacket became limp and a sour expression covered his face.
One bite and I am hooked on you dear sorrel
Your lemony tang is un-mistakable,
Your taste, instilled in my taste buds
And I will dance to see a sight of you in the hedgerows again.
Sorrel is a great winter, spring & autumn salad leaf, it has a great tarty, lemony taste & traditionally has been used in sorrel soup, in omlettes & even in sweet tarts. There is two things to be wary of with sorrel; firstly identification, secondly not to eat too much of it. I've heard some stories of people mistaking lords & ladies for common sorrel (not a pleasant mistake), & eating too much of it can bind up valuable nutrients in the body - hardly the desired effect! Enjoy in moderation & be sure you're identifying the right plant.