I've been teaching foraging for a while now (over 10 years), and I've just come across some old film footage of me introducing stinging nettles (Urtica dioica). Oooh, we were all younger then, weren't we!
Nettles remains one of my favourite wild greens, especially in spring, and as I write this (in April), I'm enjoying nettles most days, in soup, cake, pakoras, tea or doughnuts - yes doughnuts, more on that later!
For ideas of how else to use nettles, do have a look at my Stinging Nettle blog, in particular you want to read this one; A Dozen Ways to Eat Nettles, or come along on a wild food foraging course where I share all this and more.
As you can imagine, I've learnt a fair amount over the years, and love to share what I know. There is plenty to say and learn about the humble nettle, from recipe ideas to health benefits, to worldwide uses.
It's a fresh winter morning and I am sitting watching the sky lighten and the day begin. I am just sitting, doing nothing, while the day is offering nothing less than a performance. Blue sky starts to peek through, charcoal grey clouds move slowly in front of me, then disintegrate. White gulls glide elegantly past, squawking, and I just sit here. I feel alive and in awe of these gifts being freely given to me.
How to Freely Receive
Receiving gifts is an active participation, a choice and as I breathe in these gifts from nature, I feel exceptionally grateful and alive. Just walking out into nature is a constant reminder to me of the abundance of life, the vitality in the earth, if I just choose to receive.
Here in winter I'm surrounded by nutritious greens of alexanders, tentative nettle tops, fluttering and healthy looking violet leaves. I see how rock samphire shoots push through, despite the increasing coldness, how sea spinach faithfully remains throughout the year. I taste the mild oniony flavor of three cornered leek, and receive the nutritious gifts from all these wild greens.
Countering the Buy, Buy, Buy of Consumerism: Simplify
As the year turns towards Christmas and the media urges towards buying, consuming and wanting, I want to simplify, to focus on giving and receiving. To share walks with strangers, friends, family, animals and nature herself. To enjoy the simple things of life; make good memories, love better, share good food, have a laugh, feel touched by things that matter.
Foraging as Giving and Receiving
I receive so much from nature, and I hope I give back in my appreciation and through passing on a some simple guidelines of foraging ethically. Foraging in small amounts, taking just what we need, no more, no less. Guidelines I highlight in my environmental policy too.
I hope I also give through sharing my foraging skills and experience, through offering an opportunity to understand and value nature even more. Together, finding ways to reduce our impact and celebrate what we already have.
Many farmers, land owners, garden owners even, are grateful too, to have so-called 'weeds' (or wild food) removed. Just ask them first.
The Gift of Foraging
If you'd like to give the gift of foraging to another, to yourself or to your family, I offer a range of gift vouchers. The gift of foraging is yours forever, if you choose to receive it. Timeless, never ending and can be shared with friends, family and strangers, freely – as often as you want.
Spring is exciting - a combination of warmth and light gets plants, animals and human-animals going. Sometimes, for me, too going. The term mad march hare feels too close to home for me, as I prance around the hedgerows picking wild greens as if there is no tomorrow, or as if spring won't last forever, which of course it won't. Lets face it, we've often being waiting a while for it to come too.
Many wild greens respond well to being plucked, for example when the tops of nettles are snipped off this stimulates more growth and leaf tops to grow. So below I've chosen 5 common wild foods that arrive every year, a plenty and are happy to be plucked, appreciated and eaten.
Here are my top 5 pick-ables (non-technical term :)) for this spring, I have loads of nuggets of information and recipes to share on each of them, though for now I'll keep it brief.
My Top Five Spring Wild Foods
1. Stinging Nettles Urtica dioica
Never under-estimate a common plant, believe me, nettles are a valuable food and we are lucky to have them. Their nutrition and versatility makes them easy to use (just avoid being stung) and they are (in my humble opinion and according to nutritional facts) better for you than spinach or cabbage.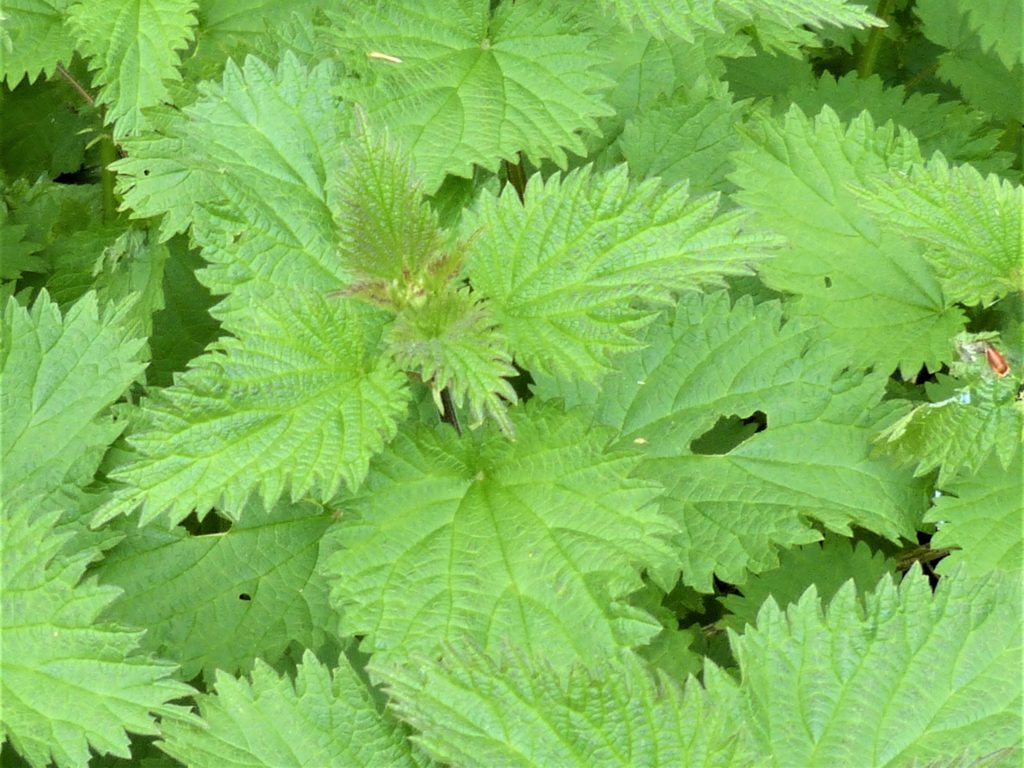 2. Wild Garlic Allium family
The wild onion, garlic and leek family is vast and too large to go into here, though their commonalities include a wonderful garlic taste (and smell), anti bacterial properties and support for the heart. The whole of the plant can be used and it can be used raw or cooked - raw is stronger. It is one of the key edibles of spring.
3. Cleavers/Goosegrass Galium aparine
Cleavers spread. They grow up to 1 metre long and can be collected without a bag (let them stick to you). The leaves are a wonderful spring cleanser and support the urinary and lymphatic system, though best cooked to avoid the not so pleasant hairy texture when raw and use in small amounts. I like to just pluck the tops and sweat them with nettles in butter or oil.
4. Alexanders Smyrnium olusatrum
Writing this from the south coast of Cornwall, Alexanders are definitely on my list. Abundant and often considered an invasive (land managers around Bristol have also practically pleaded with me to pick and eat them too). Nutritious and versatile, if you just know how to use them and pick them early on in spring.
5. Common Sorrel Rumex acetosa
Sorrel sap is tart and lemony and at its best in spring, and once you get your eye in, you'll start to see it everywhere. Delicious added to so many savoury and sweet dishes, though don't eat too much as it contains oxalic acid which isn't good to eat in large amounts. A little is fine though.
So there you have it, my five favourite wild greens, and yes greens are best in spring. Next spring, maybe I'll share a different five, as there's always more to share.
Sea Spinach soup is a simple, delicious soup which celebrates this wonderful wild green. Creamy, filling and even dairy-free, perfect for a fresh, early spring al fresco lunch, or an autumnal or winter trip out along the coast, with a flask of tasty hot soup.
Spring is here and it is undeniably the time for greens*; the green leaves and shoots of wild edibles start to edge higher towards the light and their taste begins to improve. I love seeing plants growing in the wild - green is gentle medicine for my eyes - and that's why I like to pick only the plants that are growing abundantly - leaving a lot behind in nature.
*If you're reading this in autumn or winter, the leaves of Sea Spinach , are also good to pick through autumn and winter too.
I don't always plan my foraging, actually, I rarely do, instead, it becomes a spontaneous response to my surroundings. This was one such morning; I'd arranged to meet a friend at 8am so we could enjoy a morning walk - the weather was expected to be good and we both wanted to start our day outside, in sunny nature.
It was crisp and sunny, and wrapped up in big coats we walked through a small woodland, birds singing, light streaming through and nature felt alive. We felt alive - fresh to the day and with nothing much to say.
We reached the coast, and Sea Spinach (Beta vulgaris), also known as Sea Beet, was almost glistening in the light. Ooh, those shiney leaves looked good enough to eat! We ambled along the coast and pick a few leaves here and there, looking for the best one, the shiniest ones, the healthiest, freshest ones, the further we walked, the more patches of leaves we found. Taking just what we needed, we continued on our sun-rich morning walk.
My mind wandered to cooking...
Hours later I was back in my kitchen, flicking through Darina Allen's book, looking for an inspiring spring greens recipe, and found a wonderful and traditional Sea Spinach soup; utilising this tasty wild in a full-fat, creamy base. Yum! I love Darina's writing and her traditional, fool-hardy recipes, I used her Irish Beef Stew recipe in my first book with wild, Black Mustard mash.
Thanks Darina.
Though as much as I love, and trust her recipes, sometimes I want a break from milk and cream. This was one such day, so I set about adapting her recipe to use coconut milk instead. I love tweaking recipes.
The result was delicious; I enjoyed it on the beach with a group of foragers (we all had seconds), then supped the hot left-overs as a starter with friends that evening. A beautiful, fresh green colour and perfect if you are waiting for the stinging nettles to arrive, though you are a little too early.
Sea Spinach and Coconut Soup (my version)
Ingredients
1 tbsp coconut oil
1 medium onion
150g pots, diced (scrubbed, though not peeled)
200g creamed coconut
1300ml boiling water
2 tsp powdered vegetable stock
salt and pepper
300g sea spinach (stalks removed)
handful of three-cornered leek (optional)
In a medium saucepan, heat the oil over a medium heat, chop the onion and add to the sizzling oil, stir and cook until translucent. Lower the heat, add the potatoes, and sweat for 10 minutes. Meanwhile, roughly chop the cream coconut and place in a large, heat-proof bowl, pour the boiling water over the coconut, and stir until dissolved. Strain and add the liquid to the potatoes and onion. Season with stock and salt and pepper. Chop the sea spinach and three-cornered leek and cook for 3-5 minutes, or until the spinach is cooked. Blend and serve, or pour into a hot flask and take to the beach for a hearty lunch.
It's deep December and I'm standing outside. Actually, there's 8 of us standing outside and waiting for the one that's gone astray. Once we're all congregated, we begin. There's something innately quiet about walking in Winter, as if all around us is sleeping, and in some ways it is. We walk together through this slumbering landscape, initially unaware of the life around us.
What can you forage in winter?
From as early as November, my forager eyes start to spot edible greens that are normally associated with spring. Alexanders, Nettle Tops, Three-Cornered Leek (locally known as Wild Garlic), Wild Cress and Mustard, Pennywort, Wild chervil, Gorse flowers and even Daisy leaves and flowers for salads and cooked dishes.
Although the nutrition of plants can be significantly increased in Spring, goodness can still be enjoyed from these plants through the winter months. In Cornwall, where we may lack in terms of nuts and berries (there are only a few forests & woodlands here) it is more than made up with coastal plants and, due to the mild climate, a great choice of edible greens right through winter. While other areas of the UK are below frost or snow, there are milder areas of Cornwall that offer valuable forage-ables.
The benefits of foraging in winter
What's more, foraging feeds the soul not just in winter, though every time of year. According to the National Wildlife Federation's article; It's all in the dirt, the reason for this includes good bacteria in the soil that releases seretonin - the feel good hormone. This makes me feel even better about my muddy boots and dirty fingernails too!
In some ways, there's more to see in winter, without the distraction of hoards of people, beautiful, bright flowers, and sunsets to melt into. Instead, the offerings maybe more subtle - beige stems, low growing greens, and flowerless stems, though don't be tempted to dismiss these edible due to their humble winter personas.
Common Hogweed seed (Heracleum Spondylium), for example (below), may look like a dead seed-head, though within it lies delicious aromatic flavours for curries and many sweet dishes.
If you need it, use foraging as an excuse to get you outside, for that dose of daylight, fresh air and nature fix. Watching wintering birds, or rolling white horses of the waves, and returning with a handful of winter greens, it's hard for the soul not to be lifted, even if just a little. And if you're still not convinced and only yearning for the bright yellow sun of summer, then perhaps gorse is the only cure for you. Up on the moorlands of Cornwall, somewhere, you will always find the bright yellow flowers of gorse; an uplifting flower. According to Bach Flower Remedies gorse can offer you hope, when all hope is lost. I promise, summer will return.
Having watched spring slowly arrive over winter, in the last few weeks it has speeded up & fully arrived in all its glory. I love spring, perhaps because it's the season I was born, or maybe  because of those lovely bouncy baby lambs in the fields... Then there's the increase of day light & all the spring foraging to enjoy too. An abundance of smells, tastes, textures & goodness - all oozing with vitamins & minerals. Basically a multitude of reasons to have a spring in my step & that madness of energy that's associated with this time of year.
Teaching foraging is largely seasonal, mainly because people want to forage to certain times of year, rather than there being a lack of plants during the winter months. As my season starts of kick off, my days feel fuller - bookings, organising & planning. At the end of the day there's nothing fresher for me than to take a walk, get away from the computer & amble along, lazily picking as I go. It's relaxing, valuable time-out, all with a flavour of spring madness of the plants I have to choose from as I walk.
Ooooh, what catches my eye today? So much to choose from. Today I chose just a few spring greens for supper - nettles, cleavers, & tri-cornered leek for soup. Chickweed & yarrow for frittata. I could go on about the bounty to enjoy, though really I just want to sit & eat, then do it all again tomorrow! Wishing you wonderful spring foraging - this really is the time to go mad out there & forage to your hearts content.
Shopping down the supermarket aisle? Not for me, in spring all my greens come from the hedgerow.
This blog is about how to remember and appreciate the mundane (and why we're running 'Nettle Days').
In life and relationships it is all too easy to take for granted those that are close to us, to over-look our loved one's qualities that we once fell in love with. Too easy to forget that they are amazing, loveable, admirable, desirable, shifting our focus instead onto their negative qualities & the things we'd like to change.
Why nettles are worth falling in love with
I feel it is the same with Nettles (Urtica dioica). We've got so used to seeing them - almost everyone knows what a nettle looks and feels like - that all we have left to say to them is rude and dismissing. Our modern culture tells us that foreign super foods are bigger and better, though Nettles are just as good and free! It's time we rekindled our love for this plant.
Because nettles have always been there for us. A true native, growing and thriving through our British seasons, arriving, without fail, each spring - vibrant, potent and bursting with nutrition.
Nettle stings
Oooh, but nettles sting I hear you cry and they are always growing in the wrong place and are a real pain to get rid of.
Well, those so-called negative qualities also have a flip side. Nettles sting to protect themselves - yes, they're that valuable that they developed a protective mechanism. Their sting even contains the same compound as a bee sting - formic acid. The sting of the nettle has also been used to help relieve severe rheumatic pains and to help improve blood circulation (Culperer Herbal). As spring arrives the sting is even more virulent (I can still feel my fingers pulsating from my yesterday's foraging!).
The benefits of nettles
The ability of the humble stinging nettle to grow in abundance was of great use to our ancestors and is great for us too. Those long roots that are so difficult to dig up enable nettles to draw up the rich nutrition deep in the soil. Exuding with vitamin B2, C, E, K, iron, protein, magnesium, calcium, beta-carotene as well as other minerals. They've been used to treat anemia, rheumatism, arthritis and kidney disorders to name a few. All this makes nettles a fantastic food, hair tonic and herbal tea.
The thick, hardy stems contain strong fibres that have been used to make string & rope as well as practical & beautiful clothing. My favourite are delicate nettle shawls, see www.wildweaves.co.uk.
So to conclude, why would we want to get rid of this old love, for a new more exciting one? Why not re-ignite or even start your love for nettles; cherish their qualities, put on your best (nettle) clothes, eat (nettle soup), drink (nettle beer) & be merry! Nettles are our own, native super food. Available in abundance, on our doorstep, in hedgerows, fields & amongst the plants we so lovingly cultivate. Life is too short to chase the greener grass elsewhere, especially when the grass here is so rich with nettles!
Finally, are they tasty? Are they ever! Use like spinach, they're great in lasagne, curry, soup, risotto, in falafel, gnoochi & make a great base for pesto (blanch the leaves first).
Wishing you a wonderful love affair... X