Here I'm going to share with you how to preserve the goodness of nettles by making a nettle powder, but first, lets talk about why this is a good thing to do!
All stinging nettles are edible and good for you, just pick away from sources of pollution like pesticides and car fumes. They are best to pick in spring, so as summer comes closer it is good to think about how to preserve nettles so you can enjoy their goodness through the summer months. Remember not to pick them if they're flowering and head to shady spots where they will flower later.
Are nettles a superfood?
Superfoods tend to be plant-based, are highly nutritious foods that often also contain antioxidants, believed to protect the body from toxins and diseases such as cancer. Nettles contain iron, magnesium, potassium, phosphorous, and calcium, vitamin A, C, K and Bs. They also contain antioxidants and can have as much as 25% protein compared to 30% protein in spinach, but nettle powder could have as much as 33% protein (1).
Harvest your own superfood and make your own protein powder!
Pick the nutritious tops of stinging nettles - use thick gloves and scissors - and dry to make your own nutritious protein powder, for free!
Making nettles powder is a convenient way to process and store nettles for energy balls, smoothies or nettle tea. I've also discovered that powdered and blended with the same amount of unrefined sugar makes a great dip for freshly made doughnuts, you could use my Elderflower doughnut recipe as a base for this.
Nettles are high in iron, making them a particularly good herb for women. They are also low in fat, have been used to help treat arthritis and there is some evidence that they may reduce the symptoms of hayfever.
This powder is 100% natural, isn't refined and uses a whole, real food which happens to be nutritious with a good amount of protein in. What isn't to like?!
How to make nettle powder
Makes 25 g (6 tbsp)
Ingredients
125 g fresh nettle tops
There are several ways to dry nettles. First, wash and dry them as much as possible, either in a salad spinner or between tea towels. If you're baking anyway, the easiest way is to place the nettles on a large baking tray and, once you've finished using the oven, turn it off, place the tray on the bottom shelf and leave for a couple of hours or longer. Depending how efficient your oven is at retaining heat, this could be enough to dry out the nettles. Alternatively, place the nettles on a baking tray and place in the oven at the lowest temperature until dried.
If you've plenty of time and space, you could lay the nettles out in a large baking tray, or even on clean tea towels or cooling racks. Leave in a warm space and leave to air-dry for 48 hours, or until dry. Do turn them intermittently to check and separate any clumps of wet nettles.
The nettles need to be dry enough that they crumble easily when touched or rubbed. They can still sting a little, so use gloves to transfer them to a pestle and mortar or electric grinder to make the powder.
Once they are powdered they won't be able to sting you! Store in a sterilised jar, or even in a small, open pot until ready to use.
How to use Nettle powder
I love using this powder in and as a coating for my nettle energy balls. You can also blend them half and half with sugar, icing sugar and blitz to a make a nettle sugar. Use the nettle sugar to dust over cakes, roll energy balls in it or coat freshly made doughnuts in it!
To make nettle sugar
Combine 2 tbsp nettle powder with sugar and powder.
Nettle Energy Ball Recipe
This is my ultimate recipe for using nettle powder and nettle sugar, here's the recipe - Nettle Energy Ball recipe.
I have lots more recipes for nettles on my Stinging Nettle blog and cover nettles on my foraging courses (mostly spring and autumn ones).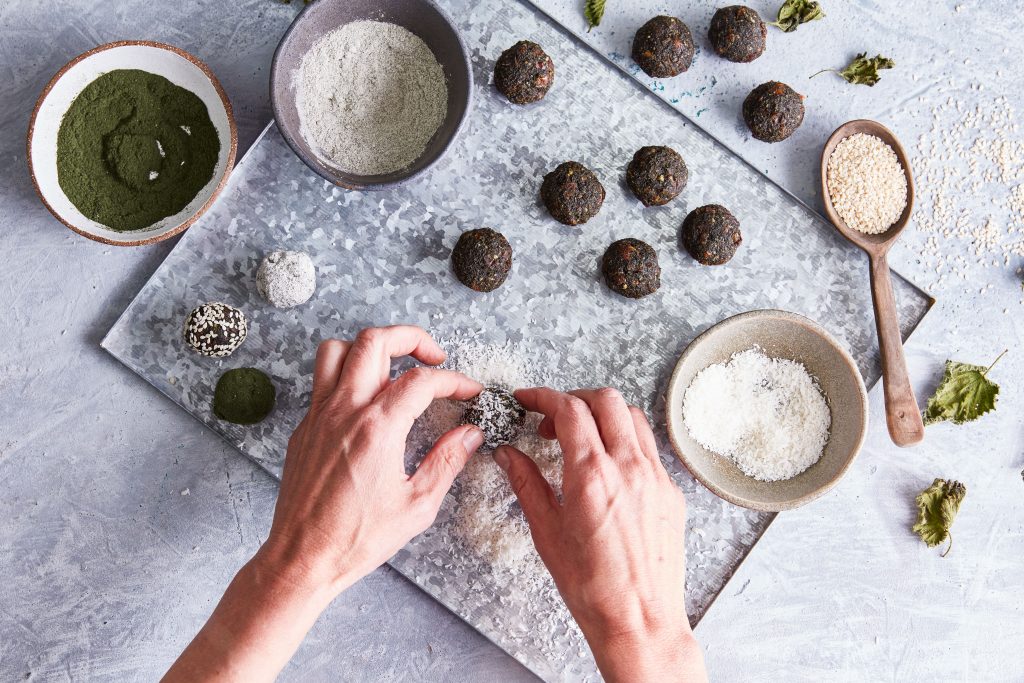 I love making these, they're so easy and utterly scrumptious. Unfortunately my dog discovered he liked them too (when left alone in the kitchen with them). So now I have to make, then hide them, and the dog is now sleeping the whole lot off!
I love these so much I've created two versions for you. There are thousands of ways to create nettle energy balls, so hopefully this give you some idea of combinations for you to try for yourself.
Lemon and Nettle Energy Balls Recipe
These zingy balls are easy to make and rather addictive! Once you've made your nettle powder, they can be made any time of year.
Makes 12–15
Ingredients
250 g (1 cup) pitted dates
3 tbsp lemon juice
60 g (⅓ cup, plus 1 tbsp) cashews
2 tbsp Nettle Powder
Toppings (optional)
3 tbsp sesame seeds, desiccated coconut or nettle powder
Combine the ingredients in a food processor. If making by hand, finely chop the dates, place in a small bowl cover with the lemon juice and leave for 5 minutes. Meanwhile, finely grind the cashew nuts in a seed grinder, a strong plastic bag with a rolling pin or patiently in a pestle and mortar. Add to the date mixture, along with the powdered nettles, and massage thoroughly with a spoon or your fingertips until the mixture is smooth and can be rolled into (somewhat sticky). Shape the mixture into 5 cm balls. Pour each topping into a shallow bowl and roll the balls until coated. Store in the fridge and use within a week; best eaten at room temperature.
Sweet and Nutty Nettle Energy Balls
These are sweetened with nettle syrup and the powdered nettle sugar coating gives them a delicious, almost seaweed-like flavour.
Makes 12–15
Ingredients
Follow the method above, using just half the nettle powder and leaving enough time for the syrup to be absorbed before rolling into smooth balls. For the coating, combine the icing sugar and rest of the nettle powder and roll the balls in the powder. Store in an airtight container in the fridge, along with any excess coating and use within a week.
These are quite a rustic version of wild nettle pakoras and are very simple to make, you can use many different wild greens if you like. I had three cornered leek to hand, rather than wild garlic, or you could use a clove of cultivated garlic.
I've also learnt a few things while making these for the 'nth time. I can work with the spices I have (and don't have to stick to those listed), baking powder makes them a little like popcorn (yum!) and I can (almost) eat them as quick as I can make them!
Nettle Pakora Recipe
Makes 20-25
Ingredients
260 g chickpea flour (gram flour)
2 tsp sesame seeds
1 tsp tumeric
1 tsp red chilli powder
1 large pinch of asafoetida
1 large pinch of baking powder
1 tsp sea salt
2 tsp cumin seeds, ground
2 tsp coriander seeds, ground
1-2 green chillies
Handful three-cornered leek (or wild garlic)
100 g nettle tops
250 ml water
500-1000 ml vegetable oil
In a large mixing bowl, combine the chickpea flour, sesame seeds, tumeric, chilli powder, asafoetida, baking powder and salt.
Freshly grind the cumin and coriander seeds and add to the mix.
Finely chop and deseed the green chillies and add in, combining well.
Next, wash and chop the three cornered leek and stir in.
Wash and roughly chop the nettles; use wooden spoons to move them around and cut with scissors.
Gradually add two thirds of the water. Allow the mixture to rest. Check the consistency, you're wanting a wet batter, though not watery. Add the rest of the water if necessary.
Prepare a couple of large plates with absorbent paper kitchen towel on (I didn't have any so just placed them on a dry plate).
Heat the oil over a medium to high heat in a large pan or deep fat fryer - I used a wok and turned them to cook both sides.
Test to see if the oil if ready by dropping a small amount of batter into the oil. If the oil is hot enough the mixture will sink to the bottom then float straight to the top again.
Using 2 teaspoons, shape the mixture into firm balls, each about the size of a very heaped teaspoon.
Fry each pakora for 3-5 minutes, turning if needed or until golden brown, remove with a slotted spoon and place on the kitchen towel.
Serve with sorrel and yoghurt dip (in my book Wild Food Foraging...) or for a vegan alternative, try with Rock Samphire salsa verde.
You may want to check out my other stinging nettle recipes too, or join a spring foraging course.
Five years ago I wrote a blog about my Nettle and Honey Cake - it went down a treat. Named as; 'probably the best cake I've ever had' by one enthusiastic forager, I was super pleased the result.
Every so often I like to repeat recipes so I can enjoy the flavours again and see if they need tweaking. Over the last few years I've also found that nettles combines well with ginger and with lemon and, although this cake contains neither, its texture is reminiscent of a lovely moist ginger cake.
Last week, however, I made a new discovery; nettle cake (urtica dioica) and gorse (ulex gallii, ulex europaeus) flower syrup! It's a wild and divine combination which I just had to share with you.
A Spring Dessert: Nettle and Honey Cake with Gorse Flower Syrup
An almost toffee flavoured, moist, not too sweet cake, with a sweet hit of moorland gorse flavours drizzled over it. Somehow, this whole combination reminds me of green tea, perhaps it is the lovingly received health benefits of these local, wild ingredients, or just the natural flavours of green nettles and infused gorse.
Ingredients
50-75 g nettle tops
250 g clear honey
100 g dark muscovado sugar
225 g butter
3 large eggs beaten
300 g white flour
4 tsp baking powder
For the syrup
50 g fresh gorse flowers
225 g unrefined sugar
300 ml water
Place the gorse flowers in a medium saucepan with the water and sugar and bring to the boil. Immediately take off the heat, cover with a lid and leave overnight (or for as many hours as you can). The next day bring the liquid to the boil again and simmer for 10 minutes. Strain through a fine sieve or muslin cloth and store in sterilised bottles in the fridge or freeze in ice cube containers and defrost as needed. Will last a month or so if not frozen.
Line a 20 cm square or round cake tin and pre-heat the oven to 150°C. Steam the nettles for 5 minutes and put aside to cool. Place the honey, sugar and butter in a small saucepan over a low heat and stir until melted and combined. Once the nettles are cooled, blend with the eggs to make a smooth, green pulp. Sieve the flour and baking powder into a large bowl and gradually beat in the melted sugar and butter mix. It will resemble a lovely toffee colour.
Pour in the pureed nettles and blended eggs and beat together.
It makes a wonderful green, raw cake mixture colour! Pour into the cake tin and bake for an hour, or until a skewer inserted into the centre comes out clean, or the cake springs back when touched. Allow to cool for a few minutes before removing from the tin onto a cooling rack, and cool completely before slicing. Serve with gorse flower syrup.
Read more about Stinging Nettles for food, and I've many blogs about Gorse Flowers including recipes too.
Stinging Nettles (Urtica dioica) are one of my favourite spring greens, and this was a recipe I shared with Graham Pullen of St Ives Screen Printing at Tom's Yard. Graham is keen on making art affordable and accessible, and has incorporated the recipe into one of his hand-printed individual cards (featured above). I love both Graham's botanical drawing of the humble nettle, and his interpretation into print.
The last time I made this recipe was for my friend's birthday last spring. We had a 'bring a contribution' curry dinner and the range of curries, samosas and spiced breads was great. These nettle pakoras fitted in perfectly. The only down-side was my dog sneakily finishing off the cooking oil. Trust me, you don't want to know the end of that part of the story.
The fourth time I made them was when I ran a nettle day at Bramble Cottage. It was great having a 6 month old, budding forager with us, gurgling, watching and smelling the various stages of the process. Perhaps that's where this nursery rhythm tune came from, finding a soothing way to give a little extra information about the humble stinging nettles.
You can watch the process and hear the song in this video; 'Making Nettle Pakoras' below. The reason for the song lyrics is explained in my blog When NOT to eat Stinging Nettles, yet the song is self-explanatory really, so just watch and listen...
The recipe?
Do get in touch with Graham, and he can show you, sell you or tell you where to get a great range of foraging recipe cards, including this one with the full recipe. For more ideas, why not browse my Stinging nettles blog. Nettles are regularly included in my wild food foraging courses too.
Follow the #singingforager to find out more.