Wakame (Undaria pinnatifida) is also known as apron-ribbon vegetable, Asian kelp or Japanese kelp. It is a delicious seaweed native to Japan, China and Korea. It has been harvested in Japan for around 1,500 years and cultivated there since the 1950s.
In the mid 1990s, wakame turned up in British waters. It can be found in small amounts along the south coast in marinas, off pontoons and in estuaries.
In this blog I discuss how to identify wakame and where to find it. I share a video of it in and out of water, the benefits (and problems) with it and recipe ideas!
Where does wakame like to grow?
I found these samples of wakame with fellow MBA students in and around Plymouth. We were all fascinated by seawaeeds and were attending a 3-day course with the Marine Biological Association. Wakame arrived in the UK via the marine culture and shipping. This method also brought it to France, Belgium, Spain, USA, Argentina, Australia and New Zealand.
Wakame thrives in cold water, preferring and reproducing at temperatures of 5-15°C and at up to 20°C. British sea waters are a perfect environment for it to grow, as it ranges from an average of 6-10°C in the winter and 15-20°C in the summer. It is a seaweed we could expect to see more of.
Wakame can also tolerate changes in salinity and therefore grows well in estuaries where seawater meets fresh water.
It grows in a variety of conditions and can form dense kelp forests. Here is an image of a single piece of it.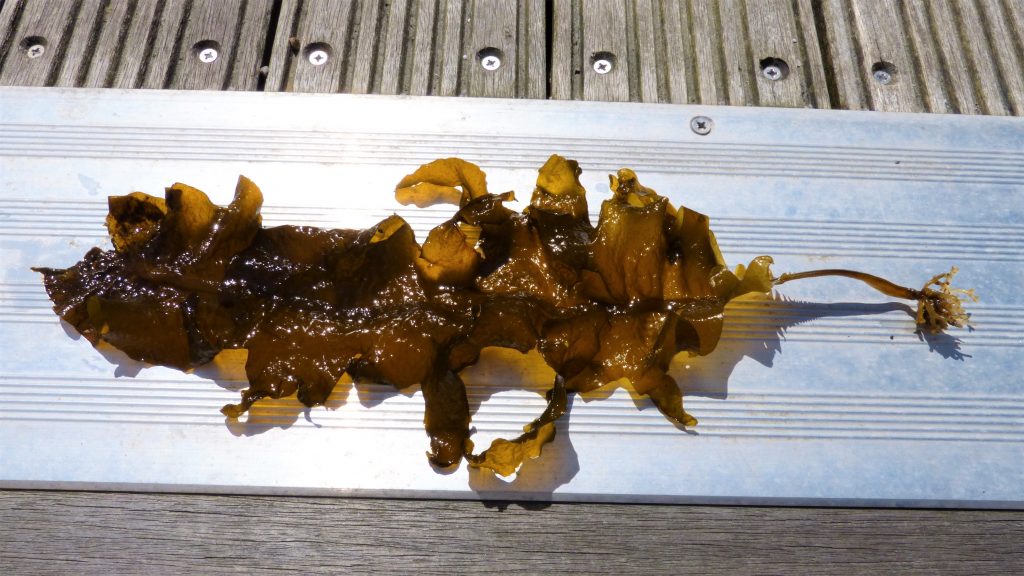 What does wakame look like?
Wakame is a member of the kelp family and has a similar look and thickness to Dabberlocks (Alaria esculenta) and Sugar kelp (Saccharina latissima).
Wakame has a ragged edge making it look like fingers or ribbons (see above). It grows up to 3 metres long and has a mid-rib or stem running through the middle of the seaweed, along its whole length.
Wakame is a yellowy-brown seaweed. It is a lot lighter in texture than many other kelps such a oarweed (Laminaria digitata) or forest kelp (Laminaria hyerborea).
The benefits of wakame seaweed
Wakame contains good amounts of; folate, vitamin C, calcium, iron, magnesium, manganese, B2, B3 and B5. It is a light seaweed that an be eaten raw. It is slightly sweet and can be used in similar ways to Alaria escunlenta.
Traditionally pieces of wakame are added to miso soup. In my Seaweed book I share recipes for a crab or carrot and ginger salad with alaria and a sauerkraut and kimchee recipe using it too. Wakame could easily replace alaria in these recipes.
For food lovers, this possibility of finding wakame locally is exciting, yet there is a bigger picture too. Wakame is listed as one of the top 100 worst invasive species. However sightings in the UK are still minimal.
If and when wakame increases and becomes an abundant or problematic seaweed here in British waters, there is an easy, ethical and healthy way to reduce it's presence. Forage it by hand and eat it!
Want to find out more about edible seaweeds?
I lead monthly seaweed foraging courses, offer private seaweed tuition, have lots more seaweed blogs and cover 5 seaweeds with recipes in my wild food foraging book and 16 seaweeds in my seaweed book. Happy foraging.
References
www.fishsite.com
www.wikipedia
Seaweeds of Britain and Ireland by Francis Baker, Juliet Brodie, Christine Maggs and Anne Bunker
Seaweed Foraging in Cornwall and the Isles of Scilly by Rachel Lambert
Karen Pirie, a Cornwall based podcaster recently joined me on a seaweed foraging course to record a podcast for her new venture; Cornwall Woman.
I've known Karen for a few years and find her easy company. She travelled with me to meet our group of keen and potential seaweed foragers on the south coast of Cornwall. On the way we chatted about life, using time well, foraging, nature and love - all the important things of life for sure!
Here's the podcast, which includes snippets about Laver/Lava seaweed (Porphyra species), Dulse (Palmaria palmata) and even Kelp (Laminaria digitata), oh and Karen's favourite Pepper Dulse (Osmundea pinnatifida).
The day was blowy and together with the group we found sheltered crops of rocks where we hid from the elements and talked about and tasted our freshly foraged seaweeds. Later on we found warm rocks to lean against, which were even further out of the wind, and here we enjoyed Spiced Seaweed Broth and Seaweed bread. The recipe for the broth (image below) is here; Seaweed Soup with an Inner Kick and the recipe for the Sea Lettuce Seaweed Bread is here in my Seaweed Foraging Book.
After the course, Karen and I slipped away to check out another beach I really wanted to see at low tide. Here, we got to chat some more about the course that had just happened and the role that foraging can play in helping us prioritise what feels good and how it can help re-balance our lives. Thank you Karen, and all the best with Cornwall Woman, which is all about cool Cornish women and their love-affair with Cornwall.
Hearty Seaweed Broth (awards for taste but not for looks!), fit for a windy Cornish beach when something hot and nourishing is needed. This is just before I ladle it into a food flask and whisk it off to our beach where we'll spend 3 hours learning about its ingredients and much more. If you'd like to try the recipe, here it is again; Three Seaweed Soup with an Inner Kick.
I've been reading in this Saturday's Guardian how Thomasina Miers has been supping lots of soup so far this year, and I feel like saying 'me too', though not for the same reasons many women have validly and valiantly been saying this across continents.
Tommi Mier's restaurant chain Wahaca specialise in Mexican food, and while this isn't a Mexican dish, it is definitely inspired by the spicy punch that Mexican food often has. My me too is about supping soups. Soups that are warming, healthy and bring people together, especially on a cold March morning. It's been cold, too cold and soup is the perfect remedy, this one's got a chilli kick to get your inner fire going, if it isn't already by the outrageous scale of the #metoo movement and the injustices it highlights.
Back to the soup.
This soup using 3 locally foraged seaweeds;
Kelp (Laminaria digitata)
Sugar kelp (Saccharina latissima)
Sea spaghetti or Thongweed (Himanthalia elongata)
These could also be substituted for a mixture of;
any kelp seaweed (Dabberlocks, Oarweed, Furbelows, Wakame),
any wrack seaweed (Bladder wrack, Serrated or Toothed, Spiralled)
pepper dulse could also be used instead of black pepper for one layer of the 'kick'.
Oh, by the way, kelp is called kombu in Japan, and the basis of this soup is similar to a vegan version of dashi stock which combines kombu and shitake mushrooms (and omits bonito flakes which are fish).
There is lots, lots more I could say about seaweed, and soups, though here I'll keep it simple and just offer you this recipe.
(Soaking the seaweed and straining off the ingredients for making the broth)
Three Seaweed Soup
A warming broth which is so simple to make and is great on its own or can be used as a base for a noodle soup or more of a substantial soup, broth or stew.
Ingredients
12cm length of dried kelp (or 1/3 more if fresh)
12 cm length of dried sugar kelp (or 1/3 more if fresh)
10cm single length of sea spaghetti (or 1/3 more if fresh)
2 litres boiling water
1 medium onion, finely chopped
3cm chunk of ginger root, chopped
Lots of freshly ground black pepper
small handful of dried chanterelle mushrooms
1-1/2 tsp dried chilli flakes
soy sauce to taste
Cut all of the seaweeds into small pieces and place in a large pan. Add the boiling water, then all the rest of the ingredients, except the soy sauce. Place a lid on the pan and leave to simmer for 40 minutes. Place the mixture in a food processor and blend till the pieces are broken down, or strain if you prefer a clear broth. Add the soy sauce to taste. Serves 6 as a small bowl of soup, or 12 as a small starter/taster.
The finished Broth, before I ladle it into a hot food flask and take it to the beach to share with participants on a seaweed foraging course.