A crunchy unrefined sugared snack complete with the delightful zing of hogweed seeds. Inspired by my talented friend and chef Fiona Were. Fiona created a delicious hogweed seed caramel for a group of foodie Americans whom I took foraging here in Cornwall. This recipe balances the carbohydrate of sugars with the protein of nuts and, in my experience, gives a definite lift to sluggish afternoons.
Hogweed seeds (Heracleum sphondylium) is a member of the umbellifer (carrot) family and must be identified correctly to avoid illness or death!
Sign up to access this post
Access this post and more for £5.95. Already a member? Sign in here.
RICH PICKINGS
MONTHLY BASKET
£5.95 per month
Get more! You'll get access to all the Taster Basket blogs, plus an additional 2 seasonal posts of my most treasured material AND be able to access the last 6 months of Rich Pickings offerings.
Unsubscribe at any time.
The Umbelliferae (Apiaceae) family, also known as the Carrot family is a large family of plants, all with the similarity of umbels - think structure of an umbrella with a handle, spokes and canopy. There are some fantastic edibles within this family and also some deadly poisonous plants. A little foraging knowledge can be dangerous and this family needs to understood well and the plants respected.
Here are 8 wild foods within the umbellifer category (there are 18 edibles in total in this family). It goes without saying that this information is not enough to identify and use these wild foods. Though it is an introduction to them, with links to more information about the main plants I teach.
Introducing 8 umbellifers in flower
Wild Fennel (Foeniculum vulgare)
An aniseedy scented plant and a wonderful flavouring (unless you don't like fennel). It's a coastal plant in my foraging book where I share a fennel sorbet and fennel flower fritter recipe.
Rock Samphire (Crithmum maritimum)
A coastal plant that in the past was highly rated as a vegetable and for it's nutritional qualities. I've written about rock samphire as my favourite summer plant, shared a delicious salsa verde recipe for it, and recipe for pickled rock samphire. It is also in my foraging book.
Alexanders (Smyrnium olusatrum)
An invasive plant that I'm passionate about. I have a whole blog section dedicated to Alexanders and it's also in my foraging book.
Wild Carrot (Daucus carota)
A coastal that has spread inland. You need permission to dig up the (small and fibrous) roots. The seeds are edible but shouldn't be digested if you're pregnant. This plant is in my Foraging book where I share a Carrot Seed and Honey Cookie recipe. Extra info: I have used the summer flowers in a similar way to elderflowers and infused them for syrup - they have an unusual, subtle and carroty flavour!
Hogweed/Cow-weed (Heracleum sphondylium)
Also known as Common Hogweed (in comparison to Giant hogweed) is a common sight across the UK and Europe. I've previously shared recipes for it; Hogweed shoots in a cake, plus a vegan version of Pear and Hogweed Shoot Cake. I sing the praises for it as an alternative and superior asparagus. and even used the seeds to flavour meringue in an Apple Curd and meringue Pie recipe.
If you want a thorough introduction to the shoots, take a look at my hogweed shoots in spring blog and I also have a dahl and hogweed shoots recipe too.
Cow Parsley/Wild Chervil (Anthriscus sylvestris)
Often the first spring flower to appear. A very common hedgerow plant, the leaves can be eaten but should be avoided once the plant is in flower. However, before the flowers appear the leaves and stems can be eaten. I like the leaves in salads and the stalks simmered and added to sauces.
Pignut (Conopodium majus)
A delicate flowering plant, renown for the nuts (roots) that are tricky and (a little) rewarding to dig up as food. Not a nut at all, but a nutty flavour and texture of a fresh hazelnut.
Wild Celery (Apium graveolens)
I've rarely seen this in Cornwall, I photographed this one in Norfolk where I was excited to find it! A stringy plant, personally I prefer to use Alexanders (its predecessor).
When I first used Hogweed seeds, this light, spongy textured biscuit was the carrier I chose for their unique flavour.
Perfectly balanced with flours and spice, it's a simple, reassuring lightly spiced treat and a good place to start if your unfamiliar with hogweed's flavour.
Hogweed is a member of the umbellifer, apiaceae, also known as carrot family. There are wonderful edibles and poisonous plants in this family and correct identification is essential.
Hogweed Spiced Biscuit recipe
Makes 20
Ingredients
90 g salted butter (room temperature)
100 g soft brown sugar
1 egg, lightly beaten
75 g wholemeal flour
100 g plain flour
1½ tsp of baking powder
3 tbsp water (if needed)
1 dessertspoon of hogweed seeds, ground, or chopped
Mix the flour, baking powder and salt. Cream the butter and sugar in a separate bowl, then beat in the egg and wild spices. Gradually add the dry ingredients to the wet ones, stirring in well. If needed, add the water, little by little to the mix, the mix should be firm so you can roll it into a log shape of about 3 centimetres in diameter. Cover this with grease-proof paper and put in the fridge for an hour, or several if you have the time.
Preheat the oven at 190°C. Slice up the log into 1 cm pieces and shape into flat circular patties and place on a greased baking tray. Cook for about 15 minutes or until golden brown. Serve with tea or juice.
Common hogweed (aka cow parsnip) is common across Europe and the US and also found in New Zealand and Australia. I regularly teach about this plant from spring through to winter on my foraging courses, including how to correctly identify it.
Common hogweed shoots, also known as cow parsnip (Heracleum sphondylium ) add an aromatic twist to this Indian dahl recipe. Think of this common weed as the exotic, wild vegetable and you'll be close to what hogweed offers us. A good dahl is simple to create and is a great carrier for mild spices and the shoots offer a subtle flavour, neither overpowering nor underwhelming.
As I'm making this during the COVID-19 pandemic, I'm using spices and ingredients that I have at home. Feel free to increase or replace spices with ones that you have to hand. There really are a multitude of ways to make a good dahl.
I lalso ove the lemon (or lime) addition in this recipe, it compliments the hogweed shoots perfectly. I hope it's a good introduction to this plant for you. It only uses a little hogweed and I don't advise increasing the amount!
Hogweed shoots
To find out more about Common hogweed shoots and how to identify them, check out my blogs on; foraging for hogweed shoots in spring, hogweed shoots in a cake, exploring other names for hogweed and a simple recipe, plus hogweed shoots in a spring farinata.
The Recipe: Dahl with Hogweed Shoots
Serves 3-4
Ingredients
1 cup red lentils 150g
3 cups water 600ml
2 ripe tomatoes
1 tbsp sunflower oil
1 onion
2 cloves of garlic, or equivalent in wild garlic
½ tsp cumin seeds
½ tsp fenugreek seeds
½ tsp mustard seeds
1 tsp tumeric
1 bay leaf
juice of 1 lime or 1/3-1/2 lemon
salt & pepper to taste
4-6 small common hogweed shoots
Place lentils in a sieve and rinse well in cold water. Pour cleaned lentils into a medium sauce pan and add 3 cups of water. Bring lentils & water the boil, reduce heat, cover and simmer for 10 minutes or until the lentils are soft. While the lentils are cooking bring a separate small pot of water to a boil and score the peel of the tomatoes with a sharp knife in the shape of an "X". Place the tomatoes in the boiling water and blanch for one minute. Remove the tomatoes to a bowl to cool, once cool, peel the tomatoes and cut out and discard the tough stem end. Chop the tomatoes and slice the hogweed shoots into 2 inch lengths and put both aside.
Slice onions and garlic and heat the oil over medium heat. Add the chopped onions, cooking till translucent, about 3 minutes, add garlic and cook for 1 minute. Add the cumin, fenugreek and mustard seeds, cook and stir for another 2-3 minutes, then add bay leaf and turmeric. Add this mixture to the lentils and cook for a couple of minutes. Add salt and pepper, lime juice, hogweed shoots and tomatoes and cook for a further 10 minutes or until hogweed shoots are soft. Adjust salt if necessary.
For a really wild Indian thali, why not serve with some of my other wild food recipes. Such as; rice flavoured with ground magnolia, nettle pakoras and dulse dukkah stuffed chapatis from my Seaweed foraging book. Just a thought!
Sign up to access this post
Access this post and more for £3.50. Already a member? Sign in here.
SEASONAL TASTER
MONTHLY BASKET
£3.50 per month
Every month you'll receive 1 seasonal wild food recipe from my edible plant of the month, plus links to additional seasonal posts AND be able to access the last 6 months of Taster basket offerings.
Unsubscribe at any time.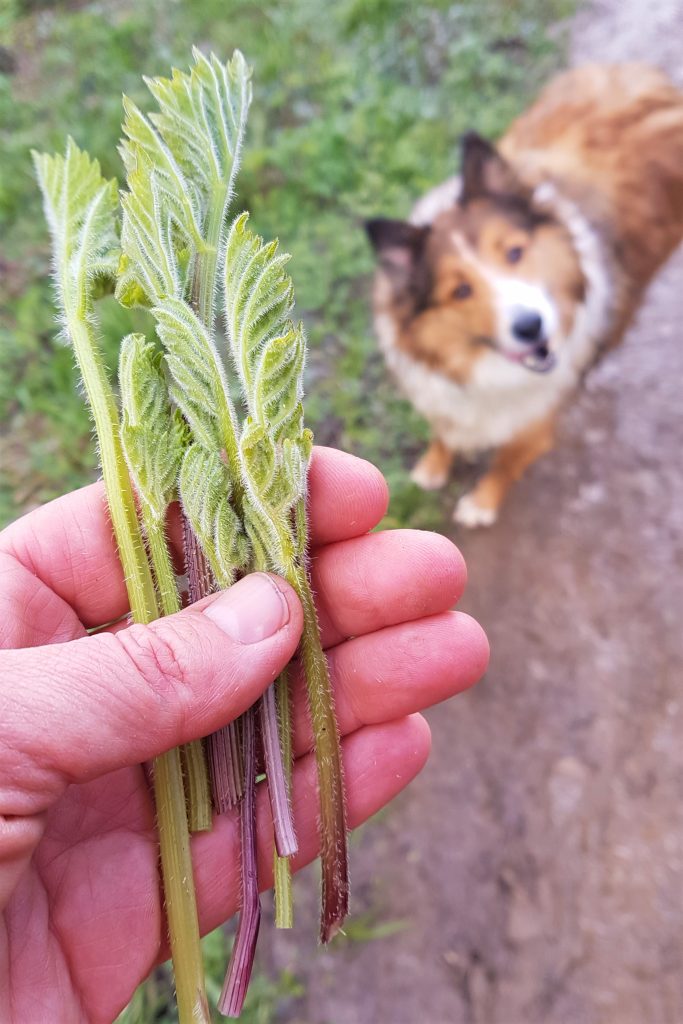 I've written about hogweed shoots many times; celebrating and bringing this weed into the limelight. I'm rather fond of it as an ingredient and have used it in dahl, cake and farinata.
As I write this post during the COVID-19 pandemic I am unable to teach face-to-face, so I thought I'd share more practical pointers on how to identify this plant and important things to remember when picking it.
Here I share an ID video, a bullet-point list of things to remember when picking this plant and a simple recipe to get your started. Plus a taste test for you to do! Which is a great way to get to know this plant and compare our cultivated foods to those our ancestors ate.
How to identify common hogweed
This is the commonest umbelliefer in the hedgerow
Feel of the leaf is furry and gets coarser towards summer
The white hairs on the stem are very prominent and can be seen from a bit of a distance!
Although a member of the carrot family, the leaves of common hogweed aren't feathery, they're quite large with an undulating edge which goes in and out towards the stem.
The leaf edge is serrated (toothed)
The stem can be purple or pale green.
It is common across Europe and grows in grassland, hedgerows, wasteland and cultivated land.
Is it that simple?
Kind of, yes. This is the difficulty of teaching from a distance, if we were in the field together it would be so much easier. So here are some extra tips to keep you safe.
Safely foraging hogweed shoots
If you're not sure, don't pick it
Send me a quick photo just to check!
Make sure it isn't giant hogweed. The leaves of giant hogweed are 1 metre, yes 1 metre long. Common hogweed have leaves half the length of this, at most.
EXTRA NOTE: Never eat this plant raw, and avoid getting the sap on your skin, especially if really sunny. The sap, when it reacts with sunlight can cause blisters which are both uncomfortable and can scar.
FINAL NOTE: I suggest eating this plant in small amounts, I put myself off it by eating too much in one sitting a few years ago! It has an unusual flavour and is best used in small quantities.
Taste Test
Now for a quick way to cook these shoots and a fun taste test to do. Common hogweed shoots are one of the many plants known as poorman's asparagus.
Its flavour is very different, but it is an interesting comparison to do! Cook both asparagus and hogweed shoots in separate pans for a few minutes, strain, season and taste. I'd love to know what you think. Remember that your taste buds are getting used to new flavours so it's worth trying it (in small amounts) a few times over the next few weeks.
I like cake. I like to make cakes with different wild ingredients in them, it's started to become natural to me. I've made my Nettle and Honey Cake many times, and recently discovered it goes really well with gorse flower syrup, the recipe for both is here; Spring recipe - Nettle and Honey Cake with Gorse Flower Syrup.
I've also made this Pear and Hogweed Cake a few times, though I think this might be my favourite version. It's vegan and gluten-free, uses brown sugar and is almost melt in the mouth. If you'd prefer the full of everything - butter, eggs and wheat flour - you can view it here; Hogweed shoots in a cake!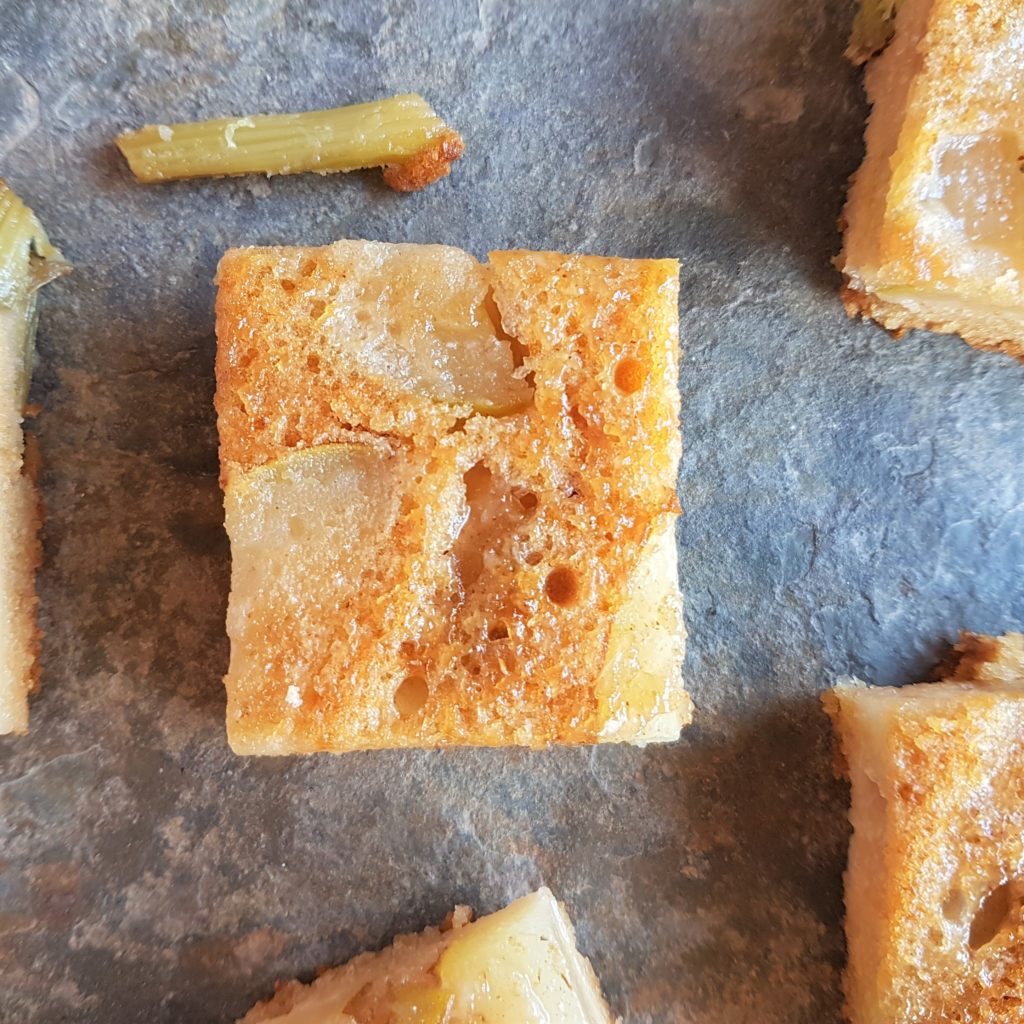 Pear and Hogweed Shoot Cake
Ingredients
75 ml sunflower oil
90 g unrefined sugar, plus 1 level tbsp
3 tbsp apple juice
4 tbsp aqua faba (chickpea water)
1 tsp dried hogweed seeds (optional)
30 g hogweed shoots (mainly shoots rather than leaves, finely chopped)
200-230 g pears
100 g gluten-free flour
1 tbsp baking powder
¼ tsp bicarbonate of soda
Preheat the oven to 200°C and grease a 20 cm diameter cake tin. In a large bowl, beat the oil, apple juice and sugar together. In a food processor add the aqua faba (water left over from a can of chickpeas) and whisk for 5 minutes or until it makes soft peaks (like egg whites).
If using, use a spice grinder to blend the dried hogweed seeds with the tablespoon of sugar and sprinkle the mixture over the base of the cake tin. Slice the pears to about ½-1 cm in thickness and layer these across the base of the cake tin. Next sprinkle on the hogweed shoots. Blend the dry ingredients together (flour, baking powder and bicarbonate of soda) and add into the oil and sugar mix. Pour and smooth the cake mixture roughly over the pears and shoots and bake for 25-30 minutes, or until a skewer comes out clean when pierced into the centre of the cake. When cooked, turn out onto a wire rack, with the bottom-side facing upwards and leave to cool. Slice and enjoy warm or cold. Keeps well for a few days in the fridge.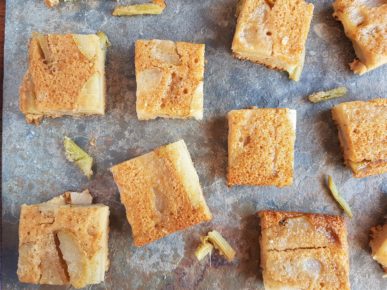 Hogweed shoots (Heracleum sphondylium) are part of the Umbellifer/Umbellifrae/Apiaceae/Carrot family and needs to be identified correctly. Read more about hogweed here; Common Hogweed. This cake was made for a wild food foraging course, where I always make wild tasters to suit different diets as much as possible.
Hogweed shoots are normally used as a type of so-called poorman's asparagus, cooked on their own, or used in dhal. I also enjoy them in lightly spiced Thai stir fries and recently discovered the joys of eating them in farinata - a lovely subtle addition. I've been foraging hogweed shoots (Heracleum sphondylium) for years, I find them superior to asparagus and a delightful way to broaden my experience of spring. I've written a very thorough blog before on their identification and use as a 'superior asparagus'.
At some point, most of the wild foods I eat are incorporated into some kind of dessert. Call it an inevitable result of having a sweet tooth. Partly I'm just intrigued, though sometimes it feels inspired!
I had an idea of a Pear and Hogweed Cake and had to give it a go, to see whether my idea would stand up to the taste test of reality. Hogweed shoots have an unusual aromatic taste, quite subtle when cooked and I just wondered...
Recently I even tried to make a vegan, gluten-free version of this cake and it came out trumps. So here's the full of everything (butter, eggs and wheat version), and I'll share the other one soon. The recipe below has been tweaked to include a hogweed seed sugar as well. A teaspoon of the seeds are ground with the sugar to make a lovely aromatic topping. Once baked it makes the top slightly crisp too.
Pear and Hogweed Shoot Cake
A beautifully moist cake with an intriguing filling. Perhaps you won't notice the unusual perfume of the hogweed shoots – some do, some don't.
Ingredients
100 g butter
90 g unrefined sugar, plus 1 level tbsp
2 large eggs
1 tbsp baking powder
¼ tsp bicarbonate of soda
100 g whole-wheat flour
30 g hogweed shoots (mainly shoots rather than leaves)
5-6 tbsp apple juice
1 tsp dried hogweed seeds (optional)
200-230 g pears
Preheat the oven to 200°C and grease a 20 cm diameter cake tin. Beat the butter and sugar together until pale, almost white. Add the eggs, one at a time and beat in well before sieving in the baking powder, bicarbonate of soda and whole-wheat flour.
Chop the hogweed shoots into 2 cm lengths and simmer in 3 tablespoons of apple juice for 2 minutes and put aside. If using, use a spice grinder to blend the dried hogweed seeds with the tablespoon of sugar and sprinkle the mixture over the base of the cake tin. Slice the pears to about ½-1 cm in thickness and layer these across the base of the cake tin. Next sprinkle on the semi cooked hogweed shoots. Measure out the remaining juice that the shoots simmered in and add this, one-tablespoon at a time, to the cake mixture, making it up to 3 tablespoons with extra juice. Pour and smooth the cake mixture roughly over the pears and shoots and bake for 25-30 minutes, or until a skewer comes out clean when pierced into the centre of the cake. When cooked, turn out onto a wire rack, with the bottom-side facing upwards and leave to cool. Serve alone, with crème fraiche or clotted cream.
Researching regional names of plants is a fascinating and usually an amusing pastime. Common Hogweed  (Heracleum sphondylium) is one of those plants, and as it's now in season (april to june) I thought I'd dedicate a whole blog article to it.
Inspired also by local names such as Pig Flop (an image of a pig collapsing after pleasantly over-indulging on this plants passes through my mind!), Cow Weed (what's its known as on the Scilly Isles), Cow Parsnip, Cow Belly and even Humperscrump, according to Forager and Author John Lewis-Stempel. It's also known as a type of poorman's asparagus, although I think it's superior.
To me, this plant has always been known simply and humbly as hogweed, and I'm going to share with you some facts about identification, names, tastes and recipe ideas.
Starting with identification, common hogweed can be found across the UK, it really is common and usually considered a pain. Its habitat can be varied and includes fields, open woodland, hedgerows and roadsides. Often people are sceptical when I introduce it as a potential food and for two understandable reasons.
Firstly,
For some it has the association of being poisonous, mainly because if the sap gets on your skin and is combined with sunlight, for example when strimming the plant on a hot summer's day in t-shirt and shorts, one can come up in horrible blisters that can scar. Not an experience I've shared, though I've heard enough stories to know it to be an unpleasant encounter.
Secondly,
There is the issue of correct identification. Hogweed (Heracleum sphondylium) is in the Apiaceae (Carrot) family and shares a similar flower structure with edibles such as carrot (funnily enough), parsley, fennel, chervil as well as the deadly poisonous plants; hemlock and hemlock water dropwort. Needless to say, mistakes can be lethal and enough to put many people off. However, there are distinguishing characteristics that can be learnt. Reading a few words and seeing a few images is not generally suffice for this, though it is a good start, so here it goes!
Flower head of Common Hogweed
Hogweed generally grows up to 2 metres tall (related & non-edible Giant hogweed grows up to 5 metres). Hogweed has hollow, ridged stems that are hairy, almost furry, that can give a white-ish tinge to the stems. The leaves are soft/furry with undulating lobes (see images) and stems can sometimes be purple, though normally green (NOT purple spots like hemlock). Like anything, take your time to get to know the plant (it will always return the following year if you're still unsure) check with experts & you will be duly rewarded.
Leaves of Common Hogweed (slightly undulating and definitely furry)
So with so many obstacles to over-come before even picking it, why bother at all? Well, of course its the taste. Like many wild edibles, it has, at times, been called poor man's asparagus - as its the young shoots you're looking for in spring. I like to think that this is sly way to protect a valuable plant which has an unusual taste that could easily be at home on many gourmet's plates. The history of so-called poor man's food includes beliefs such as inferiority of taste, too common (abundant) or inadequate in flavour (unlikely these days in comparison with bland, long shelf-life shop bought veg). As a modern day forager its a great plant - abundance is perfect (making it very hard to over-pick) and the unusual flavour is one of the exciting aspects of wild food. It is also rich in vitamin C and carbohydrate.
How to enjoy it at its best? Well John Wright (from River Cottage) covers the young shoots in beer batter. For me, I simply steam those young shoots, drizzle in butter or hollandaise sauce and serve as an accompaniment to fish or meat dishes. I've also chopped them up and added them as a flavouring for dhal (combines well with wild carrot seed ).
Finally, you'll all be asking what the flavour is. Well, the true answer is inside of you - we all experience tastes differently - though I describe it as perfumed, aromatic, sometimes a hint of bitterness & rich.
Hogweed Shoots with Hollandaise Sauce Recipe
To serve 2 persons
6 young hogweed shoots (Poor man's asparagus)
Boil the vinegar with peppercorns & reduce by half. Strain and put aside. Boil a large pan of water, then reduce to a simmer. Using a large balloon whisk, beat together the yolks and 2 tsp of the reduced wine vinegar in a heatproof bowl that fits snugly over the pan. Beat vigorously until the mixture forms a foam, but make sure that it doesn't get too hot. To prevent the sauce from overheating, take it on & off the heat while you whisk, scraping around the sides with a plastic spatula until you achieve a golden, airy foam.
Meanwhile put the poor man's asaragus shoots on to steam (4-5 minutes). Whisk in a tablespoon of the warmed butter, a little at a time, then return the bowl over a gentle heat to cook a little more. Remove from the heat again and whisk in another tablespoon of butter. Repeat until all the butter is incorporated and you have a texture as thick as mayonnaise. Finally, whisk in lemon juice, salt & pepper to taste plus a little warm water from the pan if the mixture is too thick. Drizzle over the hogweed shoots & serve as a starter or alongside meat or fish.
(Hollandaise Sauce image, thanks to - ourkitchen.fisherpaykel.com)
Autumn is full of potential pleasures, warming foods, sweet dishes and a bounty of autumnal fruits to enjoy. Personally, I take particular interest in creating desserts with wild ingredients, so when Sara from Cotna Barton suggested we made a wild apple meringue pie on our Forage, Cook and Dine event last month, I jumped at the chance to include another wild ingredient in there.
If you've been on a wild food walk with me or another forager, you may well of tasted this amazingly strong flavoured seed; Common Hogweed (Heracleum sphondylium). Common as muck (as the expression goes!), it is often mistaken for being poisonous because if the sap gets on your skin and reacts with sunlight you can come up in horrible blisters that can scar. However, several parts of the plant can be used as a food, & these seeds are excellent as a flavouring. Correct identification is essential of this plant though, especially as it is related to several poisonous species such as Hemlock.
So what's the taste? Well, taste is a very personal experience, though some of the descriptions I've heard is; orange peel, aromatic, soapy, turkish delight, spicey...
Some people like it, some people don't. Unfortunately, Sara, our cook for this event is not a fan of the flavour, so including it in this recipe took a little persuading. Luckily, I was convinced it would work, so into the ingredients list it went. One of the secrets with this seed is to grind it - it really helps to release the flavour and breakdown the papery texture of the seed pod.
Well, before I go onto sharing the recipe, let me tell you that the dessert was a success, 9 hungry foragers, cooks and diners polished the whole dish off, and Sara's plate was clean too - she liked it! It just goes to show that some wild ingredients are really worth persevering with, until you find the right combination of how to use them.
Wild Apple Curd and Hogweed Seed Meringue Pie
Ingredients
For the Curd
500 g cooking apples
finely grated zest of 1 lemon
100 ml lemon juice
500 g unrefined caster sugar
4-5 large eggs
150 g shortcrust pastry baked in a flan case (prepared before hand)
For the Meringue
4 egg whites
200 g unrefined caster sugar
handful of hogweed seeds
Chop the apples into a pan with 100 ml water and the lemon zest. Cook gently until soft and fluffy, then rub through a sieve. Put the butter, sugar and apple puree into a heatproof bowl over a pan of simmering water. As soon as the butter is melted and the mixture is hot and glossy, pour in the eggs and whisk with a balloon whisk.
If the mixture splits, take the pan off the heat and whisk vigorously until smooth, before returning to the heat. Stir the mixture over a gentle heat until thick and creamy, scraping down the sides of the bowl every few minutes. This should take about 10 mins. Pour immediately into the pastry base.
For the meringue, use a food blender to blend the sugar and seeds until the majority of the seeds break down and an aromatic smell is released. Discard the seeds which stay whole. Put aside. Whisk the egg whites in a large bowl until they form soft peaks, then add the sugar a spoonful at a time. Pile onto the tart and bake at gas mark 4 for approximately 20 mins, until the meringue is crisp and slightly coloured.