Schnapps is a flavoured and distilled alcoholic drink, the flavour is often fruit, the alcohol often brandy. I came across a hawthorn schnapps recipe a couple of years ago, I can't quite remember where. I'm often looking for different recipes for the plants that I pick regularly and this sounded like a great idea to try.
Why make Hawthorn Schnapps??
The berries of the hawthorn tree (Crataegus monogyna) are renown for their health-giving properties, especially for the heart. Hawthorn supports the heart's physical functions and is safe to use to help prevent or recover from a heart attack. The berries also contains vitamin A, B1, B2, B3, B17 and vitamin C. Always seek advice from a medical professional before using hawthorn if you have; a heart condition, are pregnant or have low blood pressure.
There is a history of heart issues on both sides of my family, and my darling, aging dad continues to struggle with his under-performing heart. So I find myself eating, using and rather passionate about hawthorn berries. From a personal point of view, a second motivation for making this recipe is that my dad really enjoys a tipple, especially at family gatherings and special occasions. With Christmas on the way, and knowing how experiencing pleasure is so, so good for our health, I definitely wanted to make this!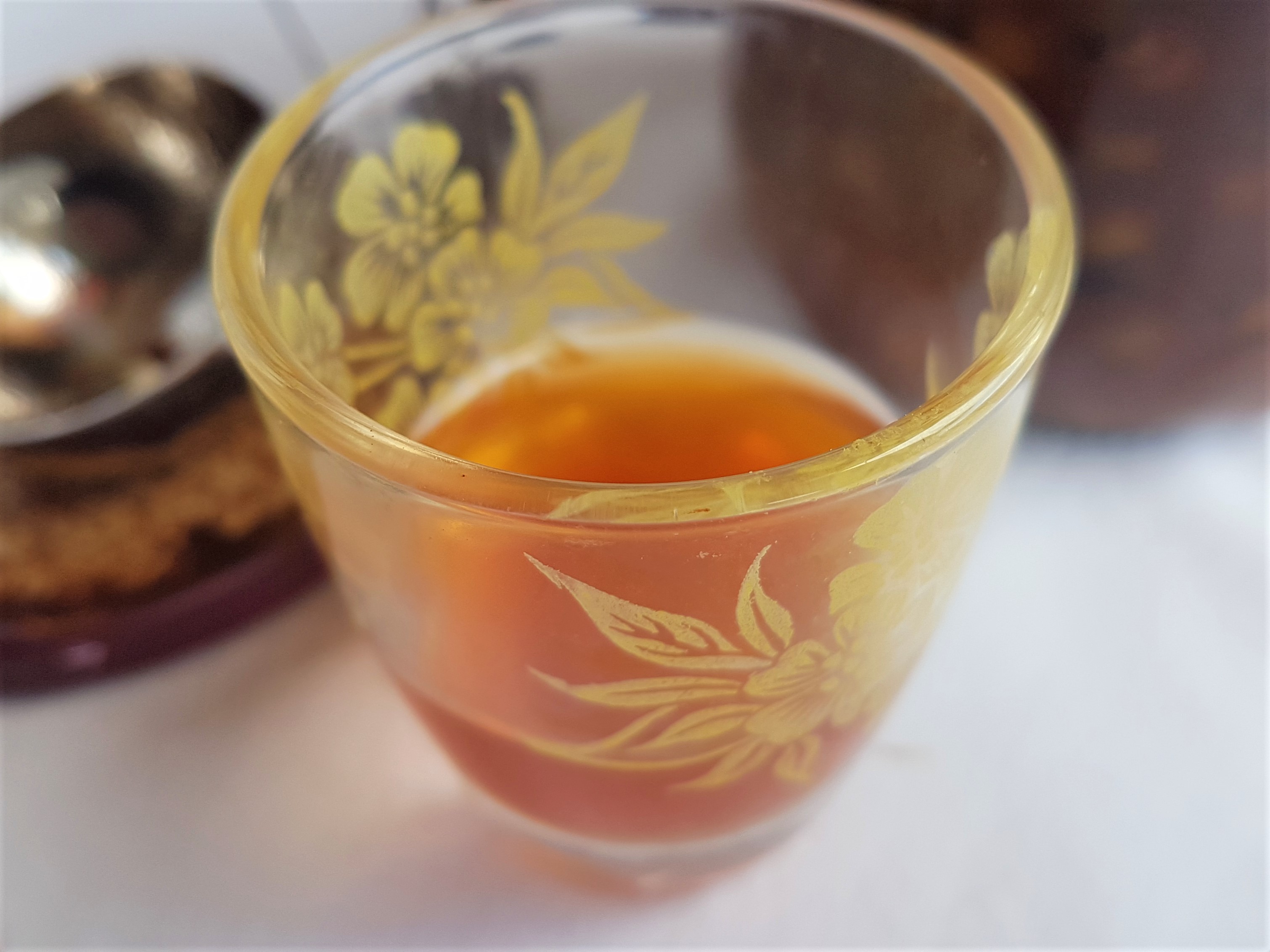 About Schnapps
I've enjoyed commercially made Schnapps a handful of times. Once, when hiking in Austria and I received the news that my friend Hilary had just given birth back in the UK. I celebrated that evening with a strong Peach Schnapps and later with a few variations offered by a group of German climbers I befriended there. I've also enjoyed it with a German friend of mine who now lives here in Cornwall. Notice a theme? The word Schnapps actually derives from Germany, its meaning being 'strong alcoholic drink'. Fruits used to flavour schnapps are often: pear, apple, cherry, peach or plum. Hawthorn berries felt like a good, wild berry to try as a replacement.
Schnapps is normally drunk in small, shot glasses. It's strong!
How to make Hawthorn Schnapps or Hawthorn Tincture
This is so simple to make. Here I share a few tips that might be useful. Just to be clear, this isn't a distilling recipe, this is a recipe for flavouring alcohol and extracting the goodness of the hawthorn berries into brandy. If you prefer, you can use this recipe as a tincture, and take five drops to a teaspoon instead of a shot!
Ingredients
Bottle  of brandy
Hawthorn berries
Sugar (optional)
I like my brandy medicinal, so I literally just use brandy and hawthorn berries and don't add sugar. Do add a little sugar if you'd prefer a hawthorn liqueur. Steep the berries in brandy (fill a jar or bottle 2/3 full with berries and cover with the brandy) for at least 2  weeks. I completely forgot about mine - I'm not a big drinker - and left it for one year! It still works and tastes great. Strain off the berries and decant into a clear bottle or brown bottle.
Tips
My brandy turned brown (orangey when strained) because I picked the berries when mature and late in the season. If you would like a cleaner colour use berries before they go soft and a dark red, and pick in September rather than November!
Other hawthorn recipes
You might want to take a look at this fantastic Hawthorn Berry Ketchup Recipe, or this Hawthorn, Apple and Honey Fruit Leather Recipe. I also share my latest recipes, processes and knowledge on my wild food foraging courses and regularly post on my facebook and instagram pages.
I'm often asked what my favourite time to forage is, well spring is fantastic, though honestly, winter is becoming an increasingly wonderful time to forage. The quiet, the abundance of plants and the unexpected joys of finding food (not in the supermarket) this time of year.
On January 2nd myself and a small group of friends went foraging, our task; to simply enjoy the outdoors and gather a few ingredients for supper, which we'd then share together, and that's exactly what we did. A big thank you to Sara Pozzoli for joining us and filming us. Here's the menu;
Winter Foraging Menu
Spelt Bread with Alexander Seeds
Salsa Verde with Rock Samphire, Pepper Dulse and Three-Cornered Leek
~
Alexanders, Sea Spinach, Gorse Flower and Coconut Curry
Yoghurt Dressing with Three-Cornered Leek, Black Mustard and Wild Chervil
~
Chocolate and Haw Berry Jam Cheesecake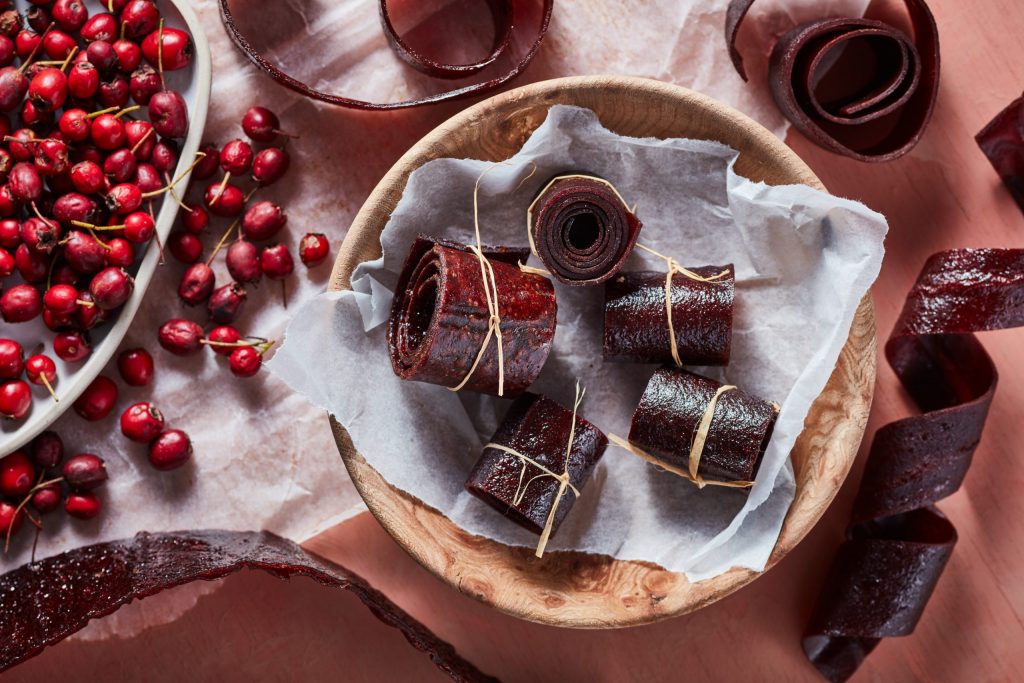 Perfect for sluggish, cold days, this fruit leather is a fabulous pick-me-up. This recipe is definitely worth the effort, you'll have about 8 strips of fruit leather and will just need a nibble as a lift, so they last for ages!
The fruit of the hawthorn tree (Crataegus monogyna or Crataegus laevigata), can be good for the heart, can get your 'chi' moving (your life force energy), be uplifting and tasty. Lets get down to the fruity business of haws.
It's November, and now is the perfect time to pick these fruits. They are a lovely dark red colour, and still a plenty, if you find the right tree. This recipe is suited for those who enjoy processes and have some patience. It's not quick, it takes some mashing, though is delicious and as we know, it is good for the heart...
Hawthorn Fruit Leather Recipe
Hawthorn fruit leather is a deliciously simple snack. It has a bit of a tang and a hint of natural sweetness to get you through sluggish afternoons or slow mornings. It's made from mashed haw berries, apple and honey. It's also great for packed lunches, a snack for walking, gifts and will keep for up to 6 months or a year even. Here it is....
Ingredients
450g haws
450g apples
350ml water
3 tbsp honey
The method:
Remove the stalks from the haws, and chop the apples into pieces, don't worry about removing the core, as it will all be sieved. Place the fruits and water in a medium and bring to the boil. Cover, and simmer for 15 minutes, or until the fruits are soft and strain through a sieve into a large, bowl. Allow the fruit pulp to cool, and using a wooden spoon, mash and push the fruit pulp through the sieve, then stir in the honey. The more you do this, the more pulp you'll be able to extract.
Once you've extracted all the pulp you can, if using a dehydrator, spread the contents over two Teflon sheets and dehydrate according to instructions. Otherwise, heat the oven to 140°C and line a 20cm by 40cm baking tray with baking paper including part the way up the sides. Pour the fruit pulp into the tray, spread evenly and bake for about 4– 5 hours, or the fruit is slightly tacky though doesn't stay stuck to your fingers and peels away easily from the paper.
If the fruit is drying unevenly, turn the tray around in the oven, or be prepared to slice off the edges, if over-cooked when done. Peel off the tray, cool and cut into pieces or strips and store in a sterilised jar or wrapped in greaseproof paper.
I share recipes (and tasters) regularly on my wild food foraging courses, or stay up to date through my facebook or instagram page.