Bladder wrack or popweed (Fucus vesiculosus) - the seaweed of my childhood - is a common, edible seaweed with air bladders that can be popped like bubble wrap! It also has amazing health benefits including the ability to inhibit a common gut bacteria.
Here I share where to find it, how to identify it, common mistakes, health benefits and why it is good for our guts. How to harvest it, how it reproduces and easy and safe ways to incorporate it into your diet.
Bladder wrack is one of 16 seaweeds in my pocket seaweed book, along with two step-by-step recipes for it, and I regularly teach it on my seaweed foraging courses.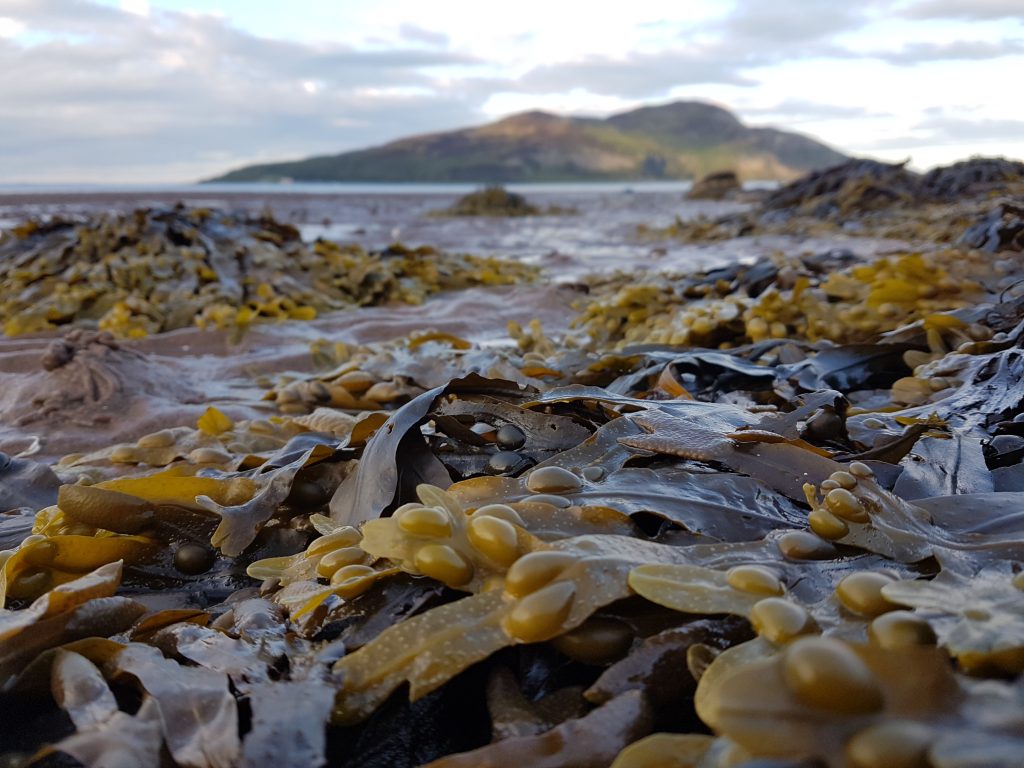 Where to find bladder wrack
Bladder wrack is a common seaweed that grows around the coast of the UK and across the shores of the Atlantic and Baltic seas. It favours sheltered, rocky areas with some degree of disturbance and rough treatment from the sea!
It can also be found in exposed rocky areas, however it may not form the 'bladders' in really exposed places (see how to identify bladder wrack and common mistakes).
How to identify bladder wrack
Bladder wrack is a brown seaweed and one of several species of 'wracks'. It is a yellowy-brown when wet, but looks almost black when dried. It has pairs of 'bladders' (air-filled pockets) either side of the mid-rib, which usually makes it easy to identify.
It grows from 15 to 90 cm long and from 0.6-2.5 cm wide and has branched fronds often with a wavy edge. The air pockets give it the common name popweed, as you can pop these bladders like a seaweed bubble wrack!
How to harvest bladder wrack
Just cut the fresh tips of the seaweed, leaving plenty behind. Only cut the tips from half of each plant.
Can bladder wrack be confused with other seaweeds?
Yes. Sometimes bladder wrack is confused with similar seaweeds such as flat wrack, spiral wrack (Fucus spiralis) or serrated, toothed wrack (Fucus serratus).
However neither of these seaweeds have air bladders and spiral wrack tends to twist into a subtle spiral as it grows and toothed wrack has a distinctive serrated edge.
Confusion can arise, however, when bladder wrack grows on exposed shores and the bladders don't form, or when it is too young to have produced bladders yet. A wavy or toothed edge is easy to distinguish, but comparing it to spiral wrack, you'll need to check if the fronds twist and check the size.
Spiral wrack only grows to about 20 cm long and 2 cm wide, so less than a quarter of the length that bladder wrack grows.
Health benefits of eating bladder wrack
Bladder wrack is high in iodine, vitamin C, iron and calcium. Iodine is essential for humans, however the World Health Organisation (WHO) advise on not consuming too much iodine and therefore limiting your intake of brown seaweeds.
In Japan, daily consumption of brown seaweeds, such as kelp in miso soup is common, and the Japanese are renown for their healthy, traditional diet. Kelp (Laminaria digitata) is considerably higher in iodine that bladder wrack.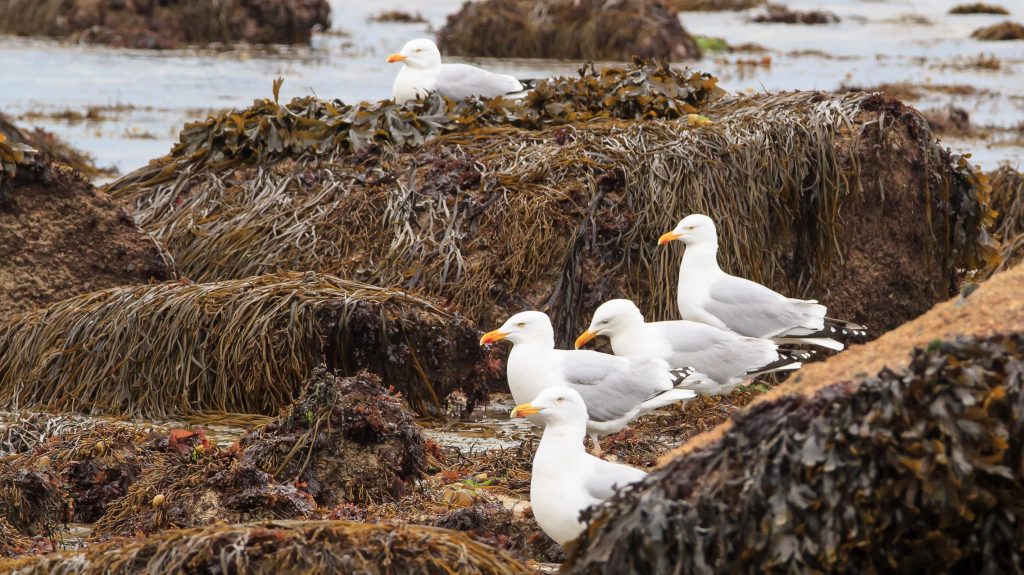 Seaweed Tip...
Thinking of bladder wrack as a condiment rather than a sea vegetable is a helpful guide. However, please consult your GP or a medical herbalist if you have an overactive or underactive thyroid and are taking medication such as thyroxine. As your intake of iodine will effect the thyriod and how this medication works. More information on thyroxine can be found on the NHS website.
Bladder wrack for healthy guts!
Research shows that bladder wrack inhibits the adhesion of a common gut bacteria called Helicobacter pylori to the gut wall. This bacteria is fairly common in humans and regular consumption of bladder wrack can help eliminate it from the body. So the message is; use bladder wrack regularly but in small amounts.
How to use bladder wrack
I have four recipes for bladder wrack in my seaweed foraging book; Pickled Bladder Tips 3 x ways (with cucumber, kohlrabi and along with spices), and a Chicken Broth with noodles and bladder wrack.
However, I use bladder wrack in other ways too! I find it easier to dry and finely grind* bladder wrack and sprinkle small amounts onto fried eggs, into soups, stews, blended with sea salt on fish, into crackers or dips.
When I asked seaweed expert Christine Maggs, one of the co-authors of Seaweeds of Britain and Ireland, how much seaweed should be eaten daily? Her reply was 'no more than a teaspoon.' Actually, one teaspoon of dried and ground seaweed is quite a lot! Personally, I do not eat as much as a teaspoon of seaweed a day, but do manage to add a pinch onto many dishes I make.
*I have guidelines on how to dry and grind seaweeds in my seaweed book.
Seaweed Tip...
Consider having small pinch pots of ground seaweed next to your cooker, or next to your salt and pepper. I find this reminds me to use them regularly!
I teach seaweed foraging courses throughout the year here in Cornwall, UK. I'd love to show you more about these amazing sea vegetables.
I still remember the first olive tapanade I ever had. Rich olive puree, decadently lathered onto toast. Years later I created my own seaweed tapanade for my book: Seaweed Foraging in Cornwall and the Isles of Scilly in which I matched the seaweed Egg wrack (Ascophyllum nodosum) into a delicious blend of black olives, garlic and oil.
Since then I've discovered I can use smaller amounts of seaweeds and combine the ones I use. No longer do you need to get hold of one specific seaweed. You can be using a variety of seaweeds such as the three I use and mention below.
This is so easy and quick to make and you can tweak the recipe to suit, or just combine small amount of the seaweeds you have dried and ground. Give it a go, and let me know how you get on!
Green Olive and Seaweed Tapanade Recipe
An easy tapanade recipe with a few seaweed twists, adding depth of flavour, that umami hit and a nutrition boost.
Ingredients
125 g green olives (drained)
1 tbsp capers
1 garlic clove
4 tbsp extra virgin olive oil
1 tsp lemon juice
1 tsp ground bladder wrack (Fucus vesiculosus)
1 tsp ground gutweed (Ulva intestinalis)
1 tsp wireweed (Sargassum muticum)
Place all the ingredients in a food processor or blender and whizz until pulped. Put aside for at least a couple of hours for the flavours to infuse. Serve with fresh bread, on pizzas, mix into rice or spread on toast. Keeps well.
Spring is full of wild ingredients that are perfect for adding into, oh so many different recipes. Farinata - a savoury bake made out of chickpea flour - is a great carrier for these spring wilds. Like an omelette, though egg-less, baked in the oven and extremely tasty, it happens to be vegan and gluten-free too and is easy to add shoots, leaves and flowers, and even seaweed to. Here's my spring version, feel free to add different wilds. I've made a version with hogweed shoots and rosemary too, which was equally delicious.
Wild Spring Farinata Recipe
Makes 7-8 farinatas
Ingredients
300 g chickpea flour
1 litre water
1 heaped tsp sea salt
1 tsp ground seaweed (I used bladderwrack/popweed, Fucus vesiculosus)
Light olive oil or vegetable oil
Large handful three-cornered leek/wild garlic, chopped
Small handful common sorrel leaves and stems, chopped
In a large bowl mix the chickpea flour, water, salt and seaweed. Whisk well to combine. Leave to sit for at least an hour, ideally overnight, it will also keep well in the fridge for up to 4 days. Preheat the oven to 220°C. Using a heavy-bottom, oven proof pan, generously add oil and heat over a medium to high heat, till almost smoking.
Spoon in a couple of ladles full of the mixture, coating the pan with a thin layer, about 0.5-1 cm thick. Sprinkle over some three-cornered leek, allow to cook for 5 mintues, sprinkle on the sorrel and place in the oven for 10 minutes. Remove from the oven and slice off with a fish slice or similar. Re-oil the pan and repeat with another couple of ladles full and follow until you have enough to eat! Best eaten fresh. Like I mentioned, the mixture keeps well in the fridge well for a few days in the fridge, so you don't have to finish it all in one go.
Works well as a snack (shared it on the beach with a foraging group), I also shared it with a friend, served with a potato salad and well-dressed green salad for supper. I run monthly foraging courses which always include homemade, wild tasters. I'm also available for private forays, looking at the weeds on your land, in your area or just for a holiday delight.
I've wanted to try this recipe for ages, for possibly 2 years this recipe has been sitting in a recipe book and in my mind and somewhere in side of me I've been eager to make it. Though perhaps not eager enough, until now.
Sea spaghetti cheese straws just sounded like a wonderful idea, an idea that I wouldn't of thought of, and that excites me. I've cooked sea spaghetti (Himanthalia elongata) as, literally, spaghetti, I've done it as tempura (both recipes in my Seaweed Foraging Book) and added it into soups, see my Three Seaweed Soup with an Inner Kick recipe. So this, I had to try.
I'd found this sea spaghetti recipe in Prannie Rhatigan's book; Irish Seaweed Kitchen. I've tweaked it a little, of course, isn't that what cooks do?! I also love the fact it uses Bladder wrack (Fucus vesiculosus) seaweed too. Ground and sprinkled into the pastry (I'd never of thought of that either), so here it is.
A Sea Spaghetti and Bladder Wrack Seaweed Recipe
Sea Spaghetti Cheese Straws (with Bladder Wrack Pastry)
Ingredients
10 g dried sea spaghetti
1 tbsp lemon juice
75 g butter
75 g plain rye flour (or other plain flour)
75 g red Leicester or mature cheddar cheese, grated
½ tsp dried, ground bladder wrack
½ tsp sea salt
Black pepper, generously ground
Soak the sea spaghetti in cold water for 30 minutes. Drain, pat dry (it will stain cloth, so choose carefully what you use to do this) and toss in the lemon juice. Leave to marinade for at least ½ an hour. It does look horrible and slimy, but trust me! You can omit the marinading process, and the result will be a chewier centre, which is also delicious, just not melt in your mouth.
To make the pastry, combine the rest of the ingredients until thoroughly mixed and it forms a ball of dough. Cover in clingfilm, or a quick plug for a reusable alternative – Organic Cotton Beeswax  Wrap – made in Cornwall and perfect for sealing (seal with an elastic band or string) over a container with the pastry in. Put in the fridge for at least an hour. Go out for a walk, see a friend, relax with a book....
Grease a large baking tray (or 2 smaller ones) and roll out the dough to a 15 x 30 cm rectangle. Lay one strand of sea spaghetti along the length and fold the pastry over it, so it just covers it and is encased within it. Cut neatly along the side and cut the whole strip into 7 cm lengths (bite size pieces) and place on the baking tray. Continue until all the pastry is used up. Place in the fridge for 1/2 an hour. Preheat the oven to 190°C and bake for 10 minutes or until golden brown. Keep an eye on them, they can cook quickly! Remove from the oven and leave for 10 minutes before transferring to a wire rack to cool completely.
Lovely party snacks, though we just enjoyed them on the beach with a seaweed and wild garlic dip.
Sea Spaghetti, also known as Thongweed (Himanthalia elongata) is one of the seaweeds I cover on my seaweed foraging courses. which I run throughout the year. If you'd like to go seaweeding on a specific beach that I don't cover, I can offer a bespoke experience, tailored just for you.
Yesterday I was crunching on frosty kelp, today the seaweeds are limp and wet again, having defrosted in the sun. It's a lot for seaweeds to cope with, or is it?
In reverence to seaweed, and in celebration of the 'proper' snow we had 2 weeks ago (the first time in 10 years here in west cornwall!), I thought I'd write about seaweeds, snow, frost and freezing temperatures.
Do they like it? Can they survive? And, if they can, what are their secrets?
Frost catches a moment in time, and literally, freezes it, the effect is beautiful, though what is the impact for the weeds?
Firstly, seaweeds exist across the world, in vastly varying temperatures and conditions, from 50 metre long kelps, to microscopic organisms to seaweeds that never emerge above the water's surface, to ones that are exposed to the sun, air and being dried out for more than 6 hours every day.
Each species of seaweed is suited to particular environments. Deep sea seaweeds (these are sub-tidal and never come above the sea's surface) are used to more constant temperatures, while inter-tidal ones (which get exposed twice a day at low tide) are built to sustain almost extreme changes in temperature.
'Most seaweeds would be killed if frozen. However high concentrations of tissues salts and organic solutes in the seaweed's cells lower the freezing points.'
Basically, seaweeds have in-built anti-freeze which protects them from freezing.
In reality, this means that Bladder wrack (top image) can cope with -40° C for months, Egg wrack (above) can go to -20° C and some of the laver species (below) can remain unscathed at temperatures as low as -70°C for 24 hours or so, as well as cope with rather high temperatures in the hot sun.
I feel hot and cold just thinking about it.
My awe of these millions of years old organisms increase with this knowledge. Furthermore, seaweeds also work together to protect each other - they live layered on top of each other, which means just the top layer freezes and the lower seaweeds are kept at a more tolerable temperature.
Similarly, emperor penguins, which survive some of the most harshest conditions on earth huddle together to keep warm. They congregate in groups, sometimes in thousands, and those on the outside of the huddle protect those on the inside, and between them they circulate so no penguin is continuously on the outside. Of course, like seaweeds, penguins body is suited to the environment, yet working together is essential for them to survive extreme temperatures.
Here's to the beauty of the snow, the amazing science of nature, and a thankful heart for having warm wellies to go and forage for those seaweeds in.
Images courtesy of; loriedarlin.tumblr.com, daily mail, Pam Collins and 500px.com