Technically this is fruit and seed fruit leather!
Although I'm a forager by trade, in my heart I'm still an artist that loves to be creative. For me, wild food is a natural material to play with, use well and not waste.
So when I make blackberry cordial or blackberry coulis and am left with a seedy, black pulp, this is what I ended up making from it, and eating!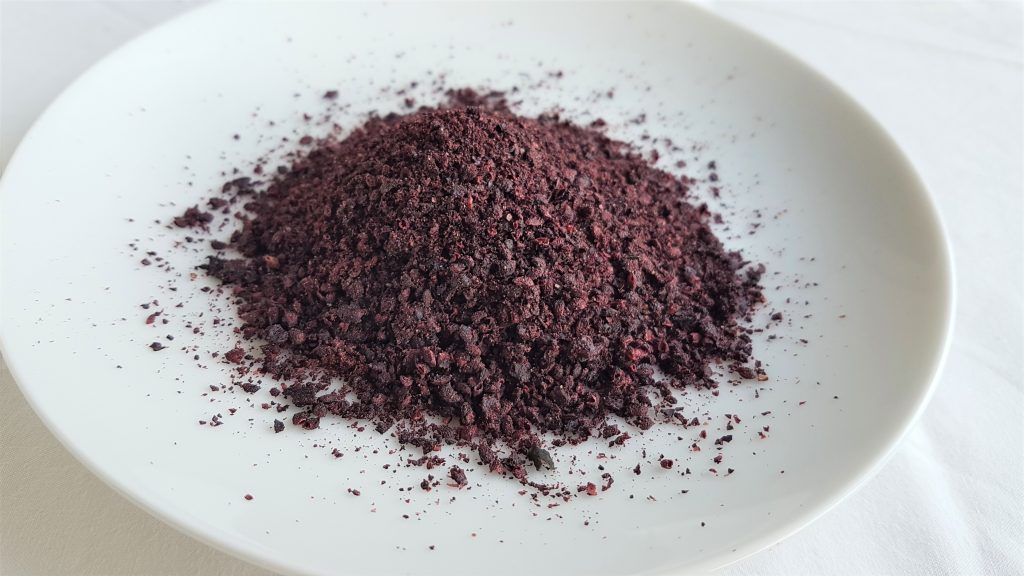 Why eat blackberry seeds?
Did you know that blackberry seeds have omega 3 and 6 in them? These little seeds that often get stuck between your teeth can also help the normal functioning of your body.
These essential oils help; stimulate hair and skin growth, maintain bone health, regulate metabolism and maintain your reproductive system. They also support the healthy functioning of your immune system, brain, eyes and nerves. Eating blackberry seeds are good for you!
How to Make and Store Blackberry Pulp
Blackberry pulp, rich with seeds in the natural waste product from making blackberry cordial, coulis or juice. Just simmer the fruits in their own juice and using a jelly bag (or fine weave nylon curtain netting) strain as much of the liquid out.
You can use this pulp immediately in recipes such Buckwheat, Blackberry and Dulse Crackers, or in my Blackberry Seeded Granola recipe. Alternatively, dehydrate it and use later - see ideas below.
How to dehydrate blackberry pulp and seeds
Spread the pulp out on baking paper or silicon sheet and dehydrate at the lowest temperature in the oven for 2-4 hours. You may need to peel the pulp off towards the end and turn it over to ensure the under-side dries out too.
Alternatively use a dehydrator and follow the instructions for making fruit leather. The result should be a dry, seedy leather that can keep for up to 12 months and be ground as needed and incorporated into recipes like Buckwheat, blackberry and dulse crackers or my Blackberry-seeded granola recipe. I then like to cut the blackberry seeded leather into strips and powder for recipes as needed.
Can you use this blackberry seeded fruit leather as a snack?
Of course you can! You can eat pieces as a fibrous, rich in seeds snack, or cut into pieces with scissors and use as a rustic, paleo, gluten-free, wheat-free cracker! I rather like it this way. I'd love to hear from you if you make this, er seedy, fruit leather/nutritious snack and ingredient. Wishing you good health. X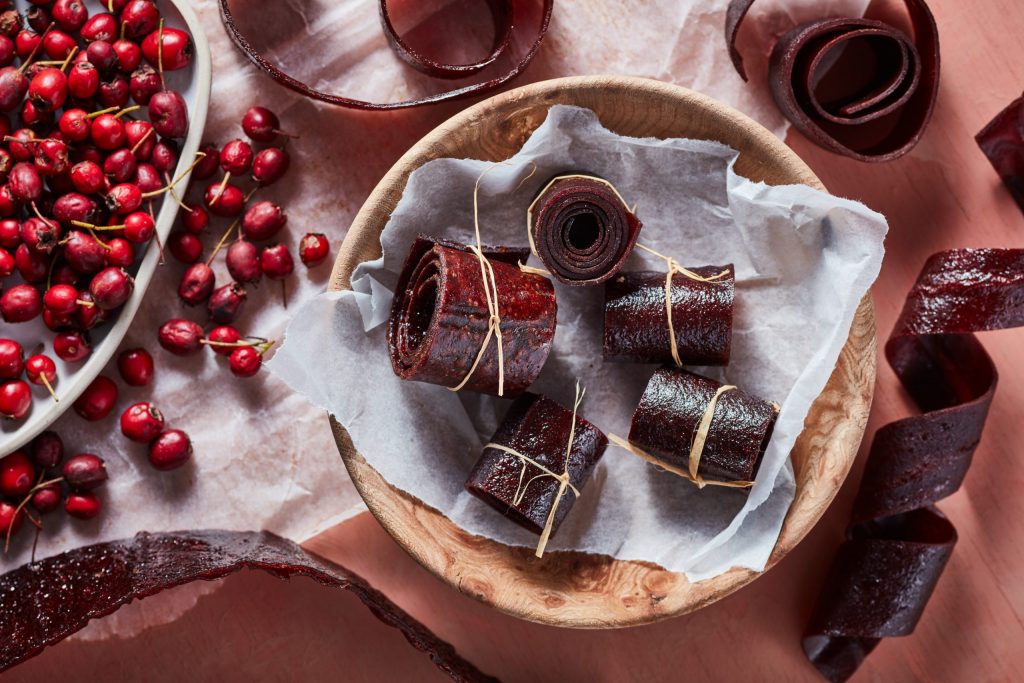 Perfect for sluggish, cold days, this fruit leather is a fabulous pick-me-up. This recipe is definitely worth the effort, you'll have about 8 strips of fruit leather and will just need a nibble as a lift, so they last for ages!
The fruit of the hawthorn tree (Crataegus monogyna or Crataegus laevigata), can be good for the heart, can get your 'chi' moving (your life force energy), be uplifting and tasty. Lets get down to the fruity business of haws.
It's November, and now is the perfect time to pick these fruits. They are a lovely dark red colour, and still a plenty, if you find the right tree. This recipe is suited for those who enjoy processes and have some patience. It's not quick, it takes some mashing, though is delicious and as we know, it is good for the heart...
Hawthorn Fruit Leather Recipe
Hawthorn fruit leather is a deliciously simple snack. It has a bit of a tang and a hint of natural sweetness to get you through sluggish afternoons or slow mornings. It's made from mashed haw berries, apple and honey. It's also great for packed lunches, a snack for walking, gifts and will keep for up to 6 months or a year even. Here it is....
Ingredients
450g haws
450g apples
350ml water
3 tbsp honey
The method:
Remove the stalks from the haws, and chop the apples into pieces, don't worry about removing the core, as it will all be sieved. Place the fruits and water in a medium and bring to the boil. Cover, and simmer for 15 minutes, or until the fruits are soft and strain through a sieve into a large, bowl. Allow the fruit pulp to cool, and using a wooden spoon, mash and push the fruit pulp through the sieve, then stir in the honey. The more you do this, the more pulp you'll be able to extract.
Once you've extracted all the pulp you can, if using a dehydrator, spread the contents over two Teflon sheets and dehydrate according to instructions. Otherwise, heat the oven to 140°C and line a 20cm by 40cm baking tray with baking paper including part the way up the sides. Pour the fruit pulp into the tray, spread evenly and bake for about 4– 5 hours, or the fruit is slightly tacky though doesn't stay stuck to your fingers and peels away easily from the paper.
If the fruit is drying unevenly, turn the tray around in the oven, or be prepared to slice off the edges, if over-cooked when done. Peel off the tray, cool and cut into pieces or strips and store in a sterilised jar or wrapped in greaseproof paper.
I share recipes (and tasters) regularly on my wild food foraging courses, or stay up to date through my facebook or instagram page.