At last, I had arrived on the Isle of Arran. I stepped onto the beach as soon as I could; made a small fire and pottered around perusing the edible wild plants on the foreshore.
After 17 hours of travel on train, bus, ferry and foot I was a little shell-shocked to say the least. Penzance to Arran is a long way, and the public transport journey convoluted. I arrived as I often do - wanting to orientate myself with my new surroundings - and I did feel new, things, the land, felt new.
It was evening, the tide was out and I wasn't sure of the time. June meant that it stayed light till, well, till later than I was used to in Cornwall.
Spotting edible wild plants around me
Rowan, bittercress, nettles, meadowsweet, elder, dock, sea spinach, sea radish... The familiarity of the plants around me, as always, helped me arrive. As I tottered over the seaweed strewn rocks; bladder wrack, channelled wrack, gutweed. Home from home, sort of.
Which seaweeds are edible?
All of the seaweeds and land plants I mention and spotted are edible and good for you, if processed in the right way. Teaching about the edible seaweeds is a personal passion of mine. Bladder wrack with the bubbles is highest in iodine. Some seaweed is good for helping lose weight and many are low in fat and have high amounts of vitamins and minerals. These seaweeds grow across the UK, but some of the best spots are in Cornwall, Devon, Wales and Scotland.
Each seaweed has an optimum growing and harvesting season and some seaweeds like to grow higher up on the shore, where the environment suits it best. Here I found channelled wrack (Pelvetia canaliculata) and, well, bleached-white gutweed (Ulva intestinalis).
Why does seaweed bleach white?
I looked, I stared. I wasn't sure if I'd ever seen such a large area of bleached, living seaweed before. Of course it was very near mid-summer, with plenty of light and heat, but a sea (excuse the pun) of white seaweed...
Green seaweeds such as gutweed can start to loose its colour when exposed to light. That's why on my seaweed courses and in my seaweed book I suggest storing dried and edible, green seaweeds like gutweed and sea lettuce in a dark cupboard. After all, we eat with our eyes too and green is such a delicious colour to eat!
So, naturally, on that beach on Arran I didn't eat, I stared. My familiar green seaweed wasn't a beautiful edible green colour, it was white, so I left it and walked away.
How seaweeds protect themselves
Seaweeds have various mechanisms to survive change in temperatures and I've written about this before in; Can seaweeds survive the frost and snow?
Gutweed, the white seaweed I was staring at, is particularly good at navigating extreme changes in temperature and salinity. Suited to growing in rock pools on the upper and middle shore it is rather exposed. Sacrificing the top covering to the sun, it can protect the seaweed growing underneath it, where it remains green and in the water.
However, as the heat rises and the water evaporates, higher levels of salt means seaweed can become permanently damaged and significantly reduce its growing and reproducing ability .
A nature-made seaweed salt
It's now a year (almost to the day) since I was on Arran, and now here I am next to a rock pool of bleached gutweed seaweed on my local West Cornwall shoreline. As my friends swam in the (not-so) warm sea, I pottered around and decided to harvest some.
Wow! To my surprise the dried, white seaweed was crisp with sea salt. Of course! The water had evaporated and what was left was a combination of dried out seaweed and salt.
Seaweed salt is full of nutrients, including iodine, you can buy it or make your own. I have delicious seaweed salt from Scotland and Cornwall, I couldn't say which is best!
How to make sea salt and seaweed salt
Sea salt is normally a time-consuming process, whether by companies such as Cornish Sea Salt or artisan wild foodies such as Pascal Baudar. However, here nature had done it, naturally.
Similarly, making a seaweed salt normally requires drying and crumbling seaweeds and combining them with ready-made sea salt. Not here!
This was nature-made, naturally occurring seaweed salt!
Wow! This was such a wild find!
How to use nature-made seaweed salt
I plan to cripsy fry some - think ready-salted seaweed snack and crumble some over a homemade sourdough pizza - recipe to come soon.
I'd love to hear if you've ever found this naturally occurring seaweed salt, used it or made your own.
Want to find out more? I cover so much on my 3 hour seaweed foraging course, there's also 5 seaweeds (and recipes in my wild food foraging book and 16 in my seaweed book!
Elder Flower-Head Fritters are a classic wild food recipe for these edible wild flowers. The combination of batter and a hint of elderflower is utterly delicious.
What's more, you can turn them savoury or sweet and here's my winning versions with an extra light batter recipe, plus suggestions for turning them into a starter, main accompaniment or dessert.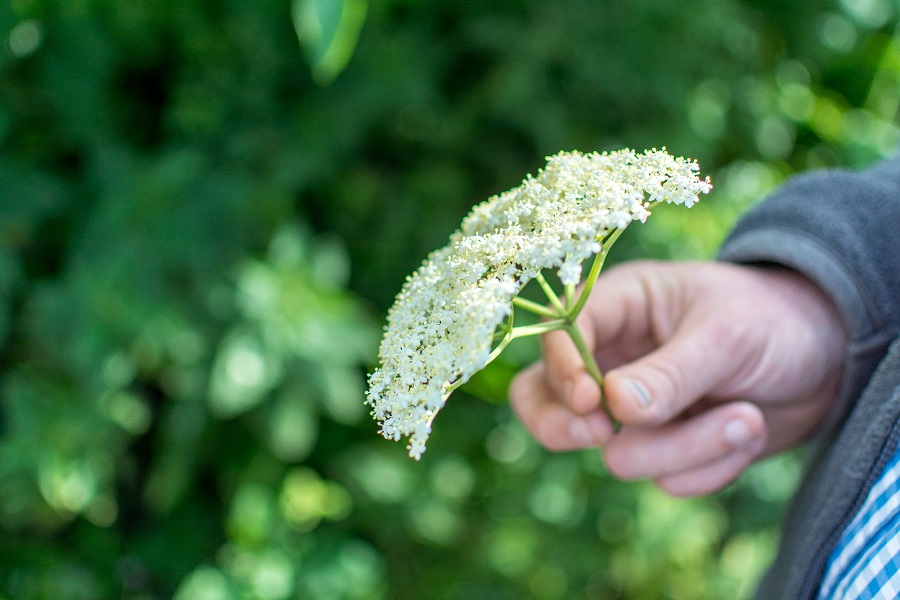 These are quick and easy and can be turned savoury or sweet. I love them dipped in soy sauce and lemon for a tangy, savoury snack. Hmmm, but they're equally nice served with ice cream or dusted with a light coating of icing sugar.
*TOP TIPS: For a light batter use half plain flour and half corn flour
Elderflower Fritter Recipe
Serves 4-6
Ingredients
200 ml ice-cold water
1 large egg, beaten
100 g sifted plain wheat or buckwheat flour (or half flour and half corn flour)*
2–3 ice cubes
Sunflower oil, for frying
16 elderflower heads flower heads, stalks intact
Cover a couple of large plates with kitchen paper (if you have). Pour the ice-cold water into a mixing bowl, mix in the egg, add the flour and roughly fold it in with a fork. Do not beat it – the batter should be lumpy. Add the ice cubes.
Heat at least 2.5 cm oil in a wok or a frying pan (I like to shallow fry rather than deep fry and use a small pan to do this). The oil is hot enough when a drop of batter bubbles and turns golden in 5–10 seconds.
Hold a flower head by the stalk, wipe it through the batter to coat it all over, allowing any excess batter to drip off. Keep hold of the stem while dropping the coated flower head into the oil. Using the stalk, turn it if necessary and cook until golden and crisp, then remove and place on the kitchen paper. Repeat with all the flower heads. To serve, either snip off the main stems or eat the flower heads and discard the stems as you eat them.
How to serve these elderflower fritters?
Savoury: As a starter or serve alongside risotto or fish with a blend of soy sauce and lemon (half and half)
Dessert: Dust with icing sugar and serve with a squeeze of lemon, or have with ice cream.
For more recipes and information about elderflowers search my summer blog and find;
When NOT to pick elderflowers
How to make Elderflower cordial and sorbet
Quick elderflower layered sponge
How to dry elderflowers
How to freeze elderflowers
Picking the last of the elderflowers
Elderflower and strawberry jam
Moreish Elderflower doughnut recipe
and more....
Here I'm going to share with you how to preserve the goodness of nettles by making a nettle powder, but first, lets talk about why this is a good thing to do!
All stinging nettles are edible and good for you, just pick away from sources of pollution like pesticides and car fumes. They are best to pick in spring, so as summer comes closer it is good to think about how to preserve nettles so you can enjoy their goodness through the summer months. Remember not to pick them if they're flowering and head to shady spots where they will flower later.
Are nettles a superfood?
Superfoods tend to be plant-based, are highly nutritious foods that often also contain antioxidants, believed to protect the body from toxins and diseases such as cancer. Nettles contain iron, magnesium, potassium, phosphorous, and calcium, vitamin A, C, K and Bs. They also contain antioxidants and can have as much as 25% protein compared to 30% protein in spinach, but nettle powder could have as much as 33% protein (1).
Harvest your own superfood and make your own protein powder!
Pick the nutritious tops of stinging nettles - use thick gloves and scissors - and dry to make your own nutritious protein powder, for free!
Making nettles powder is a convenient way to process and store nettles for energy balls, smoothies or nettle tea. I've also discovered that powdered and blended with the same amount of unrefined sugar makes a great dip for freshly made doughnuts, you could use my Elderflower doughnut recipe as a base for this.
Nettles are high in iron, making them a particularly good herb for women. They are also low in fat, have been used to help treat arthritis and there is some evidence that they may reduce the symptoms of hayfever.
This powder is 100% natural, isn't refined and uses a whole, real food which happens to be nutritious with a good amount of protein in. What isn't to like?!
How to make nettle powder
Makes 25 g (6 tbsp)
Ingredients
125 g fresh nettle tops
There are several ways to dry nettles. First, wash and dry them as much as possible, either in a salad spinner or between tea towels. If you're baking anyway, the easiest way is to place the nettles on a large baking tray and, once you've finished using the oven, turn it off, place the tray on the bottom shelf and leave for a couple of hours or longer. Depending how efficient your oven is at retaining heat, this could be enough to dry out the nettles. Alternatively, place the nettles on a baking tray and place in the oven at the lowest temperature until dried.
If you've plenty of time and space, you could lay the nettles out in a large baking tray, or even on clean tea towels or cooling racks. Leave in a warm space and leave to air-dry for 48 hours, or until dry. Do turn them intermittently to check and separate any clumps of wet nettles.
The nettles need to be dry enough that they crumble easily when touched or rubbed. They can still sting a little, so use gloves to transfer them to a pestle and mortar or electric grinder to make the powder.
Once they are powdered they won't be able to sting you! Store in a sterilised jar, or even in a small, open pot until ready to use.
How to use Nettle powder
I love using this powder in and as a coating for my nettle energy balls. You can also blend them half and half with sugar, icing sugar and blitz to a make a nettle sugar. Use the nettle sugar to dust over cakes, roll energy balls in it or coat freshly made doughnuts in it!
To make nettle sugar
Combine 2 tbsp nettle powder with sugar and powder.
Nettle Energy Ball Recipe
This is my ultimate recipe for using nettle powder and nettle sugar, here's the recipe - Nettle Energy Ball recipe.
I have lots more recipes for nettles on my Stinging Nettle blog and cover nettles on my foraging courses (mostly spring and autumn ones).
Experiencing the world through our senses can be a rewarding and healthy way to engage in the world .
In this blog post I share a wild conversation between myself (forager and somatic educator) and Miles Irving (founder of Forager Ltd). We discuss nature, the body, what it means to be whole, human and how to find our way back to the things that really matter.
We finish with a rambling conversation about foraging songs and me sharing/singing a few.
Soma means to experience the body from within. Thanks goes to Miles Irving and Forager Ltd for this opportunity to explore these themes.
NOTES and general timings of themes
(Timings are approximate).
0:00 Introduction from Miles Irving
7:05 Podcast begins - Polyvagal nervous system, the importance of relating and 'tend and befriend'
16:35 The wisdom of the body, anchoring in the body, felt-experience of nature verses an objective experience of nature and how to relate to nature.
25:50 Free food verses and a sense of wonder, benefits of nature (Richard Louv - Last Child in the Woods)
30:00 Sensing through the body, movement verses stillness, intuition and instinct
40:00 Body intelligence, risk and moving through trauma
55:00 Instinct and intuition, the intelligence of breaking down in order to become more whole.
1:05:00 Vulnerability, the importance of play and pleasure and how to THRIVE
1:13:00 How time outdoors supports the biology of our body and the value of relational living
1:19:40 What is wildness? Is it scary or predictable and how does it relate to living fully and trusting life?
1:31:17 Foraging, nature and connection. Navigation and maps verses interrelating with the landscape (Tristan Gooley)
1:40:17 Creating support, brain and body plasticity. Stuck verses movement, choices verses limits, being verses change.
2:01:00 Foraging songs - non-verbal communication, learning through music and expressing something 'else' through songs
If you enjoyed this (or parts of it), you may also like some of Mindful Wild Forager blogs or my foraging songs. My philosophy also underlies how I teach and run my foraging courses.
Waitrose Food Magazine - March 2020
Dandelions (Taraxacum officinale) are a common weed that are often overlooked or taken for granted. Yet they are so good for us!
Here I share 5 health benefits of eating (or drinking) dandelions. Plus tips on where to find them, as well as common mistakes with identifying dandelions and 4 simple ways to incorporate dandelions into your diet.
How important are dandelions?
By the way, dandelions have been cultivated in areas of Europe and North America for over 150 years. That's how valuable and important they are!
5 Reasons to Eat (or Drink) Dandelions
Ask anyone about eating a dandelion (Taraxacum officinale), and they might quote the dandelion's diuretic properties. It's French name being 'pissenlit' or 'wet the bed'. Though few people know that dandelions are a very mild diuretic, and diuretics tend to flush potassium out of the body. Though dandelions also contain potassium, thus replacing what is flushed out - that's good!
The dandelion's latin name refers to its many health benefits, the Greek word taxaros meaning disorder and akos meaning remedy (2). Dandelions contain a wide range of vitamins and minerals, including vitamin A, some Bs, C, D and K.
The 'dent de lion' (Lion's tooth) also contain significant amounts of calcium, magnesium, iron and folate.
Dandelions can have a mild detoxing action as bitters benefit the liver.
Dandelions can stimulate digestion and improve gut bacteria (through the presence of inulin).
Where to find Dandelions
Isn't it just the way; when you want to find dandelions, there just don't seem to be any, anywhere. So here are some tips. In general, they like to grow on various grassy areas, parks and wild mountainous ranges, but below is some more specific information.
In the UK there are two most common types of dandelions and about 250 types in all, though some are quite rare and others quite distinct from each other. The two most common are;
Ruderalia (121 species) type of dandelions grow well on grassy areas, meadows, waysides and waste places. Erythrosperma (30 species) are more slender and thrive in warm, dry and sunny spots such as chalk grassland, heaths and dunes.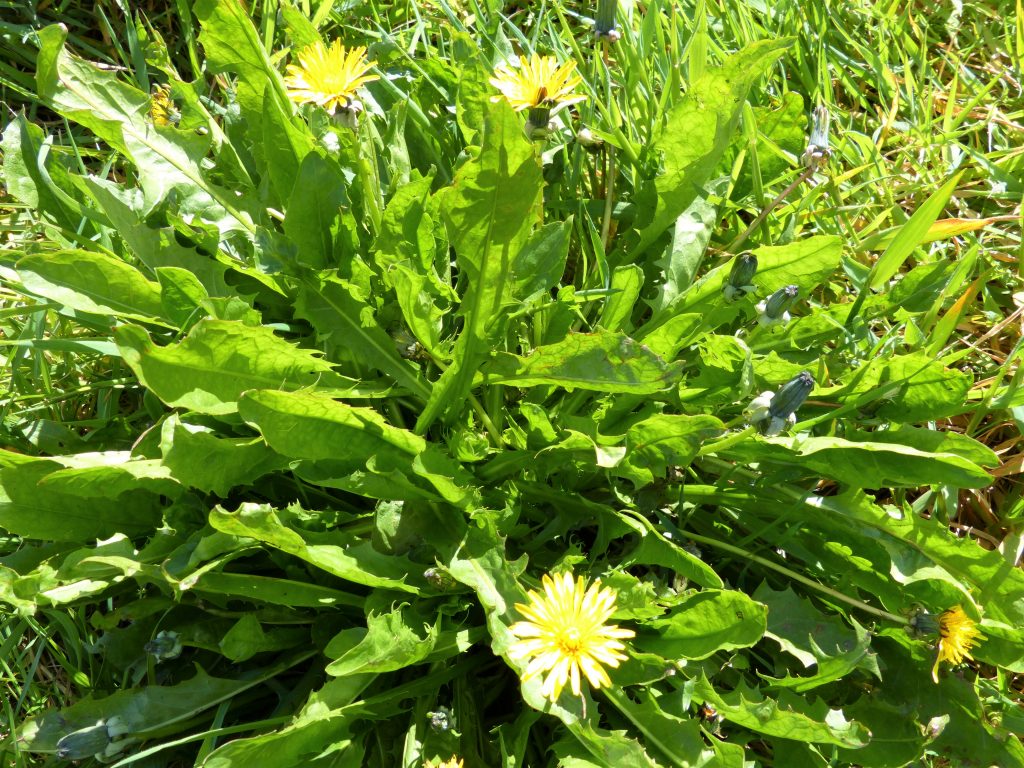 How to correctly identify dandelions
As you can see from the images above, the shape of dandelion leaves can vary depending on the variety. However, they all have a toothed edge AND a hollow stem that created a milky sap when snapped. The stems are not branched, nor solid. That is how to make sure you've found dandelions and not one of its common cousins.
4 simple ways to incorporate dandelions into your diet
Dandelions are bitter, so if you're cooking them it is good to cook them separately in a little water for 2-3 minutes, then drain them and add them into whatever you're cooking. Start with small amounts - think a teaspoon rather than 50 g.
Chop finely and sprinkle as a garnish. Again, think small amounts.
Pour boiling water on a couple of chopped leaves and leave to infuse for 5 minutes and drink as a tea (sweeten if needed).
Add leaves into salad and mix with other leaves and serve with a honey or mustard dressing.
When I was a student I discovered wild garlic. Vast green and white carpets of wild garlic in between the trees of the forest. Gathering armfuls for cooking with go-to student pasta was fun and exhilarating, and cheap. We also skip-dived and gathered waste food to binge on - it was an odd and unbalanced mix!
A different way to shop
Rush, rush, rush, grab, grab, grab. The same approach just doesn't work for foraging. Ask Miles Irving (who set up Forager Ltd, the largest supplier in the UK) and he'll tell you that grabbing everything doesn't make sense, on any level. Supplying foraged food for over 15 years, Miles and his team know that they need to look after the wild spaces they pick from. They also know that picking everything would send their business bankrupt. Picking seasonally and leaving enough wild plants to flower, not over-picking and leaving plants to rejuvenate is common sense to a good forager.
Swapping aisles for hedgerows
In 2007 I moved to Cornwall with my first foraging book by Roger Phillips, which I wrote about in How I got into Foraging. In my first year in Cornwall I foraged a lot and would spend weeks, especially in Spring, shopping in the hedgerows rather than the supermarket aisles. I loved this connection to nature and prided myself in picking amounts and in a way which was largely unnoticeable that anything had been disturbed or taken.
I chose abundant plants, common weeds and areas where they were thriving. Picking what I needed and ate well. I learnt about the seasons, benefited from nature's bounty and started to share what I knew.
It isn't really shopping
Of course, the definition of shopping is normally founded on buying and wild food is associated with 'free'. Free food! You'll find it promoted a lot in this way. Although there is no monetary exchange, it is always an exchange. Always.
As a wild food teacher it's not just the plants I'm teaching about. Just spending time in nature invites a deeper connection to our environment, a way of seeing, being, smelling, tasting and responding differently. The hands-on experience of foraging enables us to see the direct impact of our food desires and consumption. It's different from the bargain aisles, black Friday or my childhood memories of jumble sales. There's the potential for more sensitivity, for enjoying the process as much as the goal. For re-education, for a desire to have less so to widen the benefits to others, albeit person, soil, animals, birds or insect. It's not always an easy mental shift to make, nor a easy physical one. Yet with each flower, leaf or fruit there is the potential to shop, to take, to exchange in a different way.
I lead foraging courses where you can learn about edible plants, recipes and how to pick sustainably. Side-by-side with enjoying the outdoors, engaging with nature and perhaps picking up some shopping tips along the way. Follow my journey on instagram or facebook to hear from me more regularly. Or tag me with #mindfulwildforager
My memories of Summer are, inevitably, interlaced with foraging.
Plants and food, namely wild food, has long been an integral part of my life. One that I choose not to live without.
Earlier on in Summer I wrote about keeping things simple and shared easy ways  I turn picnics and barbeques into events with a wild twist, from seaweed breads to seaweed salads, wild salsa verde to elderflower cordial. Summer, after all is meant to have a holiday feel, so labouring over lavish meals doesn't make sense for me - that's for Autumn and Winter!
My most popular foraging plant in Summer
Without a doubt, the wild food that most features in my Summer is Rock Samphire (Crithmum maritimum). Lining cliff walks, evenings on the beach, and wild swimming spots, I find it so easy to gather. Back home I can make a Rock Samphire Salsa Verde from it within minutes, then back on the beach to share it with friends or family. And it always, always goes down a treat, such a punchy, lemony, herby flavour, hence its nickname Sea Fennel. What more does a Summer forager need?!
Where to find Rock Samphire
If you're living in North Scotland, I'm sorry. If your on the east coast, you'll have less opportunities to forage this compared to us Cornish and those on the west-side. I'll leave it there.
In August I took 4 days out to walk the North coast path in Cornwall with a friend - 25 miles of up and down, lots of giggling and achy limbs. I slept well on my return. While my walking companion took photos of us and the fantastic views, I found myself defaulting to pictures of beautiful edibles. Rock Samphire on the cliffs, too far out of reach to clamber for, the drop below being too large to risk.
As Shakespeare wrote; 'Half-way down, Hangs one that gathers samphire; dreadful trade!'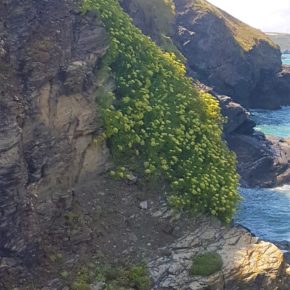 My ideal Summer
Rather than risk my life, the words and phrases I associate with summer are; balmy air, sand between my toes, people everywhere, stopping to pluck, pick or gather, soft grass, undulating ground, dozing on the cliffs, rock samphire salsa verde, sunsets, lemony scents, rushing out, got to be out, sea swims, lake swims, wild camping. Barbequed fish, crab sandwiches. Minty desserts, drying herbs for teas, looking out to sea. Laughing, beach fires, chilly post-swim skin, happily tired. Happy dog, heather, rosebay willowherb flowers, purple hues, short nights and long days, intense, will it ever end!?
Ideally my Summer is full enough to allow me to fall, glide or merge into Autumn. I can relate to Alys Fowler's words on suiting autumn better - woolly jumpers and all. Soon I'll be ready to have evenings in, cook feasts, do more nature writing, contemplate, meditate and lazily read. Though not quite yet....
How was your Summer? What were your best memories?
I run foraging courses throughout the year, and in-between my own adventures with friends and family. I love to share my passion for wild foods, my knowledge and the journey along the way - I will never know it all!
I recently went out for a meal at a restaurant and they had wild nettle cordial on the drinks menu. Ooh, as a forager with a soft spot for 'sweet' I just had to try it. I must say, I was disappointed. I even asked for an extra dash of cordial so I could taste it better, though even then, all I could taste was sweet.
Perhaps because I'm used to making my own, non-commercial wild nettle cordial - fresh and homemade always tastes superior, I feel. Personally, if I make something from wild ingredients I want to benefit from a mixture of the nutrients, the flavour and the whole experience of picking to creating with it.
I find nettles rewarding to cook with because they are in such abundance and their flavour is pleasant though not overly strong. My wild nettle syrup is dark green, it is nettley (not a real word, though you get the idea) and good for you. Here (video above) I'm about to dilute it as a refreshing prelude to a nettle based lunch of nettle soup and nettle pakoras.
Oh, I do like the common stinging nettle - it is the perfect spring wild food! Here I tell you a little about why I love nettles in a short video, and here I expand on some of the reasons nettles are worth falling in love with.
Back to the recipe.
Rich Nettle Syrup
Dark and rich, I've watched nettle syrup disappear surprisingly quickly as a diluted drink at events. This version includes fennel, which lifts the syrup out of the darkness a little and is delicious in Nettle Baklava or Sweet and Nutty Nettle Energy Balls (more on those another time). Nettles also goes well with lemon or root ginger (simmer the ginger with the nettles, or add the lemon at the end of cooking).
Makes approx. 750 ml
Ingredients
800 ml water
3 tbsp fennel seeds, freshly ground or crushed (optional).
200 g nettle tops
800 g soft brown or demerara sugar
1–2 tbsp lemon juice (if not using immediately)
Put the water, fennel seeds and nettle tops in a medium saucepan, bring to the boil and simmer for 40 minutes. Take off the heat and strain through a fine sieve or muslin cloth, using a wooden spoon to help squeeze all the liquid out.
Measure the liquid, and for every millilitre add one gram of sugar (e.g. 500g of sugar for 500ml of liquid). Place the nettle liquid and sugar back in the saucepan, bring almost to the boil (the liquid should be steaming), reduce the heat and leave on the heat for half an hour, stirring occasionally. Do not allow it to boil. If using the syrup immediately, siphon off the amount you need. For the rest, add one tablespoon of lemon juice for every 200 ml of liquid, allow to cool and store in sterilised bottles.
Five years ago I wrote a blog about my Nettle and Honey Cake - it went down a treat. Named as; 'probably the best cake I've ever had' by one enthusiastic forager, I was super pleased the result.
Every so often I like to repeat recipes so I can enjoy the flavours again and see if they need tweaking. Over the last few years I've also found that nettles combines well with ginger and with lemon and, although this cake contains neither, its texture is reminiscent of a lovely moist ginger cake.
Last week, however, I made a new discovery; nettle cake (urtica dioica) and gorse (ulex gallii, ulex europaeus) flower syrup! It's a wild and divine combination which I just had to share with you.
A Spring Dessert: Nettle and Honey Cake with Gorse Flower Syrup
An almost toffee flavoured, moist, not too sweet cake, with a sweet hit of moorland gorse flavours drizzled over it. Somehow, this whole combination reminds me of green tea, perhaps it is the lovingly received health benefits of these local, wild ingredients, or just the natural flavours of green nettles and infused gorse.
Ingredients
50-75 g nettle tops
250 g clear honey
100 g dark muscovado sugar
225 g butter
3 large eggs beaten
300 g white flour
4 tsp baking powder
For the syrup
50 g fresh gorse flowers
225 g unrefined sugar
300 ml water
Place the gorse flowers in a medium saucepan with the water and sugar and bring to the boil. Immediately take off the heat, cover with a lid and leave overnight (or for as many hours as you can). The next day bring the liquid to the boil again and simmer for 10 minutes. Strain through a fine sieve or muslin cloth and store in sterilised bottles in the fridge or freeze in ice cube containers and defrost as needed. Will last a month or so if not frozen.
Line a 20 cm square or round cake tin and pre-heat the oven to 150°C. Steam the nettles for 5 minutes and put aside to cool. Place the honey, sugar and butter in a small saucepan over a low heat and stir until melted and combined. Once the nettles are cooled, blend with the eggs to make a smooth, green pulp. Sieve the flour and baking powder into a large bowl and gradually beat in the melted sugar and butter mix. It will resemble a lovely toffee colour.
Pour in the pureed nettles and blended eggs and beat together.
It makes a wonderful green, raw cake mixture colour! Pour into the cake tin and bake for an hour, or until a skewer inserted into the centre comes out clean, or the cake springs back when touched. Allow to cool for a few minutes before removing from the tin onto a cooling rack, and cool completely before slicing. Serve with gorse flower syrup.
Read more about Stinging Nettles for food, and I've many blogs about Gorse Flowers including recipes too.
Stinging Nettles (Urtica dioica) are one of my favourite spring greens, and this was a recipe I shared with Graham Pullen of St Ives Screen Printing at Tom's Yard. Graham is keen on making art affordable and accessible, and has incorporated the recipe into one of his hand-printed individual cards (featured above). I love both Graham's botanical drawing of the humble nettle, and his interpretation into print.
The last time I made this recipe was for my friend's birthday last spring. We had a 'bring a contribution' curry dinner and the range of curries, samosas and spiced breads was great. These nettle pakoras fitted in perfectly. The only down-side was my dog sneakily finishing off the cooking oil. Trust me, you don't want to know the end of that part of the story.
The fourth time I made them was when I ran a nettle day at Bramble Cottage. It was great having a 6 month old, budding forager with us, gurgling, watching and smelling the various stages of the process. Perhaps that's where this nursery rhythm tune came from, finding a soothing way to give a little extra information about the humble stinging nettles.
You can watch the process and hear the song in this video; 'Making Nettle Pakoras' below. The reason for the song lyrics is explained in my blog When NOT to eat Stinging Nettles, yet the song is self-explanatory really, so just watch and listen...
The recipe?
Do get in touch with Graham, and he can show you, sell you or tell you where to get a great range of foraging recipe cards, including this one with the full recipe. For more ideas, why not browse my Stinging nettles blog. Nettles are regularly included in my wild food foraging courses too.
Follow the #singingforager to find out more.
Western Morning News_08-03-2019_A_015_RWM1ST
Click on the link or image above to read the full article about singing in the landscape and combining foraging with songs about the plants.
Follow the #singingforager to find out or hear more
Gorse Flower Fudge
Oh my god, I had such hopes with this recipe, I really thought I'd clinched it first time (which happens occasionally, though is definitely not a given). Heating it slowly, the smell of the gorse flowers was divine and the flavour of properly made fudge, just blissful.
I went out early in the morning to pick those coconut smelling gorse flowers and couldn't stop thinking of the smell of condensed milk and how the flavours would match. When I searched for condensed milk though, I couldn't find one that wasn't Nestle brand (I'm still not happy about their ethics around supplying milk formula in developing countries, as well as other things), so I decided to settle for a more traditional recipe instead. Double cream, butter and sugar it was.
Of course, I'm still learning, and I forgot that as the temperature of the sugar rose higher, the sugar flavours got stronger, and the scented gorse flowers sunk below the brown sugar, cream and butter, never to be smelt again. I even tried a second time using half unrefined caster sugar instead (you may know that I don't use refined sugars, at all, in cooking), though still the gorse was lost.
However, if you like fudge (and I discovered that many of my friends do), this is an awesome sweet treat. So I decided to share it anyway, plus some tips of how not to cook with gorse (all discovered through experience and in hindsight).
Tips for Making Homemade Fudge
Fudge is both easy and measured in terms of time, temperature and effort – go easy on yourself, especially if it doesn't work first time. Mine didn't work first time, it's usually to do with temperature or not stirring it long enough, though sometimes it just isn't clear why. Mine didn't set properly so instead I put the batch in the fridge, and when it was cold, cut it into squares and re-rolled them in my fingers into oblong(ish) shapes. They were a kind of delicious toffee fudge.
The second batch didn't set either, so I flattened the cooled mixture and sealed it in a bag and froze (there's only so much fudge you can eat at once!) The mixture can be semi-defrosted and cut into squares.
Tips for Cooking with Gorse
Don't use any strong flavours that might mask the subtle gorse scent (or just go with this ever so subtle flavouring)
It's all about infusing and leaving for as long as you can for the flavour to come out
Infuse into milk, cream or water by bringing to an almost boil, turning off the heat and covering overnight
Lemon and orange go nicely with gorse, as does coconut (though not all together), it depends what flavour you want
Gorse Flower Fudge
More accurately, a wonderful creamy, buttery tasty fudge recipe which you don't need to add gorse flowers to (keep them for another recipe), though you can if you want!
Ingredients
350ml double cream
30g gorse petals (outer sepals and stems removed already)
100g butter
600g light brown sugar
150g golden syrup
pinch of sea salt
Line a 20cm x 20cm tin with greaseproof paper. Place the cream and gorse flowers in a medium to large heavy bottomed saucepan and slowly bring to a simmer, add the butter and stir. The mixture should be turning a lovely pale yellow colour. Once the butter has melted, stir in the sugar, syrup and pinch of salt. Place a sugar thermometer in the pan and leave to reach 116°C, watching carefully though do not touch. Take off the heat, leave to cool to 100°C before stirring energetically for 10 minutes or until the glossy mixture dulls and stiffens. Pour the mixture into the lined tin and leave to cool for a couple of hours. Cut into squares, keep in an air-tight container, or in the fridge.
I have a little secret, although I don the appearance of a forager, at heart, I'm an artist, an optimistic awed by the natural world kind-of-one. As an artist, seaweed does it for me. I can spend hours looking in a rock pool at the beautiful colours and textures, how the water moves the weeds and the play of light on the water.
As an artist playing at being a forager (albeit teaching foraging for 12 years and writing books about it), being able to harvest and eat these works of art is an added bonus. Last week was the first good spring tide of the year, which was a wonderful opportunity to hand pick a few seaweeds for personal use. Dulse (Palmaria palmata) is one of my favourite snacks when I'm working at home, it's nutritious, salty and tasty. There's lots I could tell you about it, and indeed I do in my seaweed book, and on my seaweed courses.
How and why to dry seaweeds
Traditionally, seaweeds are dried to preserve them. I like to taste dulse fresh on the beach, though if I'm picking more than a few fronds I dry them at home. There are many ways to dry seaweeds, which I discuss on my courses and in my book, though my preferred way is; naturally. Energy is a big topic these days. This is a great way to reduce and be efficient with our energy consumption in order to respect and take care of our one and precious earth by using the natural energy of the sun.
So, I dry dulse over clothes racks and on tea towels in my sunny, warm kitchen. It only takes a day (or two if it's cooler).
This morning, as I descended into my kitchen and opened the curtains I entered another artist's heaven.
I loved how the light played on this beautiful red seaweed as it was drying on tea towels. Every stage of seaweeds I love. The carefully harvesting of them (just enough and only half of each dulse plant), rinsing and patting them dry, laying them out on tea towels and hanging them on clothes racks. Watching them shrink and dry, checking there's no damp clumps. Then storing them in clean jars for snacks or to incorporate into potato dishes, quiche, dukka, and chapatis, recipes which you can see in my seaweed book. I also have a blog for a more-ish Dulse Soda Bread (gluten-free) which comes with several recommendations, whether or not you're gluten-free.
Tips for drying seaweeds at home
If you can, dry them naturally in a warm room or airing cupboard
First rinse and pat dry the seaweeds, removing as much liquid as you can. You can also use a salad spinner for this
For small seaweeds, lay them out over tea towels with enough space around them to let them breathe
For larger seaweeds hang over clothes racks
Check the seaweeds regularly to make sure no wet clumps are forming
Once dried, store in clean jars, open bowls or containers
We've been having a lot of fun, Kelsey and I.
We've been working pretty hard too. Kelsey Michael has been teaching me songs, I've been creating quirky little ditties about plants I see and eat along the coast paths and hedgerows, and we've been walking.
Walking and hanging out in nature, as friends do, enjoying the landscape, birds, seals, the weather, sunsets and fires. And when happiness comes, or any moment that feels worthy of enjoying or celebrating, we sing. We've sung to the Cornish hills, we've sung an ode to the sour taste of sorrel, to the wonderful world of seaweeds. To gorse bushes, to the sailors and even the donkeys that we've walked past. As I said, we've had a lot of fun.
 (Here a little robin joined us in song, one of the wonderful things that can happen on a wild singing walk)
I was lucky enough to be brought up singing, singing round camp fires (my parents ran youth camps), from church pews and at home. I love to sing, it feels a natural and joyful thing to do and share.
Though Kelsey, a professional singer and singing leader makes singing feel natural and easy for everyone. Accessibility is practically her middle name.
It's been great to sit, stand and walk together, in song. Kelsey has been leading Wild Singing Walks for a couple of years now. Together, we offer the Singing Forager experience; being outside in nature, singing and foraging together. You can read more about what we are offering and even come and join us here; Wild Singing Walks.
Follow the #singingforager to find out or hear more.
I'm sitting listening to Radio 4 (again) and the episode of the Digital Human called 'Tribe'. This particular episode includes a focus on the role of hunting and gathering as a way of working together and supporting each other. Indeed, our ancestors worked together closely to ensure that food, shelter and sustenance was provided for their community.
Alas, our reliance on each other has lessened a lot since then, yet somehow there has been a continuing interest in foraging over the last few decades. I've often pondered about our modern day fascination with foraging, despite no actual need for us to go into the forest or onto the shoreline to find food. It's all just passively sitting on the supermarket shelves waiting for us.
Over the years I've developed various theories on the role and importance of foraging for us digital humans, and I could sum it up in one sentence;
We need to feel connected
The dictionary definition of connected is; to join, link, be united, fasten together, to bind. Our increasing independence and distance from the root of our food, face to face meetings and the natural world has not, I feel, taken away our desire or need to connect, it has just side-tracked it. There's actually no way to get away from it, we are earth-born and even though we can do a fair amount to separate from this (stay indoors and not engage with others or any form of nature), the desire to belong and be part of something doesn't go away. In fact, there is some evidence which says that a sense of community and belonging is more important for our well-being than exercise or diet alone. Foraging doesn't appeal to everyone, though it is a simple and practical way to connect to both nature and food, to the source of our food and the source of our existence.
Connecting to people and nature
For me, being human means acknowledging my utter reliance on planet earth and I believe that the more I feel connected to the place I'm from, the more human and alive I can feel. There are many ways to do this; through interacting with humans that we share this planet with, with animals, with food and where it comes from, or more elementally with water, fire, earth and air. Have you ever thought about how trees and algae soak up our C02 and produce oxygen so we can breathe? Like I said, we are totally dependant on planet earth.
Being human isn't just about survival though, here in the West we left that lifestyle a while ago, even if some days can feel like a battle to get through. I like to think that feeling fully human also encompasses a sense of adventure, purpose, creativity and the spirit of joy.
We know that food brings people together, but foraging also includes a deeper, more instinctual sense of connection. A connection to the land, the seasons, to an adventure and sense of real achievement that perhaps is lacking in our digital reality.
I found, picked and ate my own food in the wild!
Simple and Good
Foraging is such a simple thing to do, yet, I believe, it sets off a series of feel-good hormones and brain connections that we share with our vital, hand-to-mouth, alive and kicking ancestors.
It helps us feel alive
When I forage, I am connecting to the sun, to the rain, wind, soil and to the turning of the earth. I am connecting to living plants fed by all these elements. A plant that has grown up in relationship to other plants, trees, insects and wildlife. That I've hand-picked, which connects me to my whole experience and kinesthetic memory of being out. As well as to the energy and vitality that my wild food is about to provide me as food.
Foraging helps foster a nurturing bond between people and plants, between people and people, between people and the natural world. A bond that has too often, and painfully been replaced by technology. I say painfully, for when we turn away from our home, our roots and a natural sense of belonging (to each other and to the planet that we live on), it is a loss. A loss that I believe, either consciously or unconsciously, we crave.
That is why I think we jump at the chance to forage, get excited about the ridiculous and un-necessary act of foraging; finding, collecting and eating our own food. Foraging fills a gap, a real gap in our experience that digital technology (for all its gifts) cannot replace. Foraging can connect us to what it means to feel and be alive, what it means to be truly human, and this is humbly worth celebrating.
I run foraging courses throughout the year to bring together people, plants and nature. I also offer bespoke experiences, where you can choose the people, place and time that we come together to forage.
---
This blog is based on the personal and subjective views of me, Rachel Lambert. I am not claiming that my views or beliefs are facts, or gospel or scientifically backed up (except in the places where I have said so). My opinions are based on personal experience, musings and hypothesis about foraging in the 21st century.
Follow the #mindfulwildforager if you want to see or read more.
I love foraging, I love the adventure of it, the thrill, the simplicity and the sheer satisfaction of collecting, preparing and eating my own gathered wild food. The last time I foraged for mussels I was with a friend, it was a wild, windy day and we found ourselves on the beach at low tide surrounded by nice, plump mussels. There and then we made a dinner plan and a spontaneous feast was foraged.
We carefully picked the largest, healthiest looking mussels, knowing the beach we were on was clean, and we discarded any that we un-attached, partially open or broken. We walked away, happy with our booty and I reflected on my reasons for not foraging shellfish more regularly. Quite simply, I want to stay safe and well. Food poisoning is not my idea of fun and I want to avoid it at all costs.
With that in mind, I thought I'd write a few notes on how to stay safe and well when foraging for shellfish. There are 3 key elements, then a few extra tips of cooking and preparing shellfish. These notes are brief, though hopefully they will add to your knowledge and help you enjoy what you forage.
No. 1. Always pick away from sources of pollution
This might be sewage, towns or other sources of pollution. I always recommend checking online and with locals who know their beach well and its cleanliness, or lack of. I'm always grateful for fishermen who share with me where to get clean mussels from.
No. 2. Wash thoroughly
Just because something is wild, it doesn't mean it is clean and good for you, below are some thorough notes on rinsing different shellfish for food consumption.
No. 3. Make sure they're alive
Sometimes it is useful to state the obvious, and, obviously, act on it too. Dead shellfish, are not good to eat, so discard shellfish that are dead when you forage them, or do not open when cooked.
-------------------------------------------------------------
Cockles - Winkles - Periwinkles - Mussels - Clams
If you are lucky enough to find any of these, here are some extra notes on cooking and rinsing them. Rinsing is often known as purging, and provides time to rid the shellfish of any unwanted extras, from toxins, bacteria and micro-organisms to sand, mud and anything untoward in their guts. It is well worth taking the time to do this, obviously.
What water and how much to use when purging? 
If your shellfish are from the sea, then purging in salted water will be the best option, sea salt that is. The amounts are; 35g of sea salt to every litre of water, or clean, filtered sea water. The shellfish just need to be covered with water, no more or less. Purging means just letting the shellfish sit and soak in this water for the suggested amount of time.
If the shellfish have been foraged from estuaries, then fresh water should also be fine, though you might want to add a little salt. Cockles, mussels and clams are all shellfish I mention in my blog; What can you forage on the Helford?
Cockles - Rinse through with fresh water, then soak for 6 hours and check they are still alive before cooking for 5 minutes
Winkles and Periwinkles - Rinse through with fresh water, then purge for 12 hours, plunge into boiling water for 10 minutes
Mussels - Using a knife, scrape off all the barnacles, rinse twice with fresh water and check they are alive before cooking
Clams - Rinse with fresh water, then purge for 6 hours and cook for 10 minutes
Here I discuss my love of Elder and how we can take care of this richly providing plant.
As September arrives and passes, I love to see the decadent fruit of the Elder tree (Sambucus nigra); heavily laden fruits, dropping off her flexible branches. I considerate it a non-alcoholic equivalent to red wine, such is its depth and richness. As I imagine drinking in this liquor it feels as if I'm doming a thick, warm coat that will protect against all weathers and ills. Ah, such is the medicine of the Elder in autumn.
One wild plant in increasing trend seems to be the Elder, made famous by the cultivated and bottled, Elder flower cordial, it can become a must have by the avid forager. I have always said that foraging is a skill to be shared and enjoyed, not policed, though I do believe that with the increasing interest in foraging comes responsibilities. Shared responsibilities for the plants that we pick.
It reminds me of the company Forager, who have been supplying wild foods to chefs and restaurants for 15 years (depending when you read this), and stand by their premise that sustainable foraging is at the forefront of their business. Actually, if they weren't sustainable in their approach, their business would have folded years ago.
Here in Cornwall the presence of the Elder is rather sparse, I often get asked where to find it, and just tell people to keep looking - it isn't as abundant as other areas of the UK. For this reason we, foragers, need to take extra care. I have a few spots for elderberries, and never use all of them each year, nor do I take all the berries I can find. Actually, I gain a certain satisfaction from picking so little that my foraging goes un-noticed. Ah, the simple pleasures of life.
In my Environmental Policy for my business I outline only ever picking 10-30% of a plant, and only when it is abundant. Actually, when it comes to seeds and berries, I would suggest 10%, and I'm sure you can imagine why. If you pick too many Elder flowers earlier in the year, there will be little or no Elder berries, and if you pick too many Elder berries you are inhibiting the future life cycle of the Elder.
Recently, when attempting to gather a few, last Elder berries at the end of the season, I felt saddened by what I saw. Many of the bushes I have previously visited were not completely, but quite thoroughly stripped of berries. These first berries were near footpaths. As I ventured off piste, so to speak, I found more abundance - of course - on Elders that were harder for humans to reach.
We share our natural world with humans, animals, birds and minerals, it is a fine balance, a glorious balance, and one we can take some care and responsibility for. So, with that in mind, once I'd foraged my berries and plucked the majority of them off the stems for cordials and rich treats, I took the remaining berries (each containing a seed) back to the wood. I took them to areas where Elders like to grow, where Elders grow nearby and I dispersed the seeds.
Now, I'm no gardener, and maybe none of those seeds will take, though somehow I trust the ruthlessness of nature and the alchemy of the weather and the soil to make that decision. However, for those of your who are gardeners, please feel free to plant Elders, cultivate, propagate and tend them. Lets take care of the Elders.
I have a foraging dog. He's called Paddy McGinity (a name I inherited rather than gifted to him), and yes, he can climb rocks and cliffs as agile as a goat.
Most of the time my dog is with me on forays, while I forage and teach up to 100 different species of wilds in the UK. Often, he's doing his own thing (chasing rabbits and exploring), though sometimes he hangs around and is inquisitive.
I've watched him 'watch and learn' to forage blackberries, rosehips, acorns and he's good at apple scrumping. Seaweeds aren't so popular with him, expect Kelp stems and fish, crab and rabbit are favourites, naturally.
Actually, many are surprised how many fruits and vegetables he'll eat - celery and cabbage leaves being the exception, though cabbage stems are a hit! I've watched him sneakily remove broccoli from my friend's bag, gobbled tomatoes from crates, and forage raspberries straight off a friend's allotment (sorry Liz). To me it makes sense; a natural diet of fruit, vegetables, meat and fish. Unfortunately he's not that selective, and easily succumbs to bread, sugar and fat (not dis-similar to us!).
He's eaten many other wilds over the years too, mostly be default when he's foraged (I'd say stolen) food from my kitchen. Nettle and Lemon energy balls he devoured very quickly, as were the second batch (very frustrating), Hogweed Seed Biscuits were a hit too, Alexander Seeded Bread is gulped easily and Elderflower ice cream has been ogled at, but so far I have been able to keep it away from him.
Such a sweet dog.
Of course, though he's also an instinctual animal, a wild beast, an opportunist and a forager. Not dis-similar to us, though he is more closely connected to his wild roots. We have lots to learn from animals, and unfortunately they have lots to learn from us!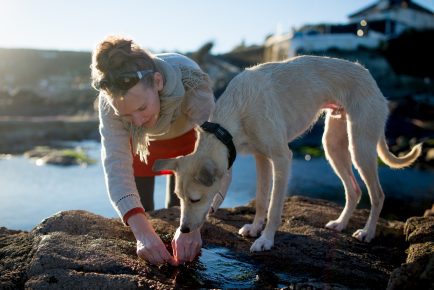 'You just have to try that green stuff' (participant on a foraging course)
Luscious wild greens; Rock Samphire (Crithmum maritimum) makes the perfect base for a Salsa Verde (green sauce) and it tastes so great that hardly anything else needs to be added.
Over the years my version of this Rock Samphire Salsa Verde has got simpler, depending on what other ingredients I have to hand, who I'm cooking for and my confidence of allowing this wonderful flavour to dominate, rather than plumping it up with other herbs. Gone is the parsley, the mint, the fennel (this plant is also, confusingly, sometimes known as Sea Fennel), it  is even good without lemon added.
Late spring or early summer is perfect for picking Rock Samphire, you can also get away with it in late summer if you only pick the young fronds and avoid the flowing stems. This is wonderful beach food and goes perfectly on fresh bread, or served with fish, or even mixed in with pasta or rice. It lasts well, and lifts many dishes. Here's my version with a few options too.

(Cooked Rock Samphire ready for the chop)
(The ingredients ready to mix, here I use shallots instead of spring onions)
ROCK SAMPHIRE SALSA VERDE
Ingredients
85 g Rock Samphire
3-4 Spring Onions
1 dessert spoon Capers
1 tsp vinegar
1-2 tbsp Olive oil
1 tbsp Lemon (optional)
Salt and Pepper (to taste)
2 Anchovies (optional)
Wash the samphire and cook in a small amount of water for 2-3 minutes in a lidded saucepan. The water doesn't need to cover the samphire, as it will reduce and cook in its own steam. Remove from the pan and allow to cool. Meanwhile finely slice the spring onions and chop the capers. When the samphire is cool enough to handle, finely chop it and mix in a bowl along with the onions, capers, vinegar, oil and salt and pepper. Add the lemon if using, and finely chop the anchovies and mix in thoroughly. That's it! Taste and adjust if needed.
Foraging courses are run throughout the year and most are on or include the coastal path and coastal plants such as; Rock Samphire. I also mention it here as part of my walking the South West Coast Path.
I love roses, and of course they are also one of the many symbols of love. Here in the UK we have several wild varieties and the cultivated ones are, almost, infinite.
After a hot, sunny day, I particularly love to be overcome by the scent of roses; the evening aroma of rose and other wild flowers lingers evocatively in the air as the sun goes down. Pure summer heaven, I think.
I could lie in bed reminiscing about their scent, trying to conjure up these smell memories, or I could find other ways to capture and literally bottle the heavenly rose....
Making your own rose water is a wonderful way to enjoy the roses again and again. Each rose is different, not only in scent but in colour, so the range of pink tones can vary hugely too. A more technical and intense process would be distilling the rose, though here I share an easy process you can do at home.
My favourite rose to use is Rosa Rugosa, or Japanese Rose, it is abundant in coastal areas, so is perfect where I live. However I recommend experimenting with different roses and, literally, stopping to smell the roses, following your nose until you find your perfect one.
Before I share how to make wild rose water, a note on picking rose petals. This is essential to look after the roses life-cycle and to ensure that the plant can produce rosehips (fruits) later in the year for animals, birds and humans:
Never take more than 1/3
Do not take the whole rose head (take just the petals)
Take the petals that come away easily in your hand (do not rip or pull them off), these will have the most mature scent
You can also pick the petals that have freshly fallen, or even dried (they will still have the scent)
How to Make Wild Rose Water
Rose water is a satisfying and simple way to bottle the flavour and colour of roses. This recipe makes a strong rose water, add more water if you want a weaker version. Each rose will have a slightly different scent and colour, I take great pleasure in bottling and seeing different versions in clear glass bottles next to each other.
Ingredients
Fresh rose petals
Boiling water
Roughly chop the petals and place in a measuring jug, packing the petals down as tightly as possible. Pour over just enough boiling water to cover the petals. The petals will float to the top so be sure to stir them back in. Cover the jug and set aside for 48 hours, you can leave for just 24 hours, though the extra day will extract extra flavour. Strain the liquid through muslin into sterilised bottles, making sure you squeeze out every last drop of the water and store in the fridge in sterilised bottles, or freeze in ice-cube trays. Use within 3 months.
Read here about edible roses, which ones to use and how to harvest them; Roses are Red, White, Pink and Edible.
I offer wild food foraging courses where I teach about different seasonal plants; flowers, leaves, fruits, shoots, roots and seeds and share many more tips and recipes.
I love to stop and smell the roses, I love to eat them, cook and garnish with them too. See my wild rose water recipe and rose petal preserve recipe.
Which Roses are Edible?
All rose petals are edible and both wild and cultivated roses can be used, though please see my tips for picking below. The most common wild roses in the UK are Dog Rose (Rosa Canina), Field Rose (Rosa Arvenis) and the Japanese Rose (Rosa Rugosa). Each rose has a different scent, so it's well worth smelling before you start picking, and finding your favourite rose types.
Cultivated roses with a good scent can also be used, but make sure they haven't been sprayed first. Some rose petals may have a bitter aftertase too. Petals can be used to decorate cakes, in cold soups, salads, meat dishes or desserts. Here's a few tips before you pick them though;
How to sustainably pick rose petals for using in recipes
If you're picking cultivated roses, check: have they been sprayed?
You can dry rose petals (then rehydrate them), or use them fresh
Are the petals ready to be pluck (do they come away easily)?
Petals that are ready to pick may have already fallen, or come away easily when touched (see below)
Only pick the petals, never the whole flower-head (so the fruits can ripen later in the year)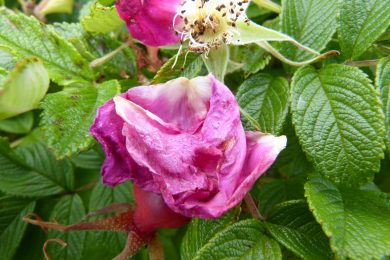 In early summer and summer I may include roses in my foraging courses, and in the autumn I include the fruits of roses; the rosehips.
Here's my Rosehip Tart recipe, and also my Rosehip Fruit leather recipe, both are delicious and full of vitamin C. Finally, I also share my Wild Rosehip Chocolates recipe (great for valentines!).
Cornwall is the 9th largest county in the UK, it's boarder mostly by the sea (and Devon, of course) and is almost 1500 metres squared in area.
We have amazing access to coastal areas, 422miles of it, where foraging is rich and includes fish, mollusks, seaweed and coastal plants. We have abundant hedgerows, fields, coast paths, cliffs, moorland and beaches. Cornwall has 7 (think marsh samphire) estuaries, and I've mentioned before the diversity of estuary foraging.
Cornwall has just over half a million residents (the most the county has ever housed), so pressure on this beautiful place (as everywhere, it's more mentioning) is increasing. However, most of those living here are in towns, less in villages and less so again, in hamlets. That leaves a lot wild areas for wildlife to flourish.
What's more, almost a third of Cornwall has the status of; Area of Outstanding Natural Beauty (AONB), which gives it the same protection as a national park. The Cornwall AONB partnership has a 20 year vision to; protect, enhance and improve the resilience in the face of climate change these areas of Cornwall, which is why foraging sustainably, a little and in a variety of abundant places is key, and I mean that, 100%.
Are we that special?! I think we are. I think Cornwall is.
Of course, I'm biased, very biased, I chose to make Cornwall my home and, really, have no wishes to be anywhere else. Even in 100 things to do in England, there were almost 10 sites (9 to be specific) in Cornwall listed, that's pretty good going I think.
My passion for this piece of the country includes enjoying these areas by picking a little wild food in appropriate areas. Carefully picking so it is practically un-noticeable that anything has been taken, and focusing on plants that are common, abundant and even invasive. I'm also interested in education; sharing this beautiful place so others can deepen their appreciation and understanding of this eco-system. I also still have a lot to learn and always will.
Cornwall is special, unique, protected, vulnerable, diverse, and as foragers we have a responsibility to take care of this beautiful place.
References
AONB official website, gov.uk, and the beloved wikipedia.
Everytime I run a Seaweed Foraging Course I make tasters. Sometimes I stick to old favourites like seaweed hummus, or 3 Seaweed Soup though often I tweak things or experiment - I like to keep things fresh and new.
Frequently I make seaweed bread and dips; it's easy, accessible and bread is a brilliant carrier for all sorts of toppings on the beach. In my Seaweed book I have a perfect hummus recipe, and a Crab and Alaria Seaweed salad (image below).
I don't often get to teach this seaweed, so doing so, and eating it is a real treat. Alaria esculenta is also known as Dabberlocks, Tangle or sometimes Atlantic Wakame, and is one of the seaweeds that is delicious raw. This makes it perfect for marinades and salads. I love crab, though veganism is becoming more and more popular, so I decided to tweak the recipe and make it vegan, so everyone on my most recent seaweed course could enjoy it.
Alaria Esculenta doesn't grow everywhere, though we do have it off the Cornish coast, and it is most similar to Wakame - a Japanese seaweed used in salads and soups. I share more about this on my courses (there's just too much to say here!).
Here's the recipe;
Carrot, Ginger and Alaria Seaweed Salad
This is really easy to make though ideally you need to marinade the seaweed overnight. You can use fresh or dried seaweed and you could use ginger juice (juice yourself) rather than pickled ginger (available in Asian food stores).
Ingredients
15cm dried alaria esculenta seaweed or 25cm fresh (this should be the oldest part, with the stipe/stem and 2/3 of the seaweed left behind for it to rejuvenate)
50g pickled ginger, finely chopped
2 tbsp sesame oil
1 tbsp rice wine vinegar
1 tbsp extra virgin olive oil
1 tsp soy sauce
300g carrots
Finely chop the seaweed and place in a medium sized bowl. Add the ginger followed by the rest of the ingredients, except the carrots. Stir thoroughly to coat, cover and leave overnight. In the morning grate the carrots and add to the marinade. Mix well and empty the contents into a container with a well-sealed lid and take to the beach, or serve in a salad bowl.
Goes really well with seaweed hummus, seaweed bread, added into stir fries, with noodles, with fried rice, and well, lots of things!
To find out more about identifying and harvesting seaweeds sustainably do check out the seaweed foraging courses or if you want to save money, my seaweed book with recipes, identification, nutrition and lots of tips is just £6.95.
"One way to get the most out of life is to look upon it as an adventure."
William Feather
Life's an adventure isn't it?!
And adventures can come in all shapes and sizes, from trying a new food to exploring a new place, to starting a family, a new relationship or a new career... Some like their adventures small, some big. Most of us are somewhere in the middle, I think.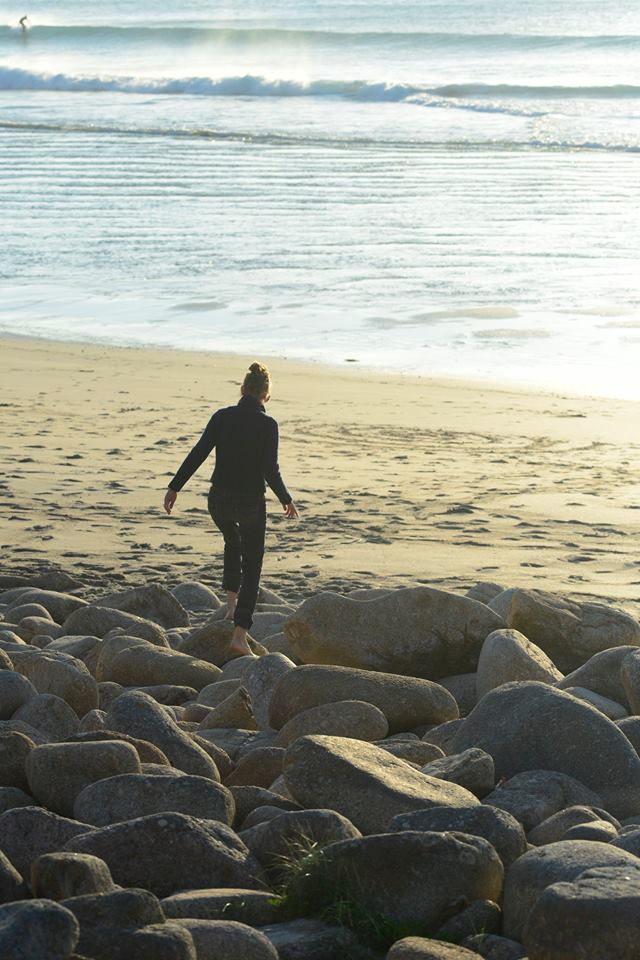 For me, I've always loved to go to the edge, the edge of the cliff, the edge of the dance move, the edge of the water, the edge of what is comfortable and safe. As a very physical child some of those explorations ended in pain (the edge of the wall was not a happy ending), though most actually gave me a sense of exhilaration, or excitement and a dream of something more.
As I've grown older my aspirations have shifted from wanting to be a stunt woman (true), to learning how to take healthy risks, how to look after myself (and others) and how to weigh up whether I have the skills, strength and courage to go for something. Sometimes I do not, and admitting this also feels brave sometimes.
Learning about seaweeds has been an adventure for me, opening me to a whole new world to explore and one that gives me a smile of satisfaction at the end of the day. I also found the further I explored, and the more edges I went to, the jewels that I found were richer, more colourful and rewarding.
"…adventures don't come calling like unexpected cousins calling from out of town. You have to go looking for them."
Source unknown
I've played it safe till now, leading courses where seaweeds are accessible and easy to get to. You see, I want everyone to be able to learn about seaweeds. However, I also want to share some of these adventures and to really take you to the edges where you can experience a whole other level of seaweeding, and one I rarely get to share with others.
Seaweeds like Alaria Esculenta (Dabberlocks) and Sugar Kelp (Saccharina latissima), which like to be in deeper water and have more space. These feel like a special find, and the wonder of reaching these places akin to discovering a hidden beach and having it all to yourself.
If you have the desire to adventure further, to join me across the rocks, to the edge, this is what you may find, and so much more that neither you nor I can put words to, yet, or perhaps ever. Maybe it will come from an inner smile, and a sense of exhileration and satisfaction at the end of your day.
"The tragedy of life is not that it ends so soon, but that we wait so long to begin it."
W. M. Lewis
Rachel Lambert leads seaweed foraging courses, please read the details for every course (or ask) to find out how challenging the venue is, I am also available for private forays, where I tailor an adventurous seaweeding experience just for you (tide and weather allowing) - for those who feel steady on their feet and want to climb, slide and step further out to explore the world of seaweeds. Courses are always timed with the tide and are only run when the conditions are safe, no unnecessary or ridiculous risks are taken, and safety and learning about the seaweeds and the sea is always paramount.
I'm standing on a rock at low tide, layers of organic matter below my feet, formed over billions of years. Beyond me is the great ocean herself, perhaps where we all came from and marking a time before our migration, along with (now) terrestrial plants, onto land.
Around me swells the seawater, not so different from the water contained in each of my body's cells. Somehow my sense of time, body and what I am made of is changing; I feel both young and old, connected and in wonder at my ancestry of rock, sea water and seaweeds.
Yes seaweeds, also so much older than this human form of yours and mine.  Red seaweeds (that's another discussion of what constitutes a red seaweed, which I'm happy to have, another time) are thought to be the oldest of them all. Somewhere between 1.6 and 2 billion years old. Their structure, reproduction and variety are fascinating, though what interests me the most is their flavour.
And on the topic of seaweed flavour, I have an unanswered question.
Actually I have many, and a sketchbook of seaweed notes still to decipher. Though for now, I have one, little question:
How come the Red Seaweeds have the most Interesting, Multi-layered and Tantalizing Flavour?
(Baked Oysters, Pepper Dulse Seaweed and Lemon Butter - from my Seaweed Foraging Book)
I could speculate that the answer is because of red seaweed's structure, their both basic and complex form, and a form that comes with age. Though when I asked some of the UK's best seaweed experts (people who have taught me and whom I deeply respect) they just shrugged their shoulders and answered 'I don't know'.
Despite their age and importance there is still so much we don't know about seaweeds, and that in some ways, is part of their wonder. An unknown, underwater world that, here in the British Isles, reveals itself just twice a day to us.
I love standing by the water's edge, on the boundary of this unknown world, there is still so much to learn and already so much to share.
On the theme of red seaweeds (there are also hundreds of species of green and brown ones to enjoy), their complex flavour means they are both compatible with a wide range of foods from quiche to lemony dressings, and also bring out 'umami', a flavour which heightens all other flavours. Simple things like bread, rice and potatoes become something inspired with a little bit of seaweed added.
Taste, colour, flavour and texture all make up the components of food that is an enjoyable part of our human experience, and that's without mentioning the vast nutritional benefits of seaweeds. Of course, the amounts you use and the combinations you create all constitute how enjoyable seaweeds are, and those details are important.
Here's more information on seaweed foraging courses and here's a link to the calendar dates for seaweed foraging courses to puruse, or book. Each beach has a different range of seaweeds and each season offers something different too.
Nettles are amazing - nutritious, versatile and abundant.
Never under-estimate the humble stinging nettle (urtica dioica) it's one of the best wild greens we have (nettles  contain iron, vitamin c, protein and so, so much more). Really we should and could be celebrating, and using this wonderful plant a lot more.
Thank you nettles, and here's some ideas for appreciating nettles with your taste buds and nutritionally craving bodies.
*Cooking stinging nettles removes their sting.
Nettle Soup (recipe in my foraging book), Nettle Pakoras 
Nettle Omlette, Nettle and Potato Curry.
I like all these recipes; soup is delicious, the bhajis tasty and surprising, the omlette simple and the curry, a perfect accompaniment to an indian style meal.
Nettle pesto (from my foraging book), Nettle lasagne
Nettle Beer (just a 3 day process!) and cooking nettles for either beer or syrup.
Making Nettle Pasta, Rachel Lambert's Nettle and Honey Cake (delicious!!)
Just cooked as a side vegetable, and last but not least, fresh nettle tea (just pop a nettle top or 3 in the teapot and leave to brew).
Happy cooking and topping yourself up with wild nutrition from this fantastic plant.
I share lots more tips and recipes for nettles on my;
Photos: By Rachel Lambert, except Beer and cooking nettles by Dan Thomas.
The Romans valued the plant Alexanders (Smyrnium olusatrum) highly and brought it over with them to the British Isles almost 2,000 years ago to use as a pot herb.
It was used widely before celery came into fashion (has celery really been in fashion?!). Celery has been mentioned as early as 1700s as a food and was used both as a cleanser and winter vegetable when greens were minimal.
So why do so many people say 'urgh' when they taste Alexanders?
It's all about how and when.
Every single part of Alexanders is edible - the root, stem, leaves, flowers and seeds (though personally I'm not keen on the flowers). That's not the case with every plant. However, you need to know for absolute certain that you have the right plant. This is essential, as Alexanders is a member of the Carrot family (Apiaceae, Umbelliferae) of which there are many wonderful edibles, and some DEADLY POISONOUS plants. As you can imagine, getting this right, is, essential, as I said.
That aside, the qualities of Alexanders are, I believe, worth searching out, especially in spring. Personally, these are a green I also forage through winter, yet they are definitely superior when they've been cultivated in the warmer soil and lighter days that March and April offer.
My Tips for using Alexanders;
Use only the mininal amount of leaves raw, otherwise cook them
Start by using small amounts of this plant - as your taste buds mature you can use more
Use in a bland base and balance the right flavours for broths, as in my Alexander soup recipe. Add to milk, cream, coconut or potato for frittatas, muffins, and even Alexanders infused into rum.
Each part of the plant has different uses; leaves as a vegetable, young stems for candy and larger ones for stock, seeds as a spice
The large stems are the sweetest, though can become very fibrous (this can be avoided by boiling them for flavour and discarding the fibre).
Oh, and if you'd like more tips on Alexanders, I can show you, for real, on my Spring wild food foraging courses
A 3 minute video about munching and tasting while walking and foraging in Cornwall, why children are good foragers and how it is not rocket science (plus some safety advice!). Interview and video by Cameron Hanson.
Inspired by a winter sun rise and these wonderful bright yellow flowers, here's a little video about foraging gorse flowers (ulex gallii and ulex europaeus) and making the most of the winter light.
A dark, rich, and wonderfully fruity treacle tart. Hearty for the colder months with a beautifully crumbly, oatmeal pastry. I love this one as an afternoon snack or as a warm, filling dessert served with cream.
This recipe was inspired by Swedish and German friends of mine making sloe syrup. I tried it myself, tweaking the recipe with dark muscovado sugar and WOW - it reminded me of treacle tart! 
And so the experimenting began. I'm really pleased with the results of this tart. I've made it many times and this is my winning combination.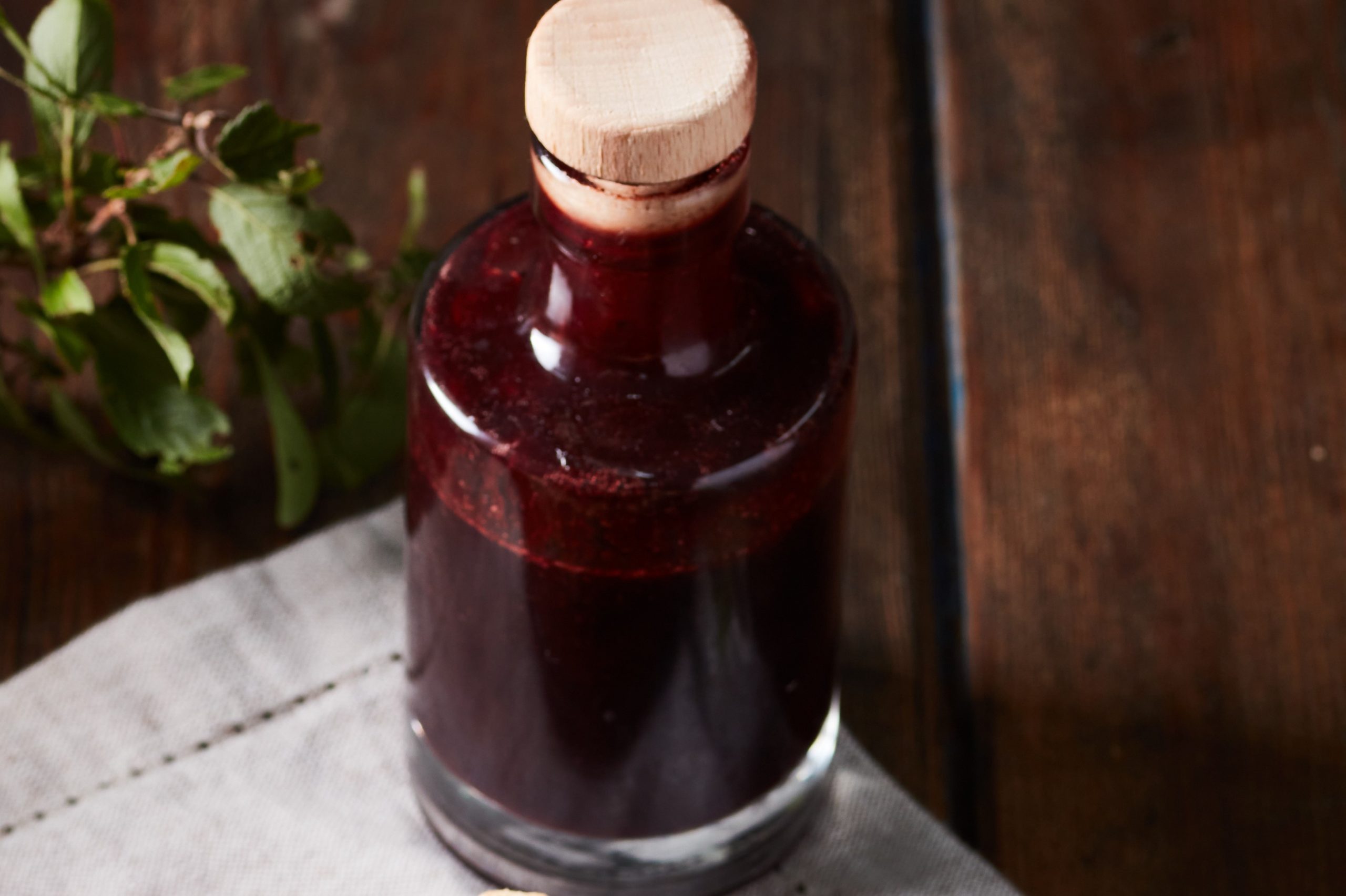 Traditionally, treacle tart is made with golden syrup (refined sugar), so I thought I'd try something different. With a bottle of freshly made sloe syrup, I got started, combining oats, fresh bread crumbs (from lovely local bread) and the sloe syrup.
The result was delicious, like a fruity version of a syrup tart, though more wholesome. Just as satisfying, and perfect for afternoon cake-hour, and very fitting for more substantial wintery desserts. Here's the recipe, though you'll first have to make the sloe syrup.
Sloe Treacle Tart recipe
A dark, rich, and wonderfully fruity treacle tart. Hearty for the colder months with a beautifully crumbly, oatmeal pastry. I love this one as an afternoon snack.
Serves 8 - 10
Ingredients
90 g plain flour                      
90 g wholemeal flour
50 g oatmeal                          
125 g butter               
2-3 tbsp ice-cold water
75 g fresh breadcrumbs (fresh bread, grated or food processed)      
75 g oats                                
400 ml sloe syrup, plus 2 tbsp 
2 free-range eggs
Method:
In a large bowl mix the flours, sugar and oatmeal, and cut the butter into cubes before tossing into the bowl. Rub the flours, oatmeal and butter together using your fingertips or use a food processor, until thoroughly combined and it resembles fine breadcrumbs. Add a little of the water and form into a ball of dough, adding a little more if needed. Wrap in cling film or place in a bowl tightly covered with waxed food wrap and place in the fridge for 30 minutes.
Meanwhile, preheat the oven to 180°C/fan 160°C and grease a 23 cm flan tin. Take the dough out of the fridge and roll out on a lightly floured surface, large enough to fill the tin and line the sides. Mine often falls apart at this stage, don't worry, just press it back together. Carefully lift the unbaked pastry in the tin, gently pressing into the corners and slicing off any excess pastry. Pop back in the fridge to firm up for 10 minutes or more, then line with baking beans, or equivalent and place straight in a hot oven for 15 minutes.
While the pastry is baking, in a small saucepan reheat the syrup to a little warmer than blood temperature and stir in the oats and breadcrumbs. After 15 minutes remove the tin from the oven and reduce the heat to 150°C/fan 130°C. Whisk the eggs and pour into the heated syrup mix, stirring until combined well. Remove the paper and baking beans and pour the filling into the pastry base. Bake for 35 minutes or until set. Take out the oven and spoon over the 2 tablespoons of sloe syrup for a sticking top and leave to cool on a cooling rack. Serve warm or cold, lasts well in the fridge for up to a week.
Sloes are one of the fruits I teach about on my autumn foraging courses. For my best wild food recipes, why not check out my membership options and travel with me through the seasons.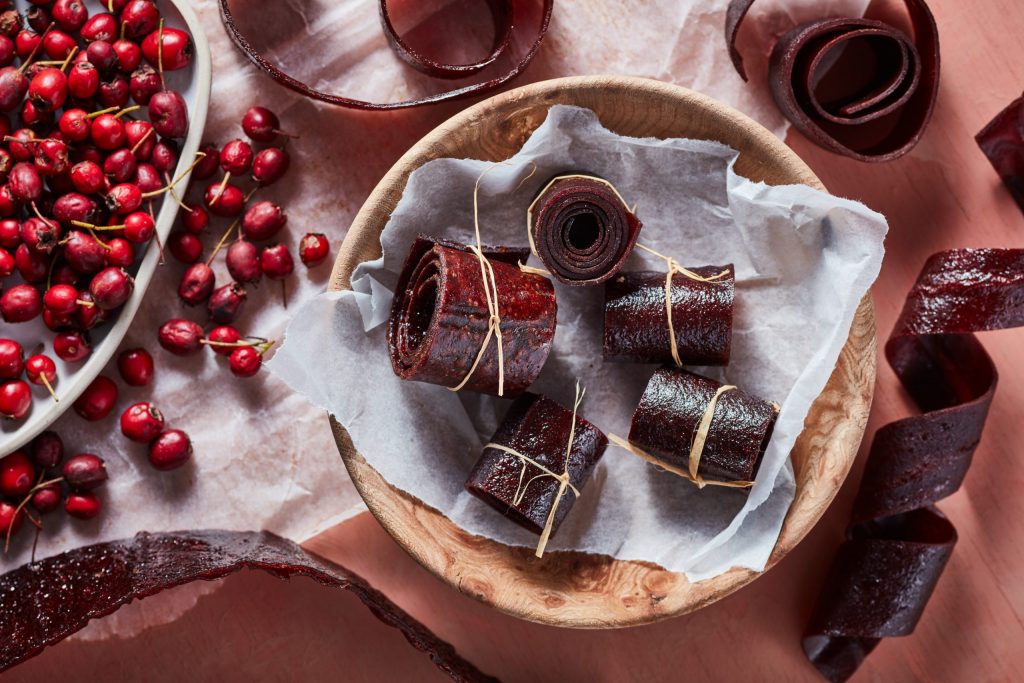 Perfect for sluggish, cold days, this fruit leather is a fabulous pick-me-up. This recipe is definitely worth the effort, you'll have about 8 strips of fruit leather and will just need a nibble as a lift, so they last for ages!
The fruit of the hawthorn tree (Crataegus monogyna or Crataegus laevigata), can be good for the heart, can get your 'chi' moving (your life force energy), be uplifting and tasty. Lets get down to the fruity business of haws.
It's November, and now is the perfect time to pick these fruits. They are a lovely dark red colour, and still a plenty, if you find the right tree. This recipe is suited for those who enjoy processes and have some patience. It's not quick, it takes some mashing, though is delicious and as we know, it is good for the heart...
Hawthorn Fruit Leather Recipe
Hawthorn fruit leather is a deliciously simple snack. It has a bit of a tang and a hint of natural sweetness to get you through sluggish afternoons or slow mornings. It's made from mashed haw berries, apple and honey. It's also great for packed lunches, a snack for walking, gifts and will keep for up to 6 months or a year even. Here it is....
Ingredients
450g haws
450g apples
350ml water
3 tbsp honey
The method:
Remove the stalks from the haws, and chop the apples into pieces, don't worry about removing the core, as it will all be sieved. Place the fruits and water in a medium and bring to the boil. Cover, and simmer for 15 minutes, or until the fruits are soft and strain through a sieve into a large, bowl. Allow the fruit pulp to cool, and using a wooden spoon, mash and push the fruit pulp through the sieve, then stir in the honey. The more you do this, the more pulp you'll be able to extract.
Once you've extracted all the pulp you can, if using a dehydrator, spread the contents over two Teflon sheets and dehydrate according to instructions. Otherwise, heat the oven to 140°C and line a 20cm by 40cm baking tray with baking paper including part the way up the sides. Pour the fruit pulp into the tray, spread evenly and bake for about 4– 5 hours, or the fruit is slightly tacky though doesn't stay stuck to your fingers and peels away easily from the paper.
If the fruit is drying unevenly, turn the tray around in the oven, or be prepared to slice off the edges, if over-cooked when done. Peel off the tray, cool and cut into pieces or strips and store in a sterilised jar or wrapped in greaseproof paper.
I share recipes (and tasters) regularly on my wild food foraging courses, or stay up to date through my facebook or instagram page.
I'm often asked;  what seaweed can you eat? What about this stuff (pointing to the piles of spewed up seaweed on the beach that's been turfed up by the powerful, stormy Winter waves). Hmm, no wonder people are put off eating seaweed.
Not all seaweed is good to eat. Perhaps you've heard me say this many a time; pick seaweed that is fresh, cutting it fresh ensures you know how fresh and old it is. The old, decomposing seaweed is good for compost, though not for eating. There is one exception though: After a storm.
Although it is easy to tell decomposing to freshly cut. Personally, I'm still not intimate enough with seaweed to know if seaweed is just freshly broken off by the storm, or has been 2 or 3 days floating at sea. I go by eye, feel and stay on the safe side. In other words, I prefer to harvest seaweed that is attached.
I have many favourite seaweeds (or my favourites keep changing), and one of these is Sugar Kelp (Saccharina latissima), and yes, it is a combination of sweet and salty. I've spent many hours at the lowest tides searching for this seaweed, though mostly, it has alluded me. I know it is there in abundance - plenty times have I seen it washed up on the shore, though often it grows just a little deeper than a low, low tide, and I'm not a diver, not even a snorkeler anymore. Though to my my surprise, it was a storm that brought Sugar Kelp closer and fresher to me.
Can you eat seaweeds that have been washed up after a storm?
Seaweed needs to be attached, through a 'holdfast' (seaweed's equivalent to a root) in order to live. This could be attached to another seaweed, rocks, stones or shells/shellfish. In this case, the storm had thrown up young Sugar Kelp, attached to small stones, so still living - hurray!
Never had foraging Sugar Kelp felt so easy, and the freshness still guaranteed. Walking along the beach, at a medium low tide, I was able to harvest this seaweed and dry it at home for soups and desserts. Below are Apple and Sugar Kelp Turnovers from my Seaweed book . This seaweed has particularly good amounts of magnesium and calcium, and used to be chewed dried by children as salty 'sweeties'.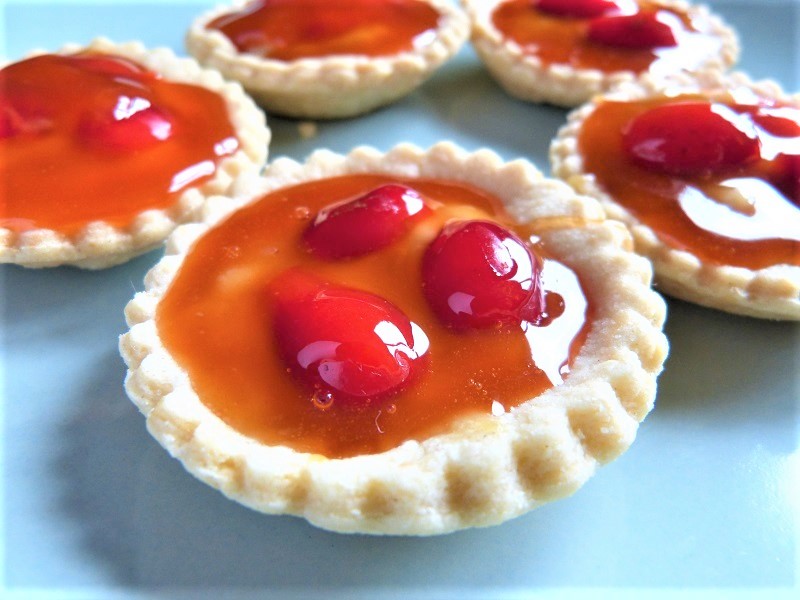 Sometimes I feel creative, sometimes crazy, with the ideas I come up with for using wild food. This one is a complete labour of love; a custard tart topped with rosehips and a rosehip syrup glaze. Devoured by 14 appreciative people on a hazy October afternoon.
Here's the recipe;
Rosehip Fruit and Custard Tart
 Ingredients
(for pastry base)
200g plain flour
100g cold butter, cubed
20g ground almonds
1 tsp baking powder
1 egg, beaten
1-4 tbsp cold water
a little egg white
For custard filling
320ml whole milk
80g unrefined caster sugar
5 free-range eggs yolks (freeze the egg
25g cornflour, mixed to a paste with a little cold water
For the topping and glaze
200ml rosehip syrup
2 tbsp cornflour
2 tbsp honey
100g rosehips, fresh out the freezer
In a large bowl, add the flour, ground almonds and baking powder, mix well and rub in the butter until it resembles breadcrumbs. Mix in the the beaten egg and 1-tablespoon at a time of cold water (just enough to bind the dough, no more). Alternatively you can blend the mixture in a food processor, adding the water at the end. Press the dough into a ball, wrap in clingfilm and chill in the fridge for at least 30 minutes. Preheat the oven to 200C and grease a 23cm diameter flan tin.

For the filling, in a medium saucepan bring the milk to the boil, whisking all the time. Remove from the heat and in a medium bowl, beat the sugar and egg yolks for 3-5 minutes, or until the mixture falls in thick ribbons from the whisk. Slowly whisk in the cornflour paste until well combined. Slowly pour in the hot milk, stirring in well, before returning the mixture back into the saucepan. Heat the mixture, whisking constantly, until boiling. Cook for a further minute, then pour the mixture into a bowl and set aside to cool for 10 minutes. Cover with clingfilm and chill in the fridge.
Roll the pastry out on a floured work surface to about ½ cm thick and line the flan tin. Brush the pastry with a little egg white to seal it and bake in the oven for 15 minutes or until the pastry is golden-brown and crisp. Let the pastry cool a little, then carefully transfer to a wire rack. At this stage the cooked pastry can be covered and stored for a few days before using.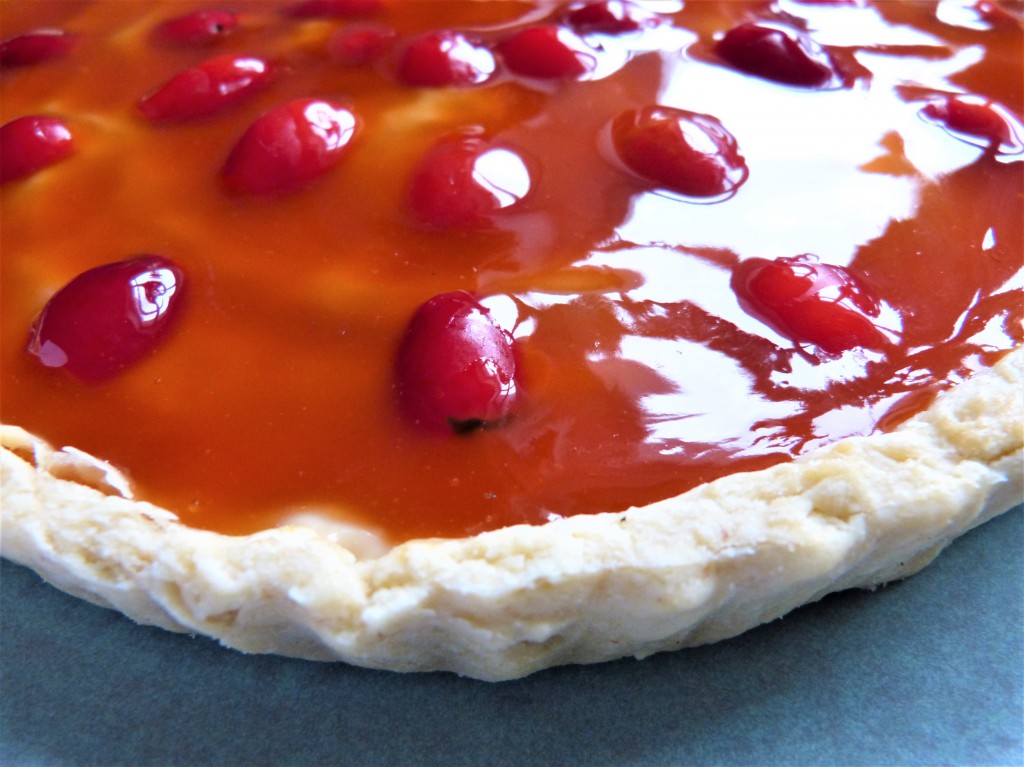 For the glaze, heat half the rosehip syrup in a saucepan until boiling then remove the pan from the heat. Dissolve the cornflour in the remaining syrup and quickly pour the mixture back into the saucepan, returning to the heat, stirring all the time, until the mixture has thickened. Next add the honey, bring back to the boil and remove the pan from the heat. Set aside to cool. When ready to assemble the tart, spoon in the custard filling, and with a sharp knife, carefully slice the ends off the rosehips, then slice them in half, lengthways and scoop out the ball of seeds with a teaspoon. Place the rosehips on top of the custard, cut-side down. Transfer the glaze to a pouring jug and drizzle over the glaze. Chill in the fridge until ready to serve.
I love muffins. Easy to cook and more substantial than bread. They're also versatile - you can add almost anything (sweet or savoury), and so tasty you can just eat them on their own. I like them as an afternoon snack while working at the computer, or a pocket-sized snack to take out on walks with me.
I first made these for a winter/early spring foray I led. It was a cloudy, non-discript kind of day, and these provided a hearty snack and comforting moment for us all, amidst the bleak Cornish landscape. It's true - the right snack can uplift any walk, whatever the weather.
The young shoots and leaves of Alexanders (Smyrnium olusatrum) start popping up through Winter and early Spring and are perfect for many snacks, including savoury muffins. Once identified correctly*, Alexanders are easy pickings in a Cornish winter – abundant, a good size and many a land owner are happy for you to pick this plant as it is often considered an invasive weed.
These more-ish muffins have a hint of wild, nutritional  Alexanders  in them, which is complimented nicely by the olive oil and dab of mustard. They could easily be made vegan too.
 Ingredients (Makes 12-15)
100 g wholemeal flour
175 g organic plain flour
1 tbs baking powder
½ tsp bicarbonate of soda
½ tsp Cornish sea salt
100g fresh Alexanders (leaves and young leaf stems)
350 ml milk (dairy or soya)
1 tbs lemon juice
2 eggs, whisked
1/2 tsp strong mustard
2 tbs good olive oil
4 tbs vegetable oil
100g finely grated parmesan (optional)
Pre-heat the oven at 200°C and oil muffin tins or small cake cases. In a large bowl, mix together all the dry ingredients (flour, baking powder, bicarbonate of soda and salt). Roughly chop the alexanders and stir in.
Measure out the milk and add the lemon juice, leaving it for a few minutes for it to sour a nd thicken slightly. Break open and whisk in the eggs, mustard and the oil and pour into the dry mixture, stir in thoroughly before distributing between the muffin h tins or cake cases.
Each tin should be generously filled and sprinkled with parmesan on top, if using. Bake for 20-25 minutes, or until golden brown. Remove onto a cooling rack and enjoy on their own as a hearty snack.
*Alexanders are a member of the umbellifrae or carrot family, in which there are poisonous cousins. Only pick and use this plant if you are 100%, and I mean 100% certain you have found the correct plant.
Lapping waves, sweet smelling hedgerows, and glorious walks and forays in Cornwall and the Isles of Scilly were the inspiration for writing my first book; Wild Food Foraging in Cornwall and the Isles of Scilly. Which does what is says in the title.
Something worth sharing, I thought, something regional, specific and practical for these areas that I love and know with my forager's senses. The culmination of several years researching and teaching, several musing over possible book titles and angles, and a 9 month focused period from book proposal to sending the final product to the printers.
(Photographs from the Book; Bermuda Buttercup on St Mary's, Isles of Scilly)
It would be appropriate to mention that creating a book is a collaboration (you just need to look under 'Acknowledgements' to see some of whom I'm grateful to). Right from the beginning, the idea and content were honed by friends, colleagues, editors and of course my publisher; Alison Hodge - a joyful collaboration I might add.
From a young age my two loves of working with people and being creative were quite apparent. I have pursued both through my adult life; combining both as much as possible, as in this book. Armed with a camera, computer, books, kitchen equipment and a whole load of ingredients, both wild and bought - I aimed to capture the essence of 16 differing plants and 5 seaweeds, potential recipes, from facts to cooking tips. This was a project I loved.
(Dishes from the Book using Bermuda Buttercup ~ Oxalis pes caprae)
It was a busy period leading up to launching such a book, like having a party really - celebratory, though with lots of background work with invites, food, drink and a little media. I spent the morning of the launch (Thursday 7th May ~ Election Day actually), cycling out of town to forage ingredients for making wild pesto, and after lunching and voting, I set to in the kitchen, with my mother to make mountains of Three Cornered Leek and Nettle Pesto, and Sea Lettuce and Wild Carrot Seed Bread.
(Preparation for, and Three Cornered Leek and Nettle Pesto tasters at the Book Launch)
When 6pm arrived, we wandered up the main street of my home town; Penzance, to Edge of the World Bookshop, laden with bread and pesto, having changed out of both cycling clothes and kitchen aprons.
Guests started arriving, wine flowed (and ran out twice!), and tasters from the book enjoyed. There were shop keepers, b&b hosters, musicians, builders, walkers, web designers, health practitioners, council workers - indeed, Cornwall, food and nature lovers from all walks of life. The till was ringing, as books were perused, signed and there was a great hum of chatter throughout the shop.
As the evening progressed, the food was devoured - even the edible flower decorations were eaten - hurray! There's hope for our county eating up all the invasive weeds after- all.
By the end of the evening there were just 4 books left of the 70 that had been ordered by the bookshop earlier that week. Pretty good going for a thursday evening in a small town in Cornwall. Though of course the story does not end there... The book has now been on sale for over 2 months, and is slowly seeping into bookshops, delis, hotels and cafes on both the mainland and the islands.
Haven't got yours yet? Available locally in shops and food outlets (do feel free to suggest it if you can't find it locally yet), also available from this website, and on amazon.
Retails at just £5.95 and comes in a handy pocket size with 90 photographs. Spread the word - it's been described as a clear, practical, useful book with beautiful photographs to help with identification and tempting recipes.
Photos: Plants and Recipes - Rachel Lambert, Book Launch - Aspects Holidays
Spring has been creeping in, in some places slowly, and other places fast. The telling signs of birds carrying nesting material, lighter mornings and the fresh green plant life in the landscape all help us soften and brighten as Winter is left behind.
If you're reading this in the UK and wondering what I'm taking about - perhaps where you live Winter still feels like it has it's grip. Well, I'm writing from West Cornwall, and yes, our milder climate tends to be ahead of many areas, even just a little further north of here.
Two common, abundant and often cursed (both these plants are considered invasive weeds) edible Spring plants in Cornwall are Alexanders Smyrnium olusatrum and Three Cornered Leek Allium Triquetrium. Picking, eating and even digging these plants up*, are normally received with appreciation. On that note, and in the spirit of Spring abundance, I've created and offer this recipe to you.
Alexanders and Three Cornered Leek Frittata
Makes 8 slices (4 main courses or 8 snacks)
Ingredients 
400 g Cornish Potatoes
2 tablespoons Olive Oil
75 g Alexanders (leaves and young stems, chopped)
75 g Three Cornered Leek (leaves, stems and roots, if available, all finely chopped)
5 organic or free-range local eggs, beaten
Salt and pepper to taste
Peel, dice and cook the potatoes in plenty of water, for about 10 minutes or until just cooked. You'll be able to place a knife through the potatoes easily, though not so soft that the potatoes fall apart. Strain off the liquid and return to the pan on a low heat for a minute, just to evaporate off any remaining liquid.
Heat the oil in a saucepan  approximately 25 cm across in size, over a medium heat. When the oil is hot, add the potatoes, alexanders and salt and pepper and fry for about 8 minutes, turning to fry on each side, when needed. Some of the potatoes will be golden brown after this time.
Briefly mix in the eggs and three-cornered leek, ensuring that the mixture is evenly spread across the pan. Cook for a further 8 minutes, or until the eggs are almost set.
Place under the grill for 2-3 minutes to set and and turn the frittata golden. You can carefully slice and serve while warm, or when cold. Serve as part of a main meal with a luscious salad, or eat as a snack.
*Permission is needed from the land owner to dig up plants, otherwise you are breaking the law.
630 miles of coast line.
That's 630 miles of pathways, steps, beaches, cliffs, pebbles, sand, shingle or boulders.
630 miles of potential coastal plants, as well hedgerows, fields, even woodland growth.
That's 630 miles of varied and possible foraging ground.
I'm a forager, a walker, a stalker of plants and a lover of sea views and varied landscapes. I live in Cornwall, and like many Cornish (or settlers here) I'm content holidaying here too.
Taking a chunk of time out to walk part of the Cornish coastal path is something I've wanted to do for a while. Embarrassingly, I've never done this (for more than 1 day at a time) in Cornwall. Though I have done several walking trips in the Himalayas, Scotland and Austria - up to 3 weeks at a time, just walking.
So this summer, this was it: 8 days, 80 miles, various companions and a new pair of walking sandals. Traveling light, I had pockets and bags to forage with and left the cumbersome, though beautiful and often useful, basket behind.
Coastal foraging is rich pickings - there is a good reason that many communities originally settled on the coast line or nearby, and this wasn't just for the fishing, or the view.
Fish and seafood are wonderful sources of nutrition, particularly protein and good oils, yet the plants and seaweeds that grow in these areas are equally of value. Actually, I wouldn't choose one over the other, though together the combination is sublime, as well as nutritionally balanced.
Starting from St Ives and finishing in Padstow, I was fascinated by how much the foraging available would vary on this stretch of coast path. Whether I'd be seeing much variety, or just seeing the same plants again and again.
There are over one hundred plants and seaweeds that I, and you too, could be foraging, easily and regularly while walking the South West Coast Path. I know if I'd have walked further, perhaps the whole of the coast - from Minehead to Poole - then I would have experienced a greater diversity of edibles and landscapes that they thrive in. However, as much as I am an explorer, I am a home girl too, and being able to look back along that coast path, and see the distance that I had traveled by foot, felt -for now- far enough away from home.
If you've ever done long distance walking, or indeed walked the South West Coast Path, you will probably know these two things;
You can burn quite a lot of energy walking, especially when it's up and down, rocky and challenging, and especially if you're carrying a ruck sack too.
Despite the considerable improvement in food choice in Cornwall, i.e. good quality, local ingredients, simply cooked. In some areas of the coast path, it's trickier to access much more than fish and chips and sandwiches.
Perhaps I'm just justifying my food and calorie choices for this journey! However, snacking on forageables definitely broke up my walking and monotony of meals. While camping, I was able to add wild greens to dishes, introduce walking companions to wild tastes and enjoy the beauty of the coast through my taste buds as well as my feet and eyes.
If you know much about sailing and the fate of many sailors one hundred years or more ago. You'll know that scurvy - a condition caused by vitamin C deficiency was an unpleasant, unsightly and far too common disease. Many of the plants I was picking were rich in vitamin C, and used by sailors in the past for this very reason.
Rock Samphire, Scurvy Grass, Sorrel, Ox-Eye Daisy, Sea Spinach - are all good vitamin C sources. No oranges or lemons did I carry in my rucksack, my nutrition was hedgerow and coast path sourced, well, ok, with the occasional Cornish apple juice to quench my thirst too.
To find out more about walking the South West Coast Path, go to; http://www.southwestcoastpath.com/
Baggage transfer can lighten your daily load and this company is hugely friendly and helpful, see; http://www.luggagetransfers.co.uk/south-west.html
If you would like to have a 1/2 day foraging guide, during your walking (please note I average 1 mile an hour for this), please do contact me
Our culture is predominantly one of fear mongering - the newspapers & media are full of it, keeping many in business as we seem to thrive on the flight-fight instinct of protect & defend. Funny really, as so many of our predators are extinct, our fears could justifiably be considerably reduced.
More recently the fear of environmental destruction, of population over-crowding & food supplies running out are some of the underlying themes of the future. Now, I'm not generally one to take a negative slant on things, on the contrary, I believe in possibilities & the positive creativity of human kind, and yes, that naturally extends to my views of foraging.
Some year's ago I did a talk & slideshow on Foraging & Sustainability for Transition Truro. My angle was to look at foraging in a broader context & to address some of the fears that I was hearing from participants, namely the Fear of Not Enough. This fear came in many guises; people wanting to protect 'their patch' of favourite foraging spots, of beautiful Cornwall & concluding that this meant that foraging should not be encouraged, and kept to a responsible few. These fears crossed over into fear of others (those who could, would or do trash the landscape), of blaming & separation from others.
"Worrying about scarcity is our culture's version of post-traumatic stress. It happens when we've been through too much, and rather than coming together to heal (which requires vulnerability) we're angry and scared and at each other's throats." Brene Brown
Although I understand these fears (really, I'm personally very familiar with fear & its impact), I choose to put my attention elsewhere. I too care deeply about the natural world, though I also believe in awareness & education as tools to help people build on & alter their interactions with the environment. This, of course can be a vulnerable place, a place of exploring, trusting & stepping into the unknown. Getting outside is good for you, me & us & foraging is a great way to engage with & learn about the environment. Denying people this activity is not, in my view a constructive answer, denying some though not others this privilege would only create more separation & potential conflict. Don't we already have enough of these problems?
Despite the increase in the popularity of foraging, foraging remains a small impact activity in terms of environmental degradation, plants are still thriving, many benefiting from regular 'pruning' from foraging, while other invasive plants would be hard to eradicate.
I find myself reassured by other fellow foragers & conservationists that share my views. I was forwarded a great article recently which sums up a lot of my own sentiments. Conservation and Wild Food Foraging, is in my view a balanced article tackling this sensitive and sometimes misunderstood topic. Written by Justin Whitehouse, the Lead Ranger of the Lizard Peninsula, Cornwall- thank you Justin.
To counter this culture of fear, I believe we need to start trusting each other & working together to find solutions, furthermore, to quote Brene Brown again, the opposite of not enough isn't abundance, it is simple 'enough'. We have enough, if we use our resources widely there is enough. In terms of foraging these can mean;
Forage only what you can use, leave the rest (think tasters rather than harvesting)
Only pick where there is an abundance & never more than one third
Consider offering to 'weed' for food areas such as parks or neighbour's gardens
Cultivate wild areas - leaving edible weeds to grow in your own garden or public areas
There is enough; nettles, brambles, wild garlic, japanese knotweed all flourish in the UK, are all edible & are easily identifiable. There could also be more, if we made some changes to how our land (anything from our own back yards to waste land & cultivated fields) is managed.
Just imagine... if everybody foraged how these benefits could increase, really there is no limit to what could be imagined;
Communal expeditions to pick together
Action to cultivate more wild areas
Understanding & reducing pesticides to help cultivate more wilds
Reducing weeds & invasives in certain areas
More wildlife friendly gardens & areas, not just for food, but for birds, bees, etc
The future is ours to create & I hope that together, through sharing, learning & at times getting it wrong, as well as right, we can create an environment where people as well as other wildlife can reap the simple & natural rewards of foraging.
It's deep December and I'm standing outside. Actually, there's 8 of us standing outside and waiting for the one that's gone astray. Once we're all congregated, we begin. There's something innately quiet about walking in Winter, as if all around us is sleeping, and in some ways it is. We walk together through this slumbering landscape, initially unaware of the life around us.
What can you forage in winter?
From as early as November, my forager eyes start to spot edible greens that are normally associated with spring. Alexanders, Nettle Tops, Three-Cornered Leek (locally known as Wild Garlic), Wild Cress and Mustard, Pennywort, Wild chervil, Gorse flowers and even Daisy leaves and flowers for salads and cooked dishes.
Although the nutrition of plants can be significantly increased in Spring, goodness can still be enjoyed from these plants through the winter months. In Cornwall, where we may lack in terms of nuts and berries (there are only a few forests & woodlands here) it is more than made up with coastal plants and, due to the mild climate, a great choice of edible greens right through winter. While other areas of the UK are below frost or snow, there are milder areas of Cornwall that offer valuable forage-ables.
The benefits of foraging in winter
What's more, foraging feeds the soul not just in winter, though every time of year. According to the National Wildlife Federation's article; It's all in the dirt, the reason for this includes good bacteria in the soil that releases seretonin - the feel good hormone. This makes me feel even better about my muddy boots and dirty fingernails too!
In some ways, there's more to see in winter, without the distraction of hoards of people, beautiful, bright flowers, and sunsets to melt into. Instead, the offerings maybe more subtle - beige stems, low growing greens, and flowerless stems, though don't be tempted to dismiss these edible due to their humble winter personas.
Common Hogweed seed (Heracleum Spondylium), for example (below), may look like a dead seed-head, though within it lies delicious aromatic flavours for curries and many sweet dishes.
If you need it, use foraging as an excuse to get you outside, for that dose of daylight, fresh air and nature fix. Watching wintering birds, or rolling white horses of the waves, and returning with a handful of winter greens, it's hard for the soul not to be lifted, even if just a little. And if you're still not convinced and only yearning for the bright yellow sun of summer, then perhaps gorse is the only cure for you. Up on the moorlands of Cornwall, somewhere, you will always find the bright yellow flowers of gorse; an uplifting flower. According to Bach Flower Remedies gorse can offer you hope, when all hope is lost. I promise, summer will return.
Christmas means many different things to me - family, friends, processions of lights in the darkness, hearty food & creative meals.
Oh, and comforting books & TV! Joy can be found in many shapes & sizes!
The Muppets have great childhood memories for me and always bring a smile to my face. On that note, I'm sharing a Muppets special - one Swedish chef, popcorn, wild seafood, music and dancing in the kitchen...
May the season bring you lots of happiness - enjoy the madness & the stillness after the storm. Merry Christmas! X
Blackberries - everyone knows them, everyone forages them. Blackberries make everyone a forager, and what a perfect fruit to be picked. Growing in abundance, and packed with vitamin C and fibre, this humble fruit unites cities, waysides, hedgerows, countryside and wasteland through their presence, it even connects us all back to the Stone Age, as there's evidence that we've been eating this fruit since then.
Back to the current day, a couple of weeks ago I was foraging with a group of keen staff and chefs from Bordeaux Quay deli, restaurant & cookery school. Based on the harbourside of Bristol, just off the city centre, for our foray we congregated on the Bristol Downs (one of my favourite green spaces within this city) to foray together. And guess what, amongst many other goodies, we picked blackberries.
Now, I could list the things we found, and various stages that different ingredients are in as they get experimented with, stored and process at BQ. However, that list of plant names might leave you scratching your head and non-the-wiser. Though if I talk about BLACKBERRIES - ah, blackberries, we know we're speaking the same language!
Blackberries on the Isles of Scilly, where they can taste slightly salty!
So what have you done with your foraged fruits? Blackberry and apple crumble or pie, syrup, ice cream, sorbet, blackberry vinegar or wine maybe?
Well, here's a new one for you, from the Kelly Sealey, the Head Chef at BQ. And by the way, incase you like the sound of it, Foraging Experiences followed by cooking tuition can now be booked for private groups in Bristol, at an award winning venue which specialises in local produce, click here to find out more!
Meanwhile, here's the recipe;
Mackerel salad with a blackberry dressing
By Kelly Sealey
For the fish
200g oats
2 eggs, beaten
4 mackerel fillets
70g unsalted butter
1 lemon, juice only
Place the oats onto a plate and season with salt and black pepper. Pour the beaten eggs into a bowl. Dip each mackerel fillet into the beaten egg, roll it in the seasoned oats.
Heat the butter in a pan over a medium heat. When the butter is foaming, add the coated mackerel fillets and fry for 1 ½-2 minutes on each side.
Turn the fillets carefully and fry for a further 2-3 minutes, or until the fillets are crisp and golden-brown on both sides and completely cooked through. Remove the pan from the heat and squeeze over the lemon juice
For the salad
Handful of blackberries
Parsley
Rocket
Celery leaf
Radish, thinly sliced
A dash of red wine vinegar
Pinch of dried chilli
25ml olive oil
Place the vinegar, oil, chilli and 2 crushed berries in a bowl, whisk and add salt and pepper to taste.
Add the salad and toss lightly. To serve place the salad on the plate, fish neatly in the middle and drizzle extra dressing.
Elderflower cordial is the ultimate summer drink, scent and medicine. As I sit here in my kitchen I'm enjoying their light, dreamy scent wafting across the room, of the ones I picked this morning.
Summer foraging for elderflowers is almost as popular as blackberries in autumn, or wild garlic in spring, and all for good reason. Elderflower cordial is the perfect way to capture and preserve the scent of summer. Foraging for edible wild plants is so rewarding too! Make your own homemade cordial to enjoy with friends and family.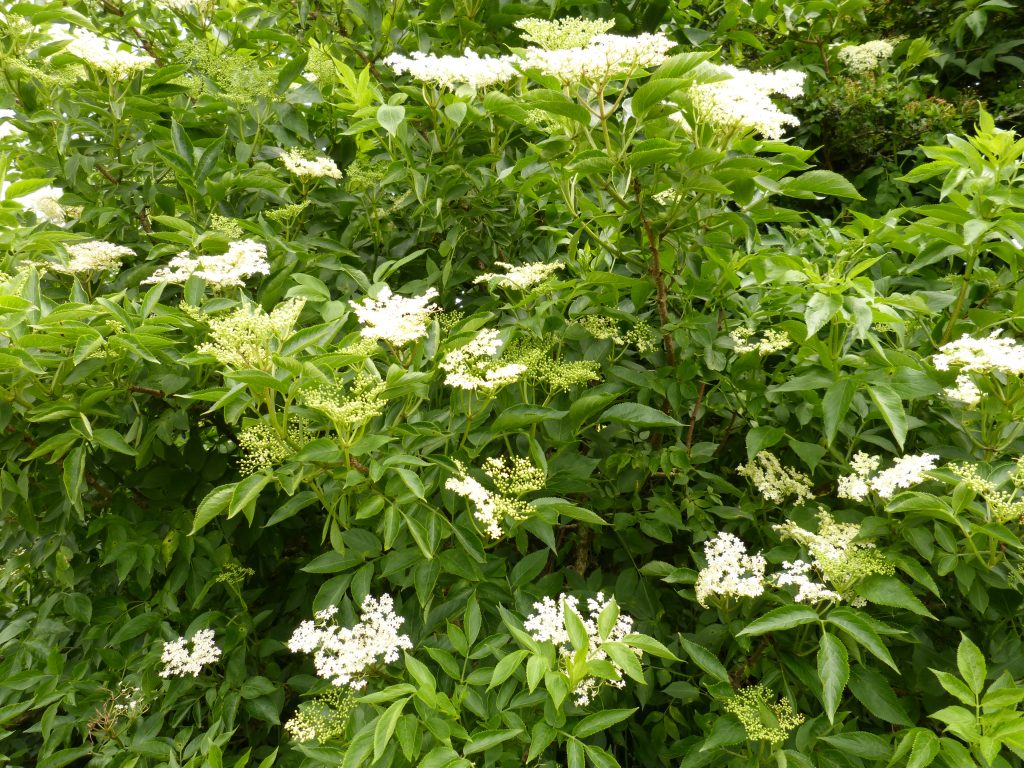 Where to find elderflowers
The elder tree is often considered a weed, it often grows on wasteland, in hedgerows and at the edge of woods. It loves the sun but can cope with shade, I often see them alongside roads and backing onto railway lines, which is often very frustrating because I'm rushing by!
When do elder flowers bloom?
Elderflowers start appearing in late spring and early summer. Here in the UK that means May to July, though this is dependant on how warm it is and whether spring started early or late. Sometimes July is still great for picking, and other years they have started to turn and are not worth picking.
Elderflowers can also be frozen. A few years ago my aunt froze a whole carrier bag of elderflowers for me. Once defrosted, they obviously don't look as good as when they are fresh, but you can still use them for making cordial or dry them for making elderflower herbal tea.
I also like to freeze some of my elderflower cordial in an ice cube tray, then I have ready to use portions!
How and why to dry elderflowers
Elderflowers can be used for herbal tea. You can dry them in the sun, in a dehydrator or at the lowest temperature in the oven and keep them for the winter months as medicine for colds, flu, coughs or bronchial issues.
How to make and use elderflower cordial
See below - a summary on this video and the full recipe at the end of the blog.
Use in cocktails, sorbet, ice cream, sweet bread, as a doughnut dip, elderflower champagne or dilute for hot and cold drinks. You can also freeze the cordial in an ice cube tray or bag and pop in soda water or defrost and dilute from frozen.
Why is elder flower cordial so good?
Many of us have a soft spot for sweet, and the combination of light and heady, citrus and sweet seems to be the ultimate combination!
Is elder flower cordial good for you?
Elderflowers have anti viral properties and can help treat colds and flu and quicken recovery. They can also be used to sooth sore throats, coughs and bronchial infections. Elder flowers are delicious and a medicinal plant.
How to identify elderflowers and the elder tree
Elder (Sambucus nigra) has umbel-like clusters of flowers, similar to that of the Apiaceae (Umbelliferae) family. To avoid fatal mistakes with deadly plants within this family, you must be 100% sure that you are picking the correct plant. This blog is focusing on the recipe, not on the identification, always check with an expert, so you can continue to enjoy foraging for food!
I run foraging courses throughout the year and bespoke foraging experiences where you learn how forage safely and how to identify trees like Elder correctly.
How to sustainably pick elderflowers
If you pick all the flowers there will be no elderberries later in the year - which would be very sad, for us and the birds. Bare this in mind and never pick more than 25% of flowers of a single plant or tree.
ELDERFLOWER CORDIAL RECIPE
This recipe needs some pre-planning - a bucket or heat-proof bowl, clean screw-top bottles, lemon squeezer, a funnel and a seive/muslin cloth is needed. You can alter the measurements depending on how many elderflower heads you pick
Ingredients
25 elder flower heads (flowers left on stalks)
3 unwaxed lemons (or 2 lemons and 1 orange)
400 g unrefined sugar
1.2 litres boiling water
2-3oz citric acid (if you're going to store the cordial for a while)
Ideally pick the flowers in full sun. Fork the flowers off the stalks or snip off the main stalks, putting flowers aside and discarding the rest. Place sugar in a pan and pour boiling water over, stirring until dissolved. Place the elderflowers (check to remove bugs) in a clean bucket and pour hot sugar mixture over it. Cut the lemons in half and squeeze the juice into the bucket, then grate the lemon zest and add this too. Stir, cover, and leave for 24-48 hours, stirring occasionally. Strain the mixture through a sieve, or preferably a fine muslin cloth, and funnel into clean bottles, or dilute and serve immediately!
For Elder Flower Sorbet
Follow all the instructions above, omitting the citric acid and dilute with two-thirds water and beat in one whipped egg white. Use an ice cream maker or get ready for these next steps... Freeze the cordial in a sturdy, lidded Tupperware or tin for 2-4 hours. Remove and mash up with a fork or in a food blender. Repeat at least once more. Serve on its own or with a variety of other desserts, particularly good with sponge cakes.
A long held discussion or even conflict within the world of wild foods is that of comfrey & whether its healthy or potentially harmful to humans. I'm sure this discussion will continue for, well, a while, meanwhile I thought I'd add my contribution. I've also included my latest recipe, alongside some reasons (including scientific ones) of why I like this plant.
Comfrey leaves - Symphytum officinale -  has been used for thousands of years as a food & medicine, some of its common names include 'knitbone' because of its internal & external application for broken bones. Indeed, it has been held in high-esteem by herbalists for its healing properties, in particular reducing inflammations by aiding cell regrowth & repair (1).
Just on a side line, if you research into comfrey as a plant food (a liquid green fertilizer) you will find lots of positive reports of its nutritious benefits of 'greatly enhancing the fertility of your soil'. I am aware that people are not plants - although an interesting topic based on our intake of so many nutrients from the plant world that are then laid down as vitamin & minerals in our bodies which create our bones, repair our cells - I digress!
Meanwhile, more recently, comfrey has been approached with more caution & in some incidences considered a potential poison that should not be used as a food, or indeed a medicine at all. Only last month, when speaking to a reputatable & quite open-minded scientist about wild food, he quoted to me the risk of eating comfrey in the context of the dangers of wild food foraging. Now, while I want to promote safe foraging ( some plants are most definitely poisons, for example, while others need to be processed), I also want to promote a balanced approach to plants as foods & accurately represent the benefits.
As a non-scientist, I've chosen to refer to research done & leave you to come to your own conclusions... In particular, everybody's body is different & reactions, can & indeed have, occurred. In particular, the main research that is often cited is from 1978 when rats were fed comfrey leaves (8-33% of their diet) for a durational period, which resulted in liver tumours developing in all cases (96% turned out to be benign by the way) (2). However, as pointed out by Health Practitioner, Dorena Rode (through her extensive & thorough research on comfrey - well worth a read), further scientific research has been carried out where no such results were found (3). I also usually add the obvious; that we are not rats & I challenge anyone (not literally) to even try & eat comfrey as a third of your diet for half a year!
So, am I promoting comfrey as a food, or am I not?
Well, over the past 5 years I have certainly used comfrey as an ingredient in wild food events & dinners (with no known negative side-effects). Excellent in curries, we were particularly pleased with our Sea Beet, Comfrey & Black Mustard Thoran - a South Indian style dish using coconut that Sara created on one of our inspired walks through the Cornish countryside.
Personally, I also remember over 15 years ago sitting in a wood with my boyfriend, it was morning time & he was cooking up comfrey fritters (quite a traditional & classic recipe quoted for this food) & frying wild mushrooms for people to taste - delicious! However, I have also remained cautious around using this plant too often.
Now, coming back to the present day. This morning I've been looking at those comfrey leaves I picked yesterday morning; a glorious summer wander with comfrey looking too good to be passed by. The combination of sunshine, the outdoors & wild food just gets my creativity going sometimes & I want to play! The heat also doesn't inspire a laboured curry for me & one of things I enjoy about comfrey is the cucumber-like flavour & freshness.
Armed with a little research, a healthy appetite & travelling past my local shop for a few ingredients - I set to. Before I tell you my recipe, I want to share with you a few tips that I decided to take on board regarding eating comfrey;
Here are 4 reasons why I continue to eat comfrey - occasionally: 
1. Apparently the older leaves are meant to be less potent in the Pyrrolizidine Alkaloids (4) that are thought to be harmful in comfrey - so I focused on picking these older leaves
2. I like life & have no desire to push the boundaries of nature, so am adhering to not eating comfrey too regularly or in large amounts (for my own comfort & peace of mind)
3. That comfrey is also RICH in many beneficial nutrients for us humans (great!) including; Calcium , Magnesium, Vitamin C, Vitamin B12, Beta Carotene, Phosphorus, Potassium, Vitamin E, Vitamin A, Iron,  Sulfur , Copper & Zinc (4)
4. I've never felt any ill-effects from eating comfrey & I enjoy eating wild foods.
Back to my recipe. Based on my love of that cucumber-like flavour of comfrey, plus reading that protein deficiency & lack of sulphure containing amino acids may contribute to the ill-effects of comfrey (3), I created this;
Comfrey & Yoghurt Dip
1 handful of comfrey leaves (older ones)
200g of natural yoghurt (the proper full fat stuff)
1 heaped tablespoon of good honey
1 squeeze of lemon juice
1 shake of liquid amino acids (google it!)
Put all the above in a food blender & whizz together. The result is a sweet, cucumber-like dip (think tzatziki) that I thought was delicious! Perfect for a summer spread of salads, dips & fruits. Let me know what you think..
REFERENCES 
(1) Comfrey 2011 University of Maryland Medical Center (UMMC)
(2) Hirono, I., H. Mori, and M. Haga, Carcinogenic activity of Symphytum officinale. Journal of the National Cancer Institute, 1978. 61(3): p. 865-9.
(3) Comfrey Central - A Clearinghouse for Symphytum Information www.comfrey-central.com
(4) Comfrey is Poisonous? Dherbs Article
From a Simple Guided Walk, to Rustic Cooking or Gourmet Dining
Foraging for Business is something we all have to do from time to time, you've guessed it - the diverse skills learnt in a day's foraging are transferable & more importantly, can be learnt in an informal, non-pressured way.
Recently, when leading a private forage, cook & dine event for a group of international professionals (it was their holiday gift to themselves), at some point the conversation steered towards team building. Now personally, I feel that a good event can naturally create a good team building environment ~ no 'bonding', 'intellectual problem solving' or 'physical team building' in sight. Yet, with foraging, all those boxes seemed to ticked too.
Results: Can better business be cultivated from foraging together?
Good business results usually consists of a few key ingredients. Excellent productivity is a by-product of a healthy team working together; keeping each other motivated & effective communication ( organisations that communicate effectively are 4.5x more likely to retain the best people too - Watson Wyatt (worldwide consulting firm)) . Furthermore, according to Harvard Business Review (June, 2008), the success of Toyota Business Corporation for example is due to a mix of offering new challenges & understanding different points of view & how to bring together seeming contradictions. Toyota, by the way, invest heavily in people, regardless of their position in the company.
In foraging terms, this can mean being introduced to a new skill & taste. It can also mean understanding that everyone has a valid & different response to a taste of a plant; to some its lemony heaven, to others its sour & too strong, while for another it conjures up memories of picking a plant while walking to school with friends.
Give your staff a good experience they'll remember...
Giving your staff a good time can help build the rapport needed to get a job done well, while improving morale & positive memories bring people together. A recent foray with staff on the Island of Tresco (Isles of Scilly) included front of house staff, managers & chefs. They now all have a hot topic to share, were all enthused about exciting new ingredients & seeing their local environment in a whole new way. Interesting cocktails & pizza toppings to follow!
Back to the practicalities, imagine this;
A day out, a couple of hours ambling through the countryside, time to catch up, chat, while learning a new skill together. Breaks are marked with delicious biscuits or chocolates while menus are handed out & drooled over. Perhaps a bit of chopping ingredients or stirring pots even, before tantalising aromas appearing too. Focus, enthusiasm, something new, motivation via good food are all ignited. Sounds good?
Just a small slice of good health
Despite many people that like to feel healthy, I also know many who steer away from 'health' activities as there are seen as boring & a way to inhibit fun. However, everyone likes to feels good & happy, & good food usually helps! Foraging has the benefits of being a very leisurely physical activity, accessible to anyone who can walk a couple of miles (routes can be accessed for ALL abilities & those with disabilities too). A bit of fresh air (not too much) can work wonders on bringing out those rosy cheeks!
Really, something for everyone
Foraging is an ACCESSIBLE activity- emphasising different strengths rather than who is good & who is not at a certain activity. If you can walk slowly for 1 mile, stopping occasionally, you can forage. Appealing to a wide range of interests; nature, countryside, food, walking, talking, history, in-vogue recipes, chatting, doing, resting. Time tends to fly by, & everyone always finds at least one taste they like & a plant they are therefore keen to find again. Within the group, a multitude of skills will be learnt, through all different learning styles (sensory, physical, factual, emotional, oral, taking photos or notes) - what a team, all of these skills put together makes one good forager!!
Interested, so what now?
Do get in touch to discuss what you're looking for and let me put a package together for you.
Researching regional names of plants is a fascinating and usually an amusing pastime. Common Hogweed  (Heracleum sphondylium) is one of those plants, and as it's now in season (april to june) I thought I'd dedicate a whole blog article to it.
Inspired also by local names such as Pig Flop (an image of a pig collapsing after pleasantly over-indulging on this plants passes through my mind!), Cow Weed (what's its known as on the Scilly Isles), Cow Parsnip, Cow Belly and even Humperscrump, according to Forager and Author John Lewis-Stempel. It's also known as a type of poorman's asparagus, although I think it's superior.
To me, this plant has always been known simply and humbly as hogweed, and I'm going to share with you some facts about identification, names, tastes and recipe ideas.
Starting with identification, common hogweed can be found across the UK, it really is common and usually considered a pain. Its habitat can be varied and includes fields, open woodland, hedgerows and roadsides. Often people are sceptical when I introduce it as a potential food and for two understandable reasons.
Firstly,
For some it has the association of being poisonous, mainly because if the sap gets on your skin and is combined with sunlight, for example when strimming the plant on a hot summer's day in t-shirt and shorts, one can come up in horrible blisters that can scar. Not an experience I've shared, though I've heard enough stories to know it to be an unpleasant encounter.
Secondly,
There is the issue of correct identification. Hogweed (Heracleum sphondylium) is in the Apiaceae (Carrot) family and shares a similar flower structure with edibles such as carrot (funnily enough), parsley, fennel, chervil as well as the deadly poisonous plants; hemlock and hemlock water dropwort. Needless to say, mistakes can be lethal and enough to put many people off. However, there are distinguishing characteristics that can be learnt. Reading a few words and seeing a few images is not generally suffice for this, though it is a good start, so here it goes!
Flower head of Common Hogweed
Hogweed generally grows up to 2 metres tall (related & non-edible Giant hogweed grows up to 5 metres). Hogweed has hollow, ridged stems that are hairy, almost furry, that can give a white-ish tinge to the stems. The leaves are soft/furry with undulating lobes (see images) and stems can sometimes be purple, though normally green (NOT purple spots like hemlock). Like anything, take your time to get to know the plant (it will always return the following year if you're still unsure) check with experts & you will be duly rewarded.
Leaves of Common Hogweed (slightly undulating and definitely furry)
So with so many obstacles to over-come before even picking it, why bother at all? Well, of course its the taste. Like many wild edibles, it has, at times, been called poor man's asparagus - as its the young shoots you're looking for in spring. I like to think that this is sly way to protect a valuable plant which has an unusual taste that could easily be at home on many gourmet's plates. The history of so-called poor man's food includes beliefs such as inferiority of taste, too common (abundant) or inadequate in flavour (unlikely these days in comparison with bland, long shelf-life shop bought veg). As a modern day forager its a great plant - abundance is perfect (making it very hard to over-pick) and the unusual flavour is one of the exciting aspects of wild food. It is also rich in vitamin C and carbohydrate.
How to enjoy it at its best? Well John Wright (from River Cottage) covers the young shoots in beer batter. For me, I simply steam those young shoots, drizzle in butter or hollandaise sauce and serve as an accompaniment to fish or meat dishes. I've also chopped them up and added them as a flavouring for dhal (combines well with wild carrot seed ).
Finally, you'll all be asking what the flavour is. Well, the true answer is inside of you - we all experience tastes differently - though I describe it as perfumed, aromatic, sometimes a hint of bitterness & rich.
Hogweed Shoots with Hollandaise Sauce Recipe
To serve 2 persons
6 young hogweed shoots (Poor man's asparagus)
Boil the vinegar with peppercorns & reduce by half. Strain and put aside. Boil a large pan of water, then reduce to a simmer. Using a large balloon whisk, beat together the yolks and 2 tsp of the reduced wine vinegar in a heatproof bowl that fits snugly over the pan. Beat vigorously until the mixture forms a foam, but make sure that it doesn't get too hot. To prevent the sauce from overheating, take it on & off the heat while you whisk, scraping around the sides with a plastic spatula until you achieve a golden, airy foam.
Meanwhile put the poor man's asaragus shoots on to steam (4-5 minutes). Whisk in a tablespoon of the warmed butter, a little at a time, then return the bowl over a gentle heat to cook a little more. Remove from the heat again and whisk in another tablespoon of butter. Repeat until all the butter is incorporated and you have a texture as thick as mayonnaise. Finally, whisk in lemon juice, salt & pepper to taste plus a little warm water from the pan if the mixture is too thick. Drizzle over the hogweed shoots & serve as a starter or alongside meat or fish.
(Hollandaise Sauce image, thanks to - ourkitchen.fisherpaykel.com)
Last month a few hardy foragers (actually it was a lovely bright, wintery day) joined me at Cape Cornwall for a wild food walk with tasters. At a welcomed break we sat down with a large flask of 'Wild Spiced Cleaver Coffee'.
The drink went down well - sweet, hot and naturally containing some caffeine, everyone was pleasantly surprised! There are many variations in making this coffee substitute, this is one alfresco style on the beach!
Here's my indoor version of how to make cleaver coffee.
Everyone has there own traditions for Christmas Day. For me, I'm satisfied  if I'm in good company, have a dip in the sea & there's a healthy amount of indulgence.
Down here in Cornwall I've plenty of people to share these common themes with; least of all bracing the elements & stripping off on the beach for that ceremonial plunge - nothing like it for feeling alive & building up an appetite! So on the morn of the 25th, Sennen beach (just a mile from Lands End) was pretty packed with rosy faces & cold toes as we raced towards those rolling waves to start the day splashing about, all with good company, of course.
The rest of the essentials for the day already prepared, there was little left to do except dry off, drink hot tea & eat. As a lover of good food, I enjoy the simplicity of a good roast with lots of colourful veg to accompany it. I could tell you a good story of a wild meal, but in all honesty, for this day I'm on holiday, want to think as little as possible about food & just allow it to happen.
However, I had put my creativity together in the form of gifts & brought out some wild ingredients to invent new chocolate recipes. For weeks I'd been thinking about combinations that would excite & please. Who in my family likes richness, who needs to watch there blood sugar levels & who prefers a savoury twist. Of course, its impossible to please everyone, though the fun for me is in the creating & the making.
I created 8 recipes in all, some wild, some not, some rich & dark (I'm a Green & Black's fan myself) & some with raw cacao & agave syrup (far richer in minerals & with less of a caffeine hit - though still chocolate!). Cinnamon, fruit, Cornish sea salt, nuts & vanilla all featured & for the wild ones; laced with sloe vodka of course, & a white chocolate with dried blackberries in (good for children if you want to reduce the risk of too much hyperactivity).
The verdict? Well the large box of chocolates is being taken to family tomorrow & I'll see which ones disappear first & let you know! Its a time a year for many things & for me, there's definitely a place for good, indulgent chocolate, especially handmade. Wishing you all a joyous festive season & here's a couple of recipes to be going on with.  x
White Chocolate with dehydrated wild blackberries - goes like raisins, though with more seeds/texture!
Last year's sloes had been soaking in vodka for 12 months, de-stone & chop them, add a couple of tablespoons of the sloe vodka & stir into the melted chocolate. And one image of the final box of chocs! Most of them I've tasted, of course, so I'm quite confident about the results!
Autumn is full of potential pleasures, warming foods, sweet dishes and a bounty of autumnal fruits to enjoy. Personally, I take particular interest in creating desserts with wild ingredients, so when Sara from Cotna Barton suggested we made a wild apple meringue pie on our Forage, Cook and Dine event last month, I jumped at the chance to include another wild ingredient in there.
If you've been on a wild food walk with me or another forager, you may well of tasted this amazingly strong flavoured seed; Common Hogweed (Heracleum sphondylium). Common as muck (as the expression goes!), it is often mistaken for being poisonous because if the sap gets on your skin and reacts with sunlight you can come up in horrible blisters that can scar. However, several parts of the plant can be used as a food, & these seeds are excellent as a flavouring. Correct identification is essential of this plant though, especially as it is related to several poisonous species such as Hemlock.
So what's the taste? Well, taste is a very personal experience, though some of the descriptions I've heard is; orange peel, aromatic, soapy, turkish delight, spicey...
Some people like it, some people don't. Unfortunately, Sara, our cook for this event is not a fan of the flavour, so including it in this recipe took a little persuading. Luckily, I was convinced it would work, so into the ingredients list it went. One of the secrets with this seed is to grind it - it really helps to release the flavour and breakdown the papery texture of the seed pod.
Well, before I go onto sharing the recipe, let me tell you that the dessert was a success, 9 hungry foragers, cooks and diners polished the whole dish off, and Sara's plate was clean too - she liked it! It just goes to show that some wild ingredients are really worth persevering with, until you find the right combination of how to use them.
Wild Apple Curd and Hogweed Seed Meringue Pie
Ingredients
For the Curd
500 g cooking apples
finely grated zest of 1 lemon
100 ml lemon juice
500 g unrefined caster sugar
4-5 large eggs
150 g shortcrust pastry baked in a flan case (prepared before hand)
For the Meringue
4 egg whites
200 g unrefined caster sugar
handful of hogweed seeds
Chop the apples into a pan with 100 ml water and the lemon zest. Cook gently until soft and fluffy, then rub through a sieve. Put the butter, sugar and apple puree into a heatproof bowl over a pan of simmering water. As soon as the butter is melted and the mixture is hot and glossy, pour in the eggs and whisk with a balloon whisk.
If the mixture splits, take the pan off the heat and whisk vigorously until smooth, before returning to the heat. Stir the mixture over a gentle heat until thick and creamy, scraping down the sides of the bowl every few minutes. This should take about 10 mins. Pour immediately into the pastry base.
For the meringue, use a food blender to blend the sugar and seeds until the majority of the seeds break down and an aromatic smell is released. Discard the seeds which stay whole. Put aside. Whisk the egg whites in a large bowl until they form soft peaks, then add the sugar a spoonful at a time. Pile onto the tart and bake at gas mark 4 for approximately 20 mins, until the meringue is crisp and slightly coloured.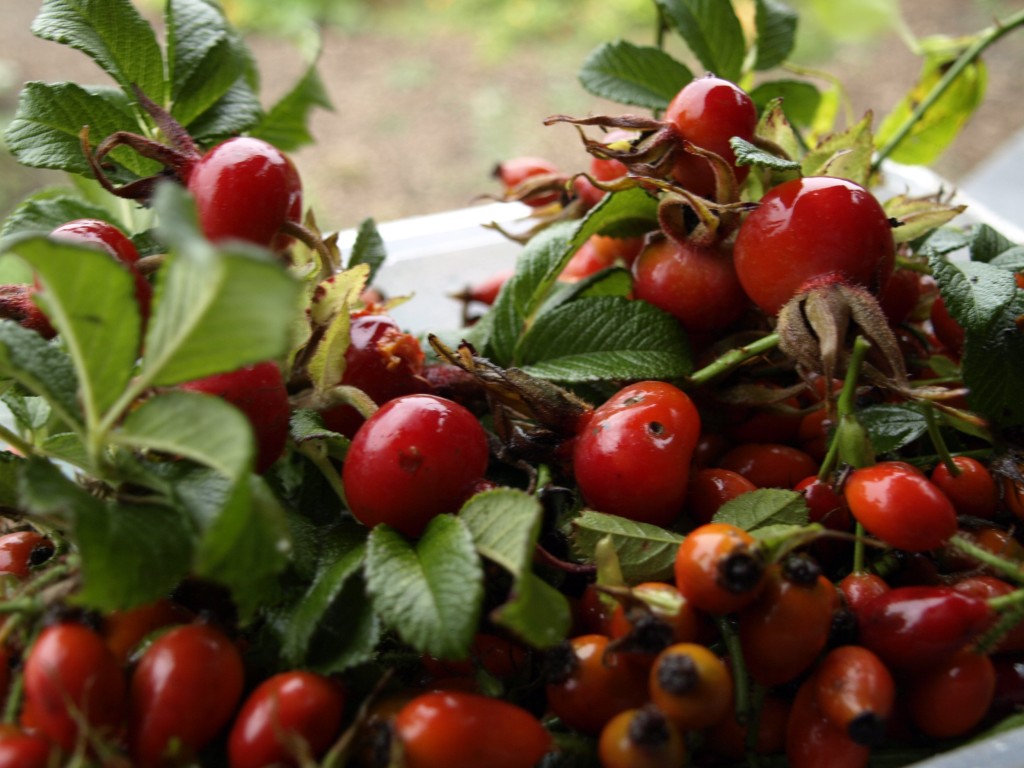 Rosehips are traditionally used for making rosehip syrup, but there's so much more you can do with them.
I recently led a group of families on a foraging walk and provided sweet biscuits with rosehip fruit in them. Fleshy, tart bites of red fruit nestled within a biscuit base. They went down really well!
Preserving rosehip fruit
Here I share how to store rosehip flesh by making a rosehip fruit leather. This is a labour of love - a process to be enjoyed, with a fruity goal in mind. The result is a delicious and versatile sheet of pure fruit which can be stored for months and used as a snack or to flavour; tarts, chocolate and ice cream to savoury rosehip crackers.
Which rosehips to use for making rosehip fruit leather
Using Japanese Rose (Rosa rugosa) hips will enable you to reap more fruit for your work, they're a larger hip than our native rosehips making them easier to handle.
Where to find Rosa rugosa rosehips
These plants have naturalised in many places, originally many were planted on sand dunes and shingle beaches to help stabilise the ground. Hence one of their names - beach rose. You can also find them on waste ground, or in cultivated gardens. Several times I've befriended someone who has them growing in their garden. I gather their hips in exchange for a proportion of what I make. It's always gratefully received.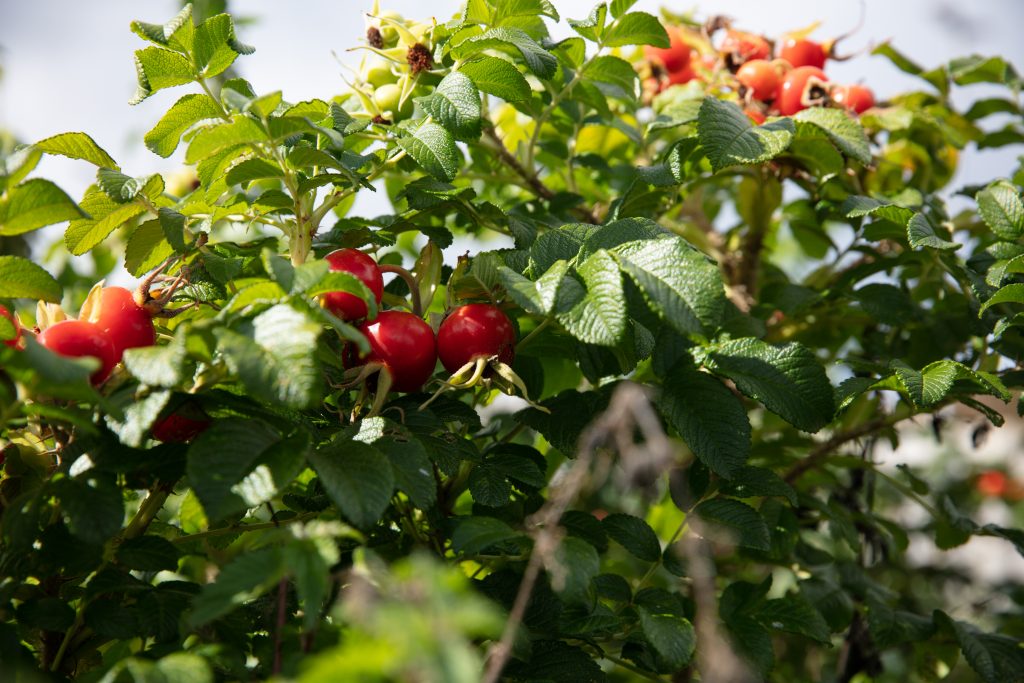 When to gather rosehips
Start looking out for hips from late summer & through autumn. You could of course wait for after the first frost, at the risk of the birds getting them first. Living in Cornwall, with a milder climate & being impatient to utilise these fruits, I normally pick them as soon as possible & freeze them to 'fake' the first frost. I'm looking for the dark red fruits, not too orange in colour. Freezing them also means you can store them until you're ready to embark on processing them.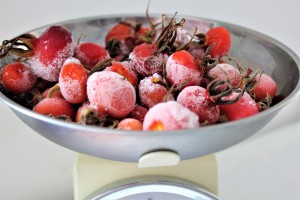 How to make rosehip fruit leather
Defrost or pick the fruits after first frost. Start processing them as quickly as possible so not to loose valuable vitamin C. Carefully and patiently remove the flesh from around the outside of the fruit, careful not to dislodge the tight ball of hairy seeds. You want to avoid these seeds as they can irritate the digestive tract.
This is a messy and fiddly job, so take your time, you'll be left with a pile of fleshy rosehip pulp, and a pile of hairy seeds. Discard the latter. You may want to chop the pulp a little, to ensure that you don't have too bigger pieces of flesh or fruit skin.
If you're using a de-hydrator, follow the instructions for making fruit leather, and spread the fruit pulp onto the teflon sheet before drying the fruit for several hours. If using an oven, line a dish or baking tray with oven-proof clingfilm, and spread the pulp on, about 2mm thick. Put the oven on the lowest heat and leave for up to 12 hours.
The consistency of the fruit leather can be altered according to taste - slightly moist and chewy or dry and almost brittle. The latter will keep longer. When needed, rehydrate the fruit and blend or cut and grind into flakes/powder.
What is the flavour of rosehips?
What I love about working with wild fruit is the flavour is so unique. These particular fruits - Rosa rugosa are not as sweet nor tart as Rosa canina (Dog rose). Instead, they have been compared to processing fruit this way is that there is no need to add sugar. Instead, you can get to taste a mixture of natural sweetness & tarty-ness of this amazing super fruit.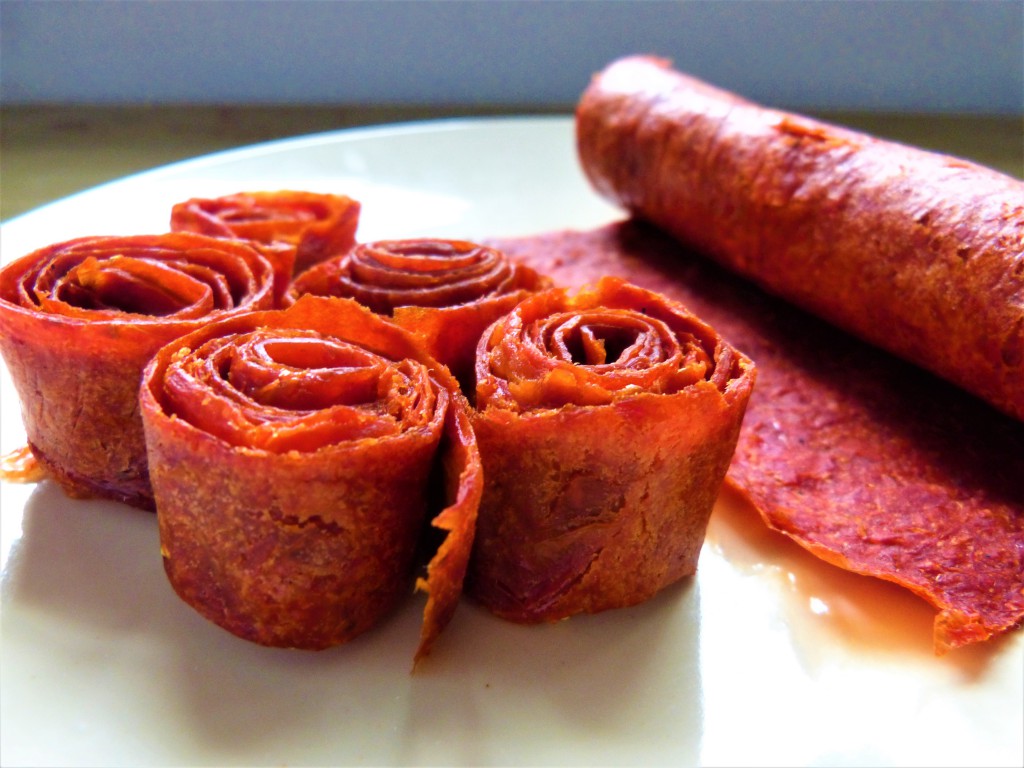 How to use rosehip fruit leather

Once you've made your fruit leather, either keep it whole or cut it into strips and store in a dry place. It will keep well for over one year.
You can chew on the rosehip fruit leather as a snack, powder it and use it in Rosehip and Buckwheat Crackers. Alternatively, break it into small pieces and rehydrate in a small amount of warm water to use in desserts.
Enjoying a combination of new sights & tastes & feeling reassured

by how many wild edibles we share with mainland Europe 
Back in Spring, I felt inspired to plan a trip to Europe, lured by stories of ice-cold mountain lakes, lots of outdoors people, armfuls of wild berries & mountains...
Over the last few years I've found myself completely content with being in Cornwall - I felt I had everything - sea, moors, great locals & the inspiring influx of newcomers & tourists. In my experience, like any love affair, there usually comes a time when I feel established enough in the relationship to step out into new things, knowing I can return home with fresh ideas & renewed vitality.
On this premise, I vaguely planned my trip, & on the cusp of September when I thought the berries might be at their best, got on the sleeper train to London & started my journey to Austria. Now, you may well be familiar with travelling abroad, for me, lets just say it's been a while. Starting from a small town called Mayhofren nestled in the alps of  south Austria, the delight of seeing & smelling a new environment was inspiring, naturally I wanted to be out there immersing myself in it all.
I find walking & foraging a great way to experience a place &  before I knew it I was walking along rivers, up & down valleys comforting myself with the pleasures of elderberries, bilberries & raspberries. Everything can taste differently in a new place - the air, earth & water contributing to a plant's unique flavour.
The raspberries were like none I'd tasted before - sweet, seedy & ripe. As an optimist, I often have a romantic idea about a place before I go & on the whole, Austria lived up to my image of it, however, armfuls of berries, hmm, I'm not sure about that! Foraging, can at times need concentration & focus, & even when I found bushes & bushes of bilberries in the alpine forests, I needed a keen eye to pick them out.
Locally, bilberry jam was delicious, I had traditional Austrian dumplings flavoured with juniper berries & a fellow walker had burger & chips with cranberry sauce - move over Heinz ketchup! The foraging highlight for me was these last two berries - juniper & cranberries. Although I've read that juniper berries grow in South England, I've never found them, ooh, & the sharp taste of raw cranberries was surprisingly pleasant as a walking snack.
So, rest assured, that learning about foraged foods in the UK can give you a broad starting point across Europe,  a unique way of appreciating new landscapes & a fun way of tasting your way round many countries, mountains & lakes!
Not much time left and many are just out of reach! Remember to take a ladder foraging with you or a good friend with climbing skills...
Last Resort - I've had to resort to just picking one or two heads this time of year, and drying them for elderflower tea. You may have more luck! Though drying Elder flowers for tea is great medicine for the winter months, read below to find out more.
Elderflower syrups and dishes are potent medicine - they can help counter hayfever, fight colds, boost your immune and send you to a delightful floaty place with those sweet aromas...
Choose from fresh or dried elderflower tea (just add hot water), elderflower fritters, or cordial for sorbets and ice creams, mix with summer fruits or into cocktails. Here's a simple recipe for cordial and a tempting image of local fruits cooked with elderflowers - delicious!
(photo: Elder flowers and Yarrow)
Elderflower Cordial
This is classic recipe with a bit of a twist, I like to change things sometimes, so here I use a mixture of orange and lemons, and add a little honey too. If you want a more traditional recipe, here it is; Elder Flower Cordial and Elder Flower Sorbet Recipe.
This cordial is a wonderful refreshing summer drink, and elder flowers are also a great remedy for colds. You'll need some pre-planning - a 1 litre container, clean screw-top bottles, a funnel and a seive/muslin cloth is needed, or improvise with what you have. Adjust the amount according to the number of flowers you have picked.
Ingredients
450g unrefined caster sugar
1.5 litres boiling water
20 elderflower heads (flowers left on stalks)
2 unwaxed lemons
1 orange
4 tbsp honey
2-3oz citric acid (if you're going to store the cordial for a whole
Ideally pick the flowers in full sun. Place sugar in a pan and pour boiling water over, stirring until dissolved. Place the elderflowers (check to remove bugs) in a clean bucket and pour hot sugar mixture over it. Grate the lemon and orange zest, then cut the fruits into slices, squeeze, and plop into the container (it could be a saucepan, or a large heat-proof bowl). Stir, in the honey until dissolved, cover, and leave for 24-48 hours, stirring occasionally. Strain the mixture through a sieve, or preferably a fine muslin cloth, and funnel into clean bottles, or dilute and serve immediately!
(Photo: Elderflowers cooked in a summer fruits pudding)
Unique Island Foraging
Really, like nowhere else.
Sudi Pigott, food journalist and author compared Gourmet Foraging and Dining on Scilly to an experience at Noma - Rene Redzepi's  Copenhagen restaurant, which, at least twice has won best restaurant in the world awards (S. Pellegrino 50). Noma specialises in using foraged and seasonal produce and has a world renown reputation.
According to Sudi, we were on a level with Noma (Daily Express, 2011).
Travelling to the Isles of Scilly always feels magical to me. I couldn't get much closer really (well not much) and still live on the mainland. The Scillonian ferry is 10 minutes walk away from my house, and standing in the right place I could watch the boat leave and return daily, in season.
Foraging can appeal to such a wide reach of people, from foodies to wildlife enthusiasts, and Scilly really is the perfect environment for it. A series of islands, low population numbers and a priority for wildlife including birds, plants and sea life, plus a distinct lack of cars and motor vehicles is ideal for foraging to flourish in the clean air and land. Indeed, foraging has happened a-plenty in Scilly in the past, piles of empty limpet shells on (the now uninhabited island of Samson) pays testament to that.
(The Foragers: Hell Bay Gourmet Foraging and Dining Break, Isles of Scilly)
And what about now? Like elsewhere in the UK, foraging has largely been forgotten, and the Coop (the largest food shop on Scilly) is perhaps an over-used substitute for the wild stuff. Local foods are still used though, when available. Though I can't help casting my eye across all those beautiful fresh ingredients, forgotten in the hedgerow, fields and coastline.
When I first approach Hell Bay with the idea of doing gourmet foraging events, I wanted the best. The best chef, environment and eating experience that would allow the wild ingredients to really be appreciated for what they are - special.  Special, abundant and worth rediscovering.
Our group of enthusiast guests, felt similarly (I hoped), and joined me for 3 days, 3 islands, 3 walks and 3, 5 course gourmet dinners - including the ingredients we'd foraged during the day. Travelling from various areas of the UK, foraging became our common ground, oh, and discussions about the hotel's enviable art collection.
We may not have looked like foragers, though looks aren't everything, and in a way, foraging was just the medium we used -  the chosen lense to appreciate the islands and the natural abundance they had to offer. Indeed, both people's adventurous spirits, and the wild plants themselves came up trumps, my favourite being when we focused on the seashore...
Foraging for seaweeds is tide dependent and on the islands it is also dependent on the times of the boats. On our final day of foraging we got the boat to St Martins island.  A sensitive juggling; this wasn't the first time we'd got dropped at the opposite end of the island to expected and planned for! A low tide is perfect for seaweed foraging, though not for mooring boats - oh well, we got to the island, were wellied up, well some of us, while others dared it with bare feet or trainers.  Thankfully the coastline of St Martins came up with the goods.
It amazes me that pottering around just one collection of rocks enabled us to forage for a wide range of seaweeds to accompany our dinner.
I had a 'shopping list' of 7 seaweeds, which we snipped off with scissors and took, happily back to the hotel kitchen. Idyll memories of aisles of sandy beaches, rock pools, paddling expeditions and a little clambering, looking under kelp forests and getting faces up close to the splish, sploshing water around us. Those who chose to, watched from a distance, enjoying the sun while the wellied ones paddled out to find the freshest finds. We laid out are proud findings on the rocks (who ever took photos - I'd love a copy!) before revising their names and bundling them into our baskets before heading off to lunch.
The evening's menu was always greeted with satisfying ooohs and aaahs - all the excitment you would expect from a special dinner party. I love that part - although we forage together, I like to keep the evening's menu a surprise. It's like revealing a new painting - we've worked creatively behind the scenes - myself helping design the menu and advise processes, then leaving the chefs to use their talents and skills to create 5 bespoke courses with a range of colours, textures and visual arrangements. Like art, food comes down to personal taste, though the variety and skill seemded to be enough to please everyone...
However.
Some dishes were a hit, while others had a mixed response that might be expected from more experimental cuisine. Personally, Sea Spaghetti (Spaghetti-like seaweed) with Grilled Turbot and pangretta with sea lettuce, followed by Rice Pudding with crystalised Alexander stems were hits with me. Though some disagreed! Other's loved the hogweed seed biscuits that accompanied Cornish cheeses - for me, I was completely satisfied already and had no room for anymore. All created within the style and quality you expect at Hell Bay.
Unique Scilly foraging it is.
I could list all the dishes of each evening, though just as a taster, here's the menu we enjoyed on our second evening after foraging on the Island of Tresco and an afternoon free to enjoy the Tresco Abbey Gardens.
Sorrel & Wall Oxalis Soup
Fennel Tempura Fillet of Hake, dressed White Crab Meat, steamed Rock Samphire,
Pan roasted fillet of Venison, Nettle Gnoochi, Frosted Orache, Three-cornered Leek puree, Chocolate & Yarrow Jus.
Gorse Flower Creme Brulee with Blackberry Leaf Sorbet
Cornish Cheeses with Hogweed & Alexander Seeded Biscuits
I offer bespoke foraging experiences on the Isles of Scilly, my availability is limited, and especially limited in high-season when the chefs are exceptionally busy. Luckily, foraging is best in early spring and autumn - do bear this inmind if you'd like to experience the wild side of these beautiful islands.
Having watched spring slowly arrive over winter, in the last few weeks it has speeded up & fully arrived in all its glory. I love spring, perhaps because it's the season I was born, or maybe  because of those lovely bouncy baby lambs in the fields... Then there's the increase of day light & all the spring foraging to enjoy too. An abundance of smells, tastes, textures & goodness - all oozing with vitamins & minerals. Basically a multitude of reasons to have a spring in my step & that madness of energy that's associated with this time of year.
Teaching foraging is largely seasonal, mainly because people want to forage to certain times of year, rather than there being a lack of plants during the winter months. As my season starts of kick off, my days feel fuller - bookings, organising & planning. At the end of the day there's nothing fresher for me than to take a walk, get away from the computer & amble along, lazily picking as I go. It's relaxing, valuable time-out, all with a flavour of spring madness of the plants I have to choose from as I walk.
Ooooh, what catches my eye today? So much to choose from. Today I chose just a few spring greens for supper - nettles, cleavers, & tri-cornered leek for soup. Chickweed & yarrow for frittata. I could go on about the bounty to enjoy, though really I just want to sit & eat, then do it all again tomorrow! Wishing you wonderful spring foraging - this really is the time to go mad out there & forage to your hearts content.
Shopping down the supermarket aisle? Not for me, in spring all my greens come from the hedgerow.
Once you know Common Sorrel (rumex acetosa) it's perfectly normal to start seeing it pop up all over the place; in hedgerows, lawns, fields, grass verges. It really is so common, that you'll be amazed you never spotted it before!
Of course, each plant has its own characteristics, making it unique and easily identifiable, though to me it is as if each plant also develops its own character too. Or perhaps I just start to see each plant as a character. In the early days of foraging I would regularly take walking breaks to help clear my head and gain perspective again - life becomes a lot simpler I find, if I go for a walk. I would mindlessly begin spotting plants as if they were landmarks or a way to orientate myself in the landscape, whether I knew the walk well, or it was completely new to me. Somehow being able recognise plants along the way helped me feel comfortable and at home.
It was a bleak, non-descript kind of February day that I comforted myself by the fresh greenery around me, and feeling particularly inspired, or who knows, maybe the plant spoke to me, these words started to flow. Perhaps it reflects those early days of identifying and getting to know the plants, anyway, I wrote this poem in honour of Common Sorrel.
I met a friend today,
A familiar face in the hedgerow.
Smooth skin, tall and straight,
A tailored jacket and spear shaped hat.
He promised me tangy company, tarty surprises
And melt in the mouth experiences.
Though his delicate demeanour hid a sharp taste, addictive and tantalising.
Oozing witht As, Cs and Iron strength.
I plucked him from his familiar home,
Twirling him between my fingertips.
I watched his tails flutter in the wind, till his jacket became limp and a sour expression covered his face.
One bite and I am hooked on you dear sorrel
Your lemony tang is un-mistakable,
Your taste, instilled in my taste buds
And I will dance to see a sight of you in the hedgerows again.
Sorrel is a great winter, spring & autumn salad leaf, it has a great tarty, lemony taste & traditionally has been used in sorrel soup, in omlettes & even in sweet tarts. There is two things to be wary of with sorrel; firstly identification, secondly not to eat too much of it. I've heard some stories of people mistaking lords & ladies for common sorrel (not a pleasant mistake), & eating too much of it can bind up valuable nutrients in the body - hardly the desired effect! Enjoy in moderation & be sure you're identifying the right plant.