It's deep December and I'm standing outside. Actually, there's 8 of us standing outside and waiting for the one that's gone astray. Once we're all congregated, we begin. There's something innately quiet about walking in Winter, as if all around us is sleeping, and in some ways it is. We walk together through this slumbering landscape, initially unaware of the life around us.
What can you forage in winter?
From as early as November, my forager eyes start to spot edible greens that are normally associated with spring. Alexanders, Nettle Tops, Three-Cornered Leek (locally known as Wild Garlic), Wild Cress and Mustard, Pennywort, Wild chervil, Gorse flowers and even Daisy leaves and flowers for salads and cooked dishes.
Although the nutrition of plants can be significantly increased in Spring, goodness can still be enjoyed from these plants through the winter months. In Cornwall, where we may lack in terms of nuts and berries (there are only a few forests & woodlands here) it is more than made up with coastal plants and, due to the mild climate, a great choice of edible greens right through winter. While other areas of the UK are below frost or snow, there are milder areas of Cornwall that offer valuable forage-ables.
The benefits of foraging in winter
What's more, foraging feeds the soul not just in winter, though every time of year. According to the National Wildlife Federation's article; It's all in the dirt, the reason for this includes good bacteria in the soil that releases seretonin - the feel good hormone. This makes me feel even better about my muddy boots and dirty fingernails too!
In some ways, there's more to see in winter, without the distraction of hoards of people, beautiful, bright flowers, and sunsets to melt into. Instead, the offerings maybe more subtle - beige stems, low growing greens, and flowerless stems, though don't be tempted to dismiss these edible due to their humble winter personas.
Common Hogweed seed (Heracleum Spondylium), for example (below), may look like a dead seed-head, though within it lies delicious aromatic flavours for curries and many sweet dishes.
If you need it, use foraging as an excuse to get you outside, for that dose of daylight, fresh air and nature fix. Watching wintering birds, or rolling white horses of the waves, and returning with a handful of winter greens, it's hard for the soul not to be lifted, even if just a little. And if you're still not convinced and only yearning for the bright yellow sun of summer, then perhaps gorse is the only cure for you. Up on the moorlands of Cornwall, somewhere, you will always find the bright yellow flowers of gorse; an uplifting flower. According to Bach Flower Remedies gorse can offer you hope, when all hope is lost. I promise, summer will return.
Christmas means many different things to me - family, friends, processions of lights in the darkness, hearty food & creative meals.
Oh, and comforting books & TV! Joy can be found in many shapes & sizes!
The Muppets have great childhood memories for me and always bring a smile to my face. On that note, I'm sharing a Muppets special - one Swedish chef, popcorn, wild seafood, music and dancing in the kitchen...
May the season bring you lots of happiness - enjoy the madness & the stillness after the storm. Merry Christmas! X
Elderflower cordial is the ultimate summer drink, scent and medicine. As I sit here in my kitchen I'm enjoying their light, dreamy scent wafting across the room, of the ones I picked this morning.
Summer foraging for elderflowers is almost as popular as blackberries in autumn, or wild garlic in spring, and all for good reason. Elderflower cordial is the perfect way to capture and preserve the scent of summer. Foraging for edible wild plants is so rewarding too! Make your own homemade cordial to enjoy with friends and family.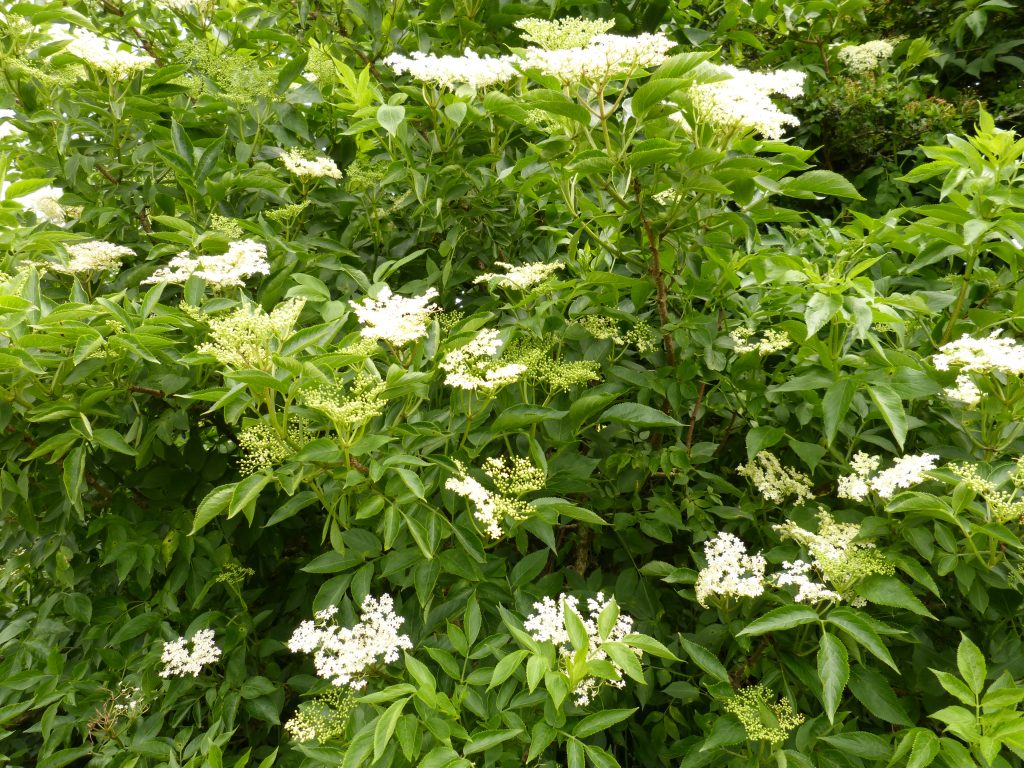 Where to find elderflowers
The elder tree is often considered a weed, it often grows on wasteland, in hedgerows and at the edge of woods. It loves the sun but can cope with shade, I often see them alongside roads and backing onto railway lines, which is often very frustrating because I'm rushing by!
When do elder flowers bloom?
Elderflowers start appearing in late spring and early summer. Here in the UK that means May to July, though this is dependant on how warm it is and whether spring started early or late. Sometimes July is still great for picking, and other years they have started to turn and are not worth picking.
Elderflowers can also be frozen. A few years ago my aunt froze a whole carrier bag of elderflowers for me. Once defrosted, they obviously don't look as good as when they are fresh, but you can still use them for making cordial or dry them for making elderflower herbal tea.
I also like to freeze some of my elderflower cordial in an ice cube tray, then I have ready to use portions!
How and why to dry elderflowers
Elderflowers can be used for herbal tea. You can dry them in the sun, in a dehydrator or at the lowest temperature in the oven and keep them for the winter months as medicine for colds, flu, coughs or bronchial issues.
How to make and use elderflower cordial
See below - a summary on this video and the full recipe at the end of the blog.
Use in cocktails, sorbet, ice cream, sweet bread, as a doughnut dip, elderflower champagne or dilute for hot and cold drinks. You can also freeze the cordial in an ice cube tray or bag and pop in soda water or defrost and dilute from frozen.
Why is elder flower cordial so good?
Many of us have a soft spot for sweet, and the combination of light and heady, citrus and sweet seems to be the ultimate combination!
Is elder flower cordial good for you?
Elderflowers have anti viral properties and can help treat colds and flu and quicken recovery. They can also be used to sooth sore throats, coughs and bronchial infections. Elder flowers are delicious and a medicinal plant.
Before I begin, a word of warning. Elder (Sambucus nigra) has umbel-like clusters of flowers, similar to that of the Apiaceae (Umbelliferae) family. To avoid fatal mistakes with deadly plants within this family, you must be 100% sure that you are picking the correct plant. This blog is focusing on the recipe, not on the identification, always check with an expert, so you can continue to enjoy foraging for food!
Also, a word for the plant... If you pick all the flowers there will be no elderberries later in the year - which would be very sad, for us and the birds. Bare this in mind & never pick more than 25% of flowers of a single plant.
ELDERFLOWER CORDIAL RECIPE
This recipe needs some pre-planning - a bucket or heat-proof bowl, clean screw-top bottles, lemon squeezer, a funnel and a seive/muslin cloth is needed. You can alter the measurements depending on how many elderflower heads you pick
Ingredients
25 elder flower heads (flowers left on stalks)
3 unwaxed lemons (or 2 lemons and 1 orange)
400 g unrefined sugar
1.2 litres boiling water
2-3oz citric acid (if you're going to store the cordial for a while)
Ideally pick the flowers in full sun. Fork the flowers off the stalks or snip off the main stalks, putting flowers aside and discarding the rest. Place sugar in a pan and pour boiling water over, stirring until dissolved. Place the elderflowers (check to remove bugs) in a clean bucket and pour hot sugar mixture over it. Cut the lemons in half and squeeze the juice into the bucket, then grate the lemon zest and add this too. Stir, cover, and leave for 24-48 hours, stirring occasionally. Strain the mixture through a sieve, or preferably a fine muslin cloth, and funnel into clean bottles, or dilute and serve immediately!
For Elder Flower Sorbet
Follow all the instructions above, omitting the citric acid and dilute with two-thirds water and beat in one whipped egg white. Use an ice cream maker or get ready for these next steps... Freeze the cordial in a sturdy tupperware (plastic container with a lid) for 2-4 hours. Remove & mash up with a fork or in a food blender. Repeat at least once more. Serve on its own or with a variety of other desserts, particularly good with sponge cakes.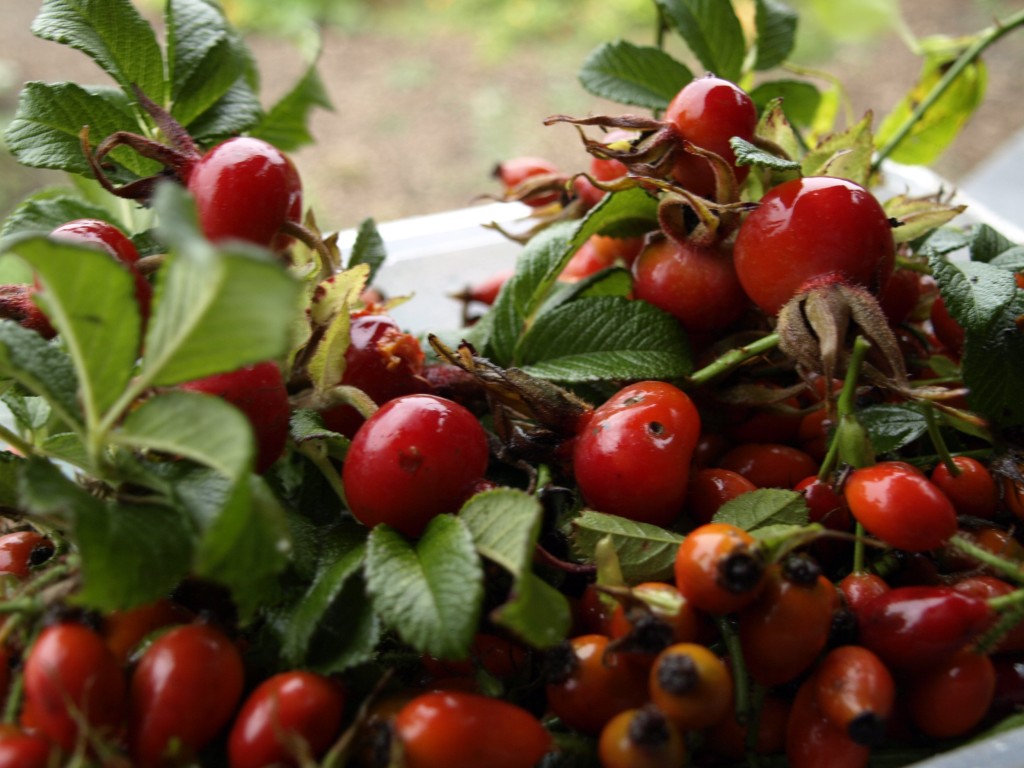 I recently led a group of families on a foraging walk & as part of the day I provided sweet biscuits with rosehip fruit in them. I wanted to show how this fruit can be utilised in ways other than just for syrup. The biscuits went down really well, though what I didn't provide was guidance on how to process the fruit into a versatile ingredient for many recipes, so here it is!
This is a labour of love. It is a process to be enjoyed, with a fruity goal in mind - a delicious and versatile sheet of pure fruit which can be used can be stored for months and used as a snack or to flavour many dishes, for example tarts, pies and ice cream. Best done when you feel you have the time, preferably with helpers - friends or family.
What
Using Japanese Rose (rosa rugosa) hips will enable you to reap more fruit for your work, they're a larger hip than our native rosehips making them easier to handle.
Gather rosa rugosa 'hips' (the fruit), these plants have naturalised in many places, originally many were planted on sand dunes & shingle beach areas to help stabilise the ground. You can also find them on waste ground, or befriend someone who has them growing in their garden - a proportion of your foraged product afterwards is normally gratefully received.
When
Start looking out for hips from late summer & through autumn. You could of course wait for after the first frost, at the risk of the birds getting them first. Living in Cornwall, with a milder climate & being impatient to utilise these fruits, I normally pick them as soon as possible & freeze them to 'fake' the first frost. I'm looking for the dark red fruits, not too orange in colour. Freezing them also means you can store them until you're ready to embark on processing them.
How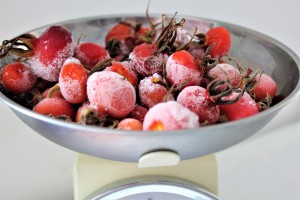 Defrost or pick the fruits after first frost. Start processing them as quickly as possible so not to loose valuable vitamin C. Carefully and patiently remove the flesh from around the outside of the fruit, careful not to dislodge the tight ball of hairy seeds. You want to avoid these seeds as they can irritate the digestive tract. This is a messy and fiddly job, so take your time, you'll be left with a pile of fleshy rosehip pulp, and a pile of hairy seeds. Discard the latter. You may want to chop the pulp a little, to ensure that you don't have too bigger pieces of flesh or fruit skin.
If you're using a de-hydrator, follow the instructions for making fruit leather, and spread the fruit pulp onto the teflon sheet before drying the fruit for several hours. If using an oven, line a dish or baking tray with oven-proof clingfilm, and spread the pulp on, about 2mm thick. Put the oven on the lowest heat and leave for up to 12 hours.
The consistency of the fruit leather can be altered according to taste - slightly moist and chewy or dry and almost brittle. The latter will keep longer. When needed, rehydrate the fruit and blend of break into pieces.
The Flavour
What I love about processing fruit this way is that there is no need to add sugar. Instead, you can get to taste a mixture of natural sweetness & tarty-ness of this amazing super fruit.
What next & how to use... Now the fun bit. Once you've made your fruit leather, either keep it whole or cut it into strips & store in an air tight container. It will keep for over one year. Now your fruit can be used in various recipes, these are just some of the ones I've tried so far. Before using the leather, best to break it into small pieces & re-hydrate in a small amount of warm water.
Rosehip fruit ice cream, Rosehip fruit chocolate, Rosehip fruit biscuits or in simply in porridge. You can of course still use it in traditional recipes such as rosehip syrup or sweet soup, or simply chew on it as snack when out walking, or when you need a energy & vitamin C boost.