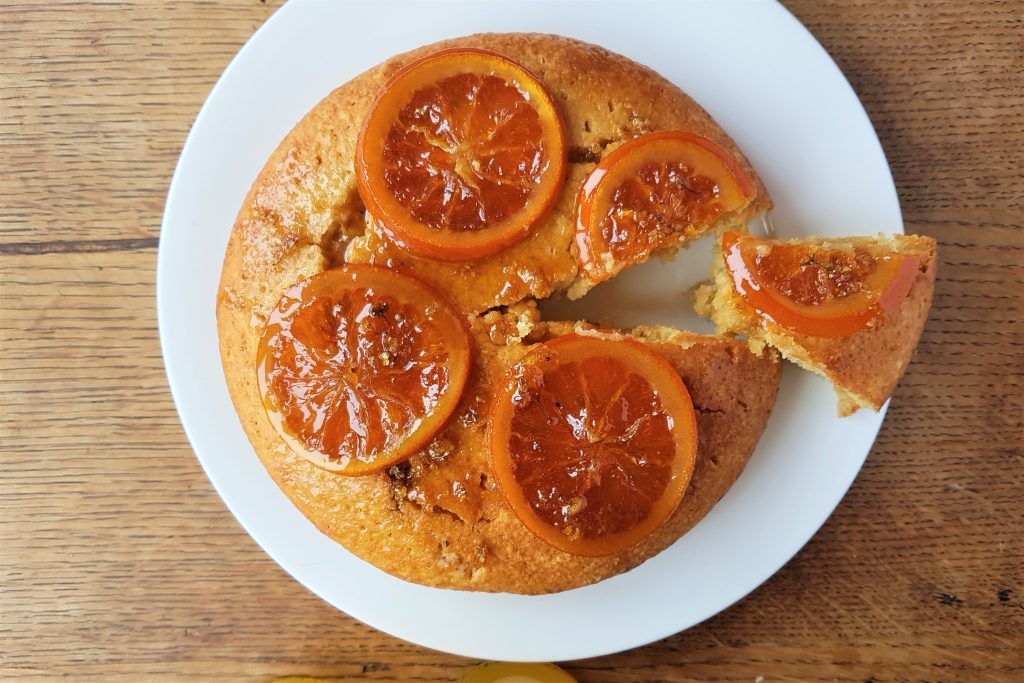 This glazed orange and elderflower cake uses a particularly orangey version on my elderflower cordial (use 1 lemon and 2 oranges instead of following the usual 3 lemons recipe).
Actually, that orangey elderflower cordial was the inspiration for this moist and luscious cake. The basic cake is based on an Italian recipe and is beautifully filling and simultaneously light. How does it do that?!
If you're looking for something different to do with your elderflower cordial and love cake, why not try this!
Glazed Orange and Elderflower Cake recipe
A wonderful zesty cake with a moist filling and sticky top. The elderflower flavour is subtle but present and gives a summery feel to this substantial sponge.
Serves 12 (slices)
Ingredients
335 g flour
1 tsp baking powder
100 g golden granulated sugar
170 g butter
185 ml elderflower cordial
2 free-range eggs
For the glaze
200 ml elderflower cordial (ideally with 1 lemon and 2 oranges, not the other way around)
100 g golden granulated sugar
1 orange
Preheat the oven to 350°F/180°C/fan 160°C and grease or line a 20 cm diameter cake with a little butter. Sieve the flour and baking powder into a large bowl. Mix in the sugar until blended. Cut the butter into cubes and using your fingertips, or a food processor, combine the mixture until it resembles fine breadcrumbs.
Whisk the eggs and pour into the breadcrumb mixture. Gradually pour the cordial in as well and stir just enough times to bind the mixture. Don't over stir and you may not need to use all the liquid either. Spoon into the cake tin and bake for around 40 minutes. The cake is done when golden and a skewer in the centre comes out clean, and the sponge is coming away from the edges of the tin.
While the cake is baking you can make the glaze.
Slice the orange through the side to create 0.5-1 cm slices. You'll just need 4 slices, but you could use more and cut into smaller pieces. Place in a small pan and cover with the cordial. Bring to the boil then lower to a simmer for 40 minutes - 1 hour. I cut a piece of baking paper and place on top of the water to help keep the moisture and heat in while the orange slices simmer. You could also place a lid partially on.
The slices are ready when the peel is translucent and soft. If the pan is drying up and the slices are still not ready, you may need to add a little more cordial, or 2 parts water to sugar if you've run out of cordial! Ideally there's some syrupy liquid left when the slices are ready, which can be poured over the cake.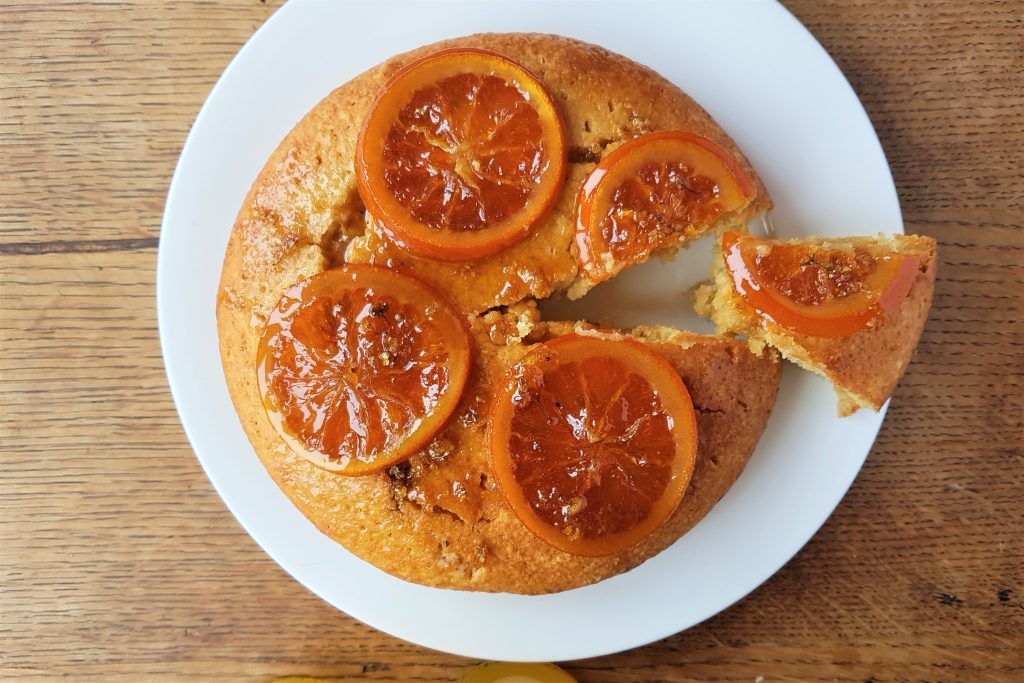 The slices in the image are a little under-done, so yours should be more translucent than this. Mine ended up chewier than I wished, but still pleasant.
When the cake is ready, take out of the oven, leave for 10 minutes then remove from the tin on to a cooling rack. Allow the cake to cool completely before heating up the syrup. Prick the top of the cake and pour it evenly over the sponge, followed by placing the orange slices decoratively on the sponge.
Enjoy on its own or with cream or crème fraiche.
It was salty lips and a refreshing, post swim sup of elderflower cordial that moved me to create this. Even as I write, in my mind's eye I can still see the coastal horizon and taste the combination of sweet elderflower and salt. The ice cream is rather good too, and perfect if you crave the sea but live inland.
Since writing this, I also discovered a lovely gin and elderflower ice cream that I enjoyed courtesy of Bruichladdich distillery. It was divine! I may not have managed to recreate that one, but this recipe is equally enjoyable, even without the alcohol!
Elderflower and Sea Salt Ice Cream recipe
Serves 6
Ingredients
2 free-range egg yolks
185 ml elderflower cordial
35 g (2 tbsp) unrefined sugar
500 ml lightly whipped cream (approx. 425 ml double cream, before whipped)
½ - ¾ tsp rock salt, lightly crushed
In a medium to large bowl whisk the egg yolks until light and fluffy. In a small heavy bottomed saucepan add the cordial (less the 2 teaspoons) and the sugar and stir over a medium heat until the sugar has dissolved. Bring to a rolling boil and using a sugar thermometer allow to reach 110°C or until a metal spoon dipped in the syrup forms thin threads from the last drops. Slowly pour the syrup into the eggs and whisk constantly, add the rest of the cordial and continue to whisk until the mixture thickens and resembles a mousse.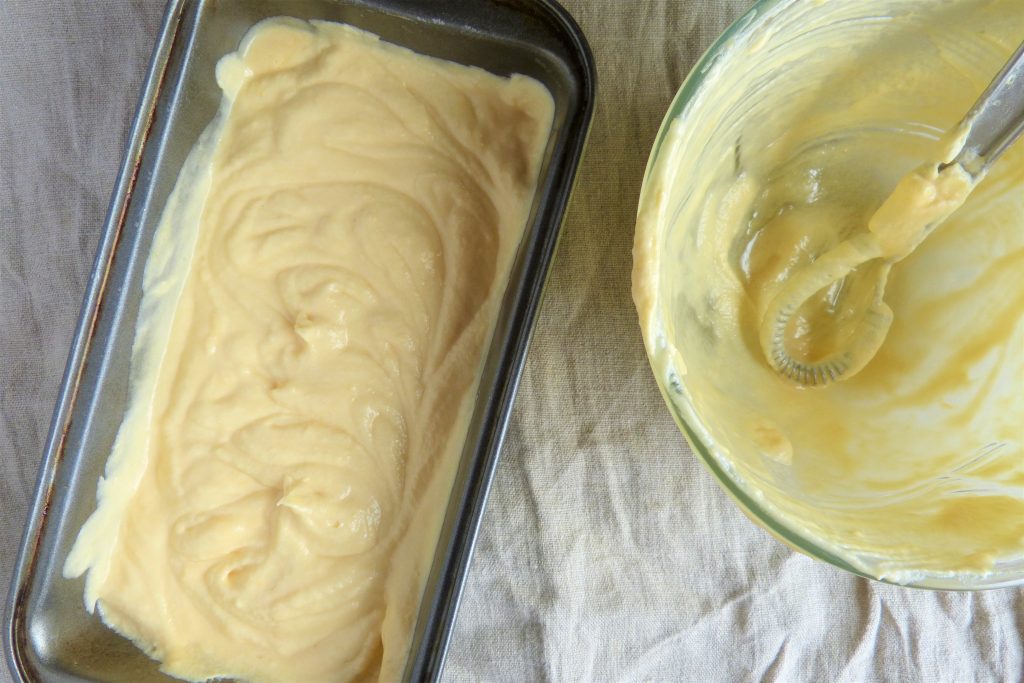 Spoon into a one litre Tupperware or tin, cover and freeze for one hour. If you haven't already, roughly crush the salt in a pestle and mortar – you want small pieces of rock salt, but not dust. After an hour take the semi-frozen ice cream out of the freezer, thoroughly stir in the salt and freeze until ready to use. Remove from the freezer 10 minutes before serving, lovely with summer fruits.
The taste of summer (elderflowers) and their medicinal, anti-viral qualities can be enjoyed in many desserts, drinks and snacks. Here I share my Elderflower and Strawberry Jam recipe, which is delicious on toast and a divine filling for my moreish Elderflower Doughnuts.
This is an easy recipe for making strawberry jam from fresh strawberries. I also share how to make jam set, how to use this jam and why strawberries and elderflowers are good for you.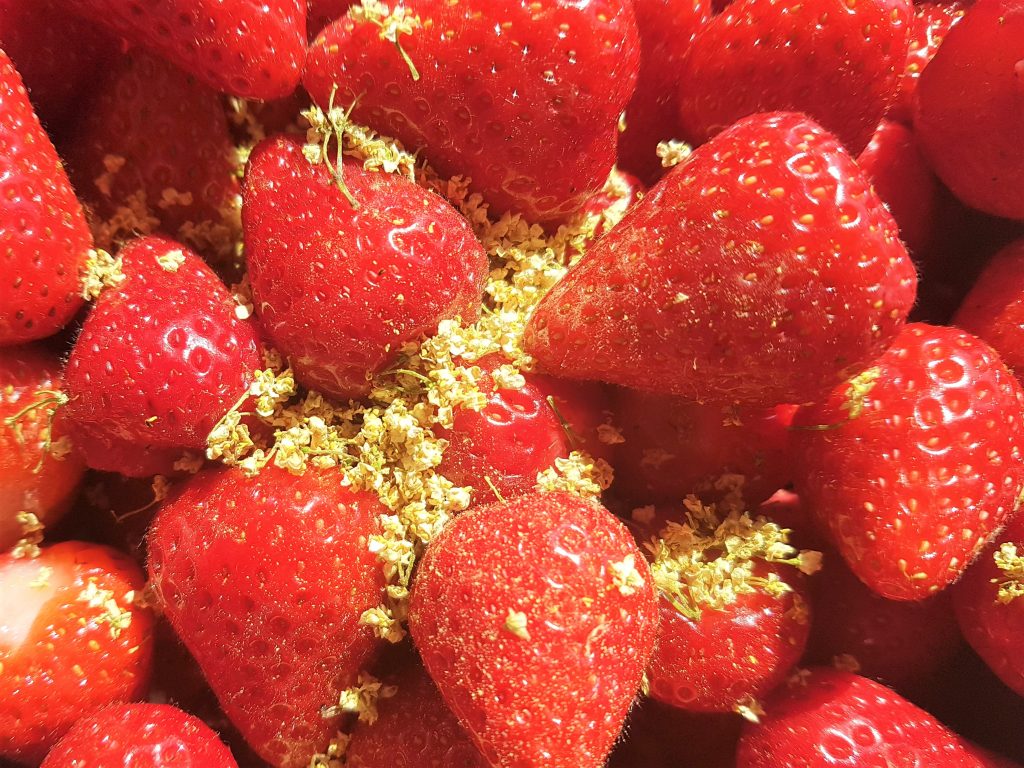 Fresh, healthy strawberries
Strawberries are an excellent source of vitamin C and K and also contain a good amount of fibre, folic acid, manganese and potassium. It's healthy to include a variety of fruit and vegetables in your diet.
Seasonal, local strawberries are the best and, luckily, they often ripen at a similar time to elderflowers, making them perfect companions.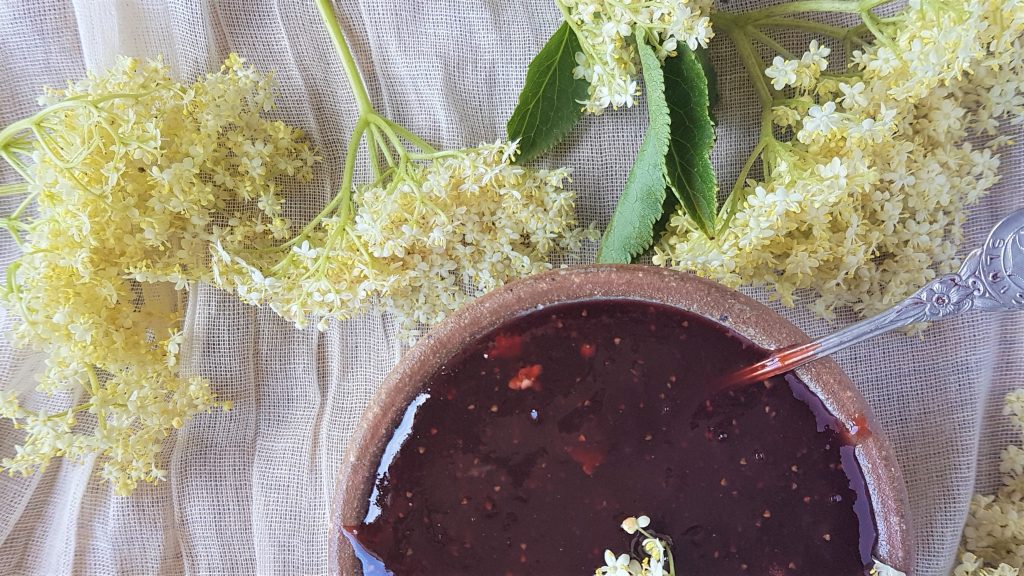 Elderflowers
Elderflowers are my seasonal wild food of the month! A wonderful anti-viral with a gorgeous scent, they can help treat colds, flu, coughs and bronchial infections.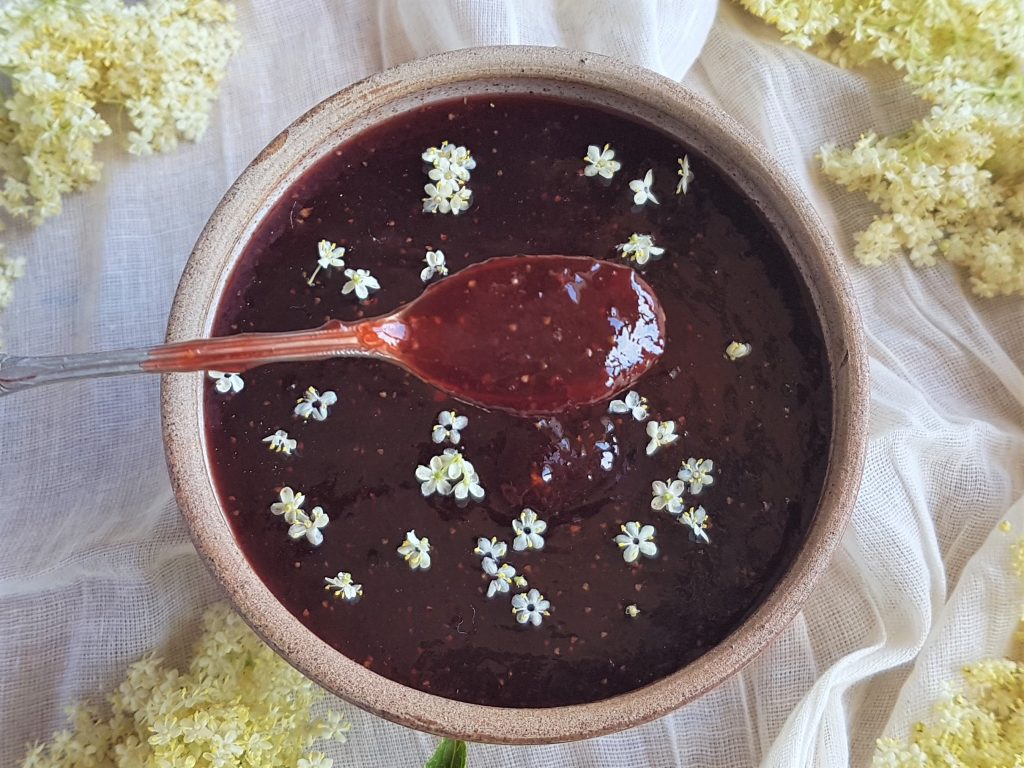 My Elderflower and Strawberry Jam Recipe
I'm often inspired by the seasons, the wild foods surrounding me - their taste, smell and texture and fellow cooks that I admire. Darina Allen is one such cook, her traditional family recipes are some of my 'go-to' ones, and this recipe was inspired by her Mummy's Strawberry Jam recipe.
I've added a wild twist, of course.
Makes 1.3 kg jam (approx)
Ingredients
1 kg fresh strawberries
800 g golden granulated sugar
5-8 elderflower heads (flowers forked off and stems discarded)
50 ml elderflower cordial (or lemon juice)
Take off the green tops of the strawberries and rinse if needed, you then need to make sure they're are really dry. You can gently pat them dry with a tea towel. Once dry, place in a stainless steel saucepan - it will be easier if you use one that's bigger than the one I used above!
Sprinkle in the elderflowers (removed from the stems) and the elderflower cordial or lemon juice, next you'll be adding the sugar. According to Darina Allen, the best way to make jam from fresh strawberries is to heat the sugar first. This isn't essential but might make a better jam!
To heat the sugar, place it in a stainless steel bowl in a preheated oven to 180/160C fan/350F/Gas 4. Heat for 15 minutes then pour evening over the strawberries and elderflowers. Alternatively, pour over the sugar cold. Cover and leave for 12-24 hours. Overnight should be suffice, but I left mine for 24 hours and all the strawberry juices had really started to come out - yum!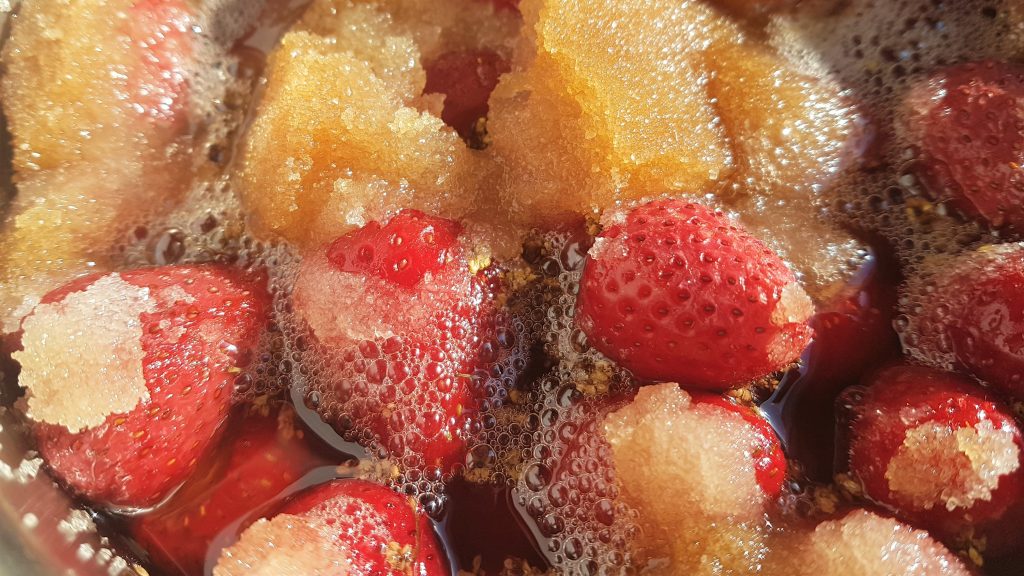 It may sound like a lot of sugar, but this will help preserve the strawberries and at least it is unrefined rather than white caster sugar!
The combination of fruit, sugar, heat and lemon juice will ensure that your jam sets. The citrus juice in the elderflower cordial is also enough to set the jam - and it's my preference to use the cordial.
Next bring the pan to the boil, stirring to help dissolve the sugar. Mash the fruits with a potato masher, or a blender stick. I used a blender stick as I wanted a smooth jam I could use in elderflower doughnuts, but you might want a more rustic one for sandwiching together cakes, mixing in rice pudding, spreading on scones or smothering over toast.
Leave the jam to boil for about half an hour. You can use a jam thermometer if you prefer or test the jam by taking a teaspoon of the jam and placing on a cold saucepan. Move the jam around, if it starts to wrinkle at the edges as it cools, then it is ready.
Decant into sterilised jars and leave to cool.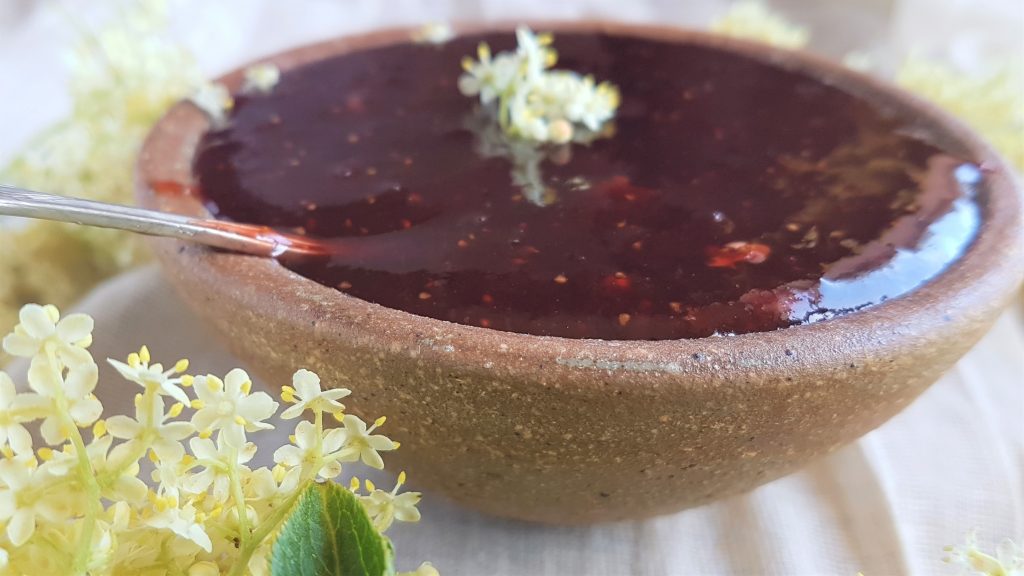 Elderflowers are one of the plants I cover on some my summer foraging courses. I teach foraging throughout the year - helping you connect to the abundance of health-giving foods available on your doorstep.
Not much time left and many are just out of reach! Remember to take a ladder foraging with you or a good friend with climbing skills...
Last Resort - I've had to resort to just picking one or two heads this time of year, and drying them for elderflower tea. You may have more luck! Though drying Elder flowers for tea is great medicine for the winter months, read below to find out more.
Elderflower syrups and dishes are potent medicine - they can help counter hayfever, fight colds, boost your immune and send you to a delightful floaty place with those sweet aromas...
Choose from fresh or dried elderflower tea (just add hot water), elderflower fritters, or cordial for sorbets and ice creams, mix with summer fruits or into cocktails. Here's a simple recipe for cordial and a tempting image of local fruits cooked with elderflowers - delicious!
(photo: Elder flowers and Yarrow)
Elderflower Cordial
This is classic recipe with a bit of a twist, I like to change things sometimes, so here I use a mixture of orange and lemons, and add a little honey too. If you want a more traditional recipe, here it is; Elder Flower Cordial and Elder Flower Sorbet Recipe.
This cordial is a wonderful refreshing summer drink, and elder flowers are also a great remedy for colds. You'll need some pre-planning - a 1 litre container, clean screw-top bottles, a funnel and a seive/muslin cloth is needed, or improvise with what you have. Adjust the amount according to the number of flowers you have picked.
Ingredients
450g unrefined caster sugar
1.5 litres boiling water
20 elderflower heads (flowers left on stalks)
2 unwaxed lemons
1 orange
4 tbsp honey
2-3oz citric acid (if you're going to store the cordial for a whole
Ideally pick the flowers in full sun. Place sugar in a pan and pour boiling water over, stirring until dissolved. Place the elderflowers (check to remove bugs) in a clean bucket and pour hot sugar mixture over it. Grate the lemon and orange zest, then cut the fruits into slices, squeeze, and plop into the container (it could be a saucepan, or a large heat-proof bowl). Stir, in the honey until dissolved, cover, and leave for 24-48 hours, stirring occasionally. Strain the mixture through a sieve, or preferably a fine muslin cloth, and funnel into clean bottles, or dilute and serve immediately!
(Photo: Elderflowers cooked in a summer fruits pudding)