Wohoo!! Elderflowers are one of the wonderful and wild flavours of summer. Over the years of foraging them I've created a lot of new recipes with them. Here I share ten of my elderflower recipes with you, just follow the links for step-by-step instructions.
The basis of soooo many elderflower delights. There is a reason why elderflower cordial is popular; it's divine, light, summery and full of anti-viral, health-giving properties too!
This pink elderflower cordial is fun with the scent of elderflowers and rose. It's made using pink elderflowers - did you know you could use these as well?!
Elderflower recipes don't have to be sweet. These elderflower fritters can be sprinkled with icing sugar or served with soy sauce and lemon for a savoury twist.
Made with sun-ripened strawberries, this homemade elderflower and strawberry jam is luxurious!
Pear is the perfect level of sweetness and flavour to help show off elderflower cordial in this pear and elderflower jam. I love it in the centre of my elderflower doughnuts too!
These elderflower doughnuts are such a treat! Freshly made, filled with elderflower and pear jam (above) and dipped in an elderflower glaze - definitely worth celebrating.
A moist and dense cake glazed with orange slices simmered in elderflower cordial. This elderflower and glazed orange cake is a wonderful addition to summer desserts.
I'm really proud of these Swedish style elderflower jam tarts. Filled with my favourite pear and elderflower jam. They're better than any jam tart I had as a child!
Made using sponge fingers, this a quick, creamy, elderflower fruity, layered sponge. Perfect for impromptu gatherings.
Another creamy dessert, this elderflower and sea salt ice cream was inspired by sea swims followed by supping elderflower cordial.
A little sweet, a little wholesome, this elderflower and apricot bread is sweetened with elderflower cordial and sticky, black dates.
12. Elderflower tea!
Let's never forget tea! Elderflower tea is good for colds and flu as it's anti-viral. Just use a teaspoon of dried flowers per person, leave to brew for 10 minutes then strain. You can use fresh flowers, just fork them off the stems first and discard the stems.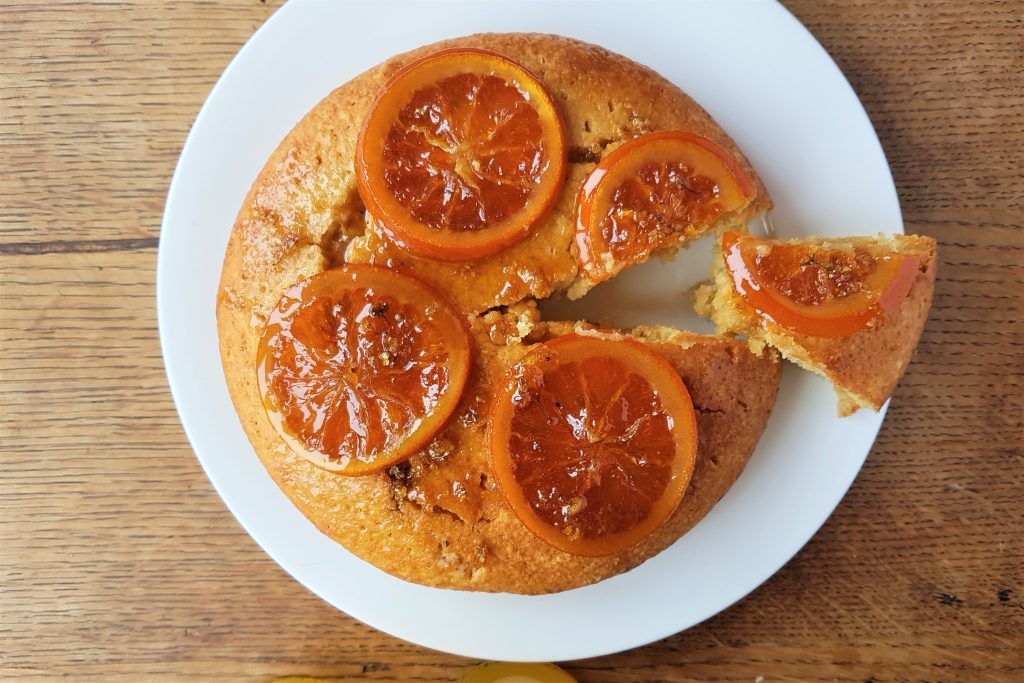 This glazed orange and elderflower cake uses a particularly orangey version on my elderflower cordial (use 1 lemon and 2 oranges instead of following the usual 3 lemons recipe).
Actually, that orangey elderflower cordial was the inspiration for this moist and luscious cake. The basic cake is based on an Italian recipe and is beautifully filling and simultaneously light. How does it do that?!
If you're looking for something different to do with your elderflower cordial and love cake, why not try this!
Glazed Orange and Elderflower Cake recipe
A wonderful zesty cake with a moist filling and sticky top. The elderflower flavour is subtle but present and gives a summery feel to this substantial sponge.
Serves 12 (slices)
Ingredients
For the glaze
Preheat the oven to 350°F/180°C/fan 160°C and grease or line a 20 cm diameter cake with a little butter. Sieve the flour and baking powder into a large bowl. Mix in the sugar until blended. Cut the butter into cubes and using your fingertips, or a food processor, combine the mixture until it resembles fine breadcrumbs.
Whisk the eggs and pour into the breadcrumb mixture. Gradually pour the cordial in as well and stir just enough times to bind the mixture. Don't over stir and you may not need to use all the liquid either. Spoon into the cake tin and bake for around 40 minutes. The cake is done when golden and a skewer in the centre comes out clean, and the sponge is coming away from the edges of the tin.
While the cake is baking you can make the glaze.
Slice the orange through the side to create 0.5-1 cm slices. You'll just need 4 slices, but you could use more and cut into smaller pieces. Place in a small pan and cover with the cordial. Bring to the boil then lower to a simmer for 40 minutes - 1 hour. I cut a piece of baking paper and place on top of the water to help keep the moisture and heat in while the orange slices simmer. You could also place a lid partially on.
The slices are ready when the peel is translucent and soft. If the pan is drying up and the slices are still not ready, you may need to add a little more cordial, or 2 parts water to sugar if you've run out of cordial! Ideally there's some syrupy liquid left when the slices are ready, which can be poured over the cake.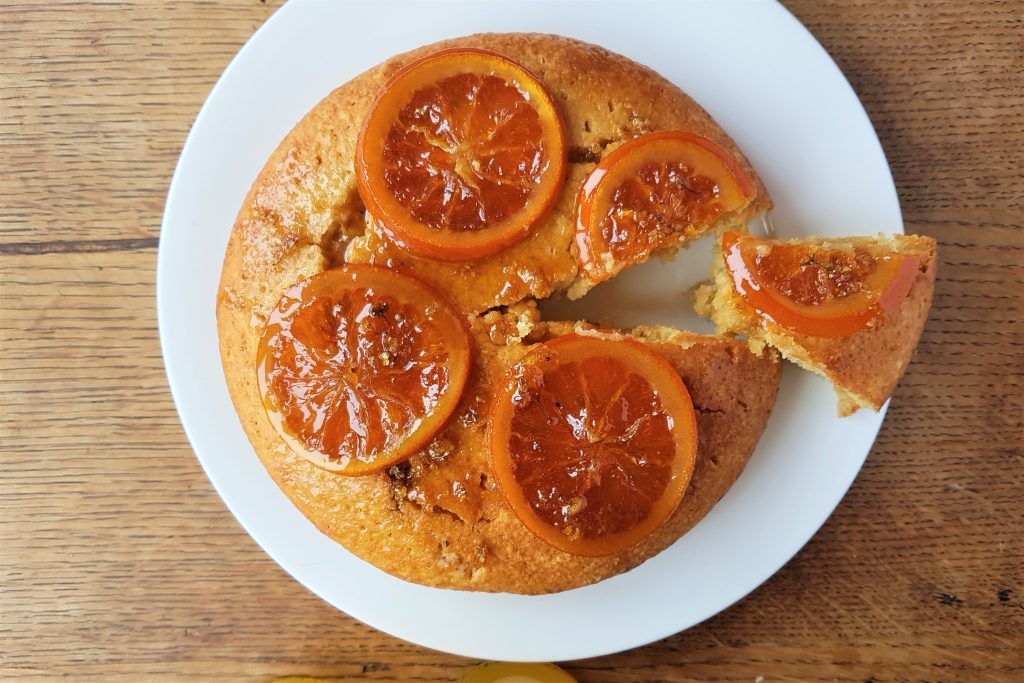 The slices in the image are a little under-done, so yours should be more translucent than this. Mine ended up chewier than I wished, but still pleasant.
When the cake is ready, take out of the oven, leave for 10 minutes then remove from the tin on to a cooling rack. Allow the cake to cool completely before heating up the syrup. Prick the top of the cake and pour it evenly over the sponge, followed by placing the orange slices decoratively on the sponge.
Enjoy on its own or with cream or crème fraiche.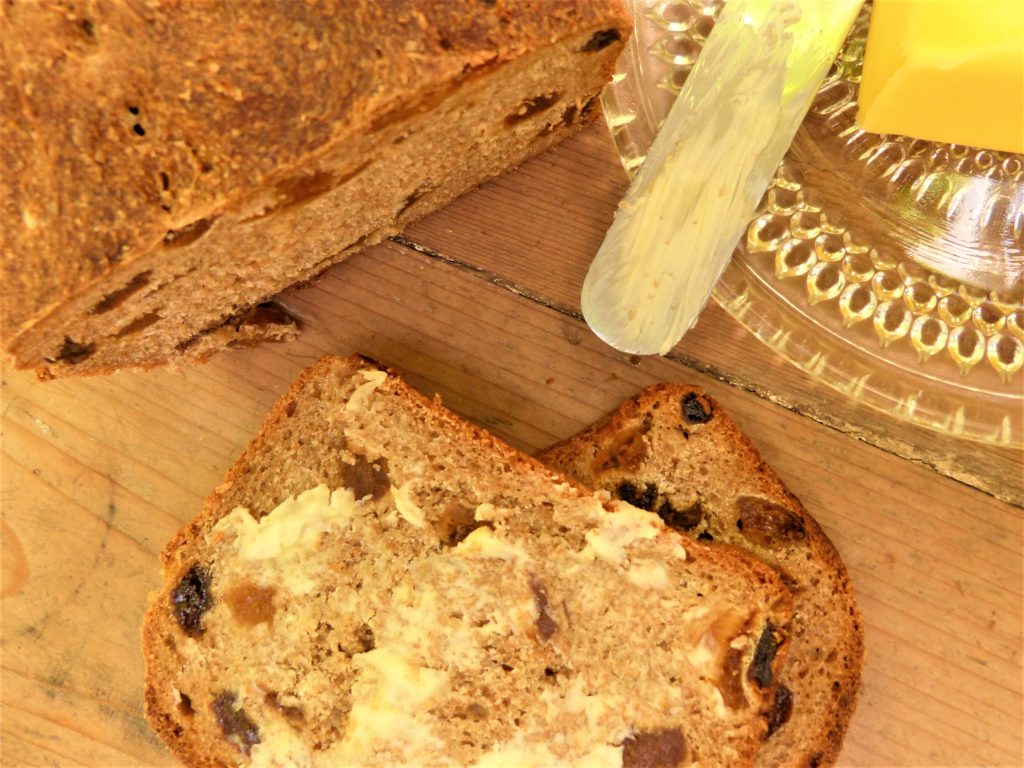 Got too much elderflower cordial and don't know what to do with it all? Sick of drinking elderflower cordial and making it into cocktails? This recipe for Apricot and Elderflower sweet bread was created out of just one of those moments.
Not wanting to make it too sweet I used a wholemeal brown flour and the result is reminiscent of malt loaf, or some say walnut and date bread, but a little more wholesome and wild!
I've shared this bread (made it into sandwiches with my pear and elderflower jam) for wild food foraging course participants and bespoke foraging experiences and it has gone down a treat. So here's the recipe.
Elderflower and Apricot Sweet Bread recipe
I love the tangy, depth of black, un-sulphured apricots and this recipe transforms them into dark, sticky treats in this fruit bread. Great served with butter and an unusual way to enjoy elderflower cordial.
Makes one loaf
Ingredients
1 tbsp olive oil Pre-heat the oven to 400°F/200°C/fan 180°C. Add the flour, salt and quick yeast into a large mixing bowl and stir. Add in the apricots and raisins, and slowly add the warm water and elderflower cordial to the flour mix, adding the oil in too. Knead for 10 minutes or until smooth and elastic, cover with a clean cloth and leave for an hour, or until the dough has almost doubled in size.
Once the dough has risen, grease a baking tray or loaf tin; punch the dough back so it flattens and place in an oiled bread tin or tray. Allow to rise again until almost twice the size, before baking in the oven for 35 to 40 minutes or until dark brown on top, and hollow sounding when tapped. Tip out onto a cooling rack and allow to cool.
It was salty lips and a refreshing, post swim sup of elderflower cordial that moved me to create this. Even as I write, in my mind's eye I can still see the coastal horizon and taste the combination of sweet elderflower and salt. The ice cream is rather good too, and perfect if you crave the sea but live inland.
Since writing this, I also discovered a lovely gin and elderflower ice cream that I enjoyed courtesy of Bruichladdich distillery. It was divine! I may not have managed to recreate that one, but this recipe is equally enjoyable, even without the alcohol!
Elderflower and Sea Salt Ice Cream recipe
Serves 6
Ingredients
In a medium to large bowl whisk the egg yolks until light and fluffy. In a small heavy bottomed saucepan add the cordial (less the 2 teaspoons) and the sugar and stir over a medium heat until the sugar has dissolved. Bring to a rolling boil and using a sugar thermometer allow to reach 110°C or until a metal spoon dipped in the syrup forms thin threads from the last drops. Slowly pour the syrup into the eggs and whisk constantly, add the rest of the cordial and continue to whisk until the mixture thickens and resembles a mousse.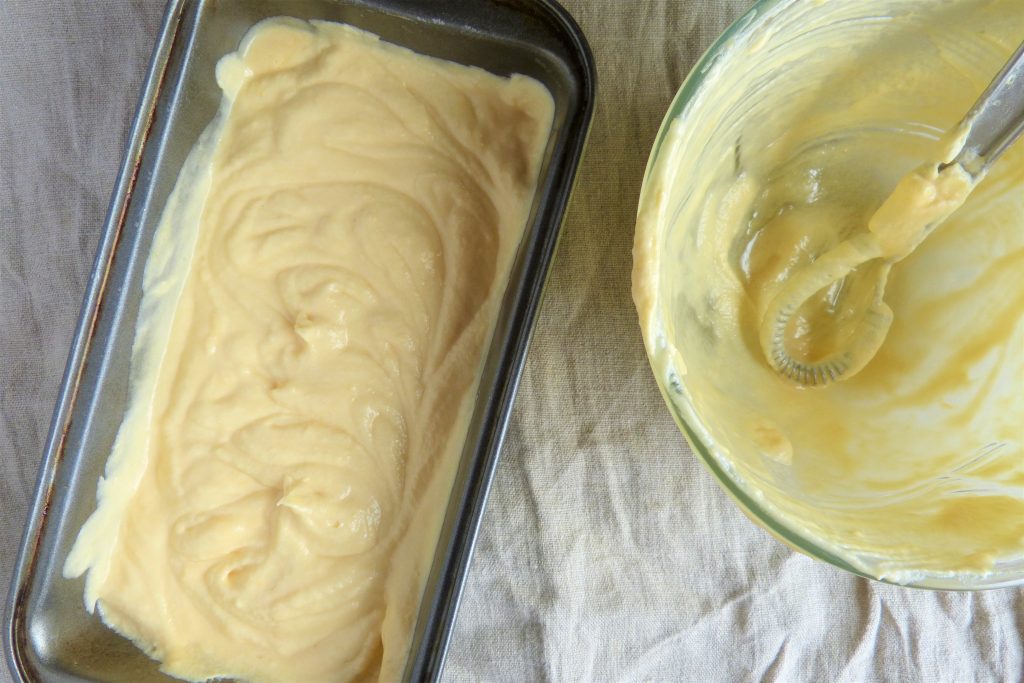 Spoon into a one litre Tupperware or tin, cover and freeze for one hour. If you haven't already, roughly crush the salt in a pestle and mortar – you want small pieces of rock salt, but not dust. After an hour take the semi-frozen ice cream out of the freezer, thoroughly stir in the salt and freeze until ready to use. Remove from the freezer 10 minutes before serving, lovely with summer fruits.
This wild elderflower recipe was a joy to discover! If you haven't tried an elderflower jam, I highly recommend it! These jam tarts were inspired by Hallongrottor - Swedish jam tarts and I based this recipe on one by Vintagekitchennotes.
Traditionally these deep tarts are filled with raspberry jam - afterall, wild raspberries are abundant in Sweden! Though here in Britain I'm surrounded by flowering elder trees, so creating this recipe felt appropriate!
A couple of years ago I started experimenting with flavouring jam with elderflowers. I've created a delicious local strawberry and elderflower jam, and this year a pear and elderflower jam. Pears aren't a dominant flavour like strawberries, so they match perfectly with elderflower.
Elderflower is full of health benefits and is a wonderful flavour of summer, this recipe uses elderflower cordial too.
Elderflower Jam Tart (Scandi-style) recipe
Making jam tarts was a childhood treat when I was growing up. Often made on a rainy day, when we didn't know what to do and using whatever jam we could get our hands on! In comparison, these are special and thoughtful - filled with wild, homemade elderflower jam, a thick, crumbly pastry and topped with slices of almonds. I love them!
Makes 10 tarts
Ingredients
In a large bowl beat the butter and sugar together, either by hand or in a food processor. Sieve in the flour and baking powder and combine. Add in the corn flour to create a soft dough. Don't over mix, just enough to combine everything.
Preheat the oven to 350ºF/180ºC/fan 160ºC. Grease ten holes in a muffin tin with a little butter. Break off walnut-sized pieces of dough and press into each greased hole.
Fill each hole with the jam. Slice the almonds and sprinkle on top. Bake for 20 minutes or until golden (mine took a little longer. Leave to cool and firm up in the tin before removing. Enjoy with a glass of elderflower cordial indoors on a rainy day, or outdoors in the sun!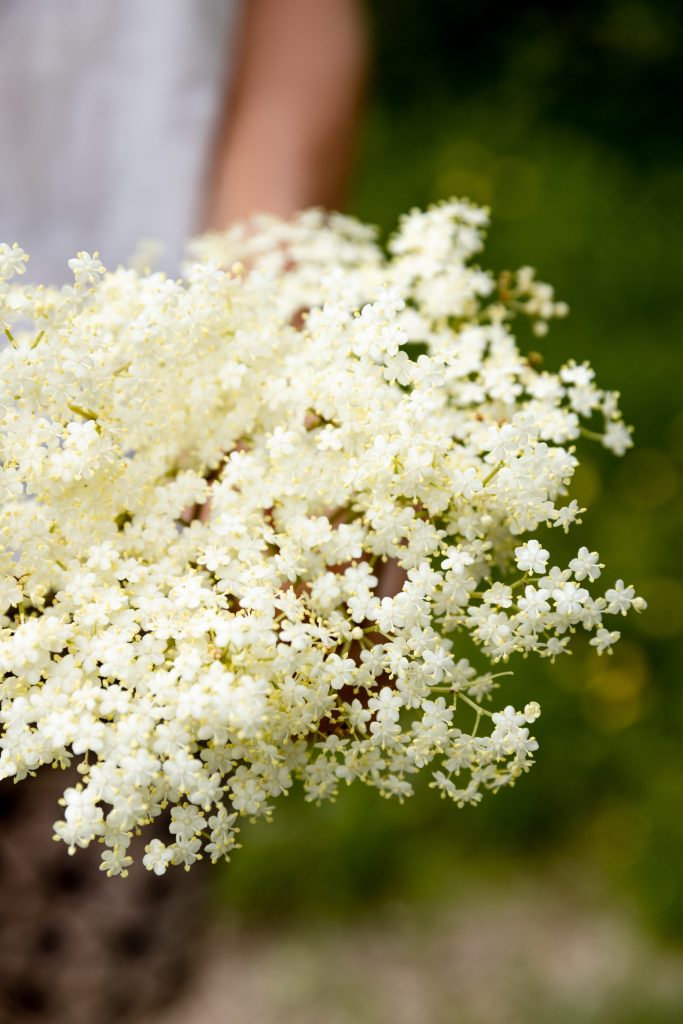 The light flavour of pears matches the summer scent of elderflowers perfectly in this delicious elderflower and pear jam! I've made it in jam sandwiches for participants on my summer foraging courses and bespoke forays. I also love it in my double elderflower doughnuts.
So let me get straight to the point and share this recipe with you.
Oh, though don't forget I have a whole Elder section on my blog with lots of recipes for elderflowers and elderberries!
Elderflower and Pear Jam recipe
If you already have elderflower cordial, you can make this jam anytime of year. It goes perfectly with cheese and crackers. Though to be honest, I solely made it as a filling for my elderflower doughnuts. There I feel it has found its perfect home, or hole.
HOT TIP: Remember to pick your elderflowers on a warm, dry day and remember elder is a tree and not a plant. Why not come on a wild food foraging course and learn more about how to identify and use wild foods
Makes one 350-430 g jar
Ingredients
Chop and blend the pears with the elderflower cordial then place the blended, syrupy fruits in a small saucepan with the sugar. Simmer and stir to dissolve the sugar. Using a jam thermometer turn the heat up to medium/high until the jam reaches 105°C or thickens to jam consistency. Be careful not to burn the bottom. Pour into a large sterilised jar and allow to cool before sealing.
Delicious in Elderflower doughnuts or on toast.
Elder Flower-Head Fritters are a classic wild food recipe for these edible wild flowers. The combination of batter and a hint of elderflower is utterly delicious.
What's more, you can turn them savoury or sweet and here's my winning versions with an extra light batter recipe, plus suggestions for turning them into a starter, main accompaniment or dessert.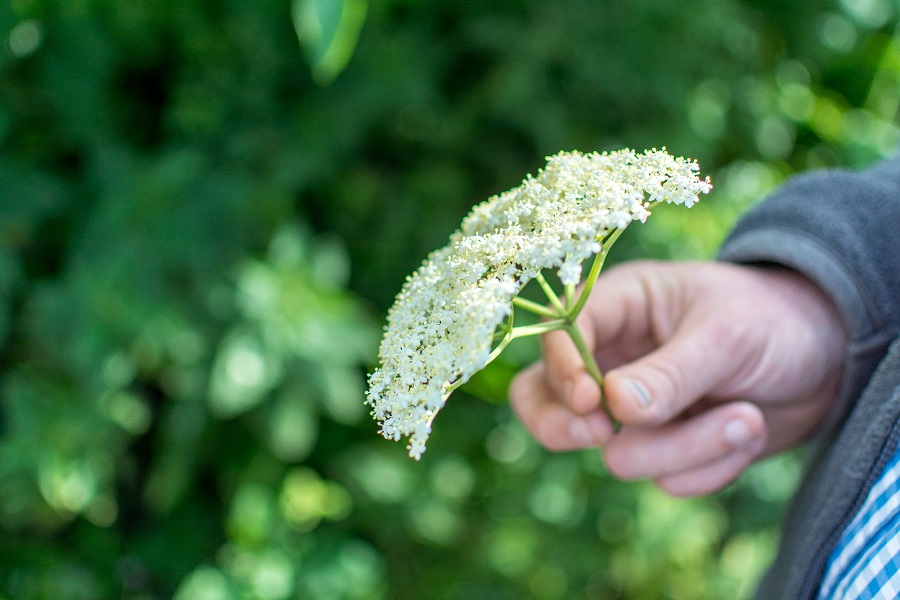 These are quick and easy and can be turned savoury or sweet. I love them dipped in soy sauce and lemon for a tangy, savoury snack. Hmmm, but they're equally nice served with ice cream or dusted with a light coating of icing sugar.
*TOP TIPS: For a light batter use half plain flour and half corn flour
Elderflower Fritter Recipe
Serves 4-6
Ingredients
200 ml ice-cold water
1 large egg, beaten
100 g sifted plain wheat or buckwheat flour (or half flour and half corn flour)*
2–3 ice cubes
Sunflower oil, for frying
16 elderflower heads flower heads, stalks intact
Cover a couple of large plates with kitchen paper (if you have). Pour the ice-cold water into a mixing bowl, mix in the egg, add the flour and roughly fold it in with a fork. Do not beat it – the batter should be lumpy. Add the ice cubes.
Heat at least 2.5 cm oil in a wok or a frying pan (I like to shallow fry rather than deep fry and use a small pan to do this). The oil is hot enough when a drop of batter bubbles and turns golden in 5–10 seconds.
Hold a flower head by the stalk, wipe it through the batter to coat it all over, allowing any excess batter to drip off. Keep hold of the stem while dropping the coated flower head into the oil. Using the stalk, turn it if necessary and cook until golden and crisp, then remove and place on the kitchen paper. Repeat with all the flower heads. To serve, either snip off the main stems or eat the flower heads and discard the stems as you eat them.
How to serve these elderflower fritters?
Savoury: As a starter or serve alongside risotto or fish with a blend of soy sauce and lemon (half and half)
Dessert: Dust with icing sugar and serve with a squeeze of lemon, or have with ice cream.
For more recipes and information about elderflowers search my summer blog and find;
When NOT to pick elderflowers
How to make Elderflower cordial and sorbet
Quick elderflower layered sponge
How to dry elderflowers
How to freeze elderflowers
Picking the last of the elderflowers
Elderflower and strawberry jam
Moreish Elderflower doughnut recipe
and more....