Nature isn't always subtle and for good reason. Colourful petals draw a bee towards a flower's nectar-filled centre, a bright white tail of a rabbit confuses its predator during a chase, a colourfully feathered bird attracts a mate.
Colour is one of the first things my eyes register when I'm given a drink or a plate of food, smell comes second. Scientific research confirms too, that we often eat with our eyes.
Not surprisingly, it was the outrageous pink followed by the familiar scent of elderflowers that my senses delighted in when making this cordial. My memory bank of colours, tastes and smells noted a while ago that rose was a flavour for me, mixed with pink elderflowers I was super excited!
I have plenty of elderflower recipes to share, and several delicious rose recipes too.
This is an easy cordial to make, with a stunning colour and aromatic scent of rose and elderflowers. Dilute for drinks, turn into elderflower champagne or use is desserts.
Pink Elderflower and Rose Cordial Recipe
I adapted this recipe to the amount of pink edlerflower (Gerda) heads I could reach and the number of rose petals that would come away easily in my hand. Double it, if you choose, freeze it, drink it, enjoy!
Makes 750 ml
Ingredients
10 elder flower heads (flowers forked off stems)
Handful of rose petals (fragrant ones)
200 g unrefined sugar
500 ml boiling water
1 unwaxed lemon
1 oz citric acid (if you're going to store the cordial for a while)
Ideally pick the flowers in full sun. Fork the flowers off the stalks or snip off the main stalks, putting flowers aside and discarding the rest. Place the elderflowers and rose petals (check to remove bugs) in a heatproof bowl or container, along with the sugar. Pour over the boiling water. Squeeze in the juice of one lemon and leave for 24 hours.
Strain the mixture through a sieve, or preferably a fine muslin cloth, and funnel into clean bottles, or dilute and serve immediately!
I run foraging courses throughout the year, helping you discover the colours and flavours of each season. You can view dates and content here on my foraging course calendar.
I also offer a monthly membership where I send you recipes each month as I go through my wild and seasonal year. Sign up is easy - view membership blogs here and see what you could access.
Wow, they're pink! Pink elderflowers with beautiful dark purple, almost black foliage and the flowers smell like elderflowers - what a find! But are they edible?
Black beauty, Black lace, Sambucus nigra, f. porphyrophylla 'Gerda' are an ornamental subspecies of Elder. Their flowers smell lemony and they're a stunner to look at! They are often bought and planted for these exact features. I've only found these in planted gardens and in urban areas.
Why plant Black beauty?
As well as having flowers that can be used for elderflower cordial and other delicious recipes (see below). Sambucus 'Black Beauty' is known for attracting bees, beneficial insects, birds, butterflies​/​moths and other pollinators. It is a caterpillar food plant, has nectar/pollen rich flowers, provides shelter and habitat, has seeds for birds and makes a good wildlife hedge.
Can you eat all types and colours of elderflower?
In general, it is not advised to eat elderflowers or elderberries raw. Some people get a stomach upset and there is a mild toxicity. That is why traditionally, elderflowers are infused not eaten and elderberries are cooked (to make syrup, wine or pontack sauce).
Elderflowers are native to North America and most of Europe, they can also be found in some areas of Australia and New Zealand. The main species is known as Elder, Black elder, European black elder, elderberry.
There is other species such as Mexican elder (Sambucus mexicana) also known as blue elder. The flowers of the blue elder can be used in the same way as all the elderflower species, but the berries should be cooked for at 30 minutes to make edible.
How can I use pink elder flowers?
Pink elderflowers can be used instead of white elderflowers for cordial, syrup, wine and champagne. The cordial can also be used in a variety of desserts and sweet treats such as elderflower jam, elderflower doughnuts, elderflower quick, creamy, sponge.
But... the colour is so good it is worth thinking about pink foods! I'll be posting a recipe for this very soon.
Have you signed up to my newsletter to make sure you get updates about new blogs - it's free! Or exclusive membership makes sure you have new wild food recipes every month in your inbox!
For me, Summer is about outdoor adventures, picnics, barbecues, fayres, festivals and the beach. Elderflowers are the perfect accompaniment, unless it's a festival or fayre - then it's doughnuts!
Here I share my ultimate elderflower doughnut recipe - they're gorgeous!
Yes, doughnuts are fayre food for me, when I'm tired and hungry from dancing it's the smell of doughnuts that I sniff the air for. Created following a mini disaster – my Cornish town's annual fayre and no doughnut van in sight – they are a delightful summery twist on the hot sugary ones I yearned for. Complete with a gorgeous soft, jam centre and sweet elderflower coating, these are melt-in-the-mouth with a double dose of elderflower to keep spirits high.
For this recipe you'll need to first make elderflower cordial - here's my simple elderflower coridal recipe, plus lots of information about where to find elderflowers, when to pick them, what the benefits of elderflowers are. You can also find tips on when to avoid elderflowers.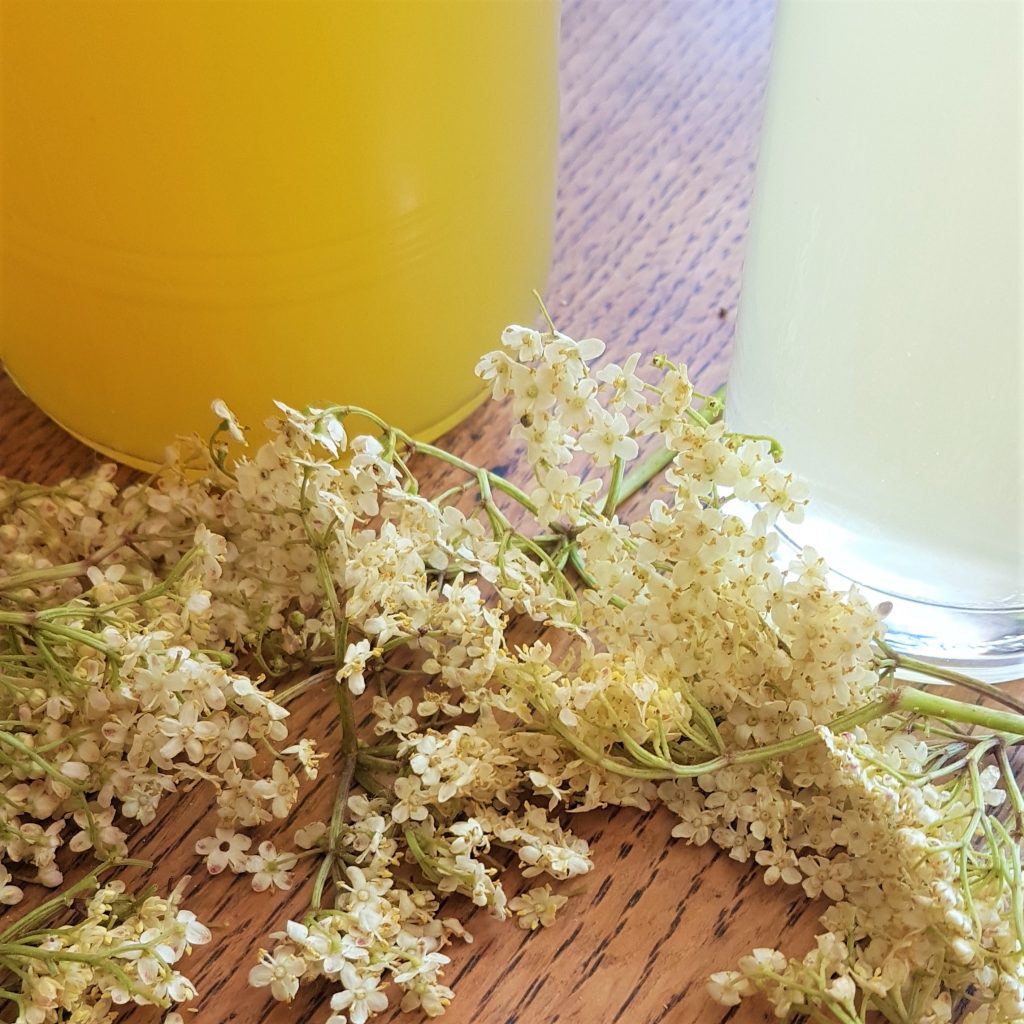 Sign up to access this post
Access this post and more for £5.95. Already a member? Sign in here.
RICH PICKINGS
MONTHLY BASKET
£5.95 per month
Get more! You'll get access to all the Taster Basket blogs, plus an additional 2 seasonal posts of my most treasured material AND be able to access the last 6 months of Rich Pickings offerings.
Unsubscribe at any time.
Not much time left and many are just out of reach! Remember to take a ladder foraging with you or a good friend with climbing skills...
Last Resort - I've had to resort to just picking one or two heads this time of year, and drying them for elderflower tea. You may have more luck! Though drying Elder flowers for tea is great medicine for the winter months, read below to find out more.
Elderflower syrups and dishes are potent medicine - they can help counter hayfever, fight colds, boost your immune and send you to a delightful floaty place with those sweet aromas...
Choose from fresh or dried elderflower tea (just add hot water), elderflower fritters, or cordial for sorbets and ice creams, mix with summer fruits or into cocktails. Here's a simple recipe for cordial and a tempting image of local fruits cooked with elderflowers - delicious!
(photo: Elder flowers and Yarrow)
Elderflower Cordial
This is classic recipe with a bit of a twist, I like to change things sometimes, so here I use a mixture of orange and lemons, and add a little honey too. If you want a more traditional recipe, here it is; Elder Flower Cordial and Elder Flower Sorbet Recipe.
This cordial is a wonderful refreshing summer drink, and elder flowers are also a great remedy for colds. You'll need some pre-planning - a 1 litre container, clean screw-top bottles, a funnel and a seive/muslin cloth is needed, or improvise with what you have. Adjust the amount according to the number of flowers you have picked.
Ingredients
450g unrefined caster sugar
1.5 litres boiling water
20 elderflower heads (flowers left on stalks)
2 unwaxed lemons
1 orange
4 tbsp honey
2-3oz citric acid (if you're going to store the cordial for a whole
Ideally pick the flowers in full sun. Place sugar in a pan and pour boiling water over, stirring until dissolved. Place the elderflowers (check to remove bugs) in a clean bucket and pour hot sugar mixture over it. Grate the lemon and orange zest, then cut the fruits into slices, squeeze, and plop into the container (it could be a saucepan, or a large heat-proof bowl). Stir, in the honey until dissolved, cover, and leave for 24-48 hours, stirring occasionally. Strain the mixture through a sieve, or preferably a fine muslin cloth, and funnel into clean bottles, or dilute and serve immediately!
(Photo: Elderflowers cooked in a summer fruits pudding)