Here I discuss my love of Elder and how we can take care of this richly providing plant.
As September arrives and passes, I love to see the decadent fruit of the Elder tree (Sambucus nigra); heavily laden fruits, dropping off her flexible branches. I considerate it a non-alcoholic equivalent to red wine, such is its depth and richness. As I imagine drinking in this liquor it feels as if I'm doming a thick, warm coat that will protect against all weathers and ills. Ah, such is the medicine of the Elder in autumn.
One wild plant in increasing trend seems to be the Elder, made famous by the cultivated and bottled, Elder flower cordial, it can become a must have by the avid forager. I have always said that foraging is a skill to be shared and enjoyed, not policed, though I do believe that with the increasing interest in foraging comes responsibilities. Shared responsibilities for the plants that we pick.
It reminds me of the company Forager, who have been supplying wild foods to chefs and restaurants for 15 years (depending when you read this), and stand by their premise that sustainable foraging is at the forefront of their business. Actually, if they weren't sustainable in their approach, their business would have folded years ago.
Here in Cornwall the presence of the Elder is rather sparse, I often get asked where to find it, and just tell people to keep looking - it isn't as abundant as other areas of the UK. For this reason we, foragers, need to take extra care. I have a few spots for elderberries, and never use all of them each year, nor do I take all the berries I can find. Actually, I gain a certain satisfaction from picking so little that my foraging goes un-noticed. Ah, the simple pleasures of life.
In my Environmental Policy for my business I outline only ever picking 10-30% of a plant, and only when it is abundant. Actually, when it comes to seeds and berries, I would suggest 10%, and I'm sure you can imagine why. If you pick too many Elder flowers earlier in the year, there will be little or no Elder berries, and if you pick too many Elder berries you are inhibiting the future life cycle of the Elder.
Recently, when attempting to gather a few, last Elder berries at the end of the season, I felt saddened by what I saw. Many of the bushes I have previously visited were not completely, but quite thoroughly stripped of berries. These first berries were near footpaths. As I ventured off piste, so to speak, I found more abundance - of course - on Elders that were harder for humans to reach.
We share our natural world with humans, animals, birds and minerals, it is a fine balance, a glorious balance, and one we can take some care and responsibility for. So, with that in mind, once I'd foraged my berries and plucked the majority of them off the stems for cordials and rich treats, I took the remaining berries (each containing a seed) back to the wood. I took them to areas where Elders like to grow, where Elders grow nearby and I dispersed the seeds.
Now, I'm no gardener, and maybe none of those seeds will take, though somehow I trust the ruthlessness of nature and the alchemy of the weather and the soil to make that decision. However, for those of your who are gardeners, please feel free to plant Elders, cultivate, propagate and tend them. Lets take care of the Elders.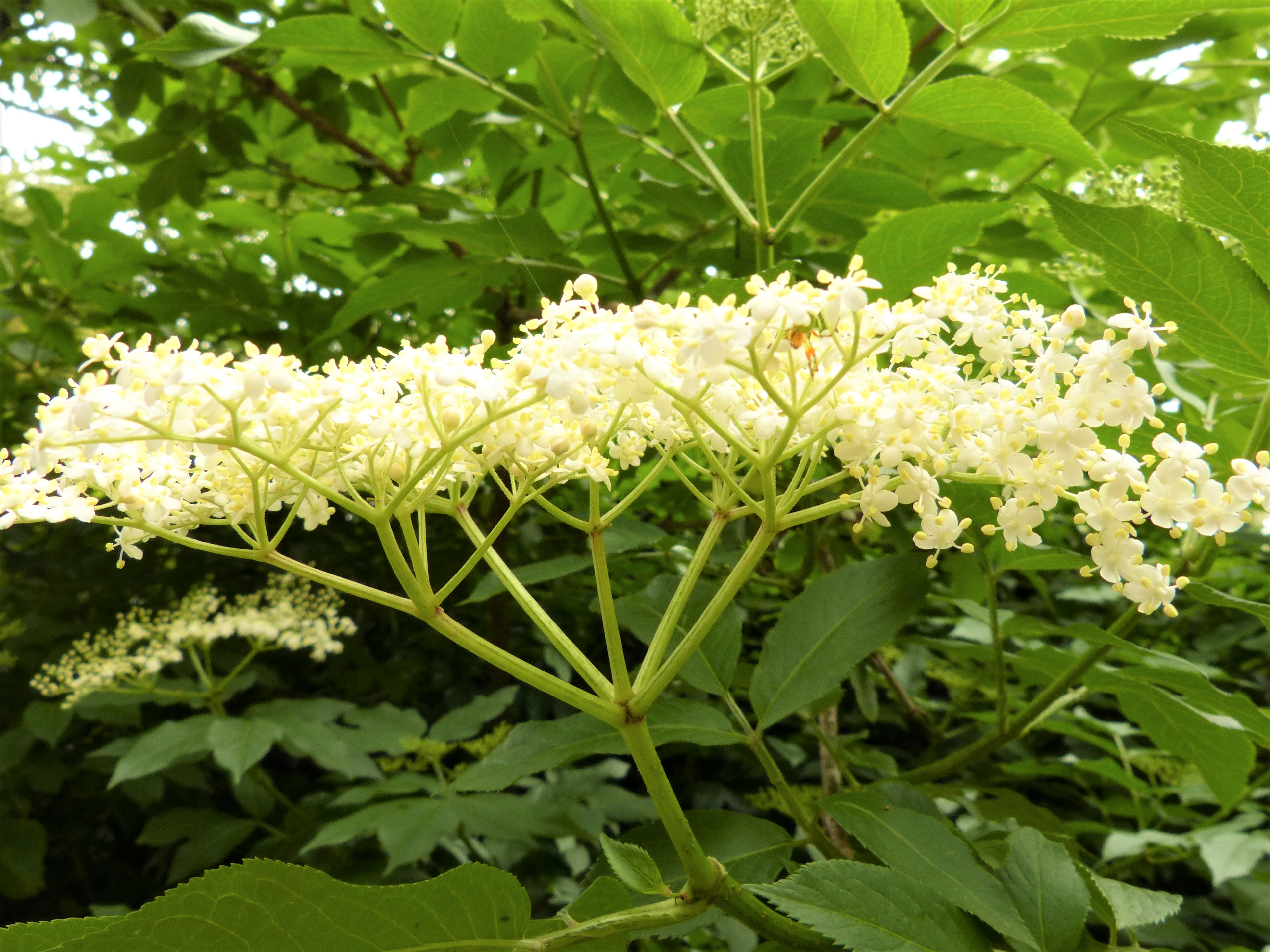 Pretty aren't they!
And a lovely scent (as long as they haven't passed their prime, in which case they'll smell like cat pee).
Though this blog isn't about the pretty things, it is about how to know when to pick elder flowers, and when to leave them. These are some of the tricks that foragers follow to ensure they get a good crop of elder flowers and also ensure that the plant is cared for, for its own welfare and sustainability. This way people, birds, animals other plant-life can all benefit from the magical Elder tree.
Here are just 3 points to help you get the best Elder flowers, oh, and a 4th point for luck.
When to Pick Elder Flowers
I'm sorry, I can't give you an exact date, though I can teach you what to look for and the skills that foragers use in harvesting. A general time is May and June.
1. Smell
If they smell of cat pee, be disciplined and walk away. Yes - it is essential to walk away! It's time to leave the flowers (they'll come again next year, and won't be of any use to you at this stage), not as flowers anyway. Instead, walk away and allow the Elder (Sambucus nigra) to go to seed and produce the elderberries. Ah, wonderful life-giving elderberries, I'll write about those later in the year.
2. Colour
Back to the flowers of the Elder Tree, these are at their best when they are full of scented, pale yellow dust. Elder flower pollen. This is the only time to pick them. You might brush against an Elder bush and unsettle the pollen (a small cloud of visible yellow pollen hits the air), or smell a flower head and end up with pollen on your nose. These are all tips on how to tell if they are ready, and if there's no pollen that brushes off, or hardly any, it is best to walk away empty handed. Discipline is a virtue.
3. Shape
If the flowers are only unopened buds - you're in luck! The elder hasn't flowered yet, and all you need to do is wait a little while, a few days, until they do. This is much better than finding them when they are passed their best. On that note, the flower heads will open at different times, so if you find heads that are mostly unopened, leave them, and if you find heads that are mostly shrivelled and dried, leave them too. This will leave you with just the best flowers to pick - perfect!
4. Sun
Of course you know this, you know to pick when the weather is dry, the sun is out and the scent of the elder flowers will be at their prime. Isn't common sense a wonderful thing, as is the bright, burning, life-giving sun.
Now that you have your perfect elder flower heads, it is time to make cordial.
Elder flower cordial recipes vary, a lot. Of course there are many ways to make something and it's great to have the choice of recipes, depending on how much time and elder flowers you have collected. I have two recipes here; a Classic Elder flower Cordial and Elderflower Sorbet recipe and here is an  Elder flower Cordial with an Orange Twist.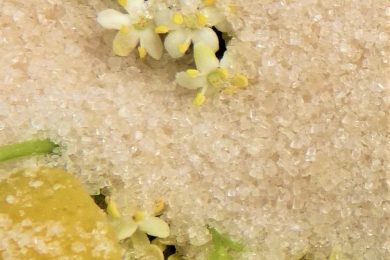 There will be other blogs on Elder flowers in the future, essentials to know about this plant so that you are using your time and the plant well. Happy foraging, and do look out for wild food foraging courses, if you'd like to know more.
Summer is here in Cornwall, there is no doubt, even the sea, at long last is starting to warm up (relative, of course!). Because of our slow start to spring in the UK, many plants are still behind. I saw May (Hawthorn) flower in June, and now, in July, the elderflowers are looking perfect to pick - a normal occurrence in June.
So, isn't it great that there is still time to make cordial, sorbet, ice cream, sweet bread, champagne & enjoy the medicinal properties & sweet scent of these hedgerow plants!
Before I begin, a word of warning. Elder (Sambucus nigra) has umbel-like clusters of flowers, similar to that of the Apiaceae (Umbelliferae) family. To avoid fatal mistakes with deadly plants within this family, you must be 100% sure that you are picking the correct plant. This blog is focusing on the recipe, not on the identification, always check with an expert, so you can continue to enjoy foraging for food!
Also, a word for the plant... If you pick all the flowers there will be no elderberries later in the year - which would be very sad, for us and the birds. Bare this in mind & never pick more than 25% of flowers of a single plant.
ELDERFLOWER CORDIAL RECIPE
This recipe needs some pre-planning - a bucket, clean screw-top bottles, lemon squeezer, a funnel and a seive/muslin cloth is needed. You can alter the measurements depending on how many elderflower heads you pick
Ingredients
25 elderflower heads (flowers left on stalks)
3 unwaxed lemons
1 lb unrefined sugar
2-3 pints/1.5 litres boiling water
3ooml warm water
2-3oz citric acid (if you're going to store the cordial for a while)
Ideally pick the flowers in full sun. Fork the flowers off the stalks (the stalks are toxic), putting flowers aside & discarding the rest. Place sugar in a pan and pour boiling water over, stirring until dissolved. Place the elderflowers (check to remove bugs) in a clean bucket and pour hot sugar mixture over it. Cut the lemons in half and squeeze the juice into the bucket, then grate the lemon zest and add this too. Stir, cover, and leave for 24-48 hours, stirring occasionally. Strain the mixture through a sieve, or preferably a fine muslin cloth, and funnel into clean bottles, or dilute and serve immediately!
For Elder Flower Sorbet
Follow all the instructions above, omitting the citric acid and dilute with two-thirds water and beat in one whipped egg white. Use an ice cream maker or get ready for these next steps... Freeze the cordial in a sturdy tupperware (plastic container with a lid) for 2-4 hours. Remove & mash up with a fork or in a food blender. Repeat at least once more.
Serve on its own or with a variety of other desserts, particularly good with sponge cakes.
Not much time left and many are just out of reach! Remember to take a ladder foraging with you or a good friend with climbing skills...
Last Resort - I've had to resort to just picking one or two heads this time of year, and drying them for elderflower tea. You may have more luck! Though drying Elder flowers for tea is great medicine for the winter months, read below to find out more.
Elderflower syrups and dishes are potent medicine - they can help counter hayfever, fight colds, boost your immune and send you to a delightful floaty place with those sweet aromas...
Choose from fresh or dried elderflower tea (just add hot water), elderflower fritters, or cordial for sorbets and ice creams, mix with summer fruits or into cocktails. Here's a simple recipe for cordial and a tempting image of local fruits cooked with elderflowers - delicious!
(photo: Elder flowers and Yarrow)
Elderflower Cordial
This is classic recipe with a bit of a twist, I like to change things sometimes, so here I use a mixture of orange and lemons, and add a little honey too. If you want a more traditional recipe, here it is; Elder Flower Cordial and Elder Flower Sorbet Recipe.
This cordial is a wonderful refreshing summer drink, and elder flowers are also a great remedy for colds. You'll need some pre-planning - a 1 litre container, clean screw-top bottles, a funnel and a seive/muslin cloth is needed, or improvise with what you have. Adjust the amount according to the number of flowers you have picked.
Ingredients
450g unrefined caster sugar
1.5 litres boiling water
20 elderflower heads (flowers left on stalks)
2 unwaxed lemons
1 orange
4 tbsp honey
2-3oz citric acid (if you're going to store the cordial for a whole
Ideally pick the flowers in full sun. Place sugar in a pan and pour boiling water over, stirring until dissolved. Place the elderflowers (check to remove bugs) in a clean bucket and pour hot sugar mixture over it. Grate the lemon and orange zest, then cut the fruits into slices, squeeze, and plop into the container (it could be a saucepan, or a large heat-proof bowl). Stir, in the honey until dissolved, cover, and leave for 24-48 hours, stirring occasionally. Strain the mixture through a sieve, or preferably a fine muslin cloth, and funnel into clean bottles, or dilute and serve immediately!
(Photo: Elderflowers cooked in a summer fruits pudding)