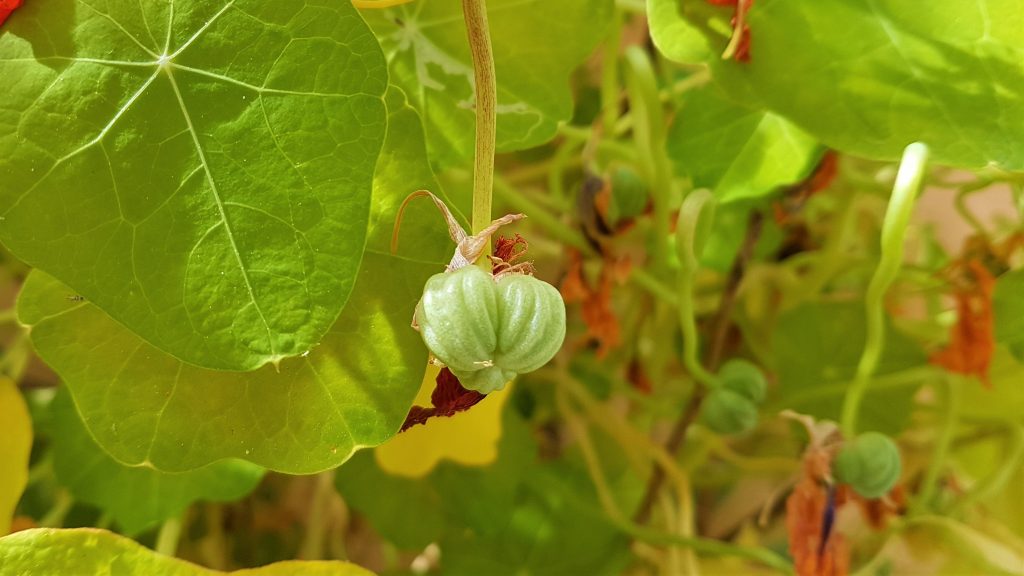 Pickled nasturtium (Tropaeolum) seeds can make an excellent replacement for capers (which come from a different plant). This recipe is simple, quick and effective as they taste just as good as capers! Here I pick them from my wild town garden where they arrived as weeds and I've been loving their colour and flavour ever since.
Nasturiums are such a giving plant; they grow easily in the sun, partial shade or complete shade (though they may get stressed in a very hot summer in full sun). They are also easy to cultivate and grow best in dry soil. They are trailing, climbing plants, which with the right opportunity will climb upwards or fill large patches of ground.
Are nasturtiums really a wild food?
Native to South America, but were brought to Europe in the 1500s and have since naturalised in many areas. I know them both as a cultivated, garden plant and a profuse, common weed.
There are over 80 species of nasturtiums, some annual, some perennial. Luckily, nasturtiums produce a lot of seeds which mean they keep coming back (even if they are annuals) AND there can still be enough seeds to produce these capers.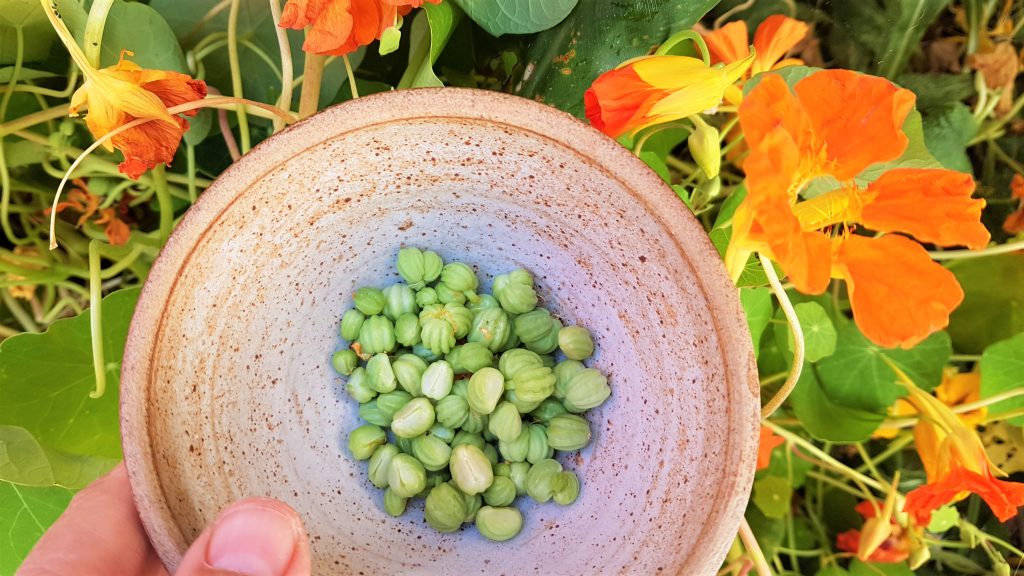 Which part of nasturtiums are edible?
All parts of nasturtiums (pronounced na-stir-tchums) are edible. Their name literally means nose twister or nose tweaker, because of their peppery kick. The flowers are sweet and the leaves, flowers and seeds all have that spicy flavour. I love adding the flowers into salads, the leaves into pesto and pickling the seeds to make these fake capers - though they taste just as good!
I love their beautiful, colour flowers to look at, smell and eat! They can start to flower in spring and early summer.
Are nasturtiums good for you to eat?
Nasturtiums contain a good amount of vitamin C and high amounts of lutein derived from carotenoids, which may be beneficial for eye health (1). Eating a varied diet full of greens, orange, yellow and a range of colours is generally considered good for your health too (2).
Nasturtium Capers (Pickled seeds) Recipe
Makes 1 jar
Ingredients
300 g/1 cup nasturtium seeds
80 ml/1/3 cup vinegar*
80 ml/1/3 cup water
Large pinch of sea salt
Large pinch sugar
2 tsp chopped herbs (of your choice) - optional
Wash the seeds and place in a pickling jar. In a small saucepan heat up the vinegar, water, salt and sugar to boiling. Pour over the seeds. Add the herbs if using and stir in to submerge. Screw on the lid and leave for 2 weeks before using.
How to pickled nasturtium seeds compare to capers?
Capers are from the caper bush (Capparis spinosa or Capparis inermis) from the Mediterranean and parts of Asia. they also have both wild and cultivated cousins. Of course pickled nasturtium seeds are different, but they're a pretty good replacement! Call these fake capers if you wish, or just pickled nasturtium seeds.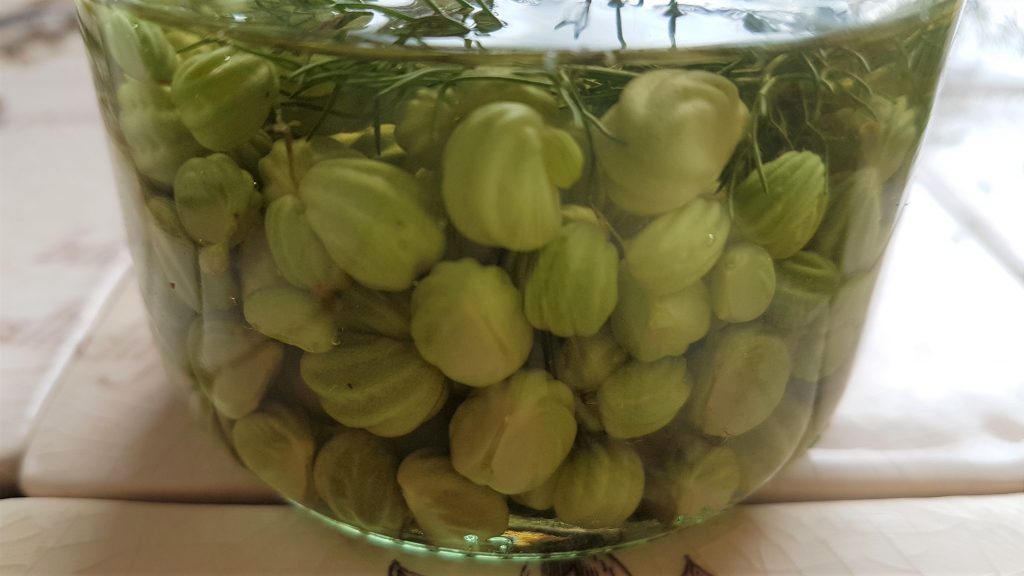 References
Elder Flower-Head Fritters are a classic wild food recipe for these edible wild flowers. The combination of batter and a hint of elderflower is utterly delicious.
What's more, you can turn them savoury or sweet and here's my winning versions with an extra light batter recipe, plus suggestions for turning them into a starter, main accompaniment or dessert.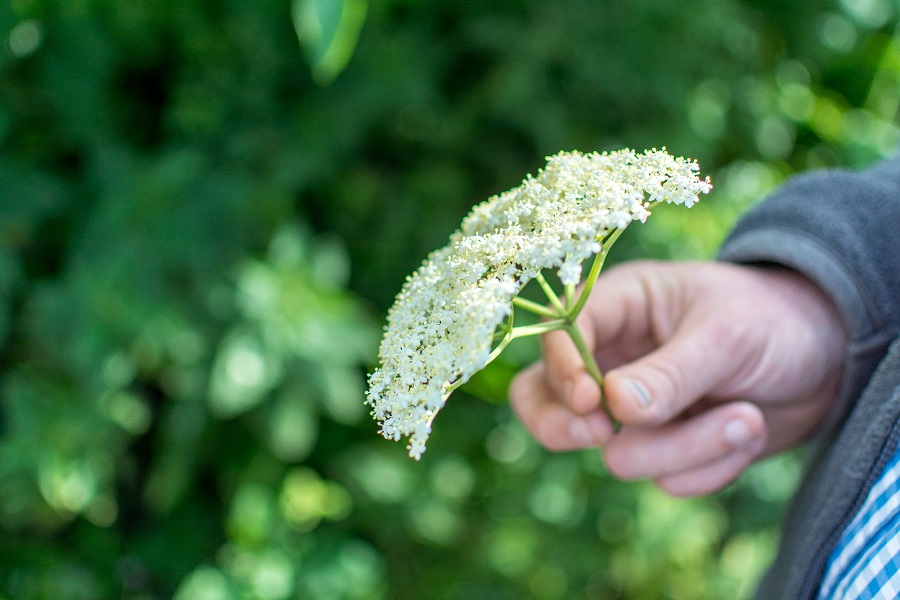 These are quick and easy and can be turned savoury or sweet. I love them dipped in soy sauce and lemon for a tangy, savoury snack. Hmmm, but they're equally nice served with ice cream or dusted with a light coating of icing sugar.
*TOP TIPS: For a light batter use half plain flour and half corn flour
Elderflower Fritter Recipe
Serves 4-6
Ingredients
200 ml ice-cold water
1 large egg, beaten
100 g sifted plain wheat or buckwheat flour (or half flour and half corn flour)*
2–3 ice cubes
Sunflower oil, for frying
16 elderflower heads flower heads, stalks intact
Cover a couple of large plates with kitchen paper (if you have). Pour the ice-cold water into a mixing bowl, mix in the egg, add the flour and roughly fold it in with a fork. Do not beat it – the batter should be lumpy. Add the ice cubes.
Heat at least 2.5 cm oil in a wok or a frying pan (I like to shallow fry rather than deep fry and use a small pan to do this). The oil is hot enough when a drop of batter bubbles and turns golden in 5–10 seconds.
Hold a flower head by the stalk, wipe it through the batter to coat it all over, allowing any excess batter to drip off. Keep hold of the stem while dropping the coated flower head into the oil. Using the stalk, turn it if necessary and cook until golden and crisp, then remove and place on the kitchen paper. Repeat with all the flower heads. To serve, either snip off the main stems or eat the flower heads and discard the stems as you eat them.
How to serve these elderflower fritters?
Savoury: As a starter or serve alongside risotto or fish with a blend of soy sauce and lemon (half and half)
Dessert: Dust with icing sugar and serve with a squeeze of lemon, or have with ice cream.
For more recipes and information about elderflowers search my summer blog and find;
When NOT to pick elderflowers
How to make Elderflower cordial and sorbet
Quick elderflower layered sponge
How to dry elderflowers
How to freeze elderflowers
Picking the last of the elderflowers
Elderflower and strawberry jam
Moreish Elderflower doughnut recipe
and more....
Here I'm going to share with you how to preserve the goodness of nettles by making a nettle powder, but first, lets talk about why this is a good thing to do!
All stinging nettles are edible and good for you, just pick away from sources of pollution like pesticides and car fumes. They are best to pick in spring, so as summer comes closer it is good to think about how to preserve nettles so you can enjoy their goodness through the summer months. Remember not to pick them if they're flowering and head to shady spots where they will flower later.
Are nettles a superfood?
Superfoods tend to be plant-based, are highly nutritious foods that often also contain antioxidants, believed to protect the body from toxins and diseases such as cancer. Nettles contain iron, magnesium, potassium, phosphorous, and calcium, vitamin A, C, K and Bs. They also contain antioxidants and can have as much as 25% protein compared to 30% protein in spinach, but nettle powder could have as much as 33% protein (1).
Harvest your own superfood and make your own protein powder!
Pick the nutritious tops of stinging nettles - use thick gloves and scissors - and dry to make your own nutritious protein powder, for free!
Making nettles powder is a convenient way to process and store nettles for energy balls, smoothies or nettle tea. I've also discovered that powdered and blended with the same amount of unrefined sugar makes a great dip for freshly made doughnuts, you could use my Elderflower doughnut recipe as a base for this.
Nettles are high in iron, making them a particularly good herb for women. They are also low in fat, have been used to help treat arthritis and there is some evidence that they may reduce the symptoms of hayfever.
This powder is 100% natural, isn't refined and uses a whole, real food which happens to be nutritious with a good amount of protein in. What isn't to like?!
How to make nettle powder
Makes 25 g (6 tbsp)
Ingredients
125 g fresh nettle tops
There are several ways to dry nettles. First, wash and dry them as much as possible, either in a salad spinner or between tea towels. If you're baking anyway, the easiest way is to place the nettles on a large baking tray and, once you've finished using the oven, turn it off, place the tray on the bottom shelf and leave for a couple of hours or longer. Depending how efficient your oven is at retaining heat, this could be enough to dry out the nettles. Alternatively, place the nettles on a baking tray and place in the oven at the lowest temperature until dried.
If you've plenty of time and space, you could lay the nettles out in a large baking tray, or even on clean tea towels or cooling racks. Leave in a warm space and leave to air-dry for 48 hours, or until dry. Do turn them intermittently to check and separate any clumps of wet nettles.
The nettles need to be dry enough that they crumble easily when touched or rubbed. They can still sting a little, so use gloves to transfer them to a pestle and mortar or electric grinder to make the powder.
Once they are powdered they won't be able to sting you! Store in a sterilised jar, or even in a small, open pot until ready to use.
How to use Nettle powder
I love using this powder in and as a coating for my nettle energy balls. You can also blend them half and half with sugar, icing sugar and blitz to a make a nettle sugar. Use the nettle sugar to dust over cakes, roll energy balls in it or coat freshly made doughnuts in it!
To make nettle sugar
Combine 2 tbsp nettle powder with sugar and powder.
Nettle Energy Ball Recipe
This is my ultimate recipe for using nettle powder and nettle sugar, here's the recipe - Nettle Energy Ball recipe.
I have lots more recipes for nettles on my Stinging Nettle blog and cover nettles on my foraging courses (mostly spring and autumn ones).