At last, I had arrived on the Isle of Arran. I stepped onto the beach as soon as I could; made a small fire and pottered around perusing the edible wild plants on the foreshore.
After 17 hours of travel on train, bus, ferry and foot I was a little shell-shocked to say the least. Penzance to Arran is a long way, and the public transport journey convoluted. I arrived as I often do - wanting to orientate myself with my new surroundings - and I did feel new, things, the land, felt new.
It was evening, the tide was out and I wasn't sure of the time. June meant that it stayed light till, well, till later than I was used to in Cornwall.
Spotting edible wild plants around me
Rowan, bittercress, nettles, meadowsweet, elder, dock, sea spinach, sea radish... The familiarity of the plants around me, as always, helped me arrive. As I tottered over the seaweed strewn rocks; bladder wrack, channelled wrack, gutweed. Home from home, sort of.
Which seaweeds are edible?
All of the seaweeds and land plants I mention and spotted are edible and good for you, if processed in the right way. Teaching about the edible seaweeds is a personal passion of mine. Bladder wrack with the bubbles is highest in iodine. Some seaweed is good for helping lose weight and many are low in fat and have high amounts of vitamins and minerals. These seaweeds grow across the UK, but some of the best spots are in Cornwall, Devon, Wales and Scotland.
Each seaweed has an optimum growing and harvesting season and some seaweeds like to grow higher up on the shore, where the environment suits it best. Here I found channelled wrack (Pelvetia canaliculata) and, well, bleached-white gutweed (Ulva intestinalis).
Why does seaweed bleach white?
I looked, I stared. I wasn't sure if I'd ever seen such a large area of bleached, living seaweed before. Of course it was very near mid-summer, with plenty of light and heat, but a sea (excuse the pun) of white seaweed...
Green seaweeds such as gutweed can start to loose its colour when exposed to light. That's why on my seaweed courses and in my seaweed book I suggest storing dried and edible, green seaweeds like gutweed and sea lettuce in a dark cupboard. After all, we eat with our eyes too and green is such a delicious colour to eat!
So, naturally, on that beach on Arran I didn't eat, I stared. My familiar green seaweed wasn't a beautiful edible green colour, it was white, so I left it and walked away.
How seaweeds protect themselves
Seaweeds have various mechanisms to survive change in temperatures and I've written about this before in; Can seaweeds survive the frost and snow?
Gutweed, the white seaweed I was staring at, is particularly good at navigating extreme changes in temperature and salinity. Suited to growing in rock pools on the upper and middle shore it is rather exposed. Sacrificing the top covering to the sun, it can protect the seaweed growing underneath it, where it remains green and in the water.
However, as the heat rises and the water evaporates, higher levels of salt means seaweed can become permanently damaged and significantly reduce its growing and reproducing ability .
A nature-made seaweed salt
It's now a year (almost to the day) since I was on Arran, and now here I am next to a rock pool of bleached gutweed seaweed on my local West Cornwall shoreline. As my friends swam in the (not-so) warm sea, I pottered around and decided to harvest some.
Wow! To my surprise the dried, white seaweed was crisp with sea salt. Of course! The water had evaporated and what was left was a combination of dried out seaweed and salt.
Seaweed salt is full of nutrients, including iodine, you can buy it or make your own. I have delicious seaweed salt from Scotland and Cornwall, I couldn't say which is best!
How to make sea salt and seaweed salt
Sea salt is normally a time-consuming process, whether by companies such as Cornish Sea Salt or artisan wild foodies such as Pascal Baudar. However, here nature had done it, naturally.
Similarly, making a seaweed salt normally requires drying and crumbling seaweeds and combining them with ready-made sea salt. Not here!
This was nature-made, naturally occurring seaweed salt!
Wow! This was such a wild find!
How to use nature-made seaweed salt
I plan to cripsy fry some - think ready-salted seaweed snack and crumble some over a homemade sourdough pizza - recipe to come soon.
I'd love to hear if you've ever found this naturally occurring seaweed salt, used it or made your own.
Want to find out more? I cover so much on my 3 hour seaweed foraging course, there's also 5 seaweeds (and recipes in my wild food foraging book and 16 in my seaweed book!
Green seaweeds are wonderful added to salads, pizza or to roast in the oven (see my Foraging book and Seaweed book for more ideas and recipes). Like all seaweeds they need careful harvesting to ensure that they continue to grow and flourish.
Here I introduce 3 green seaweeds:  how and when to sustainably harvest. 
I highly recommend using scissors to harvest seaweeds, as cutting the weed makes it easier to leave the holdfast (seaweed's equivalent of a root) behind, enabling the weed to continue to live. Below are specific guidelines for three green seaweeds that I regularly teach.
Sea Lettuce (Ulva lactuca)
Sea Lettuce starts to grow well from Spring to Summer. Like our leafy land greens, it responds well to light and warmth. They are several types of Sea lettuce, each ones grows to a different length. Make sure the seaweed is attached and cut the upper two thirds, leaving the lower third intact. Harvest between spring and early summer. The plants will be larger towards summer and the vitamin C with be higher then too.
Gutweed/Sea Greens (Ulva intestinalis)
Gutweed also has many different types but is categorised as long, single, unbranched strands, compared to the sheets of sea lettuce. Harvest at a similar time to sea lettuce, and cut in small patches where it grows profusely.
Remember to pick in rocky pools rather than sandy beaches. As each of those strands is actually a tube and if sand gets in the tubes it won't get out easily!
Velvet Horn/Green Sponge Fingers (Codium fragile)
There are two sub-species of Velvet horn, and I rarely come across it in vast amounts. Never take more than half of any one plant, and harvest scantily, leaving most of plant intact. Harvest between the Spring and Autumn.
Find out about this and so much more on my regular seaweed foraging courses. 
This Nori Foccacia Bread recipe was a surprising success for me! I hand-harvested some purple nori seaweed (Porphyra purpurea) here in Cornwall during Winter. Its delicate texture got me thinking that it might work well as as raw ingredient in bread. Indeed, it gave a subtle flavour and went down really well with everyone on my seaweed foraging course.
There are around 6 varieties of nori/laver in the UK, each with slightly different qualities, colour and texture. I've previously made swirled laver bread several times and nori, buckwheat and rye crackers.
I've also been wanting to use Dove's Gluten-free Bread flour for a while. So I took this as an opportunity to combine both experiments. I love making ordinary bread and kneading by hand, but sometimes participants on my foraging courses are gluten-intolerant. Making gluten-free bread is a totally different experience! If you're gluten-free you might want to also check out my Dulse Soda Bread recipe.
How to Make Gluten-free Nori Foccacia
Foccacia bread is rich in olive oil, giving it a wonderful texture and flavour. This recipe uses 90 millilitres (6 tbsp) of olive oil, making a perfect gluten-free foccacia! Gluten-free flour needs longer to rise, as the gluten isn't present to activate the yeast, making this the perfect overnight-rise bread too.
Ingredients
20 g chickpea flour (gram flour) + 60 ml water
1 tsp vinegar
500 g Doves gluten-free flour
1 (tight) handful of dried purple nori (Porphyra purpurea), chopped
Large pinch of good sea salt
6 tbsp olive oil
1 dessertspoon dark brown sugar
400 ml warm water
2 tsp quick yeast
1 tsp ground/flaked nori
In a large mixing bowl combine the chickpea flour, vinegar and water and blend well. Add the dried ingredients with the exception of the sugar. Measure out the water and sprinkle in the yeast and sugar and leave for a few minutes to activate.
Preheat the oven to 220C/fan 200C and bake for 55 - 60 minutes. Remove from the tin and allow to cool. The result is a slightly grainy, slightly moist loaf with a lovely crispy outer. It is very more-ish and went down a treat and was more popular than my wheat nori bread that I made just in case…
I run seaweed courses throughout the year where I make and share homemade tasters incorporating seaweeds, like this bread. Do let me know if you try the recipe!
Laver (Porphyra) was the first seaweed I foraged and cooked. I remember my photographer friend Wendy Pye coming to visit me on my first Cornish Winter (2007). We traipsed up to the north coast and picked luscious looking laver from the rocks. I cooked it for hours and we had it on toast for breakfast. Wendy was one of my many guests that I experimented on and who helped me realise I wasn't mad for liking seaweed! This was before the more recent revival of interest and use in seaweeds here in the UK.
Laver has been eaten in Britain for centuries and records of its use go back to the 1600s. Yet the traditional breakfast of laverbread almost disappeared completely in the UK, with the except of certain coastal areas of Wales. Luckily this fantastic food is still growing wild and been eaten and enjoyed. Funnily enough, the same seaweed is used to make around 1 billion nori sheets annually in Japan. See my Nori, Rye, Buckwheat and Oat Cracker recipe to find out more.
How to Cook Laver
Laverbread refers to laver seaweed cooked for hours so it reduces down to a black pulp. Also known as Black Gold and Welshman's Caviar, these names speak of how highly laver was prized as a food.
Instructions for cooking laver advise simmering for 2-12 hours and letting the water boil off. When I first cooked laver I didn't want the saucepan to boil dry (and burn) so I ended up with excess liquid. Not ideal, but great for using in stocks, stews and soups! Laver can also be cooked in a pressure cooker in less time or in a slow cooker overnight. Both these methods will save your saucepans from boiling dry!
I also share how to cook laver and a recipe for incorporating it into bread in my seaweed book which has 16 seaweeds in and more information about laver, including where it likes to grow and different species.
The Goodness in Laverbread
Laver seaweed contains high amounts of protein, B12, magnesium, iron and vitamin C. It also contains calcium, iodine, zinc, B1, B2, B3, B5, B6, B9 and good traces of many other vitamins and minerals. Laverbread is good for you!
If you're not able to harvest it yourself, you can buy laverbread either  freshly made in some Welsh delicatessens or in tins. The tinned stuff is just as good, often cooked in sea water, it has the perfect taste and texture. I've bought several tinned ones before and loved them!
How to Make Laver Cakes
This is a classic laver recipe which consists of bacon, bacon fat, laverbread and oatmeal. It was traditionally served at breakfast, but is rather nice as part of an evening meal too.
Ingredients
5 slices of streaky bacon
150 g laverbread
40 oatmeal (or oats powdered)
Fry the strips of bacon in their own fat, remove from the pan and finely chop. In a medium bowl combine the bacon, laverbread and enough  oatmeal to bind the mixture. Shape into 'cakes' or patties about 2 cm thick and fry in the bacon fat for about 2 minutes on either side. Eat on their own or as part of a meal.
Can you see those bright iridescent tips of the Bushy Rainbow Wrack seaweed below?
Maybe you've seen this seaweed in a rock pool in Cornwall and couldn't believe your eyes?! This photo was taken by a friend of mine who was stunned by this shining seaweed. So far, I haven't had a camera with me (rare, I know, in today's world) when I've found myself staring, in a mini state of ecstasy, into a rock pool at this seaweed.
Seaweeds are awesome, I never tire or bore of them. They confuse me (they are both simple and complex), amaze me, feed me and allow me to breathe (quite literally as seaweeds produce oxygen). Aah, seaweeds.
Why does the Bushy Rainbow Wrack shine?
One of my seaweed tutors told me that seaweeds are all about sex. I know what she means; seaweeds are hell-bent on reproduction and survival, sometimes having multiple ways of reproducing themselves. Another of their survival tactics is making sure they get enough light in order to photosynthesis.
That's the practical reason that the Bushy Rainbow Wrack seaweed has iridescent tips; to control light. Seaweeds have a lot to contend with, and previously I've written about how and why seaweeds can survive the snow and frost. Their environment is constantly changing in terms of temperature, light, speed and water. Think about it for a moment - a hot sunny day, those seaweeds could be almost cooking in rock pools, and hours later they are submerged in sea water with reduced access to light and dealing with anything from calm, lapping waves to gale force storms. Adaption is the name of the game in order for seaweeds to thrive
It seems that the Bushy Rainbow Wrack seaweed's ability to attract and dispel light helps protect it when underwater or when over-exposed to light. With it's crystal structure it reflects sunlight to give the appearance of glowing, and will actually increase or decrease it's seeming glow depending on how much light there is. Wow. There is so much about seaweeds we still don't know.
So, perhaps you're wondering whether the Bushy Rainbow Wrack is edible?
A reasonable question to ask a forager. The answer is yes, and, there are nutritional and health benefits too, but not  necessarily for humans. If you want a tasty, nutritious seaweed I would teach you other ones first.
I offer thorough courses in seaweed foraging throughout the year which are constantly being updated as my knowledge grows and is integrated into my foraging practice. You are welcome to join a seaweed foraging course and come and explore the wonderful, edible world of seaweeds, to walk, look, nibble and learn with me.
Bushy Rainbow Wrack Cystoseira tamariscifolia 
References:
news.algaeworld.com
Science Advances, April 2018
livingscience.com
Thank you also to Barry and Sue Petitt for the extra photos.
I have a little secret, although I don the appearance of a forager, at heart, I'm an artist, an optimistic awed by the natural world kind-of-one. As an artist, seaweed does it for me. I can spend hours looking in a rock pool at the beautiful colours and textures, how the water moves the weeds and the play of light on the water.
As an artist playing at being a forager (albeit teaching foraging for 12 years and writing books about it), being able to harvest and eat these works of art is an added bonus. Last week was the first good spring tide of the year, which was a wonderful opportunity to hand pick a few seaweeds for personal use. Dulse (Palmaria palmata) is one of my favourite snacks when I'm working at home, it's nutritious, salty and tasty. There's lots I could tell you about it, and indeed I do in my seaweed book, and on my seaweed courses.
How and why to dry seaweeds
Traditionally, seaweeds are dried to preserve them. I like to taste dulse fresh on the beach, though if I'm picking more than a few fronds I dry them at home. There are many ways to dry seaweeds, which I discuss on my courses and in my book, though my preferred way is; naturally. Energy is a big topic these days. This is a great way to reduce and be efficient with our energy consumption in order to respect and take care of our one and precious earth by using the natural energy of the sun.
So, I dry dulse over clothes racks and on tea towels in my sunny, warm kitchen. It only takes a day (or two if it's cooler).
This morning, as I descended into my kitchen and opened the curtains I entered another artist's heaven.
I loved how the light played on this beautiful red seaweed as it was drying on tea towels. Every stage of seaweeds I love. The carefully harvesting of them (just enough and only half of each dulse plant), rinsing and patting them dry, laying them out on tea towels and hanging them on clothes racks. Watching them shrink and dry, checking there's no damp clumps. Then storing them in clean jars for snacks or to incorporate into potato dishes, quiche, dukka, and chapatis, recipes which you can see in my seaweed book. I also have a blog for a more-ish Dulse Soda Bread (gluten-free) which comes with several recommendations, whether or not you're gluten-free.
Tips for drying seaweeds at home
If you can, dry them naturally in a warm room or airing cupboard
First rinse and pat dry the seaweeds, removing as much liquid as you can. You can also use a salad spinner for this
For small seaweeds, lay them out over tea towels with enough space around them to let them breathe
For larger seaweeds hang over clothes racks
Check the seaweeds regularly to make sure no wet clumps are forming
Once dried, store in clean jars, open bowls or containers
This recipe for Dulse Seaweed Soda Bread is delicious and was more popular than the normal, wheat-based bread I baked for a seaweed foraging course, so I thought I'd share it with you here. The basis of this recipe came from my sister (the gluten-free bit), and the rest came from Prannie Rhatigan's book; Irish Seaweed Kitchen. Prannie's book made me feel normal - she adds seaweed to everything!
(The dry ingredients for my Gluten-free Dulse Soda Bread, sitting on top of Prannie's Duileasc Soda Bread recipe page)
Dulse seaweed (Palmaria palmata) has various common names, including Duileasc in Ireland. Dulse is a natural partner to soda bread, and this gluten-free version is just as tasty. Think soft bread with a nice crust and lots of flavour but no annoying bits in it, though of course you can add seeds or nuts if you want. Dulse is also naturally salty so no extra salt needs to be added.
How to make gluten-free dulse seaweed soda bread;
Tasty Dulse Seaweed Soda Bread (Gluten-free)
Ingredients
300 g gluten-free oats
2 tsp bicarbonate of soda
2 tbsp dulse seaweed (dried and ground)
1 egg, beaten
325-50 g natural yoghurt
First combine all the dry ingredients (oats, bicarbonate of soda and dulse), then add in the egg and the natural yoghurt and combine well.
The mixture should be wet though fairly stiff, stiff enough to press into an oiled loaf tin. Preheat the oven to 180°C and bake for 90 minutes (1 and 1/2 hours), or until the bread is dark brown and has started to come away from the edge of the tin.
Leave in the tin for a few minutes before loosening around the edge with a fish slice, or similar and removed onto a cooling rack. Can be sliced warm or cold. Keeps well in a sealed container for up to 5 days (in the fridge). Wonderful fresh and great toasted too.
Find out how to identify dulse, where to find it, how to harvest it, its nutritional benefits and how to dry it in my seaweed book. Dulse is one of the seaweeds I often include in my seaweed courses too.
"One way to get the most out of life is to look upon it as an adventure."
William Feather
Life's an adventure isn't it?!
And adventures can come in all shapes and sizes, from trying a new food to exploring a new place, to starting a family, a new relationship or a new career... Some like their adventures small, some big. Most of us are somewhere in the middle, I think.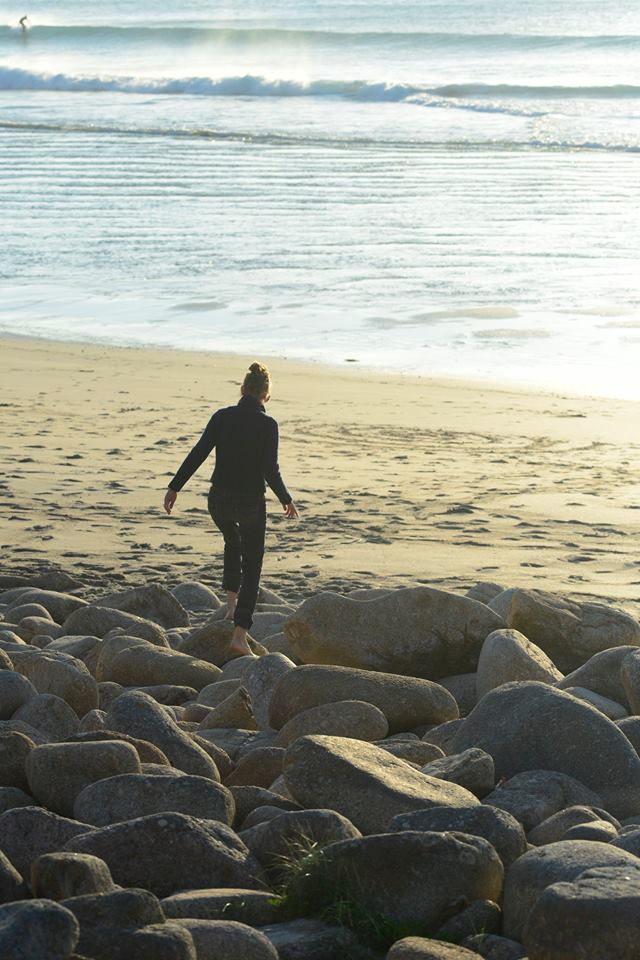 For me, I've always loved to go to the edge, the edge of the cliff, the edge of the dance move, the edge of the water, the edge of what is comfortable and safe. As a very physical child some of those explorations ended in pain (the edge of the wall was not a happy ending), though most actually gave me a sense of exhilaration, or excitement and a dream of something more.
As I've grown older my aspirations have shifted from wanting to be a stunt woman (true), to learning how to take healthy risks, how to look after myself (and others) and how to weigh up whether I have the skills, strength and courage to go for something. Sometimes I do not, and admitting this also feels brave sometimes.
Learning about seaweeds has been an adventure for me, opening me to a whole new world to explore and one that gives me a smile of satisfaction at the end of the day. I also found the further I explored, and the more edges I went to, the jewels that I found were richer, more colourful and rewarding.
"…adventures don't come calling like unexpected cousins calling from out of town. You have to go looking for them."
Source unknown
I've played it safe till now, leading courses where seaweeds are accessible and easy to get to. You see, I want everyone to be able to learn about seaweeds. However, I also want to share some of these adventures and to really take you to the edges where you can experience a whole other level of seaweeding, and one I rarely get to share with others.
Seaweeds like Alaria Esculenta (Dabberlocks) and Sugar Kelp (Saccharina latissima), which like to be in deeper water and have more space. These feel like a special find, and the wonder of reaching these places akin to discovering a hidden beach and having it all to yourself.
If you have the desire to adventure further, to join me across the rocks, to the edge, this is what you may find, and so much more that neither you nor I can put words to, yet, or perhaps ever. Maybe it will come from an inner smile, and a sense of exhileration and satisfaction at the end of your day.
"The tragedy of life is not that it ends so soon, but that we wait so long to begin it."
W. M. Lewis
Rachel Lambert leads seaweed foraging courses, please read the details for every course (or ask) to find out how challenging the venue is, I am also available for private forays, where I tailor an adventurous seaweeding experience just for you (tide and weather allowing) - for those who feel steady on their feet and want to climb, slide and step further out to explore the world of seaweeds. Courses are always timed with the tide and are only run when the conditions are safe, no unnecessary or ridiculous risks are taken, and safety and learning about the seaweeds and the sea is always paramount.
Here in Cornwall, three-cornered leek (allium triquetrium) is often called wild garlic. I don't have a problem with that. I enjoy local names, to me, I associate it with locals taking ownership of the plants, land and so-called weeds surrounding them and I see that as a good thing.
(Allium triquetrium has long, thin leaves and stems which are triangular shaped and drooping white flowers)
As I live in Cornwall, I use 'our' wild garlic a lot, though you could use the true wild garlic, ransoms (allium ursinum) instead. Actually, I suggest you use the wild version that is easily available to you, and don't worry about the rest.
For the last two years, I've had a quick chat with the Cornwall based chef, author and multi-restaurant owner Nathan Outlaw when he's come down to Penzance to do a book signing of his latest book at the brilliant The Edge of the World Bookshop. An immensly energetic though laid-back, hard-working, kind and talented chef he's always a pleasure to talk wild food with.
I now have Nathan's Everyday Seafood Book in my, very small, cookbook shelf and ocassionally flick through it for inspiration and recipe ideas. It's always the Sea Lettuce (Ulva lactuca) oil that stands out to me, partly because of its brilliant colour, of course because it uses wild food, and also because it is very simple and easy to make.
(Sea lettuce seaweed, ulva lactuca, looks as you would imagine - like lettuce)
I decided to have a go at my own version - because I'm me, and I like to tweak things, and because, well you can find Nathan Outlaw's seaweed oil recipe in his book (see link above), so I thought I'd offer something else here.
Flavouring an oil is a great way to capture a wild aroma long after its season has passed. This oil will continue to mature once in your store cupboard and I suggest using it within 3 months.
Both three-cornered leek (aka wild garlic) and sea lettuce seaweed are rich in nutrients and health giving properties, including vitamin C, B vitamins, iron and immune boosting goodness. Spring is the best time for wild garlic and sea lettuce is good in spring or summer, or used dried. Below I use rapeseed oil - I had it in my cupboard, and hey, it's local too!
Wild Garlic and Seaweed Oil Recipe
Drizzle over soup, bread, cheese on toast, use it to cook spanish omelettes or to fry eggs in. Basically you can use it raw or in cooking.
Ingredients
400ml cold-pressed rapeseed oil
1 handful sea lettuce, fresh or rehydrated from dried
Small handful of three-cornered leek
Drop the sea lettuce and three-cornered leek into boiling water for 30 seconds, remove and plunge immediately into ice cold water. Squeeze out all the excess liquid and blend with the oil. Store in a dark cupboard and use within 3 months.
Part of the fun of foraging for me is coming home with a wonderful choice of unusual ingredients to cook and create with, or drying them to use another day. In my kitchen pretty much anything goes, of course there have been disasters along the way, though I've also had some pretty successful surprises.
Foraging also gives me the benefits of broadening my nutrition through a wide range of foods. It's impossible for me to know everything that my body needs (or would take a lot of expensive analysis), though I do know that by including different seasonal plants and seaweeds I'm more likely to be feeding myself micro-nutrients that would be easy to miss.
For example, we all know that life provides a myriad of stresses and that good nutrition helps to counter the effects of and helps to reduce stress. Though did you know that in particular, seaweed provides up to 56 different essential minerals and trace elements for the human body. Wow.
I first came across sargassum seaweed (also known as wireweed and used to be known as japweed) in Sonia Surey-Gent and Gordon Morris' book: Seaweed A User's Guide; an unassuming and valuable book. Here, sargassum muticum is given high acclaim;
'Sargassum... eaten as a powder with a drink of water, provides all the nutrients needed by the body, with hardly any calories.'
Hmm, all the nutrients needed by the body... sometimes I need a strong reminder to use seaweed. Feeling in the mood to make bread I decided to grab some dried gorse flowers, and the dried and ground sargassum that had been hanging around the kitchen waiting (too long) to be used.
This is what I came up with, complete with a sprinkling of nutrients, made with love and enjoyed with organic chicken soup after a cold and beautiful evening round the fire with friends.
Gorse Flower and Sargassum Seaweed Focaccia
A slightly sweet and nutty bread, with all the lovely texture that focaccia normally has, perfect with cheese and salad, with soup, or drizzle with gorse flower syrup if you fancy something even sweeter.
Ingredients
300ml warm water
100ml gorse flower syrup
1 dessert spoon dried yeast
500g organic strong white bread flour
handful of dried gorse flowers (2x handful of fresh is fine)
1 tsp dried and ground sargassum seaweed
2 tbsp extra virgin olive oil (plus extra for drizzling)
1 heaped tsp sea salt
Pour the water and syrup into a jug and stir in the dried yeast. In a large mixing bowl, add the flour, flowers, seaweed, oil and salt, mix in half the water and with clean hands, combine and knead for 5 minutes, gradually adding the rest of the water. Now for the fun part - stretch and pull the dough for at least another 5 minutes before placing on an oiled surface and kneading for a further 5 minutes. Your dough is now ready to rest (and maybe you too), so pop it back in the mixing bowl, cover and leave to rise in a warm place for an hour or until it has doubled in size. Preheat the oven the 220°C and flatten the dough into a large, oiled tin and leave to rise for another 1/2 an hour, and prod your fingers into the dough at evenly spaced intervals to give the traditional focaccia topping effect.
Scatter the top with extra gorse flowers (if you have), a little olive oil and bake for 20 minutes or until golden onto and hollow sounding when tapped. Remove from the oven and leave to stand for 10 minutes before using a fish slice, or similar to remove from the tin and leave to cool on a cooling rack. Slice into squares and eat fresh. Lasts well for 2 or 3 days.
References
Rachel's Seaweed book talks you through identification, sustainable processing and drying of sargassum muticum seaweed.
www.verywellmind.com
www.stress.org.uk
Yesterday I was crunching on frosty kelp, today the seaweeds are limp and wet again, having defrosted in the sun. It's a lot for seaweeds to cope with, or is it?
In reverence to seaweed, and in celebration of the 'proper' snow we had 2 weeks ago (the first time in 10 years here in west cornwall!), I thought I'd write about seaweeds, snow, frost and freezing temperatures.
Do they like it? Can they survive? And, if they can, what are their secrets?
Frost catches a moment in time, and literally, freezes it, the effect is beautiful, though what is the impact for the weeds?
Firstly, seaweeds exist across the world, in vastly varying temperatures and conditions, from 50 metre long kelps, to microscopic organisms to seaweeds that never emerge above the water's surface, to ones that are exposed to the sun, air and being dried out for more than 6 hours every day.
Each species of seaweed is suited to particular environments. Deep sea seaweeds (these are sub-tidal and never come above the sea's surface) are used to more constant temperatures, while inter-tidal ones (which get exposed twice a day at low tide) are built to sustain almost extreme changes in temperature.
'Most seaweeds would be killed if frozen. However high concentrations of tissues salts and organic solutes in the seaweed's cells lower the freezing points.'
Basically, seaweeds have in-built anti-freeze which protects them from freezing.
In reality, this means that Bladder wrack (top image) can cope with -40° C for months, Egg wrack (above) can go to -20° C and some of the laver species (below) can remain unscathed at temperatures as low as -70°C for 24 hours or so, as well as cope with rather high temperatures in the hot sun.
I feel hot and cold just thinking about it.
My awe of these millions of years old organisms increase with this knowledge. Furthermore, seaweeds also work together to protect each other - they live layered on top of each other, which means just the top layer freezes and the lower seaweeds are kept at a more tolerable temperature.
Similarly, emperor penguins, which survive some of the most harshest conditions on earth huddle together to keep warm. They congregate in groups, sometimes in thousands, and those on the outside of the huddle protect those on the inside, and between them they circulate so no penguin is continuously on the outside. Of course, like seaweeds, penguins body is suited to the environment, yet working together is essential for them to survive extreme temperatures.
Here's to the beauty of the snow, the amazing science of nature, and a thankful heart for having warm wellies to go and forage for those seaweeds in.
Images courtesy of; loriedarlin.tumblr.com, daily mail, Pam Collins and 500px.com
I've been reading in this Saturday's Guardian how Thomasina Miers has been supping lots of soup so far this year, and I feel like saying 'me too', though not for the same reasons many women have validly and valiantly been saying this across continents.
Tommi Mier's restaurant chain Wahaca specialise in Mexican food, and while this isn't a Mexican dish, it is definitely inspired by the spicy punch that Mexican food often has. My me too is about supping soups. Soups that are warming, healthy and bring people together, especially on a cold March morning. It's been cold, too cold and soup is the perfect remedy, this one's got a chilli kick to get your inner fire going, if it isn't already by the outrageous scale of the #metoo movement and the injustices it highlights.
Back to the soup.
This soup using 3 locally foraged seaweeds;
Kelp (Laminaria digitata)
Sugar kelp (Saccharina latissima)
Sea spaghetti or Thongweed (Himanthalia elongata)
These could also be substituted for a mixture of;
any kelp seaweed (Dabberlocks, Oarweed, Furbelows, Wakame),
any wrack seaweed (Bladder wrack, Serrated or Toothed, Spiralled)
pepper dulse could also be used instead of black pepper for one layer of the 'kick'.
Oh, by the way, kelp is called kombu in Japan, and the basis of this soup is similar to a vegan version of dashi stock which combines kombu and shitake mushrooms (and omits bonito flakes which are fish).
There is lots, lots more I could say about seaweed, and soups, though here I'll keep it simple and just offer you this recipe.
(Soaking the seaweed and straining off the ingredients for making the broth)
Three Seaweed Soup
A warming broth which is so simple to make and is great on its own or can be used as a base for a noodle soup or more of a substantial soup, broth or stew.
Ingredients
12cm length of dried kelp (or 1/3 more if fresh)
12 cm length of dried sugar kelp (or 1/3 more if fresh)
10cm single length of sea spaghetti (or 1/3 more if fresh)
2 litres boiling water
1 medium onion, finely chopped
3cm chunk of ginger root, chopped
Lots of freshly ground black pepper
small handful of dried chanterelle mushrooms
1-1/2 tsp dried chilli flakes
soy sauce to taste
Cut all of the seaweeds into small pieces and place in a large pan. Add the boiling water, then all the rest of the ingredients, except the soy sauce. Place a lid on the pan and leave to simmer for 40 minutes. Place the mixture in a food processor and blend till the pieces are broken down, or strain if you prefer a clear broth. Add the soy sauce to taste. Serves 6 as a small bowl of soup, or 12 as a small starter/taster.
The finished Broth, before I ladle it into a hot food flask and take it to the beach to share with participants on a seaweed foraging course.
I'm often asked;  what seaweed can you eat? What about this stuff (pointing to the piles of spewed up seaweed on the beach that's been turfed up by the powerful, stormy Winter waves). Hmm, no wonder people are put off eating seaweed.
Not all seaweed is good to eat. Perhaps you've heard me say this many a time; pick seaweed that is fresh, cutting it fresh ensures you know how fresh and old it is. The old, decomposing seaweed is good for compost, though not for eating. There is one exception though: After a storm.
Although it is easy to tell decomposing to freshly cut. Personally, I'm still not intimate enough with seaweed to know if seaweed is just freshly broken off by the storm, or has been 2 or 3 days floating at sea. I go by eye, feel and stay on the safe side. In other words, I prefer to harvest seaweed that is attached.
I have many favourite seaweeds (or my favourites keep changing), and one of these is Sugar Kelp (Saccharina latissima), and yes, it is a combination of sweet and salty. I've spent many hours at the lowest tides searching for this seaweed, though mostly, it has alluded me. I know it is there in abundance - plenty times have I seen it washed up on the shore, though often it grows just a little deeper than a low, low tide, and I'm not a diver, not even a snorkeler anymore. Though to my my surprise, it was a storm that brought Sugar Kelp closer and fresher to me.
Can you eat seaweeds that have been washed up after a storm?
Seaweed needs to be attached, through a 'holdfast' (seaweed's equivalent to a root) in order to live. This could be attached to another seaweed, rocks, stones or shells/shellfish. In this case, the storm had thrown up young Sugar Kelp, attached to small stones, so still living - hurray!
Never had foraging Sugar Kelp felt so easy, and the freshness still guaranteed. Walking along the beach, at a medium low tide, I was able to harvest this seaweed and dry it at home for soups and desserts. Below are Apple and Sugar Kelp Turnovers from my Seaweed book . This seaweed has particularly good amounts of magnesium and calcium, and used to be chewed dried by children as salty 'sweeties'.
Unique Island Foraging
Really, like nowhere else.
Sudi Pigott, food journalist and author compared Gourmet Foraging and Dining on Scilly to an experience at Noma - Rene Redzepi's  Copenhagen restaurant, which, at least twice has won best restaurant in the world awards (S. Pellegrino 50). Noma specialises in using foraged and seasonal produce and has a world renown reputation.
According to Sudi, we were on a level with Noma (Daily Express, 2011).
Travelling to the Isles of Scilly always feels magical to me. I couldn't get much closer really (well not much) and still live on the mainland. The Scillonian ferry is 10 minutes walk away from my house, and standing in the right place I could watch the boat leave and return daily, in season.
Foraging can appeal to such a wide reach of people, from foodies to wildlife enthusiasts, and Scilly really is the perfect environment for it. A series of islands, low population numbers and a priority for wildlife including birds, plants and sea life, plus a distinct lack of cars and motor vehicles is ideal for foraging to flourish in the clean air and land. Indeed, foraging has happened a-plenty in Scilly in the past, piles of empty limpet shells on (the now uninhabited island of Samson) pays testament to that.
(The Foragers: Hell Bay Gourmet Foraging and Dining Break, Isles of Scilly)
And what about now? Like elsewhere in the UK, foraging has largely been forgotten, and the Coop (the largest food shop on Scilly) is perhaps an over-used substitute for the wild stuff. Local foods are still used though, when available. Though I can't help casting my eye across all those beautiful fresh ingredients, forgotten in the hedgerow, fields and coastline.
When I first approach Hell Bay with the idea of doing gourmet foraging events, I wanted the best. The best chef, environment and eating experience that would allow the wild ingredients to really be appreciated for what they are - special.  Special, abundant and worth rediscovering.
Our group of enthusiast guests, felt similarly (I hoped), and joined me for 3 days, 3 islands, 3 walks and 3, 5 course gourmet dinners - including the ingredients we'd foraged during the day. Travelling from various areas of the UK, foraging became our common ground, oh, and discussions about the hotel's enviable art collection.
We may not have looked like foragers, though looks aren't everything, and in a way, foraging was just the medium we used -  the chosen lense to appreciate the islands and the natural abundance they had to offer. Indeed, both people's adventurous spirits, and the wild plants themselves came up trumps, my favourite being when we focused on the seashore...
Foraging for seaweeds is tide dependent and on the islands it is also dependent on the times of the boats. On our final day of foraging we got the boat to St Martins island.  A sensitive juggling; this wasn't the first time we'd got dropped at the opposite end of the island to expected and planned for! A low tide is perfect for seaweed foraging, though not for mooring boats - oh well, we got to the island, were wellied up, well some of us, while others dared it with bare feet or trainers.  Thankfully the coastline of St Martins came up with the goods.
It amazes me that pottering around just one collection of rocks enabled us to forage for a wide range of seaweeds to accompany our dinner.
I had a 'shopping list' of 7 seaweeds, which we snipped off with scissors and took, happily back to the hotel kitchen. Idyll memories of aisles of sandy beaches, rock pools, paddling expeditions and a little clambering, looking under kelp forests and getting faces up close to the splish, sploshing water around us. Those who chose to, watched from a distance, enjoying the sun while the wellied ones paddled out to find the freshest finds. We laid out are proud findings on the rocks (who ever took photos - I'd love a copy!) before revising their names and bundling them into our baskets before heading off to lunch.
The evening's menu was always greeted with satisfying ooohs and aaahs - all the excitment you would expect from a special dinner party. I love that part - although we forage together, I like to keep the evening's menu a surprise. It's like revealing a new painting - we've worked creatively behind the scenes - myself helping design the menu and advise processes, then leaving the chefs to use their talents and skills to create 5 bespoke courses with a range of colours, textures and visual arrangements. Like art, food comes down to personal taste, though the variety and skill seemded to be enough to please everyone...
However.
Some dishes were a hit, while others had a mixed response that might be expected from more experimental cuisine. Personally, Sea Spaghetti (Spaghetti-like seaweed) with Grilled Turbot and pangretta with sea lettuce, followed by Rice Pudding with crystalised Alexander stems were hits with me. Though some disagreed! Other's loved the hogweed seed biscuits that accompanied Cornish cheeses - for me, I was completely satisfied already and had no room for anymore. All created within the style and quality you expect at Hell Bay.
Unique Scilly foraging it is.
I could list all the dishes of each evening, though just as a taster, here's the menu we enjoyed on our second evening after foraging on the Island of Tresco and an afternoon free to enjoy the Tresco Abbey Gardens.
Sorrel & Wall Oxalis Soup
Fennel Tempura Fillet of Hake, dressed White Crab Meat, steamed Rock Samphire,
Pan roasted fillet of Venison, Nettle Gnoochi, Frosted Orache, Three-cornered Leek puree, Chocolate & Yarrow Jus.
Gorse Flower Creme Brulee with Blackberry Leaf Sorbet
Cornish Cheeses with Hogweed & Alexander Seeded Biscuits
I offer bespoke foraging experiences on the Isles of Scilly, my availability is limited, and especially limited in high-season when the chefs are exceptionally busy. Luckily, foraging is best in early spring and autumn - do bear this inmind if you'd like to experience the wild side of these beautiful islands.