I used to walk round my Granny's garden and smell the roses, my sisters and I used to snap off her runner beans and eat them raw too. Luckily for Granny, I didn't know that roses were edible then, though I still love to stop to smell them, whether in a park, someone's garden or a hedgerow.
Roses make my heart sing, they truly do. From the scent through to the texture of the petals, they are an edible heaven to me. Eat them fresh OR this recipe is ridiculously easy and super good. It was given to me by my colleague Emma Gunn and you can't go wrong with it. Unless you don't like roses.
In this post I share the recipe, explain when to pick roses (and why) which is the best rose to eat (and my favourite) and how to use this delicious rose preserve.
Sign up to access this post
Access this post and more for £5.25. Already a member? Sign in here.
RICH PICKINGS
MONTHLY BASKET
£5.25 per month
Get more! You'll get access to all the Taster Basket blogs, plus an additional 2 seasonal posts of my most treasured material AND be able to access the last 6 months of Rich Pickings offerings. 
Unsubscribe at any time.
Wow, they're pink! Pink elderflowers with beautiful dark purple, almost black foliage and the flowers smell like elderflowers - what a find! But are they edible?
Black beauty, Black lace, Sambucus nigra, f. porphyrophylla 'Gerda' are an ornamental subspecies of Elder. Their flowers smell lemony and they're a stunner to look at! They are often bought and planted for these exact features. I've only found these in planted gardens and in urban areas.
Why plant Black beauty?
As well as having flowers that can be used for elderflower cordial and other delicious recipes (see below). Sambucus 'Black Beauty' is known for attracting bees, beneficial insects, birds, butterflies​/​moths and other pollinators. It is a caterpillar food plant, has nectar/pollen rich flowers, provides shelter and habitat, has seeds for birds and makes a good wildlife hedge.
Can you eat all types and colours of elderflower?
In general, it is not advised to eat elderflowers or elderberries raw. Some people get a stomach upset and there is a mild toxicity. That is why traditionally, elderflowers are infused not eaten and elderberries are cooked (to make syrup, wine or pontack sauce).
Elderflowers are native to North America and most of Europe, they can also be found in some areas of Australia and New Zealand. The main species is known as Elder, Black elder, European black elder, elderberry.
There is other species such as Mexican elder (Sambucus mexicana) also known as blue elder. The flowers of the blue elder can be used in the same way as all the elderflower species, but the berries should be cooked for at 30 minutes to make edible.
How can I use pink elder flowers?
Pink elderflowers can be used instead of white elderflowers for cordial, syrup, wine and champagne. The cordial can also be used in a variety of desserts and sweet treats such as elderflower jam, elderflower doughnuts, elderflower quick, creamy, sponge.
But... the colour is so good it is worth thinking about pink foods! I'll be posting a recipe for this very soon.
Have you signed up to my newsletter to make sure you get updates about new blogs - it's free! Or exclusive membership makes sure you have new wild food recipes every month in your inbox!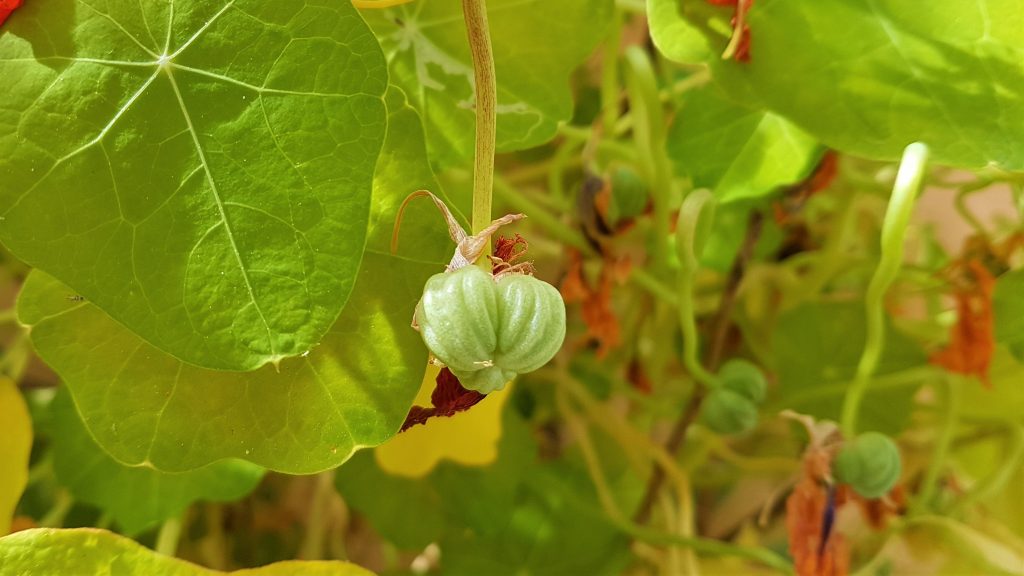 Pickled nasturtium (Tropaeolum) seeds can make an excellent replacement for capers (which come from a different plant). This recipe is simple, quick and effective as they taste just as good as capers! Here I pick them from my wild town garden where they arrived as weeds and I've been loving their colour and flavour ever since.
Nasturiums are such a giving plant; they grow easily in the sun, partial shade or complete shade (though they may get stressed in a very hot summer in full sun). They are also easy to cultivate and grow best in dry soil. They are trailing, climbing plants, which with the right opportunity will climb upwards or fill large patches of ground.
Are nasturtiums really a wild food?
Native to South America, but were brought to Europe in the 1500s and have since naturalised in many areas. I know them both as a cultivated, garden plant and a profuse, common weed.
There are over 80 species of nasturtiums, some annual, some perennial. Luckily, nasturtiums produce a lot of seeds which mean they keep coming back (even if they are annuals) AND there can still be enough seeds to produce these capers.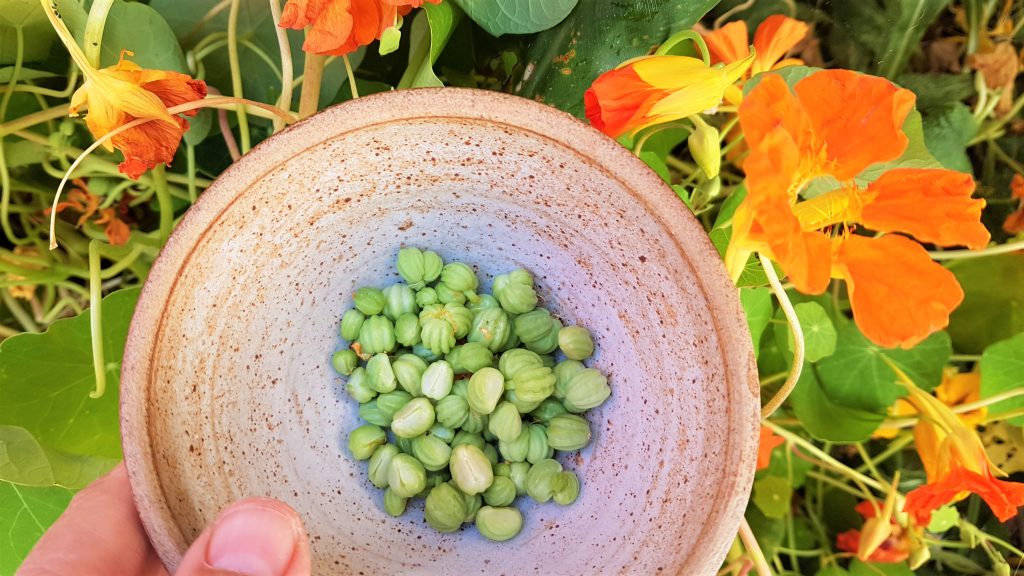 Which part of nasturtiums are edible?
All parts of nasturtiums (pronounced na-stir-tchums) are edible. Their name literally means nose twister or nose tweaker, because of their peppery kick. The flowers are sweet and the leaves, flowers and seeds all have that spicy flavour. I love adding the flowers into salads, the leaves into pesto and pickling the seeds to make these fake capers - though they taste just as good!
I love their beautiful, colour flowers to look at, smell and eat! They can start to flower in spring and early summer.
Are nasturtiums good for you to eat?
Nasturtiums contain a good amount of vitamin C and high amounts of lutein derived from carotenoids, which may be beneficial for eye health (1). Eating a varied diet full of greens, orange, yellow and a range of colours is generally considered good for your health too (2).
Nasturtium Capers (Pickled seeds) Recipe
Makes 1 jar
Ingredients
300 g/1 cup nasturtium seeds
80 ml/1/3 cup vinegar*
80 ml/1/3 cup water
Large pinch of sea salt
Large pinch sugar
2 tsp chopped herbs (of your choice) - optional
Wash the seeds and place in a pickling jar. In a small saucepan heat up the vinegar, water, salt and sugar to boiling. Pour over the seeds. Add the herbs if using and stir in to submerge. Screw on the lid and leave for 2 weeks before using.
How to pickled nasturtium seeds compare to capers?
Capers are from the caper bush (Capparis spinosa or Capparis inermis) from the Mediterranean and parts of Asia. they also have both wild and cultivated cousins. Of course pickled nasturtium seeds are different, but they're a pretty good replacement! Call these fake capers if you wish, or just pickled nasturtium seeds.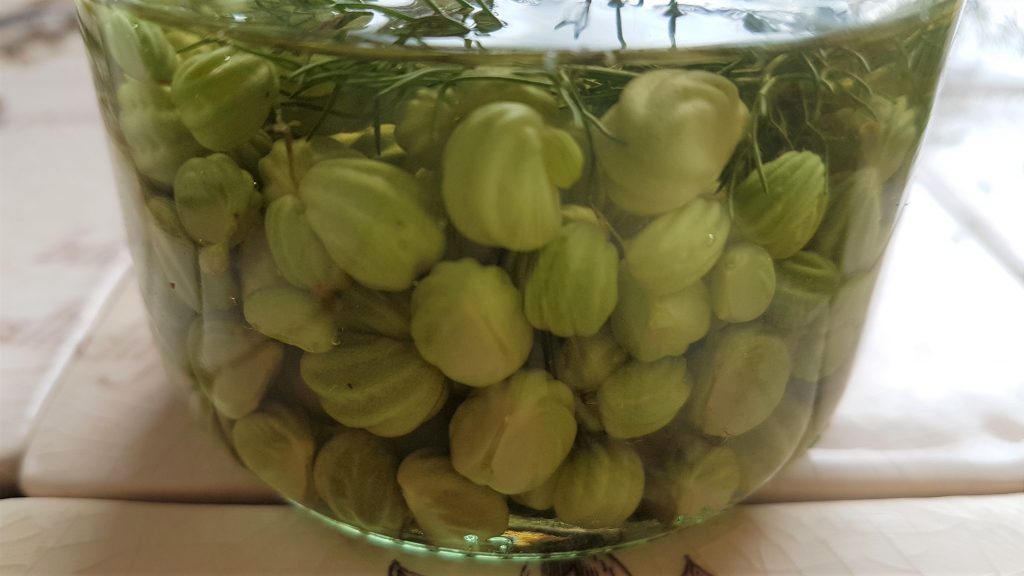 References
The taste of summer (elderflowers) and their medicinal, anti-viral qualities can be enjoyed in many desserts, drinks and snacks. Here I share my Elderflower and Strawberry Jam recipe, which is delicious on toast and a divine filling for my moreish Elderflower Doughnuts.
This is an easy recipe for making strawberry jam from fresh strawberries. I also share how to make jam set, how to use this jam and why strawberries and elderflowers are good for you.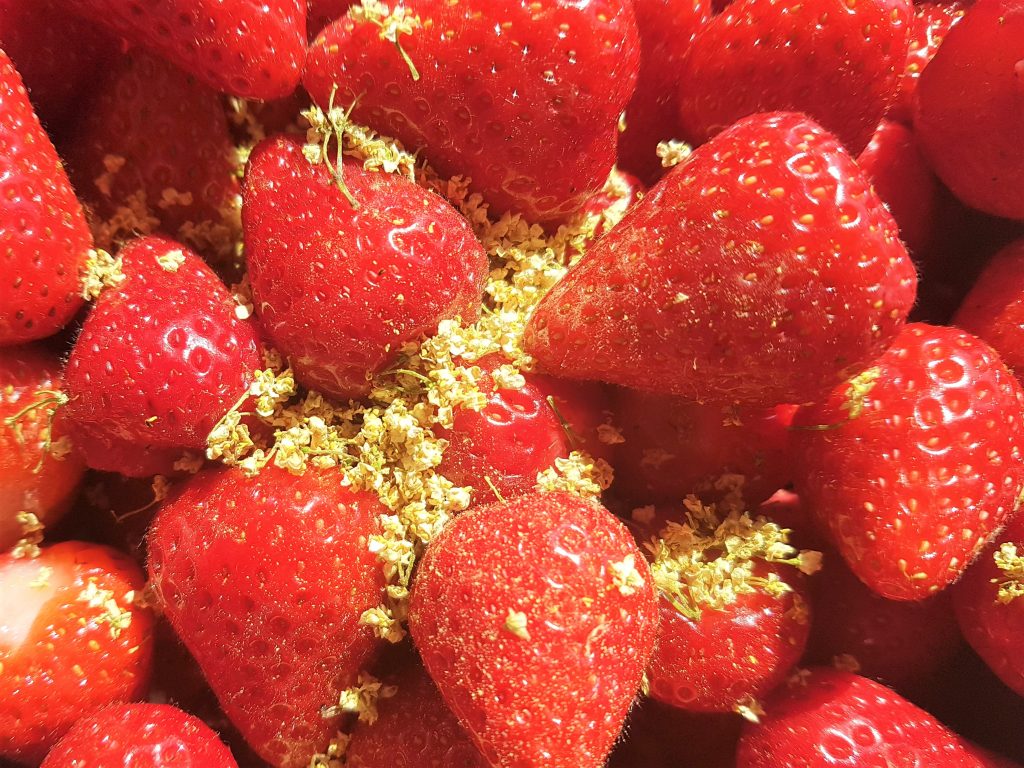 Fresh, healthy strawberries
Strawberries are an excellent source of vitamin C and K and also contain a good amount of fibre, folic acid, manganese and potassium. It's healthy to include a variety of fruit and vegetables in your diet.
Seasonal, local strawberries are the best and, luckily, they often ripen at a similar time to elderflowers, making them perfect companions.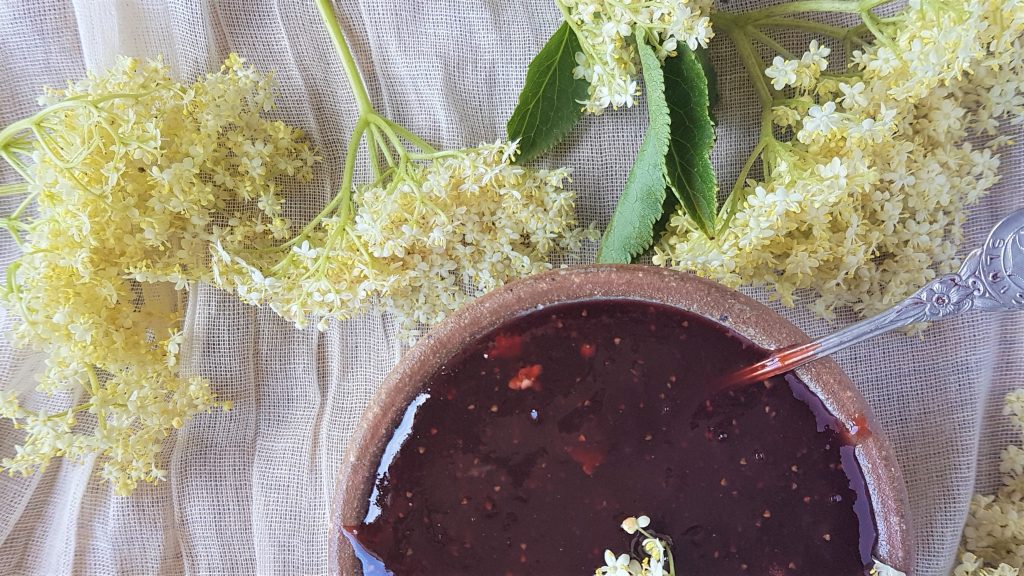 Elderflowers
Elderflowers are my seasonal wild food of the month! A wonderful anti-viral with a gorgeous scent, they can help treat colds, flu, coughs and bronchial infections.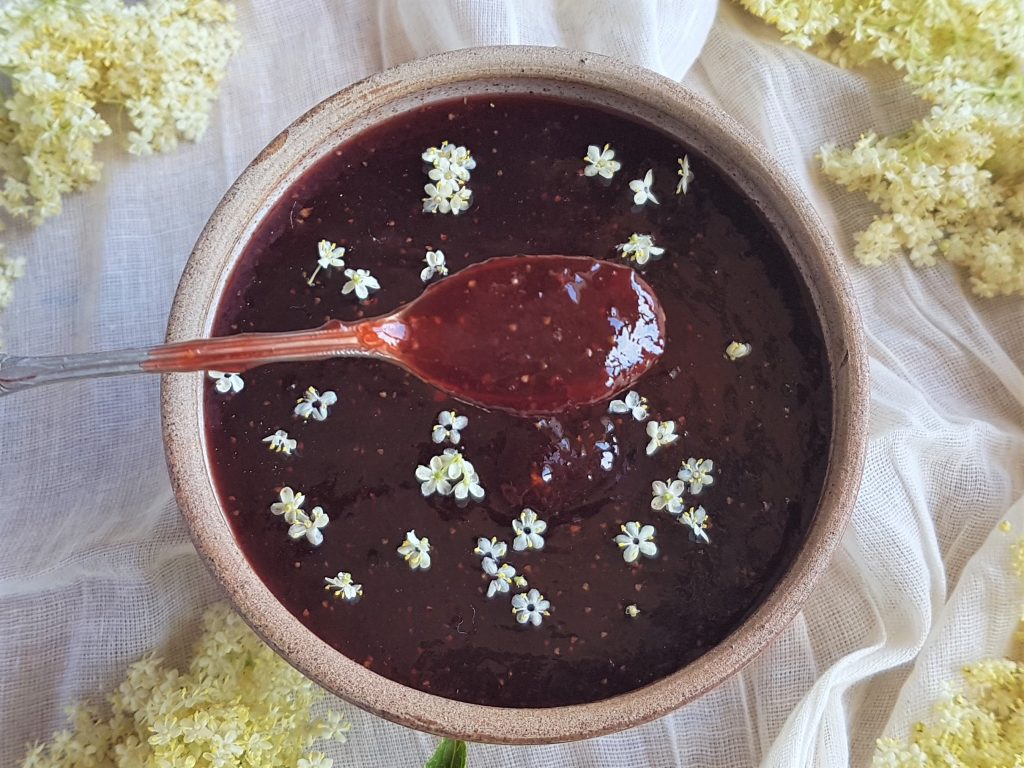 My Elderflower and Strawberry Jam Recipe
I'm often inspired by the seasons, the wild foods surrounding me - their taste, smell and texture and fellow cooks that I admire. Darina Allen is one such cook, her traditional family recipes are some of my 'go-to' ones, and this recipe was inspired by her Mummy's Strawberry Jam recipe.
I've added a wild twist, of course.
Makes 1.3 kg jam (approx)
Ingredients
1 kg fresh strawberries
800 g golden granulated sugar
5-8 elderflower heads (flowers forked off and stems discarded)
50 ml elderflower cordial (or lemon juice)
Take off the green tops of the strawberries and rinse if needed, you then need to make sure they're are really dry. You can gently pat them dry with a tea towel. Once dry, place in a stainless steel saucepan - it will be easier if you use one that's bigger than the one I used above!
Sprinkle in the elderflowers (removed from the stems) and the elderflower cordial or lemon juice, next you'll be adding the sugar. According to Darina Allen, the best way to make jam from fresh strawberries is to heat the sugar first. This isn't essential but might make a better jam!
To heat the sugar, place it in a stainless steel bowl in a preheated oven to 180/160C fan/350F/Gas 4. Heat for 15 minutes then pour evening over the strawberries and elderflowers. Alternatively, pour over the sugar cold. Cover and leave for 12-24 hours. Overnight should be suffice, but I left mine for 24 hours and all the strawberry juices had really started to come out - yum!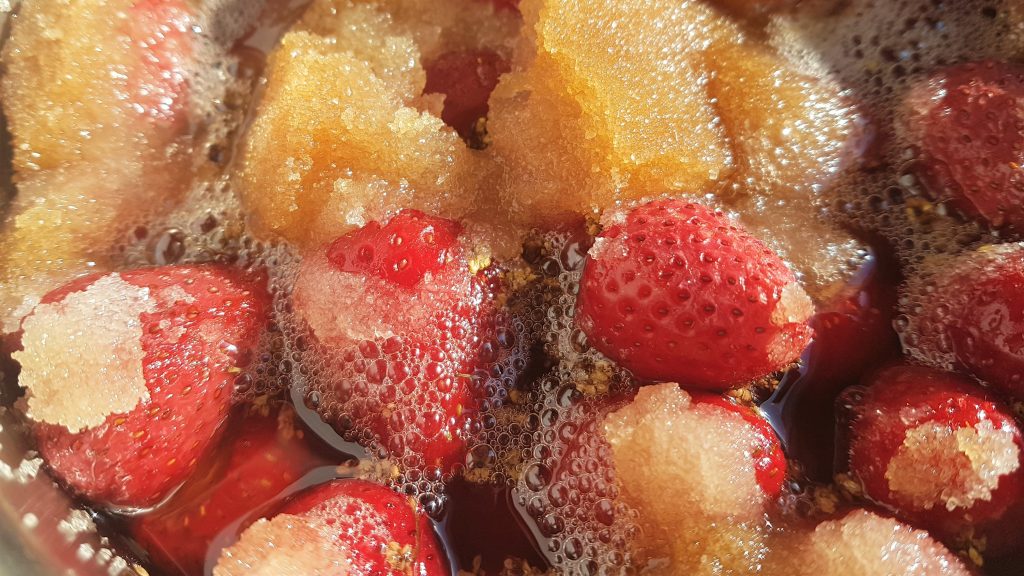 It may sound like a lot of sugar, but this will help preserve the strawberries and at least it is unrefined rather than white caster sugar!
The combination of fruit, sugar, heat and lemon juice will ensure that your jam sets. The citrus juice in the elderflower cordial is also enough to set the jam - and it's my preference to use the cordial.
Next bring the pan to the boil, stirring to help dissolve the sugar. Mash the fruits with a potato masher, or a blender stick. I used a blender stick as I wanted a smooth jam I could use in elderflower doughnuts, but you might want a more rustic one for sandwiching together cakes, mixing in rice pudding, spreading on scones or smothering over toast.
Leave the jam to boil for about half an hour. You can use a jam thermometer if you prefer or test the jam by taking a teaspoon of the jam and placing on a cold saucepan. Move the jam around, if it starts to wrinkle at the edges as it cools, then it is ready.
Decant into sterilised jars and leave to cool.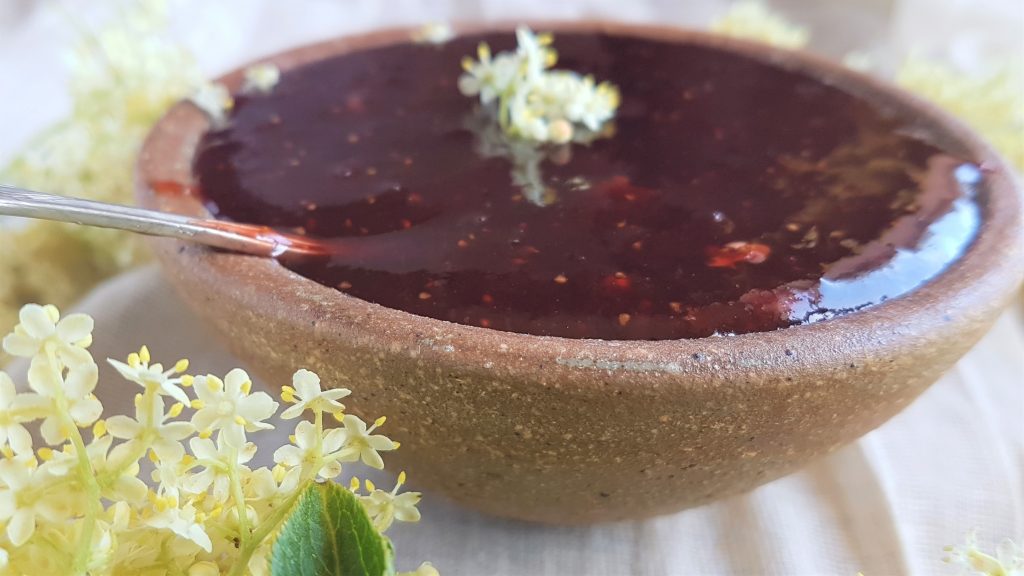 Elderflowers are one of the plants I cover on some my summer foraging courses. I teach foraging throughout the year - helping you connect to the abundance of health-giving foods available on your doorstep.
Elder Flower-Head Fritters are a classic wild food recipe for these edible wild flowers. The combination of batter and a hint of elderflower is utterly delicious.
What's more, you can turn them savoury or sweet and here's my winning versions with an extra light batter recipe, plus suggestions for turning them into a starter, main accompaniment or dessert.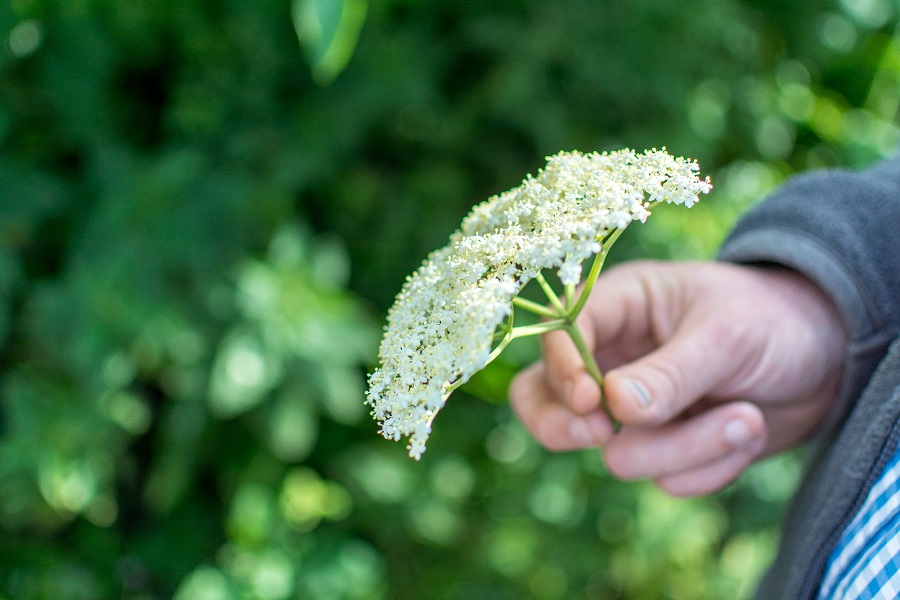 Sign up to continue reading
SEASONAL TASTER
MONTHLY BASKET
£2.25 per month*
Every month you'll receive 1 seasonal wild food recipe from my edible plant of the month, plus links to additional seasonal posts AND be able to access the last 6 months of Taster basket offerings.

Unsubscribe at any time.
*FREE for 6 months for all course participants
RICH PICKINGS
MONTHLY BASKET
£5.25 per month
Get more! You'll get access to all the Taster Basket blogs, plus an additional 2 seasonal posts of my most treasured material AND be able to access the last 6 months of Rich Pickings offerings.
Unsubscribe at any time.
For me, Summer is about outdoor adventures, picnics, barbecues, fayres, festivals and the beach. Elderflowers are the perfect accompaniment, unless it's a festival or fayre - then it's doughnuts!
Here I share my ultimate elderflower doughnut recipe - they're gorgeous!
Yes, doughnuts are fayre food for me, when I'm tired and hungry from dancing it's the smell of doughnuts that I sniff the air for. Created following a mini disaster – my Cornish town's annual fayre and no doughnut van in sight – they are a delightful summery twist on the hot sugary ones I yearned for. Complete with a gorgeous soft, jam centre and sweet elderflower coating, these are melt-in-the-mouth with a double dose of elderflower to keep spirits high.
For this recipe you'll need to first make elderflower cordial - here's my simple elderflower coridal recipe, plus lots of information about where to find elderflowers, when to pick them, what the benefits of elderflowers are. You can also find tips on when to avoid elderflowers.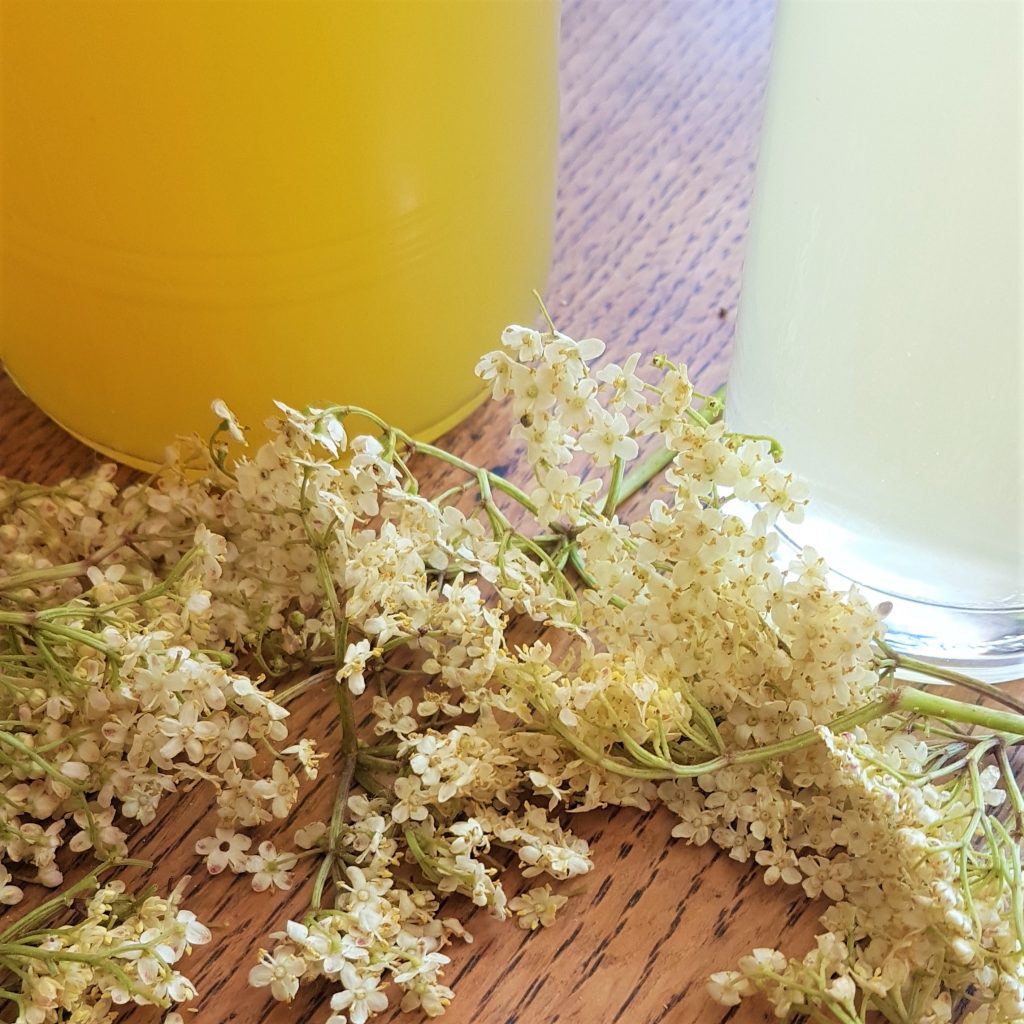 Sign up to access this post
Access this post and more for £5.25. Already a member? Sign in here.
RICH PICKINGS
MONTHLY BASKET
£5.25 per month
Get more! You'll get access to all the Taster Basket blogs, plus an additional 2 seasonal posts of my most treasured material AND be able to access the last 6 months of Rich Pickings offerings. 
Unsubscribe at any time.
There's something about prehistoric plants that give me the shudders. I love the idea of these plants preceding humans on this planet. The presence of magnolias (Magnoliaceae family) recorded to be at least 20 million years old and plants in the same family being up to 95 million years old. Mind blowing!
In this blog I explore questions such as; are all magnolias edible, which ones taste the best and how to use magnolias in recipes and drinks. I share 4 magnolia recipes, lots of tips from my fellow professional foragers and a few small digressions on the way!
Sign up to access this post
Access this post and more for £5.25. Already a member? Sign in here.
RICH PICKINGS
MONTHLY BASKET
£5.25 per month
Get more! You'll get access to all the Taster Basket blogs, plus an additional 2 seasonal posts of my most treasured material AND be able to access the last 6 months of Rich Pickings offerings. 
Unsubscribe at any time.
It is possible to taste, drink in and immerse yourself in Spring in so many ways. This morning I was standing under my friend's flowering cherry tree, enjoying the floppy bunches of blossoms and their subtle scent.
This afternoon I'm making a Cherry blossom syrup and I'm sharing the recipe with you. Cherry trees typically flower for no more than 2 weeks, making it a special window to enjoy in Spring.
Sign up to access this post
Access this post and more for £5.25. Already a member? Sign in here.
RICH PICKINGS
MONTHLY BASKET
£5.25 per month
Get more! You'll get access to all the Taster Basket blogs, plus an additional 2 seasonal posts of my most treasured material AND be able to access the last 6 months of Rich Pickings offerings. 
Unsubscribe at any time.
It is Spring and the gorgeous white blossoms of Blackthorn have appeared. These early Spring flowers are a welcomed sight and appear before the leaves.
As the saying goes; you can eat anything once! Here I explore the edibility of blackthorn flowers (Prunus spinosa), their flavour and potential benefits, plus a step-by-step recipe.
I was once asked what this flower was by a woman who'd been eating them and enjoying their almond flavour. My reply: They are blackthorn flowers, and that flavour will be the cyanide.
Knowing the plant family, and recognising this as a relative to the plum tree is not enough to assert its edibility. Nor is the fact that the berries (sloes) can be used as food and to flavour drinks later in the year. In fact, the seeds, leaves and bark of sloes and black cherries also contain a compound that can be converted by the human body into cyanide when digested.
Blackthorn flowers have been used as an edible, sugar-coated cake decoration and I've been known to nibble one on a walk. My wild foodie colleague Mark Williams uses them to flavour his Sloe Gin, creating a a double-layered sloe gin cocktail.
Degrees of toxicity
There are many plants and foods we eat regularly that potentially contain toxins. For example; rice (arsenic), potatoes (solanine) and sorrel (oxalic acid).
What matters here is the amount. You'd need to eat more that 25 apple cores (with the seeds) in one sitting to be of risk of cyanide poisoning, apparently. And some say as many as 5000 seeds to be fatal. You know the saying; an apple a day keeps the doctor away. Keeping things in moderation is good.
Why eat blackthorn flowers?
Because of the cyanide content, blackthorn flowers have a lovely almondy scent which intensifies when infused. This can be used in small amounts as a flavouring. Below is a recipe for blackthorn flower syrup that I would only consider using as a wild alternative to shop-bought almond essence. Yes, literally no more than a teaspoon as flavouring (see recipe below). The flowers have been used as a laxative and the fruits are nutrient-rich food, including vitamin C and magnesium
It is not advised to eat blackthorn fruits (sloes) or flowers if pregnant or if living with a specific health condition. Always consult a medical herbalist or healthcare adviser first.
Blackthorn Flower Syrup Recipe
This recipe creates an intense almond-scented syrup, with a bitter after-taste. I quite like the combination of sweet and bitter. It is to be used as a concentrate, you could make a diluted version instead, if you prefer.
Ingredients
30 g blackthorn flowers
120 ml (8 tbsp) boiling water
100 g unrefined caster sugar
Place the flowers in a mug or heat-proof bowl. Pour the boiling water over and leave to steep for at least 2-4 hours. Strain through a tea strainer and place the liquid in a small saucepan with the sugar. Stir over a low heat until the sugar is dissolved (do not boil) and store in a sterilised bottle or jar. Use sparingly to flavour desserts or drinks.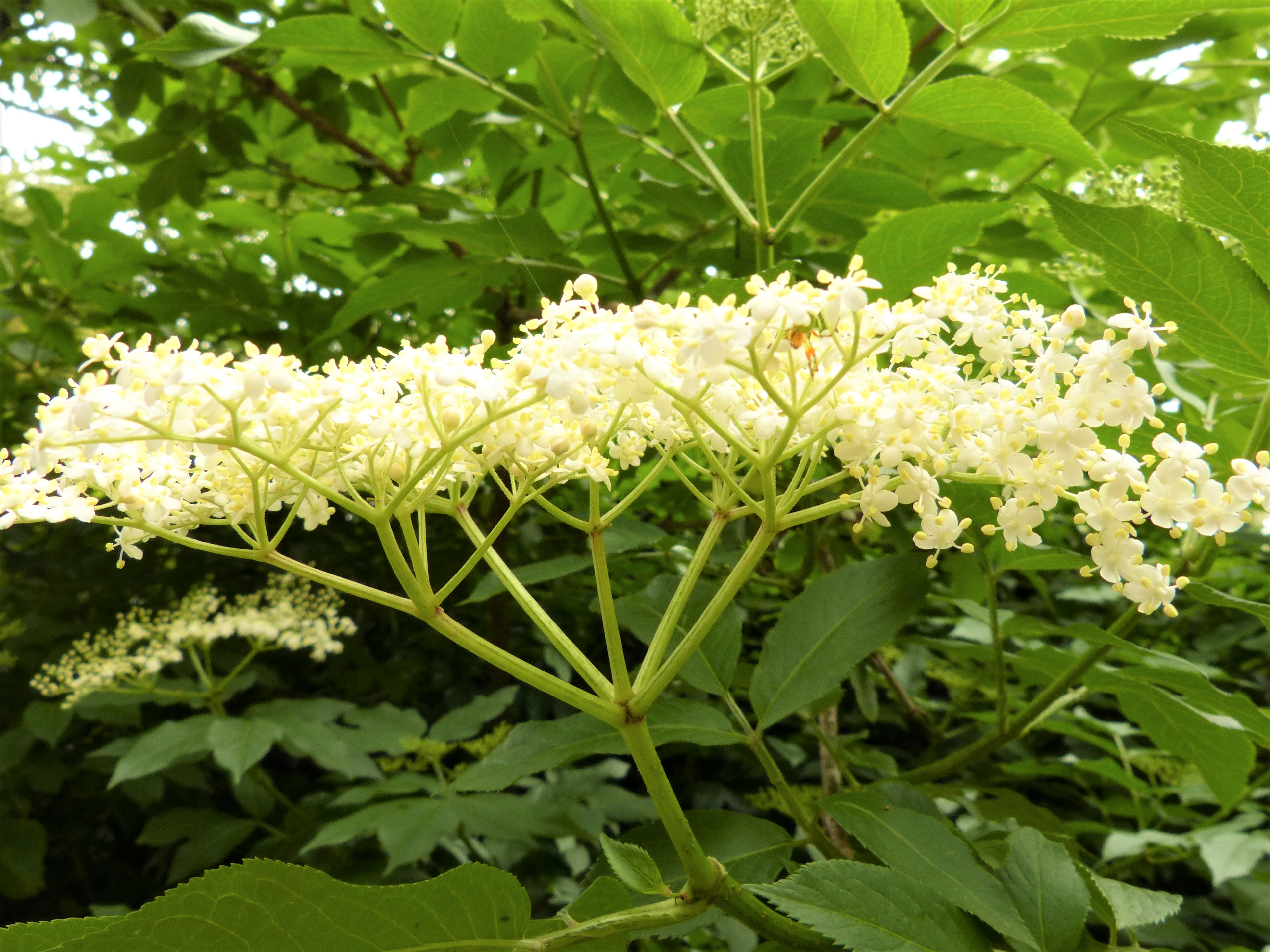 Pretty aren't they!
And a lovely scent (as long as they haven't passed their prime, in which case they'll smell like cat pee).
Though this blog isn't about the pretty things, it is about how to know when to pick elder flowers, and when to leave them. These are some of the tricks that foragers follow to ensure they get a good crop of elder flowers and also ensure that the plant is cared for, for its own welfare and sustainability. This way people, birds, animals other plant-life can all benefit from the magical Elder tree.
Here are just 3 points to help you get the best Elder flowers, oh, and a 4th point for luck.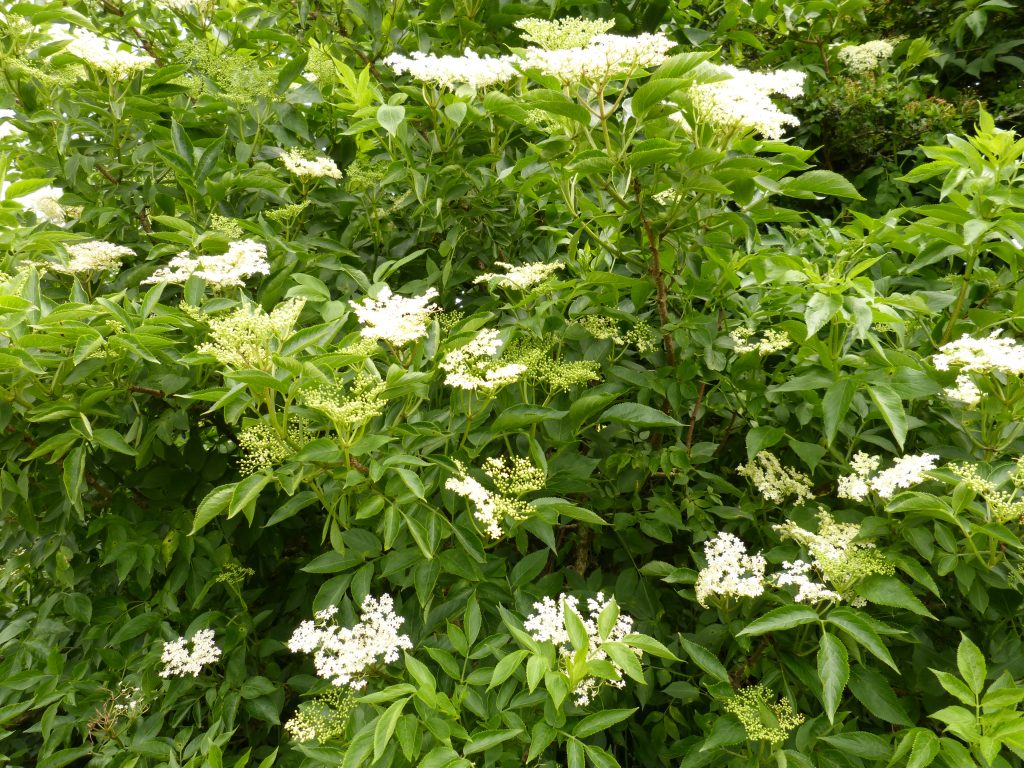 When to Pick Elder Flowers
I'm sorry, I can't give you an exact date, though I can teach you what to look for and the skills that foragers use in harvesting. A general time is May and June.
1. Smell
If they smell of cat pee, be disciplined and walk away. Yes - it is essential to walk away! It's time to leave the flowers (they'll come again next year, and won't be of any use to you at this stage), not as flowers anyway. Instead, walk away and allow the Elder (Sambucus nigra) to go to seed and produce the elderberries. Ah, wonderful life-giving elderberries,, here's some notes on how to take care of Elders and my elderberry and apple jelly recipe, more to come under my autumnal blog section.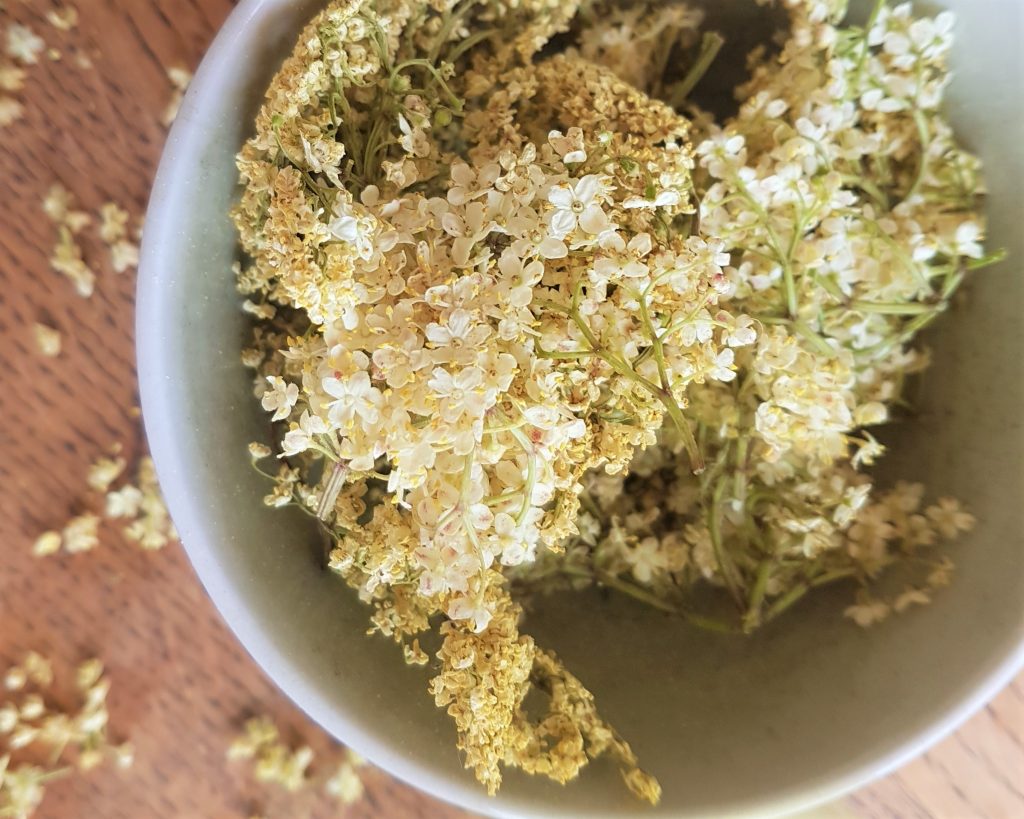 2. Colour
Back to the flowers of the Elder Tree, these are at their best when they are full of scented, pale yellow dust. Elder flower pollen. This is the only time to pick them. You might brush against an Elder bush and unsettle the pollen (a small cloud of visible yellow pollen hits the air), or smell a flower head and end up with pollen on your nose. These are all tips on how to tell if they are ready, and if there's no pollen that brushes off, or hardly any, it is best to walk away empty handed. Discipline is a virtue.
3. Shape
If the flowers are only unopened buds - you're in luck! The elder hasn't flowered yet, and all you need to do is wait a little while, a few days, until they do. This is much better than finding them when they are passed their best. On that note, the flower heads will open at different times, so if you find heads that are mostly unopened, leave them, and if you find heads that are mostly shrivelled and dried, leave them too. This will leave you with just the best flowers to pick - perfect!
4. Sun
Of course you know this, you know to pick when the weather is dry, the sun is out and the scent of the elder flowers will be at their prime. Isn't common sense a wonderful thing, as is the bright, burning, life-giving sun.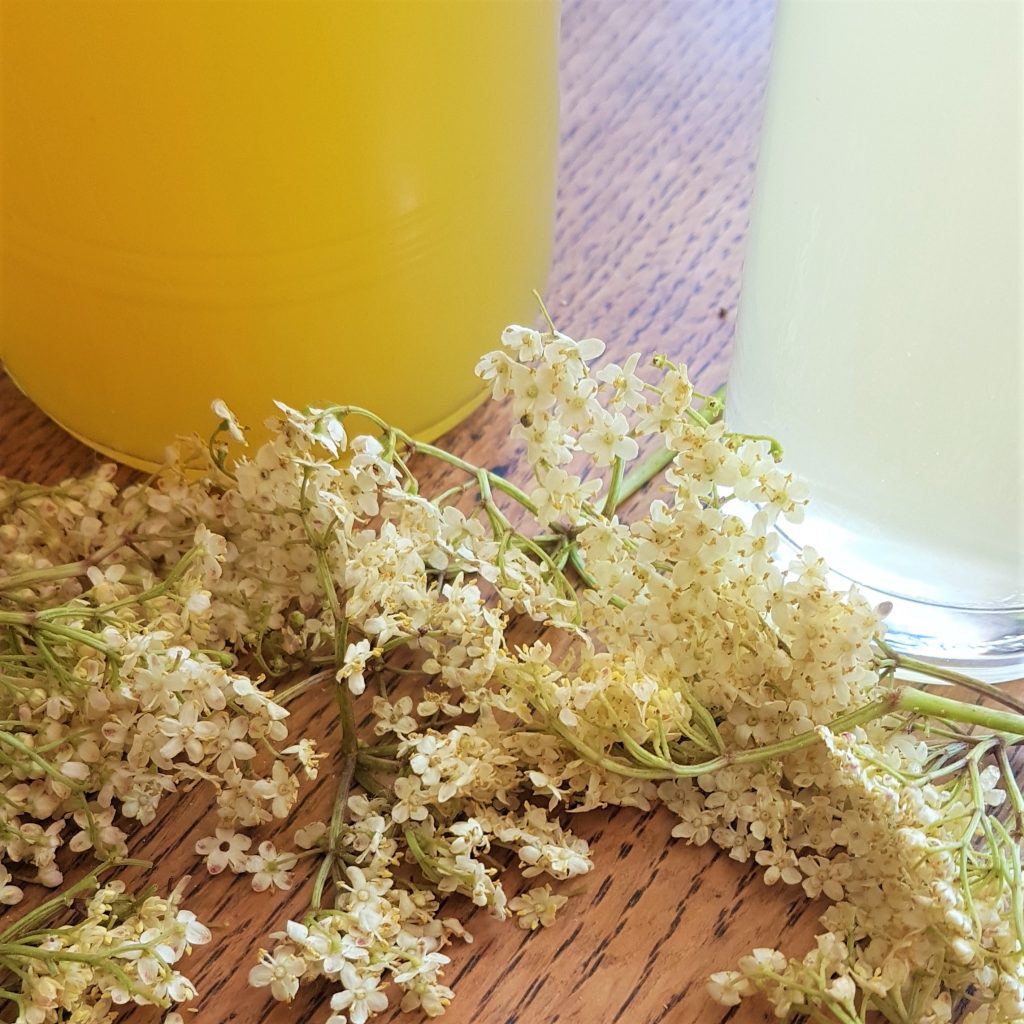 The edibility of elderflowers
Now you know when and how to pick your perfect elder flower heads for making cordial it would be easy to assume that elderflowers are edible, right? Wrong. It is best not to eat elderflowers raw, as the plant has a mild toxicity, which is why it is best to cook them or make cordial from them. Some people get an upset stomach from eating elderflowers or elder berries (elder flowers and elder berries come from the same plant).
Elderflower Cordial
Elder flower cordial recipes vary, a lot. Of course there are many ways to make something and it's great to have the choice of recipes, depending on how much time and elder flowers you have collected. I have two recipes here; a Classic Elder flower Cordial and Elderflower Sorbet recipe and here is an Elder flower Cordial with an Orange Twist.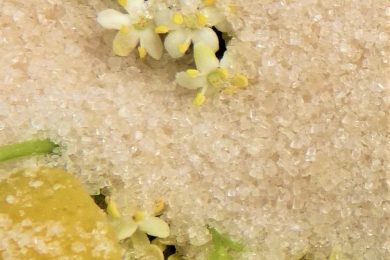 There will be other blogs on Elder flowers in the future, essentials to know about this plant so that you are using your time and the plant well. Happy foraging, and do look out for wild food foraging courses, if you'd like to know more.
Elderflower cordial is the ultimate summer drink, scent and medicine. As I sit here in my kitchen I'm enjoying their light, dreamy scent wafting across the room, of the ones I picked this morning.
Summer foraging for elderflowers is almost as popular as blackberries in autumn, or wild garlic in spring, and all for good reason. Elderflower cordial is the perfect way to capture and preserve the scent of summer. Foraging for edible wild plants is so rewarding too! Make your own homemade cordial to enjoy with friends and family.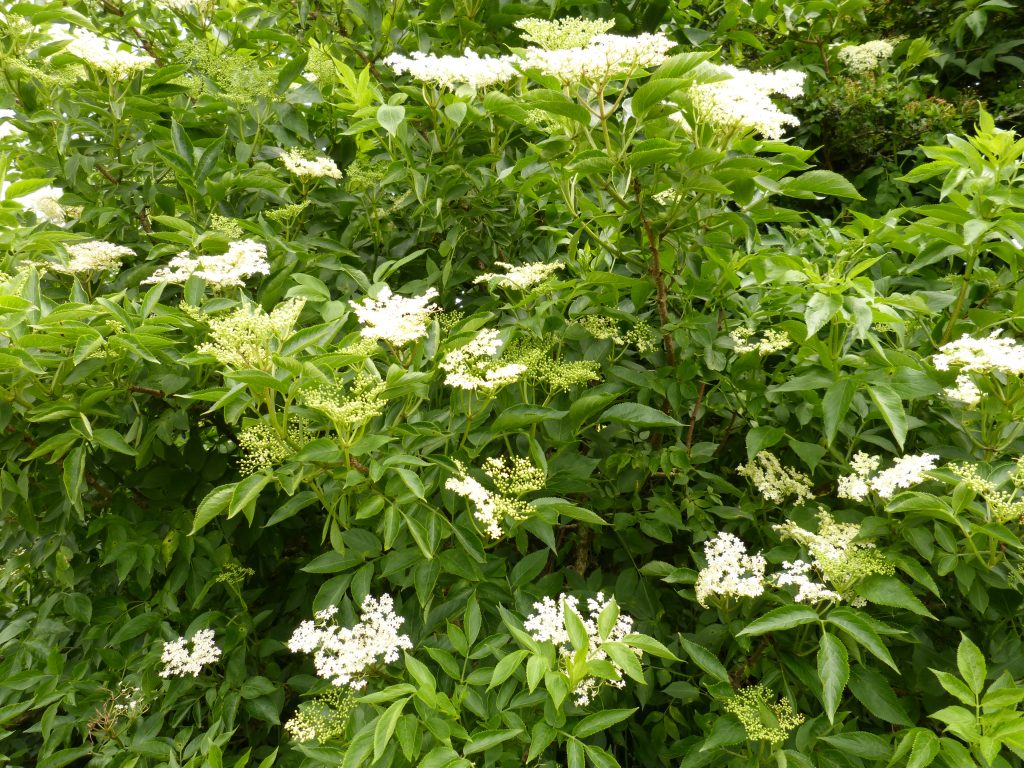 Where to find elderflowers
The elder tree is often considered a weed, it often grows on wasteland, in hedgerows and at the edge of woods. It loves the sun but can cope with shade, I often see them alongside roads and backing onto railway lines, which is often very frustrating because I'm rushing by!
When do elder flowers bloom?
Elderflowers start appearing in late spring and early summer. Here in the UK that means May to July, though this is dependant on how warm it is and whether spring started early or late. Sometimes July is still great for picking, and other years they have started to turn and are not worth picking.
Elderflowers can also be frozen. A few years ago my aunt froze a whole carrier bag of elderflowers for me. Once defrosted, they obviously don't look as good as when they are fresh, but you can still use them for making cordial or dry them for making elderflower herbal tea.
I also like to freeze some of my elderflower cordial in an ice cube tray, then I have ready to use portions!
How and why to dry elderflowers
Elderflowers can be used for herbal tea. You can dry them in the sun, in a dehydrator or at the lowest temperature in the oven and keep them for the winter months as medicine for colds, flu, coughs or bronchial issues.
How to make and use elderflower cordial
See below - a summary on this video and the full recipe at the end of the blog.
Use in cocktails, sorbet, ice cream, sweet bread, as a doughnut dip, elderflower champagne or dilute for hot and cold drinks. You can also freeze the cordial in an ice cube tray or bag and pop in soda water or defrost and dilute from frozen.
Why is elder flower cordial so good?
Many of us have a soft spot for sweet, and the combination of light and heady, citrus and sweet seems to be the ultimate combination!
Is elder flower cordial good for you?
Elderflowers have anti viral properties and can help treat colds and flu and quicken recovery. They can also be used to sooth sore throats, coughs and bronchial infections. Elder flowers are delicious and a medicinal plant.
Before I begin, a word of warning. Elder (Sambucus nigra) has umbel-like clusters of flowers, similar to that of the Apiaceae (Umbelliferae) family. To avoid fatal mistakes with deadly plants within this family, you must be 100% sure that you are picking the correct plant. This blog is focusing on the recipe, not on the identification, always check with an expert, so you can continue to enjoy foraging for food!
Also, a word for the plant... If you pick all the flowers there will be no elderberries later in the year - which would be very sad, for us and the birds. Bare this in mind & never pick more than 25% of flowers of a single plant.
ELDERFLOWER CORDIAL RECIPE
This recipe needs some pre-planning - a bucket or heat-proof bowl, clean screw-top bottles, lemon squeezer, a funnel and a seive/muslin cloth is needed. You can alter the measurements depending on how many elderflower heads you pick
Ingredients
25 elder flower heads (flowers left on stalks)
3 unwaxed lemons (or 2 lemons and 1 orange)
400 g unrefined sugar
1.2 litres boiling water
2-3oz citric acid (if you're going to store the cordial for a while)
Ideally pick the flowers in full sun. Fork the flowers off the stalks or snip off the main stalks, putting flowers aside and discarding the rest. Place sugar in a pan and pour boiling water over, stirring until dissolved. Place the elderflowers (check to remove bugs) in a clean bucket and pour hot sugar mixture over it. Cut the lemons in half and squeeze the juice into the bucket, then grate the lemon zest and add this too. Stir, cover, and leave for 24-48 hours, stirring occasionally. Strain the mixture through a sieve, or preferably a fine muslin cloth, and funnel into clean bottles, or dilute and serve immediately!
For Elder Flower Sorbet
Follow all the instructions above, omitting the citric acid and dilute with two-thirds water and beat in one whipped egg white. Use an ice cream maker or get ready for these next steps... Freeze the cordial in a sturdy tupperware (plastic container with a lid) for 2-4 hours. Remove & mash up with a fork or in a food blender. Repeat at least once more. Serve on its own or with a variety of other desserts, particularly good with sponge cakes.