It was salty lips and a refreshing, post swim sup of elderflower cordial that moved me to create this. Even as I write, in my mind's eye I can still see the coastal horizon and taste the combination of sweet elderflower and salt. The ice cream is rather good too, and perfect if you crave the sea but live inland.
Since writing this, I also discovered a lovely gin and elderflower ice cream that I enjoyed courtesy of Bruichladdich distillery. It was divine! I may not have managed to recreate that one, but this recipe is equally enjoyable, even without the alcohol!
Elderflower and Sea Salt Ice Cream recipe
Serves 6
Ingredients
2 free-range egg yolks
185 ml elderflower cordial
35 g (2 tbsp) unrefined sugar
500 ml lightly whipped cream (approx. 425 ml double cream, before whipped)
½ - ¾ tsp rock salt, lightly crushed
In a medium to large bowl whisk the egg yolks until light and fluffy. In a small heavy bottomed saucepan add the cordial (less the 2 teaspoons) and the sugar and stir over a medium heat until the sugar has dissolved. Bring to a rolling boil and using a sugar thermometer allow to reach 110°C or until a metal spoon dipped in the syrup forms thin threads from the last drops. Slowly pour the syrup into the eggs and whisk constantly, add the rest of the cordial and continue to whisk until the mixture thickens and resembles a mousse.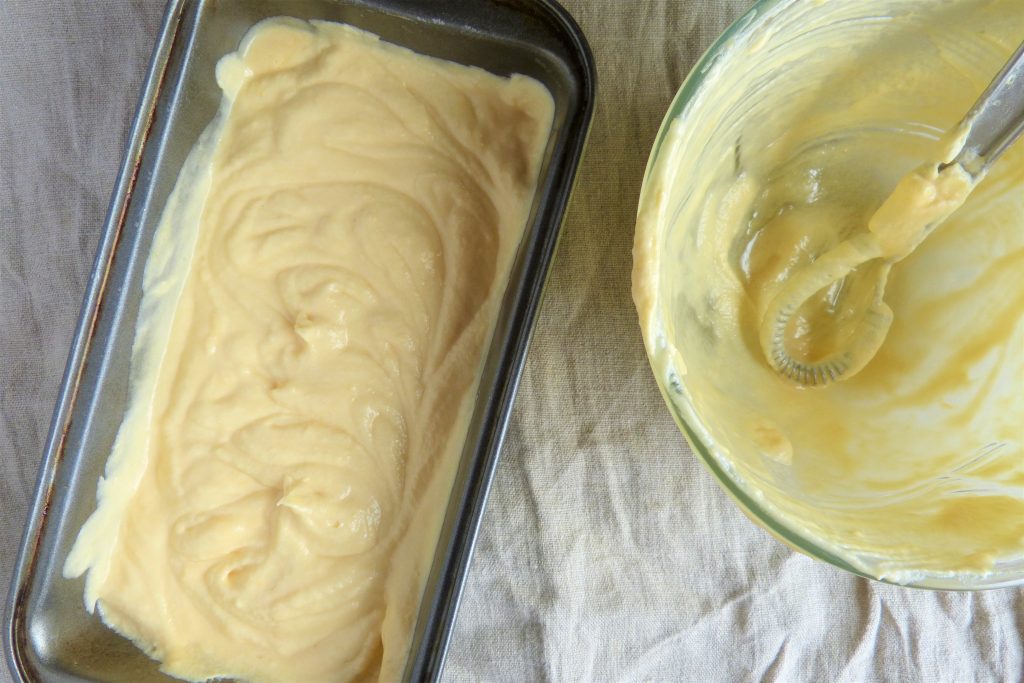 Spoon into a one litre Tupperware or tin, cover and freeze for one hour. If you haven't already, roughly crush the salt in a pestle and mortar – you want small pieces of rock salt, but not dust. After an hour take the semi-frozen ice cream out of the freezer, thoroughly stir in the salt and freeze until ready to use. Remove from the freezer 10 minutes before serving, lovely with summer fruits.
Oh my oh my. The wood sorrel family is a fantastic family of edible plants to get to know. In this blog I take you through four different varieties and how to identify and use them.
Sign up to access this post
Access this post and more for £3.50. Already a member? Sign in here.
SEASONAL TASTER
MONTHLY BASKET
£3.50 per month
Every month you'll receive 1 seasonal wild food recipe from my edible plant of the month, plus links to additional seasonal posts AND be able to access the last 6 months of Taster basket offerings.
Unsubscribe at any time.

Violets Viola (Violaceae)
Violets have been recorded in recipes since the 16th century, their smell is very evocative of sweets or perfume for many. Edible violets are a delight visually and soothing for the body.
For me, carpets of purple, blue-violet coloured flowers with heart-shaped leaves, these low growing plants have a strong presence. Easier to spot and appreciate when in flower, they are perennials, so return every year with their purple heads. Found across Europe, including most of the British Isles, I also love their French name; violette and North American varieties are known as wood violets or common blue violets. 
At Christmas I trundle down to the same, small, wooden roadside flower stall, about 5 miles from my home. Driving along Cornish lanes it's an annual expedition to buy a posy to take to my violet-loving aunt. Such delicate flowers, so tiny, yet so robust in the heart of winter, I love my aunt's oohs, and aaahs at being brought these flowers.
When do violets flower?
Here in Cornwall where the weather is reasonably mild, violets flower through winter and early spring. Traditionally violet flowers would be used to decorate spring cakes, alongside primroses. In other cooler areas of the country and the world, violets tend to flower from Spring to early Summer, though this depends on the variety. Sweet violets (Viola odorata) are an early flowering violet, while common dog violets (Viola riviniana) may also flower through Summer to early Autumn. 

How many types of violets are there?
There are up to 600 varieties of violets growing worldwide, mostly in the Northern hemisphere, with a few exceptions. Violets have also naturalised and been cultivated in many countries including North America, Canada and Australasia. The plant known as African Violet (Saintpaulia) is in the Streptocarpus plant family and not considered a violet (Viola) in terms of this post.

Are all violets edible?
Most violets and pansies are edible, including the violet, purple, blue, white ones and the multi-coloured ones. Though it seems that the yellow varieties are best left alone as they can cause stomach upsets. As I've mentioned above, African violets aren't actually violets (they are part of a different plant family) and are not edible. Most of the recipes I share in a dozen wild violet recipes use sweet violets. They are identified by their scent, early flowering (see above) and deep purple colour.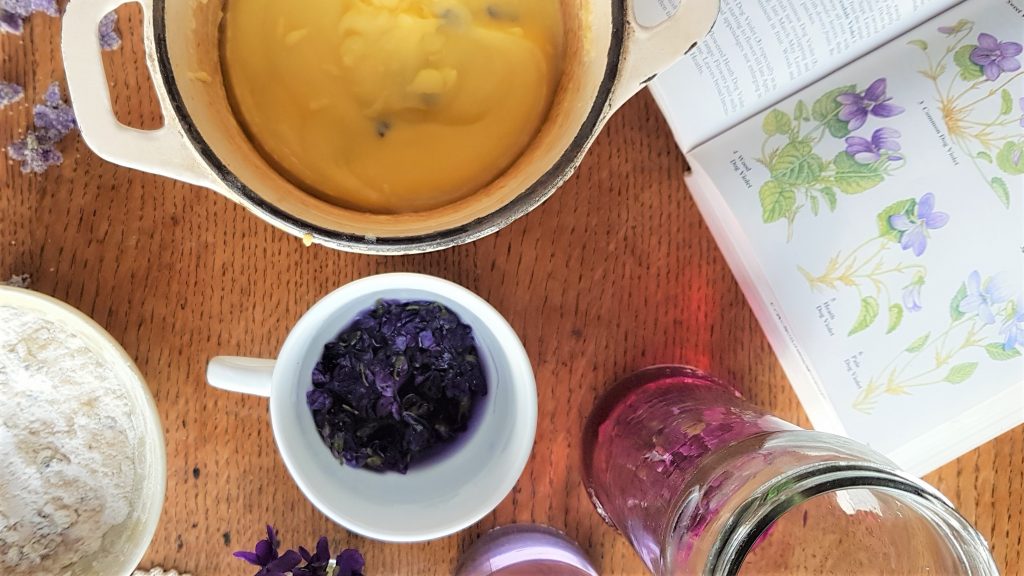 Which are the best violets to eat?
The European sweet violet variety (Viola odorata) is the most perfumed of the violets and the most satisfying to eat and infuse for flavouring and colour. The strong perfume and heavily branded 'Parma violet sweets' are flavoured from, you've guessed it; parma violet flowers which are thought to be a hybrid of sweet violets and viola alba, originating in Italy. Other violets, such as dog violets, can also be used for their colour, texture and nutrition.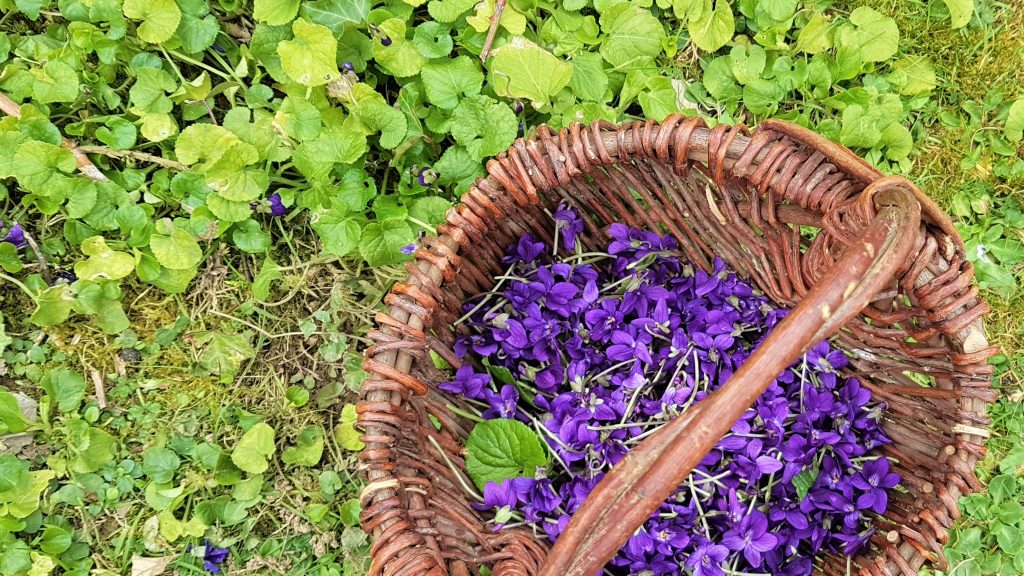 Do violets have any health benefits?
Violet flowers have a high vitamin C and A content. They have been used to treat colds and in cough syrups and for internal and external inflammations. They are also mucilaginous and I find them very gentle for the digestive system. Both the leaves and flowers are renown for soothing skin conditions from eczema, to insect bites and sunburn. Hence being used in massage oils, skin and lip balm and bath salts. Violets can be added straight into a bath, or added in the form of infused oil, vinegar or salt.  

Which parts of violets are edible?
The use of violets have been documented as food and medicine for hundreds of years, and have probably been used since the beginning of time. The flowers, leaves and stems can all be eaten and used as medicine, the rhizomes (roots) have also been used, but very cautiously and only in small amounts. I choose to leave the roots alone for this reason and also to keep the life cycle of the plant intact.
How to use violets in food?
Traditionally violets have been used in; violet candy, violet cakes, violet cream, violet syrup, tea and salads. When cooked, they become sticky and are a perfect natural thickener for soups and stews, I wouldn't recommend them as a side vegetable though, who wants gloopy veg?!
Despite the scent being strong enough to catch my attention when walking past, I find the flavour of even sweet violets very elusive to capture. Best matched with mild or better still, neutral flavours. Take a look at my, no less than 12 violet recipes I've created, including;
Buttery, melt-in-the-mouth biscuits, sandwiched together with a vibrant, sweet violet infused butter-cream. These are a dreamy experience, leaving you feeling like you're eating sweet violets. Here I share one of my favourite, homemade violet recipes.
You can also read more about violets in my Wild Food: Violets post and A Dozen Violet Recipes.
Sign up to access this post
Access this post and more for £5.95. Already a member? Sign in here.
RICH PICKINGS
MONTHLY BASKET
£5.95 per month
Get more! You'll get access to all the Taster Basket blogs, plus an additional 2 seasonal posts of my most treasured material AND be able to access the last 6 months of Rich Pickings offerings.
Unsubscribe at any time.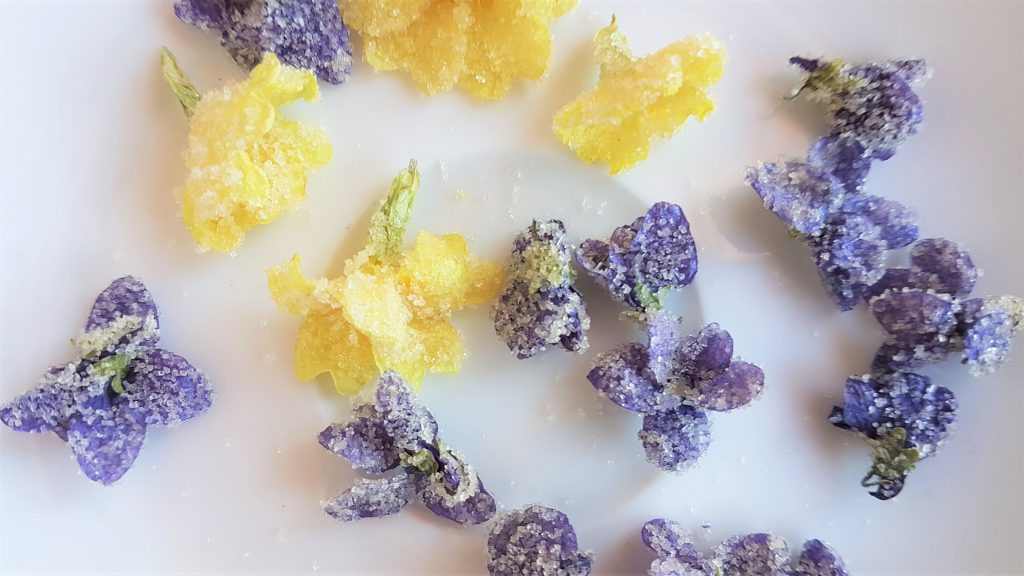 Crystallised flowers and petals are an attractive way to preserve flowers out of season, or prolong their use in season. Flowers candied in this way can last well for several months. This traditional method is a little fiddly and detailed, which suits some people. I find the effect is worth it, but a session once a year is enough for me!
Which flowers are best to crystallise?
Only use edible flowers and ones that are in abundance, never rare nor sparse ones. Flowers are an important part of many plants' reproductive system, so only pick what you need. In my environmental policy I suggest never picking more than 30% of a plant, and with flowers 10% or less is more appropriate.
Suitable flowers include but are not exclusive to; violets, primroses, apple blossoms, mint flowers, lilac flowers, gorse flowers and rose petals. This works well with flowers that aren't too small nor too big. Though a variety of shapes and sizes can also look really effective on top of a cake, for example.
I also have plenty more recipes for gorse flowers, rose petals and violets.
My favourites flowers for crystallising
Are sweet violets and primroses. Violets because they're easy to paint (see below) the colour is fantastic and the flavour so violety (floral and like violet sweets, if you've never had them). Primroses because they've been used for hundreds of years in this way and I'm the kind of person who likes traditions. They are rather delicate though - I find the petals break more easily and the colour and flavour is more subtle. My preference would be to use primroses unadulterated - just as as raw, pure flower decorations or popped straight into my mouth.
You'll need;
Edible flowers or flower petals
A small, clean paint brush (the right size to get into all the nooks and crannies of a flower's anatomy)
Fresh egg white
Really dry sugar (see below), I prefer to use golden caster sugar
A warm place to dry the flowers
Time and patience
How to dry sugar
Darina Allen suggests warming the sugar first to ensure it's completely dry. This isn't essential, but it will help ensure your flowers dry well and don't go soggy. I warmed mine, it's easy to do and reassuring. Just preheat the oven to 275F/140C/fan 120C and sieve the sugar into a baking tray. Warm for 30 minutes.
How to crystallise flowers
Check the flowers over and brush off any dirt or debris. Some people prefer to wash them and pat them dry, though I avoid this if I can, as it also removes some of the flowers' scent and you then have wet flowers to dry.
Loosen the egg white in a small bowl, use your paint brush to coat each flower with a thin layer of egg white. Some advice to place the flowers in a salad spinner at this point, to spin off the excess egg white. I find that a bit harsh for delicate flowers! Just paint lightly and be sure you coat every crevice. Pour a little of the sugar over the flower or petal until it has a layer of sugariness. Place on a plate, board or clean/sry surface. Continue with all the flowers. Leave in a dry place overnight or until crisp to touch. I dry mine on top of a radiator. 
Store in a clean, sealed jar. Darina Allen stores hers in a pottery jar or tin box interleaved with silicone paper. I just store mine in an airtight jar or clean container.
Want to know more? Why not take a look at my;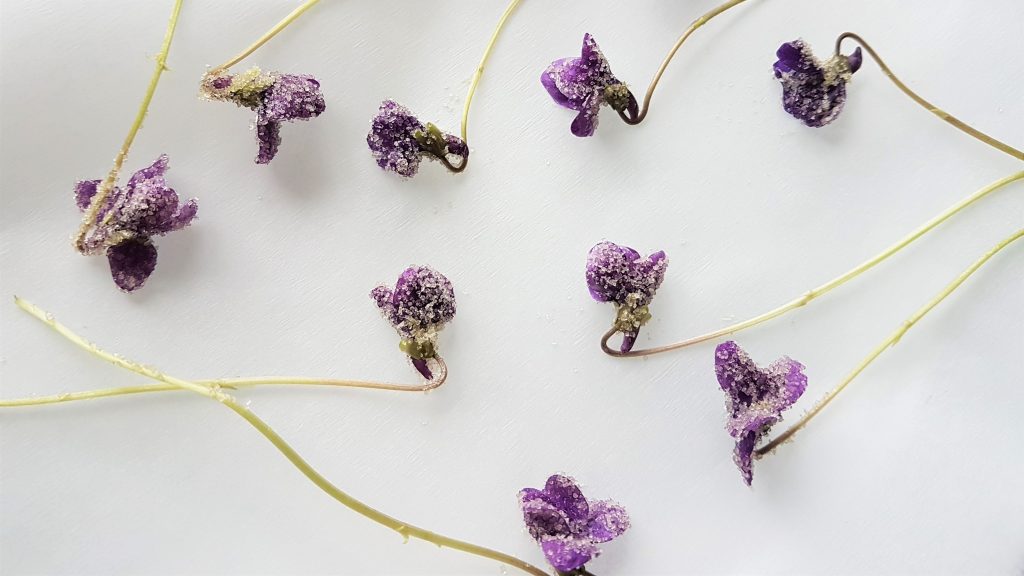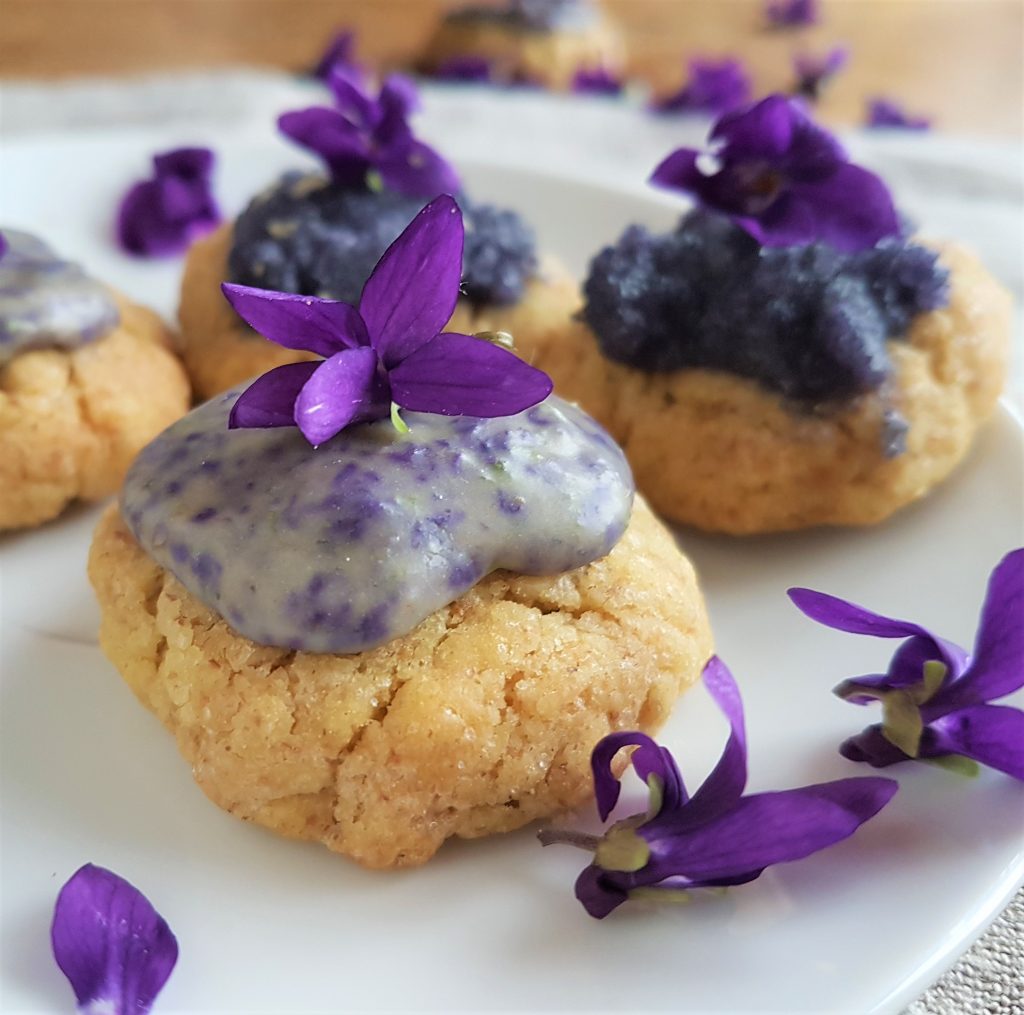 I've had such fun experimenting with edible violets! Their colour and aroma are a delight, if not a little elusive to pin down! So I thought I'd share my best Dozen Recipes for using Violets for sweet and savoury, complete with notes on colour and flavour.
Most of the recipes I share here use sweet violets, though some are suitable for other wild violets. Check my my Wild Food: Violets post to find out more.
Sign up to access this post
Access this post and more for £3.50. Already a member? Sign in here.
SEASONAL TASTER
MONTHLY BASKET
£3.50 per month
Every month you'll receive 1 seasonal wild food recipe from my edible plant of the month, plus links to additional seasonal posts AND be able to access the last 6 months of Taster basket offerings.
Unsubscribe at any time.

I used to walk round my Granny's garden and smell the roses, my sisters and I used to snap off her runner beans and eat them raw too. Luckily for Granny, I didn't know that roses were edible then, though I still love to stop to smell them, whether in a park, someone's garden or a hedgerow.
Roses make my heart sing, they truly do. From the scent through to the texture of the petals, they are an edible heaven to me. Eat them fresh OR this recipe is ridiculously easy and super good. It was given to me by my colleague Emma Gunn and you can't go wrong with it. Unless you don't like roses.
In this post I share the recipe, explain when to pick roses (and why) which is the best rose to eat (and my favourite) and how to use this delicious rose preserve.
When to pick rose petals?
Roses are a joy to see in flower, and the petals are ready to pick when they come away easily when touched - I share tips on picking here in; Roses are Red, Pink, White and Edible. There's no need to pick the whole flower head; keeping it intact will ensure the rosehip fruit will grow later in the year. Rose hips are wonderful to use for autumn desserts and treats.
Which rose petals are the best to eat?
All roses are edible, but not all are fragrant. You also want to make sure they haven't been sprayed. That's why I love the wild ones and my favourite wild roses are rosa rugosa*, also known as Japanese rose. They have a wonderful fragrance and fantastic colour!
Where can you find rosa rugosa roses?
Japanese roses are originally grown in Japan, China, Korea and Siberia and were brought over to Europe over 100 years ago. They first arrived in the UK in 1796 and in Japan are called hamanasu.
They're also known as beach roses (which gives you a clue) as they tolerate salt water and can help stabilise sand dunes.
You can find them in coastal areas across Europe, eastern Asia and North America. Many gardens also have this beautiful plant.
They spread easily and are considered an invasive. Picking and cooking the rosehips in the autumn will help reduce the spread of the seeds.
Fresh Rose Preserve Recipe
A super easy recipe that preserves the fresh flavour of roses in a beautiful sweet and lemony base. Will keep for up to 3 months in the fridge. Use blended into yoghurt, drizzled over or sandwiched between sponge cakes. Serve alongside chocolate cake.
I'm also open to other ways of enjoying this, so I'd love to hear how you enjoyed yours! Just use the comments box below.
Makes 110 g (enough to sandwich a classic 20 cm sponge cake together)
Ingredients
30 g (2 cups) fresh rosa rugosa petals*
85 g unrefined caster sugar
1 tbsp lemon juice
Blend the ingredients together and store in a sterilised jar. Will keep in the fridge for up to 3 months.
Fresh Rose Preserve Recipe
A super easy recipe that preserves the fresh flavour of roses in a beautiful sweet and lemony base. Will keep for up to 3 months in the fridge. Use blended into yoghurt, drizzled over or sandwiched between sponge cakes. Serve alongside chocolate cake.
I'm also open to other ways of enjoying this, so I'd love to hear how you enjoyed yours! Just use the comments box below.
Makes 110 g (enough to sandwich a classic 20 cm sponge cake together)
Ingredients
30 g (2 cups) fresh rosa rugosa petals*
85 g unrefined caster sugar
1 tbsp lemon juice
Blend the ingredients together and store in a sterilised jar. Will keep in the fridge for up to 3 months.
Wow, they're pink! Pink elderflowers with beautiful dark purple, almost black foliage and the flowers smell like elderflowers - what a find! But are they edible?
Black beauty, Black lace, Sambucus nigra, f. porphyrophylla 'Gerda' are an ornamental subspecies of Elder. Their flowers smell lemony and they're a stunner to look at! They are often bought and planted for these exact features. I've only found these in planted gardens and in urban areas.
Why plant Black beauty?
As well as having flowers that can be used for elderflower cordial and other delicious recipes (see below). Sambucus 'Black Beauty' is known for attracting bees, beneficial insects, birds, butterflies​/​moths and other pollinators. It is a caterpillar food plant, has nectar/pollen rich flowers, provides shelter and habitat, has seeds for birds and makes a good wildlife hedge.
Can you eat all types and colours of elderflower?
In general, it is not advised to eat elderflowers or elderberries raw. Some people get a stomach upset and there is a mild toxicity. That is why traditionally, elderflowers are infused not eaten and elderberries are cooked (to make syrup, wine or pontack sauce).
Elderflowers are native to North America and most of Europe, they can also be found in some areas of Australia and New Zealand. The main species is known as Elder, Black elder, European black elder, elderberry.
There is other species such as Mexican elder (Sambucus mexicana) also known as blue elder. The flowers of the blue elder can be used in the same way as all the elderflower species, but the berries should be cooked for at 30 minutes to make edible.
How can I use pink elder flowers?
Pink elderflowers can be used instead of white elderflowers for cordial, syrup, wine and champagne. The cordial can also be used in a variety of desserts and sweet treats such as elderflower jam, elderflower doughnuts, elderflower quick, creamy, sponge.
But... the colour is so good it is worth thinking about pink foods! I'll be posting a recipe for this very soon.
Have you signed up to my newsletter to make sure you get updates about new blogs - it's free! Or exclusive membership makes sure you have new wild food recipes every month in your inbox!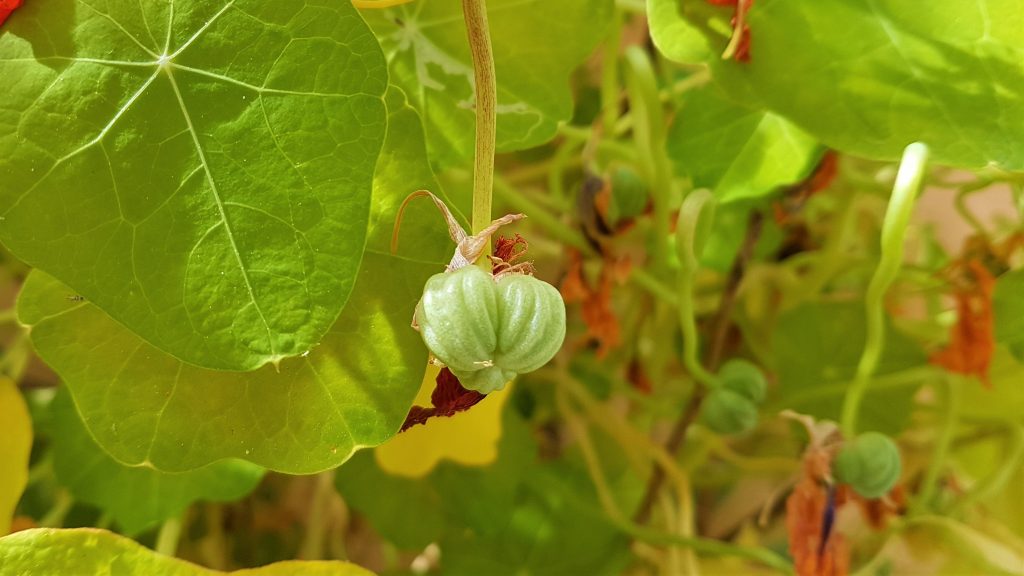 Pickled nasturtium (Tropaeolum) seeds can make an excellent replacement for capers (which come from a different plant). This recipe is simple, quick and effective as they taste just as good as capers! Here I pick them from my wild town garden where they arrived as weeds and I've been loving their colour and flavour ever since.
Nasturiums are such a giving plant; they grow easily in the sun, partial shade or complete shade (though they may get stressed in a very hot summer in full sun). They are also easy to cultivate and grow best in dry soil. They are trailing, climbing plants, which with the right opportunity will climb upwards or fill large patches of ground.
Are nasturtiums really a wild food?
Native to South America, but were brought to Europe in the 1500s and have since naturalised in many areas. I know them both as a cultivated, garden plant and a profuse, common weed.
There are over 80 species of nasturtiums, some annual, some perennial. Luckily, nasturtiums produce a lot of seeds which mean they keep coming back (even if they are annuals) AND there can still be enough seeds to produce these capers.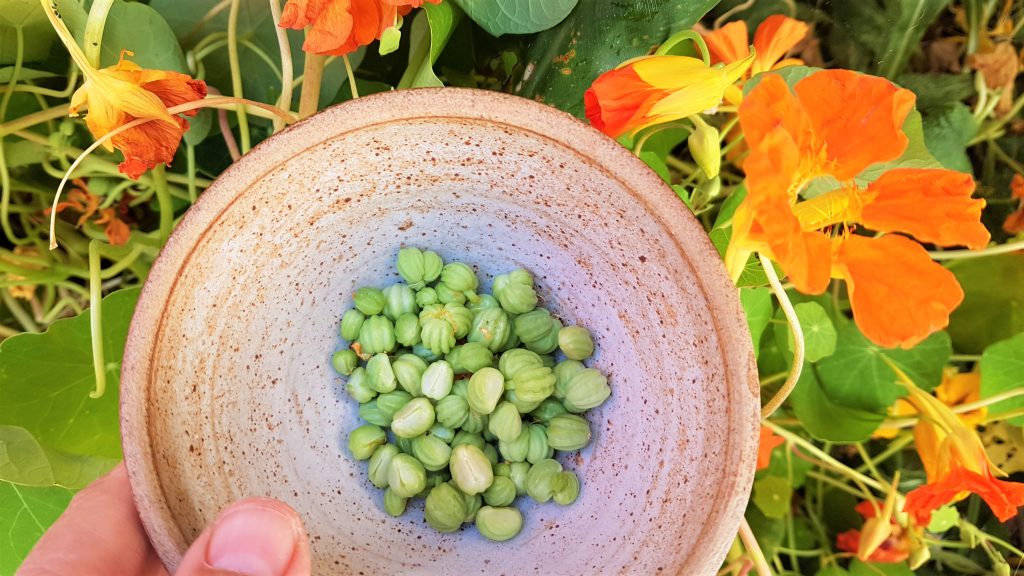 Which part of nasturtiums are edible?
All parts of nasturtiums (pronounced na-stir-tchums) are edible. Their name literally means nose twister or nose tweaker, because of their peppery kick. The flowers are sweet and the leaves, flowers and seeds all have that spicy flavour. I love adding the flowers into salads, the leaves into pesto and pickling the seeds to make these fake capers - though they taste just as good!
I love their beautiful, colour flowers to look at, smell and eat! They can start to flower in spring and early summer.
Are nasturtiums good for you to eat?
Nasturtiums contain a good amount of vitamin C and high amounts of lutein derived from carotenoids, which may be beneficial for eye health (1). Eating a varied diet full of greens, orange, yellow and a range of colours is generally considered good for your health too (2).
Nasturtium Capers (Pickled seeds) Recipe
Makes 1 jar
Ingredients
300 g/1 cup nasturtium seeds
80 ml/1/3 cup vinegar*
80 ml/1/3 cup water
Large pinch of sea salt
Large pinch sugar
2 tsp chopped herbs (of your choice) - optional
Wash the seeds and place in a pickling jar. In a small saucepan heat up the vinegar, water, salt and sugar to boiling. Pour over the seeds. Add the herbs if using and stir in to submerge. Screw on the lid and leave for 2 weeks before using.
How to pickled nasturtium seeds compare to capers?
Capers are from the caper bush (Capparis spinosa or Capparis inermis) from the Mediterranean and parts of Asia. they also have both wild and cultivated cousins. Of course pickled nasturtium seeds are different, but they're a pretty good replacement! Call these fake capers if you wish, or just pickled nasturtium seeds.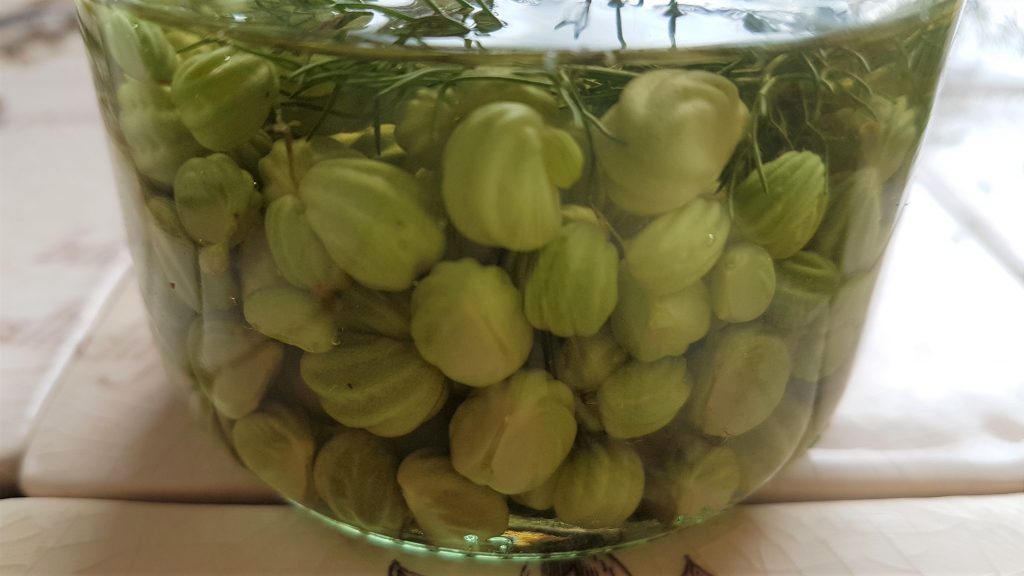 References
The taste of summer (elderflowers) and their medicinal, anti-viral qualities can be enjoyed in many desserts, drinks and snacks. Here I share my Elderflower and Strawberry Jam recipe, which is delicious on toast and a divine filling for my moreish Elderflower Doughnuts.
This is an easy recipe for making strawberry jam from fresh strawberries. I also share how to make jam set, how to use this jam and why strawberries and elderflowers are good for you.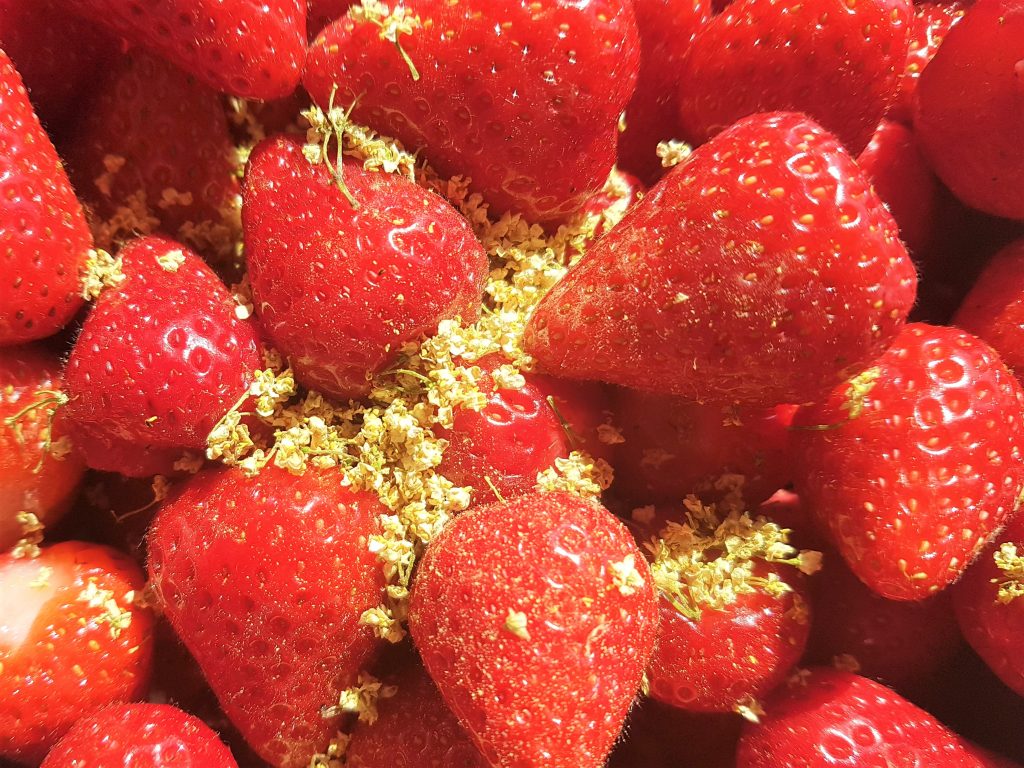 Fresh, healthy strawberries
Strawberries are an excellent source of vitamin C and K and also contain a good amount of fibre, folic acid, manganese and potassium. It's healthy to include a variety of fruit and vegetables in your diet.
Seasonal, local strawberries are the best and, luckily, they often ripen at a similar time to elderflowers, making them perfect companions.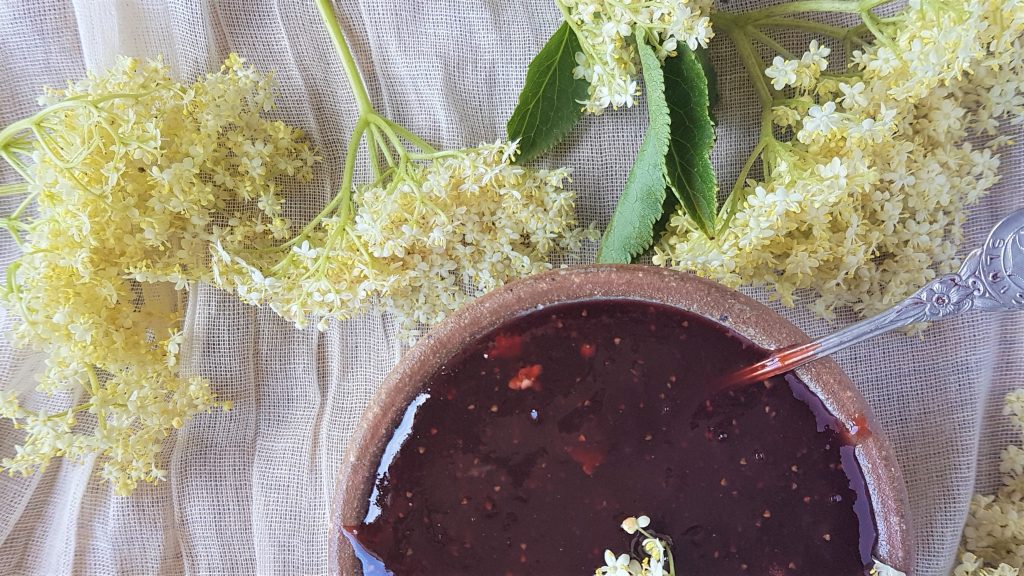 Elderflowers
Elderflowers are my seasonal wild food of the month! A wonderful anti-viral with a gorgeous scent, they can help treat colds, flu, coughs and bronchial infections.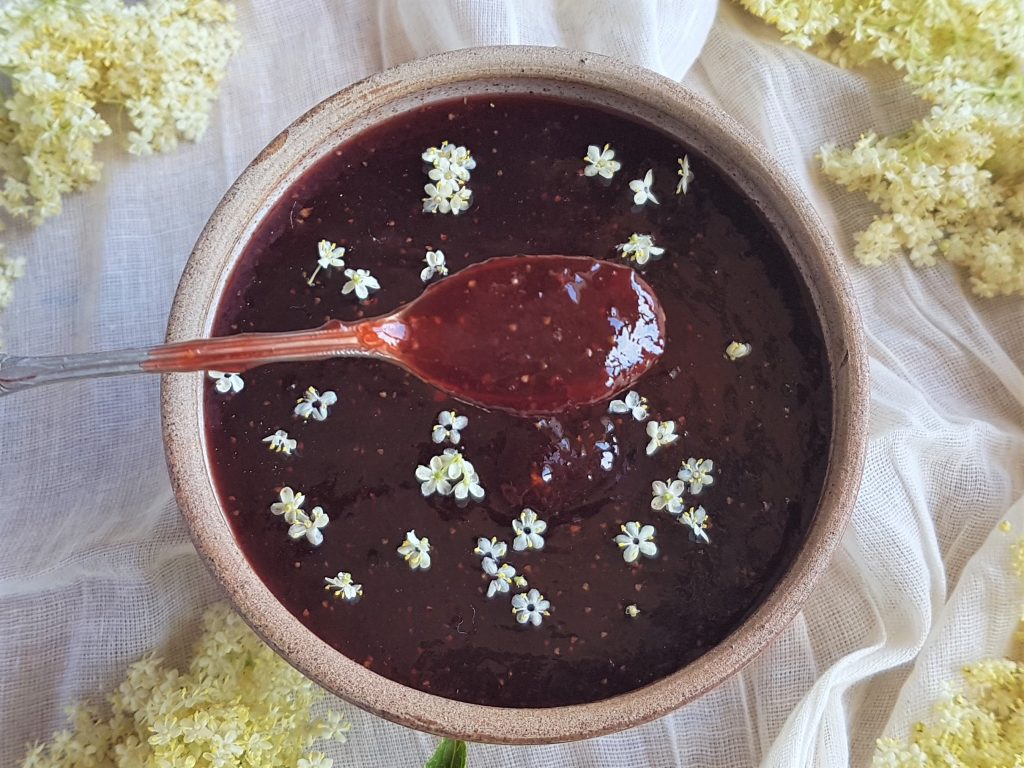 My Elderflower and Strawberry Jam Recipe
I'm often inspired by the seasons, the wild foods surrounding me - their taste, smell and texture and fellow cooks that I admire. Darina Allen is one such cook, her traditional family recipes are some of my 'go-to' ones, and this recipe was inspired by her Mummy's Strawberry Jam recipe.
I've added a wild twist, of course.
Makes 1.3 kg jam (approx)
Ingredients
1 kg fresh strawberries
800 g golden granulated sugar
5-8 elderflower heads (flowers forked off and stems discarded)
50 ml elderflower cordial (or lemon juice)
Take off the green tops of the strawberries and rinse if needed, you then need to make sure they're are really dry. You can gently pat them dry with a tea towel. Once dry, place in a stainless steel saucepan - it will be easier if you use one that's bigger than the one I used above!
Sprinkle in the elderflowers (removed from the stems) and the elderflower cordial or lemon juice, next you'll be adding the sugar. According to Darina Allen, the best way to make jam from fresh strawberries is to heat the sugar first. This isn't essential but might make a better jam!
To heat the sugar, place it in a stainless steel bowl in a preheated oven to 180/160C fan/350F/Gas 4. Heat for 15 minutes then pour evening over the strawberries and elderflowers. Alternatively, pour over the sugar cold. Cover and leave for 12-24 hours. Overnight should be suffice, but I left mine for 24 hours and all the strawberry juices had really started to come out - yum!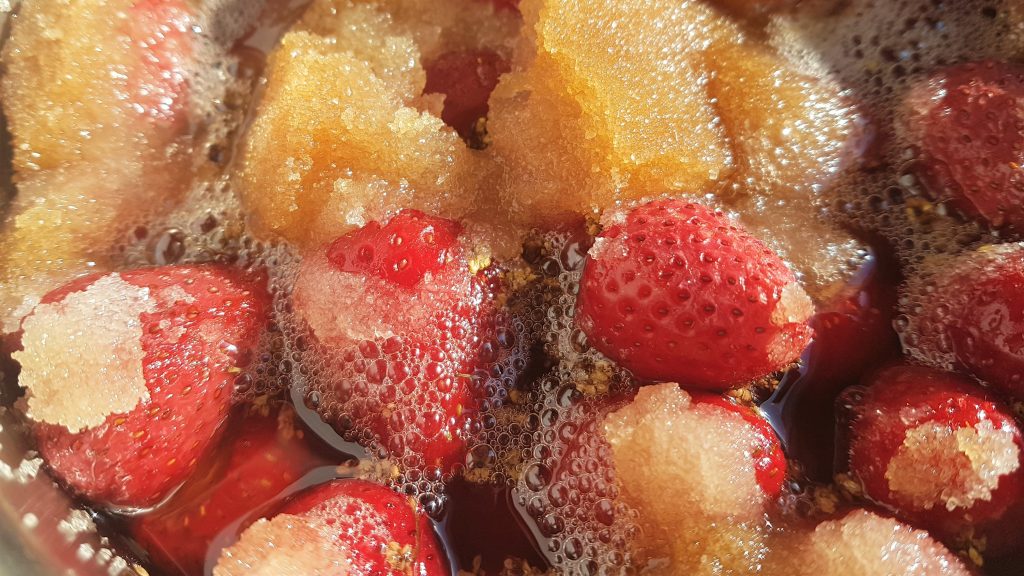 It may sound like a lot of sugar, but this will help preserve the strawberries and at least it is unrefined rather than white caster sugar!
The combination of fruit, sugar, heat and lemon juice will ensure that your jam sets. The citrus juice in the elderflower cordial is also enough to set the jam - and it's my preference to use the cordial.
Next bring the pan to the boil, stirring to help dissolve the sugar. Mash the fruits with a potato masher, or a blender stick. I used a blender stick as I wanted a smooth jam I could use in elderflower doughnuts, but you might want a more rustic one for sandwiching together cakes, mixing in rice pudding, spreading on scones or smothering over toast.
Leave the jam to boil for about half an hour. You can use a jam thermometer if you prefer or test the jam by taking a teaspoon of the jam and placing on a cold saucepan. Move the jam around, if it starts to wrinkle at the edges as it cools, then it is ready.
Decant into sterilised jars and leave to cool.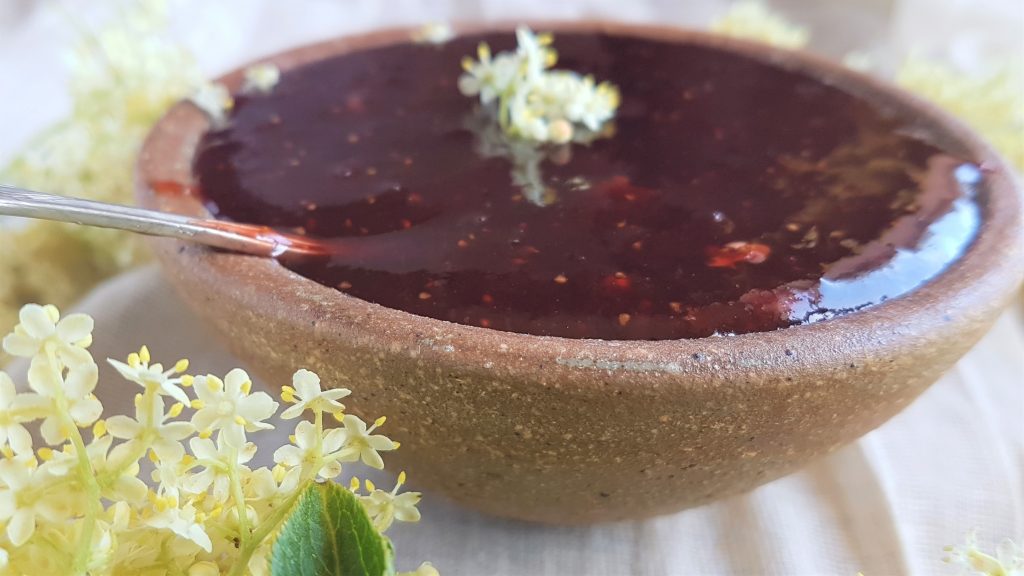 Elderflowers are one of the plants I cover on some my summer foraging courses. I teach foraging throughout the year - helping you connect to the abundance of health-giving foods available on your doorstep.
Elder Flower-Head Fritters are a classic wild food recipe for these edible wild flowers. The combination of batter and a hint of elderflower is utterly delicious.
What's more, you can turn them savoury or sweet and here's my winning versions with an extra light batter recipe, plus suggestions for turning them into a starter, main accompaniment or dessert.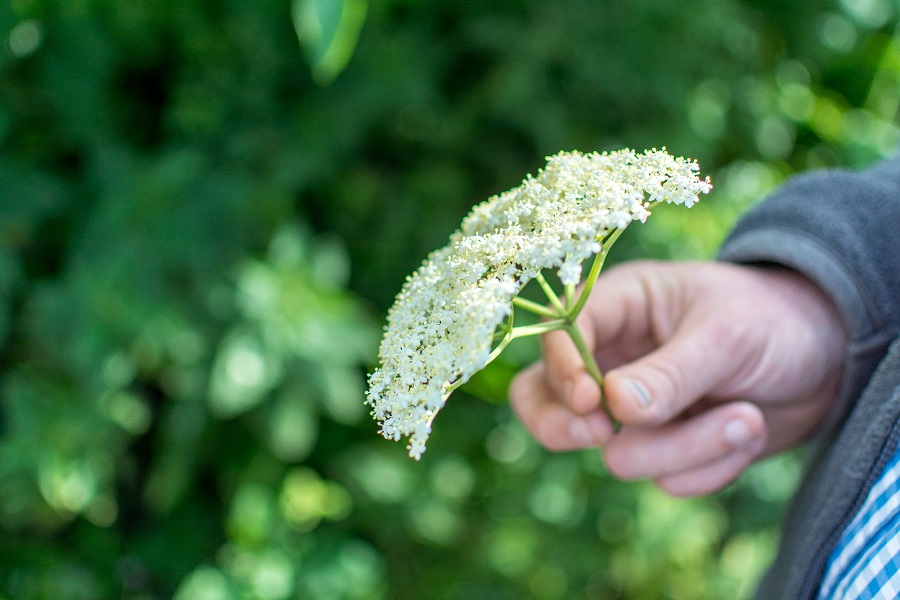 These are quick and easy and can be turned savoury or sweet. I love them dipped in soy sauce and lemon for a tangy, savoury snack. Hmmm, but they're equally nice served with ice cream or dusted with a light coating of icing sugar.
*TOP TIPS: For a light batter use half plain flour and half corn flour
Elderflower Fritter Recipe
Serves 4-6
Ingredients
200 ml ice-cold water
1 large egg, beaten
100 g sifted plain wheat or buckwheat flour (or half flour and half corn flour)*
2–3 ice cubes
Sunflower oil, for frying
16 elderflower heads flower heads, stalks intact
Cover a couple of large plates with kitchen paper (if you have). Pour the ice-cold water into a mixing bowl, mix in the egg, add the flour and roughly fold it in with a fork. Do not beat it – the batter should be lumpy. Add the ice cubes.
Heat at least 2.5 cm oil in a wok or a frying pan (I like to shallow fry rather than deep fry and use a small pan to do this). The oil is hot enough when a drop of batter bubbles and turns golden in 5–10 seconds.
Hold a flower head by the stalk, wipe it through the batter to coat it all over, allowing any excess batter to drip off. Keep hold of the stem while dropping the coated flower head into the oil. Using the stalk, turn it if necessary and cook until golden and crisp, then remove and place on the kitchen paper. Repeat with all the flower heads. To serve, either snip off the main stems or eat the flower heads and discard the stems as you eat them.
How to serve these elderflower fritters?
Savoury: As a starter or serve alongside risotto or fish with a blend of soy sauce and lemon (half and half)
Dessert: Dust with icing sugar and serve with a squeeze of lemon, or have with ice cream.
For more recipes and information about elderflowers search my summer blog and find;
When NOT to pick elderflowers
How to make Elderflower cordial and sorbet
Quick elderflower layered sponge
How to dry elderflowers
How to freeze elderflowers
Picking the last of the elderflowers
Elderflower and strawberry jam
Moreish Elderflower doughnut recipe
and more....
For me, Summer is about outdoor adventures, picnics, barbecues, fayres, festivals and the beach. Elderflowers are the perfect accompaniment, unless it's a festival or fayre - then it's doughnuts!
Here I share my ultimate elderflower doughnut recipe - they're gorgeous!
Yes, doughnuts are fayre food for me, when I'm tired and hungry from dancing it's the smell of doughnuts that I sniff the air for. Created following a mini disaster – my Cornish town's annual fayre and no doughnut van in sight – they are a delightful summery twist on the hot sugary ones I yearned for. Complete with a gorgeous soft, jam centre and sweet elderflower coating, these are melt-in-the-mouth with a double dose of elderflower to keep spirits high.
For this recipe you'll need to first make elderflower cordial - here's my simple elderflower coridal recipe, plus lots of information about where to find elderflowers, when to pick them, what the benefits of elderflowers are. You can also find tips on when to avoid elderflowers.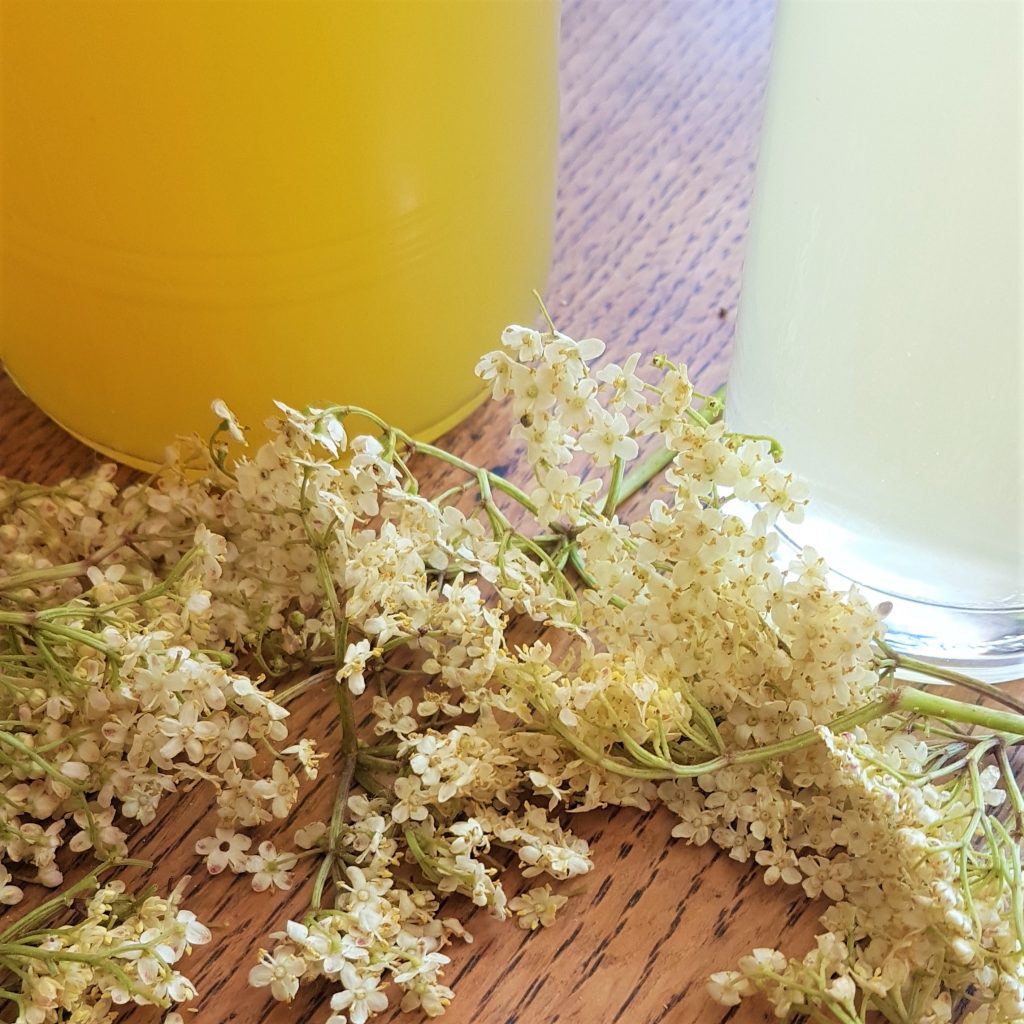 Elderflower Doughnut Recipe
Makes 12
Ingredients
1 tbsp dried yeast
1 tbsp unrefined caster sugar
135 ml milk                                                   
50 g butter
1 free-range egg, beaten
275 g plain flour (replacing 25 g with wholemeal flour if you wish)
200-300 ml vegetable oil, for frying
Iced coating
Warm the milk in a small pan, take 2 tablespoons of the warm milk and mix with the yeast and a pinch of sugar and leave until it gets frothy. Meanwhile, cube the butter and gently plop into the milk, mixing until the butter dissolves. In a large bowl, sieve the flour and add the rest of the sugar, make a well in the middle and add the frothy yeast, buttery milk and the egg. Mix then knead and stretch for 5 minutes, cover and leave in a warm place for an hour or until doubled in size.
Dust a large baking tray with flour and knead the dough for 5 minutes, break the dough into 12 pieces, rolling each piece into a ball and place on the baking tray. Cover and leave to rise for half an hour or until doubled in size. Prepare a couple of dinner plates with kitchen paper and heat the oil in a deep pan to 190°C or until a small piece of dough dropped in the oil sizzles and floats to the surface. Using a slotted spoon, drop 2-4 dough balls into the oil and fry until golden brown, turn over and brown on the other side. Remove and place on the kitchen paper, repeat with the remaining dough balls. Using a filling nozzle, flavour injector or a teaspoon, make a small slot in the side of each doughnut and fill with jam. To finish off, in a small bowl mix the icing sugar with the elderflower cordial and dunk the top of each doughnut in the icing. Eat warm or cold.
There's something about prehistoric plants that give me the shudders. I love the idea of these plants preceding humans on this planet. The presence of magnolias (Magnoliaceae family) recorded to be at least 20 million years old and plants in the same family being up to 95 million years old. Mind blowing!
In this blog I explore questions such as; are all magnolias edible, which ones taste the best and how to use magnolias in recipes and drinks. I share 4 magnolia recipes, lots of tips from my fellow professional foragers and a few small digressions on the way!
Are Magnolias really a wild food?
Here in the UK I come across Magnolias in parks, gardens and street corners. They are native to areas such as North, Central and South America, as well as Sri Lanka parts of India, Malaysia, Indonesia, China, Japan and Korea.
Although here, they are cultivated and planted, all cultivated plants have their origins in the wild, and this plant goes way, way back.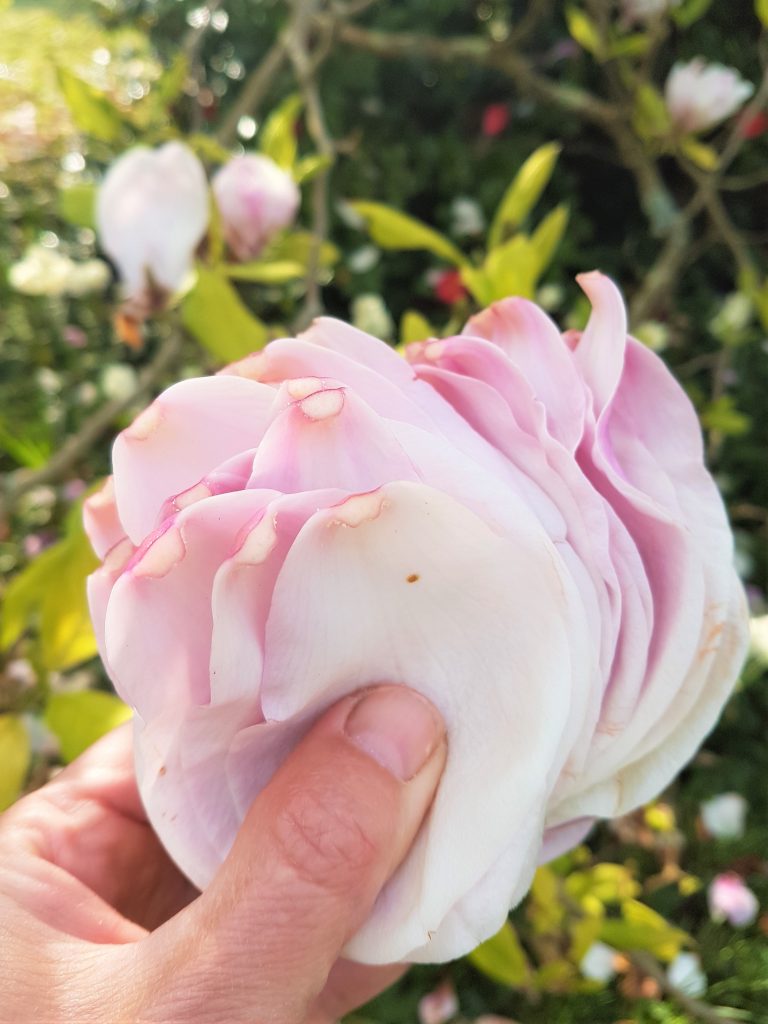 Last year I visit the Fossil Garden in a small town in North Wales, created by Robbie Blackhall-Miles and his partner. This small, town house garden is completely dedicated to plants with a fossil record and millions of years old. Many endangered and varying from small mosses to large ferns and trees. There was no magnolia in the garden - it isn't endangered - but it was amazing to stand amongst plants with such a long history.
I digress. Though if you find yourself in Snowdonia, or would like to support such a project, do look up the FossilPlants Garden.
Appreciating age, form and colour
I also love the shape, colour and overall presence of magnolias. These large, bold flowers are rather magnificent I think, which is great when it comes to thinking about presenting them as food. Or you could paint them! To celebrate them I've painted them on the entrance up to my cottage (another small digression).
Are all Magnolias edible and which are the best ones?
I love Kim Walker's (from Homemade Apothecary) and ethnobotanist Harriet Gendall's chart and exploration into the edible and best tasting magnolia petals. Charting their taste according to flavours of; floral, cardamon, cucumber, citrus, chilli and ginger is fantastic research! Do take a look at their list of edible magnolia species.
Discussing magnolia as a wild food with other foraging colleagues, Magnolia grandiflora came out as one of the favoured varieties and to avoid smaller varieties such as Magnolia stellata (Mark Williams of Galloway Wild Foods). More bitter flavoured petals reduce in bitterness when dried (John Rensten of ForageLondon), though do bear in mind that;
IT IS NOT A GIVEN THAT ALL MAGNOLIAS are edible, so do taste with caution, or check out this list of known edible species (thanks Kim).
To summarise, the darker pinks and mix of white and pink will have the strongest flavours, and think of magnolia as a condiment, i.e. small amounts and don't over do it.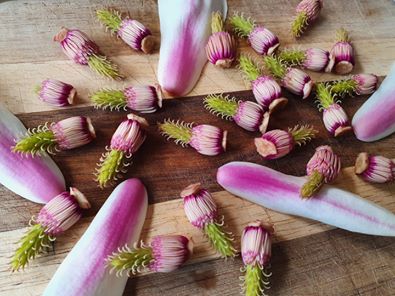 How to use Magnolias as food
I've recently been on a spurge of Japanese and Chinese influenced wild food cooking. Experimenting with delights such as Cherry Blossom. It felt natural to look towards cultures where this plant is native for recipe ideas for Magnolias.
There are many ways to use this plant;
Herbal tea
Salad
Pickle
Dried as a spice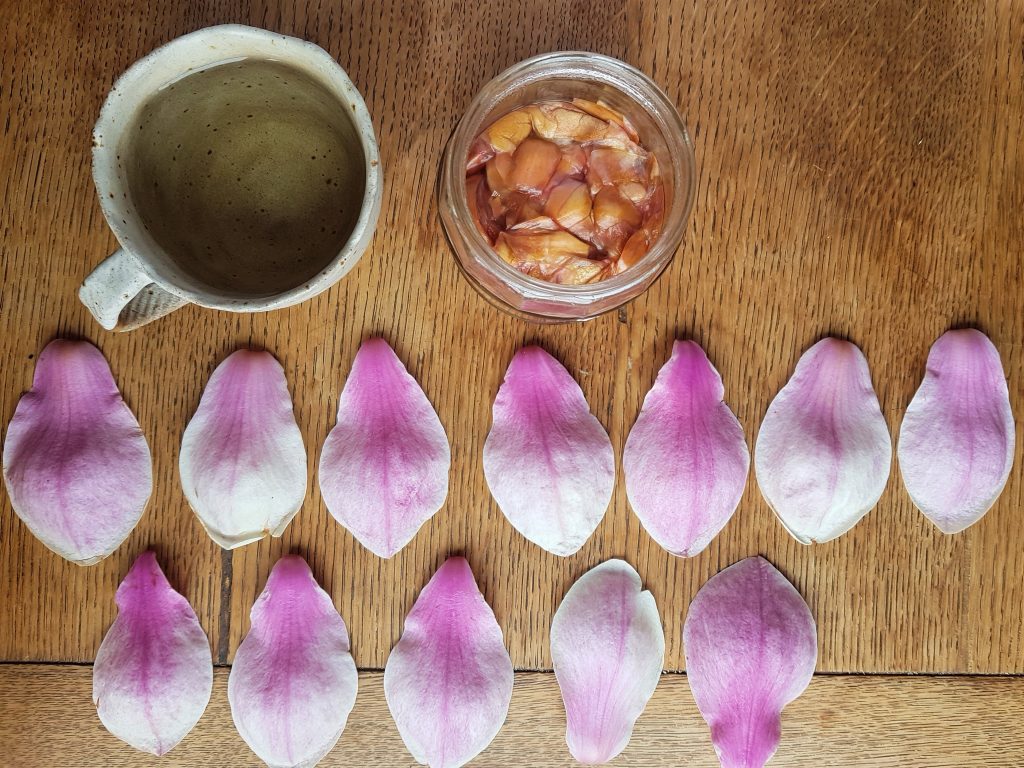 Magnolia Petal Tea
Pop a few petals in a teapot, pour on boiling water and leave to brew for 10 minutes. The flavour is subtle but quite pleasant.
Magnolia Petals raw as salad
If you are excited about the eating the colour of magnolia petals then using them fresh and raw is the way to go!
Those lovely, thick and curved petals are also a great substitute for an edible plate or mini canape base. Fellow forager Craig (Edible Leeds) suggests going for subtle flavours; thin strips of carrot, cucumber and pepper either naked or with a soy sauce and ginger dressing. I dream of filling mine with fresh crab (the joys of living by the coast).
Pickled Magnolia Petals
This recipe is a wonderful way to preserve magnolia petals and enjoy them all year round. Unfortunately, the petals will turn brown (so you won't preserve the colour), but the flavour is similar to pickled ginger and is great added to salads or with sushi.
Robin (Eatweeds) calls this recipe 'exquisite'. I've reduced the sugar and tweaked his recipe a smidgen, but the results were still gorgeous.
Ingredients
75 g magnolia petals
100 g rice vinegar (or mild vinegar like white wine vinegar)
35 g granulated sugar
Pinch of salt
Pick magnolia petals that are ready to drop from the tree. Pack into a jar. In a small saucepan, heat the vinegar, sugar and salt. Stir to help the sugar dissolve and heat till steaming and the first tiny bubbles appear. Pour over the petals and leave to cool before covering. Leave to steep for a week before using.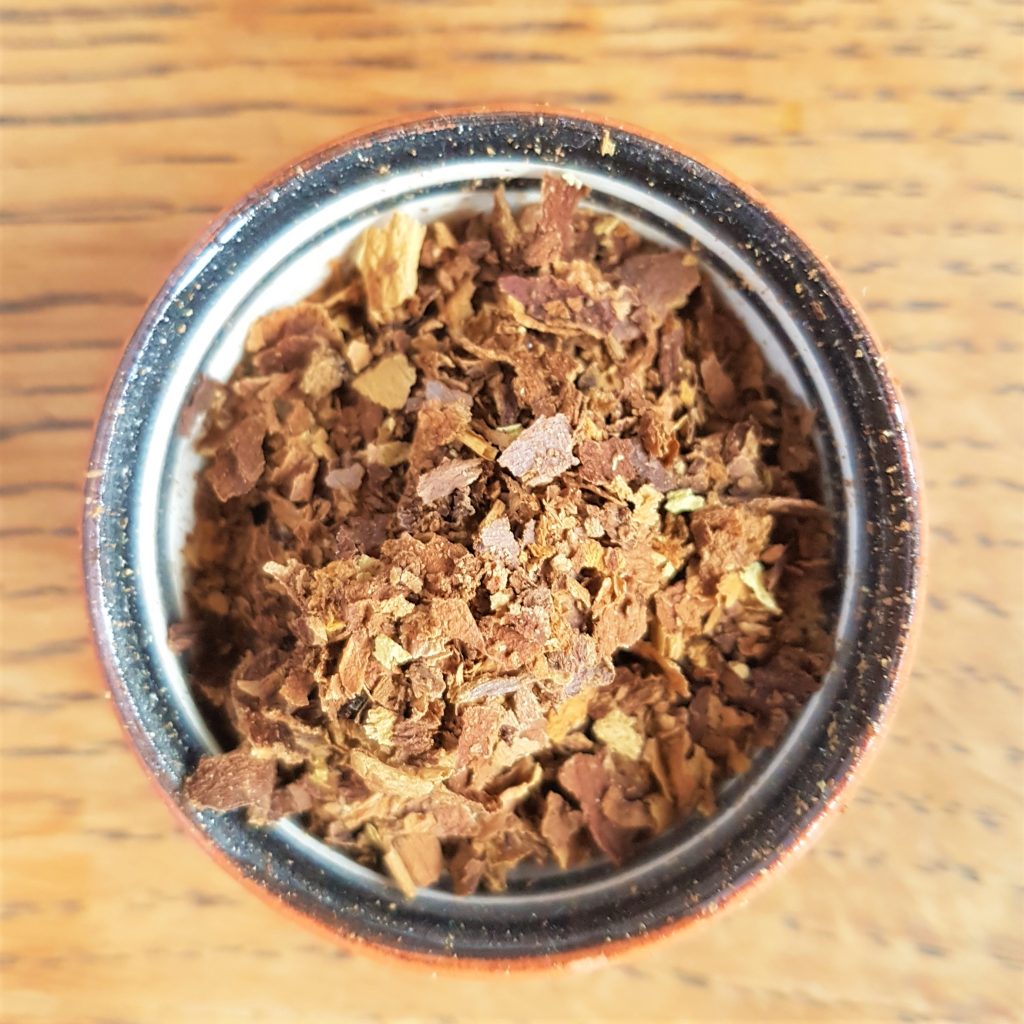 Magnolia as a Spice
Drying magnolia petals is another way of preserving the flavour and bringing out tastes tones of, what I can only describe as cardamon-ish. Though the flavour also changes in time and will vary depending on the species of magnolia.
Once you get over that beautiful loss of colour, you can discover the joys of this surprising spice! Fellow forager John uses it in a wild jerk mix, Mark in wild parkin, and Lisa in a wild chai blend. Check out John's book Edible City for a magnolia chai recipe. The possibilities are endless.
I simply use it to flavour rice, a ground teaspoon cooked in a 1-2 person rice portion.
More magnolia recipe ideas
Like any ingredient, these recipes are just the beginning. If you start to experiment with magnolia you will discover the right amounts that you prefer and will be able to explore the full potential of this food source. Ru Kenton (London Wild Fruits) has even made wine from the petals and a sorbet paired with melon!
Disclaimer - Magnolia has been a new 'wild' food for me to explore. I have referred here to many colleagues who have experimented with it successfully. Feel free to go through the blog and click on the links to get in touch with them for more info.
It is possible to taste, drink in and immerse yourself in Spring in so many ways. This morning I was standing under my friend's flowering cherry tree, enjoying the floppy bunches of blossoms and their subtle scent.
This afternoon I'm making a Cherry blossom syrup and I'm sharing the recipe with you. Cherry trees typically flower for no more than 2 weeks, making it a special window to enjoy in Spring.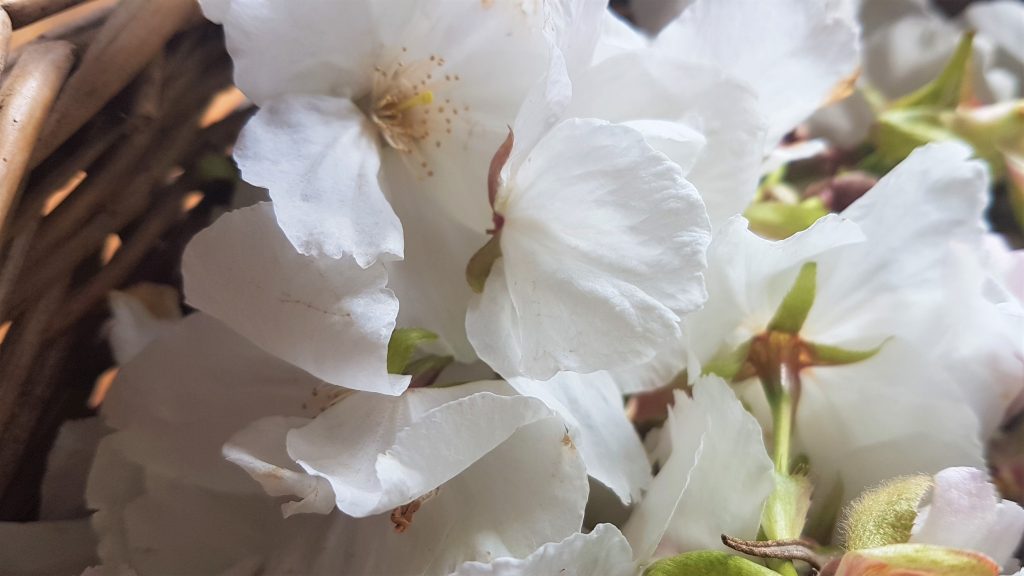 Cherry blossoms have been used in Japanese cuisine for hundreds, if not thousands of years. The Japanese make a special occasion of appreciating the season of cherry blossoms with their Hanami festivals. Hanami translates as 'viewing flowers'.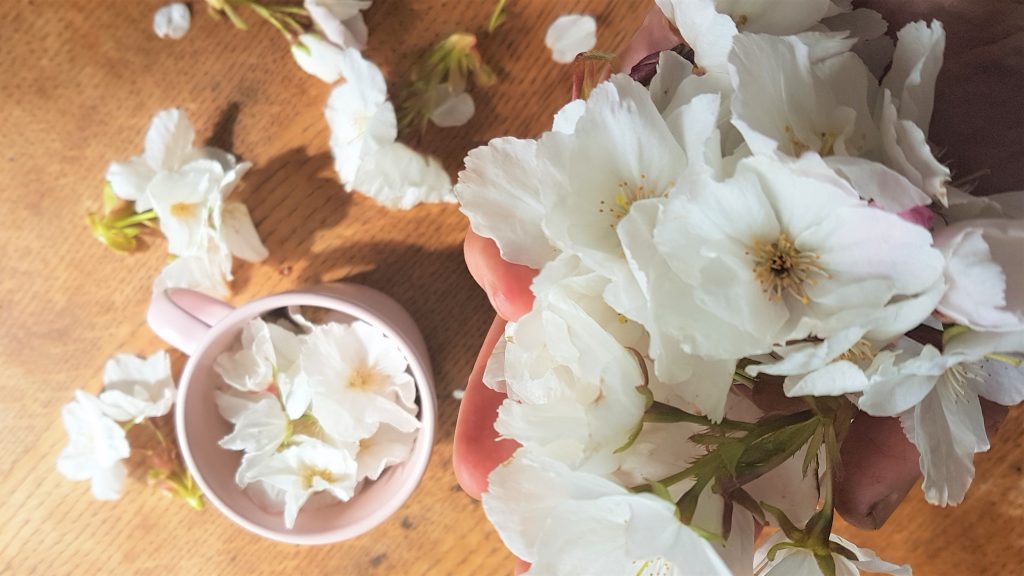 Cherry blossoms are known as sakura in Japan, here I make a simple blossom syrup for drizzling over desserts. Earlier in the season I made a blackthorn flower syrup, and I was interested in finding out how differently they tasted from one another.
Both cherry and sloes (the fruits of the blackthorn) are members of the Prunus family. Here's the recipe.
Cherry Blossom Syrup Recipe
Ingredients
30 g (1.5 compressed cups full) cherry blossoms
60 ml (4 tbsp) boiling water - enough to cover the blossoms
40 g soft brown sugar
Place the blossoms in a mug or heatproof bowl. Cover with boiling water and cover for 2-4 hours. Immediately the water hits the blossoms their almond scent is released. It smells sweeter than the blackthorn blossoms. Lets see!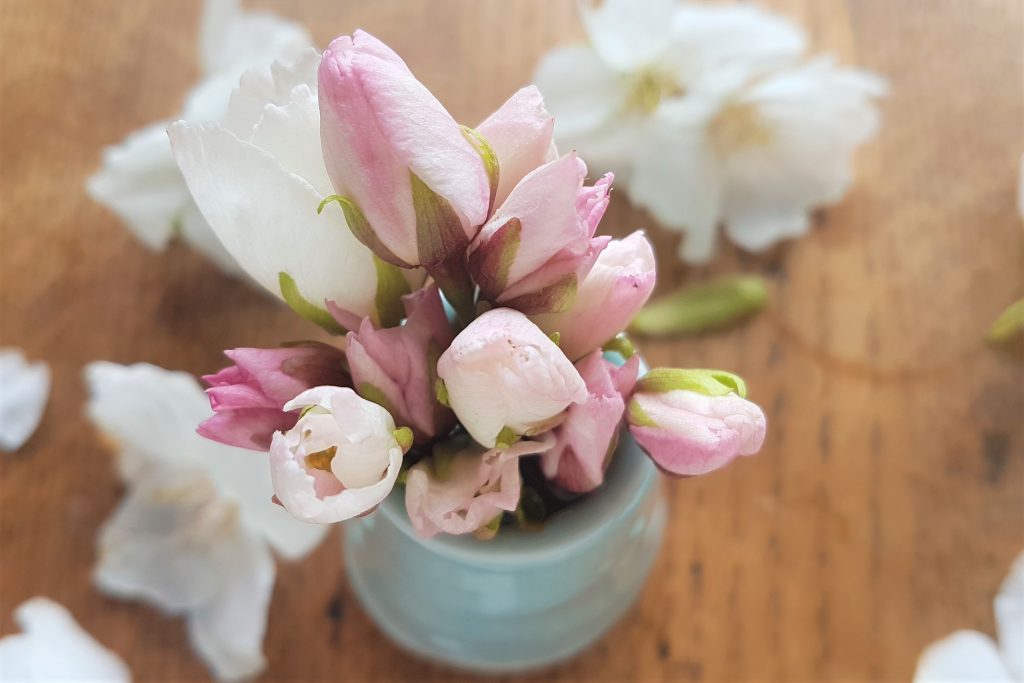 Strain the liquid off the blossoms and place in a small pan with the sugar. Heat over a low heat and stir to dissolve the syrup then store in a sterilised bottle of jar or use immediately in the recipe below.
How does cherry blossom and blackthorn blossom compare in syrups?
Cherry blossoms offers a subtler flavour to blackthorn flowers, with less of a bitter aftertaste. This is also a good reason not to soak the blossoms too long - 4 hours is plenty.
Rice Pancakes with Cherry Blossom Syrup Recipe
The cherry blossom syrup compliments these Japanese-style pancakes perfectly. A simple rice pancake recipe which picks up the sweet, almond flavour of the syrup. These are light and make a delicate dessert.
Serves 4-6
Ingredients
120 ml yoghurt
350 ml water
140 g rice flour
1 tsp cherry blossom syrup, plus extra for drizzling over the pancakes.
Oil for frying
Whisk together the yoghurt and water, then stir in the rice flour and teaspoon of syrup. Combine well and set aside for a couple of hours or more. I use a small frying pan for this recipe, but you could use a full-sized frying pan and make larger pancakes.
Over a medium heat, add a teaspoon of oil until hot. Add a ladle of batter, just enough to make a thin pancake. Swirl the batter around the pan to make an even layer filling the pan. Cook for 2 minutes, flip and cook the other side for 2 minutes. Repeat with the rest of the batter. Serve warm, drizzled with Cherry blossom syrup.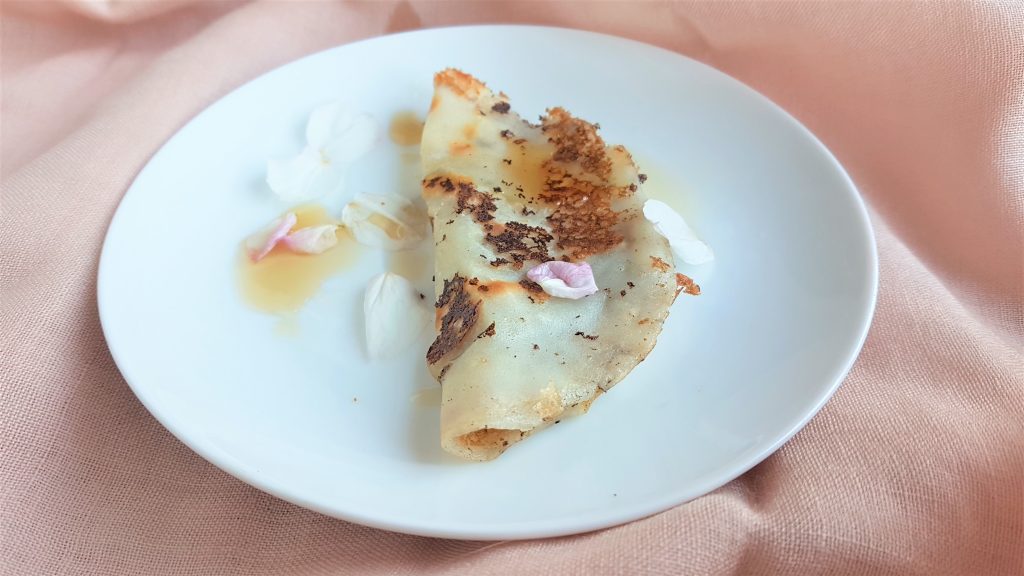 It is Spring and the gorgeous white blossoms of Blackthorn have appeared. These early Spring flowers are a welcomed sight and appear before the leaves.
As the saying goes; you can eat anything once! Here I explore the edibility of blackthorn flowers (Prunus spinosa), their flavour and potential benefits, plus a step-by-step recipe.
I was once asked what this flower was by a woman who'd been eating them and enjoying their almond flavour. My reply: They are blackthorn flowers, and that flavour will be the cyanide.
Knowing the plant family, and recognising this as a relative to the plum tree is not enough to assert its edibility. Nor is the fact that the berries (sloes) can be used as food and to flavour drinks later in the year. In fact, the seeds, leaves and bark of sloes and black cherries also contain a compound that can be converted by the human body into cyanide when digested.
Blackthorn flowers have been used as an edible, sugar-coated cake decoration and I've been known to nibble one on a walk. My wild foodie colleague Mark Williams uses them to flavour his Sloe Gin, creating a a double-layered sloe gin cocktail.
Degrees of toxicity
There are many plants and foods we eat regularly that potentially contain toxins. For example; rice (arsenic), potatoes (solanine) and sorrel (oxalic acid).
What matters here is the amount. You'd need to eat more that 25 apple cores (with the seeds) in one sitting to be of risk of cyanide poisoning, apparently. And some say as many as 5000 seeds to be fatal. You know the saying; an apple a day keeps the doctor away. Keeping things in moderation is good.
Why eat blackthorn flowers?
Because of the cyanide content, blackthorn flowers have a lovely almondy scent which intensifies when infused. This can be used in small amounts as a flavouring. Below is a recipe for blackthorn flower syrup that I would only consider using as a wild alternative to shop-bought almond essence. Yes, literally no more than a teaspoon as flavouring (see recipe below). The flowers have been used as a laxative and the fruits are nutrient-rich food, including vitamin C and magnesium
It is not advised to eat blackthorn fruits (sloes) or flowers if pregnant or if living with a specific health condition. Always consult a medical herbalist or healthcare adviser first.
Blackthorn Flower Syrup Recipe
This recipe creates an intense almond-scented syrup, with a bitter after-taste. I quite like the combination of sweet and bitter. It is to be used as a concentrate, you could make a diluted version instead, if you prefer.
Ingredients
30 g blackthorn flowers
120 ml (8 tbsp) boiling water
100 g unrefined caster sugar
Place the flowers in a mug or heat-proof bowl. Pour the boiling water over and leave to steep for at least 2-4 hours. Strain through a tea strainer and place the liquid in a small saucepan with the sugar. Stir over a low heat until the sugar is dissolved (do not boil) and store in a sterilised bottle or jar. Use sparingly to flavour desserts or drinks.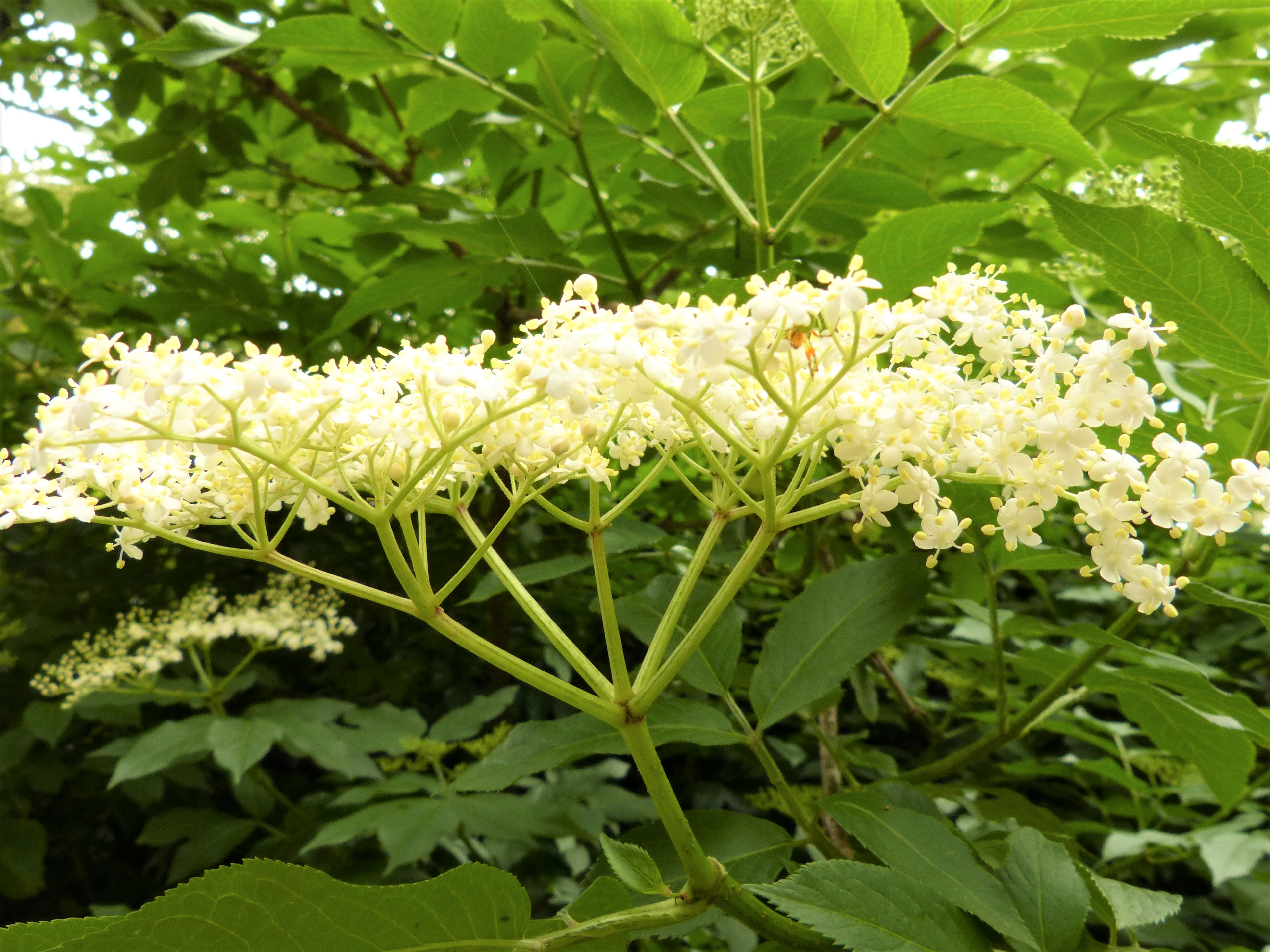 Pretty aren't they!
And a lovely scent (as long as they haven't passed their prime, in which case they'll smell like cat pee).
Though this blog isn't about the pretty things, it is about how to know when to pick elder flowers, and when to leave them. These are some of the tricks that foragers follow to ensure they get a good crop of elder flowers and also ensure that the plant is cared for, for its own welfare and sustainability. This way people, birds, animals other plant-life can all benefit from the magical Elder tree.
Here are just 3 points to help you get the best Elder flowers, oh, and a 4th point for luck.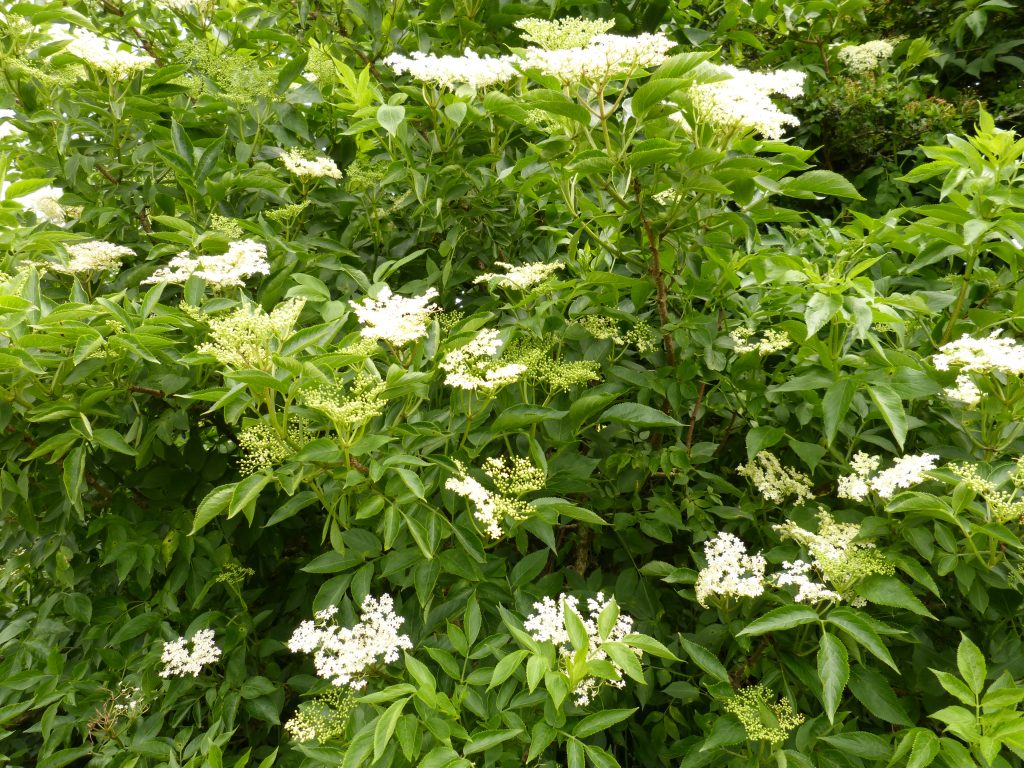 When to Pick Elder Flowers
I'm sorry, I can't give you an exact date, though I can teach you what to look for and the skills that foragers use in harvesting. A general time is May and June.
1. Smell
If they smell of cat pee, be disciplined and walk away. Yes - it is essential to walk away! It's time to leave the flowers (they'll come again next year, and won't be of any use to you at this stage), not as flowers anyway. Instead, walk away and allow the Elder (Sambucus nigra) to go to seed and produce the elderberries. Ah, wonderful life-giving elderberries,, here's some notes on how to take care of Elders and my elderberry and apple jelly recipe, more to come under my autumnal blog section.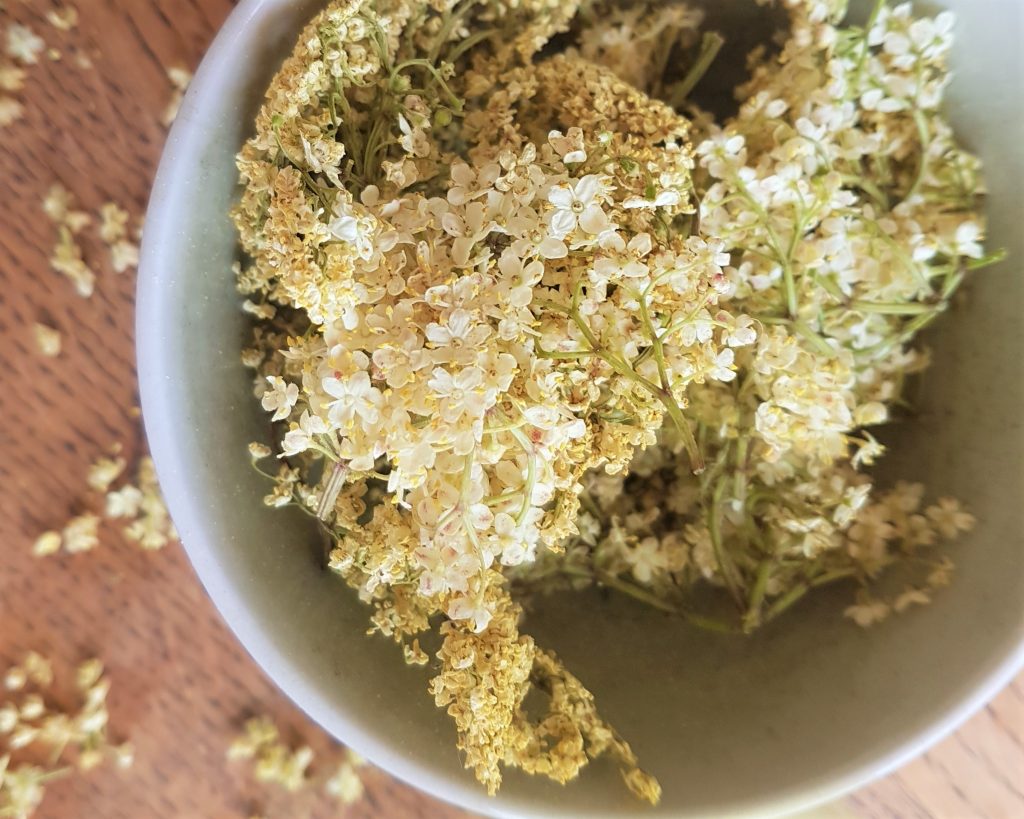 2. Colour
Back to the flowers of the Elder Tree, these are at their best when they are full of scented, pale yellow dust. Elder flower pollen. This is the only time to pick them. You might brush against an Elder bush and unsettle the pollen (a small cloud of visible yellow pollen hits the air), or smell a flower head and end up with pollen on your nose. These are all tips on how to tell if they are ready, and if there's no pollen that brushes off, or hardly any, it is best to walk away empty handed. Discipline is a virtue.
3. Shape
If the flowers are only unopened buds - you're in luck! The elder hasn't flowered yet, and all you need to do is wait a little while, a few days, until they do. This is much better than finding them when they are passed their best. On that note, the flower heads will open at different times, so if you find heads that are mostly unopened, leave them, and if you find heads that are mostly shrivelled and dried, leave them too. This will leave you with just the best flowers to pick - perfect!
4. Sun
Of course you know this, you know to pick when the weather is dry, the sun is out and the scent of the elder flowers will be at their prime. Isn't common sense a wonderful thing, as is the bright, burning, life-giving sun.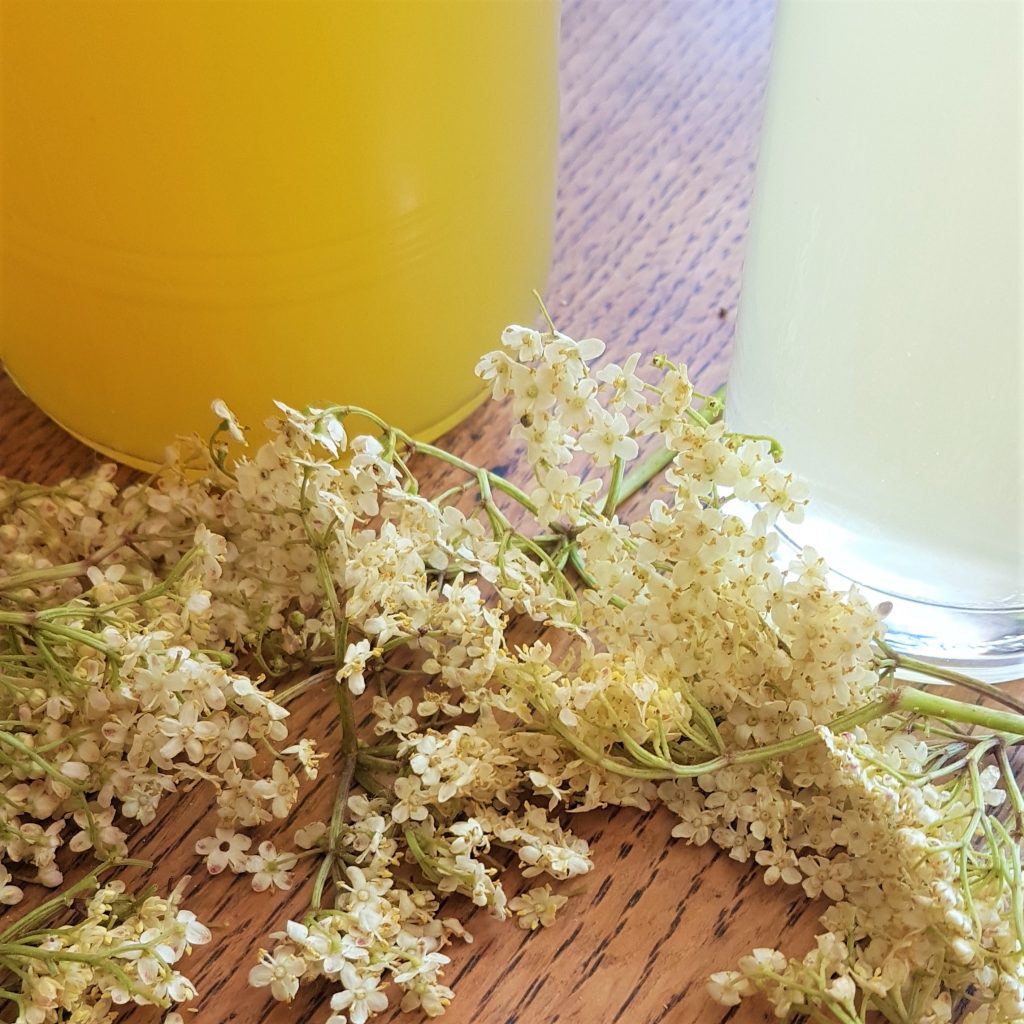 The edibility of elderflowers
Now you know when and how to pick your perfect elder flower heads for making cordial it would be easy to assume that elderflowers are edible, right? Wrong. It is best not to eat elderflowers raw, as the plant has a mild toxicity, which is why it is best to cook them or make cordial from them. Some people get an upset stomach from eating elderflowers or elder berries (elder flowers and elder berries come from the same plant).
Elderflower Cordial
Elder flower cordial recipes vary, a lot. Of course there are many ways to make something and it's great to have the choice of recipes, depending on how much time and elder flowers you have collected. I have two recipes here; a Classic Elder flower Cordial and Elderflower Sorbet recipe and here is an Elder flower Cordial with an Orange Twist.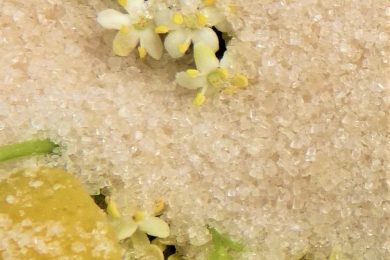 There will be other blogs on Elder flowers in the future, essentials to know about this plant so that you are using your time and the plant well. Happy foraging, and do look out for wild food foraging courses, if you'd like to know more.
Elderflower cordial is the ultimate summer drink, scent and medicine. As I sit here in my kitchen I'm enjoying their light, dreamy scent wafting across the room, of the ones I picked this morning.
Summer foraging for elderflowers is almost as popular as blackberries in autumn, or wild garlic in spring, and all for good reason. Elderflower cordial is the perfect way to capture and preserve the scent of summer. Foraging for edible wild plants is so rewarding too! Make your own homemade cordial to enjoy with friends and family.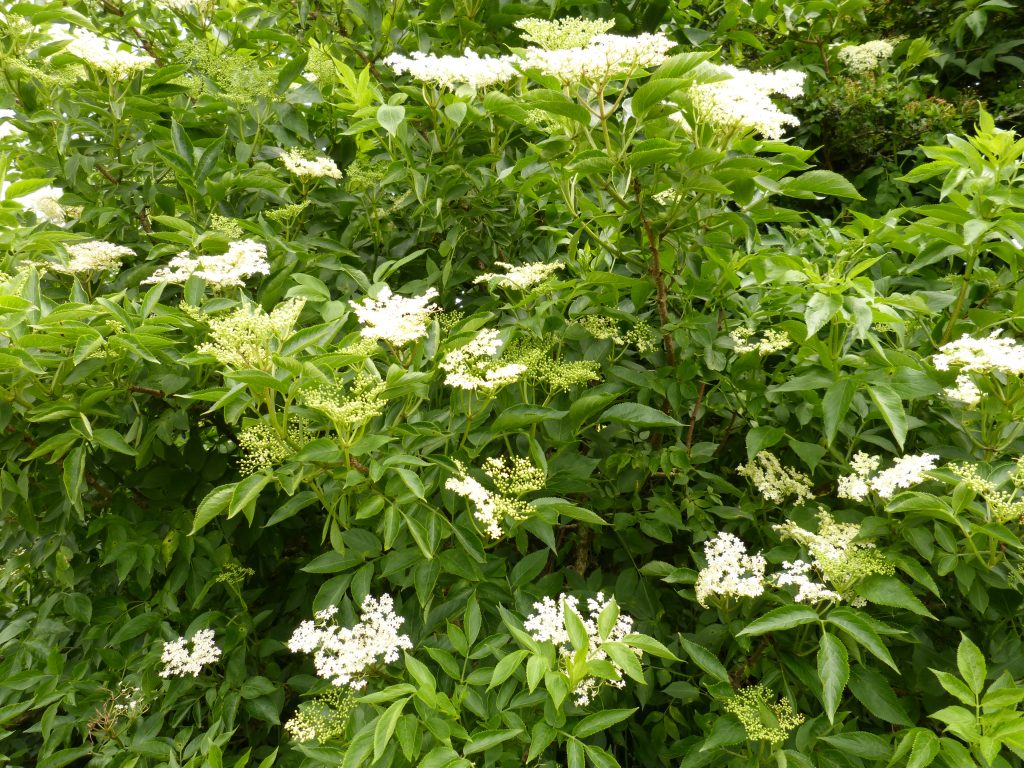 Where to find elderflowers
The elder tree is often considered a weed, it often grows on wasteland, in hedgerows and at the edge of woods. It loves the sun but can cope with shade, I often see them alongside roads and backing onto railway lines, which is often very frustrating because I'm rushing by!
When do elder flowers bloom?
Elderflowers start appearing in late spring and early summer. Here in the UK that means May to July, though this is dependant on how warm it is and whether spring started early or late. Sometimes July is still great for picking, and other years they have started to turn and are not worth picking.
Elderflowers can also be frozen. A few years ago my aunt froze a whole carrier bag of elderflowers for me. Once defrosted, they obviously don't look as good as when they are fresh, but you can still use them for making cordial or dry them for making elderflower herbal tea.
I also like to freeze some of my elderflower cordial in an ice cube tray, then I have ready to use portions!
How and why to dry elderflowers
Elderflowers can be used for herbal tea. You can dry them in the sun, in a dehydrator or at the lowest temperature in the oven and keep them for the winter months as medicine for colds, flu, coughs or bronchial issues.
How to make and use elderflower cordial
See below - a summary on this video and the full recipe at the end of the blog.
Use in cocktails, sorbet, ice cream, sweet bread, as a doughnut dip, elderflower champagne or dilute for hot and cold drinks. You can also freeze the cordial in an ice cube tray or bag and pop in soda water or defrost and dilute from frozen.
Why is elder flower cordial so good?
Many of us have a soft spot for sweet, and the combination of light and heady, citrus and sweet seems to be the ultimate combination!
Is elder flower cordial good for you?
Elderflowers have anti viral properties and can help treat colds and flu and quicken recovery. They can also be used to sooth sore throats, coughs and bronchial infections. Elder flowers are delicious and a medicinal plant.
How to identify elderflowers and the elder tree
Elder (Sambucus nigra) has umbel-like clusters of flowers, similar to that of the Apiaceae (Umbelliferae) family. To avoid fatal mistakes with deadly plants within this family, you must be 100% sure that you are picking the correct plant. This blog is focusing on the recipe, not on the identification, always check with an expert, so you can continue to enjoy foraging for food!
I run foraging courses throughout the year and bespoke foraging experiences where you learn how forage safely and how to identify trees like Elder correctly.
How to sustainably pick elderflowers
If you pick all the flowers there will be no elderberries later in the year - which would be very sad, for us and the birds. Bare this in mind and never pick more than 25% of flowers of a single plant or tree.
ELDERFLOWER CORDIAL RECIPE
This recipe needs some pre-planning - a bucket or heat-proof bowl, clean screw-top bottles, lemon squeezer, a funnel and a seive/muslin cloth is needed. You can alter the measurements depending on how many elderflower heads you pick
Ingredients
25 elder flower heads (flowers left on stalks)
3 unwaxed lemons (or 2 lemons and 1 orange)
400 g unrefined sugar
1.2 litres boiling water
2-3oz citric acid (if you're going to store the cordial for a while)
Ideally pick the flowers in full sun. Fork the flowers off the stalks or snip off the main stalks, putting flowers aside and discarding the rest. Place sugar in a pan and pour boiling water over, stirring until dissolved. Place the elderflowers (check to remove bugs) in a clean bucket and pour hot sugar mixture over it. Cut the lemons in half and squeeze the juice into the bucket, then grate the lemon zest and add this too. Stir, cover, and leave for 24-48 hours, stirring occasionally. Strain the mixture through a sieve, or preferably a fine muslin cloth, and funnel into clean bottles, or dilute and serve immediately!
For Elder Flower Sorbet
Follow all the instructions above, omitting the citric acid and dilute with two-thirds water and beat in one whipped egg white. Use an ice cream maker or get ready for these next steps... Freeze the cordial in a sturdy, lidded Tupperware or tin for 2-4 hours. Remove and mash up with a fork or in a food blender. Repeat at least once more. Serve on its own or with a variety of other desserts, particularly good with sponge cakes.