A decadent, sloe gin-soaked chocolate cake with sloes laced through the cake in three different ways. This recipe was requested on several of my foraging courses (I do go on about lots of my favourite wild recipes) so here it is!
You'll first need to make your sloe gin (recipe in my Wild Food Foraging book) and let it infuse for at least 3 months.
Sign up to access this post
Access this post and more for £3.50. Already a member? Sign in here.
SEASONAL TASTER
MONTHLY BASKET
£3.50 per month
Every month you'll receive 1 seasonal wild food recipe from my edible plant of the month, plus links to additional seasonal posts AND be able to access the last 6 months of Taster basket offerings.
Unsubscribe at any time.

'Oh my god' – is the standard response to the first mouthful of these. Everyone knows that chocolate tastes good, but the additional richness of elderberry in these light, fluffy and hot desserts makes these utterly irresistible.
They're also happen to be gluten-free, wheat-free, dairy-free and free from refined sugars, not too sweet and very, very yummy!
I'd love to hear from you if you make these... do get in touch or keep in touch via instagram, facebook or pinterest.
Elderberries make a rich, flavourful cordial which is used to create these mouth-watering dessserts.
Elderberry and Chocolate Soufflé Recipe
This is a simple and stunning recipe and tastes so good! Light, fluffy and hot desserts with the addition of rich, elderberry cordial make these utterly irresistible.
Serves 4
Ingredients
50 g dark chocolate (minimum 70% cocoa solids)
2 tbsp corn flour
150 ml elderberry cordial
2 medium eggs, separated
1 medium egg white
Preheat the oven to 190°C/fan 170°C. In a small saucepan add the chocolate (broken into small pieces), corn flour and elderberry cordial, and heat on a low heat until the chocolate has melted. Increase the heat a little and stir until the mixture thickens before putting aside to cool slightly.
Meanwhile, in a spotlessly clean bowl, whisk the egg whites until they form soft peaks, then mix the egg yolks into the elderberry and chocolate sauce. Spoon one third of the egg whites into the sauce and combine, before softly folding in the rest. Pour into 4 ramekins or heatproof expresso mugs and bake for 12 minutes or until the souffles have risen sufficiently. Don't be tempted to open the oven while they're baking as this will cause them to sink.
Serve immediately, straight from the oven so you can enjoy their fluffy, risen texture and while every mouthful is still warm. Enjoy!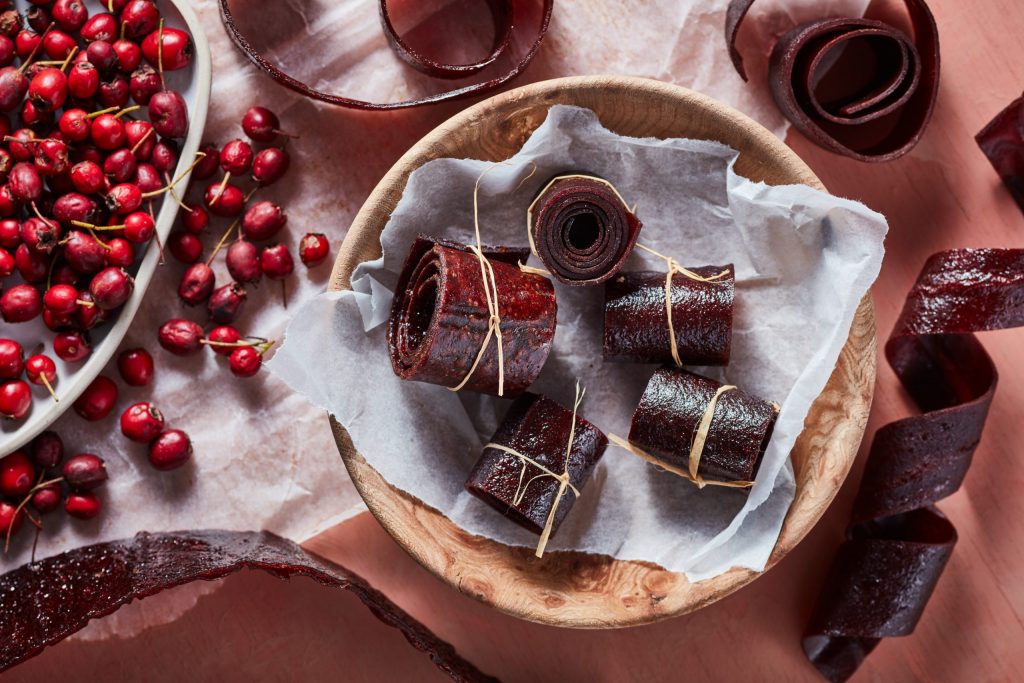 Perfect for sluggish, cold days, this fruit leather is a fabulous pick-me-up. This recipe is definitely worth the effort, you'll have about 8 strips of fruit leather and will just need a nibble as a lift, so they last for ages!
The fruit of the hawthorn tree (Crataegus monogyna or Crataegus laevigata), can be good for the heart, can get your 'chi' moving (your life force energy), be uplifting and tasty. Lets get down to the fruity business of haws.
It's November, and now is the perfect time to pick these fruits. They are a lovely dark red colour, and still a plenty, if you find the right tree. This recipe is suited for those who enjoy processes and have some patience. It's not quick, it takes some mashing, though is delicious and as we know, it is good for the heart...
Hawthorn Fruit Leather Recipe
Hawthorn fruit leather is a deliciously simple snack. It has a bit of a tang and a hint of natural sweetness to get you through sluggish afternoons or slow mornings. It's made from mashed haw berries, apple and honey. It's also great for packed lunches, a snack for walking, gifts and will keep for up to 6 months or a year even. Here it is....
Ingredients
450g haws
450g apples
350ml water
3 tbsp honey
The method:
Remove the stalks from the haws, and chop the apples into pieces, don't worry about removing the core, as it will all be sieved. Place the fruits and water in a medium and bring to the boil. Cover, and simmer for 15 minutes, or until the fruits are soft and strain through a sieve into a large, bowl. Allow the fruit pulp to cool, and using a wooden spoon, mash and push the fruit pulp through the sieve, then stir in the honey. The more you do this, the more pulp you'll be able to extract.
Once you've extracted all the pulp you can, if using a dehydrator, spread the contents over two Teflon sheets and dehydrate according to instructions. Otherwise, heat the oven to 140°C and line a 20cm by 40cm baking tray with baking paper including part the way up the sides. Pour the fruit pulp into the tray, spread evenly and bake for about 4– 5 hours, or the fruit is slightly tacky though doesn't stay stuck to your fingers and peels away easily from the paper.
If the fruit is drying unevenly, turn the tray around in the oven, or be prepared to slice off the edges, if over-cooked when done. Peel off the tray, cool and cut into pieces or strips and store in a sterilised jar or wrapped in greaseproof paper.
I share recipes (and tasters) regularly on my wild food foraging courses, or stay up to date through my facebook or instagram page.