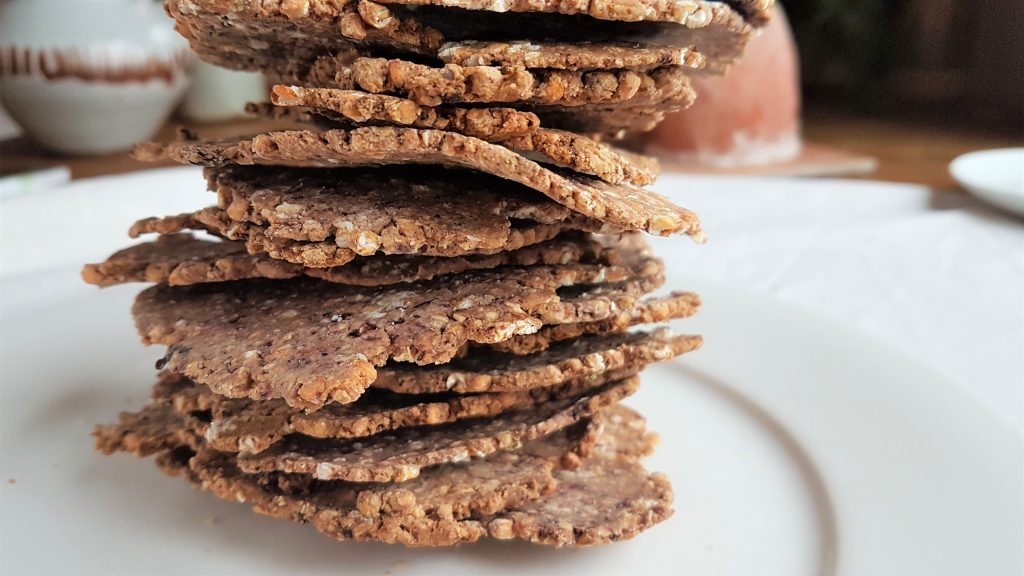 These roasted buckwheat, blackberry seed and seaweed crackers are wild! I've been tweaking this recipe for a while and it is my favourite version yet. They're a little pink, or is it red or mauve, created by the addition of dried blackberry pulp and dulse seaweed. They are perfect for serving with my Baba Ganoush with Dulse Seaweed or with a good, local cheese.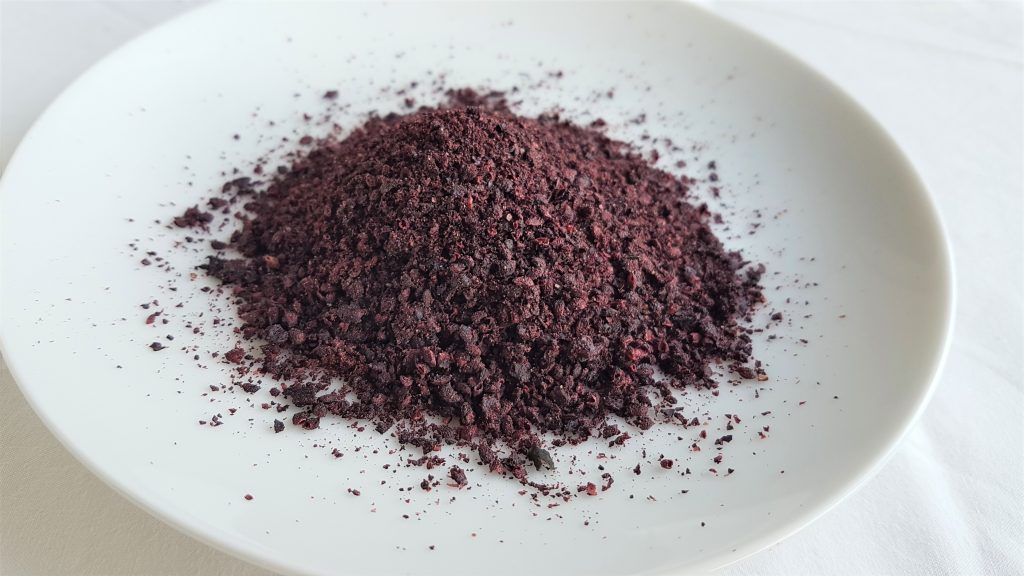 Here's how I made them. The recipe came from my friend Pete Freeman. Pete is a light aritst renown who's also rather a whizz in the kitchen. I couldn't stop eating these when he produced them as afternoon snacks with dips. This version has a wild twist, do let me know if you change it further.
A Burst of Wild Nutrition with No Waste
Did you know that blackberry (Rubus fruticosus) seeds contain omega 3 and 6 and lots of fibre? The fruits also contain lots of vitamin C, K and many more essential vitamins and minerals for the human body, including B vitamins , calcium and potassium.
That's why these crackers use the waste pulp from making blackberry syrup, coulis or juice, so every single part of the blackberry is used! That's where the idea for making these blackberry seed crackers came from - a recipe that utilises those seeds that are so good for us!
Adding umami seaweed...
Dulse (Palmaria palmata) seaweed is one of the most nutritious seaweeds we have. It contains good amounts of protein, iron and vitamin A. It's also naturally salty (which isn't case for every seaweed) and brings a wonderful umami flavour to these crackers.
Dulse is one of the seaweeds I teach on my seaweed courses and it is also in my seaweed book.
Buckwheat, Blackberry and Dulse Crackers Recipe
Crisp crackers with the delightful flavours of roasted buckwheat, tangy dried blackberries and salty dulse seaweed. The addition of blackberries and dulse makes these even more nutritious and delicious. Adding layers of flavour to the more-ish, crunchy roast buckwheat seeds.
Makes 25 rustic crackers
Ingredients
60 g fresh (20 g dried) blackberry pulp and seeds
100 g oatmeal (powdered porridge oats)
200 g buckwheat flour
200 g roasted buckwheat grains
1 tbsp (3 g) dried, ground dulse seaweed
Large pinch of sea salt
2 tbsp oil (vegetable, olive oil or half and half of each)
200-230 ml water
From dough to crackers....
How to Make Blackberry Seed Crackers
Grind the blackberry pulp to a loose powder and place in a large mixing bowl with all the other ingredients except the water. Add the water gradually until it makes a workable dough and set aside for half an hour to allow the moisture to be absorbed. Break off walnut sized blobs and roll out between two pieces of grease-proof paper to the thickness of the buckwheat seeds. If the dough is a little sticky, you can add more oatmeal.
Roll in one direction to get tongue shaped crackers or keep turning them around to create rustic round crackers. You may need to change the baking paper if it gets too soggy. Place the crackers on a large sheet of dry baking paper on an oven tray and bake at 200°C/fan 180°C. Turn them over every 5 to 8 minutes until all the water has evaporated and they have turned a little brown. Mine took 15 mins to cook. Allow to cool on a cooling rack and store in an airtight container.
Delicious, rustic and wild crackers. Feel free to browse my other wild recipes, or I'd love to meet you on one of my foraging courses here in Cornwall.
I've been using seaweeds in and as food for long enough now.  I've got into the the swing of which seaweeds to match with what recipe and amounts to use. Dulse (Palmaria palmata) with potatoes is traditional, in bread feels natural and, I feel, has long wanted to be matched with Baba Ghanoush.
Baba Ghanoush is an Arabic dish using charred aubergines, giving a mildly smoky flavour to this delicious dip. The name roughly translates as 'daddy spoils you' and it does taste rather decadent. Matched with dulse, my favourite dried seaweed to snack on, adds an umami flavour, a little mineral rich salt and plenty of nutrition.
I have a standard Baba Ghanoush recipe that I've used for years. A straight-forward recipe from Daverick Leggett's book 'Recipes for Self-Healing' where Daverick also goes through the energetics of food. He describes Baba Ghanoush as nourishing for the blood and yin - this will make sense if you read more in his Recipes for Self-Healing book.
Back to the recipe. Baba Ghanoush is so delicious, so decadent, so easy to make, and, in some ways very similar to hummus. Except there are no beans to give you flatulence, though I have a seaweed recipe for that too! Look up the Kelp Hummus recipe in my seaweed book for flatulence-free chickpea hummus, with a little added seaweed.
Who would know that blending the flesh of aubergines with garlic, lemon, tahini and seaweed could be so awesome. This recipe makes a fair amount, which meant I was able to enjoy it on toast, on the top of squash soup, and on the beach with sea lettuce bread on yesterday's seaweed course. Here's the recipe.
Baba Ghanoush with Dulse Seaweed
An Arabian dish perfect for dipping freshly cut vegetables into, or spreading onto bread. Inspired by Daverick Leggett's recipe and given a seaweed twist.
Ingredients
3 aubergines
3 cloves of garlic
2 tbsp dark tahini
Juice of 2 lemons
Sea salt and pepper to taste
5 g dried and ground dulse seaweed
Olive oil to garnish and to taste
Burn the aubergines. Either on the highest temperature in the oven or on an open flame until they go soft and squidgy. Scoop out the insides, or peel off the skin and blend the flesh with the rest of the ingredients. Drizzle with a good olive oil and serve. Lasts well for a week, if you hide it and don't eat it all at once.
Find out more about Dulse
Dulse is one of the seaweeds I teach regularly on my seaweed courses, I've also written about Drying Dulse at Home and here's my Dulse soda Bread Recipe. In my seaweed book (as well as my courses), I describe where to find Dulse, what seasons to harvest it, how to harvest it sustainably and nutritional benefits.
I have a little secret, although I don the appearance of a forager, at heart, I'm an artist, an optimistic awed by the natural world kind-of-one. As an artist, seaweed does it for me. I can spend hours looking in a rock pool at the beautiful colours and textures, how the water moves the weeds and the play of light on the water.
As an artist playing at being a forager (albeit teaching foraging for 12 years and writing books about it), being able to harvest and eat these works of art is an added bonus. Last week was the first good spring tide of the year, which was a wonderful opportunity to hand pick a few seaweeds for personal use. Dulse (Palmaria palmata) is one of my favourite snacks when I'm working at home, it's nutritious, salty and tasty. There's lots I could tell you about it, and indeed I do in my seaweed book, and on my seaweed courses.
How and why to dry seaweeds
Traditionally, seaweeds are dried to preserve them. I like to taste dulse fresh on the beach, though if I'm picking more than a few fronds I dry them at home. There are many ways to dry seaweeds, which I discuss on my courses and in my book, though my preferred way is; naturally. Energy is a big topic these days. This is a great way to reduce and be efficient with our energy consumption in order to respect and take care of our one and precious earth by using the natural energy of the sun.
So, I dry dulse over clothes racks and on tea towels in my sunny, warm kitchen. It only takes a day (or two if it's cooler).
This morning, as I descended into my kitchen and opened the curtains I entered another artist's heaven.
I loved how the light played on this beautiful red seaweed as it was drying on tea towels. Every stage of seaweeds I love. The carefully harvesting of them (just enough and only half of each dulse plant), rinsing and patting them dry, laying them out on tea towels and hanging them on clothes racks. Watching them shrink and dry, checking there's no damp clumps. Then storing them in clean jars for snacks or to incorporate into potato dishes, quiche, dukka, and chapatis, recipes which you can see in my seaweed book. I also have a blog for a more-ish Dulse Soda Bread (gluten-free) which comes with several recommendations, whether or not you're gluten-free.
Tips for drying seaweeds at home
If you can, dry them naturally in a warm room or airing cupboard
First rinse and pat dry the seaweeds, removing as much liquid as you can. You can also use a salad spinner for this
For small seaweeds, lay them out over tea towels with enough space around them to let them breathe
For larger seaweeds hang over clothes racks
Check the seaweeds regularly to make sure no wet clumps are forming
Once dried, store in clean jars, open bowls or containers
Karen Pirie, a Cornwall based podcaster recently joined me on a seaweed foraging course to record a podcast for her new venture; Cornwall Woman.
I've known Karen for a few years and find her easy company. She travelled with me to meet our group of keen and potential seaweed foragers on the south coast of Cornwall. On the way we chatted about life, using time well, foraging, nature and love - all the important things of life for sure!
Here's the podcast, which includes snippets about Laver/Lava seaweed (Porphyra species), Dulse (Palmaria palmata) and even Kelp (Laminaria digitata), oh and Karen's favourite Pepper Dulse (Osmundea pinnatifida).
The day was blowy and together with the group we found sheltered crops of rocks where we hid from the elements and talked about and tasted our freshly foraged seaweeds. Later on we found warm rocks to lean against, which were even further out of the wind, and here we enjoyed Spiced Seaweed Broth and Seaweed bread. The recipe for the broth (image below) is here; Seaweed Soup with an Inner Kick and the recipe for the Sea Lettuce Seaweed Bread is here in my Seaweed Foraging Book.
After the course, Karen and I slipped away to check out another beach I really wanted to see at low tide. Here, we got to chat some more about the course that had just happened and the role that foraging can play in helping us prioritise what feels good and how it can help re-balance our lives. Thank you Karen, and all the best with Cornwall Woman, which is all about cool Cornish women and their love-affair with Cornwall.
Hearty Seaweed Broth (awards for taste but not for looks!), fit for a windy Cornish beach when something hot and nourishing is needed. This is just before I ladle it into a food flask and whisk it off to our beach where we'll spend 3 hours learning about its ingredients and much more. If you'd like to try the recipe, here it is again; Three Seaweed Soup with an Inner Kick.
This recipe for Dulse Seaweed Soda Bread is delicious and was more popular than the normal, wheat-based bread I baked for a seaweed foraging course, so I thought I'd share it with you here. The basis of this recipe came from my sister (the gluten-free bit), and the rest came from Prannie Rhatigan's book; Irish Seaweed Kitchen. Prannie's book made me feel normal - she adds seaweed to everything!
(The dry ingredients for my Gluten-free Dulse Soda Bread, sitting on top of Prannie's Duileasc Soda Bread recipe page)
Dulse seaweed (Palmaria palmata) has various common names, including Duileasc in Ireland. Dulse is a natural partner to soda bread, and this gluten-free version is just as tasty. Think soft bread with a nice crust and lots of flavour but no annoying bits in it, though of course you can add seeds or nuts if you want. Dulse is also naturally salty so no extra salt needs to be added.
How to make gluten-free dulse seaweed soda bread;
Tasty Dulse Seaweed Soda Bread (Gluten-free)
Ingredients
300 g gluten-free oats
2 tsp bicarbonate of soda
2 tbsp dulse seaweed (dried and ground)
1 egg, beaten
325-50 g natural yoghurt
First combine all the dry ingredients (oats, bicarbonate of soda and dulse), then add in the egg and the natural yoghurt and combine well.
The mixture should be wet though fairly stiff, stiff enough to press into an oiled loaf tin. Preheat the oven to 180°C and bake for 90 minutes (1 and 1/2 hours), or until the bread is dark brown and has started to come away from the edge of the tin.
Leave in the tin for a few minutes before loosening around the edge with a fish slice, or similar and removed onto a cooling rack. Can be sliced warm or cold. Keeps well in a sealed container for up to 5 days (in the fridge). Wonderful fresh and great toasted too.
Find out how to identify dulse, where to find it, how to harvest it, its nutritional benefits and how to dry it in my seaweed book. Dulse is one of the seaweeds I often include in my seaweed courses too.
I'm standing on a rock at low tide, layers of organic matter below my feet, formed over billions of years. Beyond me is the great ocean herself, perhaps where we all came from and marking a time before our migration, along with (now) terrestrial plants, onto land.
Around me swells the seawater, not so different from the water contained in each of my body's cells. Somehow my sense of time, body and what I am made of is changing; I feel both young and old, connected and in wonder at my ancestry of rock, sea water and seaweeds.
Yes seaweeds, also so much older than this human form of yours and mine.  Red seaweeds (that's another discussion of what constitutes a red seaweed, which I'm happy to have, another time) are thought to be the oldest of them all. Somewhere between 1.6 and 2 billion years old. Their structure, reproduction and variety are fascinating, though what interests me the most is their flavour.
And on the topic of seaweed flavour, I have an unanswered question.
Actually I have many, and a sketchbook of seaweed notes still to decipher. Though for now, I have one, little question:
How come the Red Seaweeds have the most Interesting, Multi-layered and Tantalizing Flavour?
(Baked Oysters, Pepper Dulse Seaweed and Lemon Butter - from my Seaweed Foraging Book)
I could speculate that the answer is because of red seaweed's structure, their both basic and complex form, and a form that comes with age. Though when I asked some of the UK's best seaweed experts (people who have taught me and whom I deeply respect) they just shrugged their shoulders and answered 'I don't know'.
Despite their age and importance there is still so much we don't know about seaweeds, and that in some ways, is part of their wonder. An unknown, underwater world that, here in the British Isles, reveals itself just twice a day to us.
I love standing by the water's edge, on the boundary of this unknown world, there is still so much to learn and already so much to share.
On the theme of red seaweeds (there are also hundreds of species of green and brown ones to enjoy), their complex flavour means they are both compatible with a wide range of foods from quiche to lemony dressings, and also bring out 'umami', a flavour which heightens all other flavours. Simple things like bread, rice and potatoes become something inspired with a little bit of seaweed added.
Taste, colour, flavour and texture all make up the components of food that is an enjoyable part of our human experience, and that's without mentioning the vast nutritional benefits of seaweeds. Of course, the amounts you use and the combinations you create all constitute how enjoyable seaweeds are, and those details are important.
Here's more information on seaweed foraging courses and here's a link to the calendar dates for seaweed foraging courses to puruse, or book. Each beach has a different range of seaweeds and each season offers something different too.