Christmas means many different things to me - family, friends, processions of lights in the darkness, hearty food & creative meals.
Oh, and comforting books & TV! Joy can be found in many shapes & sizes!
The Muppets have great childhood memories for me and always bring a smile to my face. On that note, I'm sharing a Muppets special - one Swedish chef, popcorn, wild seafood, music and dancing in the kitchen...
May the season bring you lots of happiness - enjoy the madness & the stillness after the storm. Merry Christmas! X
From a Simple Guided Walk, to Rustic Cooking or Gourmet Dining
Foraging for Business is something we all have to do from time to time, you've guessed it - the diverse skills learnt in a day's foraging are transferable & more importantly, can be learnt in an informal, non-pressured way.
Recently, when leading a private forage, cook & dine event for a group of international professionals (it was their holiday gift to themselves), at some point the conversation steered towards team building. Now personally, I feel that a good event can naturally create a good team building environment ~ no 'bonding', 'intellectual problem solving' or 'physical team building' in sight. Yet, with foraging, all those boxes seemed to ticked too.
Results: Can better business be cultivated from foraging together?
Good business results usually consists of a few key ingredients. Excellent productivity is a by-product of a healthy team working together; keeping each other motivated & effective communication ( organisations that communicate effectively are 4.5x more likely to retain the best people too - Watson Wyatt (worldwide consulting firm)) . Furthermore, according to Harvard Business Review (June, 2008), the success of Toyota Business Corporation for example is due to a mix of offering new challenges & understanding different points of view & how to bring together seeming contradictions. Toyota, by the way, invest heavily in people, regardless of their position in the company.
In foraging terms, this can mean being introduced to a new skill & taste. It can also mean understanding that everyone has a valid & different response to a taste of a plant; to some its lemony heaven, to others its sour & too strong, while for another it conjures up memories of picking a plant while walking to school with friends.
Give your staff a good experience they'll remember...
Giving your staff a good time can help build the rapport needed to get a job done well, while improving morale & positive memories bring people together. A recent foray with staff on the Island of Tresco (Isles of Scilly) included front of house staff, managers & chefs. They now all have a hot topic to share, were all enthused about exciting new ingredients & seeing their local environment in a whole new way. Interesting cocktails & pizza toppings to follow!
Back to the practicalities, imagine this;
A day out, a couple of hours ambling through the countryside, time to catch up, chat, while learning a new skill together. Breaks are marked with delicious biscuits or chocolates while menus are handed out & drooled over. Perhaps a bit of chopping ingredients or stirring pots even, before tantalising aromas appearing too. Focus, enthusiasm, something new, motivation via good food are all ignited. Sounds good?
Just a small slice of good health
Despite many people that like to feel healthy, I also know many who steer away from 'health' activities as there are seen as boring & a way to inhibit fun. However, everyone likes to feels good & happy, & good food usually helps! Foraging has the benefits of being a very leisurely physical activity, accessible to anyone who can walk a couple of miles (routes can be accessed for ALL abilities & those with disabilities too). A bit of fresh air (not too much) can work wonders on bringing out those rosy cheeks!
Really, something for everyone
Foraging is an ACCESSIBLE activity- emphasising different strengths rather than who is good & who is not at a certain activity. If you can walk slowly for 1 mile, stopping occasionally, you can forage. Appealing to a wide range of interests; nature, countryside, food, walking, talking, history, in-vogue recipes, chatting, doing, resting. Time tends to fly by, & everyone always finds at least one taste they like & a plant they are therefore keen to find again. Within the group, a multitude of skills will be learnt, through all different learning styles (sensory, physical, factual, emotional, oral, taking photos or notes) - what a team, all of these skills put together makes one good forager!!
Interested, so what now?
Do get in touch to discuss what you're looking for and let me put a package together for you.
Researching regional names of plants is a fascinating and usually an amusing pastime. Common Hogweed  (Heracleum sphondylium) is one of those plants, and as it's now in season (april to june) I thought I'd dedicate a whole blog article to it.
Inspired also by local names such as Pig Flop (an image of a pig collapsing after pleasantly over-indulging on this plants passes through my mind!), Cow Weed (what's its known as on the Scilly Isles), Cow Parsnip, Cow Belly and even Humperscrump, according to Forager and Author John Lewis-Stempel. It's also known as a type of poorman's asparagus, although I think it's superior.
To me, this plant has always been known simply and humbly as hogweed, and I'm going to share with you some facts about identification, names, tastes and recipe ideas.
Starting with identification, common hogweed can be found across the UK, it really is common and usually considered a pain. Its habitat can be varied and includes fields, open woodland, hedgerows and roadsides. Often people are sceptical when I introduce it as a potential food and for two understandable reasons.
Firstly,
For some it has the association of being poisonous, mainly because if the sap gets on your skin and is combined with sunlight, for example when strimming the plant on a hot summer's day in t-shirt and shorts, one can come up in horrible blisters that can scar. Not an experience I've shared, though I've heard enough stories to know it to be an unpleasant encounter.
Secondly,
There is the issue of correct identification. Hogweed (Heracleum sphondylium) is in the Apiaceae (Carrot) family and shares a similar flower structure with edibles such as carrot (funnily enough), parsley, fennel, chervil as well as the deadly poisonous plants; hemlock and hemlock water dropwort. Needless to say, mistakes can be lethal and enough to put many people off. However, there are distinguishing characteristics that can be learnt. Reading a few words and seeing a few images is not generally suffice for this, though it is a good start, so here it goes!
Flower head of Common Hogweed
Hogweed generally grows up to 2 metres tall (related & non-edible Giant hogweed grows up to 5 metres). Hogweed has hollow, ridged stems that are hairy, almost furry, that can give a white-ish tinge to the stems. The leaves are soft/furry with undulating lobes (see images) and stems can sometimes be purple, though normally green (NOT purple spots like hemlock). Like anything, take your time to get to know the plant (it will always return the following year if you're still unsure) check with experts & you will be duly rewarded.
Leaves of Common Hogweed (slightly undulating and definitely furry)
So with so many obstacles to over-come before even picking it, why bother at all? Well, of course its the taste. Like many wild edibles, it has, at times, been called poor man's asparagus - as its the young shoots you're looking for in spring. I like to think that this is sly way to protect a valuable plant which has an unusual taste that could easily be at home on many gourmet's plates. The history of so-called poor man's food includes beliefs such as inferiority of taste, too common (abundant) or inadequate in flavour (unlikely these days in comparison with bland, long shelf-life shop bought veg). As a modern day forager its a great plant - abundance is perfect (making it very hard to over-pick) and the unusual flavour is one of the exciting aspects of wild food. It is also rich in vitamin C and carbohydrate.
How to enjoy it at its best? Well John Wright (from River Cottage) covers the young shoots in beer batter. For me, I simply steam those young shoots, drizzle in butter or hollandaise sauce and serve as an accompaniment to fish or meat dishes. I've also chopped them up and added them as a flavouring for dhal (combines well with wild carrot seed ).
Finally, you'll all be asking what the flavour is. Well, the true answer is inside of you - we all experience tastes differently - though I describe it as perfumed, aromatic, sometimes a hint of bitterness & rich.
Hogweed Shoots with Hollandaise Sauce Recipe
To serve 2 persons
6 young hogweed shoots (Poor man's asparagus)
Boil the vinegar with peppercorns & reduce by half. Strain and put aside. Boil a large pan of water, then reduce to a simmer. Using a large balloon whisk, beat together the yolks and 2 tsp of the reduced wine vinegar in a heatproof bowl that fits snugly over the pan. Beat vigorously until the mixture forms a foam, but make sure that it doesn't get too hot. To prevent the sauce from overheating, take it on & off the heat while you whisk, scraping around the sides with a plastic spatula until you achieve a golden, airy foam.
Meanwhile put the poor man's asaragus shoots on to steam (4-5 minutes). Whisk in a tablespoon of the warmed butter, a little at a time, then return the bowl over a gentle heat to cook a little more. Remove from the heat again and whisk in another tablespoon of butter. Repeat until all the butter is incorporated and you have a texture as thick as mayonnaise. Finally, whisk in lemon juice, salt & pepper to taste plus a little warm water from the pan if the mixture is too thick. Drizzle over the hogweed shoots & serve as a starter or alongside meat or fish.
(Hollandaise Sauce image, thanks to - ourkitchen.fisherpaykel.com)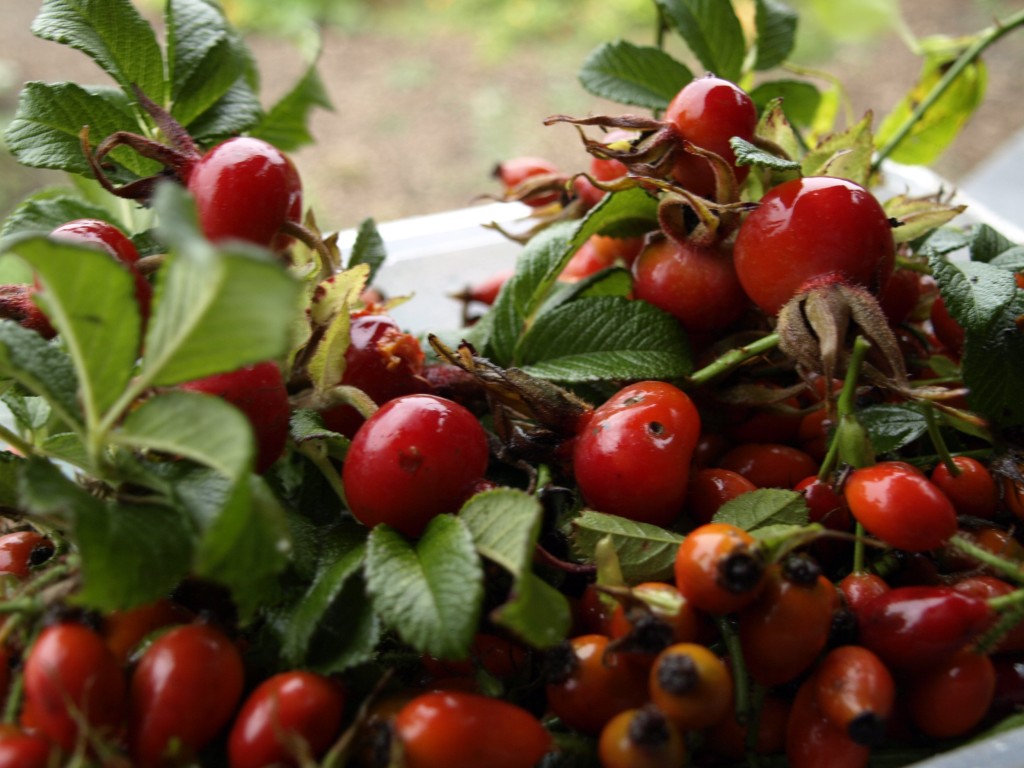 Rosehips are traditionally used for making rosehip syrup, but there's so much more you can do with them.
I recently led a group of families on a foraging walk and provided sweet biscuits with rosehip fruit in them. Fleshy, tart bites of red fruit nestled within a biscuit base. They went down really well!
Preserving rosehip fruit
Here I share how to store rosehip flesh by making a rosehip fruit leather. This is a labour of love - a process to be enjoyed, with a fruity goal in mind. The result is a delicious and versatile sheet of pure fruit which can be stored for months and used as a snack or to flavour; tarts, chocolate and ice cream to savoury rosehip crackers.
Which rosehips to use for making rosehip fruit leather
Using Japanese Rose (Rosa rugosa) hips will enable you to reap more fruit for your work, they're a larger hip than our native rosehips making them easier to handle.
Where to find Rosa rugosa rosehips
These plants have naturalised in many places, originally many were planted on sand dunes and shingle beaches to help stabilise the ground. Hence one of their names - beach rose. You can also find them on waste ground, or in cultivated gardens. Several times I've befriended someone who has them growing in their garden. I gather their hips in exchange for a proportion of what I make. It's always gratefully received.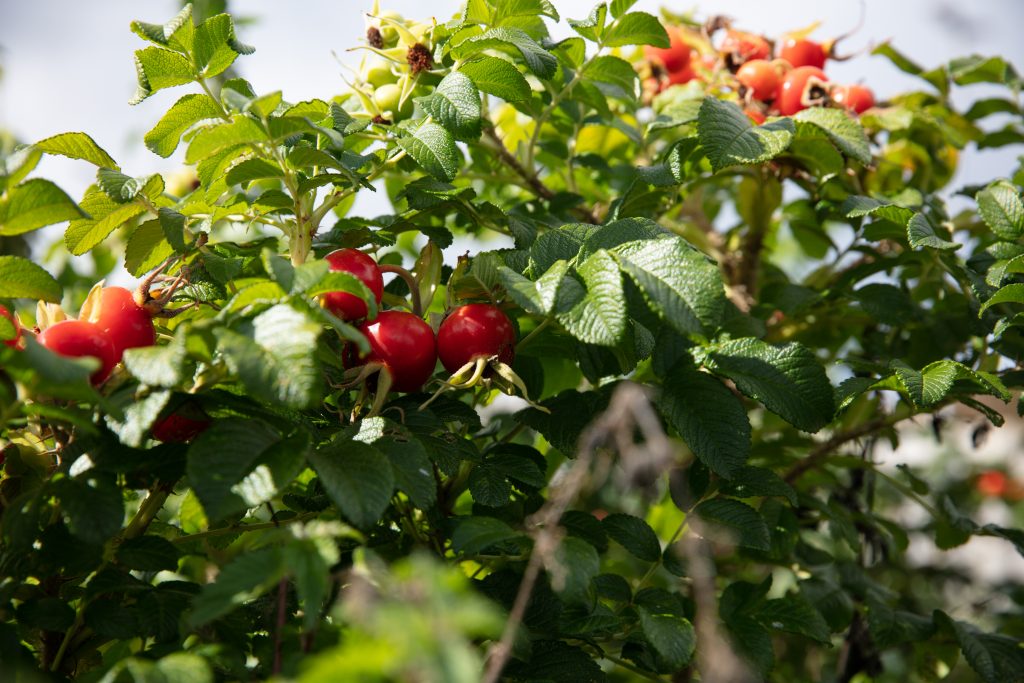 When to gather rosehips
Start looking out for hips from late summer & through autumn. You could of course wait for after the first frost, at the risk of the birds getting them first. Living in Cornwall, with a milder climate & being impatient to utilise these fruits, I normally pick them as soon as possible & freeze them to 'fake' the first frost. I'm looking for the dark red fruits, not too orange in colour. Freezing them also means you can store them until you're ready to embark on processing them.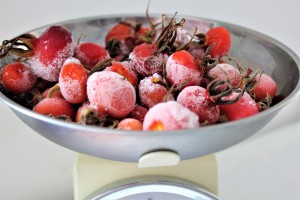 How to make rosehip fruit leather
Defrost or pick the fruits after first frost. Start processing them as quickly as possible so not to loose valuable vitamin C. Carefully and patiently remove the flesh from around the outside of the fruit, careful not to dislodge the tight ball of hairy seeds. You want to avoid these seeds as they can irritate the digestive tract.
This is a messy and fiddly job, so take your time, you'll be left with a pile of fleshy rosehip pulp, and a pile of hairy seeds. Discard the latter. You may want to chop the pulp a little, to ensure that you don't have too bigger pieces of flesh or fruit skin.
If you're using a de-hydrator, follow the instructions for making fruit leather, and spread the fruit pulp onto the teflon sheet before drying the fruit for several hours. If using an oven, line a dish or baking tray with oven-proof clingfilm, and spread the pulp on, about 2mm thick. Put the oven on the lowest heat and leave for up to 12 hours.
The consistency of the fruit leather can be altered according to taste - slightly moist and chewy or dry and almost brittle. The latter will keep longer. When needed, rehydrate the fruit and blend or cut and grind into flakes/powder.
What is the flavour of rosehips?
What I love about working with wild fruit is the flavour is so unique. These particular fruits - Rosa rugosa are not as sweet nor tart as Rosa canina (Dog rose). Instead, they have been compared to processing fruit this way is that there is no need to add sugar. Instead, you can get to taste a mixture of natural sweetness & tarty-ness of this amazing super fruit.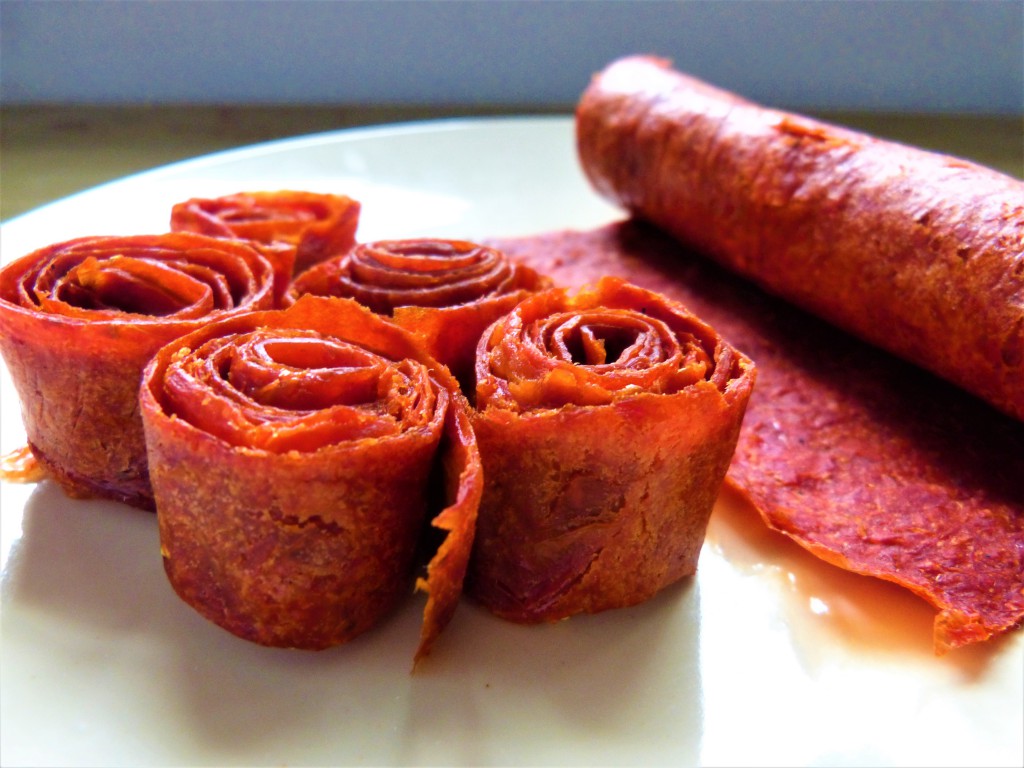 How to use rosehip fruit leather

Once you've made your fruit leather, either keep it whole or cut it into strips and store in a dry place. It will keep well for over one year.
You can chew on the rosehip fruit leather as a snack, powder it and use it in Rosehip and Buckwheat Crackers. Alternatively, break it into small pieces and rehydrate in a small amount of warm water to use in desserts.
Not much time left and many are just out of reach! Remember to take a ladder foraging with you or a good friend with climbing skills...
Last Resort - I've had to resort to just picking one or two heads this time of year, and drying them for elderflower tea. You may have more luck! Though drying Elder flowers for tea is great medicine for the winter months, read below to find out more.
Elderflower syrups and dishes are potent medicine - they can help counter hayfever, fight colds, boost your immune and send you to a delightful floaty place with those sweet aromas...
Choose from fresh or dried elderflower tea (just add hot water), elderflower fritters, or cordial for sorbets and ice creams, mix with summer fruits or into cocktails. Here's a simple recipe for cordial and a tempting image of local fruits cooked with elderflowers - delicious!
(photo: Elder flowers and Yarrow)
Elderflower Cordial
This is classic recipe with a bit of a twist, I like to change things sometimes, so here I use a mixture of orange and lemons, and add a little honey too. If you want a more traditional recipe, here it is; Elder Flower Cordial and Elder Flower Sorbet Recipe.
This cordial is a wonderful refreshing summer drink, and elder flowers are also a great remedy for colds. You'll need some pre-planning - a 1 litre container, clean screw-top bottles, a funnel and a seive/muslin cloth is needed, or improvise with what you have. Adjust the amount according to the number of flowers you have picked.
Ingredients
450g unrefined caster sugar
1.5 litres boiling water
20 elderflower heads (flowers left on stalks)
2 unwaxed lemons
1 orange
4 tbsp honey
2-3oz citric acid (if you're going to store the cordial for a whole
Ideally pick the flowers in full sun. Place sugar in a pan and pour boiling water over, stirring until dissolved. Place the elderflowers (check to remove bugs) in a clean bucket and pour hot sugar mixture over it. Grate the lemon and orange zest, then cut the fruits into slices, squeeze, and plop into the container (it could be a saucepan, or a large heat-proof bowl). Stir, in the honey until dissolved, cover, and leave for 24-48 hours, stirring occasionally. Strain the mixture through a sieve, or preferably a fine muslin cloth, and funnel into clean bottles, or dilute and serve immediately!
(Photo: Elderflowers cooked in a summer fruits pudding)