I love this sweet, smoothly textured, wild hawthorn fruit jam and it went down a treat with participants on my autumn foraging course too. Read on to recipe!
Haw berries - the fruits of the hawthorn tree (Crataegus monogyna) - have long been used as medicine in the East and West, as well as used as a wild food.
Their taste is mild and unimpressive when eaten raw off the tree - think soft apple or apple peel. However, once cooked and flavoured these berries can be turned into a delicious jam, with a lovely texture of pureed fruit.
My three favourite recipes for transforming haw berries or 'haws' are; hawthorn berry ketchup, hawthorn and apple fruit leather and this jam which can be spread on bread or used in desserts. Oh, and I also make a punchy, medicinal Hawthorn berry schnapps!
The benefits of eating haws
I've written about the benefits of eating and using hawthorn berries and my personal motivation for using them here - why eat haw berries.
Are all hawthorns edible?
Hawthorns are a large plant family with a variety of different species, all bearing fruit. Each hawthorn produces an edible fruit, though the taste and size can vary a lot.
For example, Chinese hawthorn fruits (Crataegus pinnatifida) have a tart flavour and look like crab apples. While several of the native species in North America look very different to our native Hawthorn tree here in the UK.
Across the world these fruits are used for jam, jellies, sweet treats and for flavouring alcohol. In This recipe I have created fits nicely into this International theme.
Haw Berry and Star Anise Jam Recipe
This is a lovely, thick textured jam, or more like a mildly flavoured dark red fruit puree. It makes a great filling for jam tarts and goes well with cream cheese. I love it plain, though the star anise adds a gorgeous sweetness and added layer to it.
Make one jar (230 g)
Ingredients
250 g (2 cups) haw berries
2 star anise (optional)
180 ml (3/4 cup) water
120 g (1 cup) soft brown sugar
Place the haws, star anise and the water in a small pan, bring to the boil, cover and turn down to a low simmer for 15 minutes. Take off the heat. Place a sieve over a large heatproof bowl, the sieve should fit snuggly within it. Pour the haws and liquid into the sieve and using the back of a wooden spoon. Remove the pieces of star anise and mash the fruits through the sieve. Do this for about 10 minutes; enabling as much fruit flesh to be obtained from the haws, leaving the seeds behind in the sieve.
Next, weigh the fruit pulp and add the sugar. There should be about 150- 175 g of pulp and for every 25 g add 20 g of sugar, for example, 150g of fruit pulp will require 120 g of sugar. Place the fruit pulp, sugar in a clean, medium saucepan, bring to the boil and simmer for about 5-10 minutes, or until it reaches jam boiling point. To test if it is thick enough, take a teaspoon of the mixture and place on a clean plate, after a few minutes push the spoon into the edge of the jam, it should wrinkle at the edges when ready. Pour into a clean, sterilised jar until ready to use.
Schnapps is a flavoured and distilled alcoholic drink, the flavour is often fruit, the alcohol often brandy. I came across a hawthorn schnapps recipe a couple of years ago, I can't quite remember where. I'm often looking for different recipes for the plants that I pick regularly and this sounded like a great idea to try.
Why make Hawthorn Schnapps??
The berries of the hawthorn tree (Crataegus monogyna) are renown for their health-giving properties, especially for the heart. Hawthorn supports the heart's physical functions and is safe to use to help prevent or recover from a heart attack. The berries also contains vitamin A, B1, B2, B3, B17 and vitamin C. Always seek advice from a medical professional before using hawthorn if you have; a heart condition, are pregnant or have low blood pressure.
There is a history of heart issues on both sides of my family, and my darling, aging dad continues to struggle with his under-performing heart. So I find myself eating, using and rather passionate about hawthorn berries. From a personal point of view, a second motivation for making this recipe is that my dad really enjoys a tipple, especially at family gatherings and special occasions. With Christmas on the way, and knowing how experiencing pleasure is so, so good for our health, I definitely wanted to make this!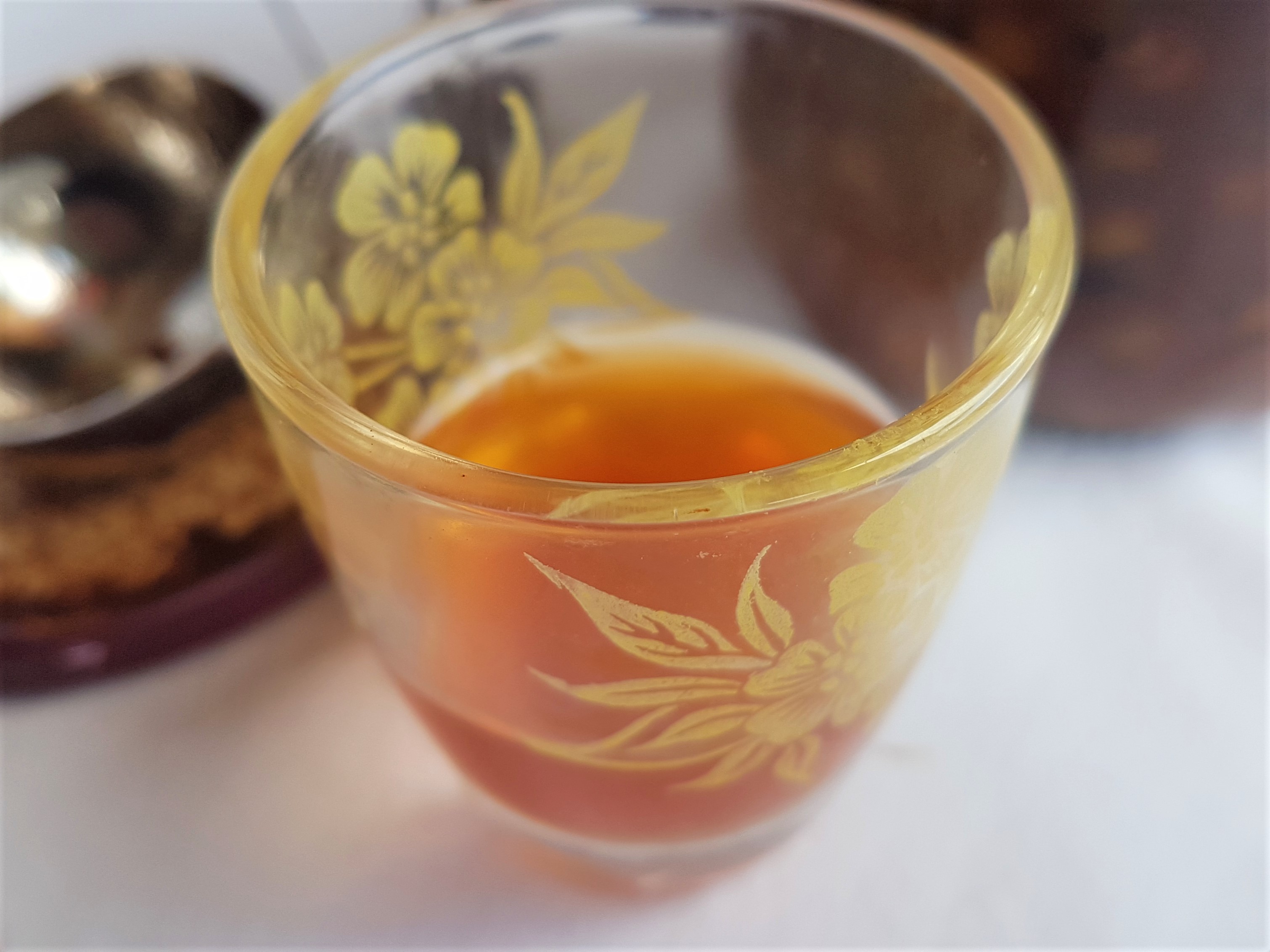 About Schnapps
I've enjoyed commercially made Schnapps a handful of times. Once, when hiking in Austria and I received the news that my friend Hilary had just given birth back in the UK. I celebrated that evening with a strong Peach Schnapps and later with a few variations offered by a group of German climbers I befriended there. I've also enjoyed it with a German friend of mine who now lives here in Cornwall. Notice a theme? The word Schnapps actually derives from Germany, its meaning being 'strong alcoholic drink'. Fruits used to flavour schnapps are often: pear, apple, cherry, peach or plum. Hawthorn berries felt like a good, wild berry to try as a replacement.
Schnapps is normally drunk in small, shot glasses. It's strong!
How to make Hawthorn Schnapps or Hawthorn Tincture
This is so simple to make. Here I share a few tips that might be useful. Just to be clear, this isn't a distilling recipe, this is a recipe for flavouring alcohol and extracting the goodness of the hawthorn berries into brandy. If you prefer, you can use this recipe as a tincture, and take five drops to a teaspoon instead of a shot!
Ingredients
Bottle  of brandy
Hawthorn berries
Sugar (optional)
I like my brandy medicinal, so I literally just use brandy and hawthorn berries and don't add sugar. Do add a little sugar if you'd prefer a hawthorn liqueur. Steep the berries in brandy (fill a jar or bottle 2/3 full with berries and cover with the brandy) for at least 2  weeks. I completely forgot about mine - I'm not a big drinker - and left it for one year! It still works and tastes great. Strain off the berries and decant into a clear bottle or brown bottle.
Tips
My brandy turned brown (orangey when strained) because I picked the berries when mature and late in the season. If you would like a cleaner colour use berries before they go soft and a dark red, and pick in September rather than November!
Other hawthorn recipes
You might want to take a look at this fantastic Hawthorn Berry Ketchup Recipe, or this Hawthorn, Apple and Honey Fruit Leather Recipe. I also share my latest recipes, processes and knowledge on my wild food foraging courses and regularly post on my facebook and instagram pages.
It's time to share this simple recipe. You'll be amazed how much it tastes like ketchup! I always think it is best to make together, as it takes some effort, though is worth it in the end. Here I share the basic recipe for turning haw berries into ketchup with no tomatoes in sight, then as you scroll down I share a little more about the details of making this great relish and dip.
Hawthorn (Crataegus monogyana) is a common tree found in hedgerows and woodland, and it fruits best in full sun. There is lots I can tell you about Hawthorn, though here I am focusing on a single recipe. If you want more, here's my recipe for Hawthorn Berry Fruit Leather or join me on an autumnal wild food foraging course.

Hawthorn Berry Ketchup Recipe
Ingredients
(Makes approx. 280ml)
250g haw berries
150ml cider vinegar
150ml water
85g soft brown sugar
couple of pinches of sea salt
Freshly ground black pepper
Strip the berries from their stalks and wash them. Put into a pan with the vinegar and water, cook over a gentle heat for 30 minutes. Press the pulp through a sieve and return both the pulp and the liquid to the pan with sugar and seasonings. Boil for 10 minutes. Bottle and seal. Great with bangers and mash, dip chips into it, have with meats, bread sticks or invent new ways to enjoy it.
A  little more about the process...
When I first made this ketchup it was a communal affair; we were three people de-stalking the berries and plopping them in the pan before we weighed and simmered them. That takes a little time in itself. Next comes the mashing - we took it in turns to energetically mash the fruits through a sieve, knowing that the more we mashed, the thicker the ketchup would be. Thick ketchup was good, we agreed, so 20 minutes rather than 10 minutes, or even 30 minutes felt worth it.
Every time we needed to take a break from mashing, we'd scrape the oozing haw fruit pulp through the sieve and into the bowl, along with the juices.
Here's the resulting, thick juice and pulp before adding sugar (you'll now realise how much sugar is in ketchup!), and salt and pepper and simmering for a final 10 minutes before bottling or storing in a jar. Look at that wonderful colour. This really is a great dip, full of goodness and wild vitality and keeps well for months in the fridge.
The first frost is a significant marker in the colder months of the year. Whether you look forward to it or dread it, it has an important function for wild fruits, us and the rest of the natural world.
Previously I've written about how frost and snow effects seaweeds in; Can seaweeds survive the frost and snow?
Cornish Frost - Myth or Reality?
Here in West Cornwall and by the coast, I never know whether the first frost will arrive at all. Where the warm currents and breezes from the sea can help keep the temperature more ambient. Exposed to the prevailing Southwesterly winds that blow in from the Atlantic means that Cornwall is considered the mildest and warmest place in the UK.
Here we can sometimes sit on the beach on Christmas Day, and sometimes the frost, never, ever arrives. It is true that the closer to the ocean you get, the milder the winters and the cooler the summers are.
What does the frost do to wild fruits and is there an alternative?
The frost has the effect of both breaking the skins of the fruits and sweetening them. A welcomed impact for desserts, flavoured gin, jams, jellies and much more. Of course, living in the modern age means you don't have to wait for the first frost.
Why? Because we have freezers. It is true, popping the fruits in the freezer is not as romantic as getting up at dawn to collect glistening fruits breaking their frost virginity. Though it is more convenient.
Freezers also mean that you can attend to your fruits - whatever you want to create with them - when you have ample time to enjoy the process.
Frost is beneficial to both the texture and sweetness of wild autumnal fruits. I have plenty of recipes for wild berries in my autumn blog. I also run hands on, practical foraging courses in autumn and all year round.
I'm often asked what my favourite time to forage is, well spring is fantastic, though honestly, winter is becoming an increasingly wonderful time to forage. The quiet, the abundance of plants and the unexpected joys of finding food (not in the supermarket) this time of year.
On January 2nd myself and a small group of friends went foraging, our task; to simply enjoy the outdoors and gather a few ingredients for supper, which we'd then share together, and that's exactly what we did. A big thank you to Sara Pozzoli for joining us and filming us. Here's the menu;
Winter Foraging Menu
Spelt Bread with Alexander Seeds
Salsa Verde with Rock Samphire, Pepper Dulse and Three-Cornered Leek
~
Alexanders, Sea Spinach, Gorse Flower and Coconut Curry
Yoghurt Dressing with Three-Cornered Leek, Black Mustard and Wild Chervil
~
Chocolate and Haw Berry Jam Cheesecake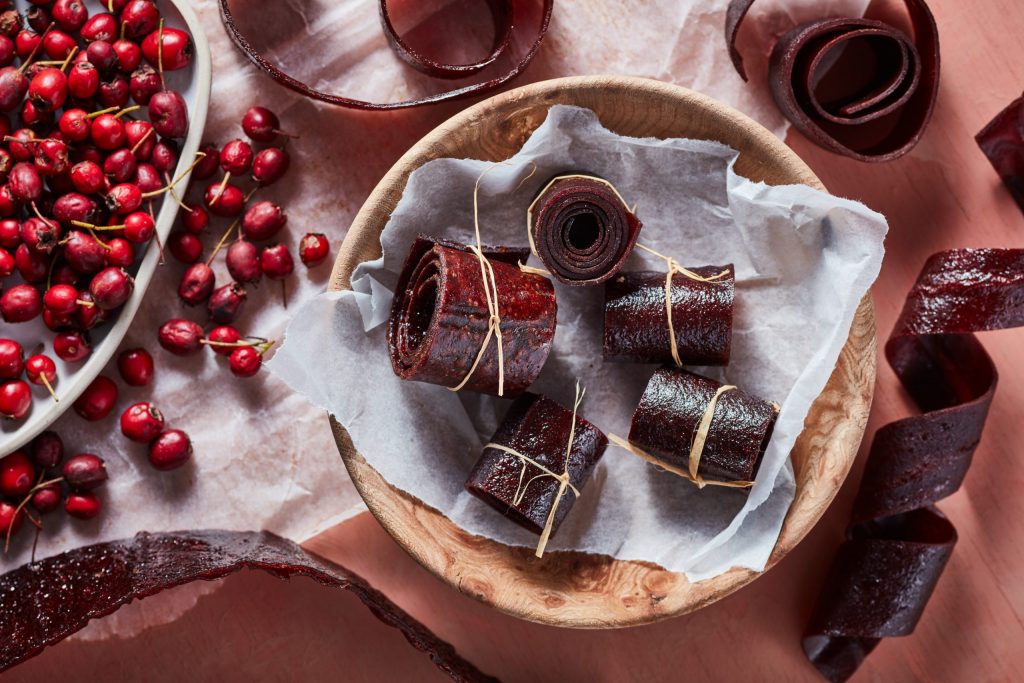 Perfect for sluggish, cold days, this fruit leather is a fabulous pick-me-up. This recipe is definitely worth the effort, you'll have about 8 strips of fruit leather and will just need a nibble as a lift, so they last for ages!
The fruit of the hawthorn tree (Crataegus monogyna or Crataegus laevigata), can be good for the heart, can get your 'chi' moving (your life force energy), be uplifting and tasty. Lets get down to the fruity business of haws.
It's November, and now is the perfect time to pick these fruits. They are a lovely dark red colour, and still a plenty, if you find the right tree. This recipe is suited for those who enjoy processes and have some patience. It's not quick, it takes some mashing, though is delicious and as we know, it is good for the heart...
Hawthorn Fruit Leather Recipe
Hawthorn fruit leather is a deliciously simple snack. It has a bit of a tang and a hint of natural sweetness to get you through sluggish afternoons or slow mornings. It's made from mashed haw berries, apple and honey. It's also great for packed lunches, a snack for walking, gifts and will keep for up to 6 months or a year even. Here it is....
Ingredients
450g haws
450g apples
350ml water
3 tbsp honey
The method:
Remove the stalks from the haws, and chop the apples into pieces, don't worry about removing the core, as it will all be sieved. Place the fruits and water in a medium and bring to the boil. Cover, and simmer for 15 minutes, or until the fruits are soft and strain through a sieve into a large, bowl. Allow the fruit pulp to cool, and using a wooden spoon, mash and push the fruit pulp through the sieve, then stir in the honey. The more you do this, the more pulp you'll be able to extract.
Once you've extracted all the pulp you can, if using a dehydrator, spread the contents over two Teflon sheets and dehydrate according to instructions. Otherwise, heat the oven to 140°C and line a 20cm by 40cm baking tray with baking paper including part the way up the sides. Pour the fruit pulp into the tray, spread evenly and bake for about 4– 5 hours, or the fruit is slightly tacky though doesn't stay stuck to your fingers and peels away easily from the paper.
If the fruit is drying unevenly, turn the tray around in the oven, or be prepared to slice off the edges, if over-cooked when done. Peel off the tray, cool and cut into pieces or strips and store in a sterilised jar or wrapped in greaseproof paper.
I share recipes (and tasters) regularly on my wild food foraging courses, or stay up to date through my facebook or instagram page.