This is actually a really simple cheesecake recipe, and contains no eggs or cream, just full-fat mascarpone cheese. Combining my beloved stem ginger with the tart richness of swirled sea buckthorn syrup, this dessert has been discussed over dinner many a time.
Is it a frozen cheesecake, an ice cream or a sorbet on a cheesecake base? Sensibly, my friends decided it didn't matter as it tastes so good and is a glorious way to end a meal.
I'm a bit coy to say, but this is my favourite of all the sea buckthorn recipes I've created. I hope you enjoy it too!
Frozen Sea Buckthorn and Ginger Cheesecake
Tart sea buckthorn berry syrup, combined with sweet, fiery ginger in a smooth, creamy filling and a crunchy base. I dare you to leave the rest in the freezer and not eat it all too quickly!
Serves 10-12
Ingredients
550 g mascarpone cheese
135 ml (9 tbsp) sea buckthorn juice
220 g unrefined caster sugar
50 g unrefined icing sugar
50 g stem ginger, finely chopped
For the biscuit base
125 g sweet wholemeal biscuits
½ tsp ground ginger
50 g butter
In a small saucepan, measure out 60 millilitres (4 tablespoons) of sea buckthorn juice and 60g of unrefined caster sugar. Bring to the boil, stirring to help dissolve the sugar, and simmer over a low heat for 30 minutes until the liquid is thick and syrupy. Put aside to cool.
To make the biscuit base, crush the wholemeal biscuits to small fragments, though not to dust. In a second small saucepan, melt the butter over a low heat, and use a little to grease the bottom of a 20cm springform cake tin before covering the base with greaseproof paper. Add the crushed biscuits and powdered ginger into the melted butter stirring until well combined. Pour the mixture into the bottom of the cake tin, and press down, from the centre outwards until firm and even, refrigerate while making the filling.
For the filling, mix the mascarpone cheese, the remaining sugar and sea buckthorn juice, the icing sugar and stemmed ginger until well combined, though not over-mixed. Spoon the filling on top of the biscuit base, finally pour over the cooled sea buckthorn syrup and swirl into the mix.
Carefully place in the freezer, for at least 6 hours. When ready to serve, run a hot cloth round the outside of the tin and ease out the cheesecake, slice and serve immediately. Return the rest of the cheesecake to the freezer straight away, even if you think people will want seconds, as the cake with start to melt and loose its shape.
Sea Buckthorn berries, or Sea Berries Hippophae, Hippophae rhamnoides (Elaegnaceae)
There's nothing like foraging for your own wild berries, especially when it's combined with a walk along the coast, plus they're a nutrient rich super fruit! Even the colour of sea buckthorn berries are a vibrant pick-me-up.
Where do sea buckthorn berries grow?
Here in Western Europe you can find them along the coast and on sand dunes. They also grow all along the Atlantic coasts of Europe, Central Europe and North Europe and are present and native in Asia, China, Mongolia, Siberia and Russia.
They've been introduced in Canada (Quebec, Alberta and Saskatchewan), and exist as experimental crops planted in Arizona and Neveda. I know of several farms in the UK growing cultivated varieties, some of which are from wild seeds.
When to harvest sea buckthorn berries?
Sea buckthorn berries are ready to harvest and pick from late summer to autumn and in some areas they can still be picked through winter and after the first frost.
Harvesting times do depend on the variety, but think of spring as the pollinating season and the berries coming later in the year.
Why are sea buckthorn berries good for you?
These small, bright orange sea buckthorn berries are so good for you! They mobilise high levels of vitamin C - about 12 times more than oranges and have more beta-carotene than carrots. They have a fantastic range of vitamins including A for teeth and bones, B1, B2, B6 and B12, vitamin E for red blood cells, K for blood clotting and to stop bleeding, numerous minerals and omega 3, 6, 7 and 9 oils for healthy skin.
Traditionally sea buckthorn berries, leaves and seeds have been used to prevent aging, treat skin problems and promote healthy hearts.
Sea buckthorn berries also contain antioxidants that help protect the body and strengthen the immune system as well as fibre to support healthy gut bacteria.
How to identify sea buckthorn
Sea buckthorn can grow up to 10 metres tall and can form as a dense shrubby, thickets that are hard to penetrate. Thorny, with long, untoothed silvery-green leaves, the orange berries nestle close the stem, but only on the female plants. Sea buckthorn flowers in spring with tiny, greenish male and female flowers.
What is the flavour of sea buckthorn berries?
Tangy, tart, sour, with a hint of bitterness at the end. I find it far more flavoursome than lemons and more versatile and giving in recipes. See my recipes for sea buckthorn curd cup cakes.
How to harvest sea buckthorn berries?
These gems of tangy flavour don't give them selves up easily. Nestled tightly to thorny branches and ready to burst forth, quite literally, from their tree. They demand respect and careful picking.
There's an art to capturing the juice of Sea buckthorn berries, and you basically have two choices.
Full of juice and a small black pip, if you pick them too late you'll only be left with orange stains and empty, juicy fingers. If you catch them early enough, you can twist the berries off the branches, collecting them in a container that will hold any seeping juice.
The second option is to use secateurs (pruning scissors) and snip off abundant berry branches and freeze them. Once frozen, it is a lot easier to remove the berries from the branches, though care still needs to be taken around the thorns.
How to use sea buckthorn berries?
You an use the juice diluted with water, in cocktails or numerous recipes. Some of my favourite culinary creations with sea buckthorn berries are;
Sea buckthorn thick, syrupy, syrup
References
The forager handbook and wild flowers of the british isles.
I love, love, love Rock Samphire (Crithmum martimum) though it has taken me a while to get used to it. When I first tried it, having plucked it off the rocks on the south coast of Cornwall I just thought it tasted 'unusual'. Fifteen years later I understand and appreciate it's complex flavour more and I know when and how to harvest and use it.
Pickled rock samphire is a traditional way of preserving this vitamin C rich plant. You can alter the spices you add, so please use the recipe below as a guideline only. This wild Rock Samphire pickle recipe means you can eat this plant throughout the year - pickles are brilliant in that way. Enjoy it with cheese, cold meat or fish boards, or with freshly cooked fish.
The Recipe
A simple way to preserve and enjoy this coastal wild food and it will only take you 10 minutes to make!
Makes 500 ml
Ingredients
100 g rock samphire
1/2 lemon, sliced and cut into wedges
2-3 cloves of garlic
1 1/2 tsp coriander seeds
1 tsp black pepper seeds
Pinch of salt
225 ml white wine vinegar
225 ml water
Wash the rock samphire and snip off any fibrous ends. In a medium saucepan place all the ingredients and slowly heat until steaming. Simmer for a couple of minutes then pour into the jar, seal and leave to cool. Once cold, store in a refrigerator for a couple of weeks and store for up to 6 months.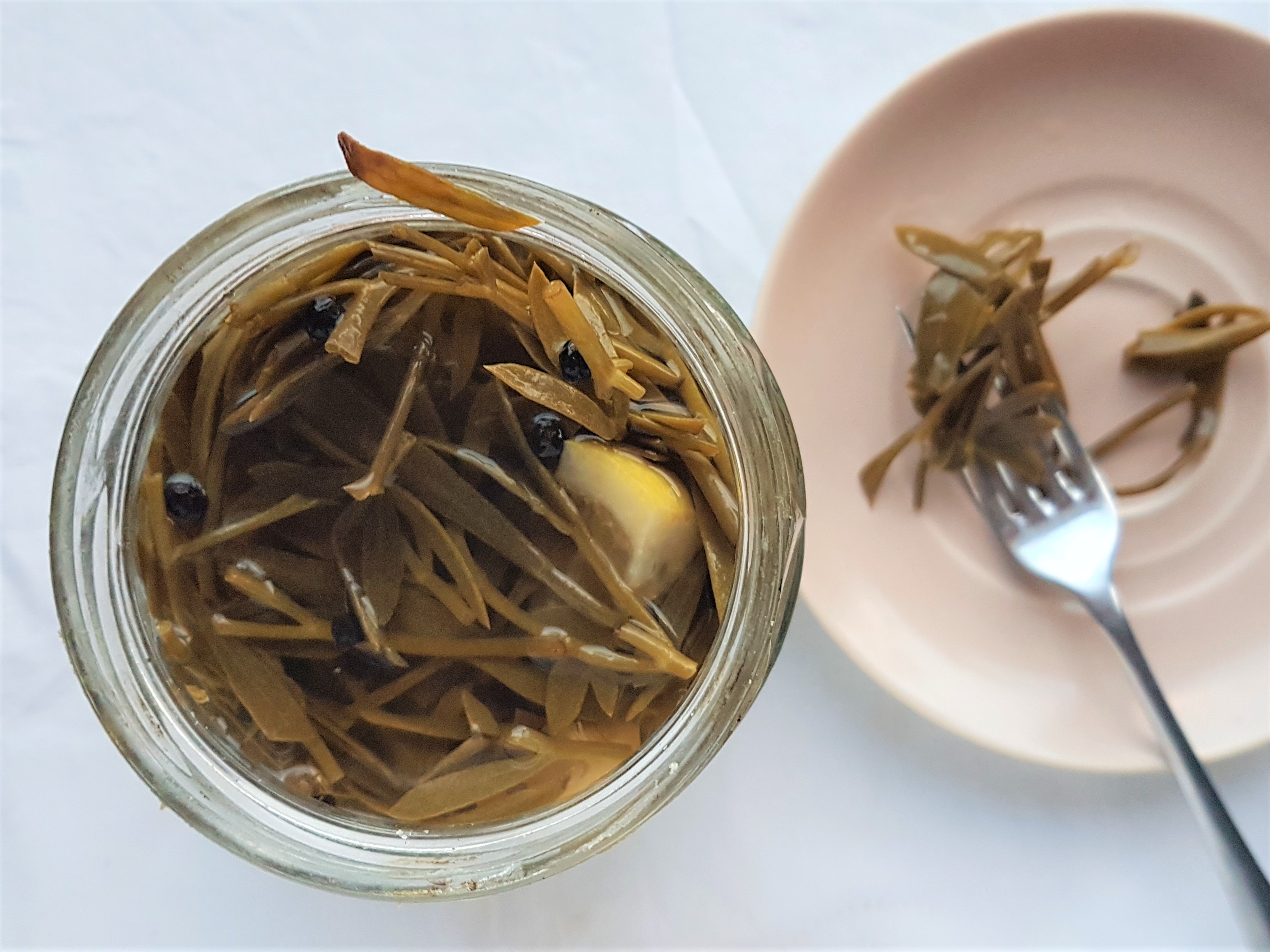 Other Rock Samphire Recipes
Take a look at my Rock Samphire Salsa Verde recipe, or I cook it simply in my Wild Food Foraging book. If you'd like to keep up to date with what I'm foraging, cooking and teaching, why not join one of my foraging courses, or follow me on facebook or instagram.
Cornwall is the 9th largest county in the UK, it's boarder mostly by the sea (and Devon, of course) and is almost 1500 metres squared in area.
We have amazing access to coastal areas, 422miles of it, where foraging is rich and includes fish, mollusks, seaweed and coastal plants. We have abundant hedgerows, fields, coast paths, cliffs, moorland and beaches. Cornwall has 7 (think marsh samphire) estuaries, and I've mentioned before the diversity of estuary foraging.
Cornwall has just over half a million residents (the most the county has ever housed), so pressure on this beautiful place (as everywhere, it's more mentioning) is increasing. However, most of those living here are in towns, less in villages and less so again, in hamlets. That leaves a lot wild areas for wildlife to flourish.
What's more, almost a third of Cornwall has the status of; Area of Outstanding Natural Beauty (AONB), which gives it the same protection as a national park. The Cornwall AONB partnership has a 20 year vision to; protect, enhance and improve the resilience in the face of climate change these areas of Cornwall, which is why foraging sustainably, a little and in a variety of abundant places is key, and I mean that, 100%.
Are we that special?! I think we are. I think Cornwall is.
Of course, I'm biased, very biased, I chose to make Cornwall my home and, really, have no wishes to be anywhere else. Even in 100 things to do in England, there were almost 10 sites (9 to be specific) in Cornwall listed, that's pretty good going I think.
My passion for this piece of the country includes enjoying these areas by picking a little wild food in appropriate areas. Carefully picking so it is practically un-noticeable that anything has been taken, and focusing on plants that are common, abundant and even invasive. I'm also interested in education; sharing this beautiful place so others can deepen their appreciation and understanding of this eco-system. I also still have a lot to learn and always will.
Cornwall is special, unique, protected, vulnerable, diverse, and as foragers we have a responsibility to take care of this beautiful place.
References
AONB official website, gov.uk, and the beloved wikipedia.
630 miles of coast line.
That's 630 miles of pathways, steps, beaches, cliffs, pebbles, sand, shingle or boulders.
630 miles of potential coastal plants, as well hedgerows, fields, even woodland growth.
That's 630 miles of varied and possible foraging ground.
I'm a forager, a walker, a stalker of plants and a lover of sea views and varied landscapes. I live in Cornwall, and like many Cornish (or settlers here) I'm content holidaying here too.
Taking a chunk of time out to walk part of the Cornish coastal path is something I've wanted to do for a while. Embarrassingly, I've never done this (for more than 1 day at a time) in Cornwall. Though I have done several walking trips in the Himalayas, Scotland and Austria - up to 3 weeks at a time, just walking.
So this summer, this was it: 8 days, 80 miles, various companions and a new pair of walking sandals. Traveling light, I had pockets and bags to forage with and left the cumbersome, though beautiful and often useful, basket behind.
Coastal foraging is rich pickings - there is a good reason that many communities originally settled on the coast line or nearby, and this wasn't just for the fishing, or the view.
Fish and seafood are wonderful sources of nutrition, particularly protein and good oils, yet the plants and seaweeds that grow in these areas are equally of value. Actually, I wouldn't choose one over the other, though together the combination is sublime, as well as nutritionally balanced.
Starting from St Ives and finishing in Padstow, I was fascinated by how much the foraging available would vary on this stretch of coast path. Whether I'd be seeing much variety, or just seeing the same plants again and again.
There are over one hundred plants and seaweeds that I, and you too, could be foraging, easily and regularly while walking the South West Coast Path. I know if I'd have walked further, perhaps the whole of the coast - from Minehead to Poole - then I would have experienced a greater diversity of edibles and landscapes that they thrive in. However, as much as I am an explorer, I am a home girl too, and being able to look back along that coast path, and see the distance that I had traveled by foot, felt -for now- far enough away from home.
If you've ever done long distance walking, or indeed walked the South West Coast Path, you will probably know these two things;
You can burn quite a lot of energy walking, especially when it's up and down, rocky and challenging, and especially if you're carrying a ruck sack too.
Despite the considerable improvement in food choice in Cornwall, i.e. good quality, local ingredients, simply cooked. In some areas of the coast path, it's trickier to access much more than fish and chips and sandwiches.
Perhaps I'm just justifying my food and calorie choices for this journey! However, snacking on forageables definitely broke up my walking and monotony of meals. While camping, I was able to add wild greens to dishes, introduce walking companions to wild tastes and enjoy the beauty of the coast through my taste buds as well as my feet and eyes.
If you know much about sailing and the fate of many sailors one hundred years or more ago. You'll know that scurvy - a condition caused by vitamin C deficiency was an unpleasant, unsightly and far too common disease. Many of the plants I was picking were rich in vitamin C, and used by sailors in the past for this very reason.
Rock Samphire, Scurvy Grass, Sorrel, Ox-Eye Daisy, Sea Spinach - are all good vitamin C sources. No oranges or lemons did I carry in my rucksack, my nutrition was hedgerow and coast path sourced, well, ok, with the occasional Cornish apple juice to quench my thirst too.
To find out more about walking the South West Coast Path, go to; http://www.southwestcoastpath.com/
Baggage transfer can lighten your daily load and this company is hugely friendly and helpful, see; http://www.luggagetransfers.co.uk/south-west.html
If you would like to have a 1/2 day foraging guide, during your walking (please note I average 1 mile an hour for this), please do contact me