Sticky, fruity and floral, this jam pairs pineapple weed flowers with pineapple fruit to make a highly addictive mixture!
The flavour of pineapple pervades every spoonful, but I swear that it is more from the weed than the fruit. I use tinned pineapple for this recipe and it works brilliantly, though you can use fresh if you have some to hand.
Gorgeous blended with yoghurt or use as a sweet layer in these unique Pineapple Weed Flapjacks, which also happen to be vegan.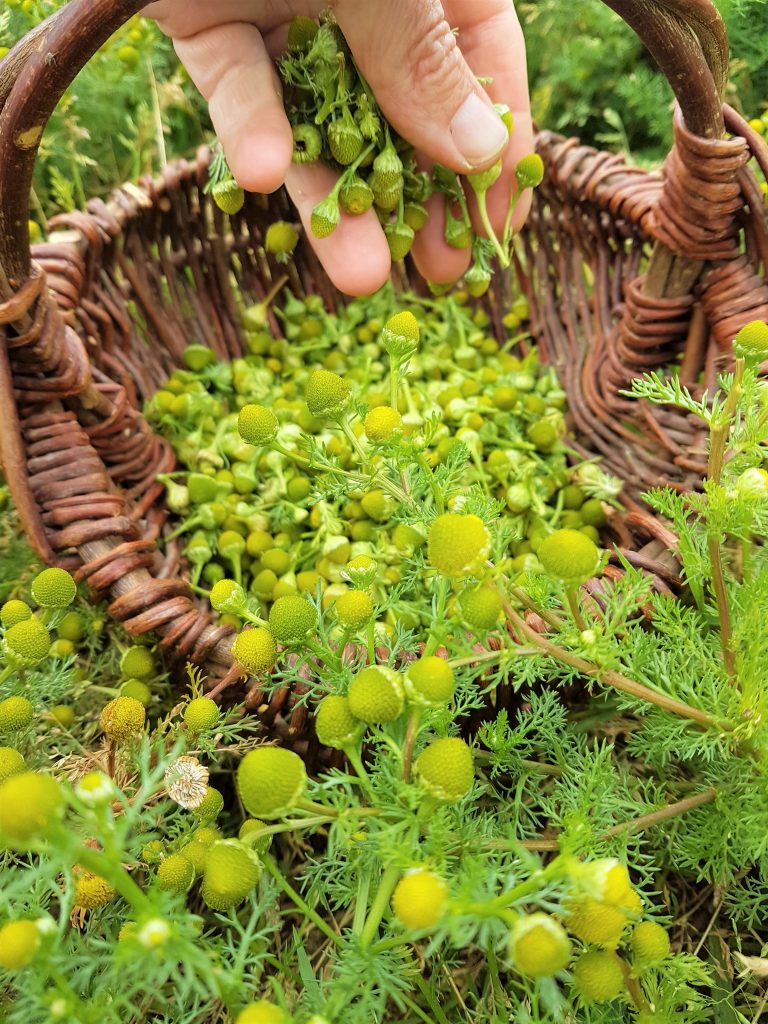 Picking Pineapple Weed Flowers
Check out my blog on Pineapple Weed to find out where to find this aromatic plant, its benefits and how to identify it.
I suggest using scissors to cut the flowering tops - it'll will save you time and mean you can leave the stalks on the plant.
Pineapple Weed and Pineapple Jam
Perhaps an obvious combination, though equally unusual and utterly divine!
Makes 400 g
Ingredients
175 ml pineapple juice
150 g fresh or tinned pineapple
160 g/ 2 cups pineapple weed flower heads (no stalks)
250 g golden granulated sugar
Cut the pineapple into slices then chunks and combine with the pineapple juice. Blend to break up the chunks but I like to keep a little texture rather than a smooth puree. Place in a medium saucepan along with the pineapple weed flower heads and the sugar. Stir and bring to a simmer over a medium heat and leave to simmer for about 15 minutes, stirring occasionally.
The jam is ready when all the liquid is absorbed and the mixture falls heavily off a spoon in blobs. Leave to cool and store in a jar or covered bowl in the fridge. Bring to room temperature before using - it will make it easier to spread.
How to use this jammy creation
I simply love this swirled through yoghurt with a dash of extra pineapple weed syrup. It's a really treat for breakfast or as an easy dessert.
It's also gorgeous in this flapjack recipe with a divinely fruity centre.
Want to know more?
Pineapple weed is one of the edible plants I teach on my foraging courses during summer. If you like this recipe, feel free to browse my wild food blog for more, or why not check out membership options and receive my best wild recipes every month!
Years ago I created a sugar-free, vegan flapjack recipe with dates and fresh ginger. I loved those flapjacks, though these have possibly overtaken them as my favourites; a crumbly oat topping, chewy pineapple weed centre and moist base. My friend H had four of them as dessert! Just sweet enough, they also make a great breakfast treat with yoghurt.
If you'd like to find out more about pineapple weed, where to find it and how to identify it, check out my blog - Pineapple weed, the amazingly fruit weed!
Pineapple weed flapjack recipe
This recipe is easy to make and is a great alternative to buttery, sugary flapjacks. The flavour is fruity and aromatic and the texture crumbly and soft or chewy. First need to make the pineapple weed and pineapple jam. They also freeze well.
Makes 9
Ingredients
Combine the oats and oil in a large bowl and stir until the oats are thoroughly coated in the oil. In a small saucepan combine the syrup or tea and boiling water and heat till steaming then immediately stir into the oat mixture. Cover and leave to cool. Grease a 20 cm by 20 cm baking tin and preheat the oven to 150°C/130°C fan/Gas 2.
Separate two-thirds of the oat mixture and stir in a tablespoon of the jam before evenly pressing into the baking tin. Once the base layer is firmly in place, evenly drop teaspoons of the pineapple weed jam on top, like polka dots. Careful spread the dots of jam as much as possible to create a jammy layer and cover with the remaining oat mix. Press the oats into place and bake for 40 minutes or until slightly golden.
Leave to cool, then place in the fridge to firm up before cutting. Use a fish slice or similar to remove from the tin; they'll be crumbly with a moist centre. but don't be tempted to remove them!
I love eating these on their own or breaking them up and combining with yoghurt as a snack or breakfast treat.
Want to find out more?
Pineapple weed is one of the edible weeds I teach through summer. My foraging courses cover around 8 wild foods and herbs, and I also offer private forays where you can decide what you want included in your foray!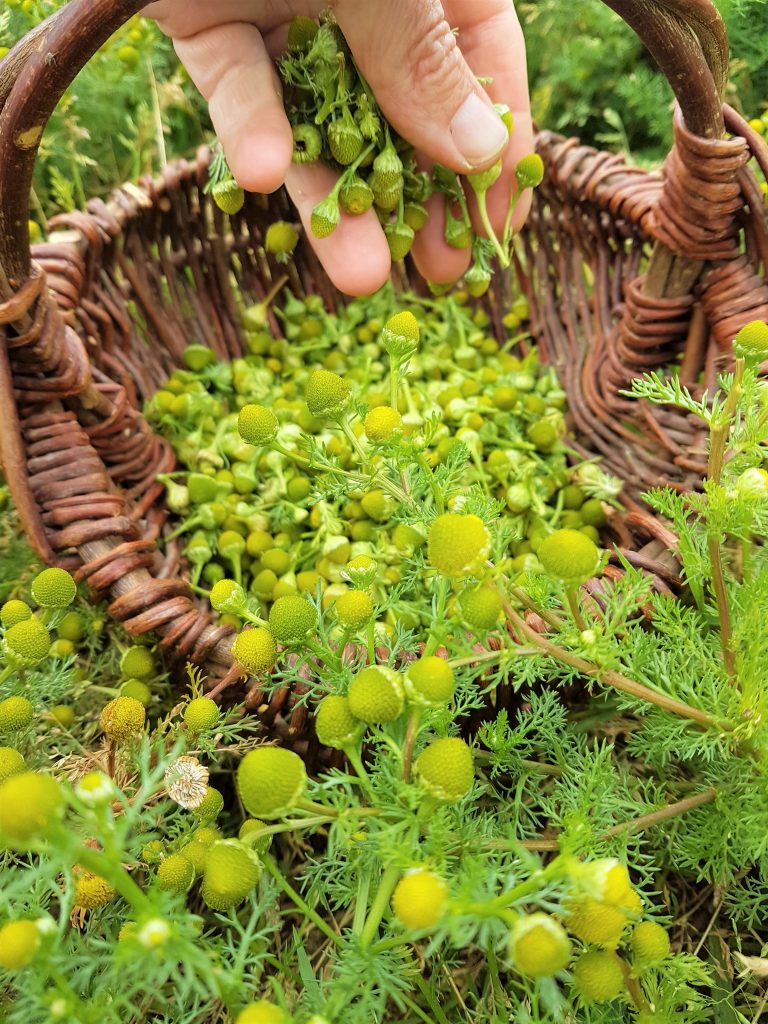 If I say 'pineapple', what do you smell? If I say 'mango, passsion fruit or citrus', what do you smell?! The power of suggestion is a clever influence when it comes to smell and taste, but honestly, pineapple weed (Matricaria discoidea) really does smell of all of these!
It's what stands it apart from the other members of the DAISY FAMILY Asteraceae (Compositae), including mayweeds and chamomiles. Yet there are a few other pointers which will help you avoid mistakes too.
Where does pineapple weed grow?
Pineapple weeds loves to grow where people, vehicles and animals tread. In some places it is nicknamed the 'street weed.' As if it is trying to make our journeys sweeter smelling. I regularly find pineapple weed growing through cracks in the pavement, on driveways, paths and disturbed areas of fields, like tractor tracks.
Pineapple weed is a prolific edible weed which is happy to grow in dry, disturbed ground which is often compact and hostile for many other plants. It is native to and grows across the US and has been well-established in the UK and Europe since 1871. It is found in New Zealand and Russia and it is also native to East Asia.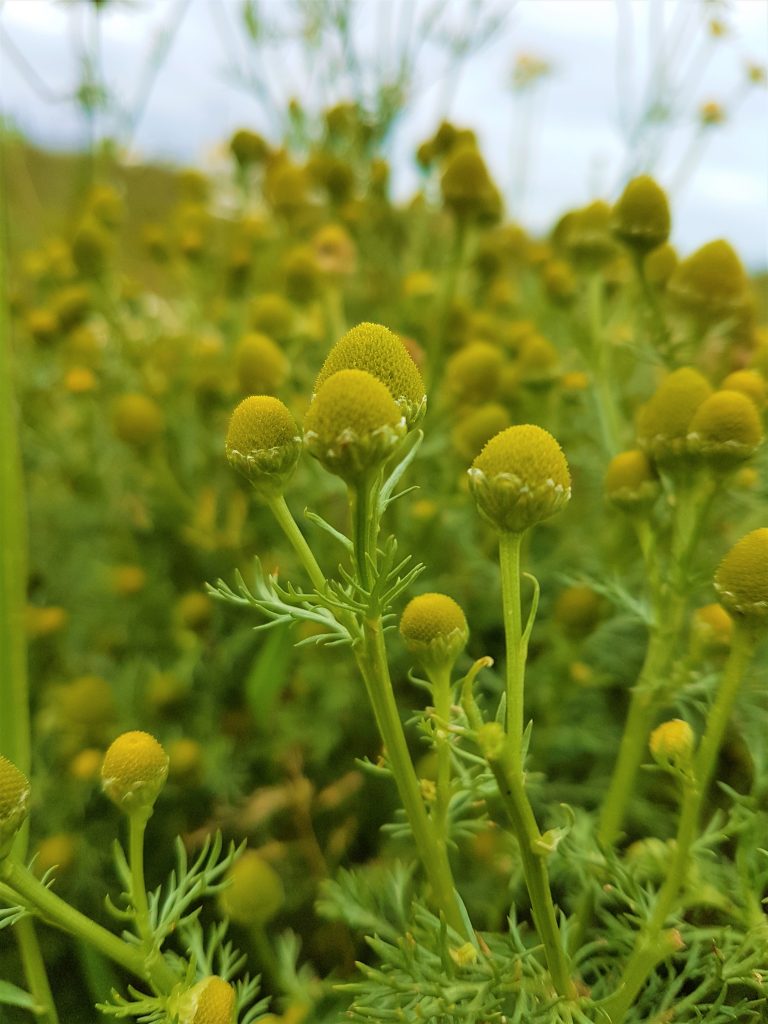 Pineapple weed verses Chamomile
Confusingly, pineapple weed is also known as wild chamomile or false chamomile because it is a good substitute both medicinally and flavour-wise if chamomile is not available. However it is not the same as the 'true' chamomile (Chamaemelum nobile) which is used in herbal tea or as an essential oil to calm and relax children and adults, nor its cousin scented mayweed (Matricaria recutita) which is used similarly. Pineapple weed has the same uses as scented mayweed except it isn't anti-flammatory.
Pineapple weed does not have white petals and it smells of pineapple! In comparison, chamomile is strongly aromatic, but not fruity in scent and other mayweeds have either no scent or a mild scent. Unless it's stinking chamomile (Anthemis cotula) which has a sickly smell!
How to identify Pineapple weed
Pineapple weed grows up to 30 cm tall, is yellowy-green, has no petals and a domed, conical shaped head. The head shape is thought to be the inspiration for the name 'pineapple weed', that and its fruity smell! It flowers through summer, from June to August. The common scentless mayweed is normally taller and grows up to 60 cm tall.
Confused?!
It's really easy when you know how, this video should help you.
What is pineapple weed good for?
Pineapple can be used as an ingredient for teas and food (I share recipe ideas below) and it also has medicinal qualities. It can be used for insomnia (similar to chamomile), has been used externally on insect bites and irritated skin and it also has analgesic properties and can numb pain!
Some people are allergic to pineapple weed and other members of the daisy family and this plant should not be consumed in large amounts.
How to harvest and dry pineapple weed
Pineapple weed loves to grow in dry areas so it is easy to dry for tea and recipes. I find it useful to use scissors to cut off the flowering yellow heads, leaving as much of the green foliage behind as possible.
You can dry pineapple weed in a warm, sunny room, a warm spot outside or in a dehydrator.
8 recipe ideas for using pineapple weed
Pineapple weed has a wonderful fruity flavour and can be used raw in salads, infused for teas, syrup, salad dressings or made into a jam for gorgeous snacks and desserts.
Here are 4 quick and easy ideas for using pineapple weed;
Pineapple weed in salads - use the flower heads and leaves in salads to add a fruity bite
Pineapple weed syrup - just use the flower heads to make the best syrup. Cover the flowerheads with water, simmer for 5 minutes and strain. Measure the water and combine every millilitre with a gram of sugar, or every cup of liquid to one cup of sugar. Combine the liquid and sugar and heat slowly while stirring until the sugar dissolves. Dilute for drinks, cocktails or salad dressing
Pineapple weed salad dressing - mix half pineapple weed syrup with olive oil, vinegar and a little wholegrain mustard. Combine well and drizzle over salads or cold meats.
Pineapple weed tea - simply pour boiling water over dried or fresh pineapple weed flowers and leave to infuse for 5 minutes. My friend Lisen in Sweden combines it with thyme as a herbal tea blend.
My favourite pineapple weed recipes
Pineapple weed has huge potential as an ingredient. It is both fruity like pineapple and aromatic like chamomile. I also discovered it combines really well with oats and yoghurt.
You can use any of the combinations below, but my favourite recipe is first making a pineapple weed jam and making it into a fruity, crumbly vegan flapjack with a chewy pineapple weed centre!
Granola and yoghurt topped with pineapple weed syrup
Pineapple weed flapjack topped with yoghurt (blend pineapple flowers into a flapjack mix)
Pineapple and pineapple weed jam, granola and yoghurt
Want to know more?
Pineapple weed is one of the edible plants I teach on my foraging courses during summer and I can also cover it in private forays where you can choose what, where and when you forage! Or browse my wild food blog for more recipe and foraging ideas.