Burdock Arctium lappa, Arctium minus
When the cold starts to hit and autumn is on the cusp of winter I go in search of burdock roots. Long tap roots that help detox the body. After all, it's roots time of year isn't it. Wild burdock roots are a good addition to the potatoes and nourishing root veg that are in season.
Here I share;
How to identify burdocks
Why harvest them
Where burdocks grow
When to harvest them
Which parts are edible
How to harvest them
How to use burdock roots
If you'd like some burdock recipe ideas, do also take a look at my 3 simple recipes for burdock roots.
How to identify burdock
There are about ten different types of burdock across the world, though only two types are widely cultivated. Here in the UK there are 4 types of burdock, all share a few distinct features.
Burdock has large, broad leaves and purple flowers with a furry, pale underside. The plant grows between 20 cm and over 1 metre tall and can grow up to 2 metres tall in the shade.
Burdock is a biennial (has a 2 year life cycle) and only flowers in the second year, then disperses its seeds/fruits and dies.
Oh those seeds! Softly and persistently they cling to clothing, hair and fur and often travel far before de-entanglement is naturally or forcefully attempted. A burdock badge is often an unwanted accessory.
All burdocks as the name suggests have burs. The burs of burdock look like thistles, but instead of being covered with spikes they are covered in tiny hooks. These hooks give burdock the nickname 'velcro plant', as apparently it inspired the creation of velcro.
Greater burdock (Arctium lappa) and Lesser Burdock (Arctium minus) are the main two burdocks growing in the UK. Lesser burdock is the most common.
Where do burdocks grow?
Burdock is native to Europe and Asia though has naturalised in many places across the world including North America.
They love stony, nitrogen-rich ground and can be found in waysides, woods, waste ground and the edge of fields.
Why eat burdock roots
Burdock has long been considered a valuable food and medicinal plant. Renowned as a superb cleanser for the skin (applied externally to eczema, acne, rashes, dermatitis and psoriasis) and kidneys. Studies also show it has antibiotic, antifungal and antibacterial properties.
Burdock is also a vital ingredient in the traditional dandelion and burdock drink. Which, it turns out, variations of, have been made in the British isles for hundreds of years.
The roots have a mild, earthy nutty flavour and can be eaten raw or cooked and can be dried. The roots are a slow releasing carbohydrate; great for countering blood sugar dips and ideal for diabetics. It is also a sources of calcium, potassium and protein.
Which parts are edible?
The roots, leaves and young stems are all edible. However the leaves are incredibly bitter. The best tasting part is by far the roots.
When and how to harvest the roots?
The roots are best dug up in autumn and winter. This ensures the energy and goodness is stored in the roots and not feeding the rest of the plant.
First you'll need to find the plant (see above). You'll need to find burdock that hasn't flowered yet (doesn't have burs). Burdock that hasn't flowered will live another year, and the roots won't now be decomposing underground!
Burdock roots are long tap roots that require a fair amount of effort to dig up; think sleeves pulled up and a good spade. The tip of wild roots is rarely reached, though not to worry, you'll have plenty to use.
How to use burdock roots
Burdock roots can be grated raw into salads or into homemade veggie burgers. Can be simmered or roasted with other root veg. In a previous blog I've shared three simple recipes for burdock roots. It can also be simmered to flavour soft drinks or beer.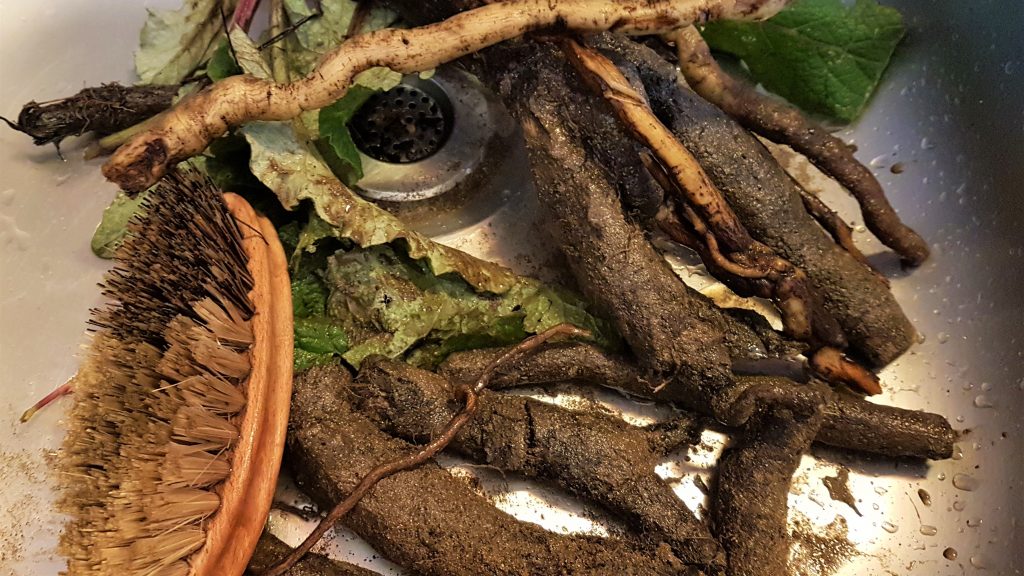 Burdock is one of the plants I teach on my foraging courses and bespoke foraging experiences.
**Please note you need permission from the land owner to dig up roots here in the UK.**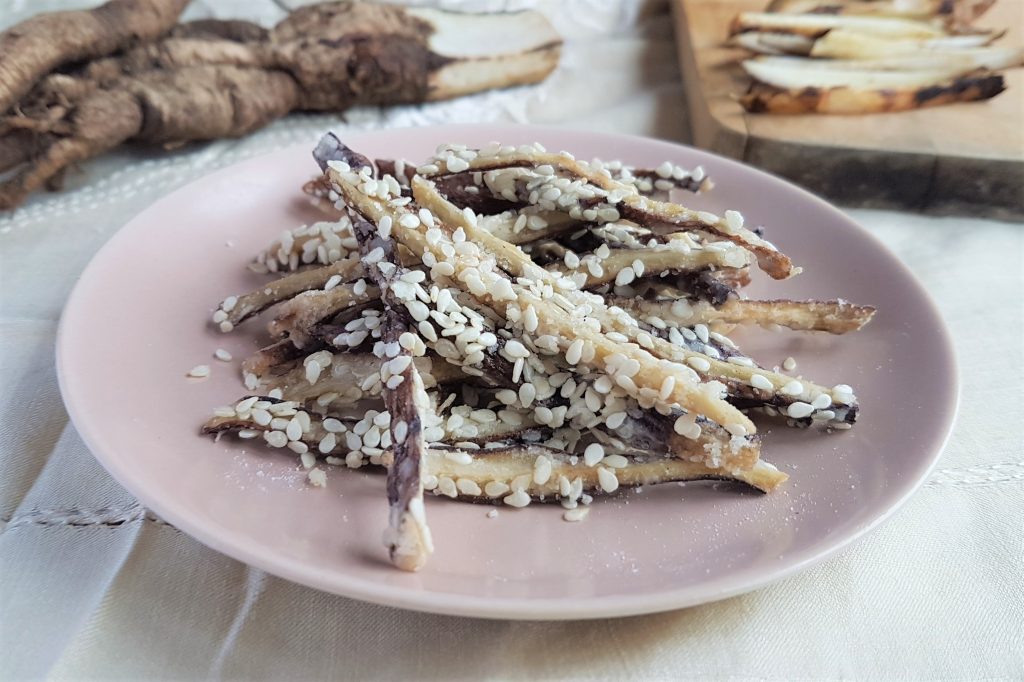 Here I am going to share with you recipes for three, quick savoury snacks using burdock roots (Artium lappa and Artium minus). They are simple, easy to follow and tasty.
About Burdock
Burdock roots are renown as a skin cleanser from acne to eczema when used externally. Hippocrates, the Greek physician know as the 'father of medicine' believed that food should be medicine. So these are recipe to eat rather than than place on the skin. Burdock roots are used extensively in Japanese cooking.
You can read and see more about these edible roots in my blog; Foraging for Burdock Roots.
Let food by thy medicine and medicine be thy food. Hippocrates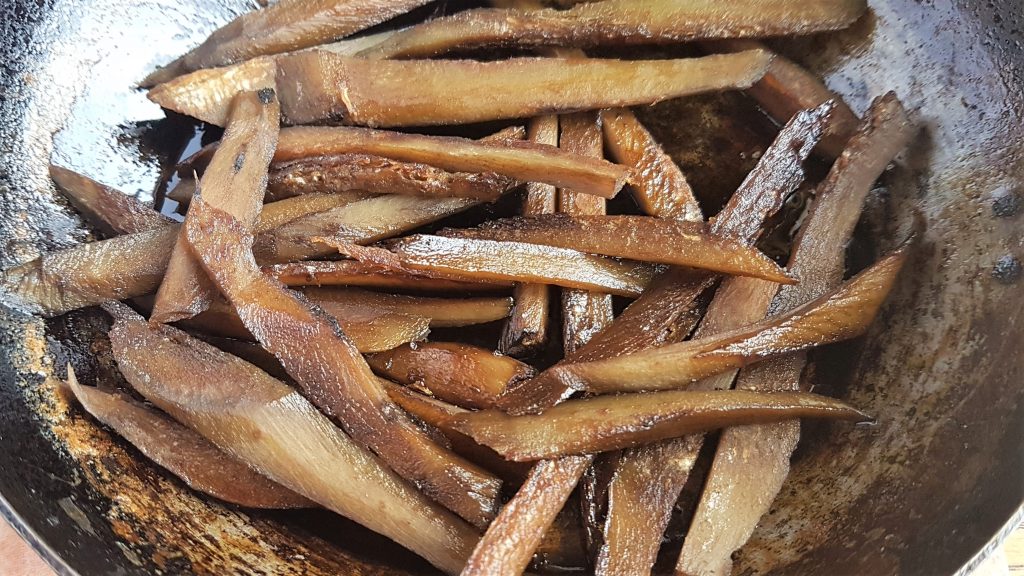 Burdock Roots in Soy Sauce Recipe
This was the first recipe I ever used for burdock roots and is from Roger Philip's book; Wild Food. Based on a Japanese vegetable dish, it is very straight-forward to make. If you like salty flavours, this recipe is for you! The result are soft strips of burdock, but still with a crunch and earthy burdock flavour.
Serves 1-2 (as a side dish)
Ingredients
60 g burdock roots
150 ml water
1-2 tsp soy sauce
Clean the burdock roots, if they are large they may need peeling a little. Slice into thin strips and place in a small pan. Add just enough water to cover the roots and a good splash of soy sauce. Simmer for 15-20 minutes and allow the liquid to evaporate and the soy sauce flavour to be absorbed in the roots. I like to eat these on their own alongside a tapas of other Japanese snacks, like the nori rice balls from my seaweed book or even as a side dish to beef stew and black mustard mashed potato from my wild food foraging book.
Deep-fried Burdock Root Chips Recipe
These are easy to cook and are lovely as a crispy, fried treat. If you like chips, you'll love these! The flavour reminds of really earthy potatoes, with a slight hint of something else.
Serves 2-4
Ingredients
250 g burdock roots
Oil for frying
Sea salt (to taste)
Prepare the roots in the same way as the previous recipe. Cover a plate or two with kitchen paper and place by your cooker. In a frying pan, heat the oil over a medium to high heat. To test whether the oil is hot enough, add a small piece of burdock root, when it floats to the surface and the oil is bubbling, it is ready! Use a slotted spoon to add the strips of burdock roots. Be careful, hot oil can burn! Allow the roots to fry for a few minutes until they are crispy and slightly browned on the outside. Use the slotted spoon to remove and place on the kitchen towel. Sprinkle with a little sea salt and serve. These are delicious with crispy fried gutweed seaweed, from my wild food foraging book.
Deep-fried Burdock Roots with Sesame Recipe
This recipe is, again, influenced by Japanese cooking. I love the added crunch and flavour of sesame and this recipe transports me from 'British chips to fancy Asian fried delights'. Recommended to serve alongside other sushi-style savoury treats (see above).
Serves 2 (as a side dish)
Ingredients
100 g burdock roots
Oil for frying
1 tbsp corn flour
1 tbsp sesame seeds
A little sea salt
Follow the recipe above for burdock chips. Before frying, prepare a small bowl of corn flour - you'll just need enough to dip each root and coat it. Plus another bowl of sesame seeds, about a similar amount and blend with a little salt. Dip the raw burdock strips into the corn flour before frying. Serve immediately by tossing into the sesame seed mix and enjoy.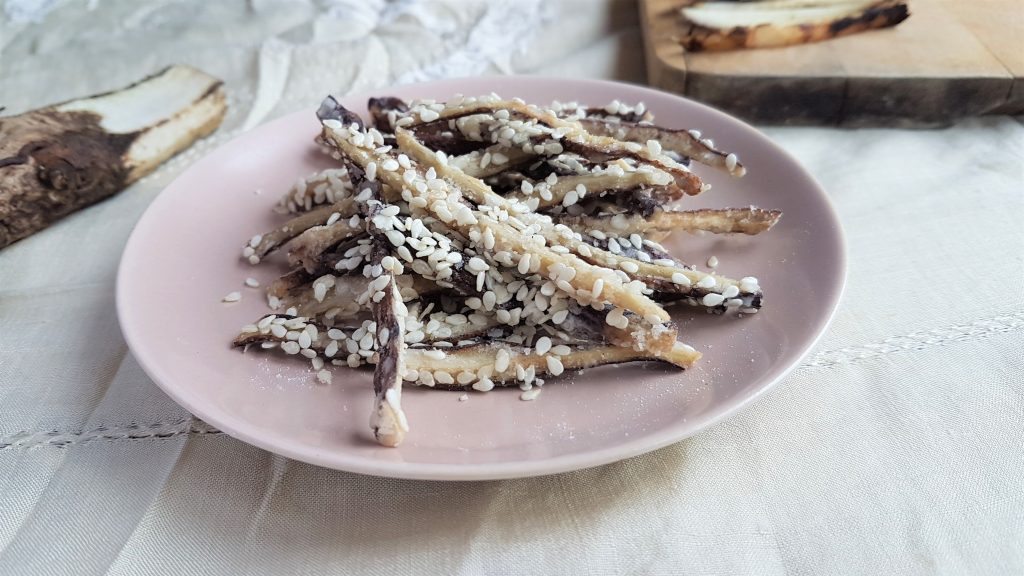 Want to find out more?
Feel free to browse my blog for more information, I also run monthly foraging courses with tasters, which is the ideal way to learn in a small group. Or perhaps you'd prefer a bespoke foraging experiences which will allow you to explore the wild foods that particularly interest you.
I also post regularly @rachellambertwildfoodforaging or sign up to the newsletter for regular updates about posts and events.