Laver (Porphyra) was the first seaweed I foraged and cooked. I remember my photographer friend Wendy Pye coming to visit me on my first Cornish Winter (2007). We traipsed up to the north coast and picked luscious looking laver from the rocks. I cooked it for hours and we had it on toast for breakfast. Wendy was one of my many guests that I experimented on and who helped me realise I wasn't mad for liking seaweed! This was before the more recent revival of interest and use in seaweeds here in the UK.
Laver has been eaten in Britain for centuries and records of its use go back to the 1600s. Yet the traditional breakfast of laverbread almost disappeared completely in the UK, with the except of certain coastal areas of Wales. Luckily this fantastic food is still growing wild and been eaten and enjoyed. Funnily enough, the same seaweed is used to make around 1 billion nori sheets annually in Japan. See my Nori, Rye, Buckwheat and Oat Cracker recipe to find out more.
How to Cook Laver
Laverbread refers to laver seaweed cooked for hours so it reduces down to a black pulp. Also known as Black Gold and Welshman's Caviar, these names speak of how highly laver was prized as a food.
Instructions for cooking laver advise simmering for 2-12 hours and letting the water boil off. When I first cooked laver I didn't want the saucepan to boil dry (and burn) so I ended up with excess liquid. Not ideal, but great for using in stocks, stews and soups! Laver can also be cooked in a pressure cooker in less time or in a slow cooker overnight. Both these methods will save your saucepans from boiling dry!
I also share how to cook laver and a recipe for incorporating it into bread in my seaweed book which has 16 seaweeds in and more information about laver, including where it likes to grow and different species.
The Goodness in Laverbread
Laver seaweed contains high amounts of protein, B12, magnesium, iron and vitamin C. It also contains calcium, iodine, zinc, B1, B2, B3, B5, B6, B9 and good traces of many other vitamins and minerals. Laverbread is good for you!
If you're not able to harvest it yourself, you can buy laverbread either  freshly made in some Welsh delicatessens or in tins. The tinned stuff is just as good, often cooked in sea water, it has the perfect taste and texture. I've bought several tinned ones before and loved them!
How to Make Laver Cakes
This is a classic laver recipe which consists of bacon, bacon fat, laverbread and oatmeal. It was traditionally served at breakfast, but is rather nice as part of an evening meal too.
Ingredients
5 slices of streaky bacon
150 g laverbread
40 oatmeal (or oats powdered)
Fry the strips of bacon in their own fat, remove from the pan and finely chop. In a medium bowl combine the bacon, laverbread and enough  oatmeal to bind the mixture. Shape into 'cakes' or patties about 2 cm thick and fry in the bacon fat for about 2 minutes on either side. Eat on their own or as part of a meal.
Alexander seeds are one of my secrets. Okay, so perhaps a secret I've shared with a few people. Even so, it's a lesser known wild spice that goes unnoticed by the majority of folk. I call it a secret because even if you bite into it raw, the chances are you won't want to taste it again. Unless, that is, it's incorporated into a delicious recipe.
Alexanders (Smyrnium olusatrum) are prolific here in Cornwall, originally from the  Mediterranean, they can now be found on the south coast of the UK from Wales to Norfolk, as well as throughout Europe. I love them, they are so versatile, so abundant, though vastly misunderstood. I've written many blogs about Alexanders if you'd like to find out more. I also have a song to help you remember their qualities that I share on the Singing Forager Experience, where you can just listen, hum, or join in.
Highly rated by the Romans (who brought Alexanders over, also know as Black Lovage. Horse Parsley, Alisanders) you can eat every part of it, if you just knew how...
Alisander or Alexander-seeded bread
I've been making Alexander-seeded bread for years. I first created it in collaboration with the head chef at a gourmet foraging and dining break at Hell Bay, Isles of Scilly. Lovely fresh, handmade bread to dip into fine olive oil before a series of 5 wild courses were served. I've also foraged it and made it with students at Rick Stein Cookery School, which was a good few years ago now.
Alexander-seeded bread is so good, I keep making it; flecks of bitter spice through dough work perfectly and the seeds make a nice cobbled effect too. In the past those seeds have been used in soup, stocks and to flavour rice, though I've used them in many other dishes, including sweet treats. They contain an essential oil, cuminal, which is reminiscent of cumin and myrrh, or think black pepper with its heat and a little added bitterness. I like to enjoy alexander-seed bread with Rock Samphire Salsa Verde, or with wild seaweed dips or just on its own with olive oil.
Alexander-seeded Bread Recipe
A simple, lightly spiced bread which is perfect with savoury accompaniments - it has never been refused by guests attending a foraging course.
Ingredients
1 heaped tbsp alexander seeds
500 g white or wholemeal flour (or half and half)
Pinch of sea salt
1 tsp quick yeast
1 tsp sugar or honey
400 ml warm water
15 ml olive oil (optional)
Roughly grind or chop (you want some texture, not a powder) the alexander seeds in a seed grinder or pestle and mortar. You may find them easier to grind if you dry roast them first (140°C for 10-20 minutes), making sure they don't burn. Mix the flour, ground seeds and salt in a large bowl. Dissolve the yeast and honey in the warm water and stir into the mix. Combine well and knead the dough for 10 minutes, or until it starts to bounce back. Cover and leave in a warm place until it doubles in size.
When well risen, oil a bread tin, punch the dough a couple of times then place in the oiled tin, cover and allow to rise to double the size again. Heat the oven to 200°C and bake for 40-45 minutes, or until hollow-sounding when tapped. Remove from the oven and leave to sit for 10 minutes before attempting to take the loaf out of the tin. Allow to cool on a wire rack before slicing.
I share some tips on bread, picnics and wild bread in my seaweed bread blog and teach Alexanders - how to identify and use them on my foraging courses throughout the year. As well as on my Singing Forager course.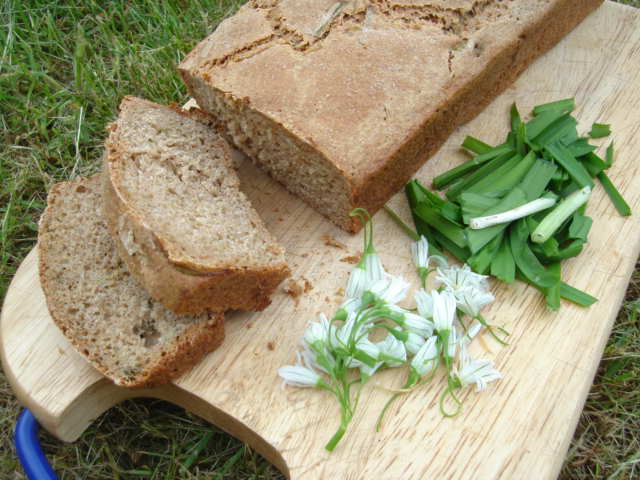 Here in West Cornwall, Three-cornered leek (Allium triquetrium) is considered an invasive; an unwanted weed that is hard to get rid of.
My solution: Eat it!
Three-cornered leek is mild, sweet, onion-y flavour and is one of the plants I call spring medicine. Here I offer a simple recipe and tips to make sure your bread works really well. 
I often think that if a plant is in abundance, consider it a gift. Here's a simple recipe which uses a handful of this wonderful, edible weed. You could also use wild garlic, aka ramsons (Allium ursinum) or any of the allium family that you have growing nearby. You can use the leaves, stems, flowers, seed-pods and roots.
Find out more about three-cornered leek here.
TOP TIP: Three cornered leek is quite a watery plant in the height of spring, so it is good to mash it under a rolling pin, or mash it as you knead to ensure you don't have pockets of moisture in your bread mix. You may need a little less water because of this too.
Three-Cornered Leek Bread
You can use the stems, leaves, bulbs and flowers for this recipe to create a mild, onion flavoured bread. Remember you need permission to dig up the roots.
Ingredients
200 g fresh three-cornered leek
500 g wholemeal flour
Pinch of sea salt
1 tsp quick yeast
1 dessert spoon honey
400 ml warm water
1 tbsp olive oil
Wash the three-cornered leek thoroughly, removing any limp outer leaves, and, if using, the outer layer of the bulbs and roughly chop everything into 3 cm pieces. Preheat the oven to 200°C. Put the flour, salt and yeast in a large mixing bowl and stir. Add the three-cornered leek and stir in. Dissolve the honey in the warm water and slowly add to the flour mix. Stir in, adding the oil. Knead for 10 minutes, then shape, and place in a greased 1 kg loaf tin.
Cover with a clean cloth and leave in a warm place for 20 minutes, or until doubled in size. Bake in the oven for 40-45 minutes or until hollow sounding when tapped.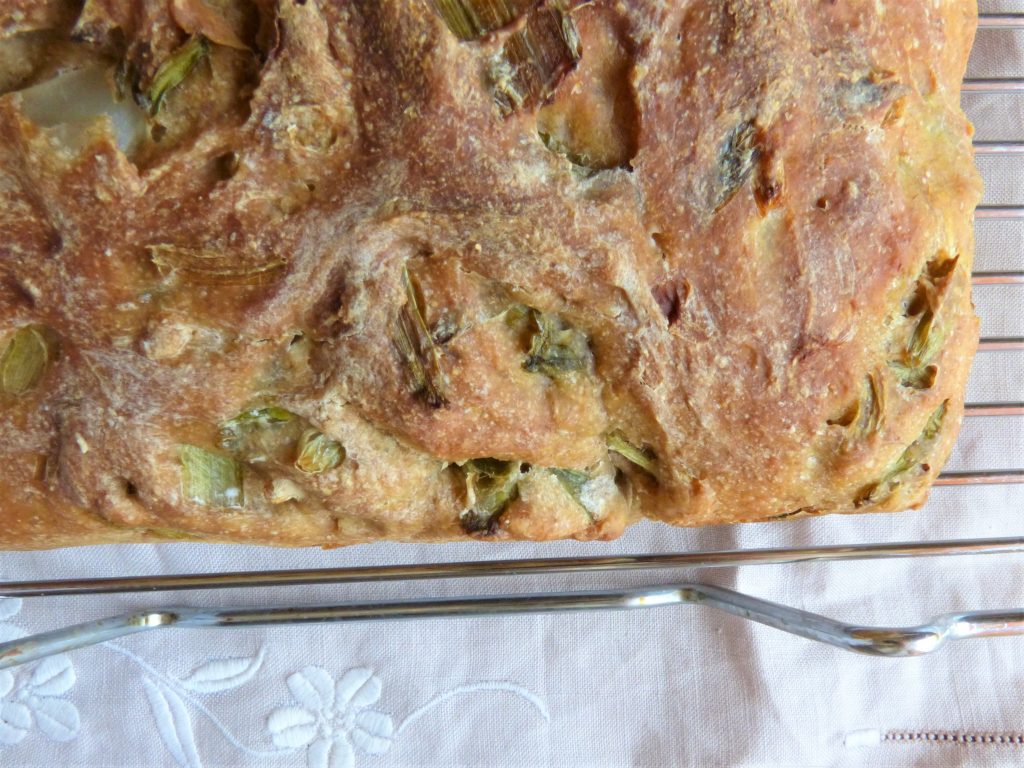 Here are some other posts for three cornered leek. Enjoy.
Part of the fun of foraging for me is coming home with a wonderful choice of unusual ingredients to cook and create with, or drying them to use another day. In my kitchen pretty much anything goes, of course there have been disasters along the way, though I've also had some pretty successful surprises.
Foraging also gives me the benefits of broadening my nutrition through a wide range of foods. It's impossible for me to know everything that my body needs (or would take a lot of expensive analysis), though I do know that by including different seasonal plants and seaweeds I'm more likely to be feeding myself micro-nutrients that would be easy to miss.
For example, we all know that life provides a myriad of stresses and that good nutrition helps to counter the effects of and helps to reduce stress. Though did you know that in particular, seaweed provides up to 56 different essential minerals and trace elements for the human body. Wow.
I first came across sargassum seaweed (also known as wireweed and used to be known as japweed) in Sonia Surey-Gent and Gordon Morris' book: Seaweed A User's Guide; an unassuming and valuable book. Here, sargassum muticum is given high acclaim;
'Sargassum... eaten as a powder with a drink of water, provides all the nutrients needed by the body, with hardly any calories.'
Hmm, all the nutrients needed by the body... sometimes I need a strong reminder to use seaweed. Feeling in the mood to make bread I decided to grab some dried gorse flowers, and the dried and ground sargassum that had been hanging around the kitchen waiting (too long) to be used.
This is what I came up with, complete with a sprinkling of nutrients, made with love and enjoyed with organic chicken soup after a cold and beautiful evening round the fire with friends.
Gorse Flower and Sargassum Seaweed Focaccia
A slightly sweet and nutty bread, with all the lovely texture that focaccia normally has, perfect with cheese and salad, with soup, or drizzle with gorse flower syrup if you fancy something even sweeter.
Ingredients
300ml warm water
100ml gorse flower syrup
1 dessert spoon dried yeast
500g organic strong white bread flour
handful of dried gorse flowers (2x handful of fresh is fine)
1 tsp dried and ground sargassum seaweed
2 tbsp extra virgin olive oil (plus extra for drizzling)
1 heaped tsp sea salt
Pour the water and syrup into a jug and stir in the dried yeast. In a large mixing bowl, add the flour, flowers, seaweed, oil and salt, mix in half the water and with clean hands, combine and knead for 5 minutes, gradually adding the rest of the water. Now for the fun part - stretch and pull the dough for at least another 5 minutes before placing on an oiled surface and kneading for a further 5 minutes. Your dough is now ready to rest (and maybe you too), so pop it back in the mixing bowl, cover and leave to rise in a warm place for an hour or until it has doubled in size. Preheat the oven the 220°C and flatten the dough into a large, oiled tin and leave to rise for another 1/2 an hour, and prod your fingers into the dough at evenly spaced intervals to give the traditional focaccia topping effect.
Scatter the top with extra gorse flowers (if you have), a little olive oil and bake for 20 minutes or until golden onto and hollow sounding when tapped. Remove from the oven and leave to stand for 10 minutes before using a fish slice, or similar to remove from the tin and leave to cool on a cooling rack. Slice into squares and eat fresh. Lasts well for 2 or 3 days.
References
Rachel's Seaweed book talks you through identification, sustainable processing and drying of sargassum muticum seaweed.
www.verywellmind.com
www.stress.org.uk