A decadent, sloe gin-soaked chocolate cake with sloes laced through the cake in three different ways. This recipe was requested on several of my foraging courses (I do go on about lots of my favourite wild recipes) so here it is!
You'll first need to make your sloe gin (recipe in my Wild Food Foraging book) and let it infuse for at least 3 months.
Sign up to access this post
Access this post and more for £3.50. Already a member? Sign in here.
SEASONAL TASTER
MONTHLY BASKET
£3.50 per month
Every month you'll receive 1 seasonal wild food recipe from my edible plant of the month, plus links to additional seasonal posts AND be able to access the last 6 months of Taster basket offerings.
Unsubscribe at any time.

These are scrummy, gooey, sweet, sticky and crunchy clusters of sloes and nuts! What's more, they're made using the leftover fruits from making sloe syrup.
Here cooked sloes are incorporated seamlessly into these rustic, vegan fruit and nut clusters. They're definitely a favourite !
First make the sloe syrup (which you can use for my Sloe Treacle Tart or for drinks and desserts). Strain and remove the stones from the cooked sloes and follow the recipe below!
How to make Sticky Sloe and Nut Clusters
Makes 36
Ingredients
140 g Demerara or soft brown sugar
40 ml (3 dessertspoons) rapeseed oil
1 tsp water
200 g sticky sloes (stones already removed)*
70 g plain flour
1 heaped tsp corn flour
150 g nuts (roughly chopped)
Preheat the oven to 200°C/fan 180°C. Line one large baking tray (30 x 40 cm) or 2 smaller ones with baking paper or silicon sheets. In a medium bowl, combine the oil and sugar, add in the water and sticky sloes, stir, then the flours and the nuts. Stir well to create an even mixture. Make the clusters by distributing heaped teaspoons of the mixture evenly across the baking trays, with enough space between them before placing in the oven.
Bake for approximately 12 minutes each, or until the clusters are bubbling and dark brown at the edges. Remove from the oven immediately and leave for 5 minutes before gently removing from the tray and onto a cooling rack. Repeat with all the baking trays. Store in an airtight container and enjoy within the week.
*Use the sloes from making sloe syrup and take your time to remove and discard the stones. I take up 20-30 minutes to get 200 g of sticky sloes.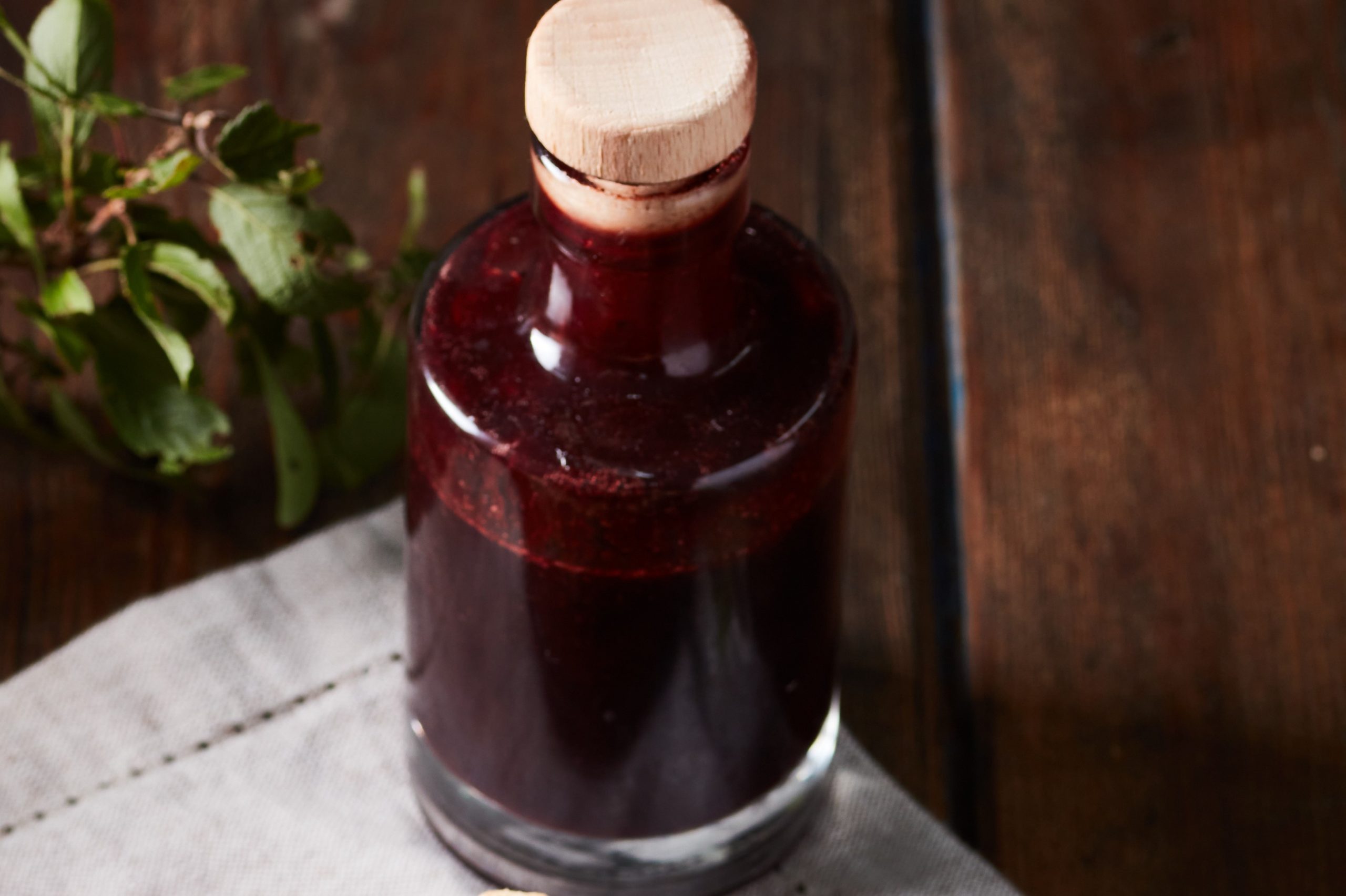 This thick syrup is reminiscent of tart plums, with a background of dry sloes and the strong flavour of dark sugar. It's gorgeous drizzled over porridge. Though I love it the most in my Sloe Treacle Tart recipe - where that dryness disappears completely!
Don't forget to keep the leftover sloes aside though for Sloe Fruit and Nut Clusters - a delicious way to use these fruits (see below).
Sloe Syrup Recipe
Makes about 600 ml
Ingredients
750 g sloes (picked after the first frost or frozen then defrosted)
325 ml water
600 g dark sugar
Put all the ingredients in a medium pan,. Bring to the boil, and lower the heat a little, until still bubbling but not a rolling boil. Leave the lid off and allow to cook for a further 45 minutes. Take off the heat and let cool slowly in the pan. Once cool, you'll have a thick, sticky syrup. Strain through a colander or sieve, pressing the fruits slightly to extract the last of the syrup. Store in a sterilised bottle.
The remaining fruits can be de-stoned and kept for Sloe Fruit and Nut Clusters (creates about 200 g of sticky sloes or 300 g if you're really thorough and have lots of time).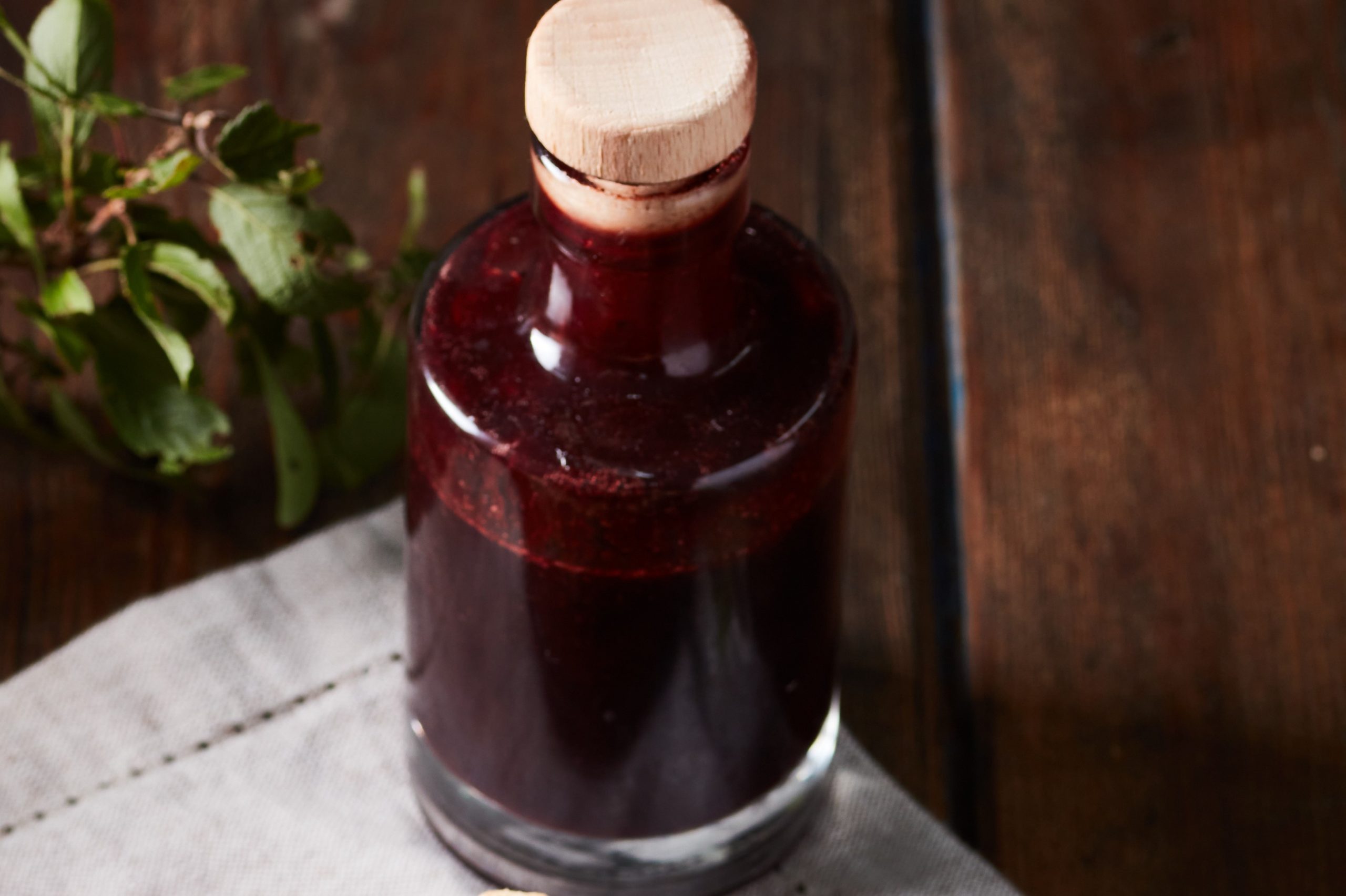 For more sloe recipes do browse my autumn blog. I'd also love you to join me on a foraging course where I can share so much more with you about the wonderful wild food surrounding us!
I love sloes. I love their flavour, colour and goodness. I love that they're so common and easy to find. I'm not so keen on their thorns. Sloes are the fruits of the blackthorn (Prunus spinosa) and have been used for thousands of years by humans as food. But what did they do with them?
We know about the traditions of sloe jelly and sloe gin, though I very much doubt that our ancestors just used these fruits to flavour drinks. Piles of sloe stones at archaeological sites imply more of a foodie use. One of the things I love about having a full-time business revolving around wild food, is that I can put lots of time aside for foraging. Time to read (about foraging) and experiment with processes, recipes, seasons and picking sites. Over the years I've acquired over ten sloe fruit recipes from friends, colleagues, books and my own experimentation.
Exploring Sloes for Food and Drink
In my first book Wild Food Foraging in Cornwall and the Isles of Scilly I share a couple of classic recipes with sloes - sloe gin and sloe gin chocolates. A couple of winters ago I shared my proud, new creation for a Sloe Treacle Tart, you can find the recipe here. I've even written a song about sloes which I share on the Singing Foraging Experience. Here's a taster of it - the Sloes Song.
I've used sloes for sweet and savour dishes. Lapping up their vitamin C and antioxidants as if winter's going to last for months (which it often feels like it does if you live in rural areas). So what are these ten or more recipes? Well, I save these recipes, tips for participants on my foraging courses. On a course there's plenty of time to share, including wild tasters. And each course is followed up for an email of recipes and useful links. Meanwhile here's a few tasty shots from my exploratory time in my kitchen with sloes. You can find out more about my foraging courses here.
10 Sloe Fruit Recipes
Sloe Jelly
Sloe Gin (in my foraging book)
Sloe Vodka (in my foraging book)
Sloe Liqueur Chocolates (in my foraging book)
Sticky Sloes (left-overs from making sloe syrup)
Ginned-up sloe puree
Sloe Gin Chocolate Cake (recipe to come for members)
The first frost is a significant marker in the colder months of the year. Whether you look forward to it or dread it, it has an important function for wild fruits, us and the rest of the natural world.
Previously I've written about how frost and snow effects seaweeds in; Can seaweeds survive the frost and snow?
Cornish Frost - Myth or Reality?
Here in West Cornwall and by the coast, I never know whether the first frost will arrive at all. Where the warm currents and breezes from the sea can help keep the temperature more ambient. Exposed to the prevailing Southwesterly winds that blow in from the Atlantic means that Cornwall is considered the mildest and warmest place in the UK.
Here we can sometimes sit on the beach on Christmas Day, and sometimes the frost, never, ever arrives. It is true that the closer to the ocean you get, the milder the winters and the cooler the summers are.
What does the frost do to wild fruits and is there an alternative?
The frost has the effect of both breaking the skins of the fruits and sweetening them. A welcomed impact for desserts, flavoured gin, jams, jellies and much more. Of course, living in the modern age means you don't have to wait for the first frost.
Why? Because we have freezers. It is true, popping the fruits in the freezer is not as romantic as getting up at dawn to collect glistening fruits breaking their frost virginity. Though it is more convenient.
Freezers also mean that you can attend to your fruits - whatever you want to create with them - when you have ample time to enjoy the process.
Frost is beneficial to both the texture and sweetness of wild autumnal fruits. I have plenty of recipes for wild berries in my autumn blog. I also run hands on, practical foraging courses in autumn and all year round.