These are scrummy, gooey, sweet, sticky and crunchy clusters of sloes and nuts! What's more, they're made using the leftover fruits from making sloe syrup.
Here cooked sloes are incorporated seamlessly into these rustic, vegan fruit and nut clusters. They're definitely a favourite !
First make the sloe syrup (which you can use for my Sloe Treacle Tart or for drinks and desserts). Strain and remove the stones from the cooked sloes and follow the recipe below!
How to make Sticky Sloe and Nut Clusters
Makes 36
Ingredients
140 g Demerara or soft brown sugar
40 ml (3 dessertspoons) rapeseed oil
1 tsp water
200 g sticky sloes (stones already removed)*
70 g plain flour
1 heaped tsp corn flour
150 g nuts (roughly chopped)
Preheat the oven to 200°C/fan 180°C. Line one large baking tray (30 x 40 cm) or 2 smaller ones with baking paper or silicon sheets. In a medium bowl, combine the oil and sugar, add in the water and sticky sloes, stir, then the flours and the nuts. Stir well to create an even mixture. Make the clusters by distributing heaped teaspoons of the mixture evenly across the baking trays, with enough space between them before placing in the oven.
Bake for approximately 12 minutes each, or until the clusters are bubbling and dark brown at the edges. Remove from the oven immediately and leave for 5 minutes before gently removing from the tray and onto a cooling rack. Repeat with all the baking trays. Store in an airtight container and enjoy within the week.
*Use the sloes from making sloe syrup and take your time to remove and discard the stones. I take up 20-30 minutes to get 200 g of sticky sloes.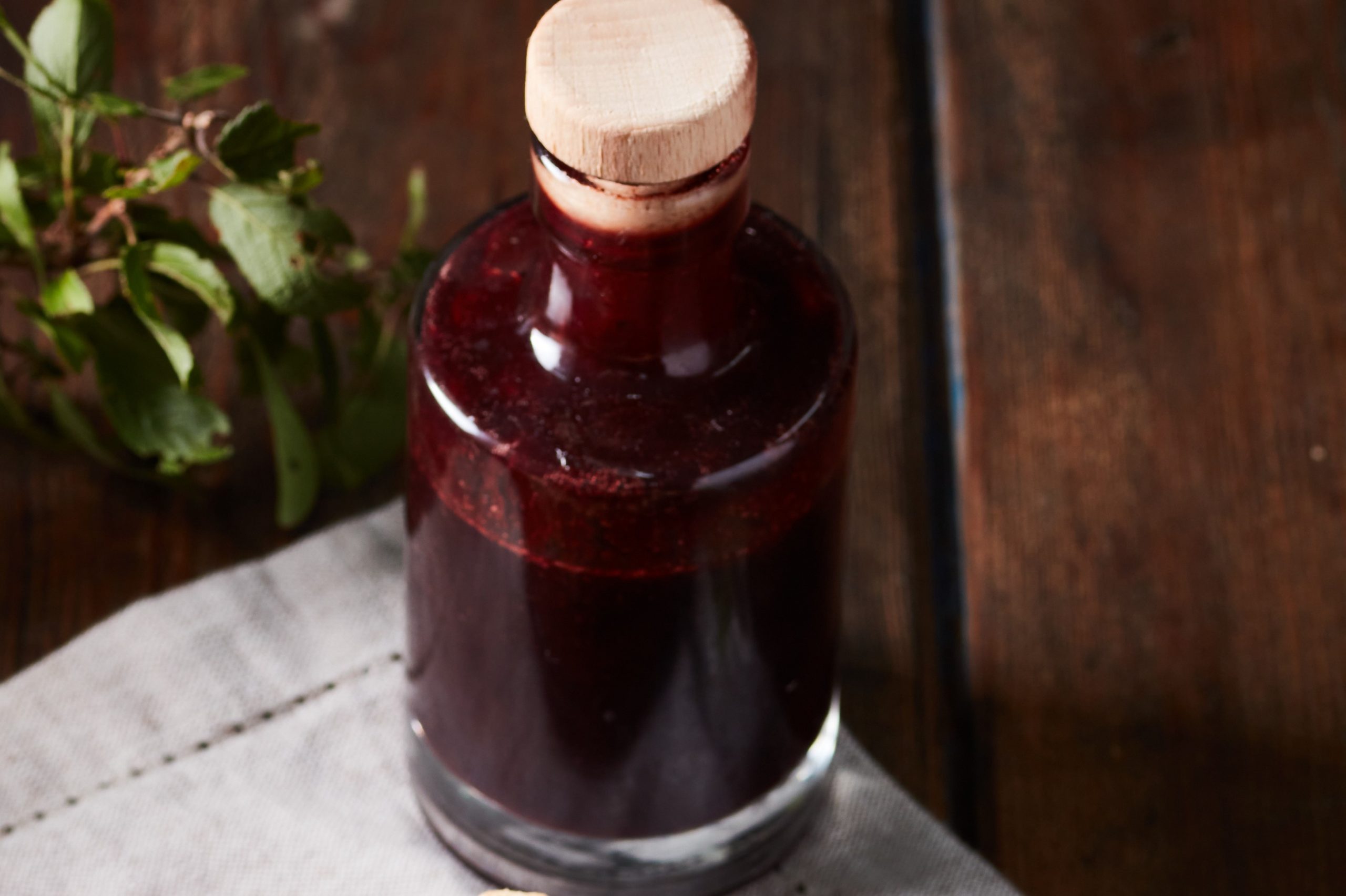 This thick syrup is reminiscent of tart plums, with a background of dry sloes and the strong flavour of dark sugar. It's gorgeous drizzled over porridge. Though I love it the most in my Sloe Treacle Tart recipe - where that dryness disappears completely!
Don't forget to keep the leftover sloes aside though for Sloe Fruit and Nut Clusters - a delicious way to use these fruits (see below).
Sloe Syrup Recipe
Makes about 600 ml
Ingredients
750 g sloes (picked after the first frost or frozen then defrosted)
325 ml water
600 g dark sugar
Put all the ingredients in a medium pan,. Bring to the boil, and lower the heat a little, until still bubbling but not a rolling boil. Leave the lid off and allow to cook for a further 45 minutes. Take off the heat and let cool slowly in the pan. Once cool, you'll have a thick, sticky syrup. Strain through a colander or sieve, pressing the fruits slightly to extract the last of the syrup. Store in a sterilised bottle.
The remaining fruits can be de-stoned and kept for Sloe Fruit and Nut Clusters (creates about 200 g of sticky sloes or 300 g if you're really thorough and have lots of time).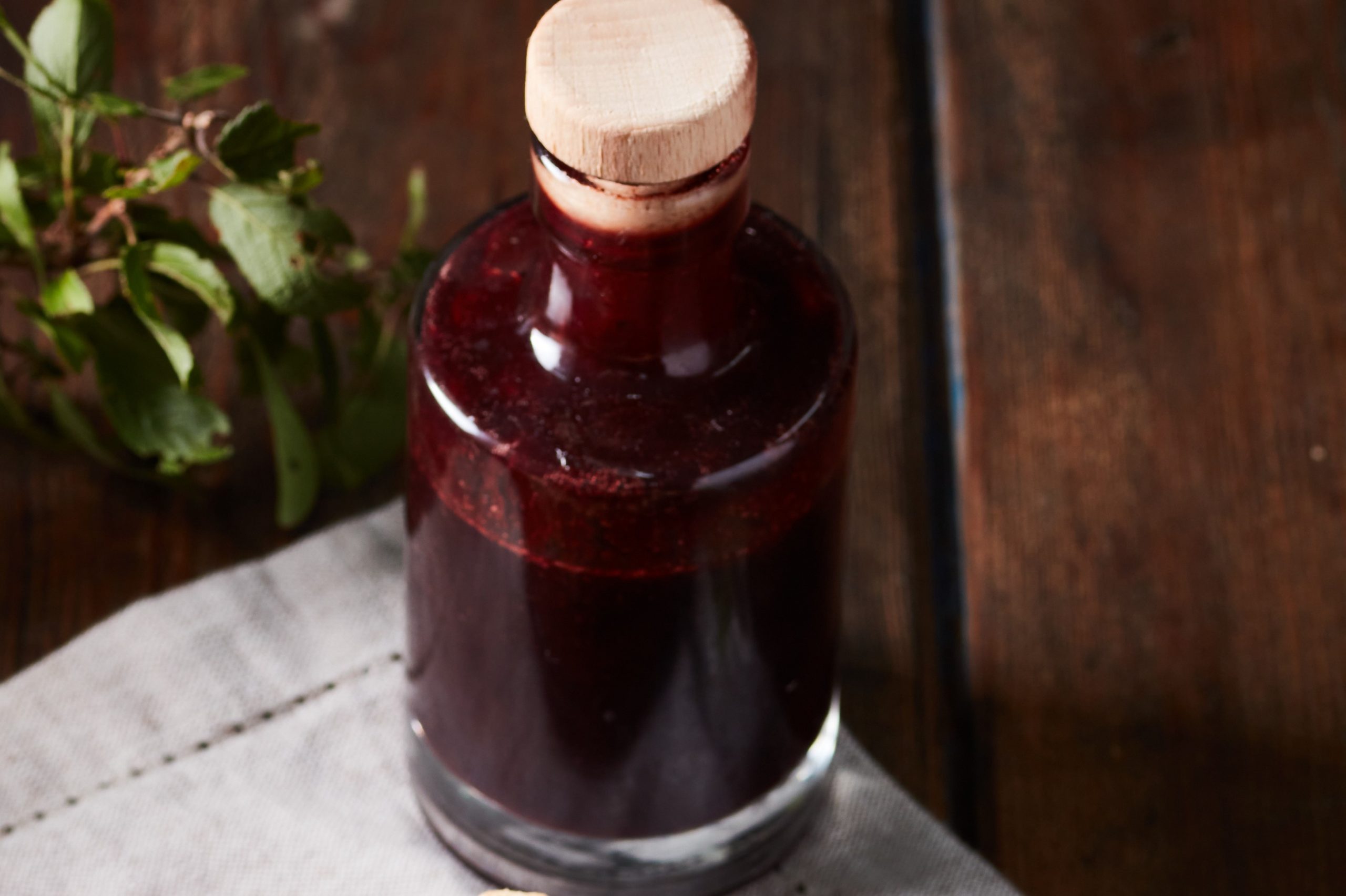 For more sloe recipes do browse my autumn blog. I'd also love you to join me on a foraging course where I can share so much more with you about the wonderful wild food surrounding us!
'Oh my god' – is the standard response to the first mouthful of these. Everyone knows that chocolate tastes good, but the additional richness of elderberry in these light, fluffy and hot desserts makes these utterly irresistible.
They're also happen to be gluten-free, wheat-free, dairy-free and free from refined sugars, not too sweet and very, very yummy!
I'd love to hear from you if you make these... do get in touch or keep in touch via instagram, facebook or pinterest.
Elderberries make a rich, flavourful cordial which is used to create these mouth-watering dessserts.
Elderberry and Chocolate Soufflé Recipe
This is a simple and stunning recipe and tastes so good! Light, fluffy and hot desserts with the addition of rich, elderberry cordial make these utterly irresistible.
Serves 4
Ingredients
50 g dark chocolate (minimum 70% cocoa solids)
2 tbsp corn flour
150 ml elderberry cordial
2 medium eggs, separated
1 medium egg white
Preheat the oven to 190°C/fan 170°C. In a small saucepan add the chocolate (broken into small pieces), corn flour and elderberry cordial, and heat on a low heat until the chocolate has melted. Increase the heat a little and stir until the mixture thickens before putting aside to cool slightly.
Meanwhile, in a spotlessly clean bowl, whisk the egg whites until they form soft peaks, then mix the egg yolks into the elderberry and chocolate sauce. Spoon one third of the egg whites into the sauce and combine, before softly folding in the rest. Pour into 4 ramekins or heatproof expresso mugs and bake for 12 minutes or until the souffles have risen sufficiently. Don't be tempted to open the oven while they're baking as this will cause them to sink.
Serve immediately, straight from the oven so you can enjoy their fluffy, risen texture and while every mouthful is still warm. Enjoy!
Gathering rosehips to make your own rosehip syrup is a great way to provide a vitamin C rich drink for you and your family. You can also use dried, bought, or frozen rosehips for this recipe.
This recipe is based on a traditional rosehip drink, and was inspired by the method shared in Roger Philip's Wild Food book.
When to pick rosehips?
Rosehips are usually picked after the first frost, when their skins are softened and the flesh sweetened. They tend to be ready from September to November when the fruits have turned from orange to red. Once the colour is ripe you can also pick and freeze the fruits.
Which rosehips are edible?
All rosehips (the fruits of the rose) are edible, but not all are tasty. I find the best rosehips to make syrup from are Dog Rose, also known as Wild Rose (Rosa canina).
Why are rosehips good for you?
Rosehips have high amounts of vitamin C - about 4x as much as blackcurrants and 20x as much as oranges - and they are local, seasonal food! Rosehips also contain good amounts of vitamin E, A and K.
Can animals eat rosehips?
My dog forages for rosehips as food, but the tiny hairs inside the fruit aren't good for human or animal digestive systems. That's why rosehip syrup is normally strained to separate the hairs and the hair coated seeds.
Rosehip Syrup Recipe
A subtly flavoured syrup which is brilliant for staving off colds. Dilute as a drink, drizzle over pancakes, apple crumble or ice cream or use in cocktails.
This recipe for rosehip syrup avoids boiling the fruits so as not to loose too much vitamin C. In fact, you'll only loose about 15% vitamin C and most of that is lost between mashing the fruits and plunging them into boiling water. So speed is a vitamin asset.
Makes 750 ml
Ingredients
300 g rosehips, stalks removed
1 litre water
300 g golden caster sugar
Using a small to medium saucepan, bring 500ml of water to the boil. Briefly mash the fruits and immediately plunge into the boiling water. Bring the water back to the boil, turn off the heat and leave the fruits to infuse for 15 minutes. Put both the rosehips and liquid into a jelly bag and allow the juice to drip through into a bowl. Using the same saucepan, bring the remaining 500ml of water to the boil, add the rosehip pulp, turn off the heat, cover and allow to infuse for a further 10 minutes. Strain through the jelly bag and allow all the liquid to drip through.
Wash out the saucepan and fill with the strained rosehip water. Bring to the boil and simmer for 20 minutes, or until the liquid has reduced by one third. Stir in the sugar, allow to dissolve, then simmer for 5 minutes before pouring into hot, sterilised bottles.
If you like this recipe, you may want to see my other rosehip recipes and notes. Rosehips are also one of the fruits I teach on my foraging courses between late summer and winter.
Sea Buckthorn berries, or Sea Berries Hippophae, Hippophae rhamnoides (Elaegnaceae)
There's nothing like foraging for your own wild berries, especially when it's combined with a walk along the coast, plus they're a nutrient rich super fruit! Even the colour of sea buckthorn berries are a vibrant pick-me-up.
Where do sea buckthorn berries grow?
Here in Western Europe you can find them along the coast and on sand dunes. They also grow all along the Atlantic coasts of Europe, Central Europe and North Europe and are present and native in Asia, China, Mongolia, Siberia and Russia.
They've been introduced in Canada (Quebec, Alberta and Saskatchewan), and exist as experimental crops planted in Arizona and Neveda. I know of several farms in the UK growing cultivated varieties, some of which are from wild seeds.
When to harvest sea buckthorn berries?
Sea buckthorn berries are ready to harvest and pick from late summer to autumn and in some areas they can still be picked through winter and after the first frost.
Harvesting times do depend on the variety, but think of spring as the pollinating season and the berries coming later in the year.
Why are sea buckthorn berries good for you?
These small, bright orange sea buckthorn berries are so good for you! They mobilise high levels of vitamin C - about 12 times more than oranges and have more beta-carotene than carrots. They have a fantastic range of vitamins including A for teeth and bones, B1, B2, B6 and B12, vitamin E for red blood cells, K for blood clotting and to stop bleeding, numerous minerals and omega 3, 6, 7 and 9 oils for healthy skin.
Traditionally sea buckthorn berries, leaves and seeds have been used to prevent aging, treat skin problems and promote healthy hearts.
Sea buckthorn berries also contain antioxidants that help protect the body and strengthen the immune system as well as fibre to support healthy gut bacteria.
How to identify sea buckthorn
Sea buckthorn can grow up to 10 metres tall and can form as a dense shrubby, thickets that are hard to penetrate. Thorny, with long, untoothed silvery-green leaves, the orange berries nestle close the stem, but only on the female plants. Sea buckthorn flowers in spring with tiny, greenish male and female flowers.
What is the flavour of sea buckthorn berries?
Tangy, tart, sour, with a hint of bitterness at the end. I find it far more flavoursome than lemons and more versatile and giving in recipes. See my recipes for sea buckthorn curd cup cakes.
How to harvest sea buckthorn berries?
These gems of tangy flavour don't give them selves up easily. Nestled tightly to thorny branches and ready to burst forth, quite literally, from their tree. They demand respect and careful picking.
There's an art to capturing the juice of Sea buckthorn berries, and you basically have two choices.
Full of juice and a small black pip, if you pick them too late you'll only be left with orange stains and empty, juicy fingers. If you catch them early enough, you can twist the berries off the branches, collecting them in a container that will hold any seeping juice.
The second option is to use secateurs (pruning scissors) and snip off abundant berry branches and freeze them. Once frozen, it is a lot easier to remove the berries from the branches, though care still needs to be taken around the thorns.
How to use sea buckthorn berries?
You an use the juice diluted with water, in cocktails or numerous recipes. Some of my favourite culinary creations with sea buckthorn berries are;
Sea buckthorn thick, syrupy, syrup
References
The forager handbook and wild flowers of the british isles.
Elderberry Jelly is full of antiviral properties that can stave off some strains of flu and shorten the duration of others. It's particularly useful for the elderly and young children. Elderberries are the fruits of the elder tree, which are a member of the umbellifer family. Correct identification is essential. Elderberries should always be cooked.
Elderberry and Apple Jelly
A traditional, spreadable elderberry jelly, lightly spiced, and a great sandwich filling for chocolate cake or chocolate muffins. Do let me know if you try this recipe!
Makes 1 jar
Ingredients
300 g elderberries
150 g chopped apple
150 g unrefined sugar
90 ml water
2 tbsp mixed spice, whole or ground
Put all the ingredients, except the sugar, into a small saucepan over a low heat, allow to simmer for 20 minutes, mashing occasionally to help brake the fruits down. Mash through a sieve, extracting as much juice and pulp as possible. Return to a clean pan, add the sugar and stir over a low heat until the sugar is dissolved. Bring to the boil and using a sugar thermometer, bring to about 95°C, or until long strands suspend from a spoon when dipped into the syrup. Take off the heat and pour into a small bowl and put aside to cool. Store in a sterilised jar.
If you try this recipe, do remember to let me know or tag me on facebook or instagram, where you can also follow what I'm up to more regularly. Elderberries are one of the plants I teach on the autumn foraging courses, read more about elderberries on my blog Taking care of the  Elders.