At the age of 7 I learnt to make sweet, buttery lemon curd. Jars of it, ladled from a hot saucepan, with a few dribbles to lick on the way.
On that day, my mum crossed the boundary of home and school and came into our class room to impart her lemon-curd-making knowledge. I still remember the sense of alchemy of creating this rich dish. I was probably proud of my mum too, but it is that tangy taste that remains in my memory.
As a forager, I often like to replace bought ingredients (that sometimes travel from oversees and clock up the carbon footprint) with wild ones. You know, wild, over-looked ingredients that surround us and are discarded as weeds. That is how this recipe for wild apple curd came about.
Wild apples
Wild apples are one of those local ingredients that are often overlooked. Sometimes left to fall and go rotten in preference of large, rosy, often heavily sprayed cultivated apples. These days, there are many wonderful local varieties of apples too. This all helps to broaden our taste buds, nutrition and celebrate the diversity of our plant life.
Wild apples can often be sour.
That is good. Good for this recipe anyway. Sweet, I love sweet, though I can also get sick of it and sour helps to balance my palate. This wild apple curd recipe can be spooned out straight from the jar, onto toast, or used for Apple Curd and Hogweed Seed Meringue Pie. It is filling and rich and a real treat.
It needs using up relatively quickly though, you'll see why from the ingredients list below.
Wild Apple Curd Recipe
Sour apples are perfect for this recipe –wild apples or crab apples if you can forage enough of them. This is a deliciously more-ish curd, use instead of butter for a sweet topping for toast or crumpets. You'll need about two thirds of this for the meringue pie recipe, and best to use within a few days. Keep in the fridge.
Ingredients
Makes: 2-3 jars apple curd
700g wild apples – cored and chopped
200ml water
juice of 1 lemon
1 dessertspoon cornflour
300g unrefined sugar
2 large eggs, beaten
110g butter
2cm chunk of fresh ginger (optional)
In a saucepan over a medium heat, combine the chopped apples, water, lemon juice and chopped root ginger and simmer gently for about 30 minutes until the apples are soft. Remove from the heat. Purée the apples and ginger with a hand held liquidiser and then push through a sieve in to a clean saucepan. Mix the lemon juice and cornflour, sieve and add to the saucepan of apple puree. Mix in the sugar, eggs and butter and cook and stir gently over a low heat until the mixture steams and thickens, but do not allow to boil. Transfer to sterile jars and cover immediately, allow to set overnight undisturbed in the fridge or use immediately in Apple curd and Hogweed Seed Meringue Pie.
If you enjoyed this post, you might want to see what I'm foraging, creating and cooking more regularly. You can check out my facebook page or instagram feed where I post regularly or take a look at the foraging courses I offer. I'd love to hear from you if you try this recipe, do remember to tag me or leave a comment below. x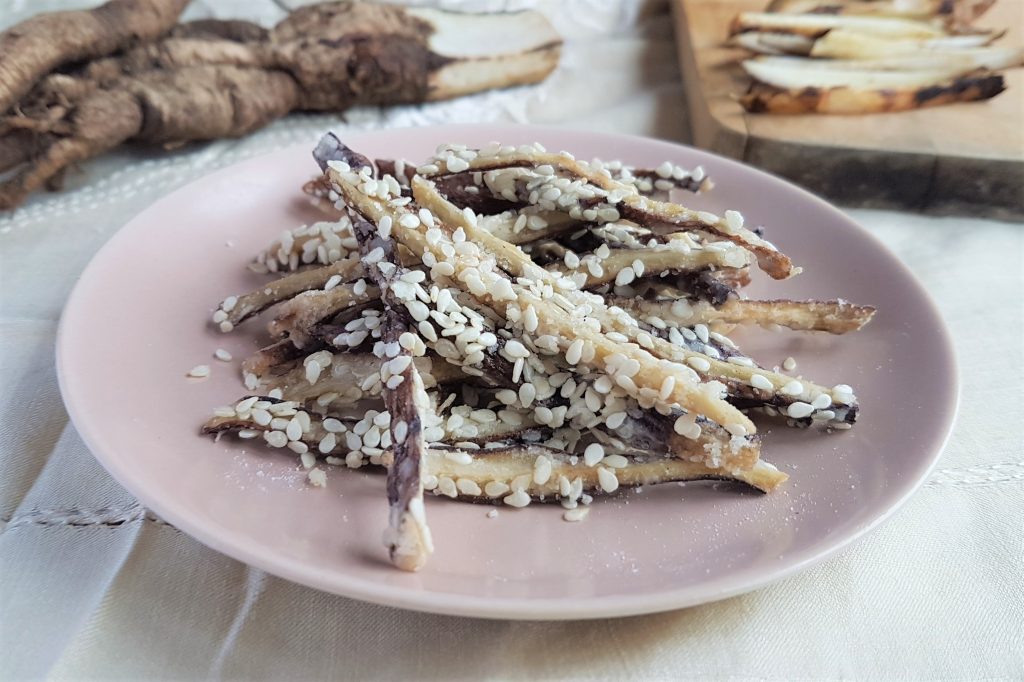 Here I am going to share with you recipes for three, quick savoury snacks using burdock roots (Artium lappa and Artium minus). They are simple, easy to follow and tasty.
About Burdock
Burdock roots are renown as a skin cleanser from acne to eczema when used externally. Hippocrates, the Greek physician know as the 'father of medicine' believed that food should be medicine. So these are recipe to eat rather than than place on the skin. Burdock roots are used extensively in Japanese cooking.
You can read and see more about these edible roots in my blog; Foraging for Burdock Roots.
Let food by thy medicine and medicine be thy food. Hippocrates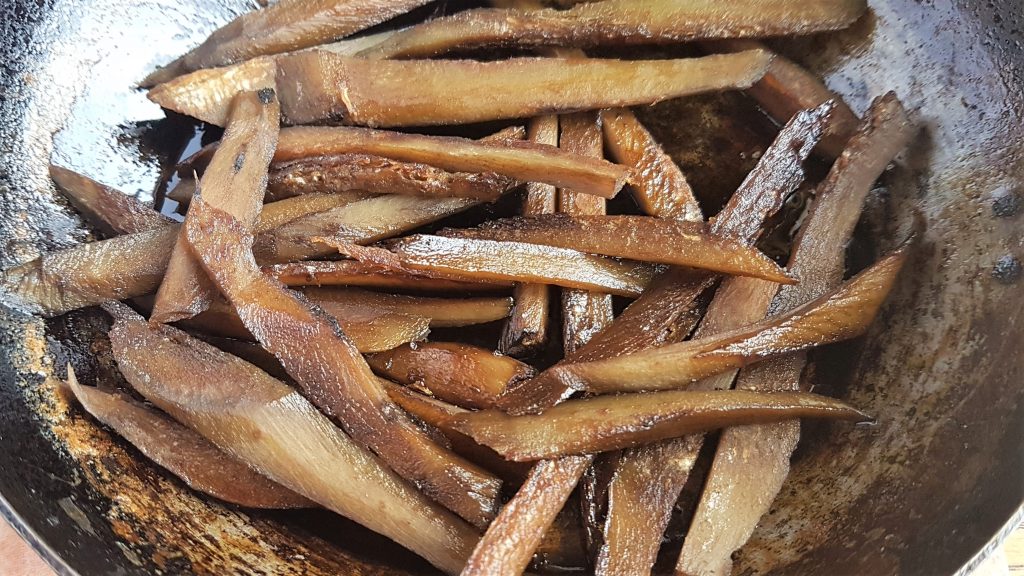 Burdock Roots in Soy Sauce Recipe
This was the first recipe I ever used for burdock roots and is from Roger Philip's book; Wild Food. Based on a Japanese vegetable dish, it is very straight-forward to make. If you like salty flavours, this recipe is for you! The result are soft strips of burdock, but still with a crunch and earthy burdock flavour.
Serves 1-2 (as a side dish)
Ingredients
60 g burdock roots
150 ml water
1-2 tsp soy sauce
Clean the burdock roots, if they are large they may need peeling a little. Slice into thin strips and place in a small pan. Add just enough water to cover the roots and a good splash of soy sauce. Simmer for 15-20 minutes and allow the liquid to evaporate and the soy sauce flavour to be absorbed in the roots. I like to eat these on their own alongside a tapas of other Japanese snacks, like the nori rice balls from my seaweed book or even as a side dish to beef stew and black mustard mashed potato from my wild food foraging book.
Deep-fried Burdock Root Chips Recipe
These are easy to cook and are lovely as a crispy, fried treat. If you like chips, you'll love these! The flavour reminds of really earthy potatoes, with a slight hint of something else.
Serves 2-4
Ingredients
250 g burdock roots
Oil for frying
Sea salt (to taste)
Prepare the roots in the same way as the previous recipe. Cover a plate or two with kitchen paper and place by your cooker. In a frying pan, heat the oil over a medium to high heat. To test whether the oil is hot enough, add a small piece of burdock root, when it floats to the surface and the oil is bubbling, it is ready! Use a slotted spoon to add the strips of burdock roots. Be careful, hot oil can burn! Allow the roots to fry for a few minutes until they are crispy and slightly browned on the outside. Use the slotted spoon to remove and place on the kitchen towel. Sprinkle with a little sea salt and serve. These are delicious with crispy fried gutweed seaweed, from my wild food foraging book.
Deep-fried Burdock Roots with Sesame Recipe
This recipe is, again, influenced by Japanese cooking. I love the added crunch and flavour of sesame and this recipe transports me from 'British chips to fancy Asian fried delights'. Recommended to serve alongside other sushi-style savoury treats (see above).
Serves 2 (as a side dish)
Ingredients
100 g burdock roots
Oil for frying
1 tbsp corn flour
1 tbsp sesame seeds
A little sea salt
Follow the recipe above for burdock chips. Before frying, prepare a small bowl of corn flour - you'll just need enough to dip each root and coat it. Plus another bowl of sesame seeds, about a similar amount and blend with a little salt. Dip the raw burdock strips into the corn flour before frying. Serve immediately by tossing into the sesame seed mix and enjoy.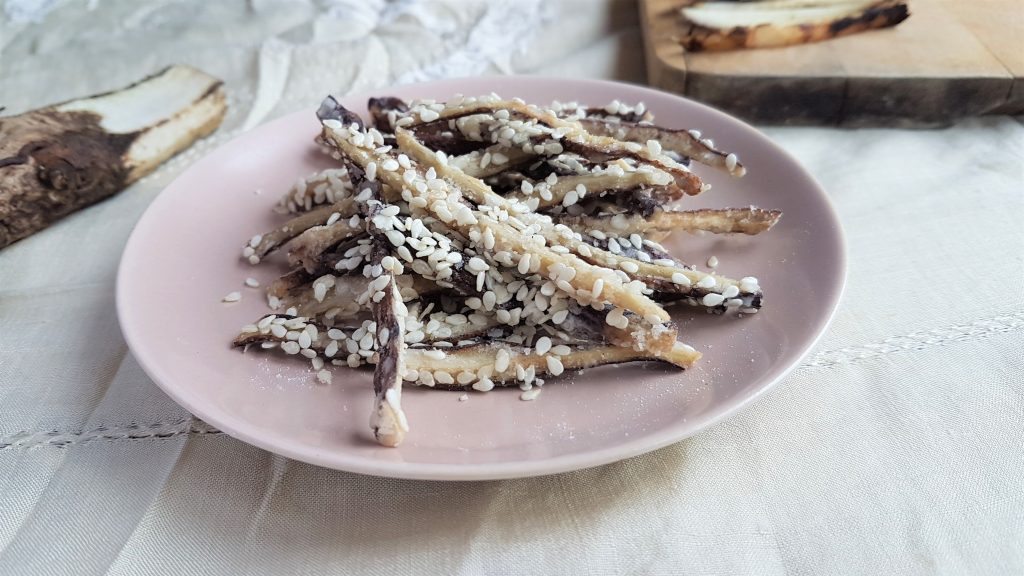 Want to find out more?
Feel free to browse my blog for more information, I also run monthly foraging courses with tasters, which is the ideal way to learn in a small group. Or perhaps you'd prefer a bespoke foraging experiences which will allow you to explore the wild foods that particularly interest you.
I also post regularly @rachellambertwildfoodforaging or sign up to the newsletter for regular updates about posts and events.
Schnapps is a flavoured and distilled alcoholic drink, the flavour is often fruit, the alcohol often brandy. I came across a hawthorn schnapps recipe a couple of years ago, I can't quite remember where. I'm often looking for different recipes for the plants that I pick regularly and this sounded like a great idea to try.
Why make Hawthorn Schnapps??
The berries of the hawthorn tree (Crataegus monogyna) are renown for their health-giving properties, especially for the heart. Hawthorn supports the heart's physical functions and is safe to use to help prevent or recover from a heart attack. The berries also contains vitamin A, B1, B2, B3, B17 and vitamin C. Always seek advice from a medical professional before using hawthorn if you have; a heart condition, are pregnant or have low blood pressure.
There is a history of heart issues on both sides of my family, and my darling, aging dad continues to struggle with his under-performing heart. So I find myself eating, using and rather passionate about hawthorn berries. From a personal point of view, a second motivation for making this recipe is that my dad really enjoys a tipple, especially at family gatherings and special occasions. With Christmas on the way, and knowing how experiencing pleasure is so, so good for our health, I definitely wanted to make this!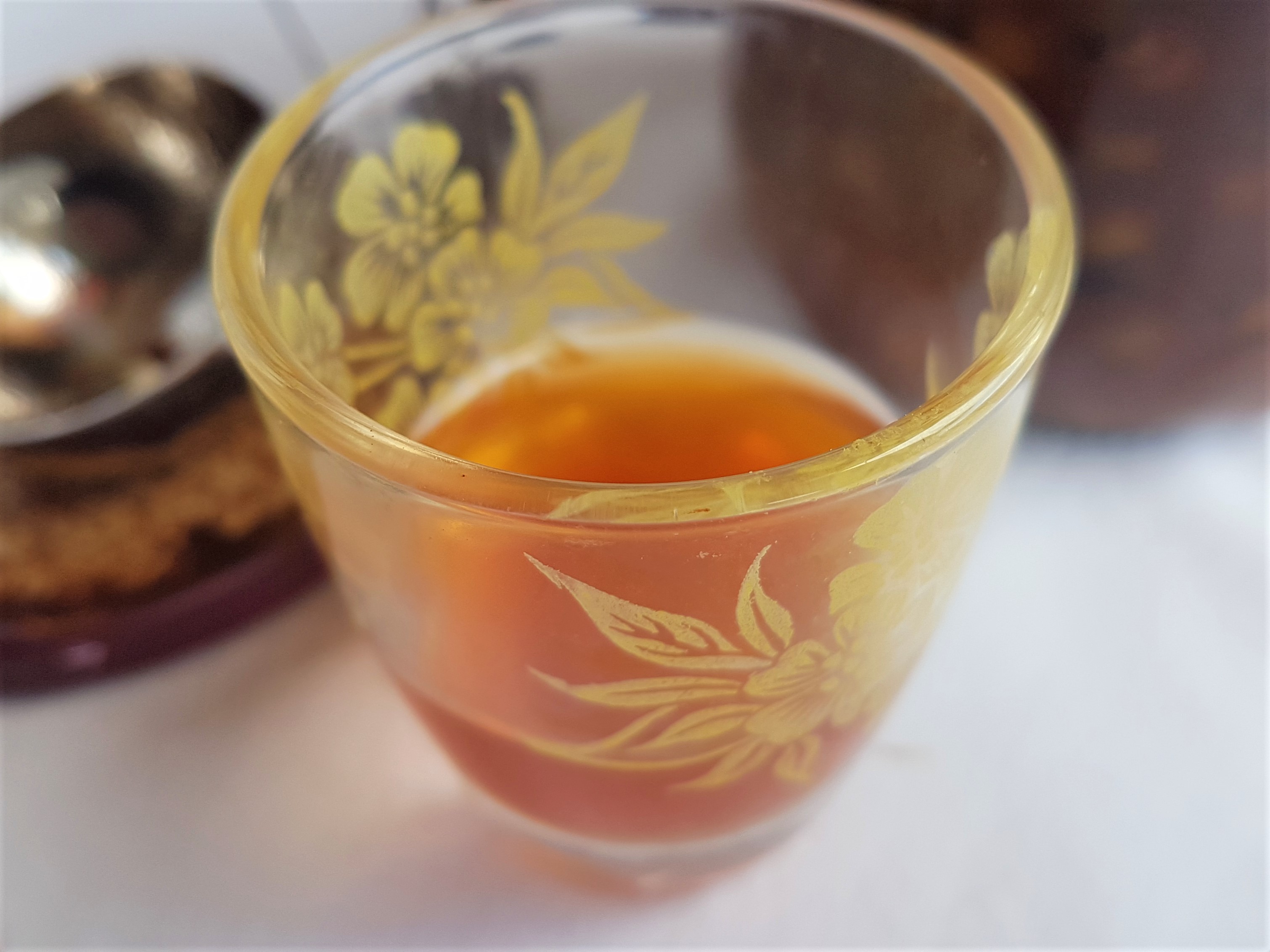 About Schnapps
I've enjoyed commercially made Schnapps a handful of times. Once, when hiking in Austria and I received the news that my friend Hilary had just given birth back in the UK. I celebrated that evening with a strong Peach Schnapps and later with a few variations offered by a group of German climbers I befriended there. I've also enjoyed it with a German friend of mine who now lives here in Cornwall. Notice a theme? The word Schnapps actually derives from Germany, its meaning being 'strong alcoholic drink'. Fruits used to flavour schnapps are often: pear, apple, cherry, peach or plum. Hawthorn berries felt like a good, wild berry to try as a replacement.
Schnapps is normally drunk in small, shot glasses. It's strong!
How to make Hawthorn Schnapps or Hawthorn Tincture
This is so simple to make. Here I share a few tips that might be useful. Just to be clear, this isn't a distilling recipe, this is a recipe for flavouring alcohol and extracting the goodness of the hawthorn berries into brandy. If you prefer, you can use this recipe as a tincture, and take five drops to a teaspoon instead of a shot!
Ingredients
Bottle  of brandy
Hawthorn berries
Sugar (optional)
I like my brandy medicinal, so I literally just use brandy and hawthorn berries and don't add sugar. Do add a little sugar if you'd prefer a hawthorn liqueur. Steep the berries in brandy (fill a jar or bottle 2/3 full with berries and cover with the brandy) for at least 2  weeks. I completely forgot about mine - I'm not a big drinker - and left it for one year! It still works and tastes great. Strain off the berries and decant into a clear bottle or brown bottle.
Tips
My brandy turned brown (orangey when strained) because I picked the berries when mature and late in the season. If you would like a cleaner colour use berries before they go soft and a dark red, and pick in September rather than November!
Other hawthorn recipes
You might want to take a look at this fantastic Hawthorn Berry Ketchup Recipe, or this Hawthorn, Apple and Honey Fruit Leather Recipe. I also share my latest recipes, processes and knowledge on my wild food foraging courses and regularly post on my facebook and instagram pages.
Elderberry Jelly is full of antiviral properties that can stave off some strains of flu and shorten the duration of others. It's particularly useful for the elderly and young children. Elderberries are the fruits of the elder tree, which are a member of the umbellifer family. Correct identification is essential. Elderberries should always be cooked.
Elderberry and Apple Jelly
A traditional, spreadable elderberry jelly, lightly spiced, and a great sandwich filling for chocolate cake or chocolate muffins. Do let me know if you try this recipe!
Makes 1 jar
Ingredients
300 g elderberries
150 g chopped apple
150 g unrefined sugar
90 ml water
2 tbsp mixed spice, whole or ground
Put all the ingredients, except the sugar, into a small saucepan over a low heat, allow to simmer for 20 minutes, mashing occasionally to help brake the fruits down. Mash through a sieve, extracting as much juice and pulp as possible. Return to a clean pan, add the sugar and stir over a low heat until the sugar is dissolved. Bring to the boil and using a sugar thermometer, bring to about 95°C, or until long strands suspend from a spoon when dipped into the syrup. Take off the heat and pour into a small bowl and put aside to cool. Store in a sterilised jar.
If you try this recipe, do remember to let me know or tag me on facebook or instagram, where you can also follow what I'm up to more regularly. Elderberries are one of the plants I teach on the autumn foraging courses, read more about elderberries on my blog Taking care of the  Elders.