Melt in the mouth shortbreads, with a tang of Alexander seeds and orange – scrumptious! If you're not familiar with Alexanders (Smyrnium olusatrum) then I have whole blog on Alexanders for you to browse. I also have a dozen recipes for Alexander seeds.
Makes 25
Ingredients
100 g salted butter
40 g Demerara sugar
1 heaped tsp orange zest (from 1 orange)
1 tsp roughly ground Alexander seeds
125 g plain flour
¼ tsp baking powder
Preheat the oven to 350°F/180°C/160°C fan and grease a large (30 x 40 cm) baking tray, or 2 smaller ones. In a medium bowl, cream together the butter and sugar add the orange zest and Alexander seeds and beat well. In a separate bowl, combine the flour and baking powder, and then add to the creamed butter mix. Work the mix together, though don't over mix as this will make the shortbreads tough.
Flatten the dough onto a clean surface (you can roll it or use your hands) to about 20 x 15 cm, cut into around 25 rectangles, and using a table knife or palette knife (not a sharp knife), slice the rectangles off the surface and place in the baking tray, with at least 1 cm between them. Lightly prick the surface of each with a fork to create dotted design and bake for 8-10 minutes or until light brown. Remove from the oven and leave to cool for 5 minutes before transferring to a cooling rack. Store in an airtight container for up to a week.
This is a divine, non-cream ice cream. Not vegan? You'll love this anyway! At the risk of repeating the whole theme of bitter-sweet, but hey, why change something that works so well.
Vegan, delicious and personally, I must put it back in the freezer to stop myself eating it all. This is one of the 6 (half a dozen) Alexander Seed recipes on my Alexanders blog.
Sign up to access this post
Access this post and more for £3.50. Already a member? Sign in here.
SEASONAL TASTER
MONTHLY BASKET
£3.50 per month
Every month you'll receive 1 seasonal wild food recipe from my edible plant of the month, plus links to additional seasonal posts AND be able to access the last 6 months of Taster basket offerings.
Unsubscribe at any time.

I love the crisp outer and soft inner of these truffles. The Alexander seeds play on the pleasure of bittersweet, giving these dark chocolate treats a wonderful and surprising twist.
If you want to find out more about this plant, take a look at my Alexanders blog, there you'll also find a dozen alexander seed recipes. This recipe is made my first making Aromatic Alexander Seed and Lemon Drizzle cake - you'll find instructions for this below too!
Sign up to access this post
Access this post and more for £5.95. Already a member? Sign in here.
RICH PICKINGS
MONTHLY BASKET
£5.95 per month
Get more! You'll get access to all the Taster Basket blogs, plus an additional 2 seasonal posts of my most treasured material AND be able to access the last 6 months of Rich Pickings offerings.
Unsubscribe at any time.
These light and perfumed tarts are easily put together and are brought to life with candied alexander stems . The candied stems can be made up to 6 months in advance.
You can find out more about this wild edible plant in my Alexanders blog.
Sign up to access this post
Access this post and more for £5.95. Already a member? Sign in here.
RICH PICKINGS
MONTHLY BASKET
£5.95 per month
Get more! You'll get access to all the Taster Basket blogs, plus an additional 2 seasonal posts of my most treasured material AND be able to access the last 6 months of Rich Pickings offerings.
Unsubscribe at any time.
Like a first kiss, it was the sweetness of Alexanders' stems that got me hooked on their flavour and versatility. Also known as Black Lovage (Smyrnium olusatrum) and evocative of lovage, celery and angelica. Alexanders is one of the plants I cover in my book; Wild Food Foraging in Cornwall and the Isles of Scilly.
These candied stems are lovely as a walking snack, or use them in my moreish Alexander Filo Tarts.
Sign up to access this post
Access this post and more for £3.50. Already a member? Sign in here.
SEASONAL TASTER
MONTHLY BASKET
£3.50 per month
Every month you'll receive 1 seasonal wild food recipe from my edible plant of the month, plus links to additional seasonal posts AND be able to access the last 6 months of Taster basket offerings.
Unsubscribe at any time.

As a wild cook, sometimes I hit upon creating a new recipe that works first time, I mean, really works. This recipe was one of those. It uses Alexander seeds (Smyrnium olusatrum) which is one of my favourite wild spices. Meanwhile, here's my Alexander seed bread recipe, while we're at it!
Alexander seeds has an unusual bitter, peppery flavour which balance the wonderfully deep chocolate tone of these raw truffles perfectly. They can be made in an instant too.
I start teaching alexander seeds on my foraging courses from August through to Winter. I love individually wrapping them as tasters for course participants, ok, my wrapping isn't brilliant but the taste is pretty good! Alexanders are a member of the umbelliferae family and must be identified properly.
Recipe for Alexander Seed and Cacao Truffles
Makes 18
Ingredients
250 g dates (pitted)
3 tbsp desiccated coconut
3 tbsp cacao powder
1 dessertspoon ground alexander seeds*
Pinch of sea salt
1 tsp blackberry cordial (optional)
1 tsp coconut oil
Coating
2 tbsp desiccated coconut
2 tsp ground alexander seeds
Combine all the ingredients in a food processor or by-hand. I tend to do this by hand by roughly chopping the dates and firmly massaging with the rest of the ingredients until combined. You can also heat the chopped dates in the oil first and soften them that way. Break off pieces and roll into 18 balls.
Finely grind the coating in a seed or coffee grinder and roll the balls in the mixture. Keep in the fridge and use within a week – they won't go off, but the truffles will harden if you keep them much longer.
The Umbelliferae (Apiaceae) family, also known as the Carrot family is a large family of plants, all with the similarity of umbels - think structure of an umbrella with a handle, spokes and canopy. There are some fantastic edibles within this family and also some deadly poisonous plants. A little foraging knowledge can be dangerous and this family needs to understood well and the plants respected.
Here are 8 wild foods within the umbellifer category (there are 18 edibles in total in this family). It goes without saying that this information is not enough to identify and use these wild foods. Though it is an introduction to them, with links to more information about the main plants I teach.
Introducing 8 umbellifers in flower
Wild Fennel (Foeniculum vulgare)
An aniseedy scented plant and a wonderful flavouring (unless you don't like fennel). It's a coastal plant in my foraging book where I share a fennel sorbet and fennel flower fritter recipe.
Rock Samphire (Crithmum maritimum)
A coastal plant that in the past was highly rated as a vegetable and for it's nutritional qualities. I've written about rock samphire as my favourite summer plant, shared a delicious salsa verde recipe for it, and recipe for pickled rock samphire. It is also in my foraging book.
Alexanders (Smyrnium olusatrum)
An invasive plant that I'm passionate about. I have a whole blog section dedicated to Alexanders and it's also in my foraging book.
Wild Carrot (Daucus carota)
A coastal that has spread inland. You need permission to dig up the (small and fibrous) roots. The seeds are edible but shouldn't be digested if you're pregnant. This plant is in my Foraging book where I share a Carrot Seed and Honey Cookie recipe. Extra info: I have used the summer flowers in a similar way to elderflowers and infused them for syrup - they have an unusual, subtle and carroty flavour!
Hogweed/Cow-weed (Heracleum sphondylium)
Also known as Common Hogweed (in comparison to Giant hogweed) is a common sight across the UK and Europe. I've previously shared recipes for it; Hogweed shoots in a cake, plus a vegan version of Pear and Hogweed Shoot Cake. I sing the praises for it as an alternative and superior asparagus. and even used the seeds to flavour meringue in an Apple Curd and meringue Pie recipe.
If you want a thorough introduction to the shoots, take a look at my hogweed shoots in spring blog and I also have a dahl and hogweed shoots recipe too.
Cow Parsley/Wild Chervil (Anthriscus sylvestris)
Often the first spring flower to appear. A very common hedgerow plant, the leaves can be eaten but should be avoided once the plant is in flower. However, before the flowers appear the leaves and stems can be eaten. I like the leaves in salads and the stalks simmered and added to sauces.
Pignut (Conopodium majus)
A delicate flowering plant, renown for the nuts (roots) that are tricky and (a little) rewarding to dig up as food. Not a nut at all, but a nutty flavour and texture of a fresh hazelnut.
Wild Celery (Apium graveolens)
I've rarely seen this in Cornwall, I photographed this one in Norfolk where I was excited to find it! A stringy plant, personally I prefer to use Alexanders (its predecessor).
It's been two and a half decades since I started a serious (and fun) relationship with foraging. And it's been well over a decade since I've been teaching foraging (I'm writing this in 2019). Like any relationship, there's ups and downs, boredom, frustration, elation, new experiences, the same old ones and falling in love again.
We all know that long-term relationships thrive on a few basic principles and one of those is cultivating and sustaining intimacy. Not just skating over the surface with 'I know that plant', but having a sense of curiosity, interest, care and taking time. Now, I know I'm straddling between talking about people and plants here, though there are some similarities. The way I see it, all my interactions with the world are relationships; with people, food, the landscape, my work. And the deeper I go, the richer my rewards. Imagine if I'd stopped at making Nettle Soup - which I love. I'd of never been able to enjoy the sensations of Nettle and Honey Cake or discovered Nettle Pakoras. Or shared these with so many of you. I digress... Do check out the Stinging Nettles blog if you'd like to know more.
How to keep Foraging new and Fresh
A couple of years ago I started exploring song-writing as a way to express some of the qualities of plants in new ways. I was attending an outdoor learning conference at Mount Pleasant Eco Park at the time, and thought it might be a useful exercise for the attendees. In my workshops on 'Wild Foods with Children' we explored 5 common weeds as food and I created and sung a foraging song or two as an illustration of memorable and fun directions foraging can go in. The song wasn't great, though I was brave enough to sing it and we learnt and laughed together.
Since then the concept of a Foraging Course with Plant Songs has developed. I realised I wanted to offer songs, fire and tasters. I didn't want to dilute the foraging courses I already ran, but add an additional layer to them. Sometimes the arts express something that words alone cannot do, and I hoped this creative addition had this potential.
Sharing Secrets
Through sharing my foraging songs, I'm giving you a little insight into my relationship with the wild foods that I teach. Offering a doorway into the world of plants and a platform to express something of the plants' character, essence, as well as their practical uses. I open my little black book of foraging songs and sing, I invite you to sing and we sing to the plants, to the hedgerows, to each other. It's fun.
At some point, on every course I lead, I open my bag and offer handmade, wild tasters from one or more of the plants we have sung about. The recipe remains a secret, except to the participants who attend. Does this deepen intimacy with the plants? I like to think so. Tasting, smell and eating the wild foods can deepen our understanding and appreciation of the wild foods surrounding us. And that is good for building positive relationships with the world we reside in.
Sssshhh! Come along to the Foraging Course with Songs to get the secret foraging recipe. A little more insight into the songs and experience is here on the wild singing blog. If you'd like to stay up to date with what I'm up to, consider following my instagram or facebook page.
#singingforager   #mindfulwildforager
Alexander seeds are one of my secrets. Okay, so perhaps a secret I've shared with a few people. Even so, it's a lesser known wild spice that goes unnoticed by the majority of folk. I call it a secret because even if you bite into it raw, the chances are you won't want to taste it again. Unless, that is, it's incorporated into a delicious recipe.
Alexanders (Smyrnium olusatrum) are prolific here in Cornwall, originally from the  Mediterranean, they can now be found on the south coast of the UK from Wales to Norfolk, as well as throughout Europe. I love them, they are so versatile, so abundant, though vastly misunderstood. I've written many blogs about Alexanders if you'd like to find out more. I also have a song to help you remember their qualities that I share on the Singing Forager Experience, where you can just listen, hum, or join in.
Highly rated by the Romans (who brought Alexanders over, also know as Black Lovage. Horse Parsley, Alisanders) you can eat every part of it, if you just knew how...
Alisander or Alexander-seeded bread
I've been making Alexander-seeded bread for years. I first created it in collaboration with the head chef at a gourmet foraging and dining break at Hell Bay, Isles of Scilly. Lovely fresh, handmade bread to dip into fine olive oil before a series of 5 wild courses were served. I've also foraged it and made it with students at Rick Stein Cookery School, which was a good few years ago now.
Alexander-seeded bread is so good, I keep making it; flecks of bitter spice through dough work perfectly and the seeds make a nice cobbled effect too. In the past those seeds have been used in soup, stocks and to flavour rice, though I've used them in many other dishes, including sweet treats. They contain an essential oil, cuminal, which is reminiscent of cumin and myrrh, or think black pepper with its heat and a little added bitterness. I like to enjoy alexander-seed bread with Rock Samphire Salsa Verde, or with wild seaweed dips or just on its own with olive oil.
Alexander-seeded Bread Recipe
A simple, lightly spiced bread which is perfect with savoury accompaniments - it has never been refused by guests attending a foraging course.
Ingredients
1 heaped tbsp alexander seeds
500 g white or wholemeal flour (or half and half)
Pinch of sea salt
1 tsp quick yeast
1 tsp sugar or honey
400 ml warm water
15 ml olive oil (optional)
Roughly grind or chop (you want some texture, not a powder) the alexander seeds in a seed grinder or pestle and mortar. You may find them easier to grind if you dry roast them first (140°C for 10-20 minutes), making sure they don't burn. Mix the flour, ground seeds and salt in a large bowl. Dissolve the yeast and honey in the warm water and stir into the mix. Combine well and knead the dough for 10 minutes, or until it starts to bounce back. Cover and leave in a warm place until it doubles in size.
When well risen, oil a bread tin, punch the dough a couple of times then place in the oiled tin, cover and allow to rise to double the size again. Heat the oven to 200°C and bake for 40-45 minutes, or until hollow-sounding when tapped. Remove from the oven and leave to sit for 10 minutes before attempting to take the loaf out of the tin. Allow to cool on a wire rack before slicing.
I share some tips on bread, picnics and wild bread in my seaweed bread blog and teach Alexanders - how to identify and use them on my foraging courses throughout the year. As well as on my Singing Forager course.
It always feels odd arranging to meet a stranger in a car park. Though that is where I met photographer Rick Davy at the start of my working day. I was on a mission to collect a specific green, and I said to Rick that if he wanted to join me, that's where I would be. Rick, thankfully, was more generous with his words and company than I was. He happily tagged along as I picked my greens and returned to my kitchen to process them.
Rick had got in touch about a personal photography project called A Day in the Life of A and I had agreed to be one of his subjects. Rick also photographed Fiona Were, a fantastic chef that I sometime collaborate with for gourmet foraging events.
Alexanders (Smyrnium olusatrum) is the green I had sought permission to harvest from local National Trust land (about five large stems). I had a lot of washing, chopping and cooking to get on with.  First I separated the leaves and stems, then I began to crystallise the young stems to incorporate into sweet filo tarts. I can't remember if I offered one to Rick to taste, I have a feeling he left before they were baked.
(Image: Making sweet filo tarts with crystallised Alexander pieces)
If you're intrigued about this plant, I have lots more blogs about it - Alexanders blogs and I cover them is a lot of my wild food foraging courses.
I have to admit of feeling envious of good photographers - they make it look so easy. I love drooling over a good photograph; the visual pleasures of colour, composition and story. Rick Davy's photographs do that for me, and I am thankful for his sharp eye and generosity with this project.
(Image: Crystallised Alexander pieces)
Rick also joined me on another early morning foray - this time to pick Gorse flowers. Last winter I went crazy about these flowers. I even made a little video about Foraging Gorse in Winter - such was my love affair with them. In my first foraging book I share a Gorse Flower Rice Pudding recipe, and I've made so much more with them since then. That day I was trying to perfect Gorse flower truffles, and also wanted to dry some flowers for future syrups and cocktails. La, la, laaaa, the joys of foraging for gorgeous drinks and food.
Those days that I shared partly with Rick are the good days - the outdoor days. As a forager I manage to get outdoors everyday, into nature. The rest of my time is spent cooking, preparing, writing, doing administration and contemplating new ideas and adventures. If you want to see Rick's photos, read the story and see more of his work, visit www.adayinthelifeofa.co.uk
It's a fresh winter morning and I am sitting watching the sky lighten and the day begin. I am just sitting, doing nothing, while the day is offering nothing less than a performance. Blue sky starts to peek through, charcoal grey clouds move slowly in front of me, then disintegrate. White gulls glide elegantly past, squawking, and I just sit here. I feel alive and in awe of these gifts being freely given to me.
How to Freely Receive
Receiving gifts is an active participation, a choice and as I breathe in these gifts from nature, I feel exceptionally grateful and alive. Just walking out into nature is a constant reminder to me of the abundance of life, the vitality in the earth, if I just choose to receive.
Here in winter I'm surrounded by nutritious greens of alexanders, tentative nettle tops, fluttering and healthy looking violet leaves. I see how rock samphire shoots push through, despite the increasing coldness, how sea spinach faithfully remains throughout the year. I taste the mild oniony flavor of three cornered leek, and receive the nutritious gifts from all these wild greens.
Countering the Buy, Buy, Buy of Consumerism: Simplify
As the year turns towards Christmas and the media urges towards buying, consuming and wanting, I want to simplify, to focus on giving and receiving. To share walks with strangers, friends, family, animals and nature herself. To enjoy the simple things of life; make good memories, love better, share good food, have a laugh, feel touched by things that matter.
Foraging as Giving and Receiving
I receive so much from nature, and I hope I give back in my appreciation and through passing on a some simple guidelines of foraging ethically. Foraging in small amounts, taking just what we need, no more, no less. Guidelines I highlight in my environmental policy too.
I hope I also give through sharing my foraging skills and experience, through offering an opportunity to understand and value nature even more. Together, finding ways to reduce our impact and celebrate what we already have.
Many farmers, land owners, garden owners even, are grateful too, to have so-called 'weeds' (or wild food) removed. Just ask them first.
The Gift of Foraging
If you'd like to give the gift of foraging to another, to yourself or to your family, I offer a range of gift vouchers. The gift of foraging is yours forever, if you choose to receive it. Timeless, never ending and can be shared with friends, family and strangers, freely – as often as you want.
I've just returned home from a winter foraging course where we covered 10 wilds that you can pick here in Cornwall through winter. I love foraging in the cooler months and there's a great choice of wild pickings too. I've written about and sung the praises of winter foraging before in; Why Cornwall is excellent for foraging even in winter.
On the foraging course we shared the joys of being outside in nature, as well as some great tastes and a hot flask of Alexander Soup. I always make wild tasters for courses and soup felt fitting for December, as did using some of the abundant growing Alexanders (Smyrynium olusatrum).
All the soup was appreciatively devoured, though luckily I'd kept a portion at home to have for a late lunch. You can read and see lots more  - including recipes - about Alexanders in the Alexanders section of my blog.
Meanwhile, lets get to it. Here's this delicious recipe which is so easy to make, good for you and seasonal here in Cornwall.
Winter Alexanders Soup (vegan)
Serves 4, generously
Ingredients 
200g alexanders leaves (large stalks removed)
1 tbsp coconut oil
1 medium onion
150g pots, diced (scrubbed, though not peeled)
200g creamed coconut
1250ml boiling water
3 tsp powdered vegetable stock
salt and pepper
Finely chop the finer Alexander stems and put aside. In a medium saucepan, heat the oil over a medium heat, chop the onion and add to the sizzling oil, stir and cook until translucent. Lower the heat, add the potatoes and Alexander stems and sweat for 10 minutes. Meanwhile, measure out 1.25 litres of boiling water. Chop the cream coconut, discarding any blocks of coconut fat place in a large, heat-proof bowl, pour the boiling water over the coconut, and stir until dissolved. Pour into the saucepan, season with stock and salt and pepper. Chop the Alexander leaves and add to the pot, cook for 7-10 minutes, or until tender. Blend and serve, or pour into a hot flask and take to the beach for a hearty lunch.
The Romans valued the plant Alexanders (Smyrnium olusatrum) highly and brought it over with them to the British Isles almost 2,000 years ago to use as a pot herb.
It was used widely before celery came into fashion (has celery really been in fashion?!). Celery has been mentioned as early as 1700s as a food and was used both as a cleanser and winter vegetable when greens were minimal.
So why do so many people say 'urgh' when they taste Alexanders?
It's all about how and when.
Every single part of Alexanders is edible - the root, stem, leaves, flowers and seeds (though personally I'm not keen on the flowers). That's not the case with every plant. However, you need to know for absolute certain that you have the right plant. This is essential, as Alexanders is a member of the Carrot family (Apiaceae, Umbelliferae) of which there are many wonderful edibles, and some DEADLY POISONOUS plants. As you can imagine, getting this right, is, essential, as I said.
That aside, the qualities of Alexanders are, I believe, worth searching out, especially in spring. Personally, these are a green I also forage through winter, yet they are definitely superior when they've been cultivated in the warmer soil and lighter days that March and April offer.
My Tips for using Alexanders;
Use only the mininal amount of leaves raw, otherwise cook them
Start by using small amounts of this plant - as your taste buds mature you can use more
Use in a bland base and balance the right flavours for broths, as in my Alexander soup recipe. Add to milk, cream, coconut or potato for frittatas, muffins, and even Alexanders infused into rum.
Each part of the plant has different uses; leaves as a vegetable, young stems for candy and larger ones for stock, seeds as a spice
The large stems are the sweetest, though can become very fibrous (this can be avoided by boiling them for flavour and discarding the fibre).
Oh, and if you'd like more tips on Alexanders, I can show you, for real, on my Spring wild food foraging courses
I'm often asked what my favourite time to forage is, well spring is fantastic, though honestly, winter is becoming an increasingly wonderful time to forage. The quiet, the abundance of plants and the unexpected joys of finding food (not in the supermarket) this time of year.
On January 2nd myself and a small group of friends went foraging, our task; to simply enjoy the outdoors and gather a few ingredients for supper, which we'd then share together, and that's exactly what we did. A big thank you to Sara Pozzoli for joining us and filming us. Here's the menu;
Winter Foraging Menu
Spelt Bread with Alexander Seeds
Salsa Verde with Rock Samphire, Pepper Dulse and Three-Cornered Leek
~
Alexanders, Sea Spinach, Gorse Flower and Coconut Curry
Yoghurt Dressing with Three-Cornered Leek, Black Mustard and Wild Chervil
~
Chocolate and Haw Berry Jam Cheesecake
Spring is exciting - a combination of warmth and light gets plants, animals and human-animals going. Sometimes, for me, too going. The term mad march hare feels too close to home for me, as I prance around the hedgerows picking wild greens as if there is no tomorrow, or as if spring won't last forever, which of course it won't. Lets face it, we've often being waiting a while for it to come too.
Many wild greens respond well to being plucked, for example when the tops of nettles are snipped off this stimulates more growth and leaf tops to grow. So below I've chosen 5 common wild foods that arrive every year, a plenty and are happy to be plucked, appreciated and eaten.
Here are my top 5 pick-ables (non-technical term :)) for this spring, I have loads of nuggets of information and recipes to share on each of them, though for now I'll keep it brief.
My Top Five Spring Wild Foods
1. Stinging Nettles Urtica dioica
Never under-estimate a common plant, believe me, nettles are a valuable food and we are lucky to have them. Their nutrition and versatility makes them easy to use (just avoid being stung) and they are (in my humble opinion and according to nutritional facts) better for you than spinach or cabbage.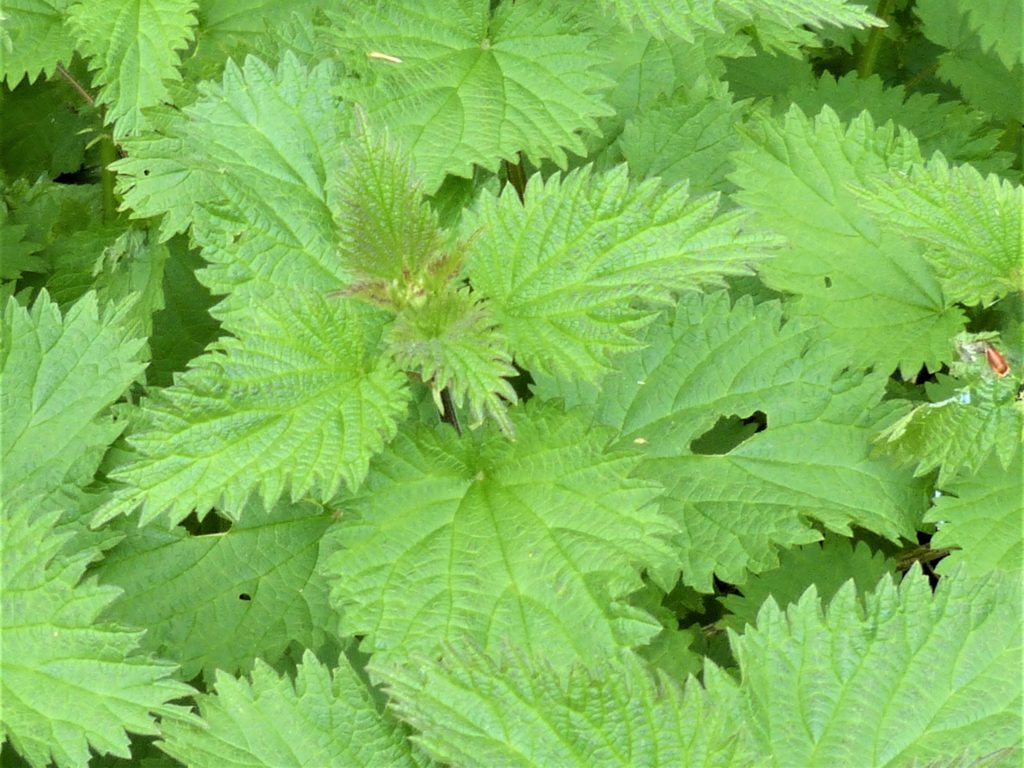 2. Wild Garlic Allium family
The wild onion, garlic and leek family is vast and too large to go into here, though their commonalities include a wonderful garlic taste (and smell), anti bacterial properties and support for the heart. The whole of the plant can be used and it can be used raw or cooked - raw is stronger. It is one of the key edibles of spring.
3. Cleavers/Goosegrass Galium aparine
Cleavers spread. They grow up to 1 metre long and can be collected without a bag (let them stick to you). The leaves are a wonderful spring cleanser and support the urinary and lymphatic system, though best cooked to avoid the not so pleasant hairy texture when raw and use in small amounts. I like to just pluck the tops and sweat them with nettles in butter or oil.
4. Alexanders Smyrnium olusatrum
Writing this from the south coast of Cornwall, Alexanders are definitely on my list. Abundant and often considered an invasive (land managers around Bristol have also practically pleaded with me to pick and eat them too). Nutritious and versatile, if you just know how to use them and pick them early on in spring.
5. Common Sorrel Rumex acetosa
Sorrel sap is tart and lemony and at its best in spring, and once you get your eye in, you'll start to see it everywhere. Delicious added to so many savoury and sweet dishes, though don't eat too much as it contains oxalic acid which isn't good to eat in large amounts. A little is fine though.
So there you have it, my five favourite wild greens, and yes greens are best in spring. Next spring, maybe I'll share a different five, as there's always more to share.
A quick and quirky video on Alexanders (Smyrnium olusatrum) 
Let me show you more tips, share more recipes and tasters on my Wild Food Foraging Courses.
Most spring courses include Alexanders (greens), and late summer and autumn courses include the Alexander seeds/
I love muffins. Easy to cook and more substantial than bread. They're also versatile - you can add almost anything (sweet or savoury), and so tasty you can just eat them on their own. I like them as an afternoon snack while working at the computer, or a pocket-sized snack to take out on walks with me.
I first made these for a winter/early spring foray I led. It was a cloudy, non-discript kind of day, and these provided a hearty snack and comforting moment for us all, amidst the bleak Cornish landscape. It's true - the right snack can uplift any walk, whatever the weather.
The young shoots and leaves of Alexanders (Smyrnium olusatrum) start popping up through Winter and early Spring and are perfect for many snacks, including savoury muffins. Once identified correctly*, Alexanders are easy pickings in a Cornish winter – abundant, a good size and many a land owner are happy for you to pick this plant as it is often considered an invasive weed.
These more-ish muffins have a hint of wild, nutritional  Alexanders  in them, which is complimented nicely by the olive oil and dab of mustard. They could easily be made vegan too.
 Ingredients (Makes 12-15)
100 g wholemeal flour
175 g organic plain flour
1 tbs baking powder
½ tsp bicarbonate of soda
½ tsp Cornish sea salt
100g fresh Alexanders (leaves and young leaf stems)
350 ml milk (dairy or soya)
1 tbs lemon juice
2 eggs, whisked
1/2 tsp strong mustard
2 tbs good olive oil
4 tbs vegetable oil
100g finely grated parmesan (optional)
Pre-heat the oven at 200°C and oil muffin tins or small cake cases. In a large bowl, mix together all the dry ingredients (flour, baking powder, bicarbonate of soda and salt). Roughly chop the alexanders and stir in.
Measure out the milk and add the lemon juice, leaving it for a few minutes for it to sour a nd thicken slightly. Break open and whisk in the eggs, mustard and the oil and pour into the dry mixture, stir in thoroughly before distributing between the muffin h tins or cake cases.
Each tin should be generously filled and sprinkled with parmesan on top, if using. Bake for 20-25 minutes, or until golden brown. Remove onto a cooling rack and enjoy on their own as a hearty snack.
*Alexanders are a member of the umbellifrae or carrot family, in which there are poisonous cousins. Only pick and use this plant if you are 100%, and I mean 100% certain you have found the correct plant.
Spring has been creeping in, in some places slowly, and other places fast. The telling signs of birds carrying nesting material, lighter mornings and the fresh green plant life in the landscape all help us soften and brighten as Winter is left behind.
If you're reading this in the UK and wondering what I'm taking about - perhaps where you live Winter still feels like it has it's grip. Well, I'm writing from West Cornwall, and yes, our milder climate tends to be ahead of many areas, even just a little further north of here.
Two common, abundant and often cursed (both these plants are considered invasive weeds) edible Spring plants in Cornwall are Alexanders Smyrnium olusatrum and Three Cornered Leek Allium Triquetrium. Picking, eating and even digging these plants up*, are normally received with appreciation. On that note, and in the spirit of Spring abundance, I've created and offer this recipe to you.
Alexanders and Three Cornered Leek Frittata
Makes 8 slices (4 main courses or 8 snacks)
Ingredients 
400 g Cornish Potatoes
2 tablespoons Olive Oil
75 g Alexanders (leaves and young stems, chopped)
75 g Three Cornered Leek (leaves, stems and roots, if available, all finely chopped)
5 organic or free-range local eggs, beaten
Salt and pepper to taste
Peel, dice and cook the potatoes in plenty of water, for about 10 minutes or until just cooked. You'll be able to place a knife through the potatoes easily, though not so soft that the potatoes fall apart. Strain off the liquid and return to the pan on a low heat for a minute, just to evaporate off any remaining liquid.
Heat the oil in a saucepan  approximately 25 cm across in size, over a medium heat. When the oil is hot, add the potatoes, alexanders and salt and pepper and fry for about 8 minutes, turning to fry on each side, when needed. Some of the potatoes will be golden brown after this time.
Briefly mix in the eggs and three-cornered leek, ensuring that the mixture is evenly spread across the pan. Cook for a further 8 minutes, or until the eggs are almost set.
Place under the grill for 2-3 minutes to set and and turn the frittata golden. You can carefully slice and serve while warm, or when cold. Serve as part of a main meal with a luscious salad, or eat as a snack.
*Permission is needed from the land owner to dig up plants, otherwise you are breaking the law.
It's deep December and I'm standing outside. Actually, there's 8 of us standing outside and waiting for the one that's gone astray. Once we're all congregated, we begin. There's something innately quiet about walking in Winter, as if all around us is sleeping, and in some ways it is. We walk together through this slumbering landscape, initially unaware of the life around us.
What can you forage in winter?
From as early as November, my forager eyes start to spot edible greens that are normally associated with spring. Alexanders, Nettle Tops, Three-Cornered Leek (locally known as Wild Garlic), Wild Cress and Mustard, Pennywort, Wild chervil, Gorse flowers and even Daisy leaves and flowers for salads and cooked dishes.
Although the nutrition of plants can be significantly increased in Spring, goodness can still be enjoyed from these plants through the winter months. In Cornwall, where we may lack in terms of nuts and berries (there are only a few forests & woodlands here) it is more than made up with coastal plants and, due to the mild climate, a great choice of edible greens right through winter. While other areas of the UK are below frost or snow, there are milder areas of Cornwall that offer valuable forage-ables.
The benefits of foraging in winter
What's more, foraging feeds the soul not just in winter, though every time of year. According to the National Wildlife Federation's article; It's all in the dirt, the reason for this includes good bacteria in the soil that releases seretonin - the feel good hormone. This makes me feel even better about my muddy boots and dirty fingernails too!
In some ways, there's more to see in winter, without the distraction of hoards of people, beautiful, bright flowers, and sunsets to melt into. Instead, the offerings maybe more subtle - beige stems, low growing greens, and flowerless stems, though don't be tempted to dismiss these edible due to their humble winter personas.
Common Hogweed seed (Heracleum Spondylium), for example (below), may look like a dead seed-head, though within it lies delicious aromatic flavours for curries and many sweet dishes.
If you need it, use foraging as an excuse to get you outside, for that dose of daylight, fresh air and nature fix. Watching wintering birds, or rolling white horses of the waves, and returning with a handful of winter greens, it's hard for the soul not to be lifted, even if just a little. And if you're still not convinced and only yearning for the bright yellow sun of summer, then perhaps gorse is the only cure for you. Up on the moorlands of Cornwall, somewhere, you will always find the bright yellow flowers of gorse; an uplifting flower. According to Bach Flower Remedies gorse can offer you hope, when all hope is lost. I promise, summer will return.